Buffalo Chicken Pasta Casserole is an easy chicken dinner packed with cream cheese, buffalo sauce, and cheese. Just like buffalo chicken dip, once you start eating it's hard to stop!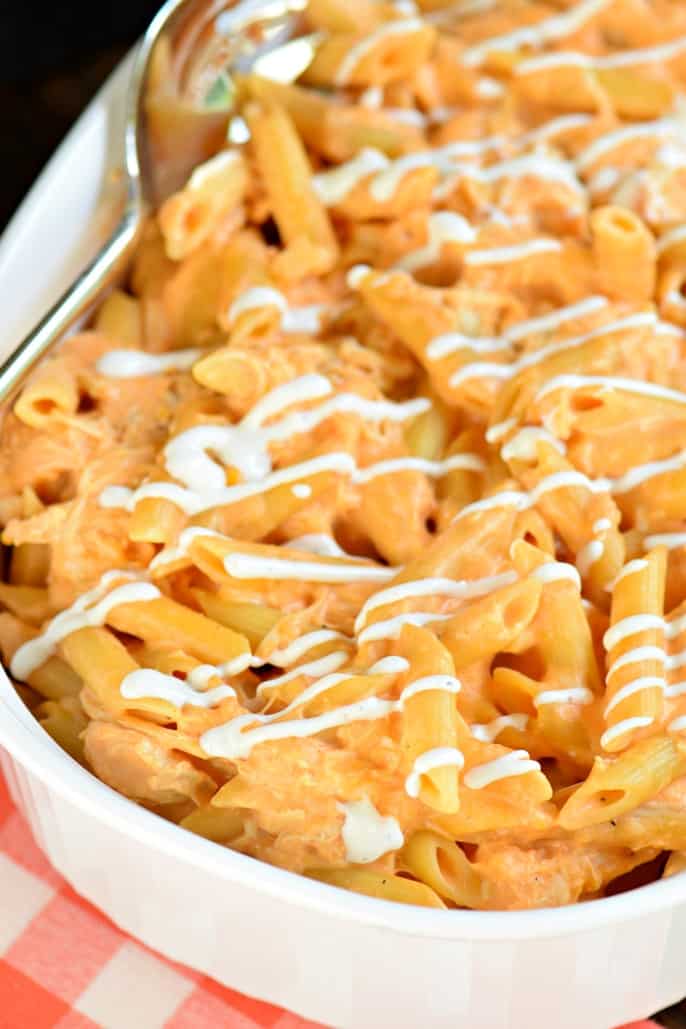 I've been cleaning up the back end of my website lately, and found this recipe sitting in my drafts. (I also updated this Orange Chicken Recipe recently too)!
I can't believe it's been there for a year, just waiting to be shared.
If you LOVE Buffalo Chicken Dip this pasta recipe is the perfect dinner for you!
Packed with flavor and easy to make, I know you're going to love this dish. So let's get started!
How to Make Buffalo Chicken Pasta
STEP 1: Cook Pasta. Choose your favorite kind of pasta noodle and cook according to package directions. I prefer penne or bowtie pasta, but pick what your family loves!
STEP 2: Make Sauce. While pasta is cooking, in a large skillet, heat cream cheese, buffalo sauce (Frank's Red Hot Sauce), and chicken broth. Simmer over medium heat, stirring constantly until cream cheese is melted.
Add in garlic powder and salt to the sauce, whisking until smooth.
STEP 3: Add Chicken. You'll need about 1 lb of COOKED chicken for this buffalo chicken pasta casserole. You can cook it in the instant pot or boil it ahead of time.
I usually cook several pounds of chicken in my slow cooker each weekend to use in recipes and salads during the week.
PRO TIP: Purchase a rotisserie chicken or use this leftover roasted chicken for quick weeknight dinners!
Add chicken to your buffalo sauce, stirring until coated.
STEP 4: Add Pasta and Cheese. Remove from heat and add warm cooked pasta. Add shredded cheese. Stir in a combination of shredded mozzarella cheese and shredded cheddar cheese.
If needed, heat for a few minutes until cheese is melted and bubbly.
STEP 5: EAT and enjoy.
Top with blue cheese or ranch dressing!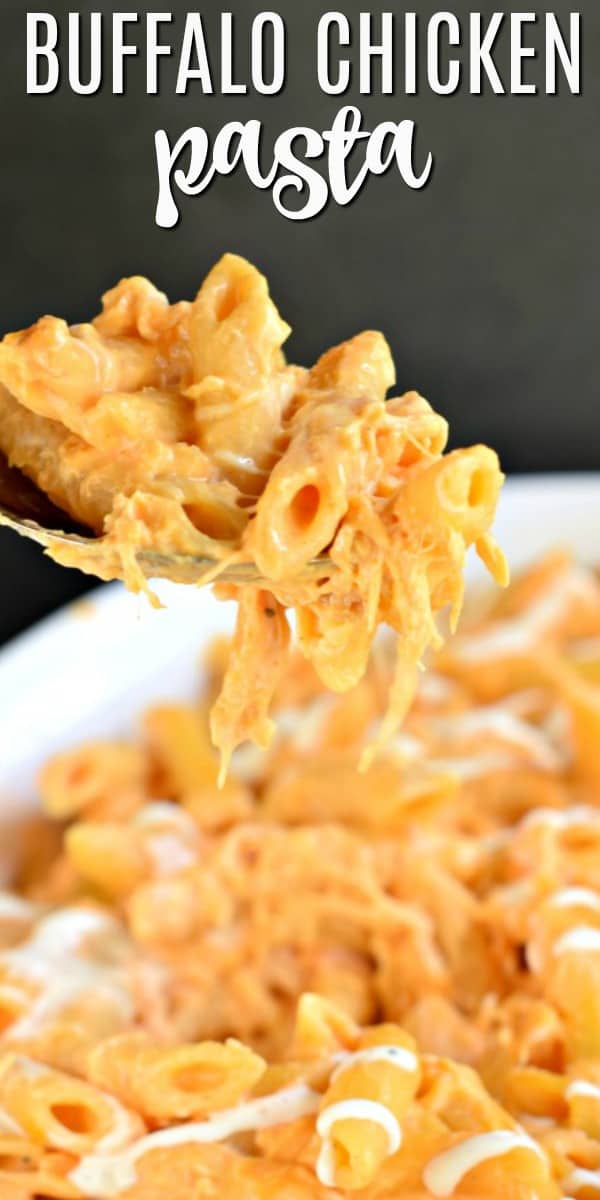 Can this be made ahead of time
YES.
While my recipe is written to eat immediately, you can assemble ahead of time to be baked later.
Follow steps 1-4. Cover with foil and refrigerate for up to 24 hours.
When ready to cook, preheat oven to 350 degrees F. Bake for about 30 minutes, removing the foil for an additional 5-10 minutes. The bake time will vary depending on how cold the dish is (how long it has been refrigerated). You may need to adjust and add more.
I find when this pasta bake is assembled ahead of time and then baked it becomes slightly dry. So be sure to have a little extra buffalo sauce reserved to drizzle over the top when serving!
Can you Freeze pasta
Yes! This recipe for buffalo chicken can be frozen.
Once you've assembled the buffalo chicken pasta in a freezer safe casserole dish, cover with foil and freeze for up to 3 months.
Thaw in refrigerator overnight, then bake 350 degrees for about 30 minutes.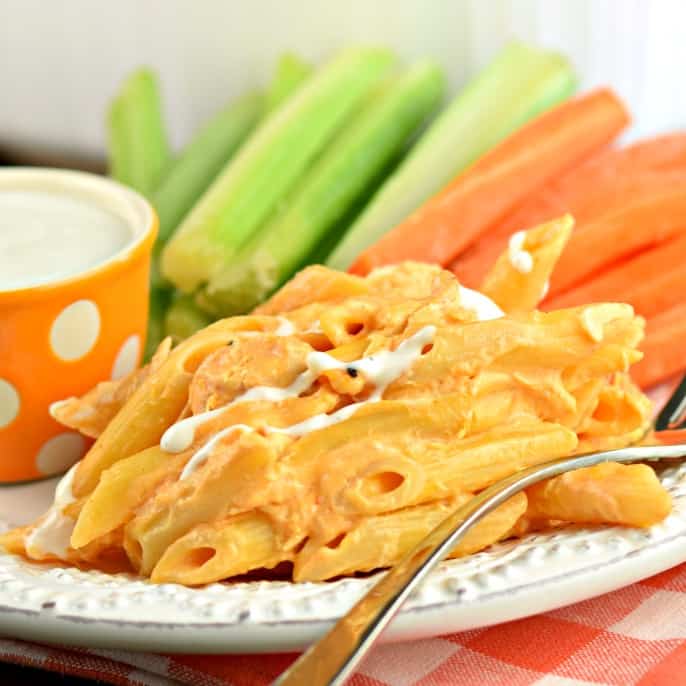 Serving Suggestions
While this makes a great meal, my family loves having a salad or side dish along with the pasta.
This applesauce recipe is a great palate cooler if the pasta is too spicy for you. My daughters love having this on hand!
A simple mandarin salad is also a delicious green side! Perfect for a light salad to pair with this pasta dish.
A slice of this Beer Bread goes with any dinner. Slather with butter or mop up the extra buffalo sauce, it's always a hit!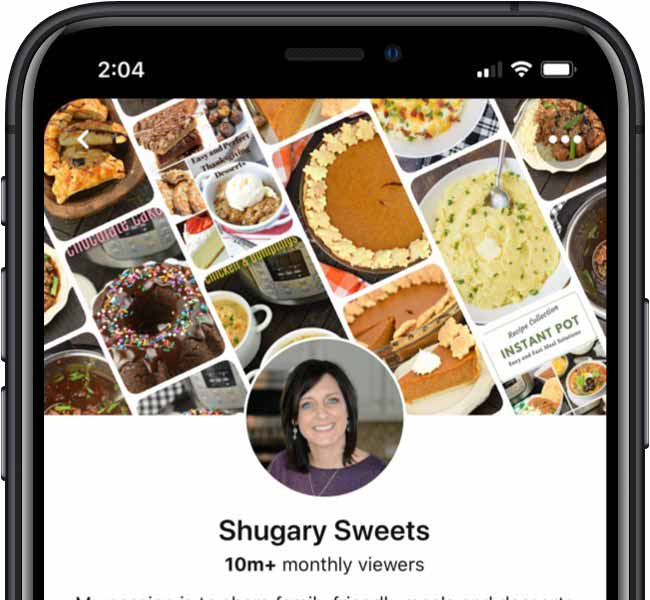 What you'll need
If you want a quick glance at what's needed for today's recipe, look no further. For the printable recipe with measurements, scroll all the way down!
Tools:
Large Skillet (mine is 12 inch)- or 2 qt baking dish if heating in oven
Large pot for making pasta noodles
Foil – for covering dish
Ingredients:
Pasta – I prefer penne or bow tie
Cooked Shredded Chicken (rotisserie works great)
Cream Cheese
Buffalo Wing Sauce (or Frank's Red Hot Sauce)
Chicken Broth
Garlic Powder
Kosher Salt
Mozzarella Cheese
Cheddar Cheese
Blue Cheese or Ranch Dressing (drizzled over the top)
Green Onions, optional, for garnish
More Buffalo Chicken Recipes
Buffalo Meatballs with Homemade Blue Cheese Dip
Buffalo Chicken Pasta is an easy, 30 minute meal recipe idea. Serve with blue cheese dressing!