This easy, hearty Baked Ziti recipe has all the delicious layers of your favorite Italian dish. Perfect crowd pleaser, you'll love the hearty sauce and cheesy filling!
We're totally on board the pasta train! Your favorites include Million Dollar Spaghetti and Chicken Alfredo. Keep the reviews coming!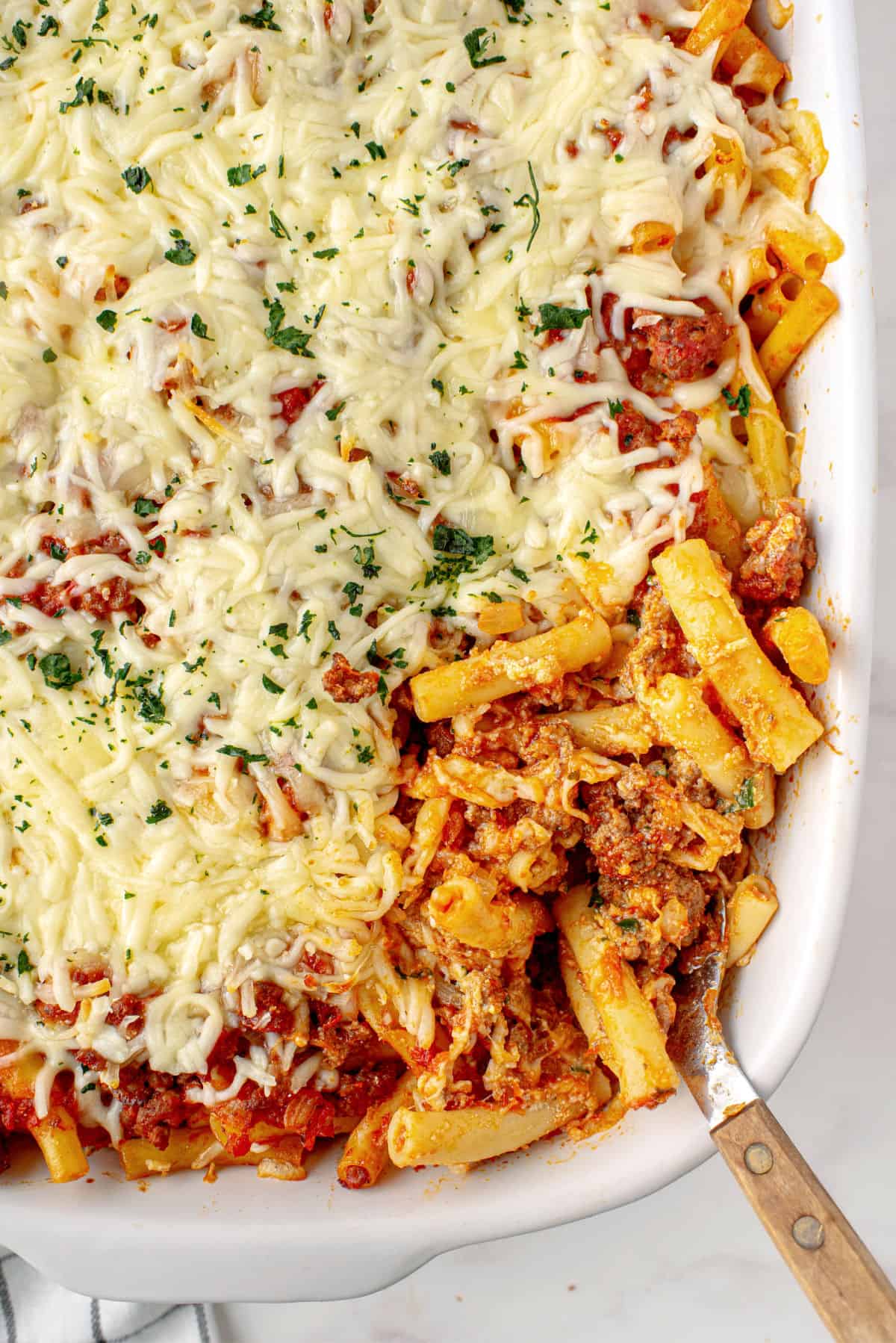 Why This Recipe is Best
There's something about Baked Ziti that speaks to our souls as the perfect comfort food. From the hearty sauce filled with beef and sausage, to the layers of cheese and sauce filling, this is one dinner you need to make soon.
When you think about it, except for the type of noodle, a GOOD baked ziti recipe should resemble lasagna.
Tt's much less work than lasagna because you don't have to worry about all the individual lasagna noodles.
Make it ahead of time, pop in the oven and bake!
Add sausage and beef, or make a vegetarian version with spinach, tomato, zucchini, and mushrooms!
Try our instant pot baked ziti for a quick, delicious meal
Ingredient Notes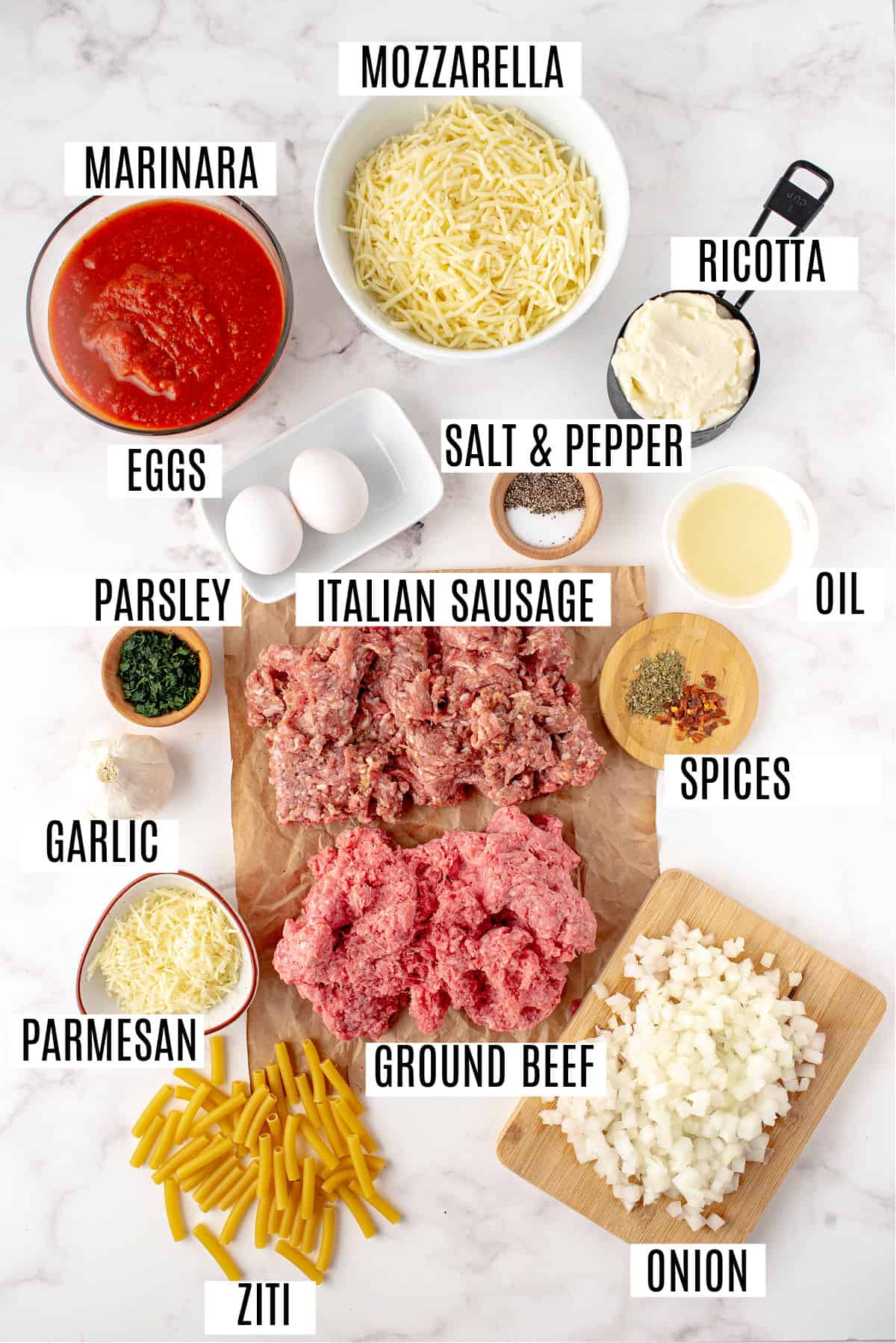 Meat- a combination of ground beef and italian sausage is our favorite, authentic Italian flavor. You can use ground turkey or even italian sausage links (cooked) as well.
Seasoning- salt, pepper, Italian seasoning, and red pepper flakes are the stars of the show. Add more crushed red pepper flakes to make it spicier!
Ziti- the classic noodle shape for this dish. However, penne, rigatoni, elbow noodles..any shape will work.
Cheeses- Mozzarella, parmesan, and ricotta cheese are the trio needed to make a classic ziti recipe.
Step by Step Instructions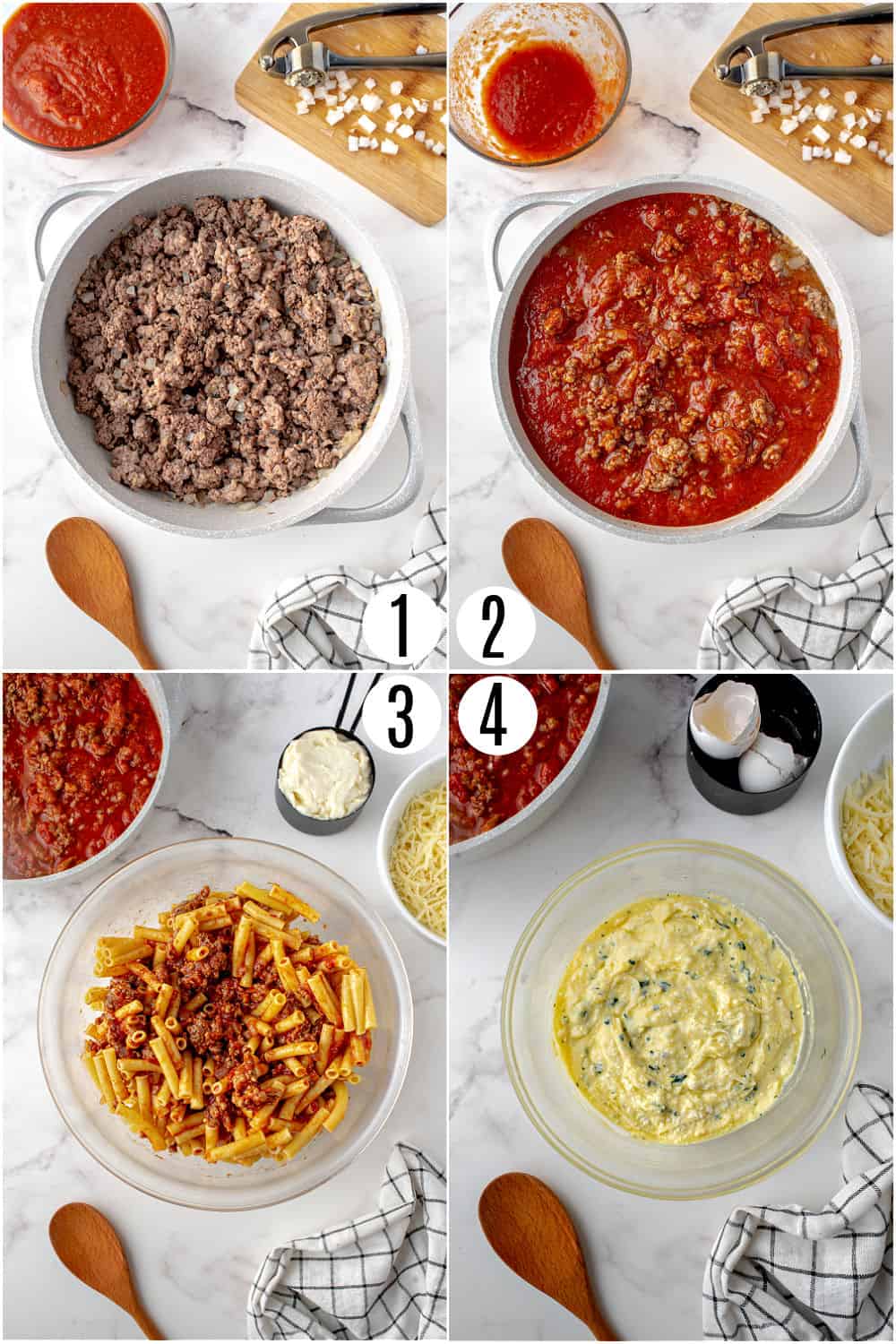 STEP 1: Cook ziti pasta according to package directions. Once cooked, drain and set aside.
STEP 2: While ziti pasta is cooking, heat a large skillet with olive oil over medium high heat. Saute garlic and onions in hot skillet for 2 minutes. Add ground beef and Italian sausage and continue cooking until browned. Drain off excess fat and return meat to the skillet.
STEP 3: To the skillet, add marinara sauce. Use your favorite pasta sauce or make your own! Add Italian seasoning, kosher salt, and red pepper flakes. Simmer on low heat until pasta noodles are done cooking. When noodles are done cooking add half of the meat sauce to the noodles. Reserve the remaining sauce for layering.
STEP 4: In a small mixing bowl, combine 1 cup of the shredded mozzarella cheese, ricotta cheese, 1/4 cup of the grated parmesan cheese, 2 Tbsp of fresh parsley, pepper, and eggs. Mix until combined.
PRO TIP: Did you know eggs are added to the ricotta mixture to help bind the cheese? This keeps the ricotta creamy and not crumbly!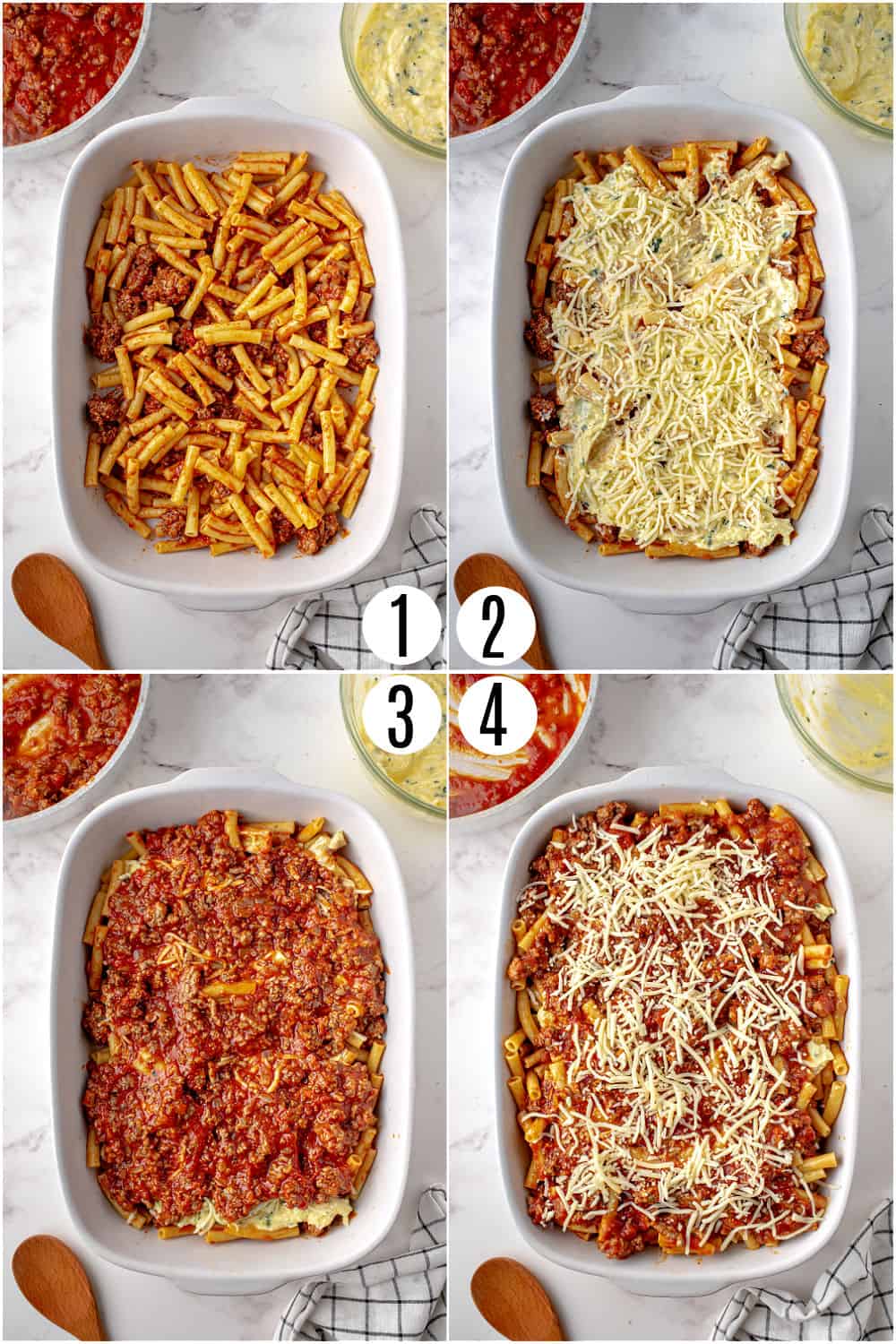 STEP 5: Assemble the baked ziti in a large 13×9 baking dish. First pour in half of the meat covered noodles in the bottom. Dollop half of the cheese mixture over the top, spreading evenly, followed by 1/2 cup of shredded mozzarella cheese and half of the reserved meat sauce.
Repeat with the remaining pasta noodles, cheese mixture, meat sauce. Top with the remaining 1/2 cup of mozzarella cheese and the remaining 1/4 cup of grated parmesan cheese.
STEP 6: Bake uncovered in 375 degree oven for 20-25 minutes, until bubbly and cheese is melted. Remove from oven and top with 1 Tbsp of fresh parsley. Serve hot and enjoy!
Recipe FAQs
Can baked ziti be made in advance?
Yes! Prepare up to 24 hours in advance, cover, and refrigerate. Remove casserole from refrigerator and bake as directed. You may need to add on some extra time to the baking time because of the chilled dish.
Can baked ziti be frozen?
Yes! If freezing the entire casserole, I suggest using disposable foil pans. That way there is no danger of broken glass in your freezer (I know from experience dropping a frozen pan out of the freezer can be a disaster). Cover casserole with foil and freeze. When ready to enjoy, thaw casserole in refrigerator overnight. Bake as directed, adding on several minutes for chill factor. Baked ziti can be frozen before baking or after!
How do I keep my cheese from sticking to the foil?
If you can't find non-stick foil, spray one side of foil with cooking spray (and make sure that side is touching the casserole).
Why is my baked ziti dry?
If your baked ziti turned out dry it could be from overcooked pasta. Also, make sure to add ALL the sauce indicated.
Serving Suggestions
When it comes to baked ziti, finding the perfect side dish is quite easy. Ziti is a hearty dish to begin with, so serving it up with this perfect Italian Salad (like Olive Garden) is almost always my go-to side dish.
My kids prefer when I make a batch of homemade applesauce, as they love a little sweet with their pasta.
Love salads? This delicious autumn salad recipe is one of my family's favorites. Packed with flavor, it's the perfect side to a pasta dinner!
Don't forget the bread. From garlic bread to dinner rolls and even my favorite Olive Garden breadsticks, there's nothing like a side of bread to complete a meal.
Tips and Tricks
Do not skimp on the meat. The combination of ground beef and Italian Sausage gives this baked ziti recipe a hearty base
Be generous with the sauce. There is nothing worse than dry baked ziti.
You can substitute penne pasta if you desire. Both work great in this recipe, trapping sauce and cheese in the tubes of pasta.
Cheese. Be sure to spread the cheese mixture after dolloping onto the pasta layer. You want to have even layers and not bite into a mouthful of ricotta!
Swap out noodles for zoodles!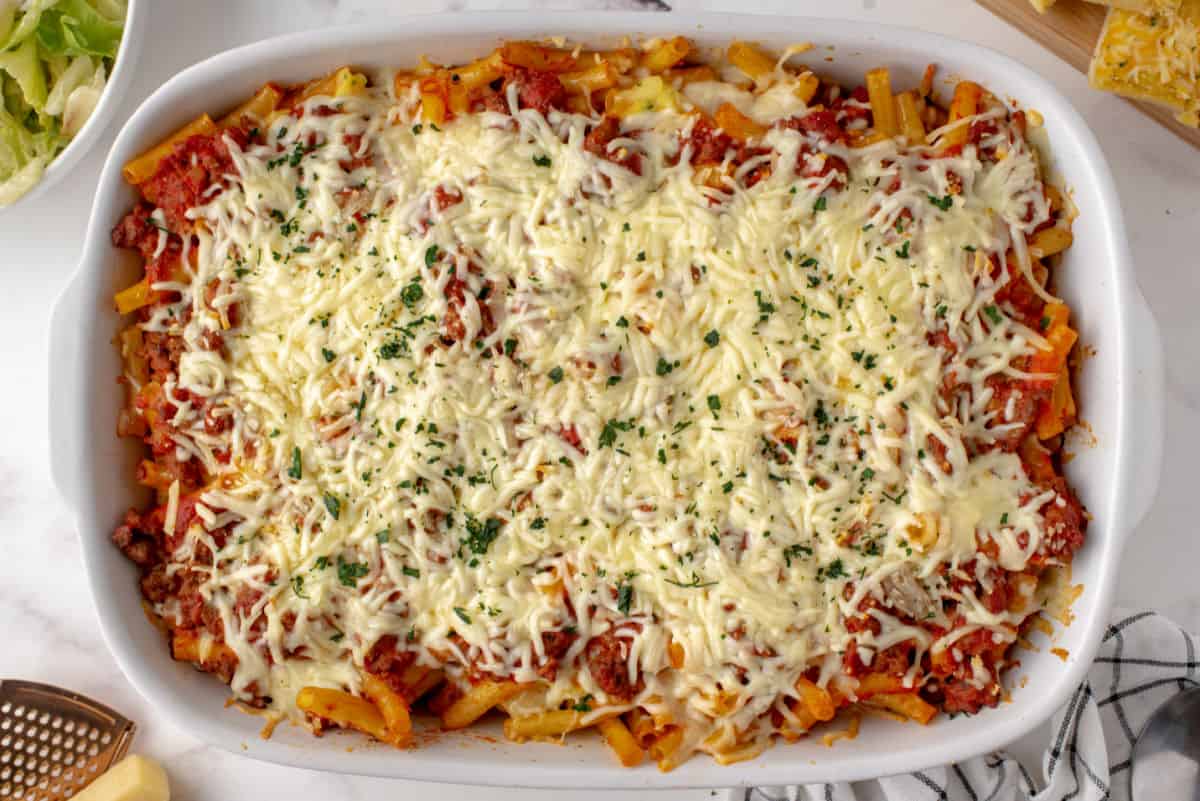 This hearty Baked Ziti recipe is made easy with all the delicious layers of your favorite Italian dish. Perfect crowd pleaser!