Under 30 minutes for this easy, flavorful Instant Pot Ziti Recipe. Packed with flavor and CHEESE, you'll love this delicious weeknight dinner in the pressure cooker!
My family is obsessed with pasta, sauce, and meat. One of our go to dinners is Instant Pot Meatball Sliders. Served on a bun or over pasta, it's a family favorite!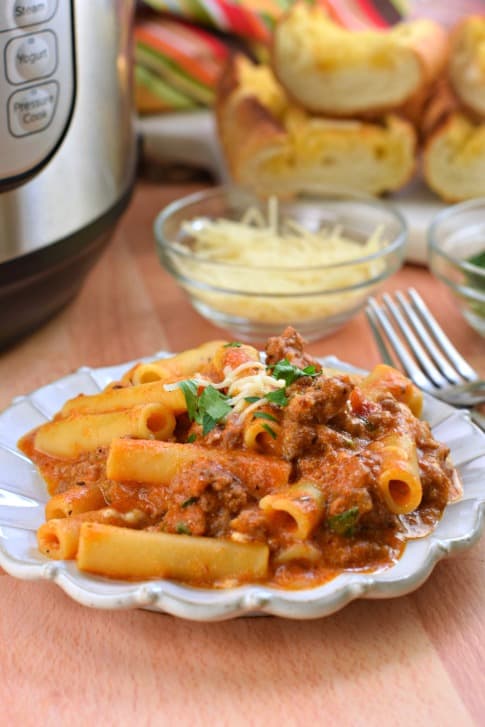 I was on a mission this past week to conquer all things ziti.
You may recall this delicious Baked Ziti recipe that I shared. It's seriously THE BEST.
Baked Ziti is known in my house as "lasagna with mostacchioli noodles." Not quite, but dang, pretty close.
Thick meaty marinara sauce
Tangy ricotta cheese filling
Baked with extra mozzarella on top
While Baked Ziti is fantastic, I wanted to try my hand at making it in the Instant Pot.
Let me just cut to the chase and say, it turned out fantastic. Using my baked ziti recipe as the base…this Instant Pot Ziti Recipe was a winner, with so much flavor.
Unlike most Instant Pot Ziti recipes, my version still has the ricotta filling like you would find in a traditional recipe. All the zing and flavor with half the work!
How to make Instant Pot Ziti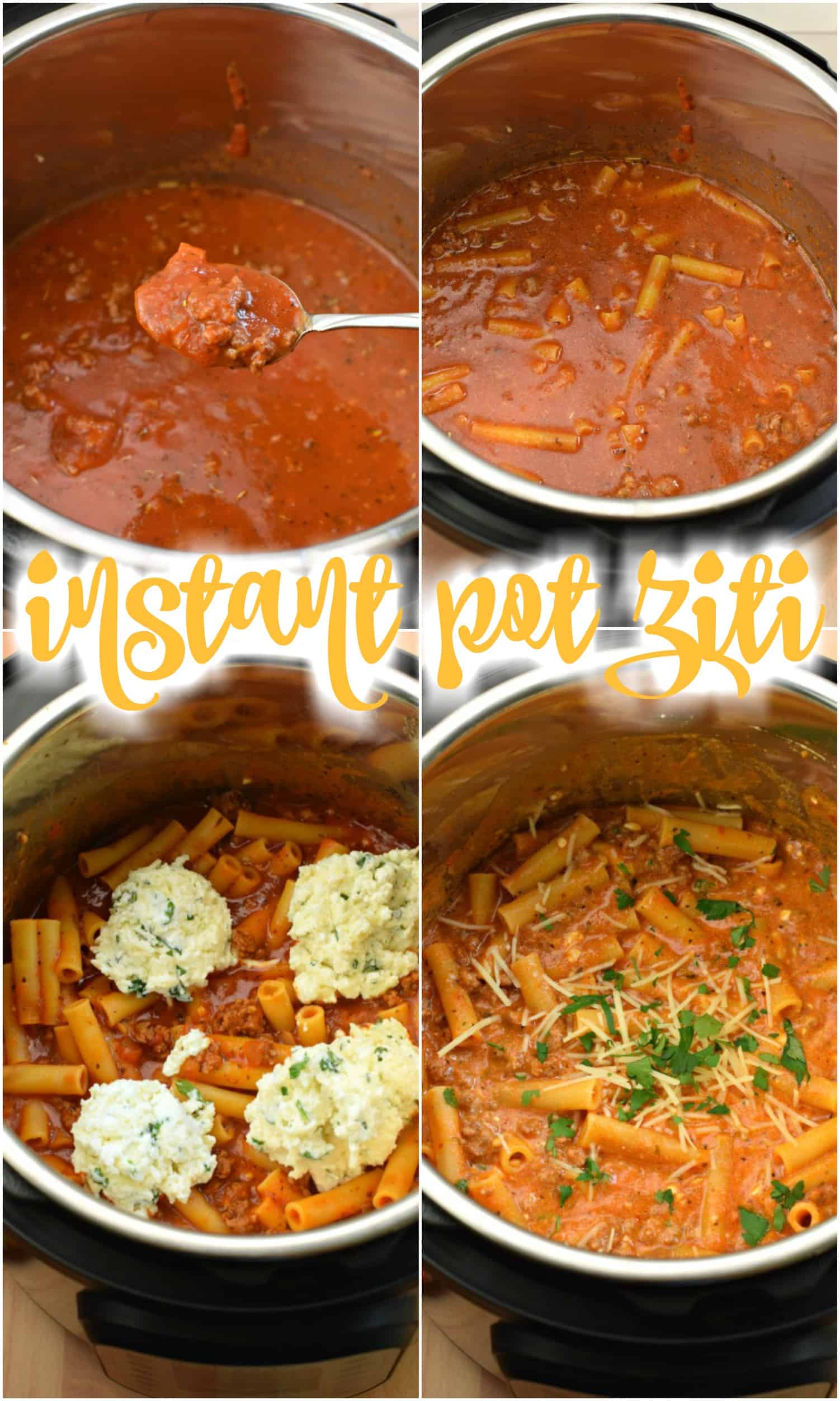 STEP 1: Turn Instant Pot to "Saute" and add olive oil, diced onions, and pressed garlic. Heat for about 2 minutes, stirring with a wooden spoon.
STEP 2: Add ground beef and mild Italian sausage. Cook and brown in the "Saute" mode until done. When browned, turn Instant Pot off.
DEGLAZE THE POT. Add your beef broth and with a wooden spoon get all the bits from the bottom of the pot or you will get the burn notice!
STEP 3: To the pressure cooker, add marinara sauce (your favorite spaghetti sauce), Italian seasoning, salt, and pepper. Do not Stir.
STEP 4: Pour in uncooked Ziti noodles. Do NOT stir. Using the wooden spoon, press the noodles until they are submerged in the sauce, but not stirred.
STEP 5: Secure lid to instant pot, making sure it is on "SEALING". Turn pressure cooker on high "Pressure Cook" for 6 minutes. Allow to cook then do a QUICK RELEASE.
PRO TIP. Hold a thin tea towel above the release valve (several inches away) to prevent the liquid to spray all over your cabinets. Pasta liquid will usually spray longer too!
STEP 6: While the pasta is cooking, make the cheese mixture by combining ricotta, mozzarella, parmesan, parsley, and cottage cheese. Set aside.
STEP 7: Once the pressure is released, open lid. Spoon in the cheese mixture, stirring until fully combined. Serve immediately and enjoy!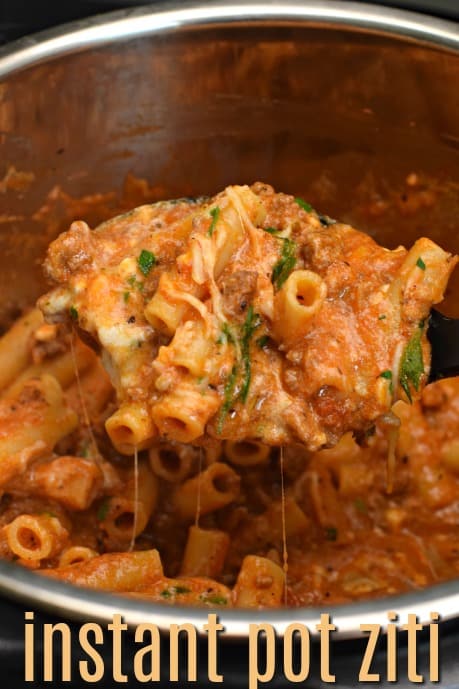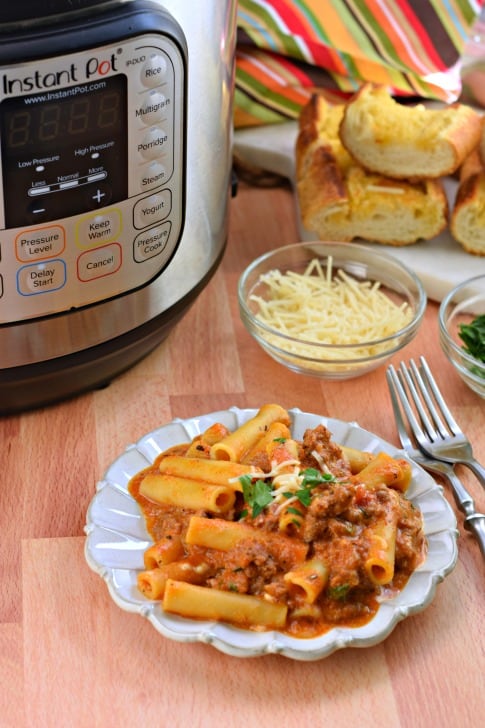 Can Instant Pot Ziti be made on the stove top?
Yes!
For this recipe, you can make the meat sauce in a large skillet (while cooking the noodles in a separate pot). Omit the extra beef broth from the recipe, as you won't need it.
Once the noodles are done cooking, drain them and add them to the skillet (or add the sauce to the pot with the drained noodles if your skillet isn't large enough).
Drop in the cheese mixture, mix until combined and serve hot!
Serving Suggestions
If you've ever been to Olive Garden and had their ziti, you know how good it is paired with salad. This Italian Salad is JUST LIKE Olive Garden's recipe. Only better because you don't have to leave the house!
Whip up a batch of these easy, no knead Garlic Dinner rolls to go with your dump and serve ziti recipe. You'll love the flavor!
My family could eat Caesar Salad with every meal. Good thing I've got an easy, homemade caesar dressing recipe (and no raw eggs needed)!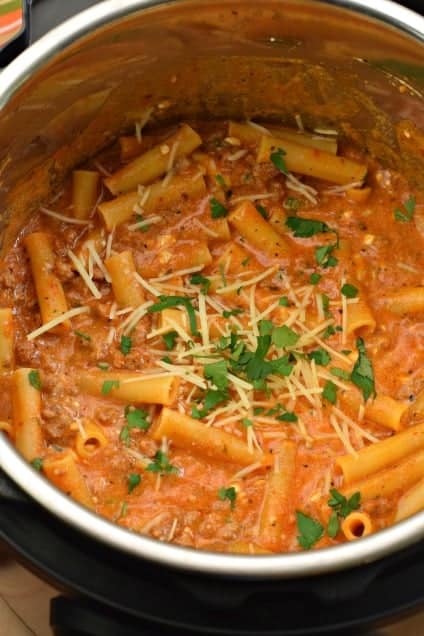 Tips and Tricks
Use your favorite combination of meat, from ground beef, Italian sausage, and ground turkey!
Avoid the "burn notice" by following directions exactly. Do NOT stir the noodles into the sauce.
You can substitute penne pasta if you desire. Both work great in this recipe, trapping sauce and cheese in the tubes of pasta.
Cheese. Stir the cheese in at the end completely, adding more or less to your taste.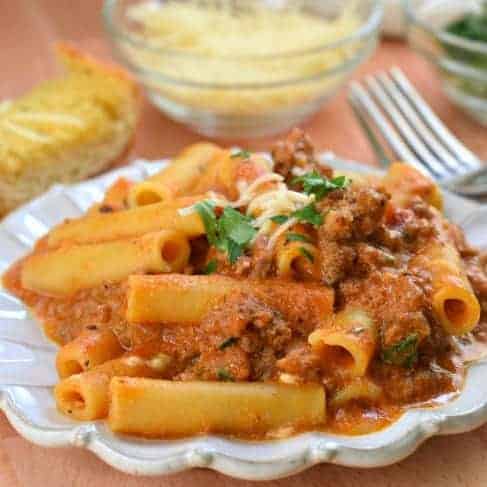 Cheesy, creamy Instant Pot Ziti recipe. Ready in under 30 minutes!