This Easy Instant Pot Beef Stroganoff Recipe is the perfect weeknight meal. Tender beef with a thick and creamy mushroom sauce. Your family will love it!
If you love easy Instant Pot dinners, you've got to try our hearty chicken and dumplings recipe. Or give our instant pot chicken tacos recipe a try next!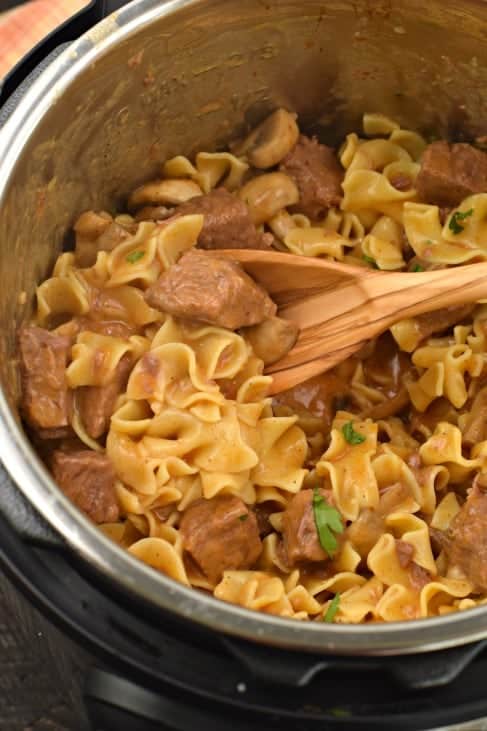 What is Beef Stroganoff?
Well if you didn't grow up eating this comfort food, you may not quite understand what it is!
Beef Stroganoff is a Russian dish that has a few main ingredients that are common from recipe to recipe. (speaking of Russian dishes, be sure to check out my Baklava recipe!)
Beef. Mushrooms. Cream. Noodles.
Growing up, Beef Stroganoff was one of my favorite dinners. Although, there were times (sorry mom) that I remember the beef to be a little extra chewy or dry.
Well guess what?
Today's recipe for Instant Pot Beef Stroganoff is perfect. Tender, moist cubes of beef in a creamy, delicious sauce with mushrooms and noodles. Ready to start cooking?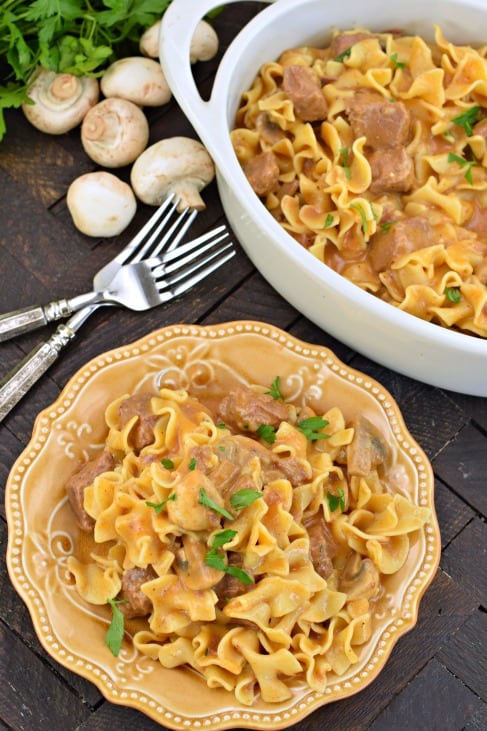 What You'll Need
First up, you'll need a pressure cooker (Instant Pot).
I love the Instant Pot 6qt Duo. It's the perfect size for my family of 6, and has all the standard functions I need for the recipes on this website.
You'll also need:
Butter
Beef
Onion
Mushrooms
Garlic
Tomato Paste
Beef Broth (beef stock or beef bone broth)
Cornstarch
Salt and Pepper
Sour Cream
Egg Noodles
Parsley

How to Make Beef Stroganoff in Instant Pot
STEP 1: Cut beef into 1-inch cubes or strips. Season generously with salt and pepper. Select "SAUTE" to start heating the instant pot. Add butter and brown the meat in a single layer in the bottom. Once browned, remove to a plate and continue browning all the meat. This may take a few minutes.
STEP 2: Once all the meat is browned, add more butter to the pot. Add onion and mushrooms and cook for about 3 minutes, until the onions are soft.
STEP 3: Add garlic, tomato paste, and beef broth to the Instant Pot. Stir until bits on the bottom of pot come loose. Turn off. Add meat back to the pressure cooker.
STEP 4: Secure lid and make sure the valve on top is set to "SEALING." Select "high pressure" and set for 18 minutes.
STEP 5: While the beef stroganoff cooks, prepare egg noodles according to package directions. Drain and set aside.
STEP 6: When the cook time ends, let pressure release naturally for ten minutes, then do a quick release until the valve drops. Open the lid.
STEP 7: In a small bowl, whisk the cornstarch with cold water until smooth. Add this slurry to the instant pot and select "SAUTE." Continue cooking until the sauce begins to thicken and boil (it will only take a couple minutes).
STEP 8: Remove a small spoonful of the sauce and place it in a bowl with the sour cream. Whisk together then pour into instant pot. Stir until smooth. Add cooked noodles and serve with parsley.
PRO TIP: Mixing a spoonful of sauce with the sour cream prevents the cream from curdling in the full pot of sauce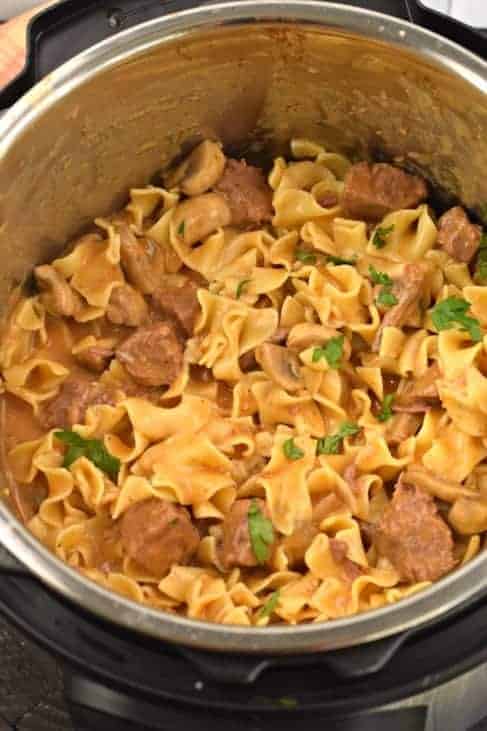 What type of meat is best for Beef Stroganoff
Choose a beef that is tender or can become tender quickly.
I like to opt for round steak or chuck roast as they tenderize easily without breaking the bank. Look for marbling in the roast! Just be sure to cut them before starting into small bite sized pieces first.
You can also choose beef tenderloin or sirloin steak. Stew meat is another option as it's already cut up into chunks!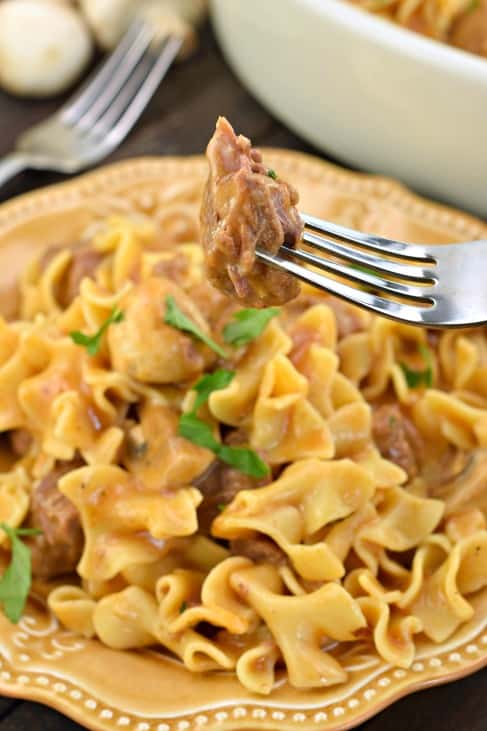 What to serve with Easy Beef Stroganoff Recipe
While typically I suggest serving this dish with egg noodles (it's the more traditional option). My family also loves to pair this with baked mashed potatoes.
The creamy sauce is perfect on top of a big scoop of mashed potatoes!
You could also lighten this up by making some zucchini noodles (zoodles).
Pair this dinner with a big Italian Salad and enjoy!
Don't forget dessert! Make a Pumpkin cheesecake in the Instant Pot for the ultimate meal.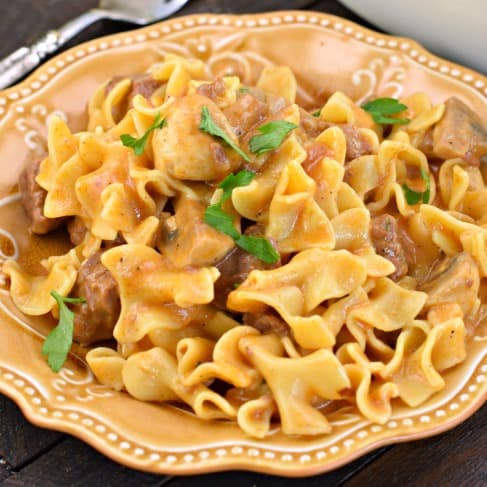 Tips for Instant Pot Beef Stroganoff
Don't skip browning the meat. Much of the flavor of the sauce comes from those browned bits at the bottom of the pan
Swap out the butter for olive oil if you prefer!
You can use plain greek yogurt for the sour cream to give your stroganoff a little zip and tang.
I know you want to cook the noodles in the instant pot with the sauce. But don't do it. You'll love the texture so much better if made separately.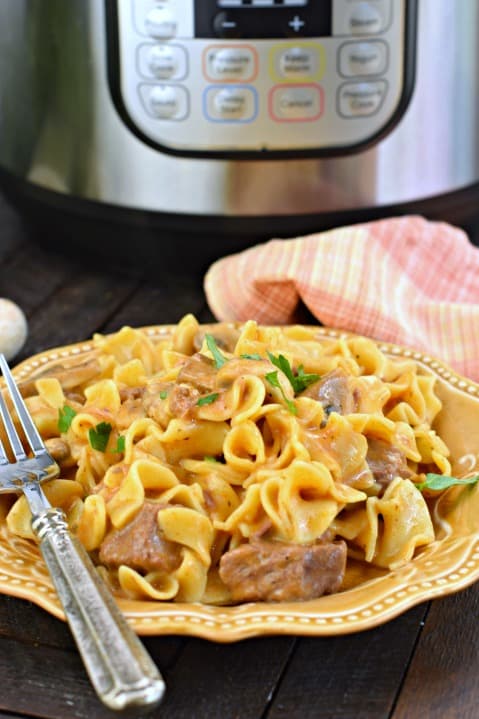 This Easy Instant Pot Beef Stroganoff Recipe is the perfect weeknight meal. Your family will fall in love with the tender beef, creamy mushroom sauce, and pure comfort food!