Instant Pot Pumpkin Cheesecake is the creamiest, silky smooth, fall dessert you've been craving. Transform your Thanksgiving dessert table with this easy pressure cooker dessert recipe!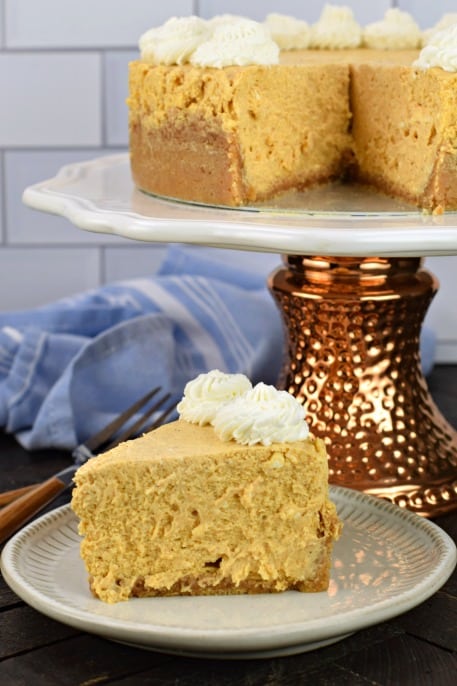 I went and did it again. I made a cheesecake in my Instant Pot.
You may recall this easy Instant Pot Cheesecake I originally shared not too long ago…well, I thought we need a fall version.
Making cheesecake in the Instant Pot (something I swore I would never do), has literally become something I LOVE doing.
Instant Pots aren't only for making Hard Boiled Eggs and Mac and Cheese, you'll also love pressure cooker desserts, like this Chocolate Cake recipe!
And if you're pumpkin obsessed, like me, then today's recipe is right up your alley. I suggest enjoying a piece of Pumpkin Cheesecake with a big glass of this homemade Pumpkin Cream Cold Brew Coffee!
Why are Instant Pot cheesecakes the best?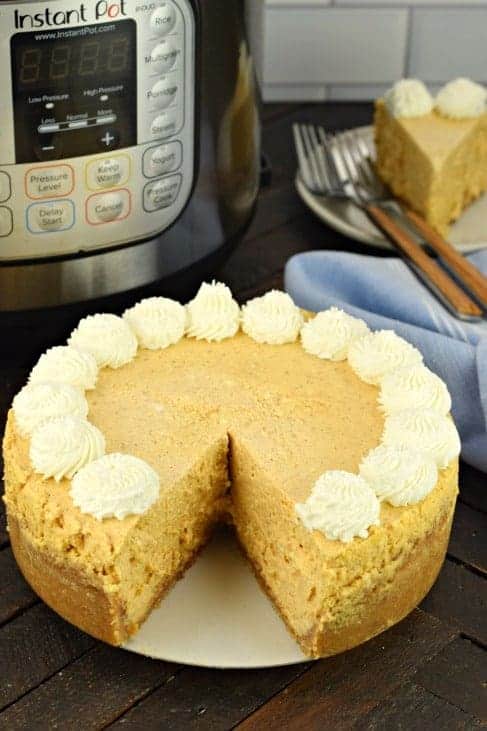 Once you've assembled the cheesecake and start pressure cooking you don't have to worry about opening the oven, looking for cracks, or any other issues.
They come out perfectly creamy, silky smooth, and except for the fact that they need to be chilled before eating, you're going to love this Pumpkin Cheesecake!
How to Make Instant Pot Pumpkin Cheesecake
STEP 1: CRUST.
In a food processor, pulse the graham crackers with granulated sugar until fine crumbs. Add in melted butter and mix until combined.
Press the crumbs into the bottom (and partially up the sides) of a 7-inch cheesecake pan. Set aside.
STEP 2: FILLING.
In a large mixing bowl, combine the cream cheese and granulated sugar. Mix until smooth. Beat in eggs, one at a time.
PRO TIP: Softened cream cheese and room temperature eggs will make a creamier cheesecake texture!
Add pumpkin, sour cream, pumpkin pie spice, vanilla extract, and all-purpose flour. Mix just until everything is blended.
Pour the filling into the prepared crust.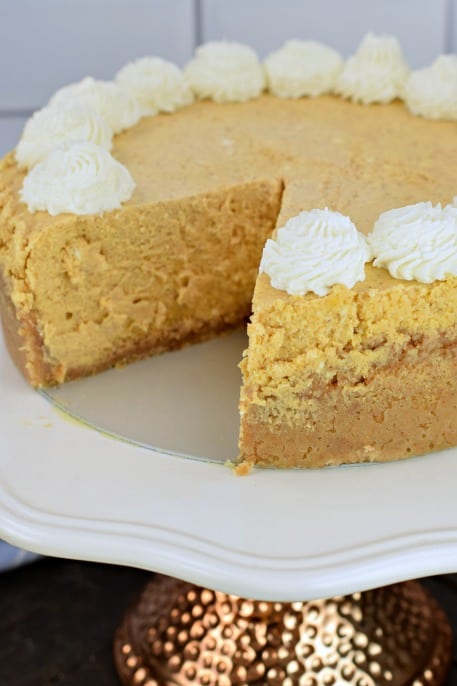 STEP 3. Pressure Cook.
Wrap the top of the cheesecake in aluminum foil. Then place the cheesecake on a second, large piece of foil, wrapping the sides of foil up over the top of the covered cheesecake. Press the foil snug onto the pan.
Add 1 cup of water to the bottom of the Instant Pot. Place the foil wrapped cheesecake pan on the trivet (I use the one that came with my pressure cooker) and lower into the pressure cooker.
Secure lid and turn valve to "SEALING." Select high pressure for 35 minutes.
When the cook time ends, allow to naturally release pressure completely (this takes about 20-30 minutes).
Remove cheesecake from Instant Pot by lifting up the trivet by the handles. Allow cheesecake to cool completely to room temperature.
Refrigerate cheesecake overnight or at least 8 hours, before serving.
STEP 4: Garnish and Serve.
To remove cheesecake from pan, remove foil and gently blot off any excess condensation from the top of the cheesecake, using a paper towel.
Use a knife to run around the edges of the pan and gently push the bottom of the cheesecake pan up to lift it out of the pan (or unhinge the buckle if your pan has that).
I love homemade whipped cream on this pumpkin cheesecake recipe. It tastes more like pumpkin PIE cheesecake with a big dollop of whipped cream.
You can also garnish with Cool Whip or the canned whipped cream.
Slice cheesecake and enjoy!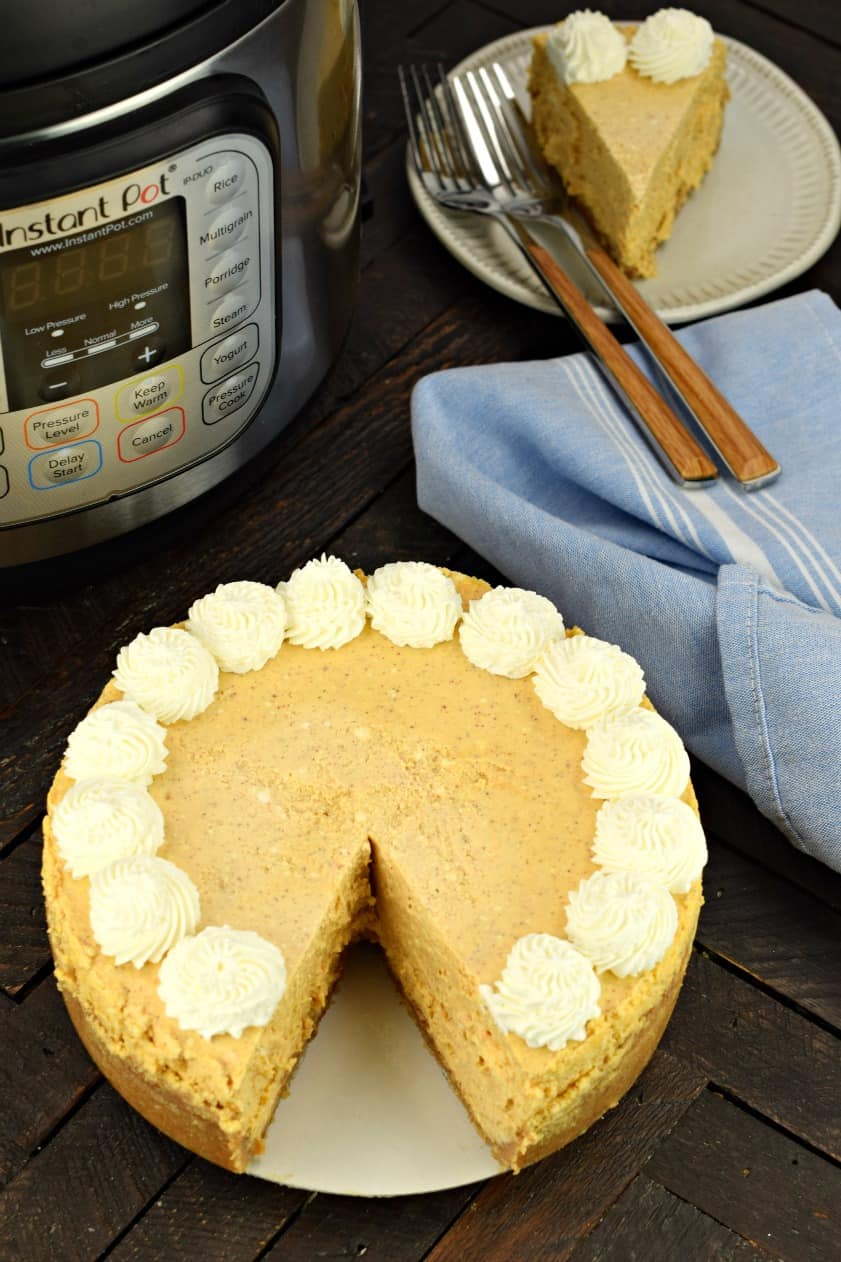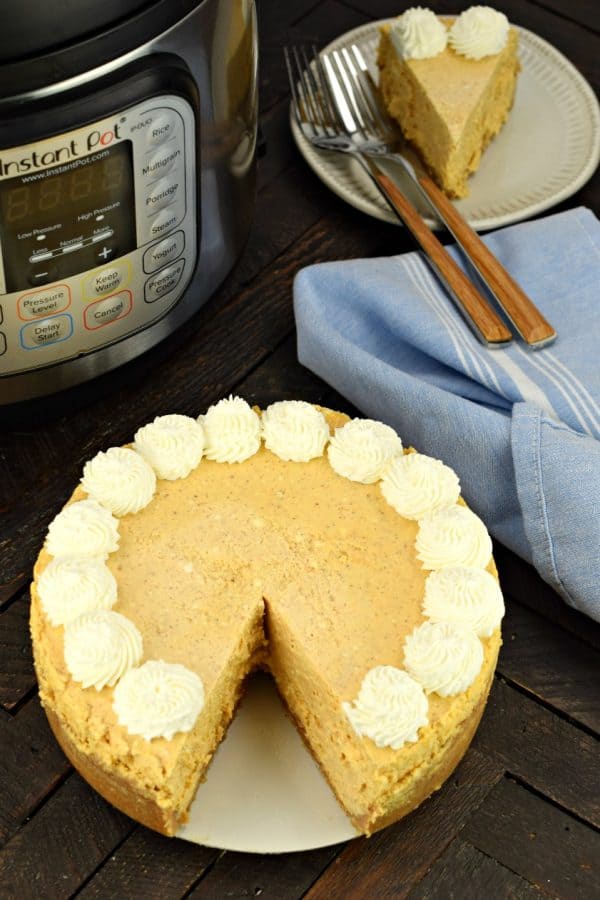 How to make Homemade Whipped Cream
In a bowl, add heavy whipping cream with powdered sugar.
Beat until peaks form, this will take several minutes.
Using a disposable decorator bag, pipe swirls of whipped cream on cheesecake. Or place in a bowl and serve with a spoon so guests can add their own whipped cream.
Can you freeze Instant Pot Pumpkin Cheesecake
Yes!
After cheesecake has cooled to room temperature, and chilled in refrigerator for 8 hours, remove from pan and wrap in heavy duty aluminum foil. Slide into a large ziploc freezer bag.
If stored properly, cheesecake can stay in freezer for up to 3 months.
Thaw in refrigerator, garnish with whipped cream, and enjoy.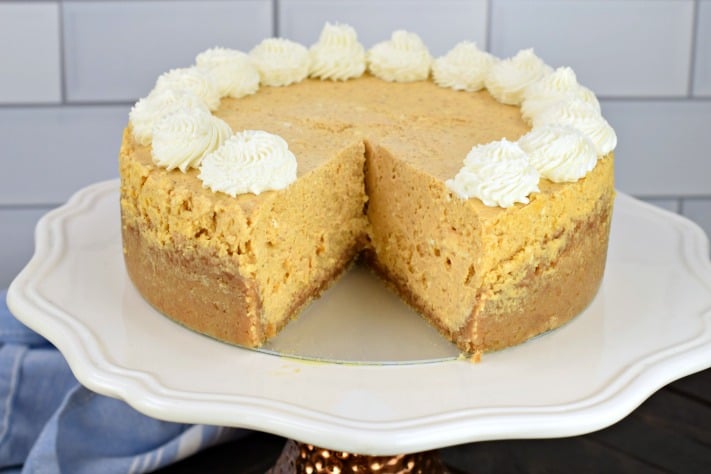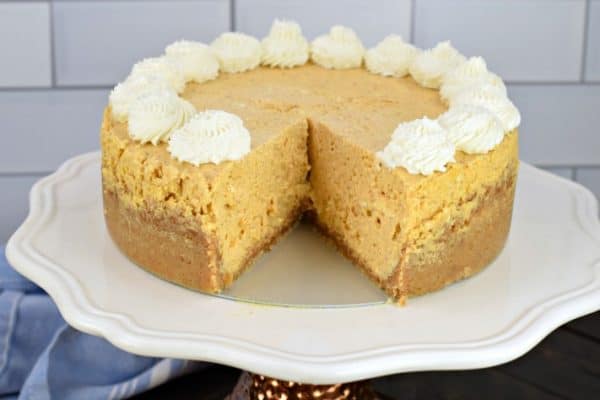 Tips for Pumpkin Cheesecake
Swap out the graham cracker crumbs and use gingersnap cookies instead! You'll love the "zing"!
Make sure you use pumpkin puree, not pumpkin pie filling. They will yield different results.
Be sure the cheesecake pan is not touching the sides of the instant pot when lowered into the pot. If it is, your pan may be too large.
I love this 7×3-inch Fat Daddios Cheesecake Pan. It doesn't have the springform latch (so it fits perfect in my 6qt Instant Pot), but the bottom of the cheesecake pan is separate, so you can just push it up and the cheesecake comes out perfectly.
Keep leftover cheesecake in refrigerator for up to 5 days for best results.
Take this pumpkin cheesecake to a new level by garnishing with chocolate, caramel, and pecans!
Connect with Shugary Sweets!
Be sure to follow me on my social media, so you never miss a post!
Facebook | Twitter | Pinterest | instagram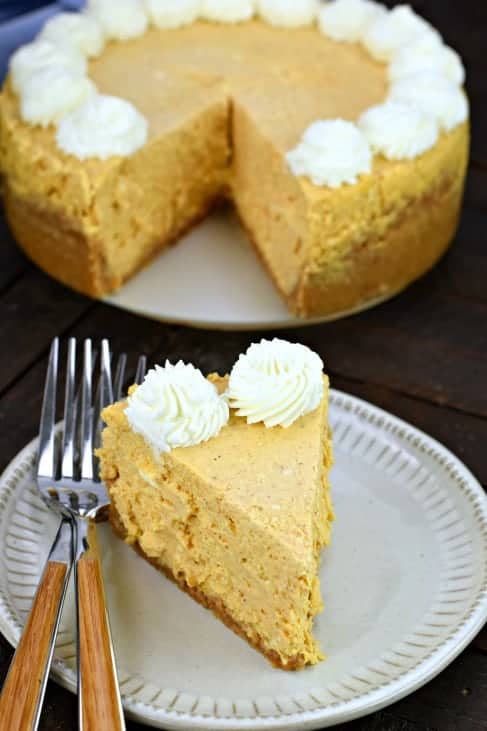 MORE Instant Pot Recipes:
Delicious main dish meals to enjoy before dessert is ready!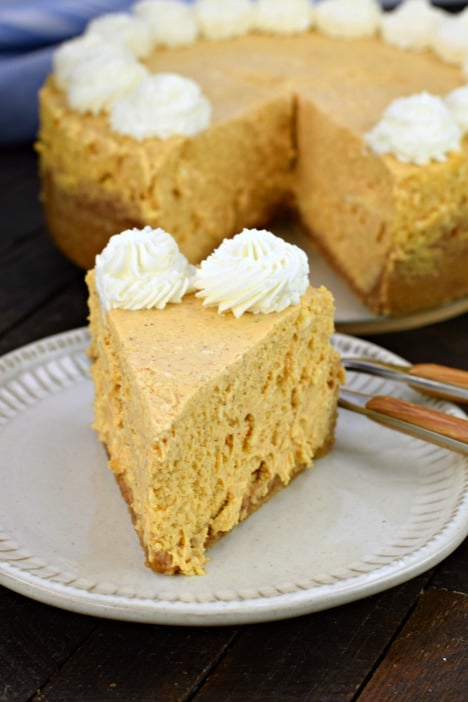 Instant Pot Pumpkin Cheesecake is the creamiest, silky smooth, fall dessert you've been craving. Transform your Thanksgiving dessert table with this easy pressure cooker dessert recipe!