Enjoy an easy dinner in just minutes. These Instant Pot Sloppy Joes are homemade, kid-friendly, and the perfect sweet and tangy weeknight meal recipe idea!
If you love this easy dinner idea, be sure to try my Swedish Meatballs recipe as well as my easy Buffalo Chicken Pasta!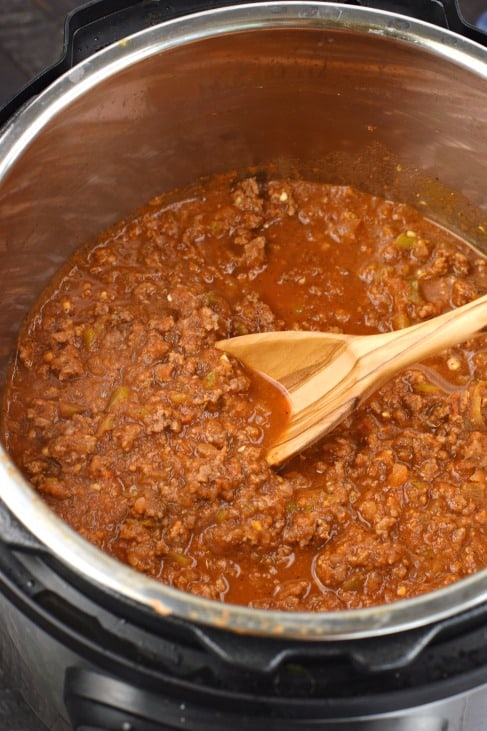 Why this Recipe Works
Everyone loves family recipes. From Chicken Tetrazzini to meatloaf, each family makes their own version.
Sloppy Joes are a family favorite in our house. But growing up, we always made them my momma's way.
One pound of ground beef, browned…drain and add enough Open Pit barbecue sauce to make them "sloppy."
That's it.
It wasn't until years later that I realized those sandwiches were more like loose meat BBQ, not traditional sloppy joes.
Sloppy Joes originally got their name from a cook name Joe at Floyd Angell's cafe in Iowa. He added tomato sauce to a loose meat sandwich, and thus became the classic dinner.
Sticking with the tomato sauce, I've created the perfect Sloppy Joe Recipe in the Instant Pot. You can also make this on the stove top or slow cooker, see below for details!
Step by Step Instructions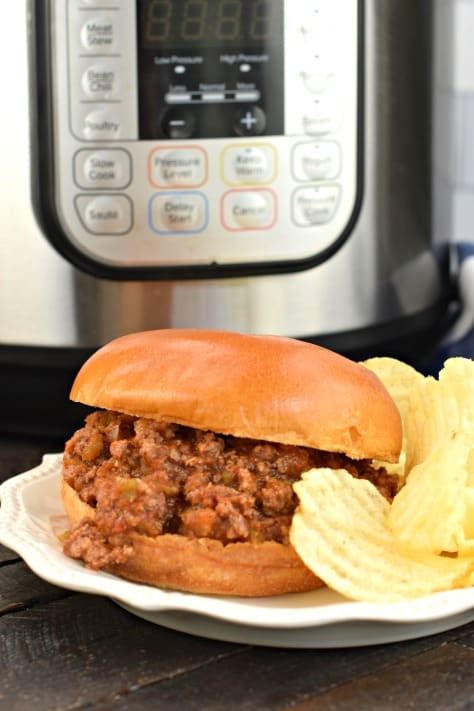 STEP 1. Brown the meat.
Turn your pressure cooker to SAUTE, and add ground beef. Cook until brown and crumbly. Drain any excess grease or liquid and transfer meat to a plate. Set aside.
STEP 2. Cook the vegetables.
While on SAUTE, add olive oil to pressure cooker. Add diced onion, green pepper, and garlic to instant pot. Cook for about 3-4 minutes, until peppers are softened. Add in crushed tomatoes, water, light brown sugar, worcestershire sauce, chili powder, dry mustard, salt, and pepper.
PRO TIP: Use a wooden spoon to scrape up the bits on the bottom of the pan. Otherwise you may get a burn notice!
STEP 3. Pressure cook.
Add the beef to the mixture, stirring to combine. Lock the lid and turn valve to SEALING. Select HIGH PRESSURE and cook for 6 minutes.
Use a quick pressure release and carefully remove the lid after the valve drops. If your sauce is too thin, SAUTE for a minute or two until it boils and thickens.
STEP 4. Serve.
Serve sloppy joe meat on a bun and enjoy!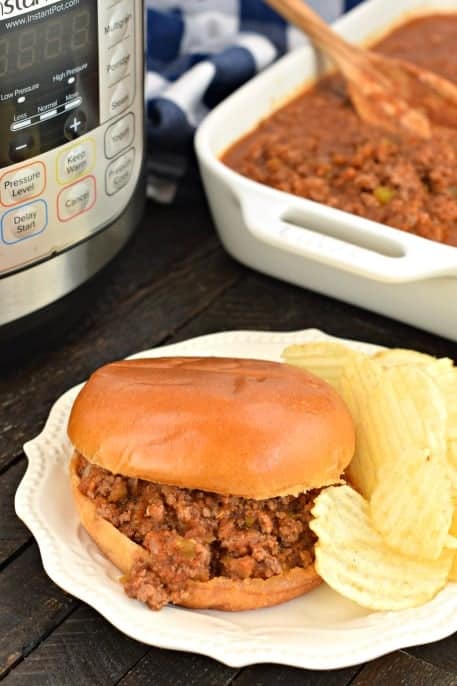 Can Sloppy Joes be made on the stove?
Yes.
To make these on the stove, add beef to a large skillet or saucepan. Cook and brown the beef, drain, and set aside on plate.
Add olive oil to skillet and cook onion, green pepper, and garlic over medium high heat. Cook for about 4 minutes, until peppers are softened.
Add remaining ingredients, and ground beef, to the skillet. Cook on low for about 20-30 minutes, until thickened. Serve and enjoy.
Can Sloppy Joes be made in a Slow Cooker (Crock pot)?
Yes!
Brown beef in skillet, or in slow cooker if yours has that function. Drain grease and add all the remaining ingredients to the crockpot.
Turn on low for 6 hours.
Serve and enjoy!
What to serve with Sloppy Joes
We love enjoying potato chips with our homemade sloppy joes.
But, you can also enjoy Potato Salad, Coleslaw, or Broccoli Salad for a delicious side dish!
Don't forget the buns!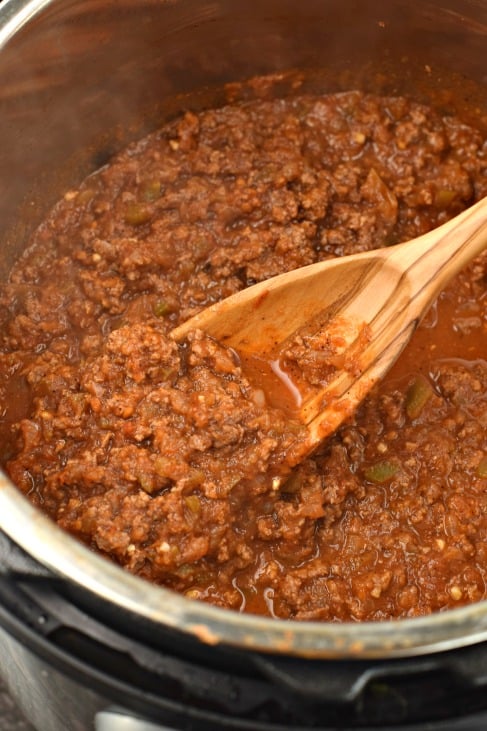 Tips and Tricks
Some people choose to use ketchup instead of tomatoes. I love the freshness of the tomatoes and being able to control the sugar and spice in this recipe.
Don't forget to deglaze the pan after adding the liquids. If you want to avoid the dreaded BURN notice, this is a must do!
Need your sauce thicker? You can saute a little after pressure cooking. Or thicken with cornstarch. Add about 2 Tbsp cornstarch to a bowl, with 2 Tbsp of the sloppy joe sauce. Whisk and pour into pressure cooker. Saute until thick.
Dice your pepper and onion SMALL.
Today's recipe was tested in a 6qt Instant Pot. You may need to make changes for a different size.
Use the leftover sloppy joes to make this delicious Sloppy Joe Pizza!!
PS. If you try this recipe, please leave a STAR rating in the recipe card below. I love your feedback! Connect with me on social media by following me on Instagram, Facebook, or Pinterest.
Enjoy an easy dinner in just minutes. These Instant Pot Sloppy Joes are homemade and the perfect sweet and tangy weeknight meal recipe idea!