In my family, the Best Sweet Potato Casserole recipe is one that's served up sweet and salty with a delicious, crunchy streusel topping! You'll love this mashed sweet potato recipe and the nutty brown sugar crunch on top!
For more holiday side dishes, don't forget the Instant Pot Green Bean Casserole, and of course Pistachio Salad!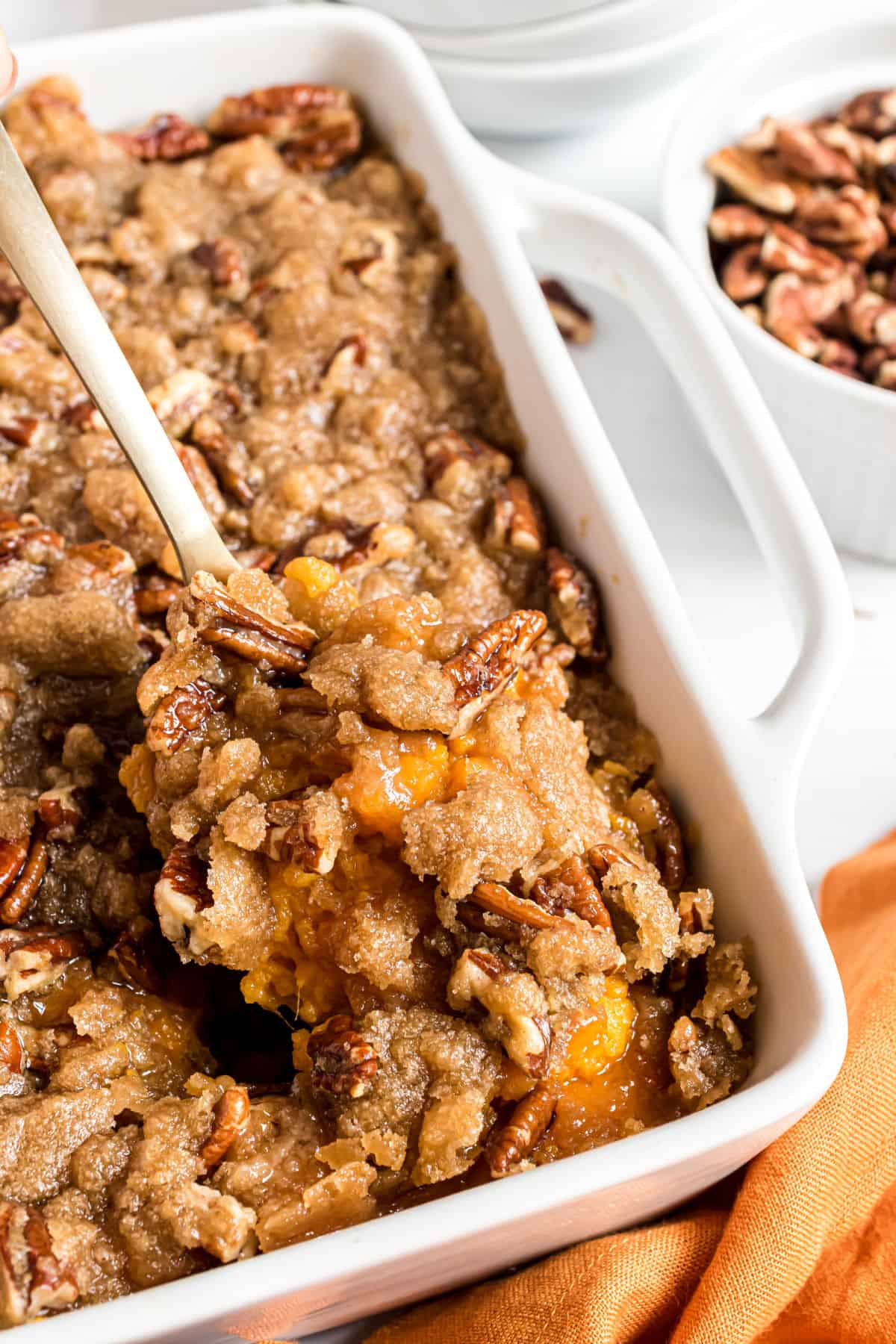 Why this Recipe is Best
Every family has traditions, and in most cases, you can't shake things up. Ever.
For instance, Thanksgiving. You are either a plain sweet potato or a mini marshmallows topped sweet potato family. There is no middle ground. (of course you could also love candied sweet potatoes)
For years, my family was divided. Depending on who hosted Thanksgiving dinner, we either were served gooey, sweet marshmallow sweet potato casserole….or a sweet potato casserole with a little butter and brown sugar.
Those were the only choices. Until now.
Now I host Thanksgiving myself, and it's my turn to determine how I want to serve my sweet potatoes. And while I love marshmallow topped, and brown sugar…today's streusel topped sweet potato casserole are hands down, my favorite.
If you've ever been to a Ruth's Chris restaurant you'll recognize these potatoes!
Sweet and creamy mashed sweet potatoes.
Topped with a brown sugar crumble with a crunch for salty pecans.
One of the best things about these sweet potatoes is that you can have them prepped ahead of time so that you only need to bake them on Thanksgiving.
Ingredient Notes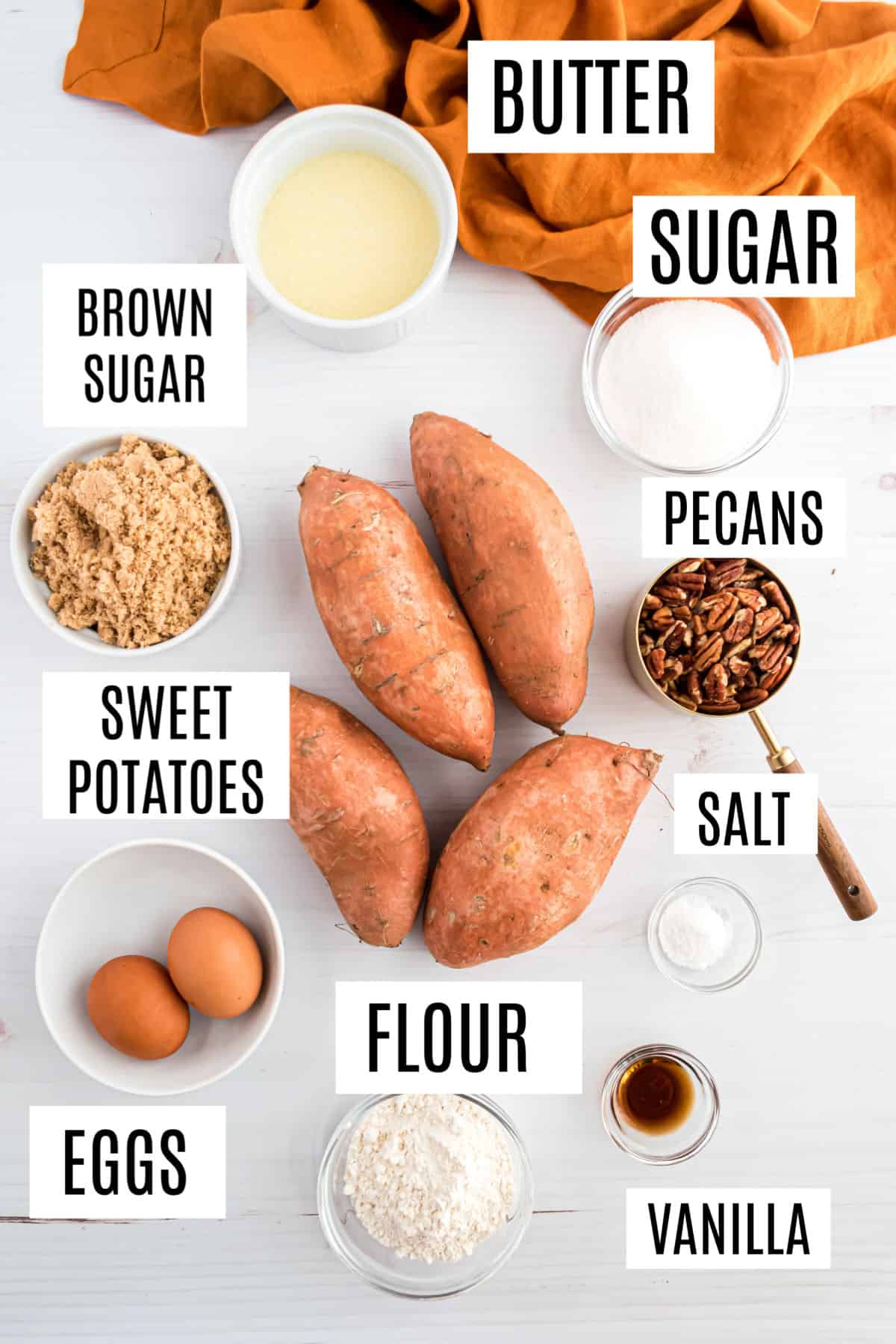 Sweet Potatoes. Choose fresh sweet potatoes that have no root growing off of them.
Sugars. You'll want sugar for the mashed sweet potato and brown sugar for the pecan topping.
Vanilla extract. These candied potatoes are almost like a dessert. Using real vanilla extract (or try my homemade vanilla extract) gives even more flavor.
Eggs. Helps the casserole fluff up to a delicious texture.
Unsalted butter. If using salted butter, omit the extra kosher salt in the recipe.
Easy Instructions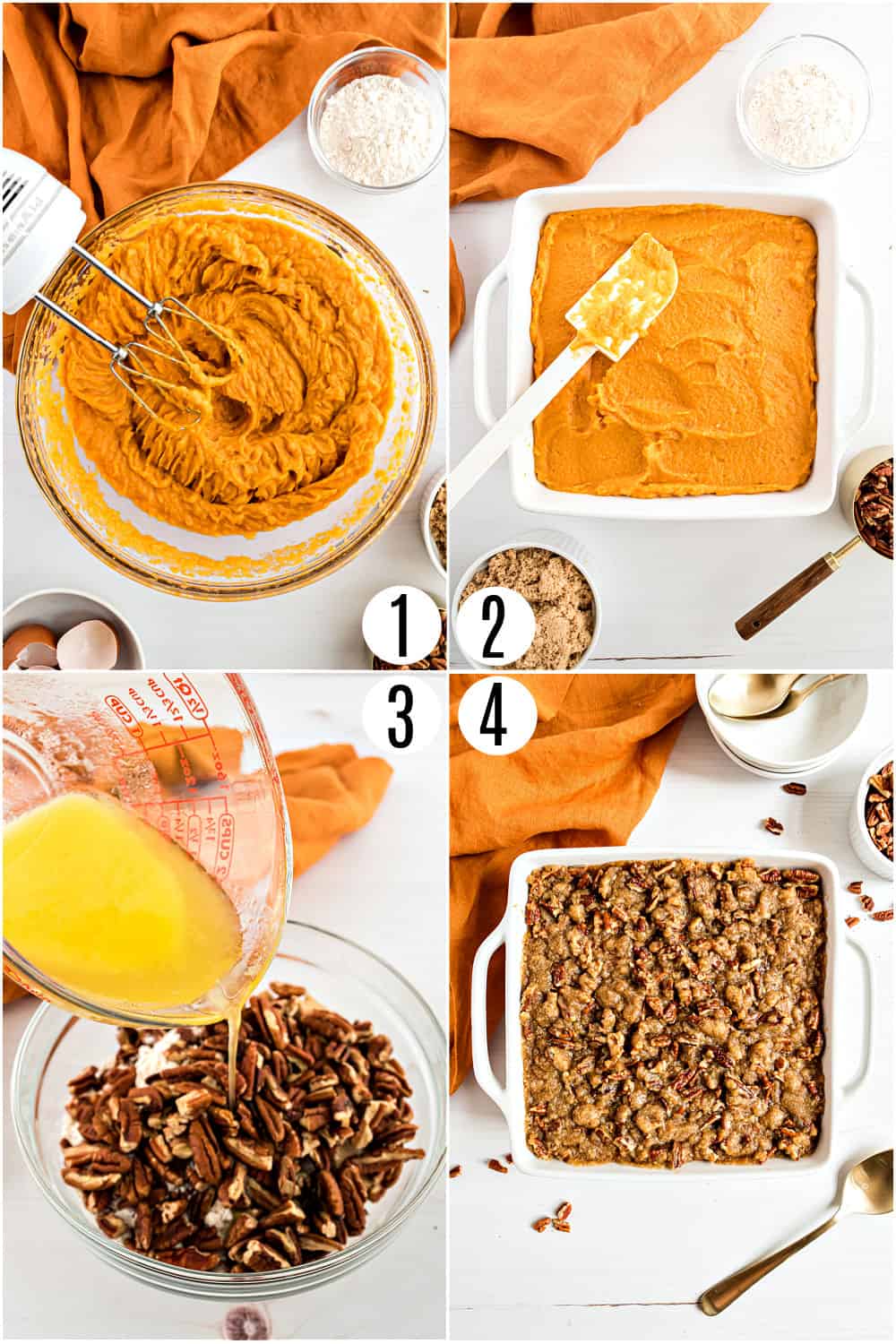 Start by cooking your sweet potatoes.
Bake. You can bake them in the oven (my preferred method), at 400 degrees F for an hour.
Stove Top. Or you can peel and boil potatoes in a large pot of water (for about half an hour).
Microwave. The third way would be to poke them with a fork and microwave the potatoes for about 15-20 minutes.
Instant Pot. OR you can pop them in the Instant Pot! Cook them tender by using my Instant Pot Sweet Potato recipe!
Mash the sweet potatoes.
Once your potatoes are cooked, combine them in a large bowl with the sugar, salt, vanilla extract, eggs, and melted butter. Using a mixer, beat them for about 4-5 minutes until fluffy and smooth.
Bake. Pour this into a 2 qt casserole dish and bake in a 375 degree oven for about 25-30 minutes.
Make the topping. While the potatoes are baking, make your streusel topping. Combine brown sugar with flour, chopped pecans, and melted butter. Stir together with a fork and set aside.
Once your sweet potatoes have cooked, top with streusel (and extra pecans on top if desired) and return to the oven to bake an additional 10-15 minutes. Serve hot.
Making ahead of time
There is nothing worse than trying to figure out what goes in the oven, and when. Fortunately, this sweet potato casserole gets it's "BEST" rating because of the flexibility. 
Here are THREE options on how to make today's sweet potato casserole recipe:
First, you could bake as written above, if oven space is not an issue.
Or, you could bake the 25 minutes, top with the streusel and refrigerate until the next day. Then you would only need to pop it back into the oven for about 20 minutes.
You could also bake it as directed for entirety and allow to sit on the table for about 30 minutes (covered with foil to keep hot). This gives you time and space to warm up some dinner rolls and get the rest of your food heated and ready.
Thanksgiving Dessert recipes
While you're here, how about we take a peek into my dessert archives? I've got some of the best Thanksgiving treats you could ever want!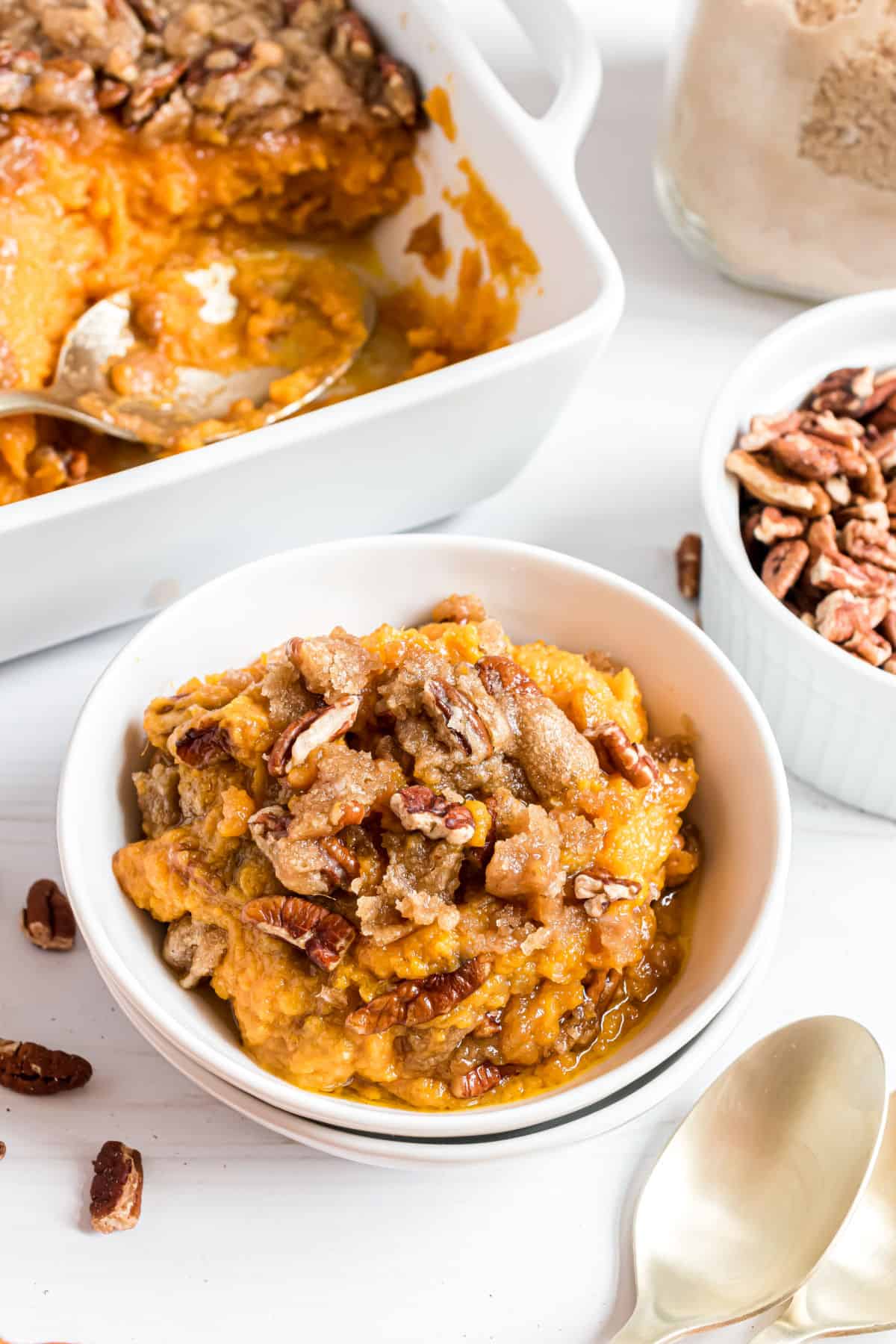 Serving Suggestions
So many dinner ideas pair nicely with these sweet potatoes. Here are a few of my favorites!