Sweet and salty, this Mandarin Orange Pretzel Bars recipe is the perfect dish to share this summer! You'll love the nutty pecans in the crust of this sweet treat!
Oranges are the highlight in our skinny pineapple orange cupcake recipe! You'll love them also in our frozen cranberry orange salad.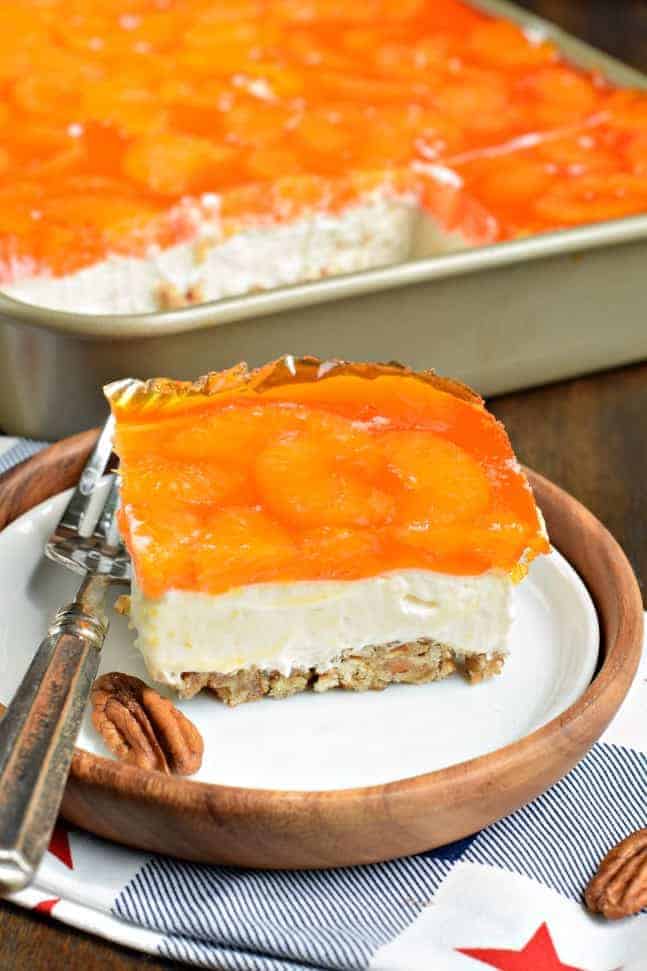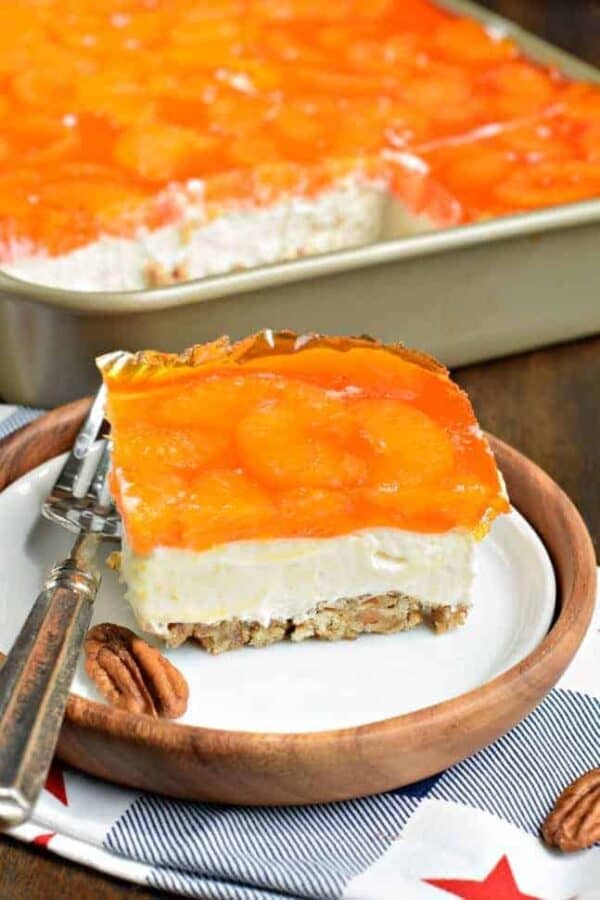 Why This Recipe is Best
You may be a big fan of our strawberry pretzel jello recipe. Today has a new twist.
This pretty three layered dessert has a pecan and pretzel crust, a cheesecake filling and an orange gelatin topping studded with mandarin oranges.
The contrast of nutty and crunchy with creamy and smooth with fruity and refreshing is so tasty!
No baking needed for this dessert so you don't have to turn on the oven when it's hot out!

You just need

20

minutes to prep this dessert then it sets up in the refrigerator!
This dessert makes 24 bars and is perfect for a summertime dessert to share at BBQ parties or picnics!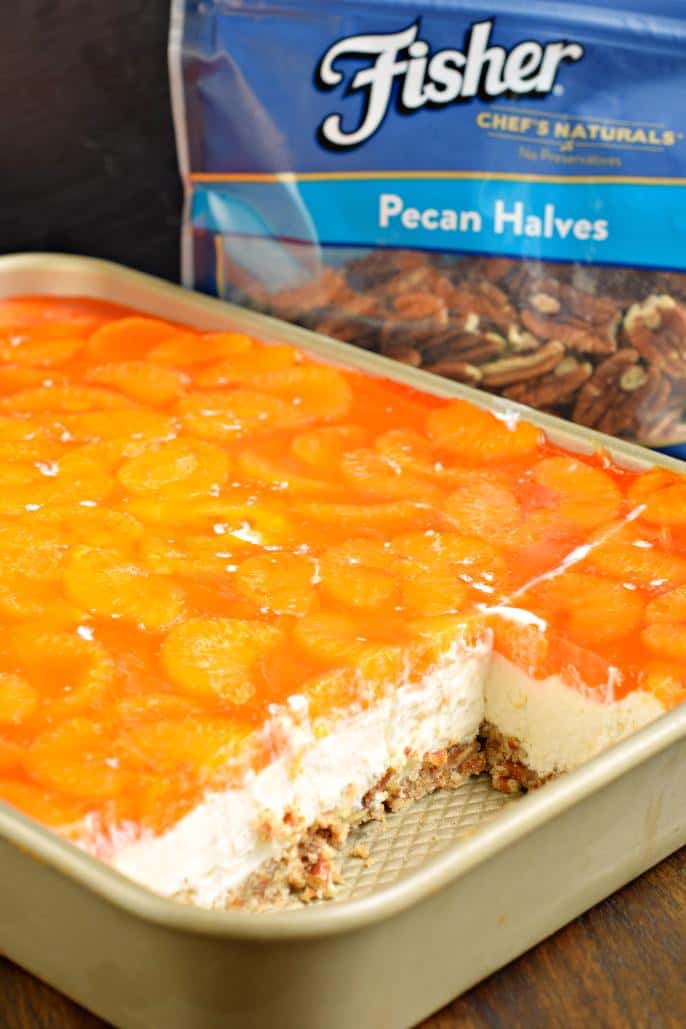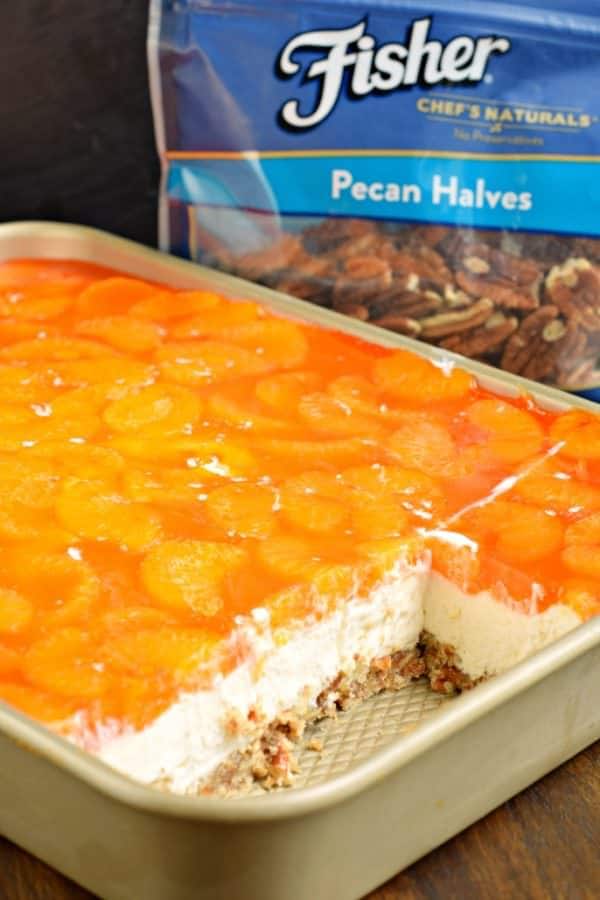 Ingredient Notes
Pecans – Pecans are our favorite for the crust of this recipe. You can buy whole pecans, pecan halves or pecan pieces, since they are being broken down in the food processor. Walnuts can also be subbed if needed.
Pretzels – Any shape of pretzel is fine because we're also breaking these down in the food processor to form the crust.
Cream cheese – Full-fat cream cheese is best for this recipe. Make sure to let it sit out at room temperature for a bit to soften.
Whipped topping – Make sure your whipped topping, such as Cool Whip, is completely thawed so you can fold it into the cream cheese mixture. Use homemade stabilized whipped cream if you prefer.
Mandarin oranges – You need 2 cans of canned mandarins for this dessert. Drain the juices very well first.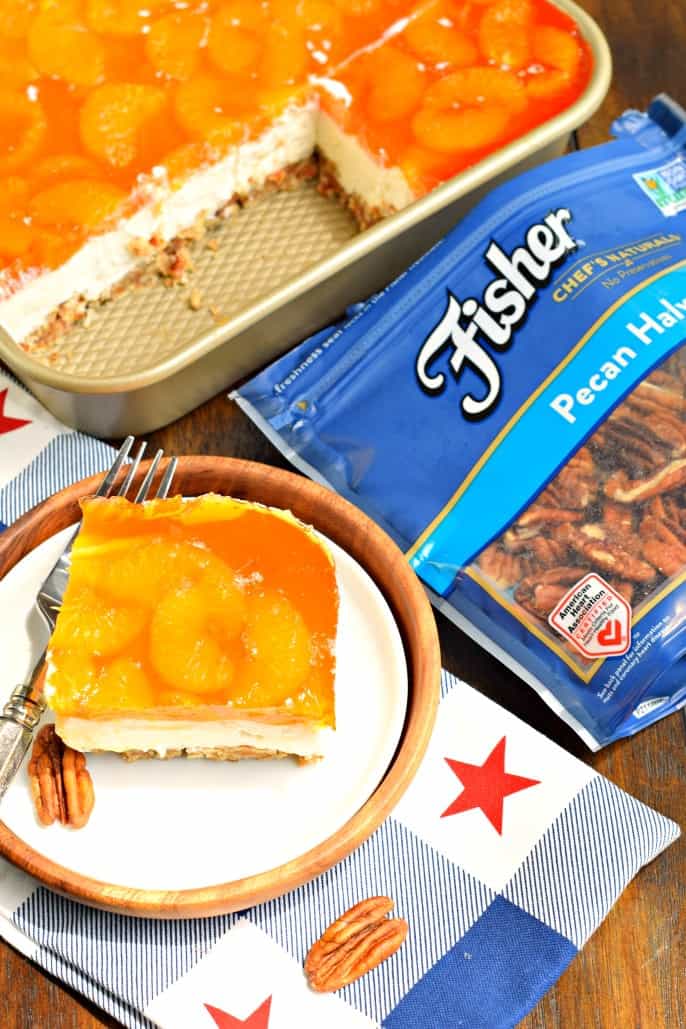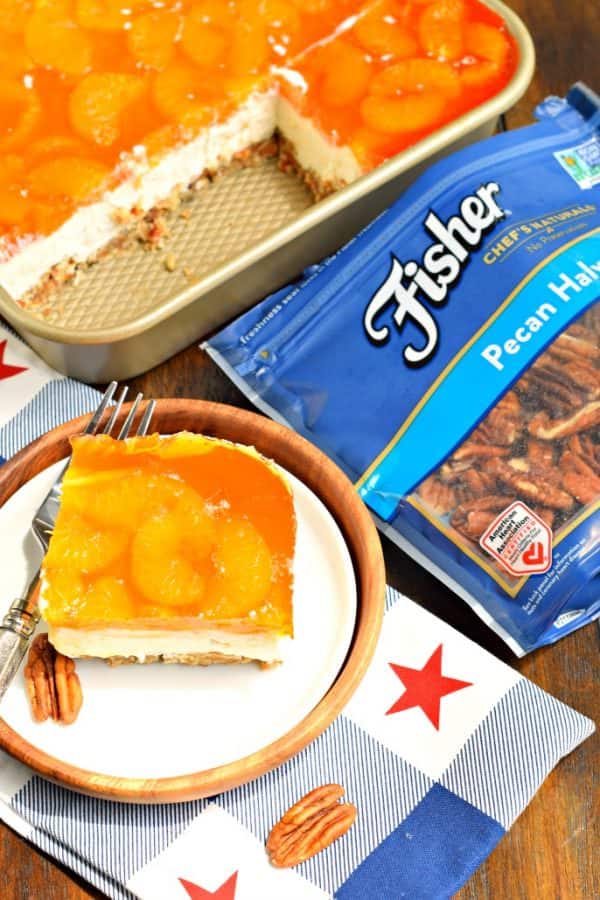 Easy Instructions
This recipe may be 3 separate layers, but it is super duper easy to make and comes together quickly!
STEP 1. Make the crust. Pulse the pecans, sugar and pretzels in a food processor until slightly broken down. Add melted butter, mix and press into the bottom of a deep 9×13 baking pan.
STEP 2. Make the cheesecake filling. Beat the cream cheese and sugar for several minutes, until smooth. Fold in the whipped topping and spread over pecan crust.
STEP 3. Make the gelatin topping. Combine the gelatin with boiling water until dissolved. Add in mandarin oranges and allow mixture to cool to room temperature then spread over the cheesecake filling.
Cover and chill for at least 8 hours or overnight, then slice and serve!

Tips and Tricks
Use a deep 13×9 pan. You need room for each layer to stack within the pan.
Don't over pulse the crust. The crust mixture should have some pieces of pecans and pretzels in it; don't process it until it's only crumbs.
Dissolve the gelatin mix completely. If the powder doesn't dissolve all the way into the hot water, you'll have specks of color instead of a pretty, uniform color.
Chill overnight. The dessert may set in as little as 4-6 hours, but I recommend making it in advance so the layers can fully set properly and get chilled, at least 8 hours or even better, overnight.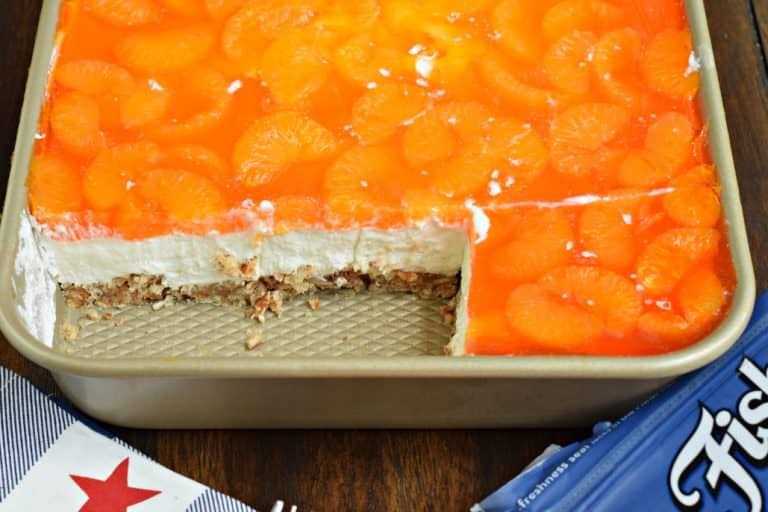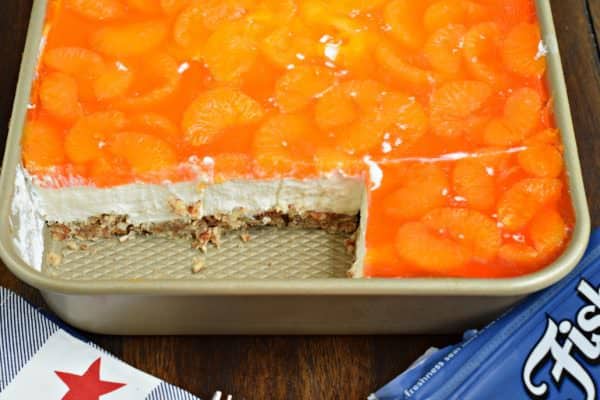 Recipe FAQs
Can I use homemade whipped cream?
Fresh whipped cream won't give you the same results as stabilized whipped cream (such as Cool Whip). The "stabilizers" give the cheesecake filling a light, fluffy consistency while holding its shape. Regular whipped cream loses air as its sets, so the filling will end up runny in the dessert.
Should I use salted or unsalted pretzels?
I used salted pretzels for the mandarin orange pretzel crust. The saltiness complements the sweetness of the filling and topping for a super satisfying dessert. If you don't like salty-sweet desserts, you can use unsalted pretzels instead.

Can I make mandarin orange pretzel bars in advance?
Yes, this is a great make-ahead dessert! Assemble the bars and keep them covered in the fridge until ready to serve. Enjoy within 3 days for the best flavor.
More Salad and Sides