Get a head start on your holiday cooking with this Frozen Cranberry Orange Salad! This recipe can be made days in advance for a cold, sweet side dish full of festive flavor.
We love sweet salad recipes and so do our readers! This Cherry Dump Salad is another must-have for my family's holiday table. Or mix it up with Pistachio Fluff Salad!
Today's frozen salad is like the Frozen Cranberry Salad we've been making for years–with a citrus twist!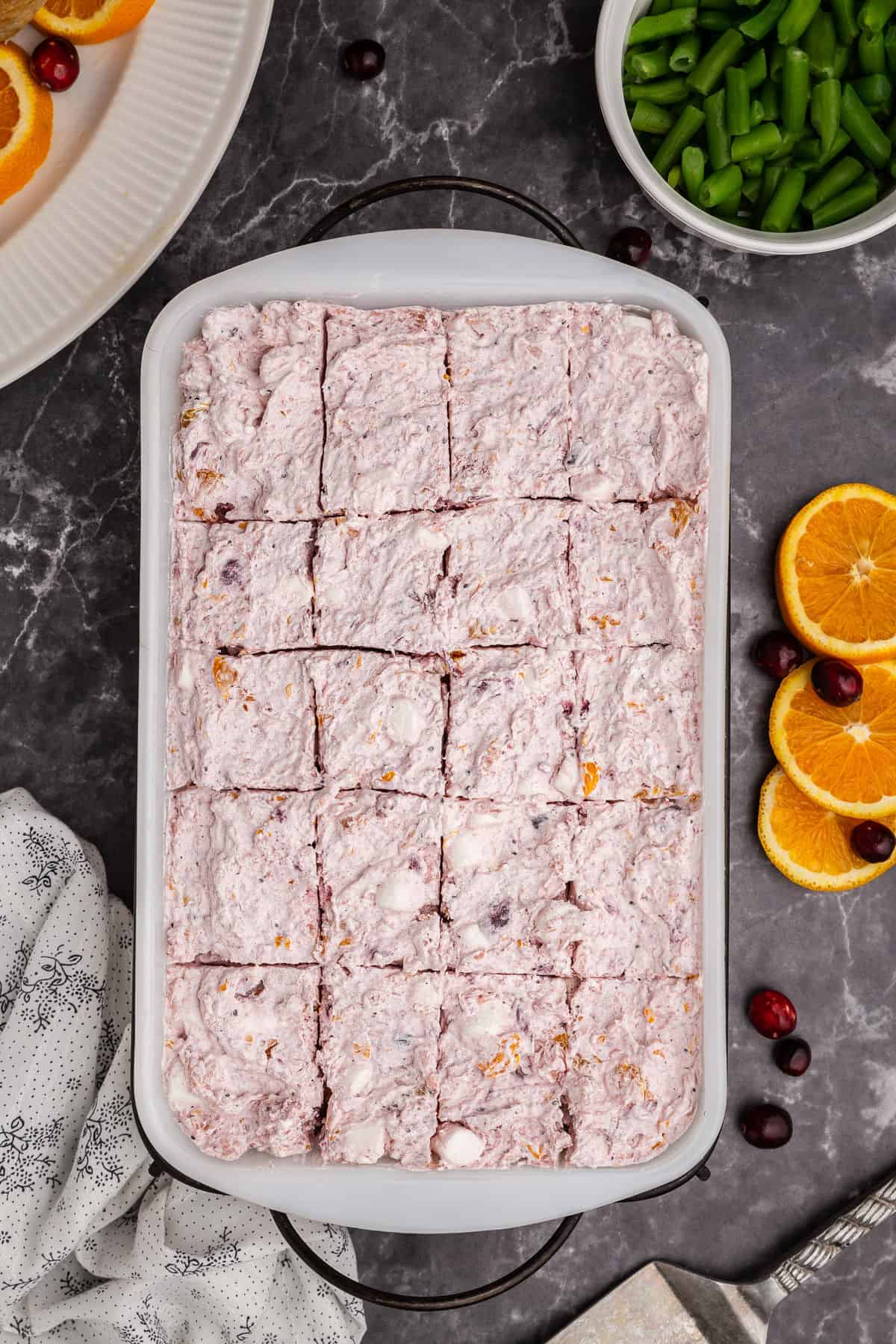 Why this Recipe Works
Christmas dinner isn't complete in our house without a cold sweet salad on the side. This variation with cranberry AND orange turned out even better than I could have hoped.
Zesty orange and tart cranberry is a classic winter pairing.
Make it in advance to save time and energy on the big holiday!
Stored in the freezer, this salad won't take up fridge space.
Frozen salads are the perfect make ahead side dish for any event. You can toss it together days ahead of time, then stick it in the freezer.
That's especially convenient when the refrigerator shelves are in high demand leading up to a big holiday meal. You've got your leftover turkey and mashed potatoes.
Plus, any leftovers can just go right back into the freezer. Convenient and delicious!
Ingredient Notes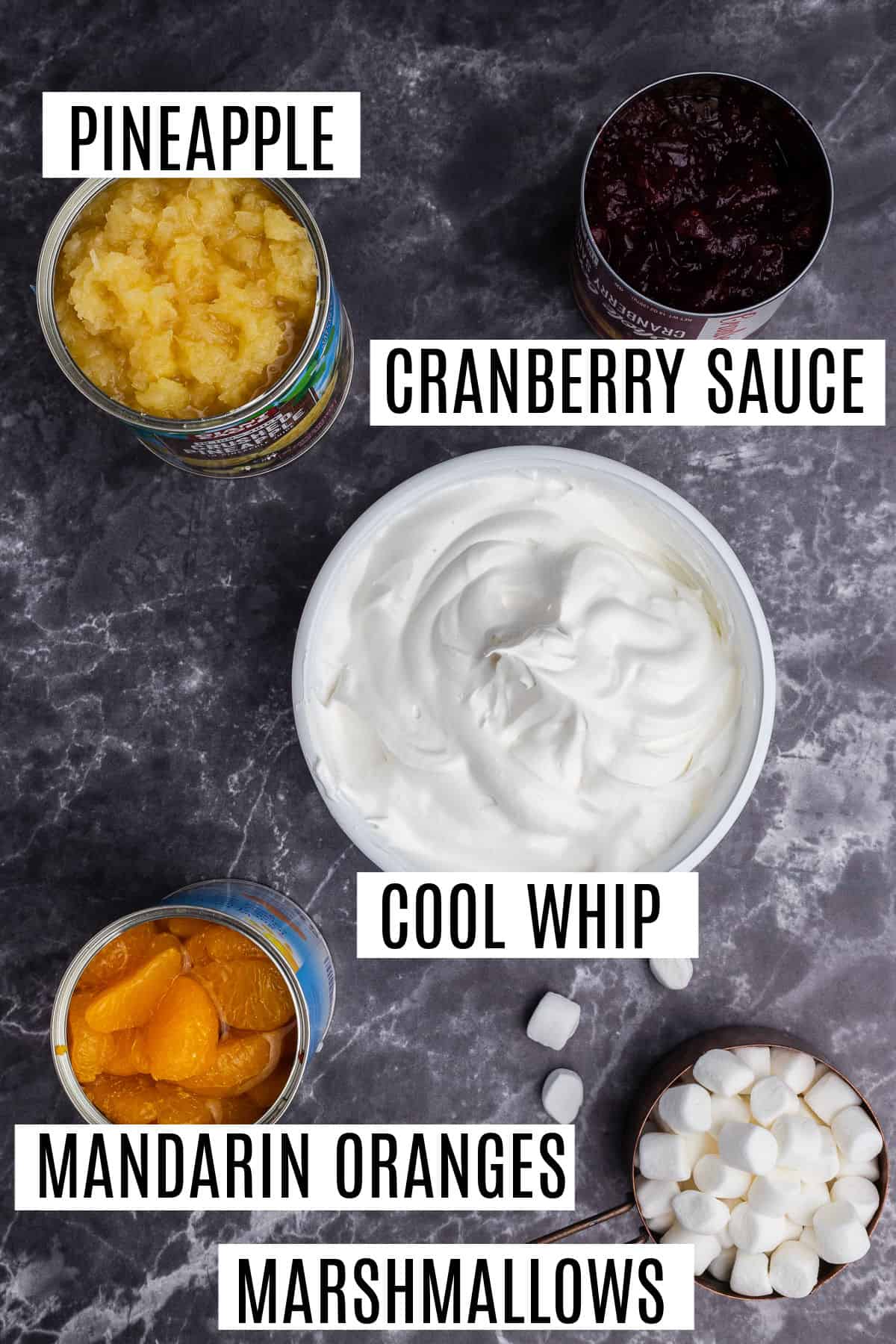 Crushed pineapple – These provide sweetness that balances the tartness of the cranberries.
Mandarin oranges – Canned oranges bring the zip of citrus to this frozen salad.
Cranberry sauce – We use the canned kind with whole berries. Any brand your family likes is perfect. Or use our homemade cranberry sauce for today's recipe.
Cool whip – Thawed whipped topping wraps the fruit in a layer of creamy fluffy goodness. Try our homemade cool whip instead of the store bought version.
Mini marshmallows – No sweet frozen salad is complete without them!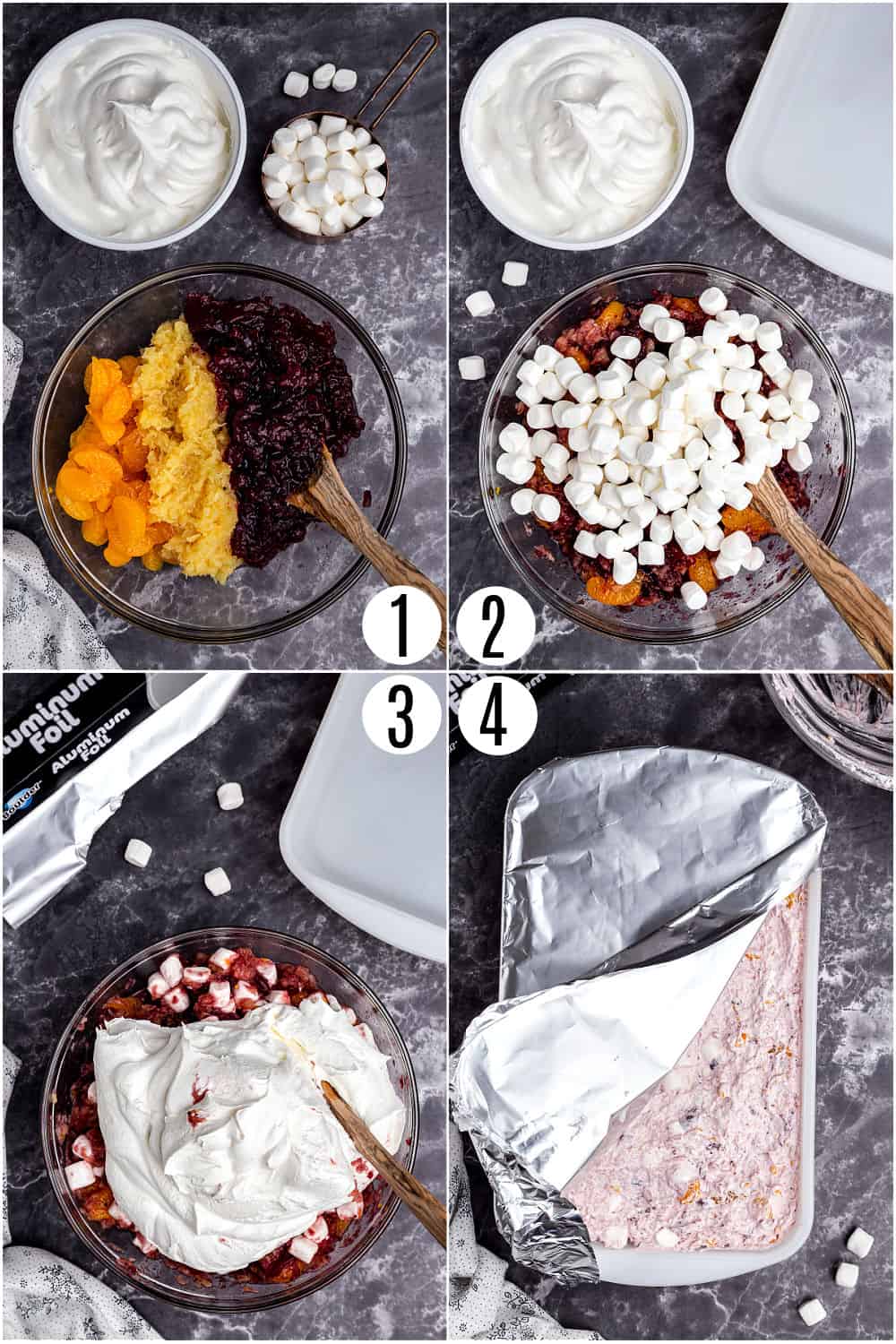 Tips and Tricks
Drain the canned fruit first. If you forget to remove the extra liquid, your frozen salad is likely to come out runny.
Freezing options: Freeze in a 13 x 9 inch baking dish for family style serving. For individual servings, freeze portions of salad in ramekins.
Plan ahead: Allow at least 6 to 8 hours for your salad to set and freeze. You can make this as far as several weeks in advance and keep it frozen until ready to serve.
Cover: Make sure to cover the salad with plastic wrap or foil before freezing to preserve freshness.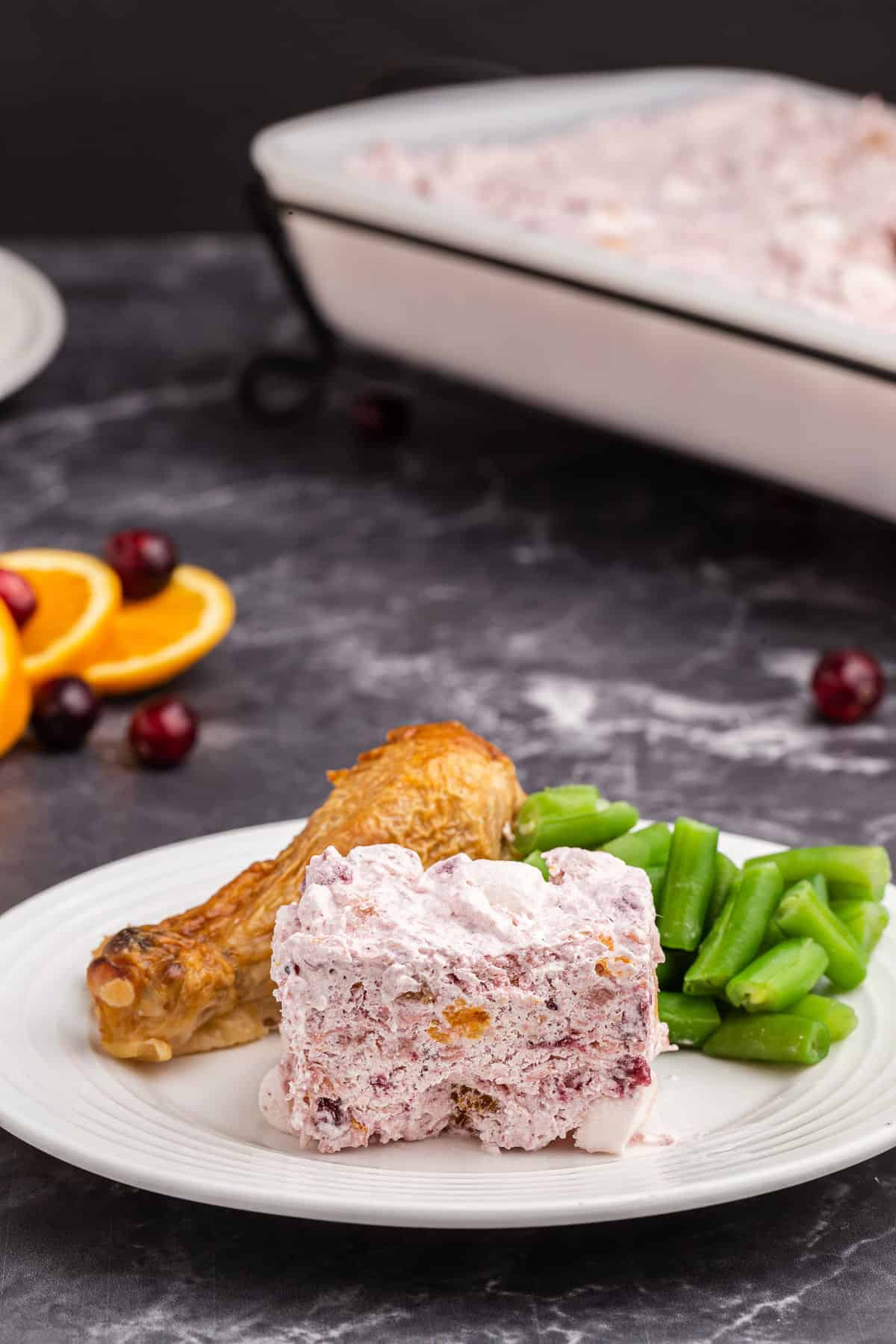 Recipe FAQs
Can I use jellied cranberry sauce?
I haven't tested this recipe with jellied cranberry sauce. The whole berry sauce is perfect because it gives the salad some texture!
Do you thaw frozen salad before serving?
No need to let this thaw before serving. If it's too difficult to cut right away, just let it soften for a couple of minutes on the countertop.
Can I make this with regular size marshmallows?
Regular size marshmallows can be used. You'll need to cut them up in to quarters before adding them to the salad.
How long will this keep in the freezer?
Frozen Cranberry Orange Salad can be stored in the freezer for 3 – 4 weeks!
Frozen Cranberry Orange Salad is so easy to make and bursting with zesty flavor. Complete your Thanksgiving or Christmas dinner with this deliciously sweet side dish.