Make tradition taste even better with a batch of Homemade Cranberry Sauce this Thanksgiving. This classic cranberry side dish with a hint of orange and vanilla is a must-have for any turkey dinner!
Put a scoop of this homemade cranberry sauce on our Turkey Cheddar Sliders, which use up leftover Thanksgiving turkey! We also love make homemade applesauce this time of year!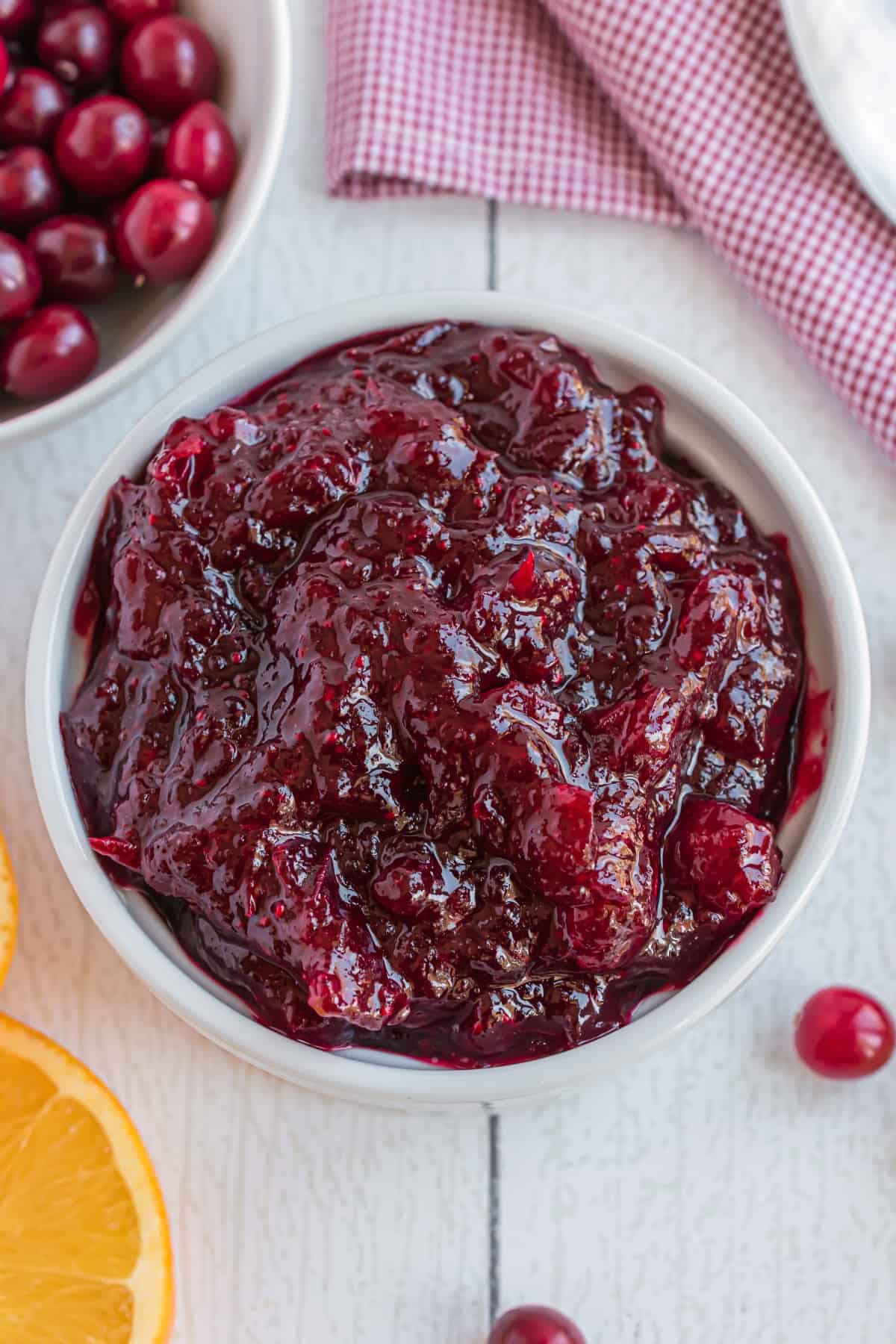 The Perfect Holiday Side Dish
Thanksgiving just isn't complete if there aren't cranberries on the menu. Their tart and bright flavor are the perfect balance to savory turkey and stuffing.
Yes, I know some of you out there are loyal to the canned cranberry sauce that you slice into jelly-like circles. I'll never try to take that from you. But maybe (just maybe) this is the year to branch out and make Homemade Cranberry Sauce from scratch?
You can always keep a can of the jellied stuff on standby if you must. I have a feeling that, with one bite of this cranberry sauce, you'll forget all about your loyalty to the canned version.
Cranberry Sauce isn't just for the holidays either! You can spoon it into your yogurt, spread it on toast and biscuits or even add it to a bowl of ice cream.
So go ahead and make a double batch. Believe me, you'll want leftovers.
Ingredient Notes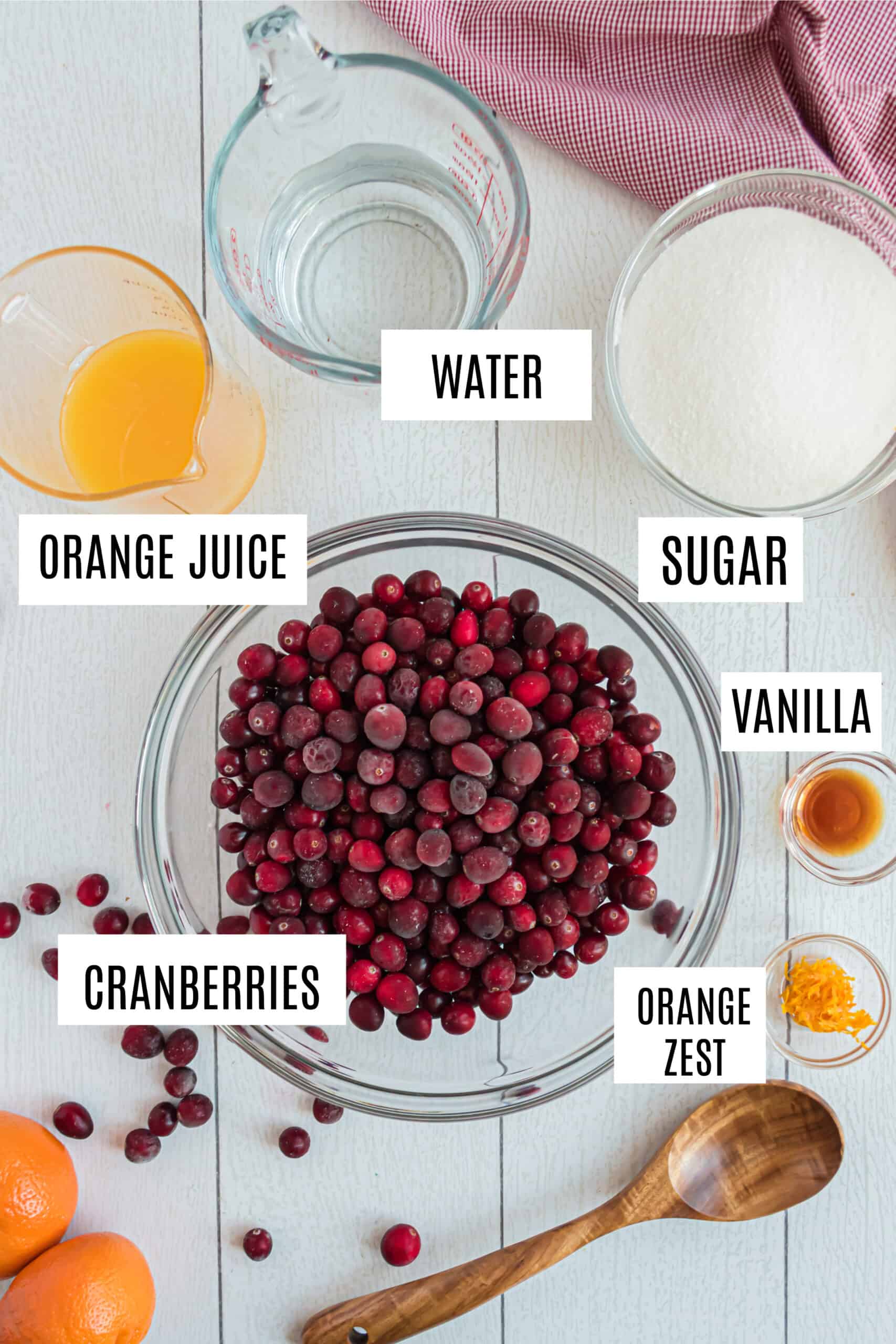 Fresh cranberries – Frozen cranberries can be substituted.
Orange – You'll use a whole orange in this recipe, both for the juice and the zest.
Sugar – Regular granulated white sugar dissolves best with the water and orange juice. Or use my homemade vanilla sugar for a depth of flavor that can't be beat!
Vanilla extract – A tiny bit of vanilla enhances the sweetness of the sauce while helping balance the acidity.
Easy Instructions
The best part about making homemade cranberry sauce (besides how good it tastes) is that everything comes together in one pot.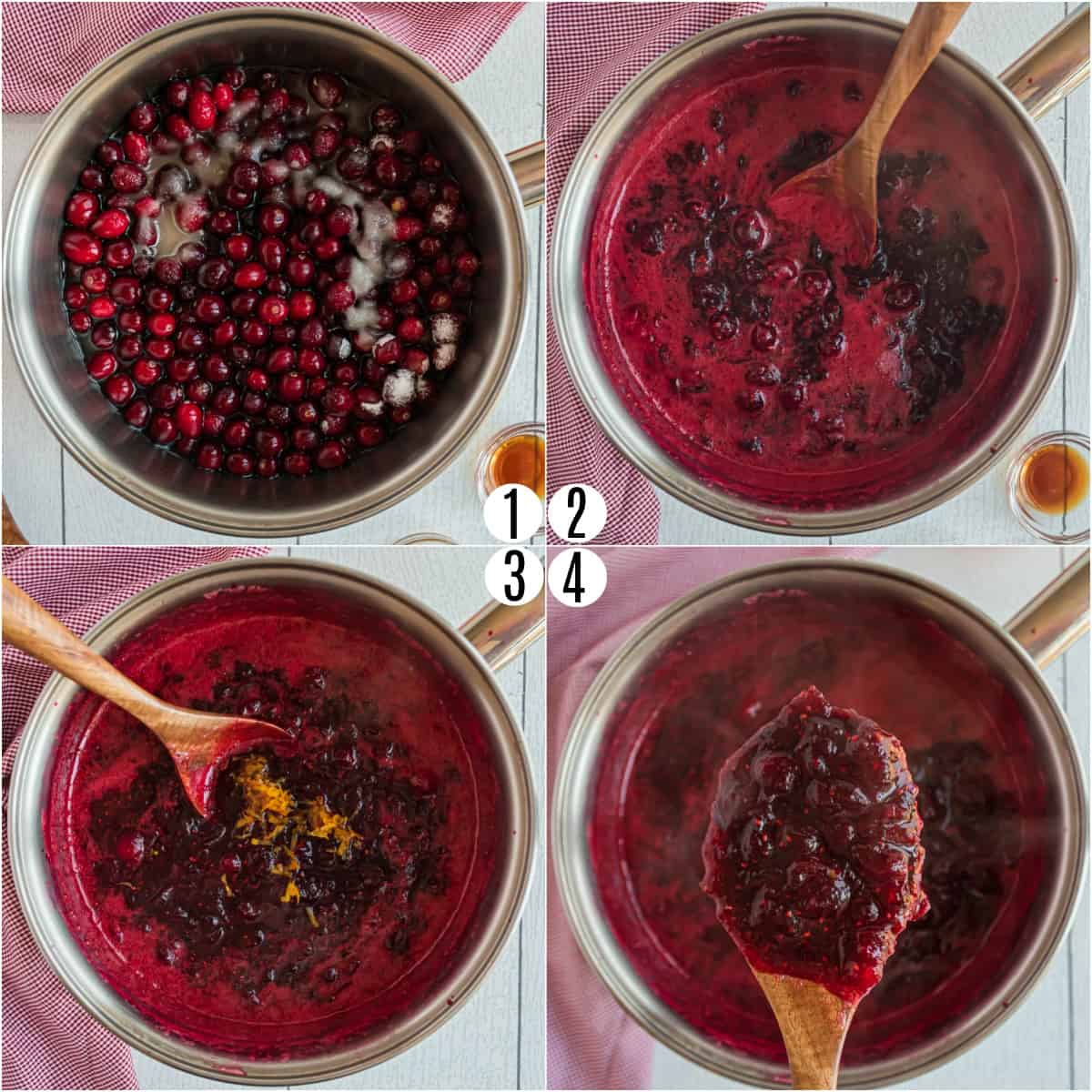 You start by boiling the cranberries with sugar, water and the juice of an orange until the berries pop, then remove the pot from heat and stir in the orange zest and vanilla extract.
Cranberry sauce tastes wonderful warm OR chilled making it amazing for leftovers!
You can serve it right away or store it in the fridge to enjoy cold later. I love having a container full of this sauce in the fridge to add to all my Turkey sandwiches or wraps for the next few days.
I've also been known to ladle it into a bowl and eat it cold with a spoon. However you eat this sauce, you're going to love it!
Tips and Tricks
Rinse the cranberries in cold water before cooking them.
Be careful to avoid overcooking the cranberries. If you keep the pot on the stove for too long, the berries will shrivel up and the sauce will be runny. After the pot comes to a boil, the sauce will look very foamy and liquidy. It'll thicken as it cools down–no need to boil for more than an additional 10 minutes.
Store the sauce in an airtight container in the fridge for up to 5 days.
Serve your Cranberry Sauce as a side dish for your Thanksgiving or Christmas Turkey, spread onto turkey sandwiches as a condiment or enjoy it as a spread on breads and dinner rolls of all kinds. It also tastes amazing in oatmeal!
Love this? Try our homemade applesauce recipe next!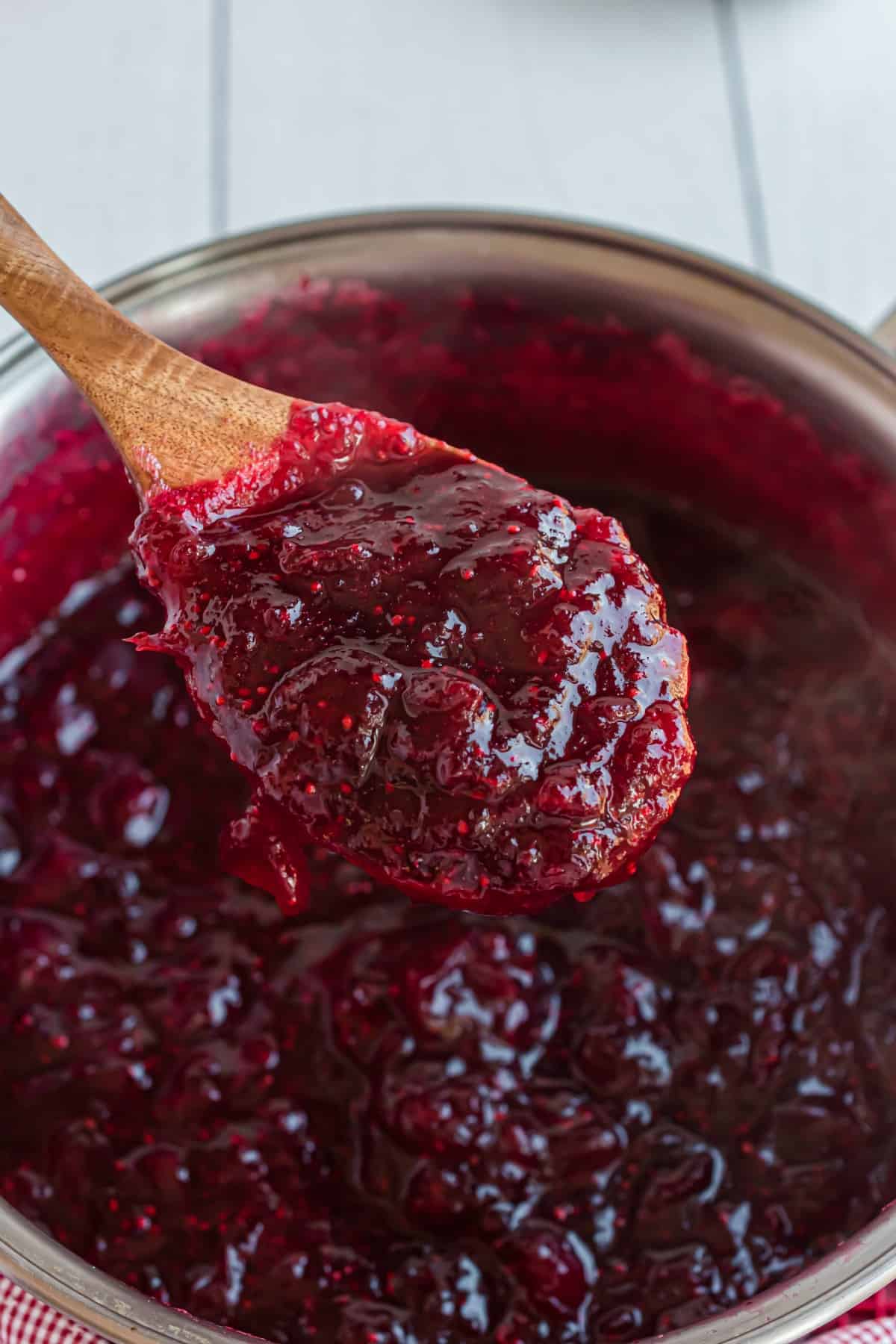 Recipe FAQs
Can you use store bought orange juice?
Yes, store bought orange juice works just fine. Since I'm already zesting an orange for this recipe, I like to go ahead and use the juice from it too.
Why isn't my cranberry sauce thickening?
While it's boiling, the sauce will look runny and foamy, not thick. Once it starts to cool down it should start to thicken up. If it stays runny and the berries have shriveled up, you probably boiled it for too long.
How many bags of cranberries do you need for this recipe?
4 cups of cranberries is equal to about a bag and a half of the standard 12 oz bags of fresh cranberries.
Can you freeze homemade cranberry sauce.
Yes! Freeze in a freezer-safer container or in freezer bags. Thaw in the fridge when ready to eat and enjoy.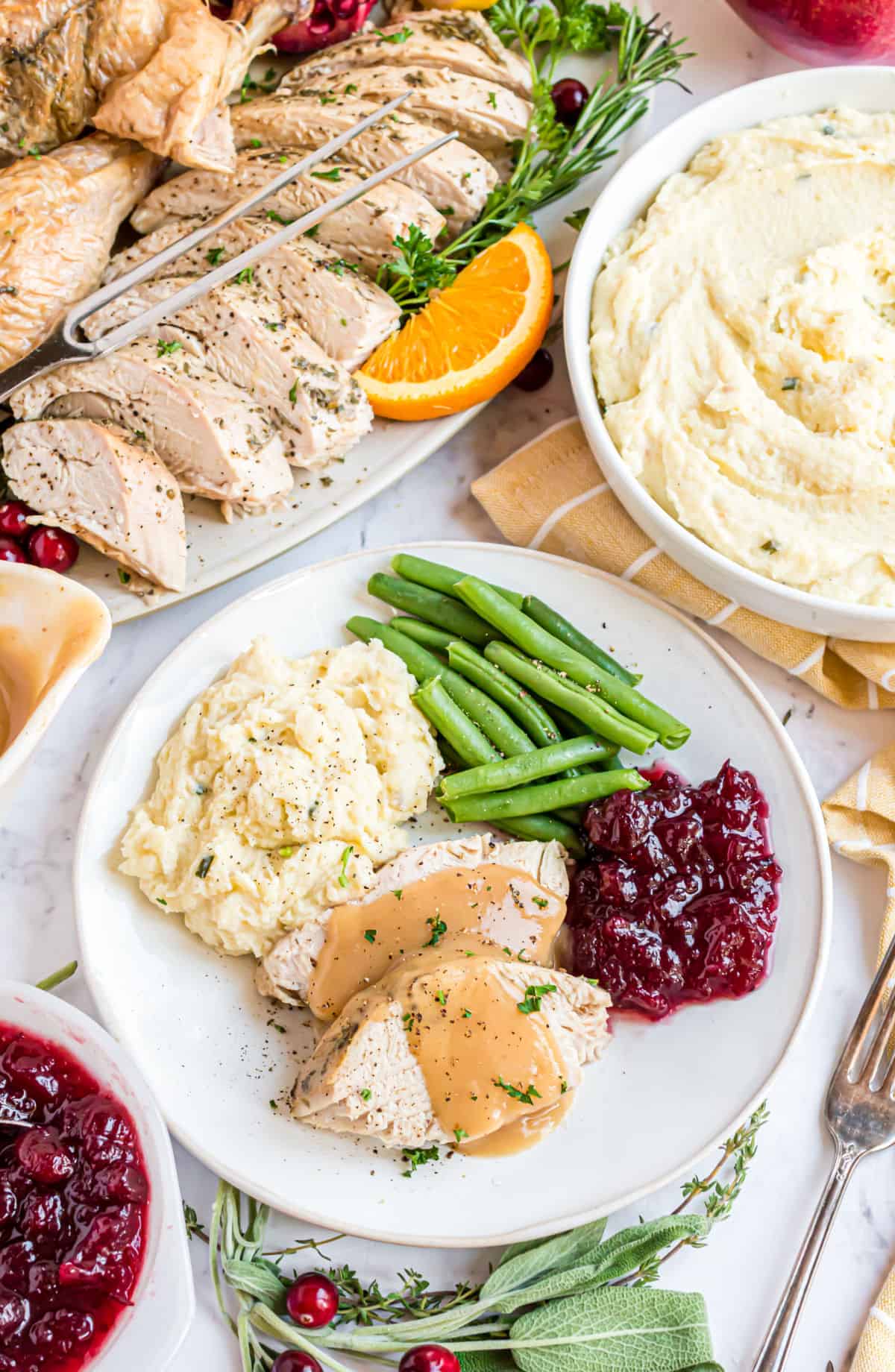 What to Serve with Cranberry Sauce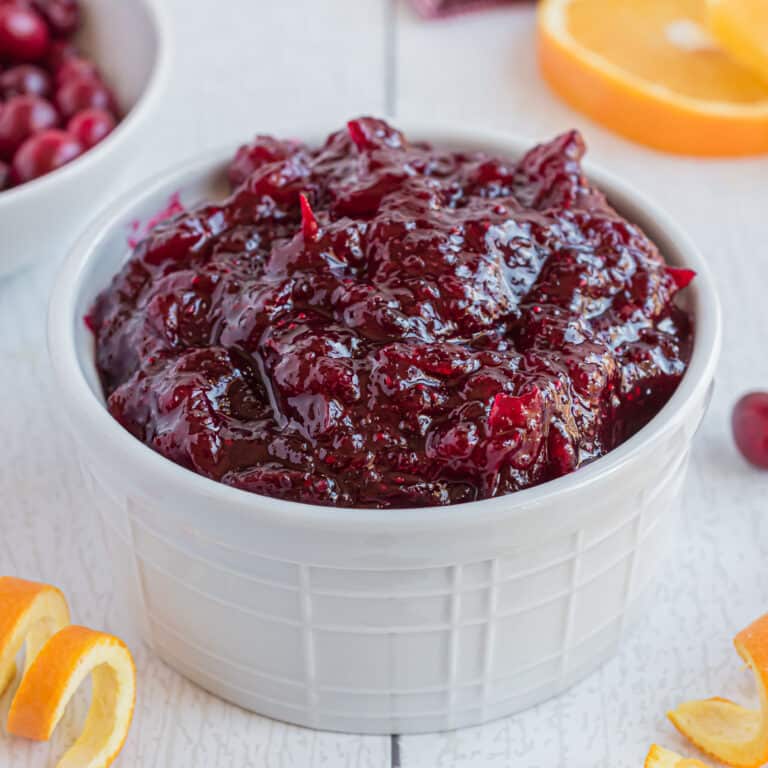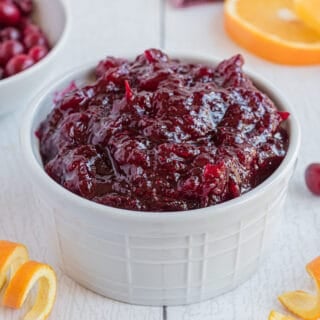 Cranberry Sauce
Make tradition taste even better with a batch of Homemade Cranberry Sauce this Thanksgiving. This classic cranberry side dish with a hint of orange and vanilla is a must-have for any turkey dinner!
Ingredients
4

cups

fresh cranberries

1 ½

cups

granulated sugar

1

cup

water

½

cup

orange juice

1

teaspoon

orange zest

½

teaspoon

vanilla extract
Instructions
Rinse cranberries in cold water.

In a large sauce pan, combine cranberries, sugar, water and orange juice.

Heat over medium heat until boiling, stirring until sugar dissolves. Then boil an additional 10 minutes or until cranberries pop and sauce thickens.

Remove from heat. Stir in vanilla and orange zest. Serve warm or chilled.

Store in an airtight container in the refrigerator for up to 5 days.
Notes
Will need one fresh orange. Can use the same orange for zest and then use the fresh juice.
Don't over cook the cranberries. Doing so will result in shriveled up cranberries and a sauce that is very thin. I boiled the cranberries an additional 10 minutes exactly and it was perfect.
Sauce will be very foamy/bubbly and liquidy while boiling for the additional 10 minutes.
4 cups of cranberries is equal to about 1 and-a-half, 12 ounce bags of fresh cranberries.
You can also use frozen cranberries.
Nutrition
Serving:
0.5
cup
,
Calories:
177
kcal
,
Carbohydrates:
45
g
,
Sodium:
3
mg
,
Fiber:
2
g
,
Sugar:
41
g
You'll love the traditional great flavor of this familiar dish that's made even better with the addition of orange and vanilla. If you're in charge of bringing a side dish to the holiday dinner this year, give this Homemade Cranberry Sauce recipe a try!