Looking for a fresh bowl of homemade applesauce for dinner tonight? This Instant Pot Applesauce recipe is super quick and easy!
For another idea, serve a big bowl of homemade cranberry sauce and don't forget a side of dinner rolls! You'll make everyone happy with these simple additions to dinner.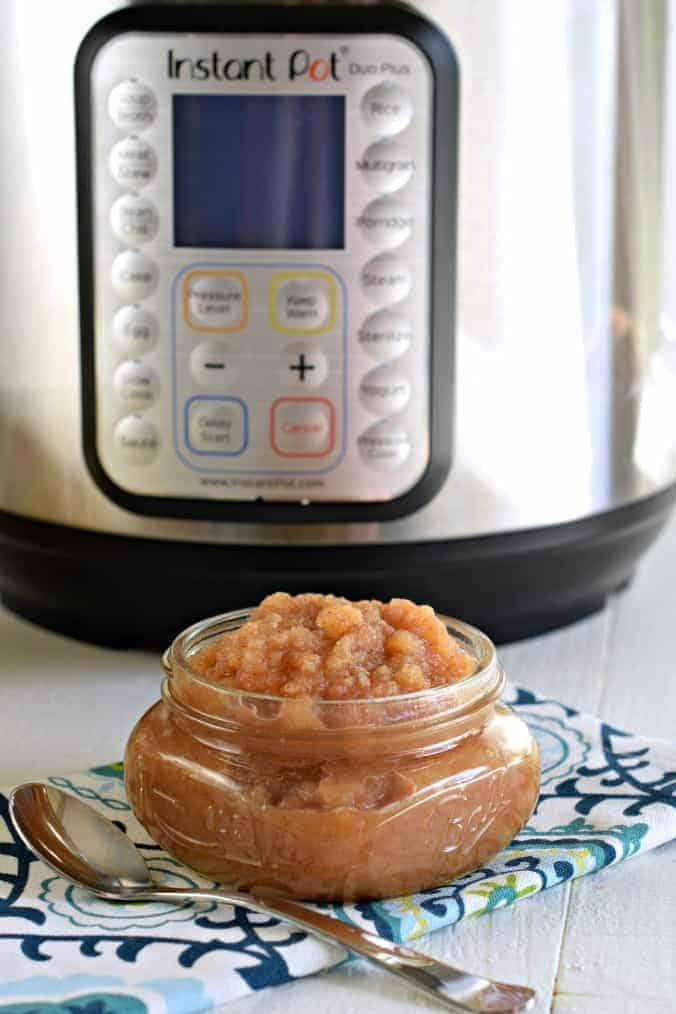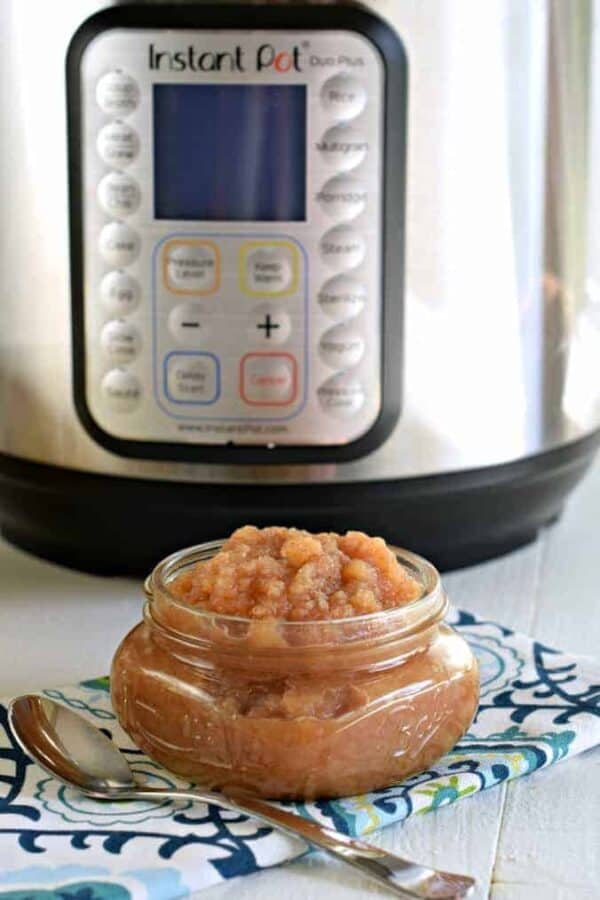 Why this Recipe is Best
Have you been to an apple orchard lately? If the answer is yes, then YOU need today's quick and easy Instant Pot Applesauce recipe!
Side dishes are something I tend to fall short of when it comes to dinner. I'm all good creating the main course, like this Balsamic Beef, but then when dinner comes, I've completely forgotten to make something to go with it.
And my family loves having applesauce with dinner, thankfully, since this is what I serve most days! However, homemade applesauce would be the preference, but who has time to peel apples, boil, mash, can, etc?
I mean, if you do, more power to you! You'll find me canning my fresh vegetables in the summer, making homemade salsas and strawberry jam. But come fall, when school is back in session, I need something quicker.
In less than 30 minutes our fresh, warm Cinnamon Applesauce was ready.
How to make Applesauce in the Instant Pot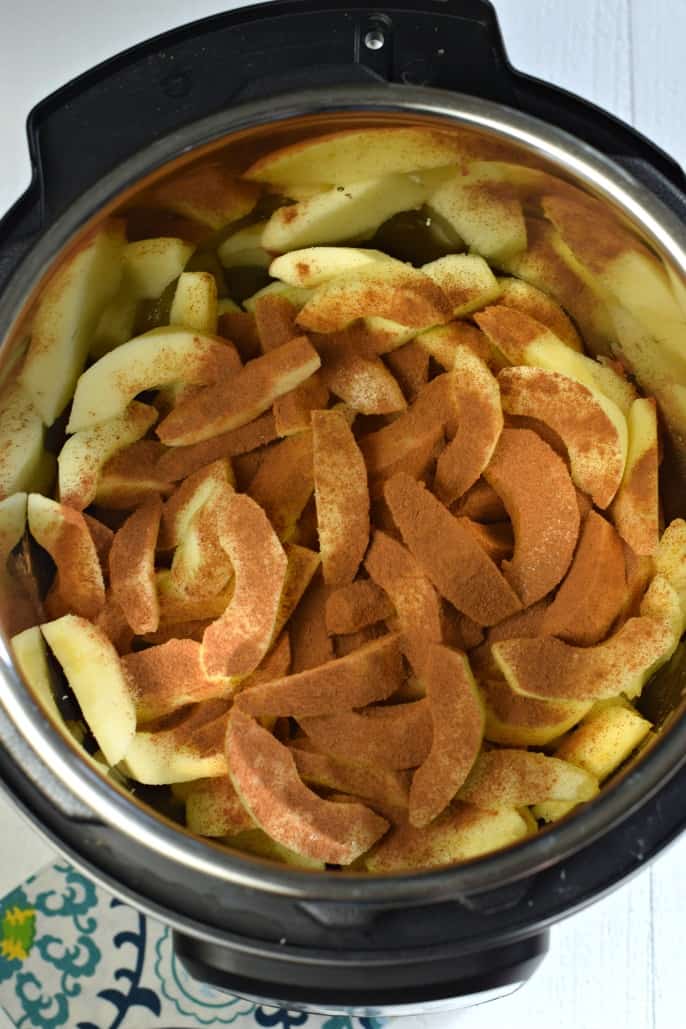 Start by peeling and slicing your apples. For about 1 quart of applesauce, you'll need about 2 pounds of apples.
Toss your apples into the bottom of the Instant Pot and add 1/2 cup of water. Or for a deeper flavor use apple juice or apple cider.
Add 1 Tablespoon of sugar. Totally optional, but we like a little sweetness in our applesauce!
If you're looking for a cinnamon flavor, add in 2 teaspoons cinnamon.
If using fresh apples, you may want to squeeze half a lemon in there.
Close the Instant Pot and pressure cook (manual) for 6 minutes. Once it is done, allow it to Natural Release for 6 minutes. Then quick release until the pressure is out.
This is where an Immersion Blender comes in handy! Open the pressure cooker and blend until desired consistency. If you don't own an Immersion Blender, you can use a regular blender or a food processor.
Once smooth (or chunky, whichever you prefer), place in a quart size mason jar or bowl. Serve warm or refrigerate until ready to use. ENJOY.
Best Apples for Pressure Cooker Applesauce
Any apple that you would use for baking, is usually a great option for applesauce
I chose Crunch Pak Gala apples for today's Instant Pot Applesauce recipe. However, a mixed variety would also work great!
How to make Slow Cooker Applesauce
Add your peeled cored apples to the crockpot. Toss in sugar, lemon juice, and cinnamon (optional). No water needed, just stir to combine.
Turn on LOW for 4 hours. Use an Immersion Blender to make it smooth. Refrigerate and enjoy.

To peel or not to peel apples for Applesauce
This is a personal decision. If you chose NOT to peel, you'll want to blend the applesauce a little smoother. I did this with the Immersion Blender and it worked just fine.
Also, make sure you wash the apples really well. I do this is hot water to help remove some of the wax. If you're using fresh picked apples, just a quick wash is all that's needed since they don't put wax on them!
How to Sweeten Applesauce
For homemade applesauce you don't need to add any sweeteners to have a delicious bowl of your favorite side dish.
However, if you like a little extra sweetness to your apples, I suggest start with just a little, don't go overdoing it as the apples have their own sugars. I used 1 Tbsp of sugar for 2 lbs of apples, and I certainly could have gotten away with half of that to still have a sweet treat.
You can use white sugar, light brown sugar, or a little bit of honey or agave if you prefer. Some people love a little bit of maple syrup (the real kind, not Mrs. Butterworth's).

Chunky or Smooth Applesauce
If you like smooth applesauce, follow the recipe as directed using an Immersion Blender, food processor, or regular blender. Keep processing until smooth (you may need to stir and taste test a little to check!
If you like chunky applesauce, you can use a potato masher to get a good chunky base.
Or do a combo of the two. Mash the apples slightly with a potato masher, then use the blender to add some smooth applesauce.
How to serve Applesauce
Our favorite way to enjoy Applesauce is warm. Fresh out of the pressure cooker.
You can also serve it cold. Once you've cooked it, put it in a bowl or jar and refrigerate until chilled (4 hours or overnight).
Ice Cream. Who needs pie crust and all of that to enjoy Apple a la mode? Scoop a warm dish full of fresh homemade Applesauce into a bowl and serve with a big scoop of vanilla ice cream. SO GOOD.
Applesauce pairs very nicely with these Oven baked Pork Chops!

How long can I keep Applesauce in the refrigerator
Purchasing applesauce in the store, they always recommend using within 10 days. That's the recommendation I go by when making homemade Instant Pot Applesauce as well.
The beauty of this recipe is that it makes 1 quart in very little time, so you're not left with a huge excessive amount. And rarely do we get to the 10 day limit, much less 3 days, at our house!
If it develops an off odor, mold, or tastes bad..throw it away. That should go without saying, but, there ya go!

More Apple Recipes
One slice of this Butter Pecan Apple Skillet Cake with Bourbon Caramel Sauce and you'll name this your favorite dessert ever eaten.
Delicious, no bake dessert recipe, these Cinnamon Apple Cheesecake Parfaits are the perfect creation for serving a group!
Breakfast just got a whole lot tastier with this Apple Cinnamon Roll Coffee Cake recipe! Easy to assemble, hard to wait for it to finish baking!
Delicious and moist, this Apple Cake with Honey Glaze is filled with apples, cinnamon and nuts! It's a great addition to any brunch, or just enjoy with a cup of coffee on Saturday morning!
Hot Apple Crumble with a big scoop of Ice Cream is a delicious treat! Serve this for an American summer holiday, or for a cold winter's dessert.

More Easy Recipes