Apple Crumble
Hot Apple Crumble with a big scoop of Ice Cream is a delicious treat! Serve this for an American summer holiday, or for a cold winter's dessert.
Be sure to sign up for my email…new recipes in your inbox!
**I am part of the Ambassador program with Crunch Pak apples. While I have been compensated for this recipe, all opinions are 100% my own**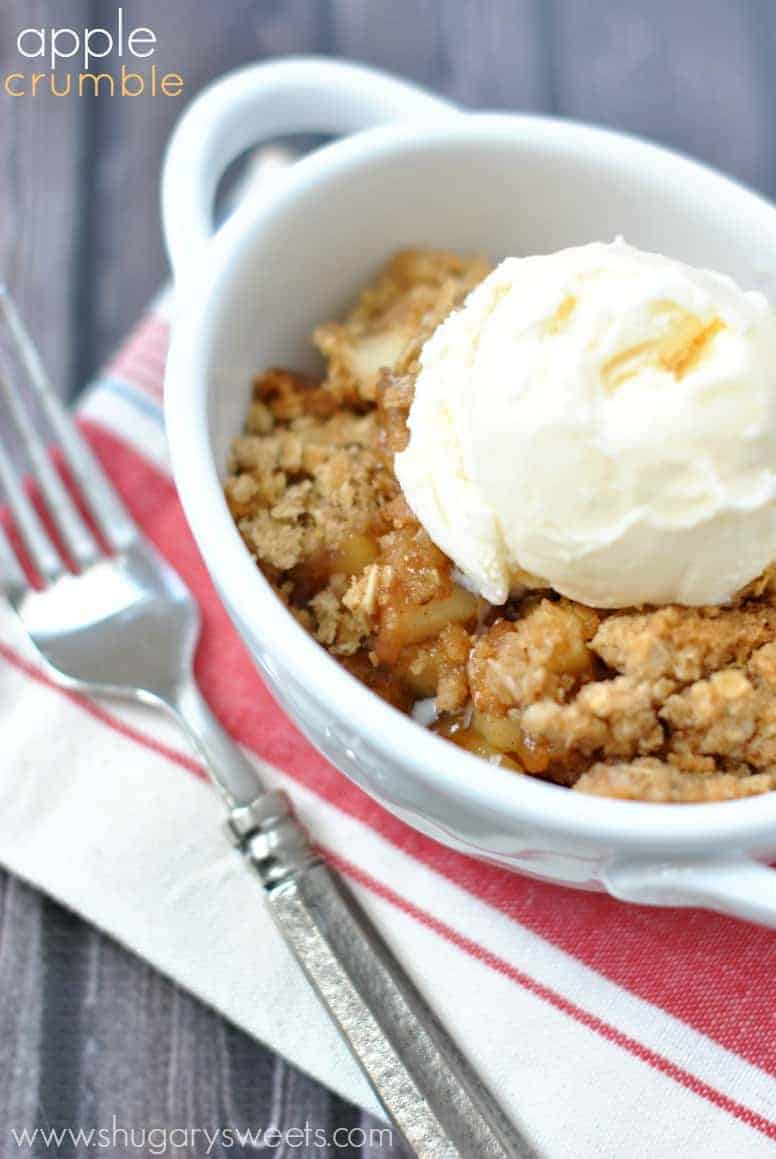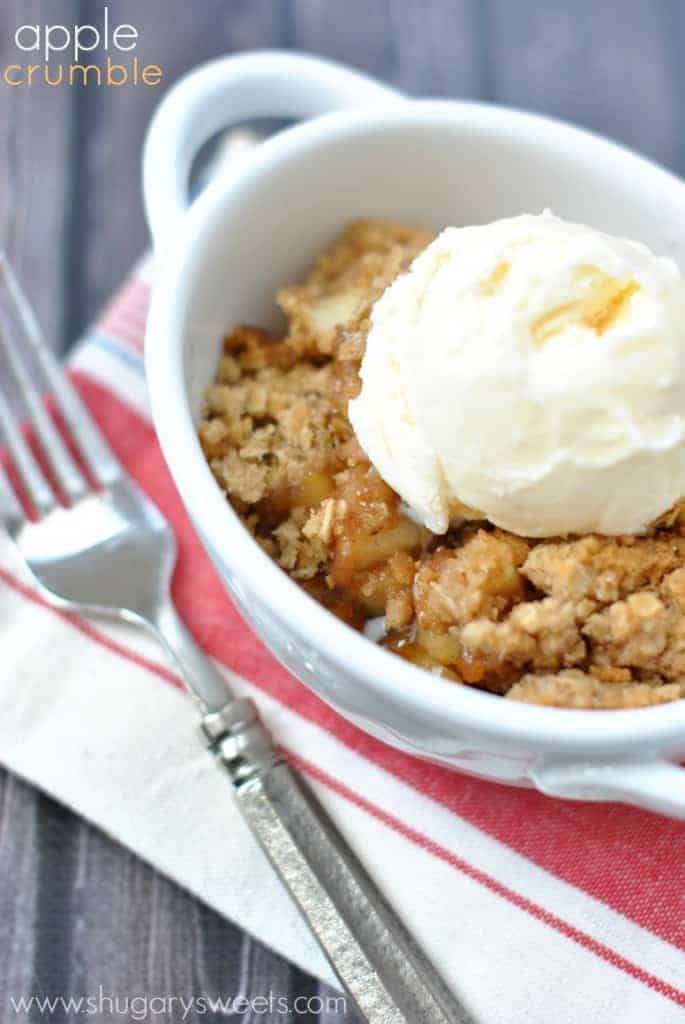 I've been looking forward to sharing this recipe with you all for quite some time. My oldest daughter's birthday was in January and instead of cake and ice cream she wanted an Apple Pie.
Sadly, I am very pie crust challenged, so I had suggested an Apple Crumble instead. She said as long as it's served hot with ice cream she would love it.
When I posted it on instagram, I realized I had never shared the recipe on the blog. Shame on me. Hoarding this delicious crumble all for myself.
Then earlier this summer I shared this Blueberry Lime Crumble…and again realized I've yet shared my apple version.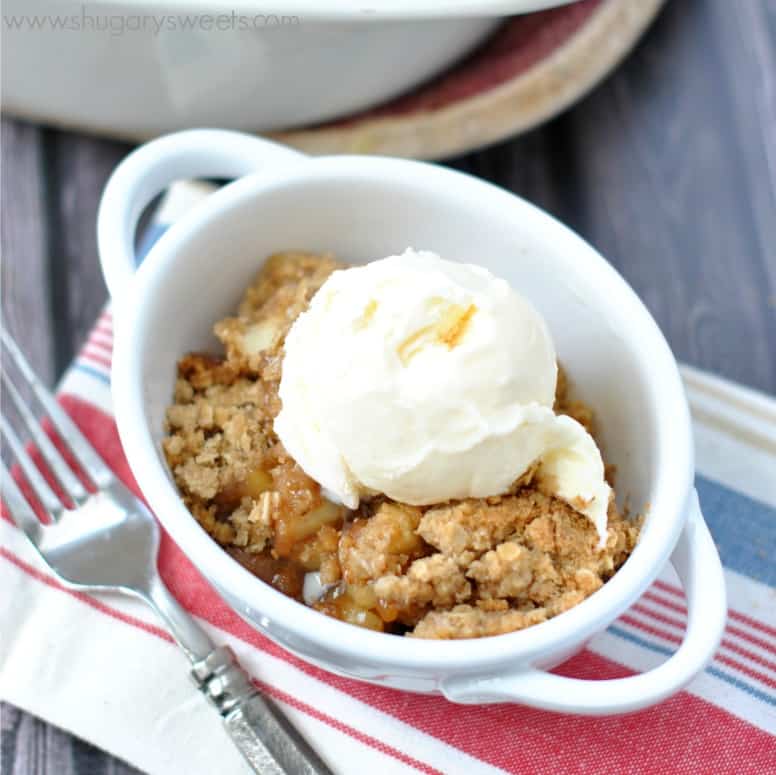 Well friends. Today is the day. The wait is over. It's here it's here!!!
I hope you will all forgive me for waiting so long. But when I realized I would be partnering with Crunch Pak apples this year to bring you delicious apple goodies, I wanted to save this recipe to be the first!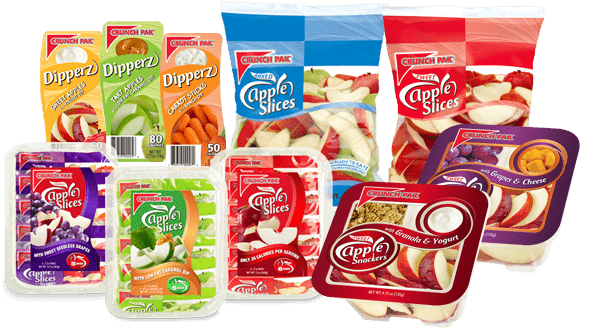 And of course I had to make it with Crunch Pak apples. I wanted to show you guys (tell you?) how easy it is to bake with Crunch Pak. I know many of you may think of Crunch Pak as your kids' snack….or a lunch box treat….but it can be so much more! Crunch Pak sells bigger bags of sliced apples, perfect for Apple Nachos, or baking today's crumble! Because they are already sliced, I left the peel on for today's treat. They bake so soft with the crunchy crumble that you won't even notice.
Plus, duh, that makes this recipe even easier!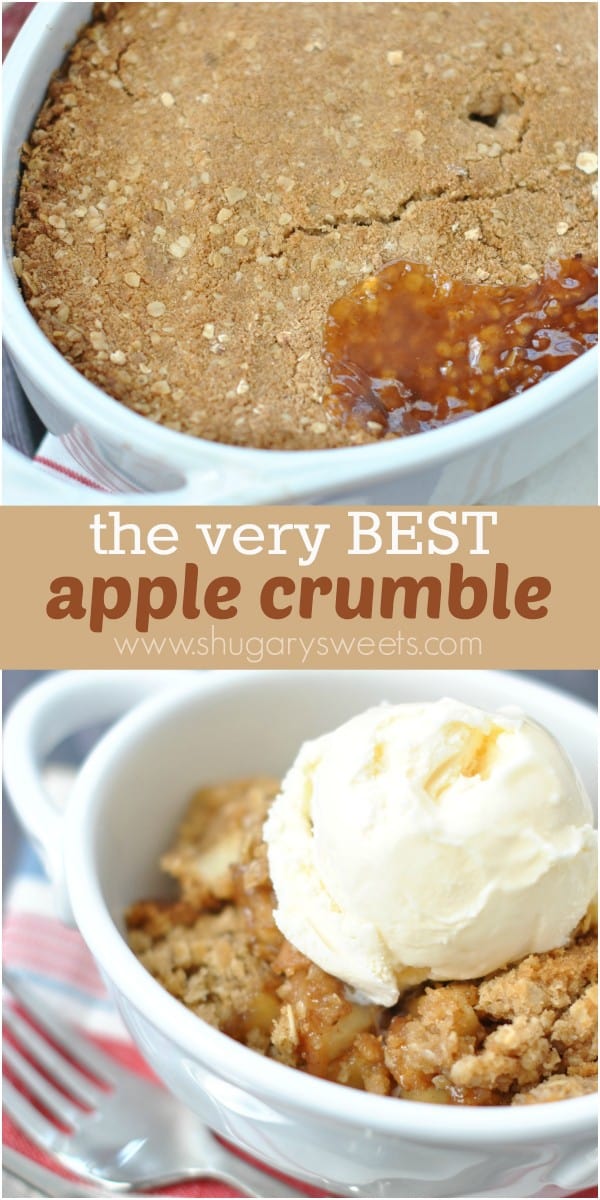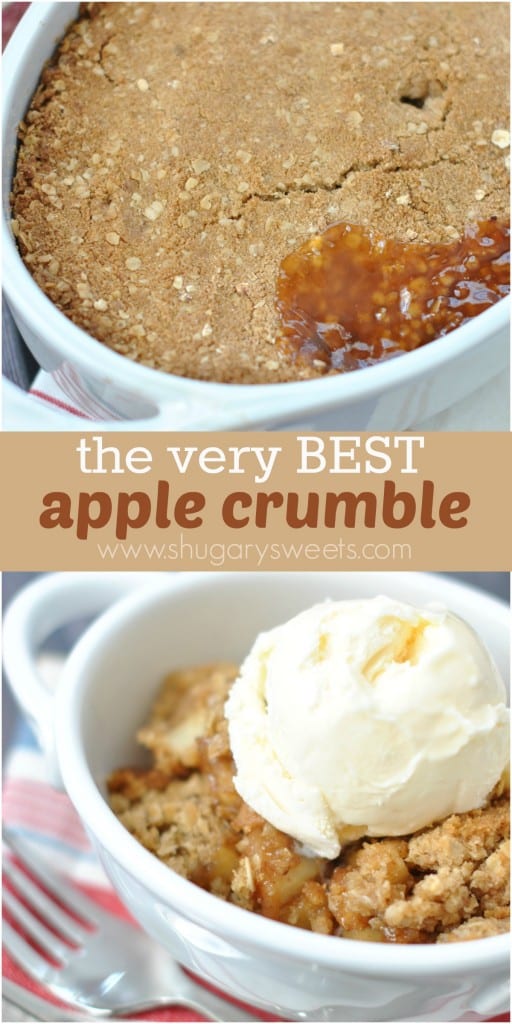 Be sure to stop on over to Crunch Pak for some delicious recipes and ideas!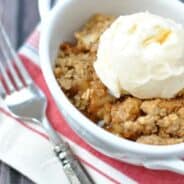 Apple Crumble
Yield: 8-10 servings
Prep Time: 5 minutes
Cook Time: 45 minutes
Ingredients:
For the filling:
14oz bag Crunch Pak sliced apples (approximately 4 apples), diced
1 Tbsp lemon juice
1/3 cup granulated sugar
1/3 cup light brown sugar, packed
1 tsp cinnamon
1/4 cup all-purpose flour
For the crumble:
1 cup light brown sugar, packed
1 cup all-purpose flour
1 cup quick oats
1/2 cup butter, cubed
1 tsp cinnamon
Directions:
In a large bowl, combine diced apples with lemon juice, sugars, cinnamon and flour. Pour into a 2qt baking dish.
In a separate bowl, combine crumble ingredients. Use hands to combine butter until crumbly (this takes a few minutes). Sprinkle over top of apple mixtures. Press lightly.
Bake in a 375 degree oven for 45-50 minutes, until bubbly and caramelized. Enjoy warm with a scoop of ice cream!
MAKING THIS RECIPE? Share it with me on Instagram using the hashtag #ShugarySweets so I can see what you're cooking up in the kitchen!
More apple goodies….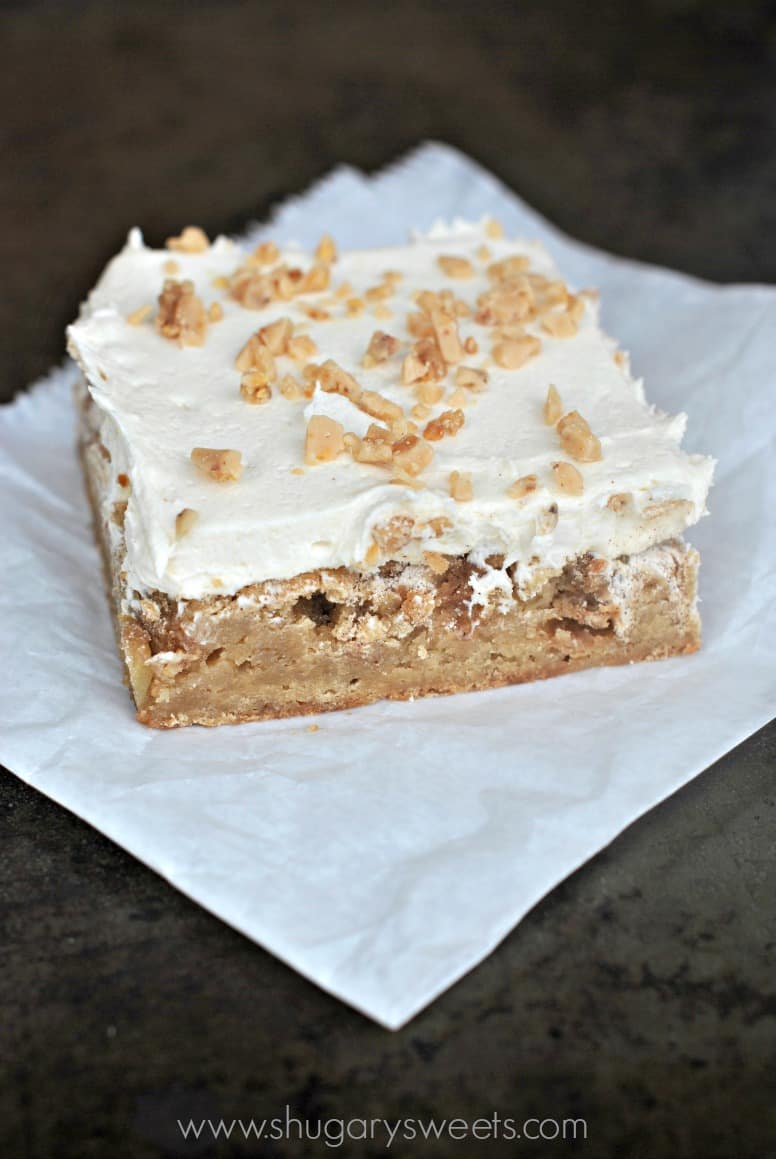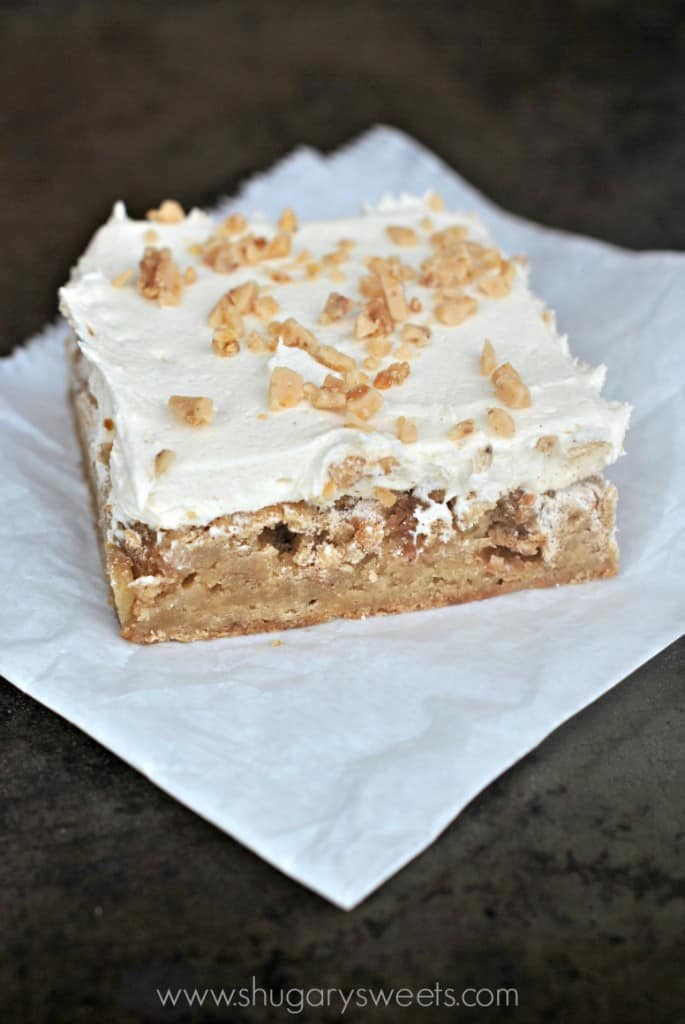 Apple Blondies with Caramel Buttercream: these are truly one of my most favorite recipes on the blog!!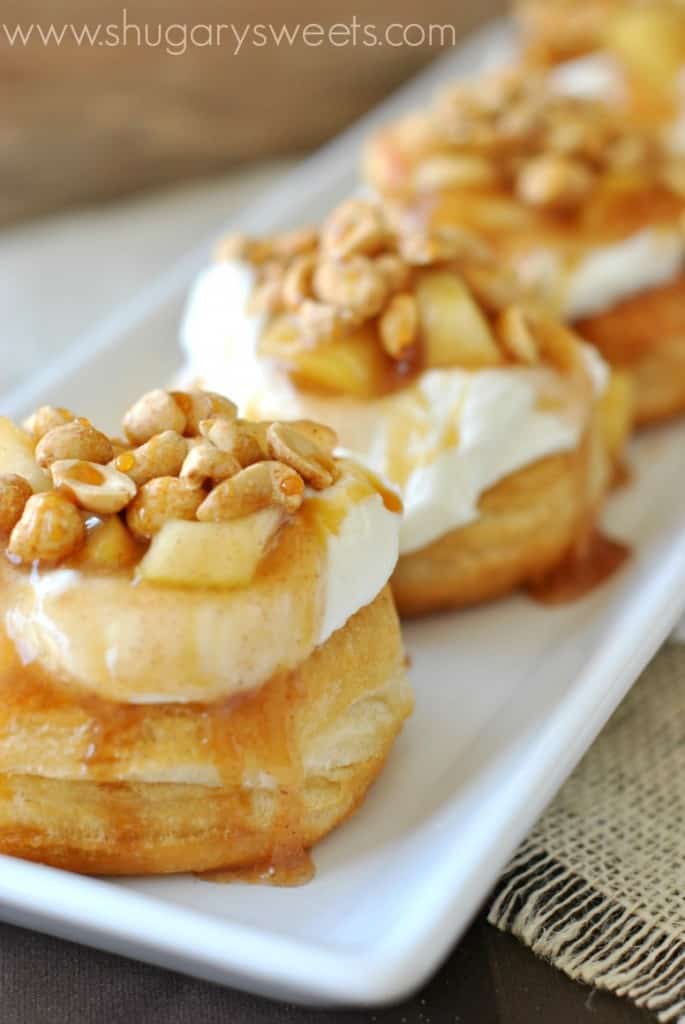 Apple Pie Doughnuts: easy donuts made with biscuits! Serve for breakfast or a delicious dessert idea for a group!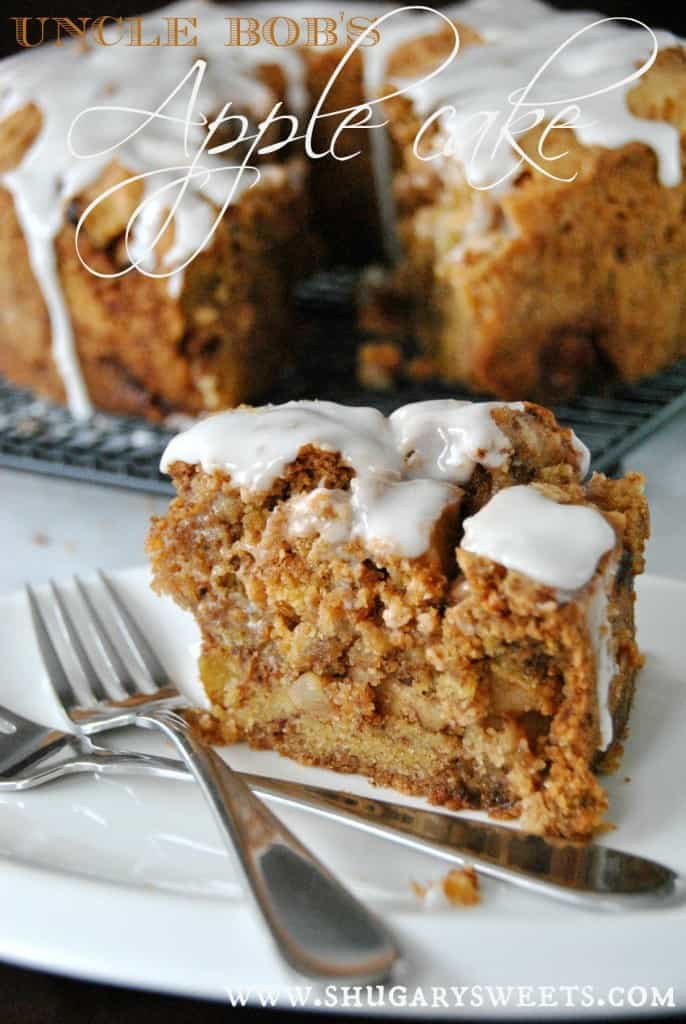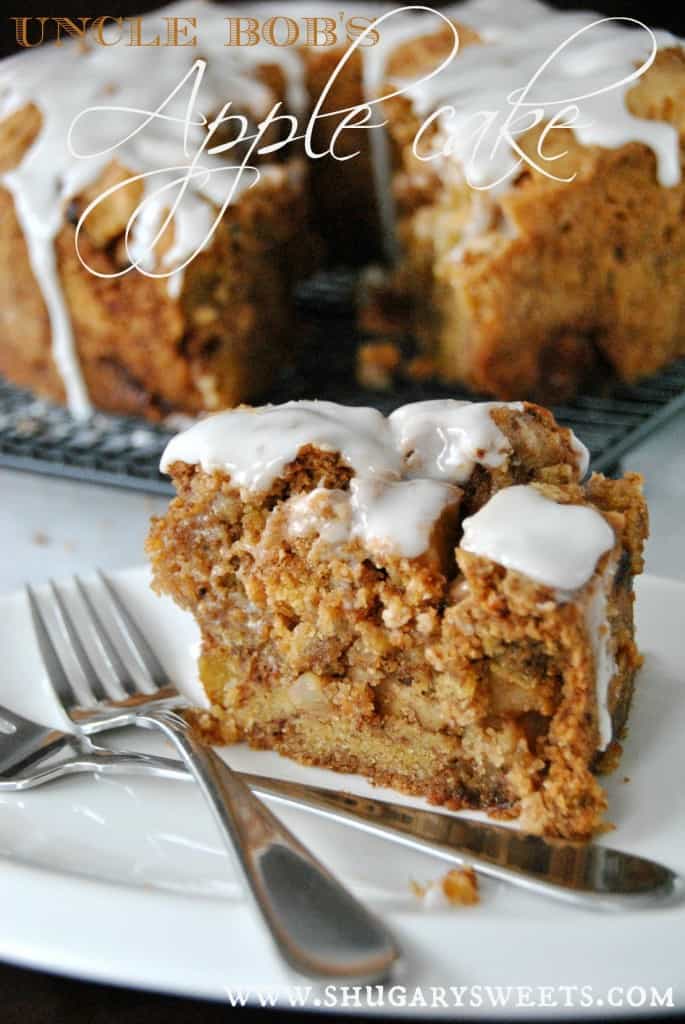 Uncle Bob's Apple Cake: such a moist, delicious dessert topped with a honey glaze!
**Today's recipe is sponsored by Crunch Pak apples. While I have been compensated to be a part of their Blogger Ambassador program, all opinions are 100% my own**