Bake crisp fall apples with tart cranberries and you get Apple Cranberry Crumble. Topped with a brown sugar crumb, this easy dessert is bursting with seasonal flavor.
Make it in a skillet like my favorite Apple Cobbler and don't forget to add a scoop of homemade ice cream on top!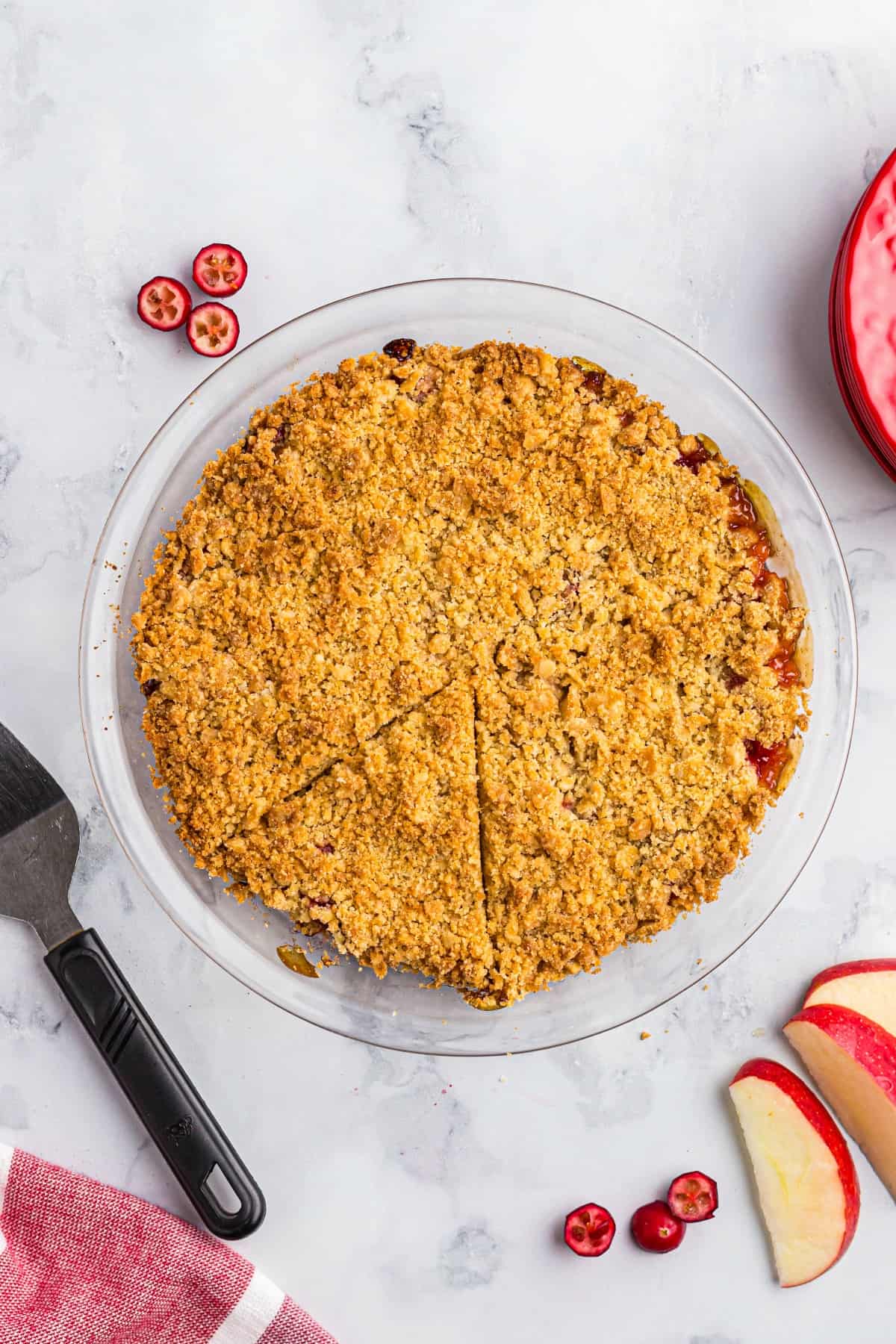 Cranberries and Apples
In a sea of pumpkin pie and pumpkin cheesecake, dare to be an Apple Cranberry Crumble.
This easy apple crumble is simultaneously traditional–with the classic flavors of apple and cinnamon–with just a twist of something different.
Cranberries baked right in with the apples add the perfect zing of juicy tartness.
I love a good apple dessert this time of year–especially Apple Pie. Recently, I became obsessed with Dutch Apple Pie that's topped with a brown sugar crumb instead of the typical pie crust layer.
It reminded me just how delicious cinnamon spiced apples and brown sugar crumb can be (especially topped with vanilla ice cream).
For today's crumble recipe, I added another twist: cranberries.
If apples make me think of fall leaves, cranberry makes me think of the holidays.
Cranberry Cake and Cranberry Bliss Bars are two perfect holiday treats.
In that way, Apple Cranberry Crumble is the tasty convergence of two seasons. Perfect for Thanksgiving!
I also love how easy it is to throw this crumble together. There's no crust to roll out or pot to watch. Just mix, pour, top and bake!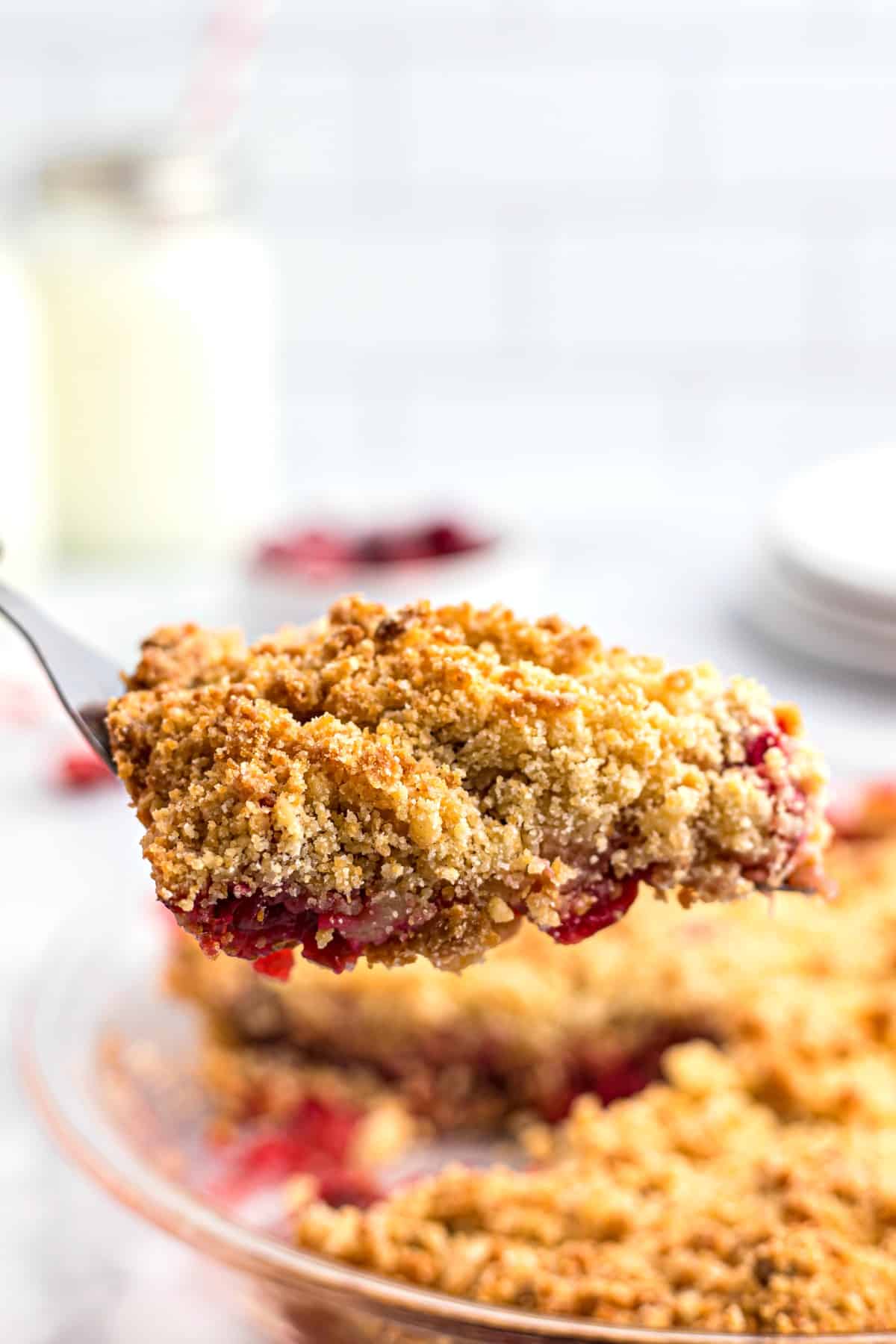 What type of apples are best in this recipe?
It goes without saying, but the more flavor your apples have, the better your finished crumble will be. The apples juices combine with the sugar, butter and cinnamon in the filling to create a syrup that sweetens the cranberries, too.
For a tarter flavor, use apples like Granny Smith or Pink Lady. If you prefer more sweetness, Fuji, Gala and Golden Delicious varieties are also good choices here.
You can even swap out the apples for ZUCCHINI like I did in this zucchini crumble. The flavor and texture when baked in the crumble is perfect.
Are fresh or frozen cranberries better?
In the case of Apple Cranberry Crumble, I find that frozen and fresh cranberries both work equally well.
Frozen cranberries have the added convenience of not needing to be rinsed and picked over before use, but whichever you prefer will taste good.
If you're making this outside of the usual cranberry baking season (October – December), fresh cranberries might be hard to find in the grocery store. In that case, go with frozen.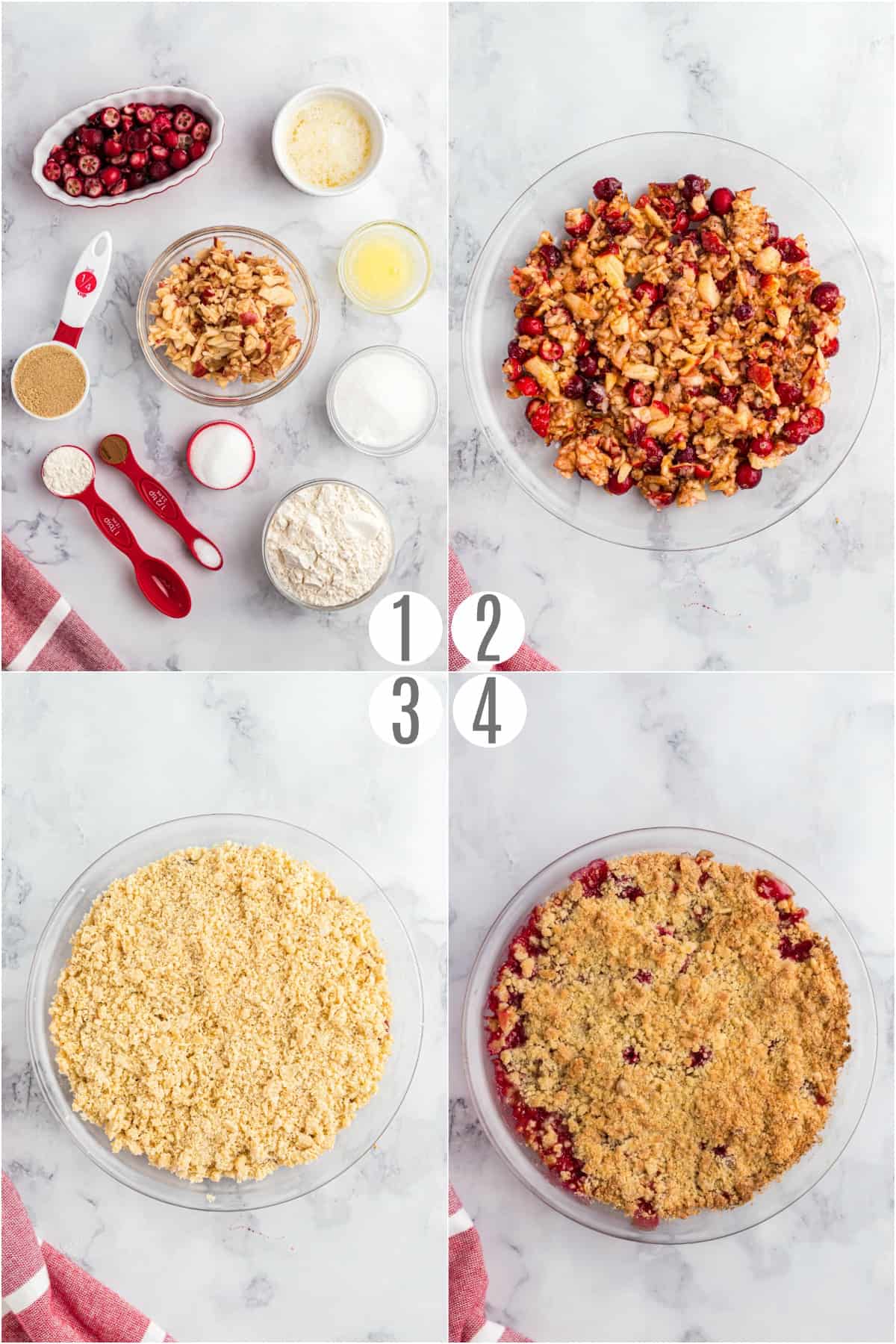 Step by Step Instructions
I'd say this dessert is "easy as pie" but don't you think the expression should be, "easy as crumble?" Here's what you do:
STEP 1. The filling
After choosing your apples, core and dice them into bite sized pieces. In a large mixing bowl, combine with apples with melted butter, brown and white sugars, salt, cinnamon, cranberries and flour.
Use a spatula or large wooden spoon to mix the filling ingredients together. Then, pour the filling evenly over the bottom of a pie plate. (I like my glass Pyrex plate .)
STEP 2. The crumble topping
In a clean mixing bowl, combine flour, brown sugar, salt, melted butter, and sugar, stirring with a spatula or fork to fluff the crumble mixture. Sprinkle over the filling, covering as much as possible.
STEP 3. Bake
Bake until the top crumble is golden brown. In my oven that takes 30 – 35 minutes.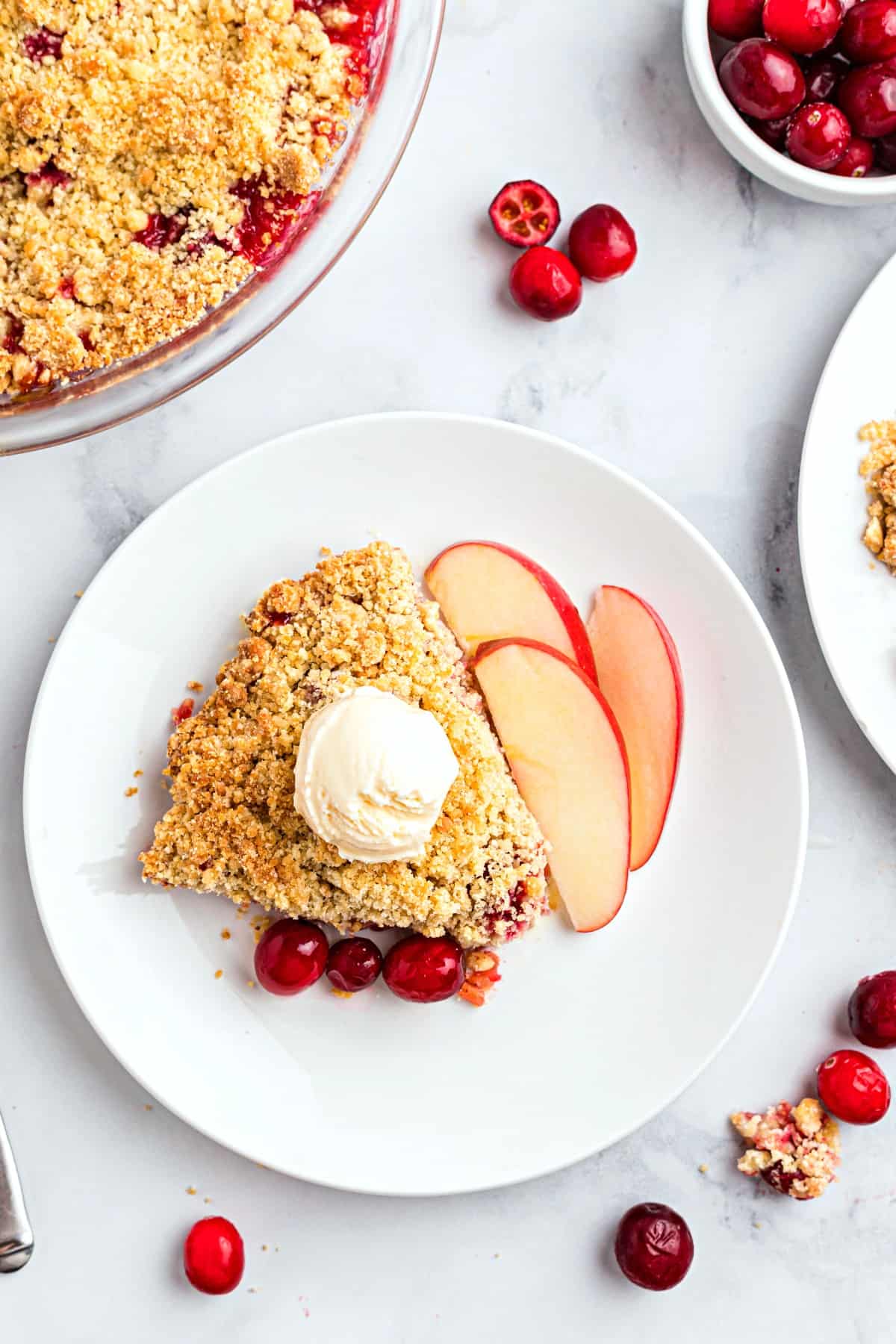 How to serve
Serve this cranberry apple crumble in bowls while it's still warm. I love it with vanilla ice cream or Homemade Whipped Cream Recipe but it's delicious just as is.
The soft cranberries soaking in all the brown sugared juices from the apples, plus the buttery crumbs and apple flavor make this a welcome sight at any Thanksgiving dessert table. It's easy enough, though, that you can make it any day of the week.
And believe me, you'll want to.
You can also enjoy this crumble for breakfast the next day. Cold or warmed up, it is delightful with a cup of cold brew coffee, especially for a holiday breakfast or as a brunch side dish.
How to store
Leftovers can be covered and kept in the fridge for up to 3 days for best texture and taste. Reheat in the oven or microwave or enjoy cold or room temperature.
If you need to prep this ahead of time, you can always mix the fruit filling up and keep it tightly covered in the fridge for up to 24 hours.
Then, when you're ready to bake, preheat the oven while you make the crumble topping. Easy and quick!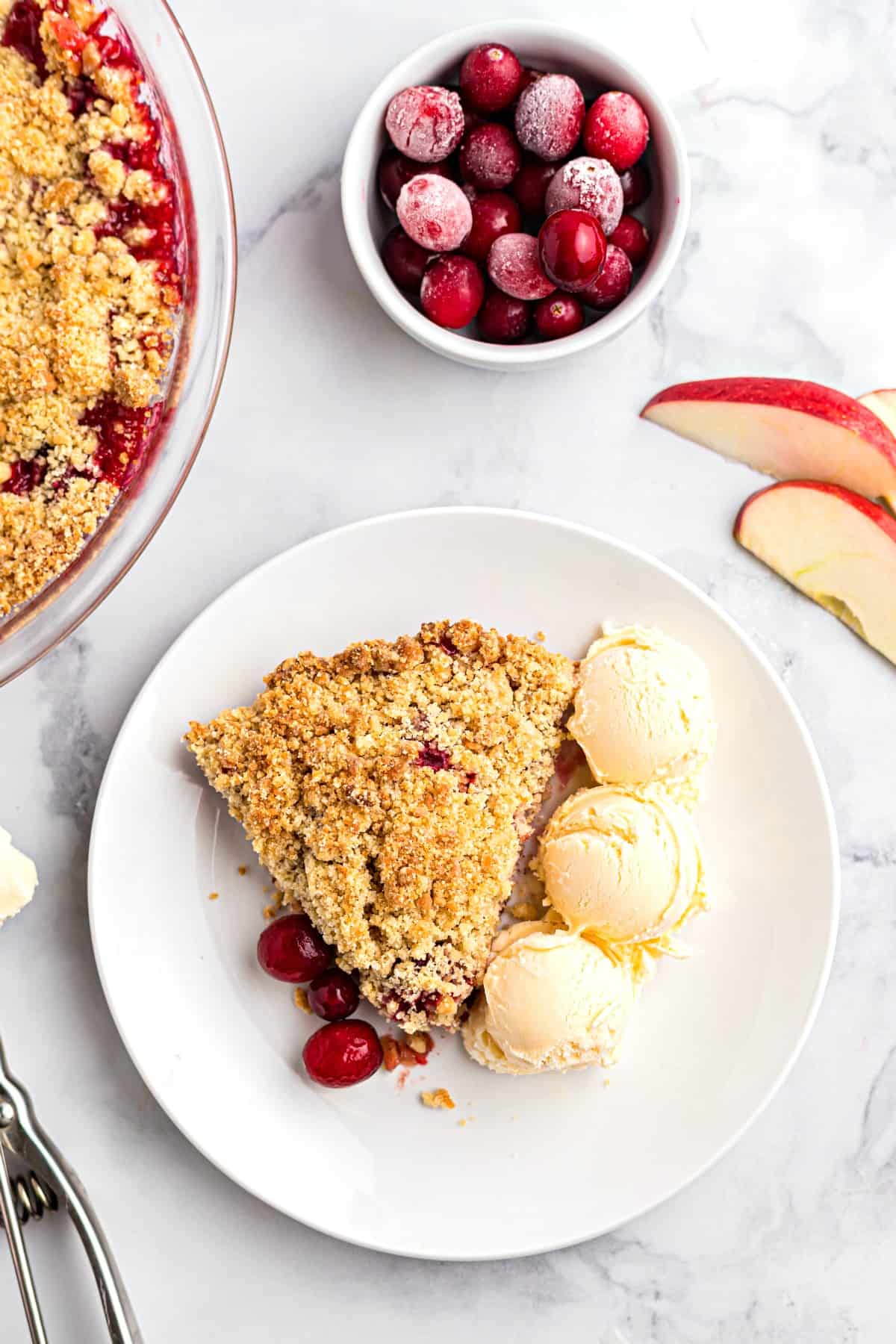 Recipe FAQs
Do you need to peel the apples first?
Peeling the apples is not necessary if you don't mind a bit of apple skin in your crumble. You can certainly peel them if you prefer.
Can this apple crumble be made in a cake pan or square baking dish?
This time, I baked my crumble in a pie plate. It gathers the filling closely together so that you can top the whole thing evenly with the crumb topping. I also like the classic look it has when served this way on the dessert table.
Can you freeze Apple Cranberry Crumble?
Freeze leftovers in freezer safe containers for up to 3 months. Thaw in refrigerator overnight.
With the perfect balance of sweet and tart, soft and crisp, this Apple Cranberry Crumble is a must-try fall dessert that's as easy as it is delicious.