Just like the one you love from the big coffee chain! Everyone loves Cranberry Bliss Bars and with this recipe you can impress your friends with tasty treats without breaking the bank.
Add a batch of Cake Mix Cookies to your holiday baking trays. And don't forget some simple Chocolate Dipped Oreos with festive sprinkles to round out the cookie trio!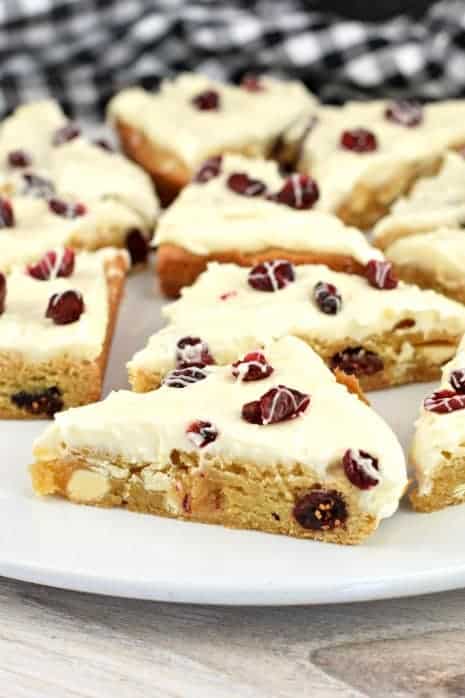 Why this Recipe is Best
A buttery dessert bar with a cream cheese frosting and tart cranberries is a Starbucks pastry case staple.
Like the sip of the season's first Pumpkin Cream Cold Brew in October, biting into a Cranberry Bliss Bar is a surefire way to get yourself in the holiday spirit.
I can't help but order one to pair with my coffee at least a few times between November and January. But now, I can make them at home!
The richness of these bars is made all the better by the dried cranberries folded into the batter. They add just the right balance of sour to complement the sweetness of the frosting.
Can we talk about the frosting by the way? In some cases, less is more when it comes to frosting. That's definitely not so with these bars. That thick layer of creamy sweet icing with a hint of orange flavor makes these bars irresistible.
But sadly Starbucks Cranberry Bliss Bar season doesn't last forever. And even while it lasts, your bank account might have a few strong words about making a daily bliss bar purchase too much of a habit.
I'm a big fan of recreating my favorite restaurant dishes at home, like these Flourless Cookies and this Broccoli Cheese Soup.
Along with the obvious economic incentive, there are other perks, too. For example, I can eat all the bliss bars I want without ever leaving my pajamas.
It's also nice to know exactly what's IN the dessert you're enjoying. No one is under the assumption that a Starbucks pastry is a health food, but when you make copycat versions at home you at least know the ingredients list is free of preservatives.
After how well my Starbucks Lemon Loaf and Pumpkin Scones turned out, I was confident I could figure out a way to recreate those delicious Bliss Bars. These turned out better than I could have imagined!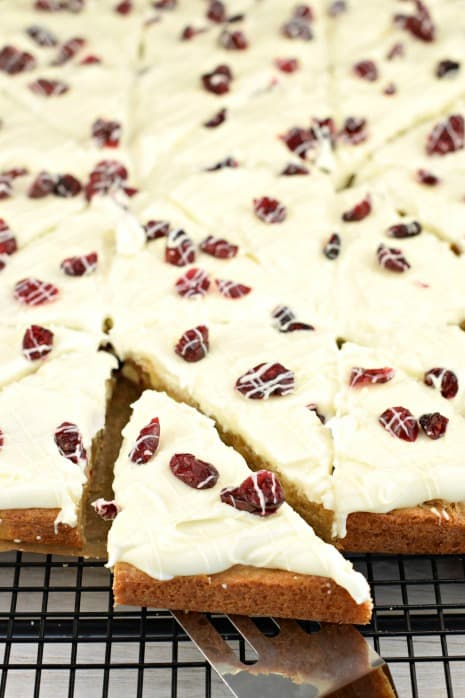 Easy Instructions
Mix the wet ingredients. Beat the butter and sugar together, then add the eggs and the extracts, continuing to beat until well combined.
Add the dry ingredients. Mix until just barely combined. Be careful not to overmix! Gently fold in the white chocolate chips and cranberries.
Bake. Spread the batter evenly into a prepared baking dish and bake the bars for 22 minutes or until lightly browned. Remove the dish from the oven and let the bars cool completely.
Meanwhile, prepare the cream cheese frosting and melt white chocolate in a separate dish.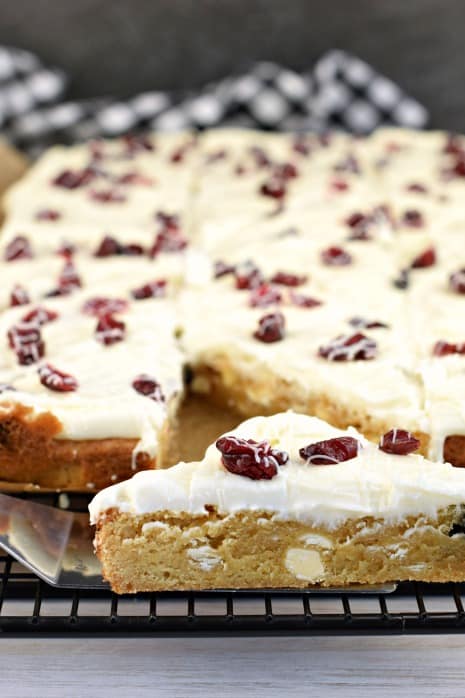 Cream Cheese Frosting for Cranberry Bars
This is NOT your average cream cheese frosting!
While it starts with cream cheese whipped with powdered sugar, it gets its unique flavor from the addition of vanilla extract and orange extract.
The subtle hint of citrus works wonders in this frosting!
To assemble the bars:
Spread the frosting in a thick and even layer over the pan of bars.
Sprinkle chopped cranberries over top then drizzle with the melted white chocolate. Cut into squares or triangles and enjoy!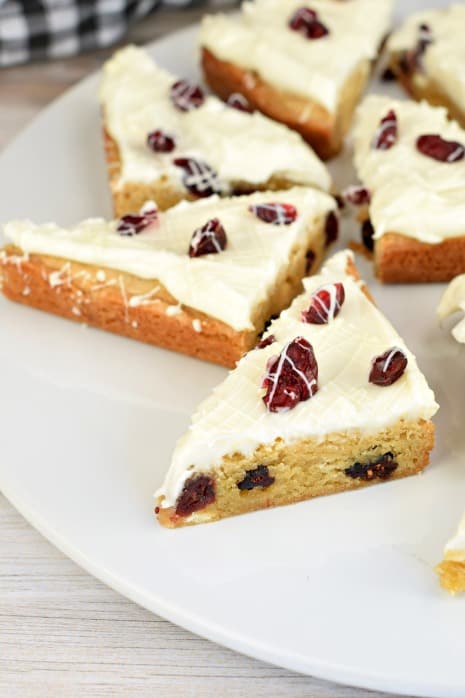 Tips and Tricks
Be careful not to over mix the batter for these bars! Too much mixing will make the bars tough.
Got leftover cream cheese frosting? Save it for the next time you make cinnamon rolls or Gingerbread Cookies. The frosting keeps well stored covered in the fridge for about a week.
Add these to your Christmas cookie trays or bring them along to your next holiday shin-dig. Of course, Cranberry bars are so good you might just be tempted to keep them all for yourself.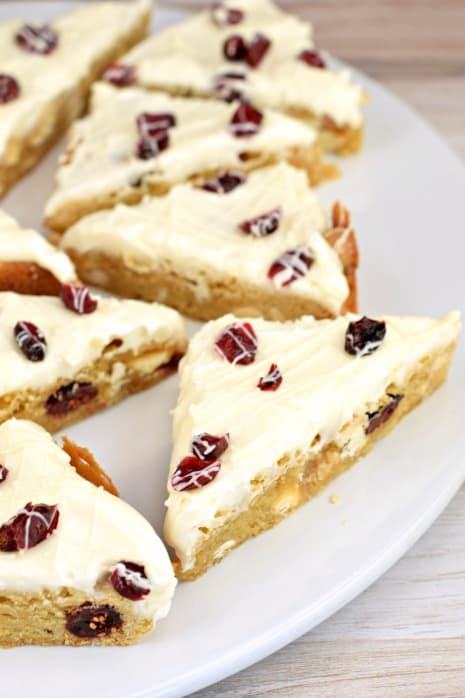 Recipe FAQs
How long do cranberry bliss bars last?
You should store cranberry bliss bars in the refrigerator for up to 3 days in an airtight container.
Can you freeze cranberry bliss bars?
Cranberry Bliss Bars are great for freezing. Store in freezer safe container for up to 2 months. Thaw overnight in refrigerator.
Why are my cranberry bliss bars dry?
Cranberry bliss bars are very moist. If you're experience dry bars, it is most likely that you over baked them. Be sure to check your oven temperature with an oven thermometer.
More Cookie and Bar Recipes
Copycat Starbucks Cranberry Bliss Bars are a welcome treat for the holidays–or anytime of year!