Ready to impress your Christmas guests? Cranberry Christmas Cake is easy to make with an incredible combination of sweet and tart flavors. Tender moist cake with hints of vanilla and almond and bursting with fresh cranberries.
Love cranberries? First, you've got to try our easy cranberry sauce. Perfect for holidays or as a side dish to pulled pork! Our Cranberry Cheesecake is also popular as a holiday treat.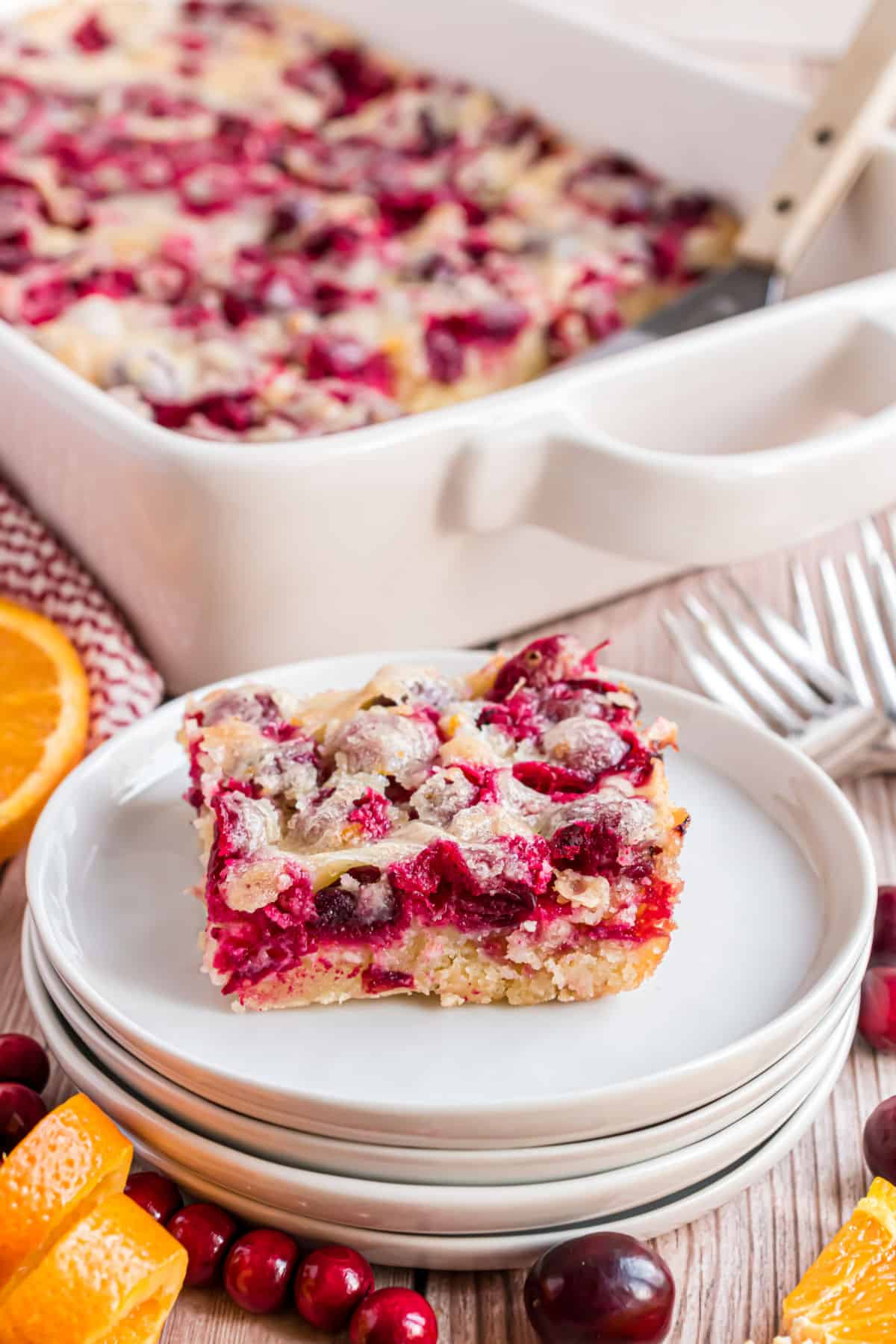 Why this Cake is Best
I never knew I could love an unfrosted cake so much. As much as I love frosting, glaze and cake toppings of all kinds, sometimes a cake needs to stand on its own feet.
This Cranberry Christmas Cake is reminiscent of a coffee cake with a light, tender crumb. With no sticky icing, it's a holiday dessert that's ideal for taking to a potluck or party.
No frosting needed. This cake looks gorgeous just as is.
Orange zest makes the tart cranberry flavor pop.
Batter comes together in one bowl.
Perfect for dessert or a decadent breakfast!
Whether cranberry cake is a long time family tradition or you're trying it for the first time, this recipe will not disappoint!
What do you typically serve for Christmas breakfast? We had gotten into a habit of having cinnamon rolls or egg casserole, but this has become a new tradition in our house!
Ingredient Notes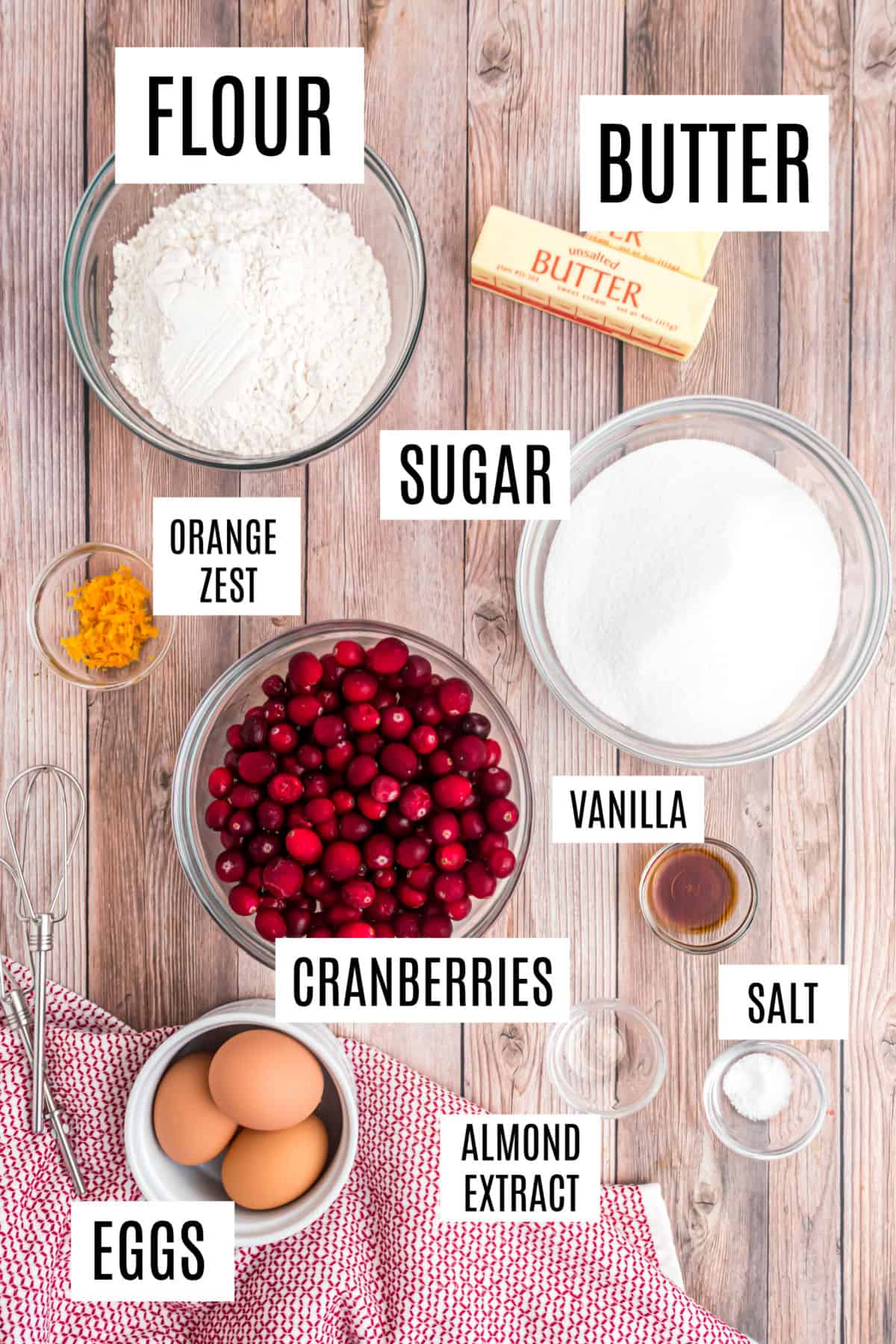 Orange zest – The zest gives the cake a hint or orange flavor to complement the cranberries.
Fresh cranberries – Firm, uncooked cranberries soften into the cake as it bakes, releasing tart juice that pairs beautifully with the sweetness of the cake. You can also use cranberries straight from the freezer!
Extracts- using a comination of vanilla extract and almond extract gives this cake the best flavor profile!
Unsalted butter – Butter provides the fat that makes this cake moist. Let it soften at room temperature before adding to the batter.
Eggs- These are the leavening leavening agent that makes this cranberry cake rise and bake to a tender consistency. Use room temperature eggs for best results.
Easy Instructions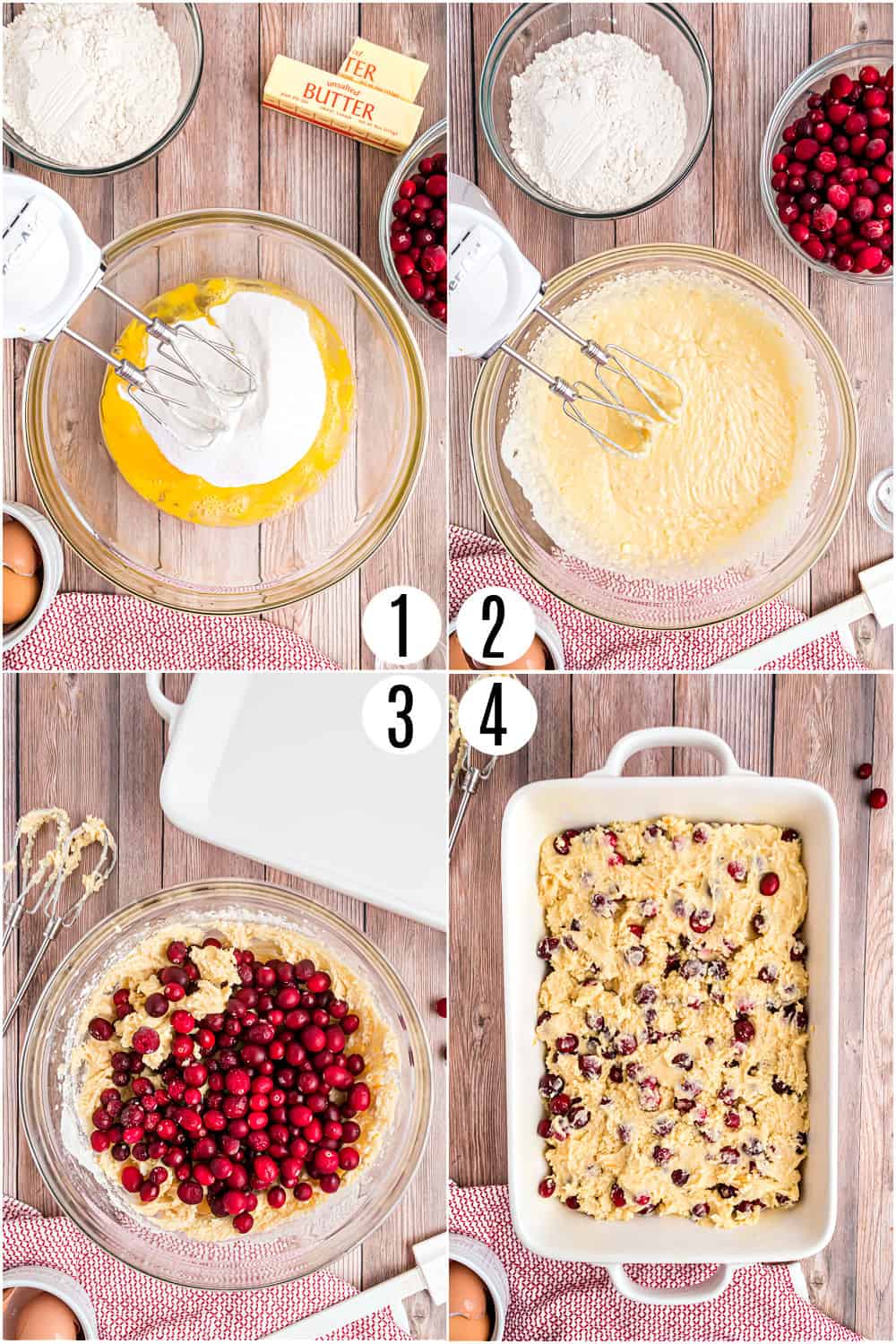 Beat sugar and eggs.
Use an electric mixer to beat until well incorporated and doubled in volume.
Add the rest of the batter ingredients.
Now beat in butter and orange zest, along with vanilla and almond extract. Once well combined, mix in the flour and kosher salt.
Finally, fold in fresh cranberries.
Bake.
Pour the batter into a 13 x 9 inch baking dish. Bake for 42-45 minutes.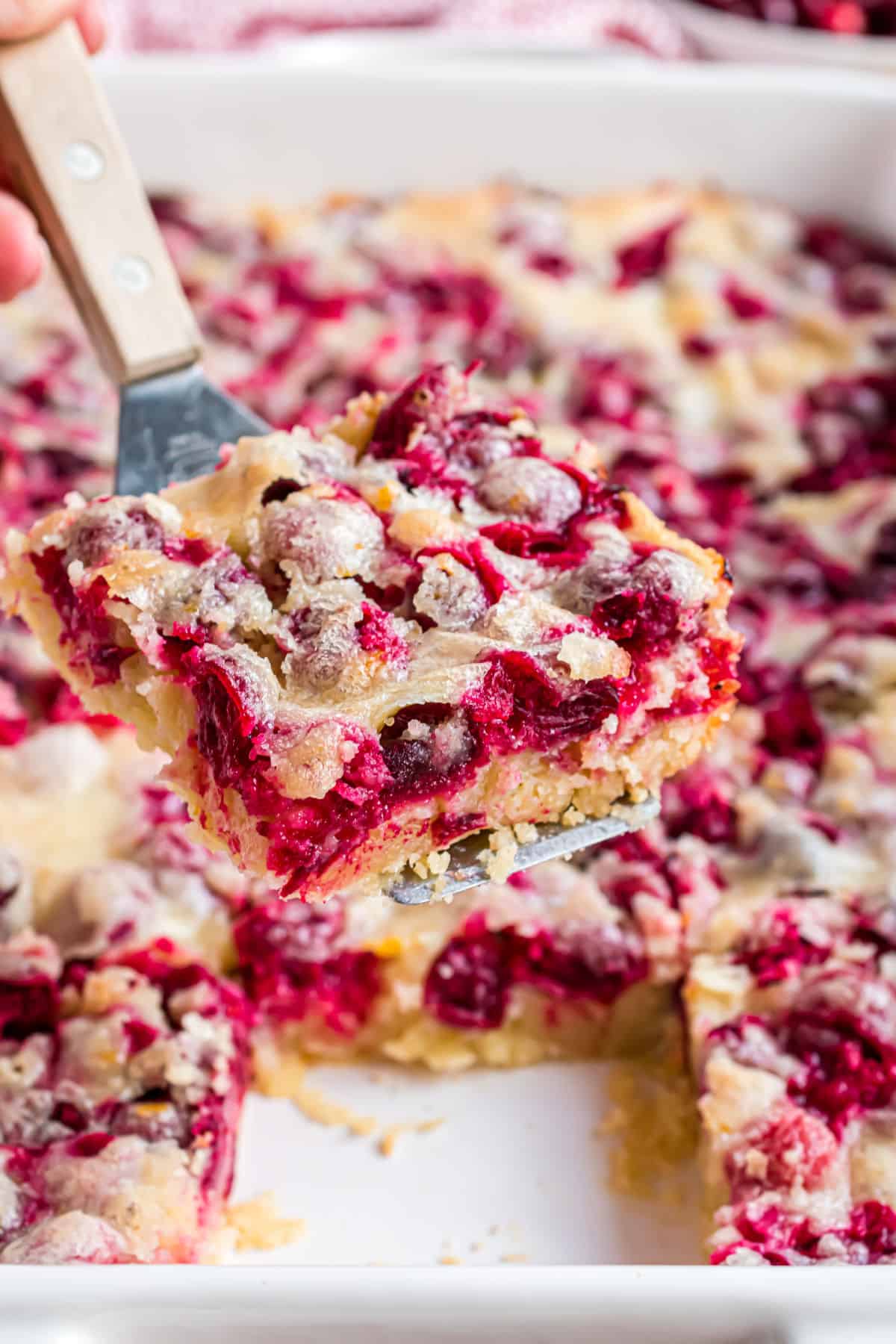 Tips and Tricks
Prepare the baking pan: Spray your dish with baking spray before adding the batter. Or use my Homemade Cake Release!
Zesting an orange: Use a hand held grater or zesting tool to remove the zest from your orange. Run the grater over the peel of an orange to remove the zest. Make sure not to include any of the bitter white peel.
Storing: Keep leftover cranberry cake covered at room temperature. Enjoy within 5 days or freeze for up to 3 months.
Serve this sweet cake for breakfast on the holiday with a mug of hot chocolate or a cup of eggnog!
Recipe FAQs
Can I make this Christmas Cake in a bundt pan?
I have never personally tested the recipe in a bundt pan. If you do give it a try, you may need to adjust the baking time. Don't forget to grease the pan well with butter or baking spray too!
Can I use dried cranberries in this cake?
Dried cranberries will not produce the same results. Fresh cranberries soften and burst into the batter as they bake so you get that tart juicy flavor.
Can you use frozen cranberries?
Yes, frozen cranberries can be used to make this cake. If using frozen, the batter may seem really thick when you mix them in, that's okay!
Can I add icing or glaze?
I won't stop you from adding a glaze to this cake but trust me: it really doesn't need it! Since I'm usually ALL about adding icing to cakes, you can trust me when I say it's just as delicious served all on its own.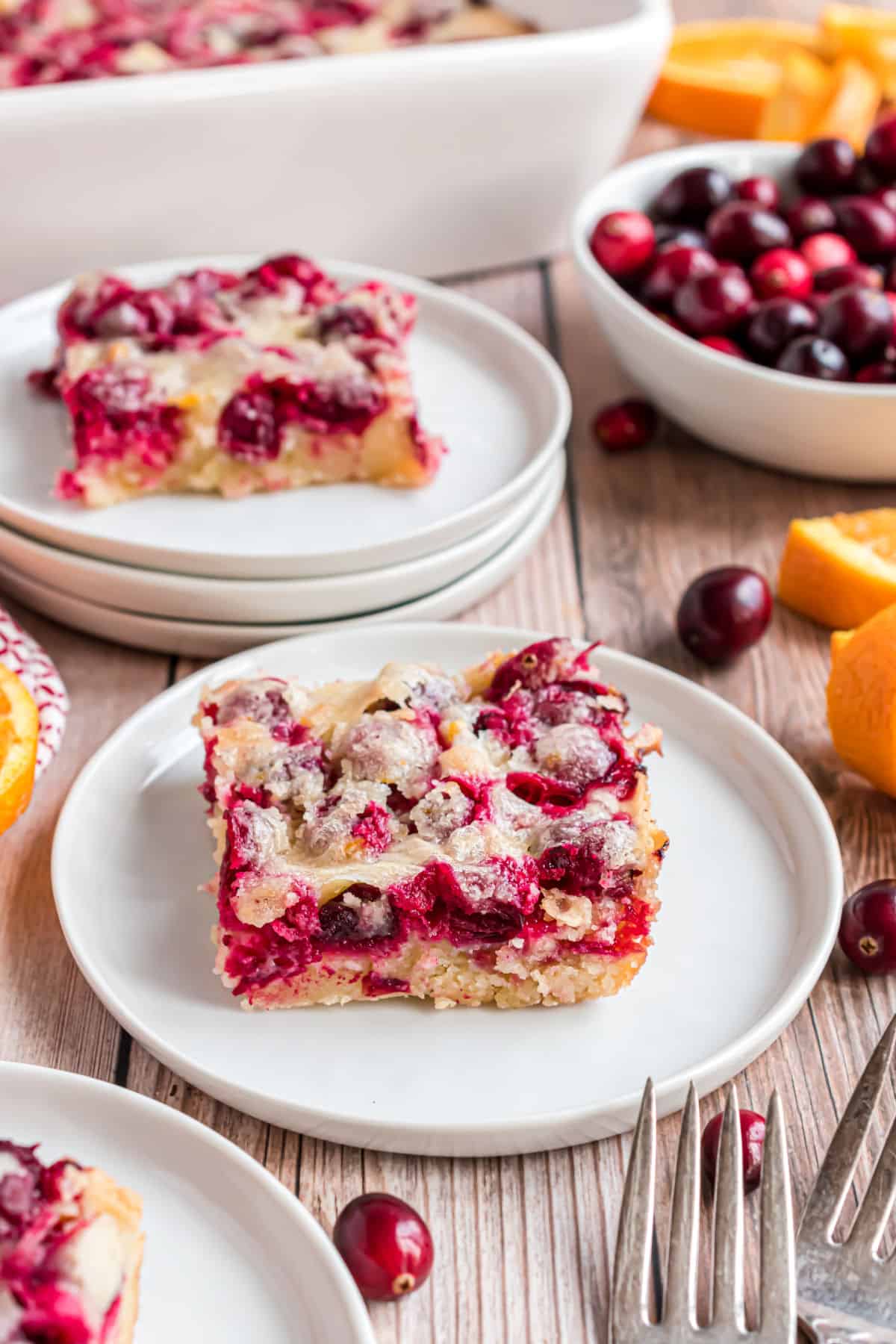 More Holiday Recipes
Complete your holiday table with homemade Cranberry Christmas Cake! Easy to make from scratch with just one mixing bowl, this dessert is bursting with Christmas cheer.