Toast the holiday season with a glass of homemade Eggnog! You'll love this easy homemade eggnog recipe served hot or cold with a pinch of nutmeg.
Add your chilled homemade eggnog to these creamy Eggnog Cheesecake bars for a delightful dessert. Or make the ultimate Eggnog Cheesecake Cake for the holidays.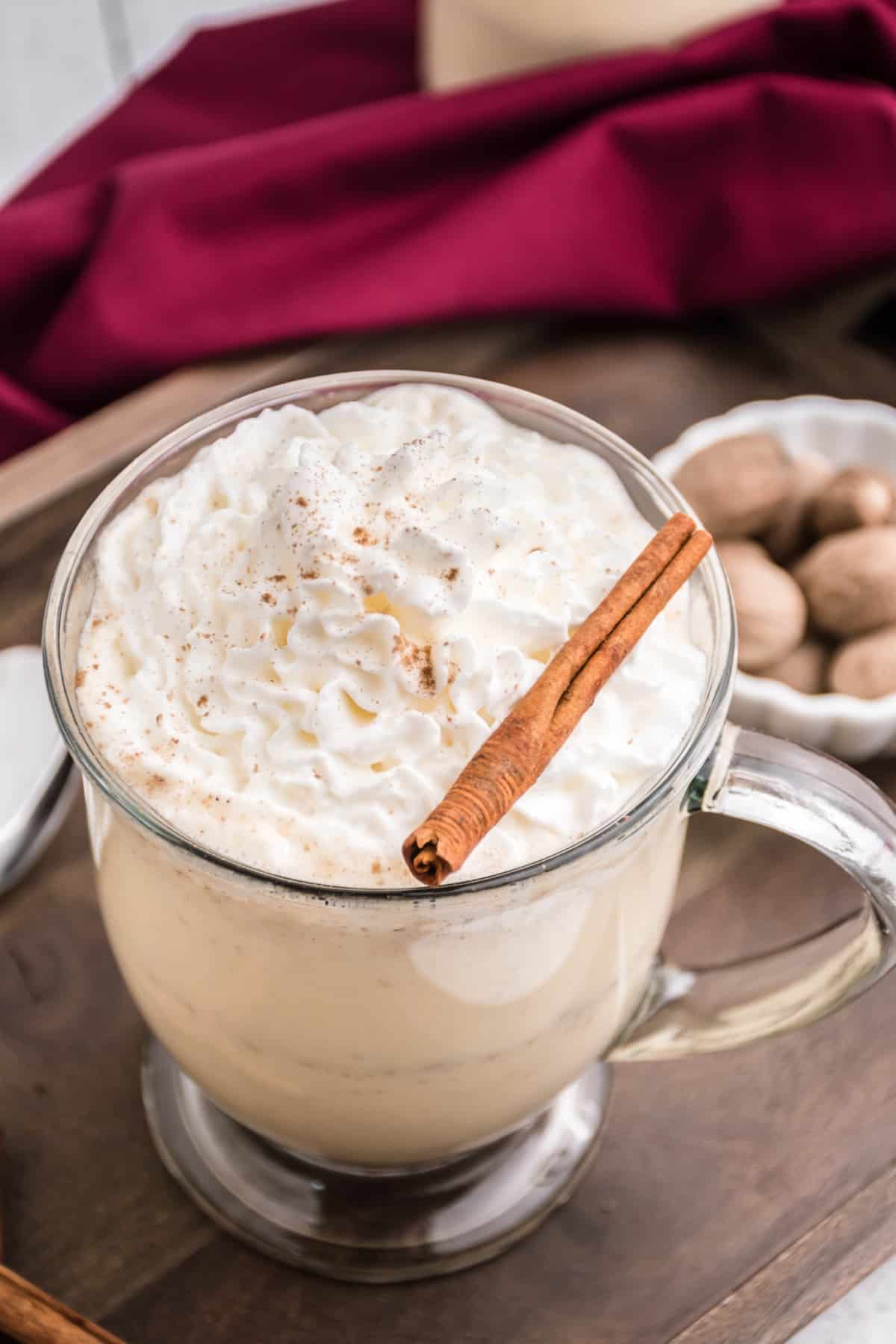 Why this Recipe is Best
Eggnog seems to be one of those drinks that everyone has a strong opinion about. Whether your love or loathe the creamy rum-infused cocktail, you can't deny that Eggnog is a Christmas classic.
It's a running joke in my family that everyone insists we have eggnog in the fridge all holiday season long, but no one ever seems to want to drink more than a glass or two of it.
No matter, I always find a way to use it by baking things like Eggnog Cupcakes, Eggnog French Toast, or Eggnog Fudge. These eggnog cookies are always a hit too!
The truth is store bought eggnog is FINE but it's far from my favorite holiday beverage (spiked or otherwise).
This Homemade Eggnog, though? It's so good.
Dangerously good. I could happily sip several glasses of this, hot or cold, and not get sick of it.
Today's Eggnog recipe has just the right balance of spices to creamy sweetness, thanks to the cinnamon sticks that you simmer with the milk and cream. It also uses real eggs blended with sugar until fluffy.
PRO TIP: Heat the eggnog to 160 degrees F to make kill any salmonella bacteria.
And while rum is the traditional choice for eggnog, I find bourbon tastes amazing in this recipe, adding a faint hint of maple to the drink.
Whether you use dark rum, bourbon or skip the alcohol altogether, I think you'll agree this is the BEST eggnog you've ever tasted!
Save some of this homemade nog to put in our delicious eggnog cheesecake recipe!
Ingredient Notes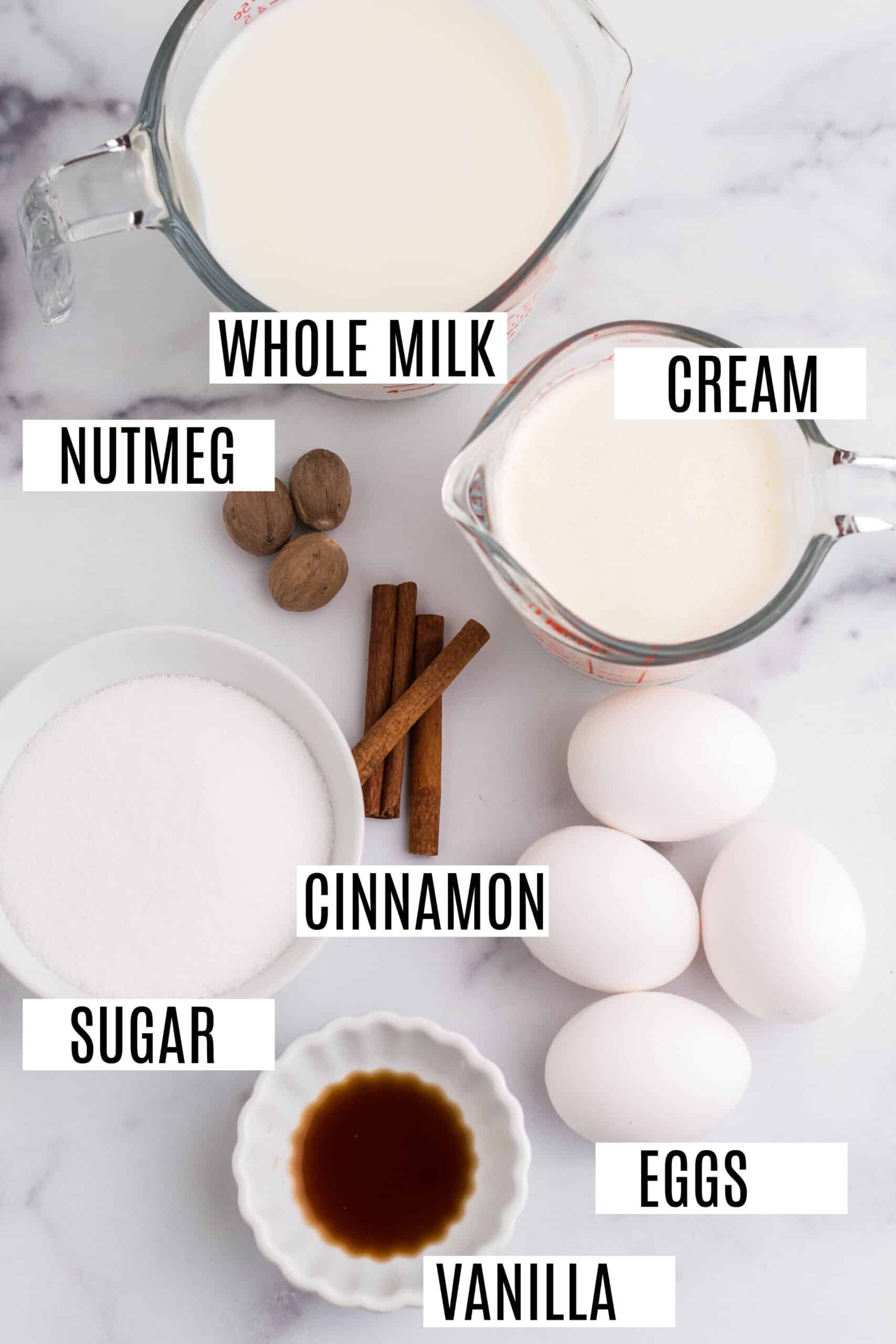 Milk – Whole milk does the best job making the eggnog creamy and flavorful.
Heavy cream – Do not sub half and half or non dairy creamer! You need the fat from the cream to help the drink thicken.
Vanilla – Real vanilla extract works best. For even more vanilla flavor use Vanilla Sugar in place of the granulated sugar.
Eggs- if you can find pasteurized eggs that's perfect, otherwise you'll need to heat the mixture to 160 degrees F to kill salmonella bacteria.
Liquor – For spiked eggnog you can add either bourbon or dark rum, or leave it out for a non-alcoholic version.
Easy Instructions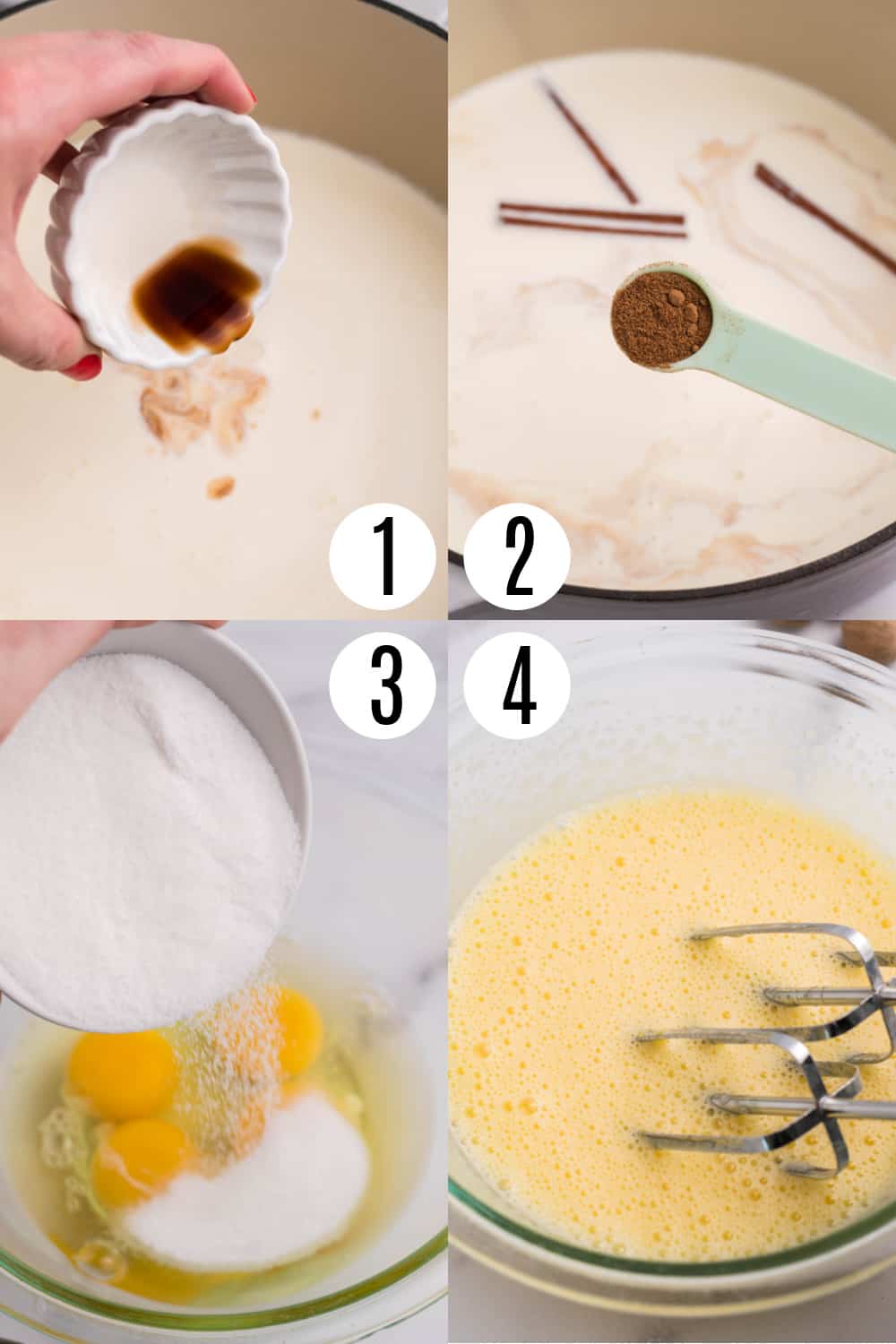 Making delicious eggnog starts by combining milk, cream and vanilla. Add cinnamon sticks and nutmeg, then bring it all to a gentle boil on the stove.
Beat eggs together in a separate bowl and gradually add the sugar, beating with an electric mixer until the eggs are fluffy as a cloud.
Use a wire whisk to gradually stir the egg mixture into the milk mixture. Heat over low heat until temperature reaches 160 degrees F.
Pour the eggnog through a sieve to remove any large egg pieces. Stir in the bourbon or rum, if using.
Pour into mugs or glasses (if serving cold) and top each serving with a sprinkle of nutmeg. For an extra indulgent treat, add whipped cream on top too before sprinkling the nutmeg.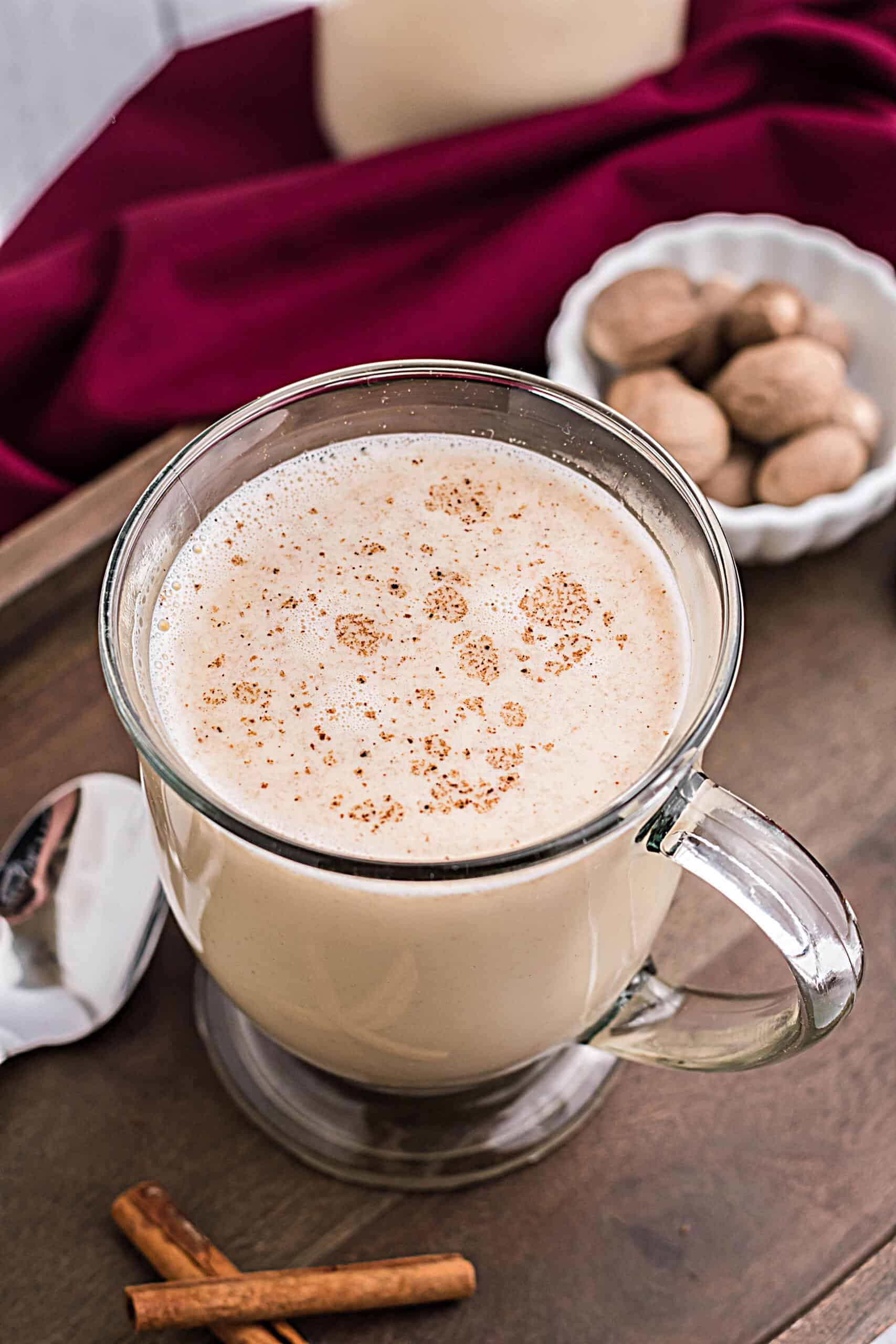 Recipe FAQs
Can this be made without the alcohol?
Yes, it is delicious all on its own, no booze necessary! When making this for a party, you could make the eggnog plain then serve bourbon or rum on the side for everyone to add their own desired amount to their mug.
Can you substitute ground cinnamon for the cinnamon sticks?
Yes, but find that it adds a little graininess to the eggnog compared to using cinnamon sticks.
Can this be made ahead of time?
Yes, but how long it will keep depends on whether or not you use alcohol. Alcohol free eggnog needs to be consumed within a day or so. Spiked eggnog will keep well for a week or more depending on how much alcohol you add and how fresh your other ingredients are!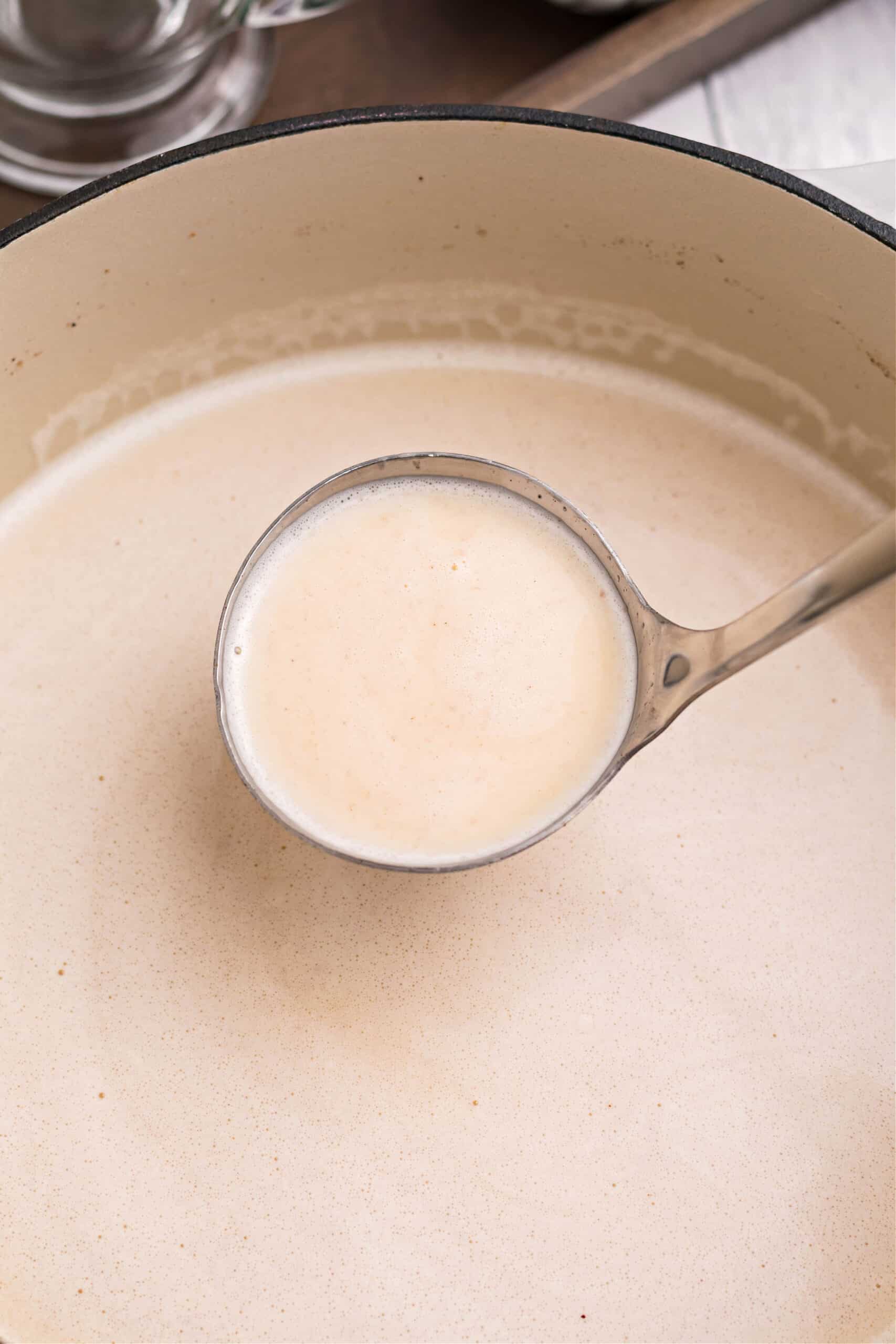 More Holiday Drinks
Say goodbye to eggnog from a carton! Once you try this easy Eggnog Recipe you'll be hooked on the homemade version for your holiday festivities!