Eggnog French Toast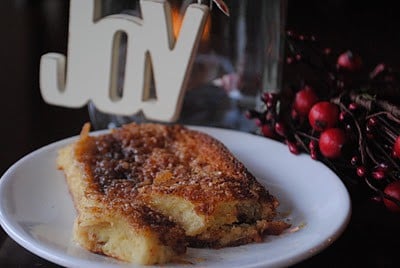 I have two delicious eggnog recipes to share with all of you this week. I know. I know. Some of you despise eggnog. You have told me on facebook, through email, and on twitter. It's okay. Take a break today and go read about this french toast casserole instead. You won't hurt my feelings. Just don't judge me for wanting to share my love for the creamy holiday drink!
I made this for the kids one morning, and I think it was a hit! The youngest who doesn't like eggnog didn't even notice. Although, I thought it had a clear eggnog taste to the recipe, so don't think you can fool people. She's just fool-able (totally a word).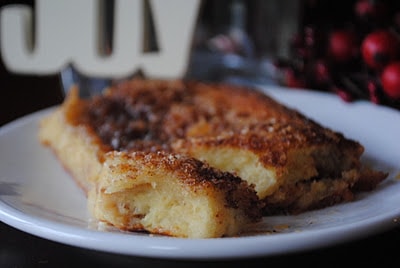 Try making this for your next holiday brunch. Enjoy!
Ingredients
1 loaf sandwich bread (about 14 slices), cubed
5 eggs
1 cup eggnog
1 cup milk
1 tsp rum flavoring
1 tsp cinnamon
1/2 tsp nutmeg
1/2 cup butter, melted
3/4 cup brown sugar
1/4 cup pecans, chopped (optional)
Instructions
In large bowl whisk eggs with eggnog, milk and rum flavoring. Dip cubed bread in mixture and place in 13x9 baking dish, until all bread is used. Pour any remaining mixture over bread. Sprinkle with cinnamon and nutmeg.
Cover with foil and refrigerate overnight.
When ready to bake, in small bowl mix melted butter with brown sugar. Pour over bread (sprinkle with pecans if desired). Bake uncovered in 350 degree oven for about 40 minutes. Enjoy warm!