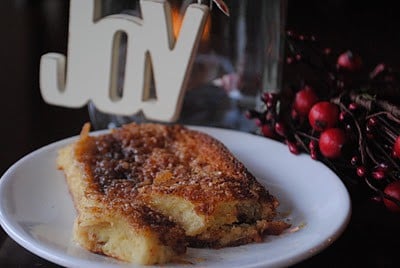 Try making this for your next holiday brunch. Enjoy!
Eggnog French Toast
Ingredients
1 loaf Texas Toast (about 14 slices), cubed
5 eggs
1 cup eggnog
3/4 cup milk
1 tsp rum flavoring
1 tsp cinnamon
1/2 tsp nutmeg
1/2 cup butter, melted
3/4 cup brown sugar
1/4 cup pecans, chopped (optional)
Instructions
In large bowl whisk eggs with eggnog, milk and rum flavoring. Dip cubed bread in mixture and place in 9-inch baking dish, until all bread is used. Pour any remaining mixture over bread. Sprinkle with cinnamon and nutmeg.
Cover with foil and refrigerate overnight (or at least 4 hours)
When ready to bake, in small bowl mix melted butter with brown sugar. Pour over bread (sprinkle with pecans if desired). Bake uncovered in 350 degree oven for about 40 minutes. Enjoy warm!
Notes
Swap out the milk for more eggnog and replace the rum flavoring with vanilla extract if desired.
Find a loaf of bread approximately 16 oz. Brioche works great too!