Overnight French Toast Casserole. Prep ahead of time and wake up to a sweet breakfast casserole, swirled with cinnamon and covered in pecans!
Love gooey breakfast recipes? Try our easy Monkey Bread today! Readers also love our cinnamon rolls, for good reason!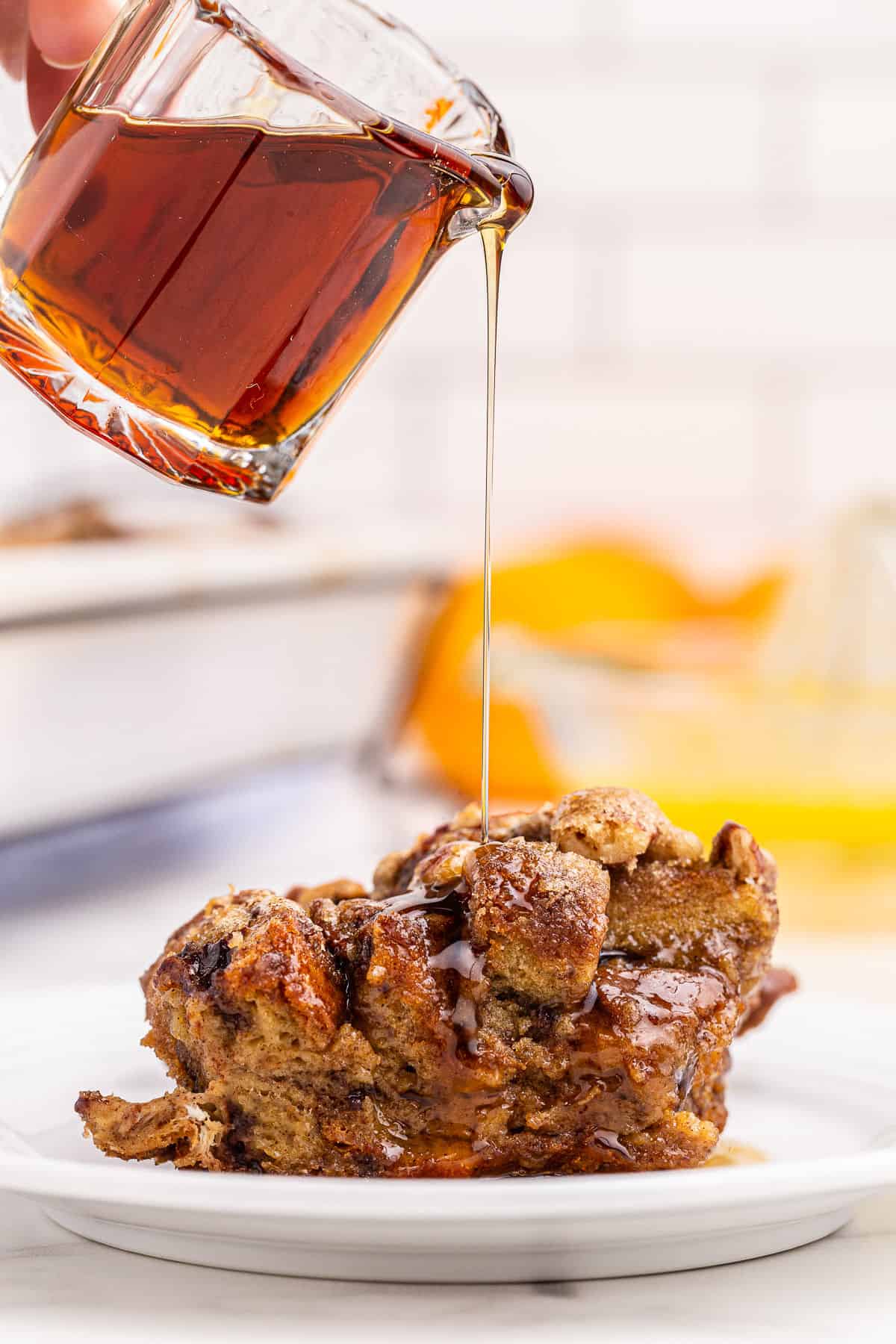 Why this Recipe Works
Everyone loves homemade french toast. But those of us responsible for getting the family breakfast on the table do NOT love having to prep and cook individual slices of french toast before we've even had our first sip of coffee.
That's why Overnight French Toast Bake is a lifesaver.
Made from cubed bread layered in a casserole dish, this easy french toast casserole gets prepped the night before with whisked eggs, butter and spices.
In the morning, just pop it in the oven and let it bake. Put on a pot of coffee and enjoy the tantalizing aroma of cinnamon, sugar and pecans wafting through your house! Scoop a portion on to your plate, drizzle it with maple syrup and start your day right.
Overnight French Toast Casserole is easy enough for any casual family breakfast but delicious and impressive enough for a special occasion.
Try our berry french toast casserole for a fruity twist, perfect for holidays! OR give our pumpkin french toast a try next! Topped with pecans it's a delicious treat.
Ingredient Notes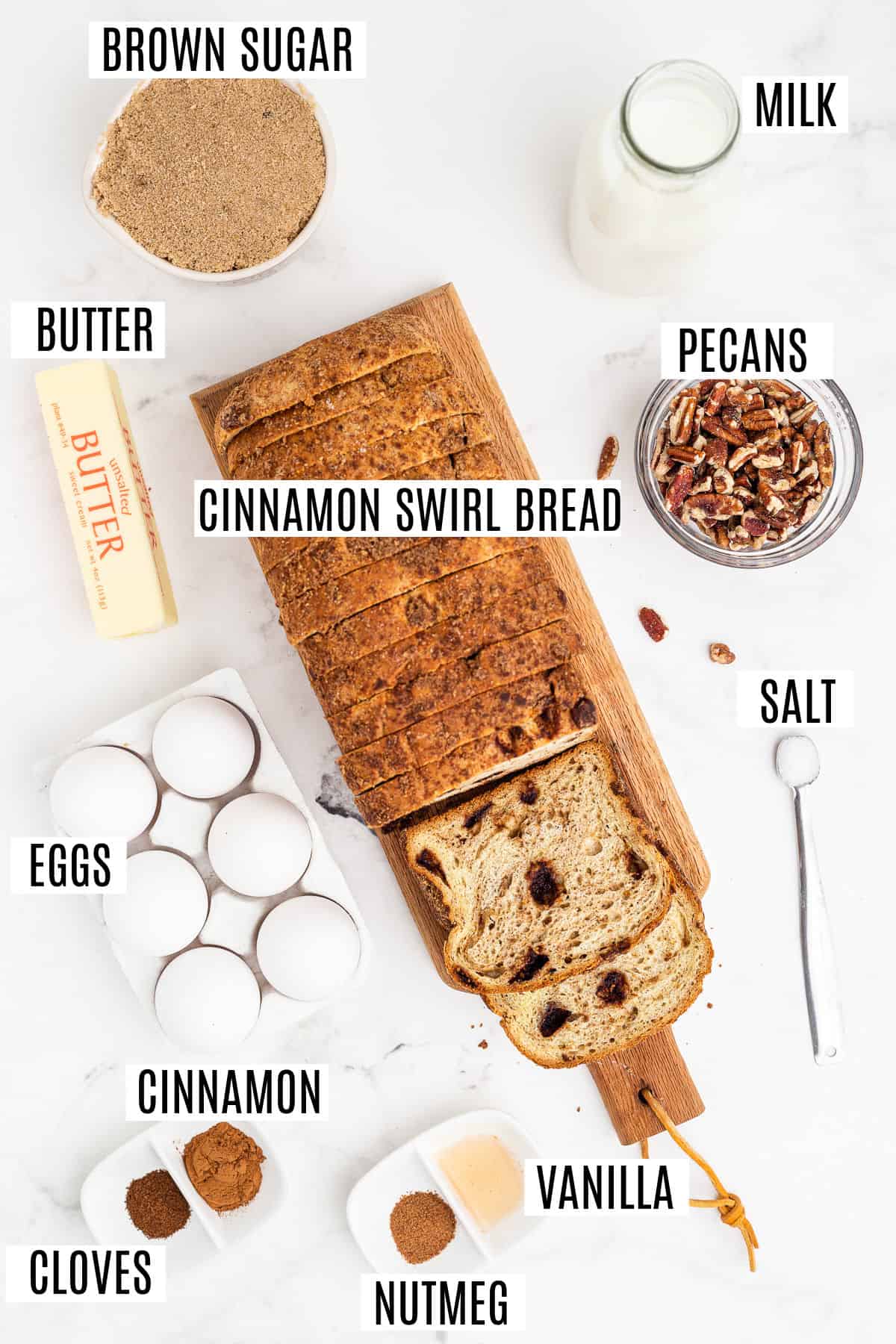 Bread – Cinnamon swirl bread is my favorite but any loaf of white sandwich bread will do.
Milk – Use any milk you prefer. Whole, skim or even nondairy milk are all good choices.
Eggs – You'll need 6 regular sized eggs for the french toast casserole.
Spices – Cinnamon, nutmeg and cloves make the casserole smell–and taste–amazing!
Vanilla – Store bought or homemade vanilla extract work great!
Pecans – You can leave them out if preferred but I LOVE the crunch and nutty flavor. For best flavor, toast the pecans first!
Easy Instructions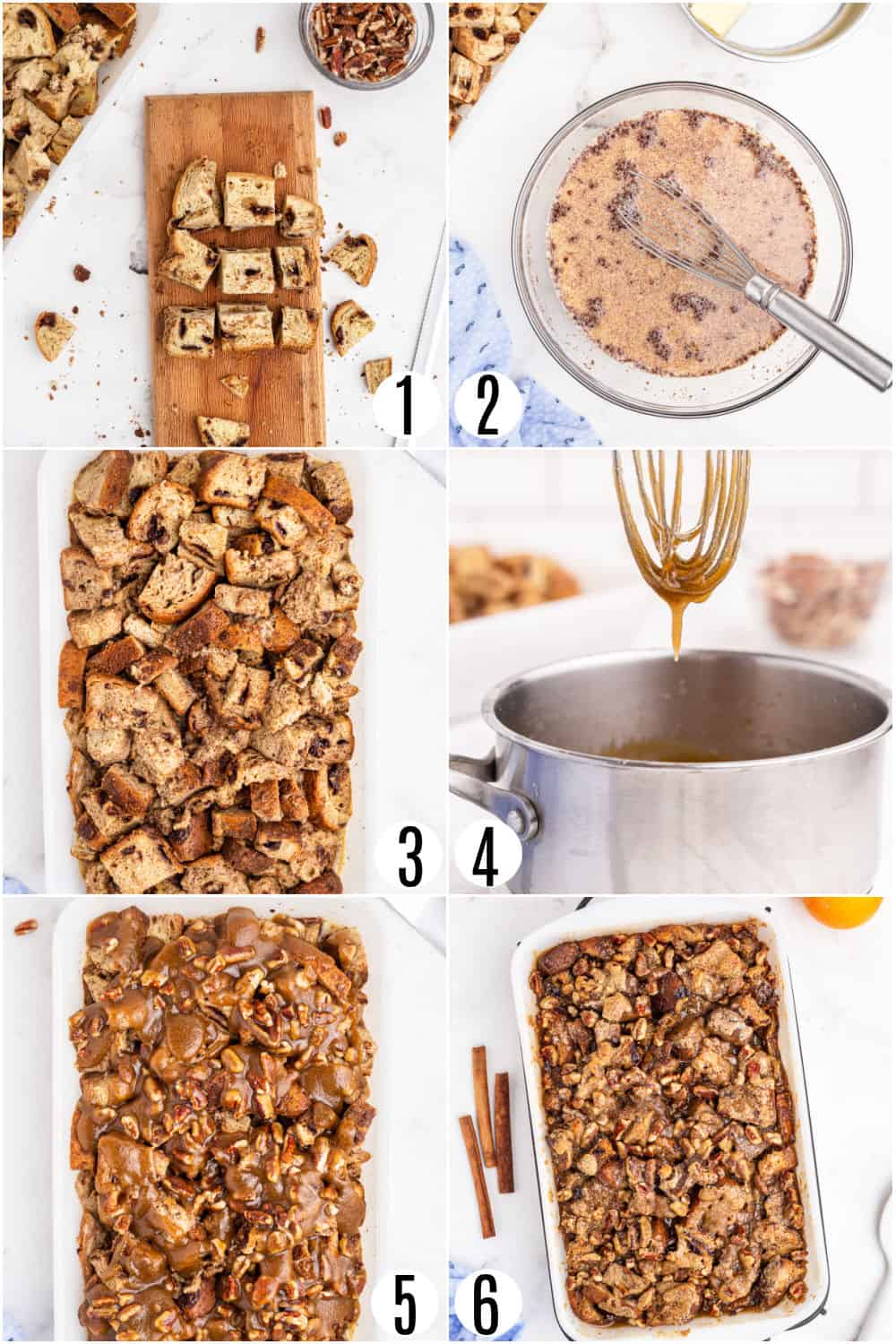 First, cube the bread and place it in a baking dish. Pour the combined eggs, milk, spices, and vanilla over the bread.
Melt butter in a saucepan, then whisk in the brown sugar. Stir in the chopped nuts and pour the mixture over the bread.
You can bake it right away or cover and stash it in the fridge overnight. Bake for 25 minutes covered with foil, then uncover and bake an addition 20.
Serve plain or with all your favorite french toast toppings! Try our homemade cinnamon sugar mix or top it with buttermilk syrup!
Tips and Tricks
Change up the bread for different flavors. Cinnamon Swirl bread is divine as the base for the french toast casserole, but I've also loved this with raisin bread or challah (a hearty egg-washed bread).
Stale bread is okay. The bread cubes will be saturated with the egg mixture and left to soak it up all night long. French toast is the perfect way to use up day-old homemade bread or a loaf of store bought bread that's a little past its prime.
Nut substitutes. Swap the pecans for walnuts or slivered almonds for a tasty twist.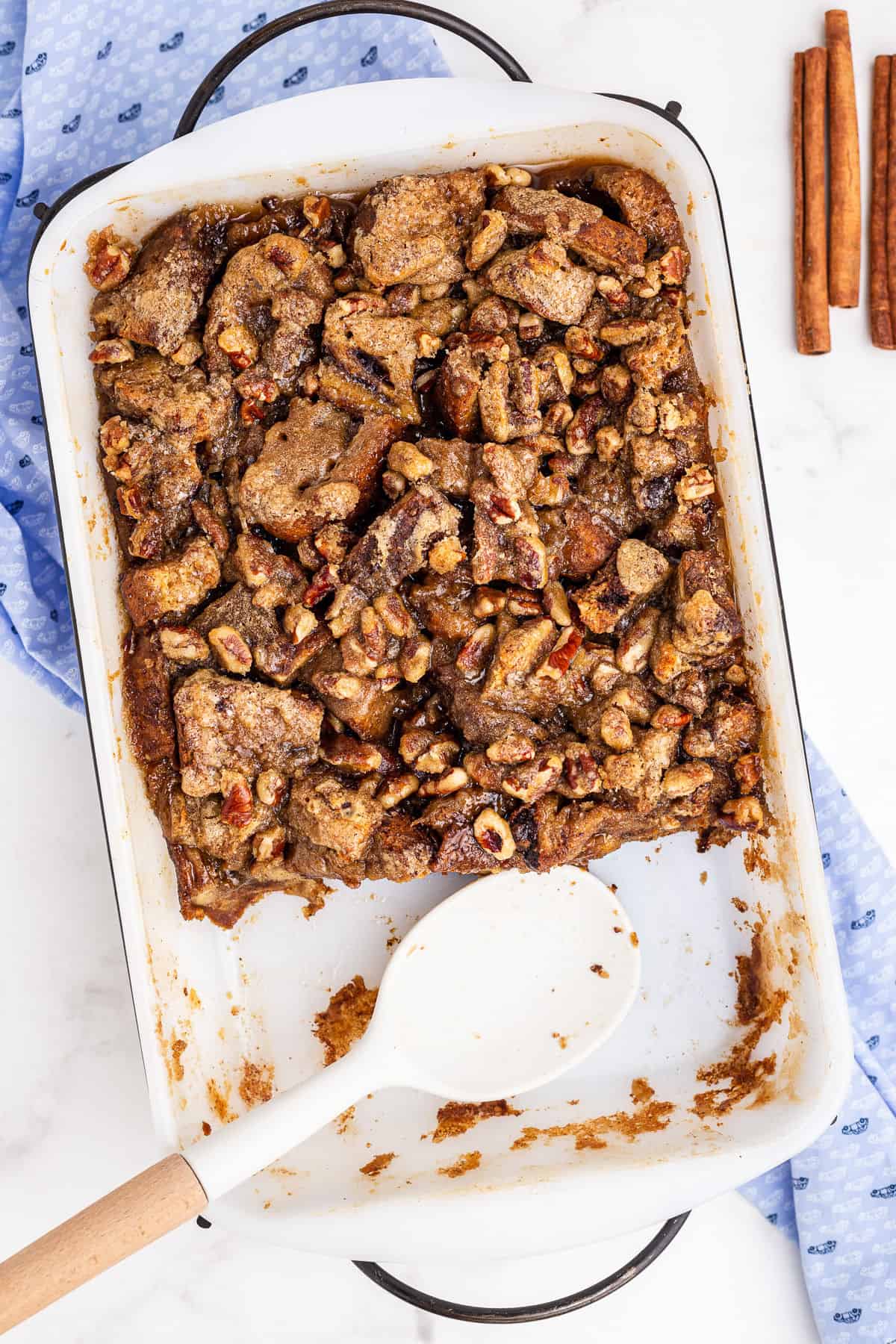 Recipe FAQs
How far ahead of time can you prep the Overnight French Toast Casserole?
You can prep Overnight French Toast Casserole as much as a day in advance, if kept well chilled and covered.
Does the french toast have to chill overnight?
No, the french toast doesn't have to chill overnight. The recipe works perfectly even if you bake it right away. It's so easy to toss together that I've made it at the last minute plenty of times with amazing results!
What kind of bread is best to use in french toast casserole?
The best bread to use in french toast casserole is a white bread. My family prefers to use cinnamon swirl bread, but it's delicious with everything from plain old sandwich bread to baguette. That's one of the many things I love about this recipe!
Overnight French Toast Casserole makes weekend breakfasts as easy as they are delicious! Throw the ingredients in a casserole dish, stash it in the fridge and it's ready to bake first thing in the morning–even before that first sip of coffee!