Overnight French Toast Casserole. This delicious breakfast need to be on your menu ASAP!! You won't regret it!
Love this recipe? Sign up for Shugary Sweets email subscription and never miss out again!
**Today's recipe is sponsored by the Ohio Poultry Association! I can't wait to share with you all my love of eggs!"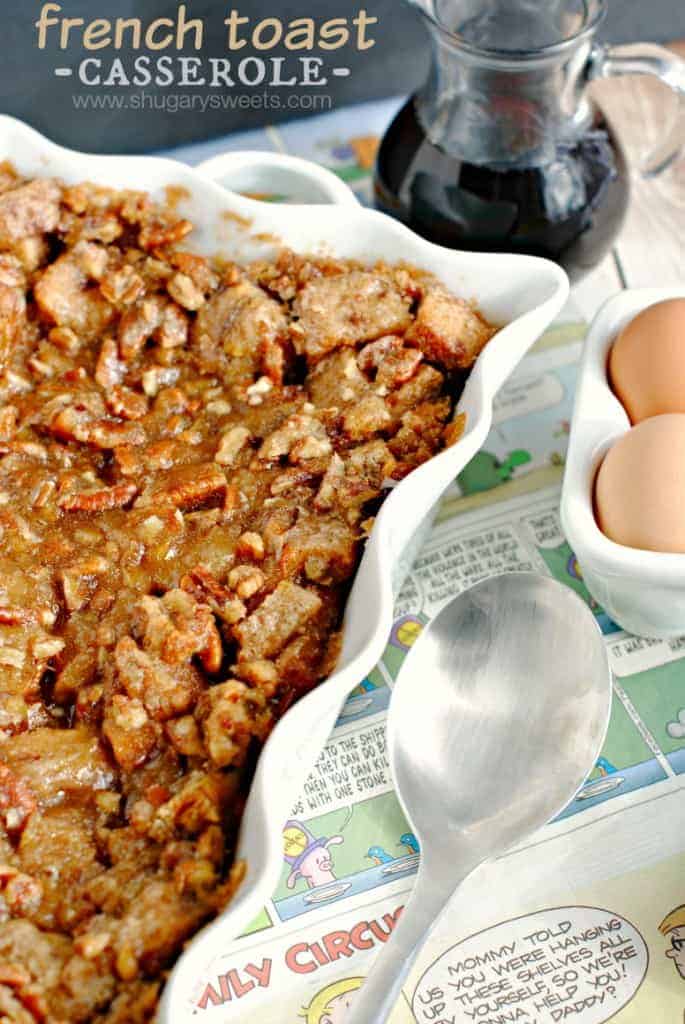 For some reason, this seems to be one of our busiest years ever. From the time we moved back to Illinois in July until today (oh my gosh, we've been here 5 months!) I feel like we are doggie paddling.
You know, barely staying above the surface.
With two in high school, one junior high and one in middle school, our evenings are booked. And by the time Saturday rolls around, all we want to do is lay in bed and sleep in.
Unfortunately, those of you with swimmers will understand, that never happens. I don't know what a lazy Saturday morning, reading the comics is anymore. Sounds wonderful.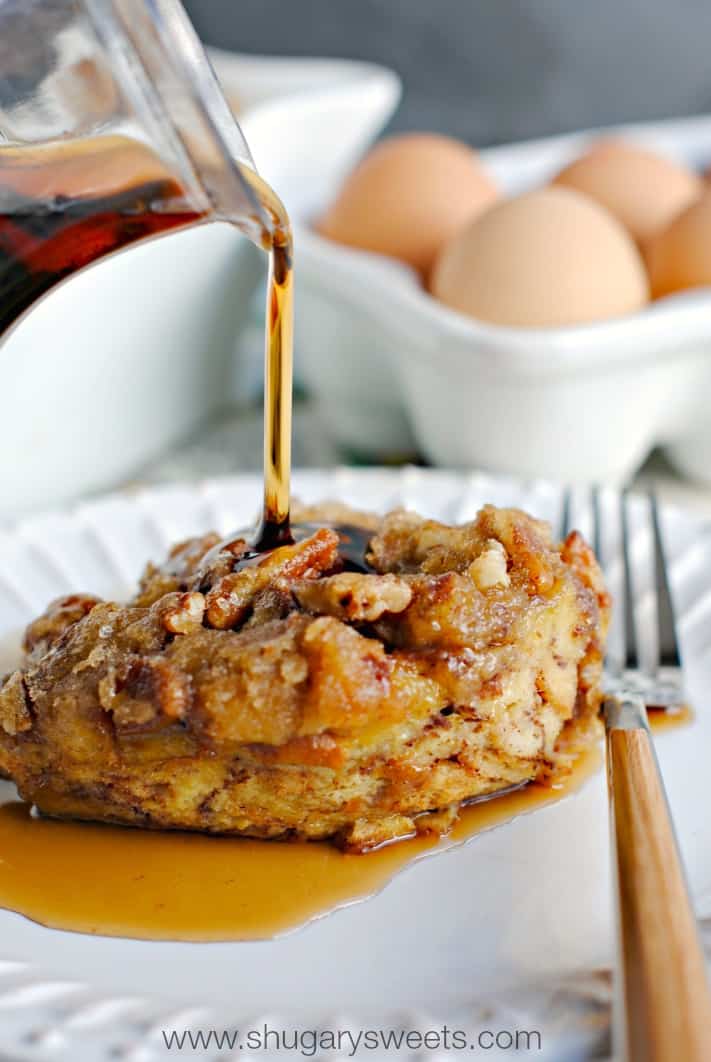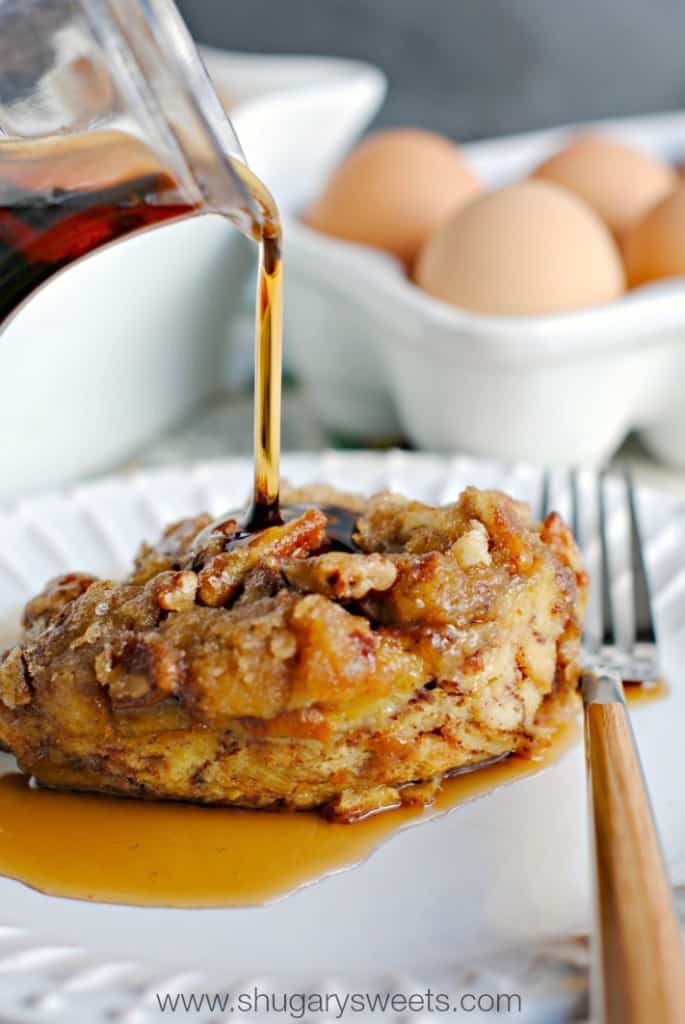 And I bet this French Toast Casserole would be awesome on that make believe lazy morning too!
In our house, since we don't get many lazy days, we do breakfast for dinner. Often.
And french toast makes an appearance 9/10 times because we all LOVE it.
How easy would it be to make one of these casseroles instead? Make it the night before, or the morning of, or even right before. This casserole is totally flexible like that.
And yet, it tastes amazing no matter how long you let it sit.
The best part? It's filled with nutritious, high protein eggs!
Did you know one egg has 13 essential vitamins and minerals in varying amounts, high-quality protein, unsaturated fats and antioxidants, all for 70 calories. Additionally,  more eggs are consumed during the winter holiday season than any other time of the year, including Easter. I had no idea! There's a good chance those eggs could be from Ohio egg farms! Ohio is the second-largest egg producing state in the nation. I was fortunate enough to go visit an egg farm earlier this year! You may remember when I shared this recipes for Greek Omelettes (I also shared my highlights of my trip).
I got up close and personal with the chickens and the eggs! Thank you to the Ohio Egg Farmers for providing eggs to the country!
Connect with the Ohio Poultry Association:
facebook | twitter | pinterest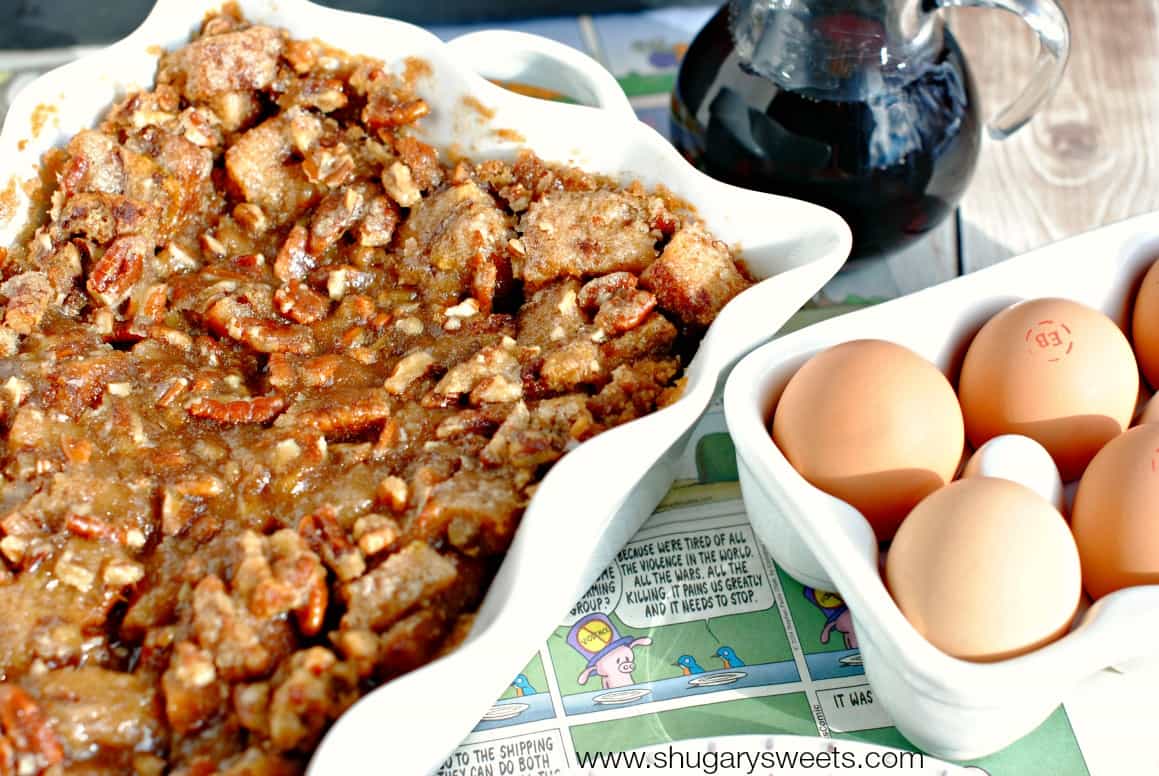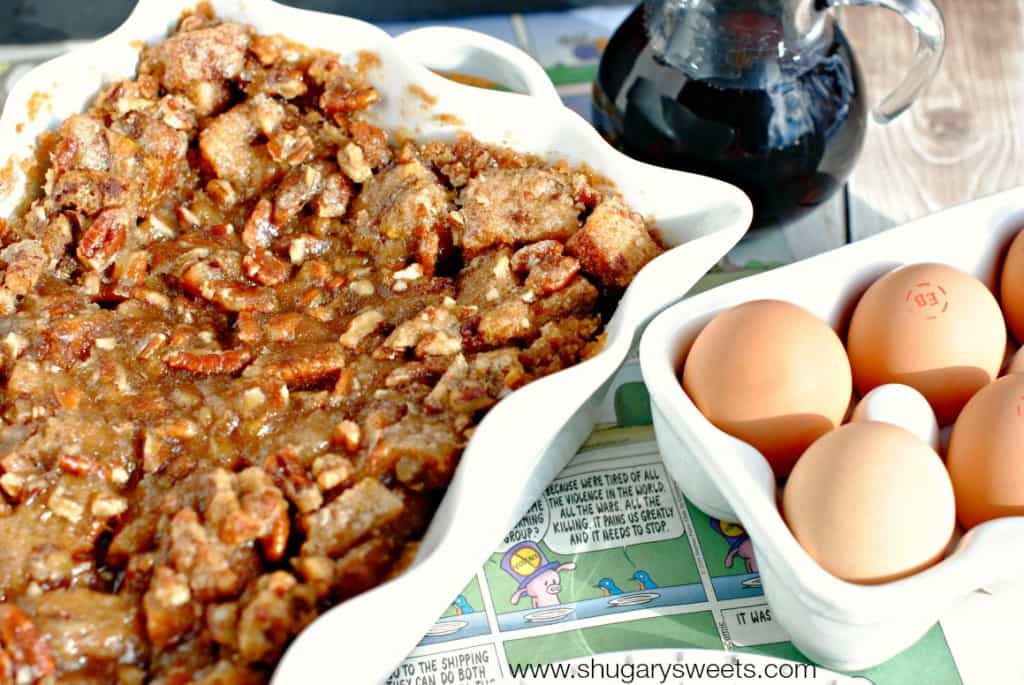 Yield: 8 servings
Overnight French Toast Casserole
Ingredients
1 loaf bread (16oz Cinnamon swirl bread), cubed
6 large eggs
1 3/4 cup milk
1 tsp cinnamon
1 tsp vanilla extract
1/4 tsp ground cloves
1/4 tsp ground nutmeg
1/4 tsp kosher salt
1/2 cup unsalted butter
1 cup light brown sugar, packed
1/2 cup pecans, chopped
Instructions
Place bread in a 2 qt baking dish. Set aside.
In a large bowl, whisk together the eggs, milk, cinnamon, vanilla, cloves, nutmeg, and salt. Pour over cubed bread.
In a small saucepan, melt butter. Whisk in brown sugar and heat over low until melted. Remove from heat. Add in chopped pecans. Pour over bread.
Cover dish with foil and refrigerate overnight (or if desired you can bake immediately). Bake in a 350 degree oven for 25 minutes with foil on. Remove foil and bake an additional 20 minutes. ENJOY
For more EGG-cellent recipes, be sure to check out my friends who are participating too!
         Loaded Egg Burritos, Inside BruCrew Life
Banana Chocolate Chip Fluffernutter French Toast Casserole, Melanie Makes
Sausage Egg Souffle, Jelly Toast
Sausage Gravy and Eggs Hash Brown Skillet, NeighborFood
  Be sure to join me and my fellow bloggers, along with the Ohio Poultry Association for a Holiday Scramble Twitter Party! Wednesday December 10 from 9-10 pm EST. Use the hashtag #holidayscramble to join in the fun!! Be sure to RSVP to the party here: http://tweetvite.com/event/HolidayScramble.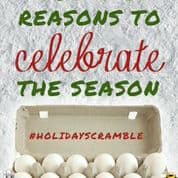 **Special thanks to the Ohio Poultry Association. Today's recipe has been compensated as part of an ongoing relationship. All opinions are 100% my own.**