When you're craving the cozy feels of autumn, Pumpkin French Toast is a no-brainer. You'll have breakfast on the table in less than 10 minutes, and even if you're feeding a crowd, clean-up is a breeze.
Love today's breakfast? Try our reader favorite pumpkin waffles next! Or our pumpkin scones– they are a copycat Starbucks recipe!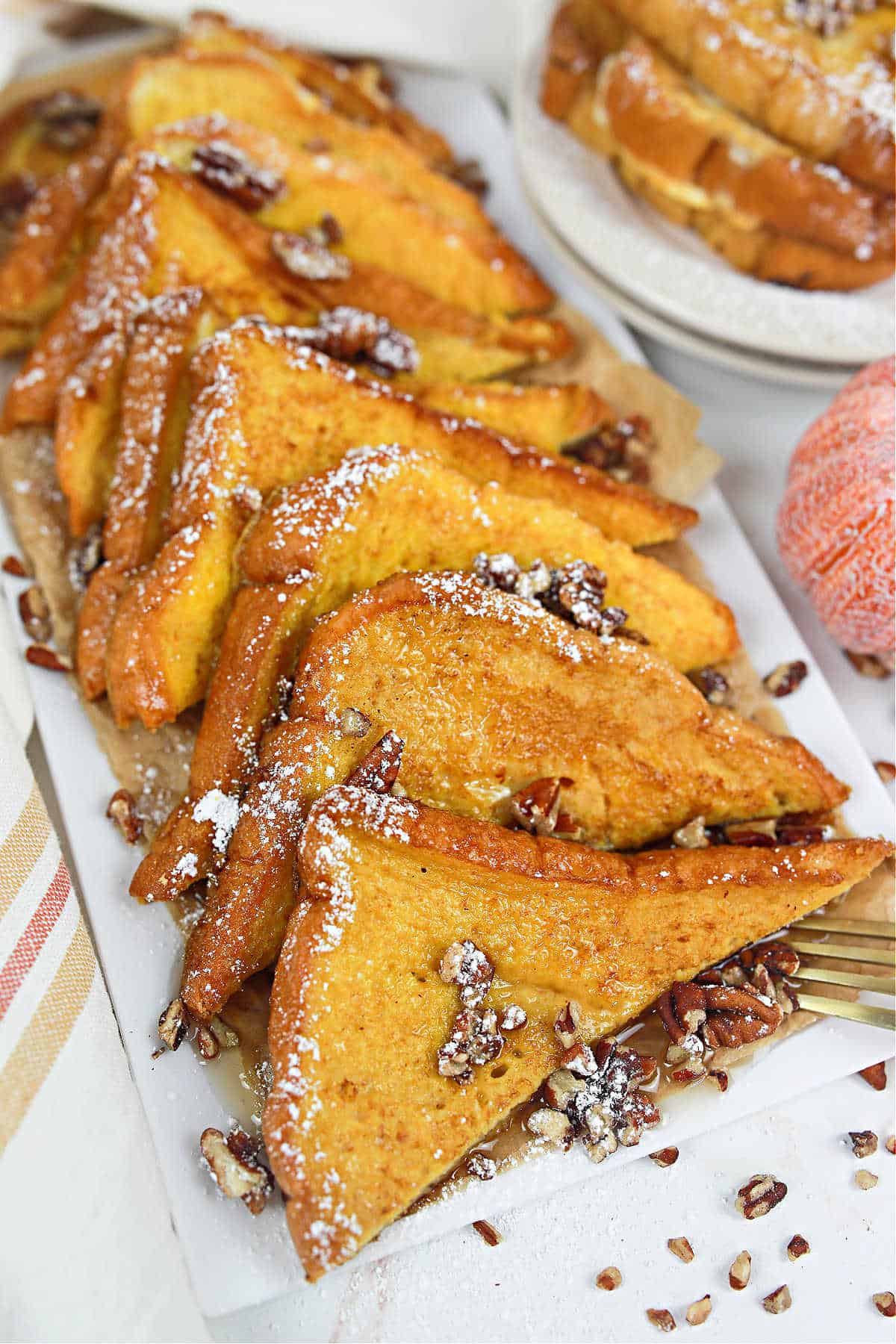 Why We Love It
While we're crazy about pancakes and waffles, it's french toast that we're drooling over today!
There isn't a flavor better than pumpkin spice to bring out the warm, fuzzy feelings of fall. I don't know the science behind the enchantment, but I can guarantee you'll feel like reuniting with the season before the first bite.
If you have a lot of mouths to feed, few recipes come together faster than this. As a bonus, you'll only need one bowl so cleanup is painless too.
If you haven't tried brioche for French Toast, you haven't yet lived! It's like normal bread, only softer and sweeter.
If you love today's french toast, be sure to give our easy french toast casserole a try next. Or stick with pumpkin and whip up a batch of pumpkin cream cheese muffins.
Ingredient Notes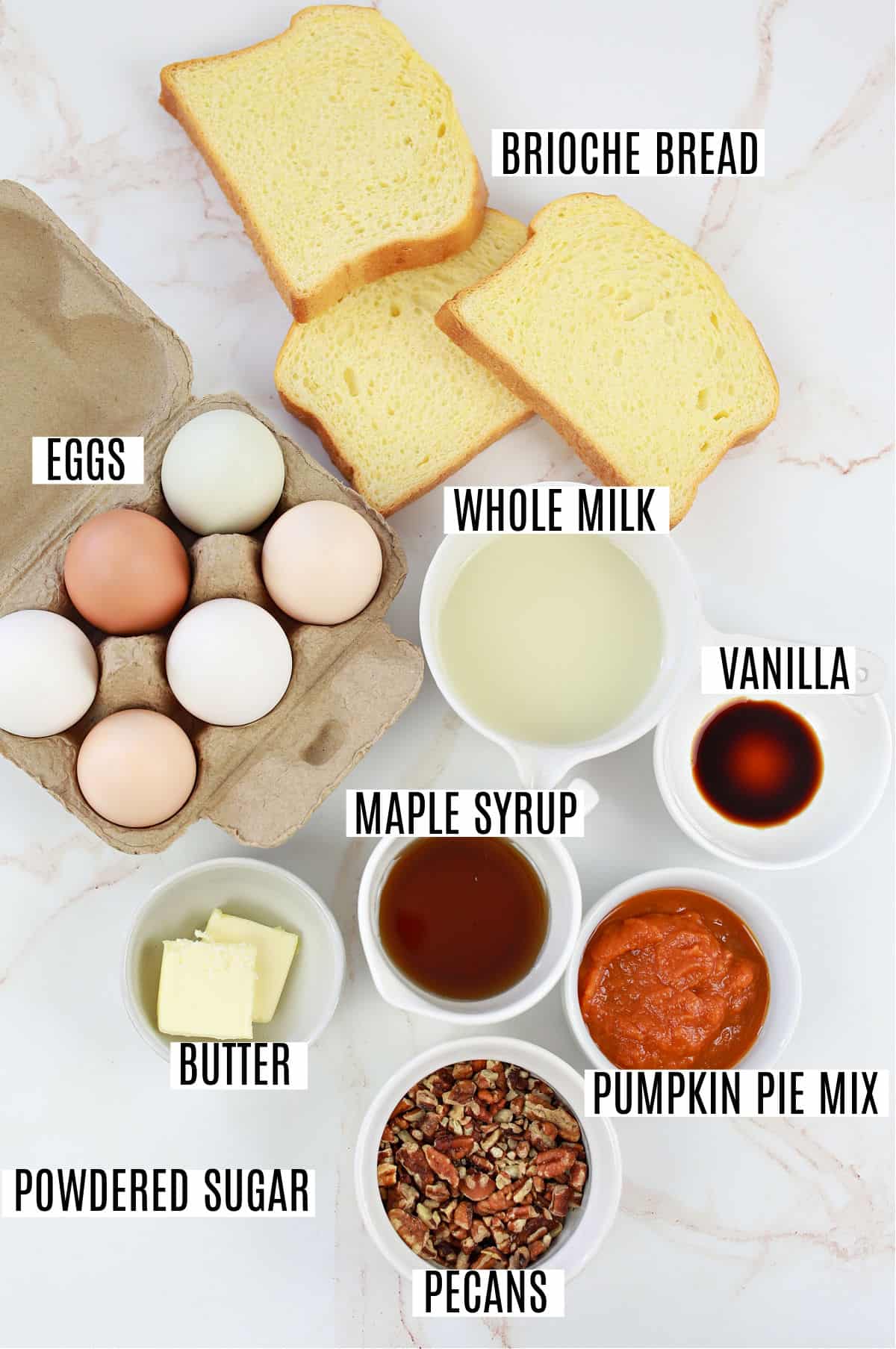 Brioche – Brioche makes for an exceptionally soft and sweet French toast. Sweet Challah or a Hawaiian roll can also work if you're in a pinch.
Pumpkin pie mix – Also called "pumpkin pie filling," this is canned pumpkin puree that has already been sweetened and spiced. If you're feeling adventurous and want to have more authorship over the "spice profile" of your dish, it is possible to blend your own using canned puree or a roasted pumpkin.
Eggs – The fat from the eggs is what carries and intensifies the pumpkin spice flavors in this recipe. And, when heated, the eggs' protein binds all of the liquid ingredients together in the bread. While it is possible to make eggless French Toast, you may lose a lot of flavors and rich texture in the process.
Vanilla Extract – Don't skip on vanilla in this recipe. It brings to life the sweet flavors of the dish, and balances perfectly with the sugar and eggs.
Butter – While using "unsalted butter" will definitely give you more control over the flavor of the recipe, it's also possible to use "salted" butter for pan frying your toast.
Easy Instructions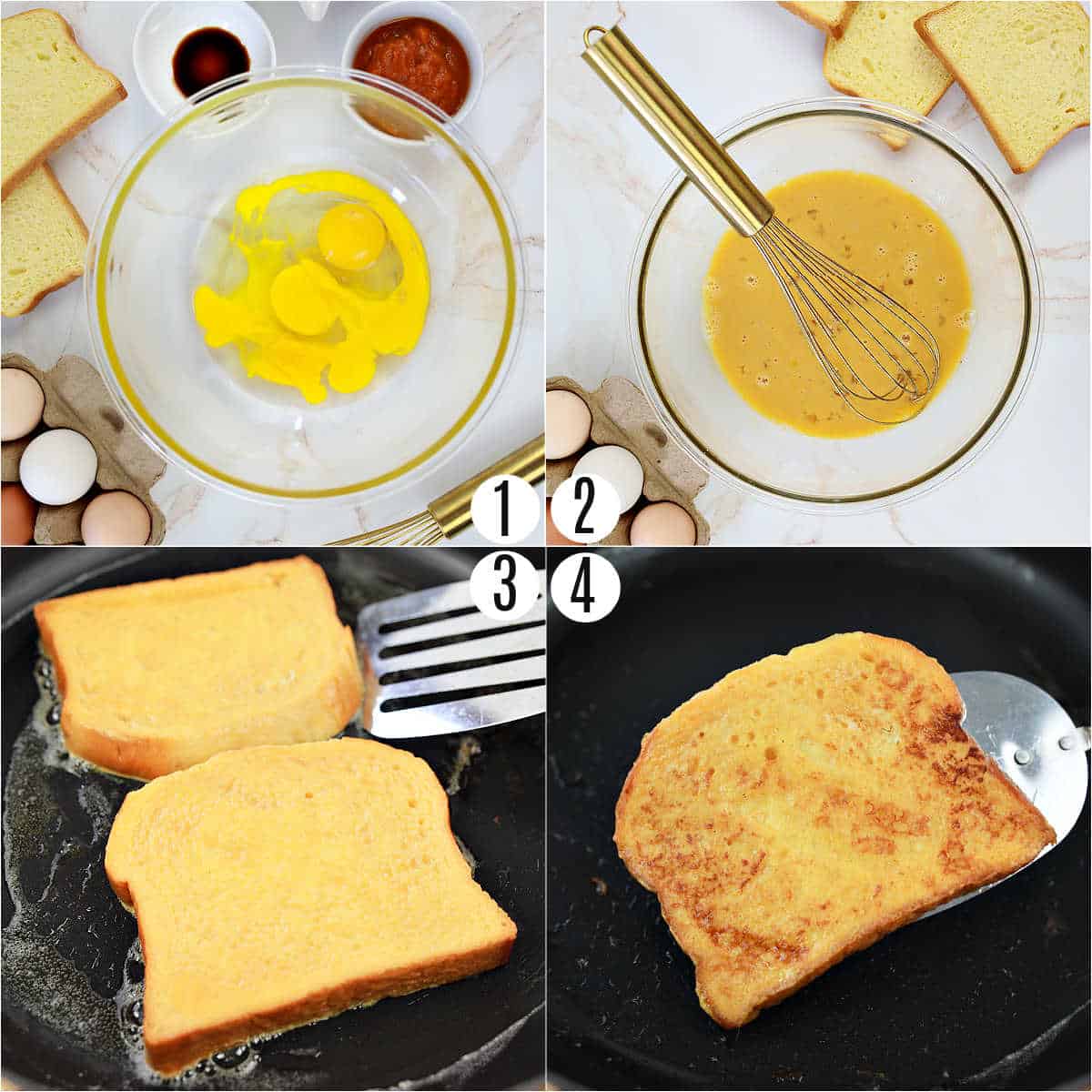 It doesn't take much elbow grease to make magic with this recipe. Gather your ingredients and one mixing bowl, and let's get started.
Mix the Batter – Place all of the liquid ingredients in a large mixing bowl, and combine them with a whisk or fork. If possible, use a bowl that is broad enough at the bottom to fit an entire piece of brioche without folding or crumpling it.
Heat the Skillet – Since we'll be cooking with butter, only heat your skillet to a medium-low temperature. Butter is full of delicious milky solids that will add a lot of flavor to the dish, but this also means it has a low smoke point. Prep your toppings while the skillet warms up.
Dip and Pan Fry – Add a dollop of butter to the skillet. Briskly dip a slice of brioche in your batter, coating each side with egg wash. Cook each side for a minute or more, until the liquid has bound into a solid toasty exterior.
Top and Serve – Get creative with your toppings. I like to add butter and maple syrup to my pumpkin french toast, with a scoop of homemade whipped cream on the side.
Suggested Toppings
What goes well with pumpkin? There are a lot of great options beyond the basics,
Real Maple Syrup – Maple syrup is a staple topping across all manner of breakfast bread, but which type is best? Try Grade B maple syrup, now known as "Grade A, Dark Robust," to ramp up the flavor of your meal quickly while keeping the sugar in moderation.
Whipped Cream – you can easily use Cool Whip or the canned stuff, but you may be surprised at how easy (and delicious) it is to make your own whipped cream from scratch. 5 minutes and 3 ingredients. Low effort, more magic.
Cinnamon – Need a little spice? Don't think twice. A sprinkle of nutmeg, cinnamon, or allspice can add an extra dimension to your meal. Test in moderation, and lean into what you like. My family loves sprinkling cinnamon sugar on french toast!
Pumpkin Puree- swap out the pumpkin pie mix for a combination of pumpkin puree and a teaspoon of pumpkin pie spice.
Go Nuts! – Add some crunch to your plate with pecans, almond slivers, walnuts or hazelnuts. The texture contrast will keep your palate engaged, and the flavors complement pumpkin wonderfully.
Keep It Sweet – If you're trying to satisfy a sweet tooth, try dark chocolate flakes, cranberries or brown sugar. Local honey is also delicious in the absence of maple syrup. Our buttermilk syrup recipe is also a great addition!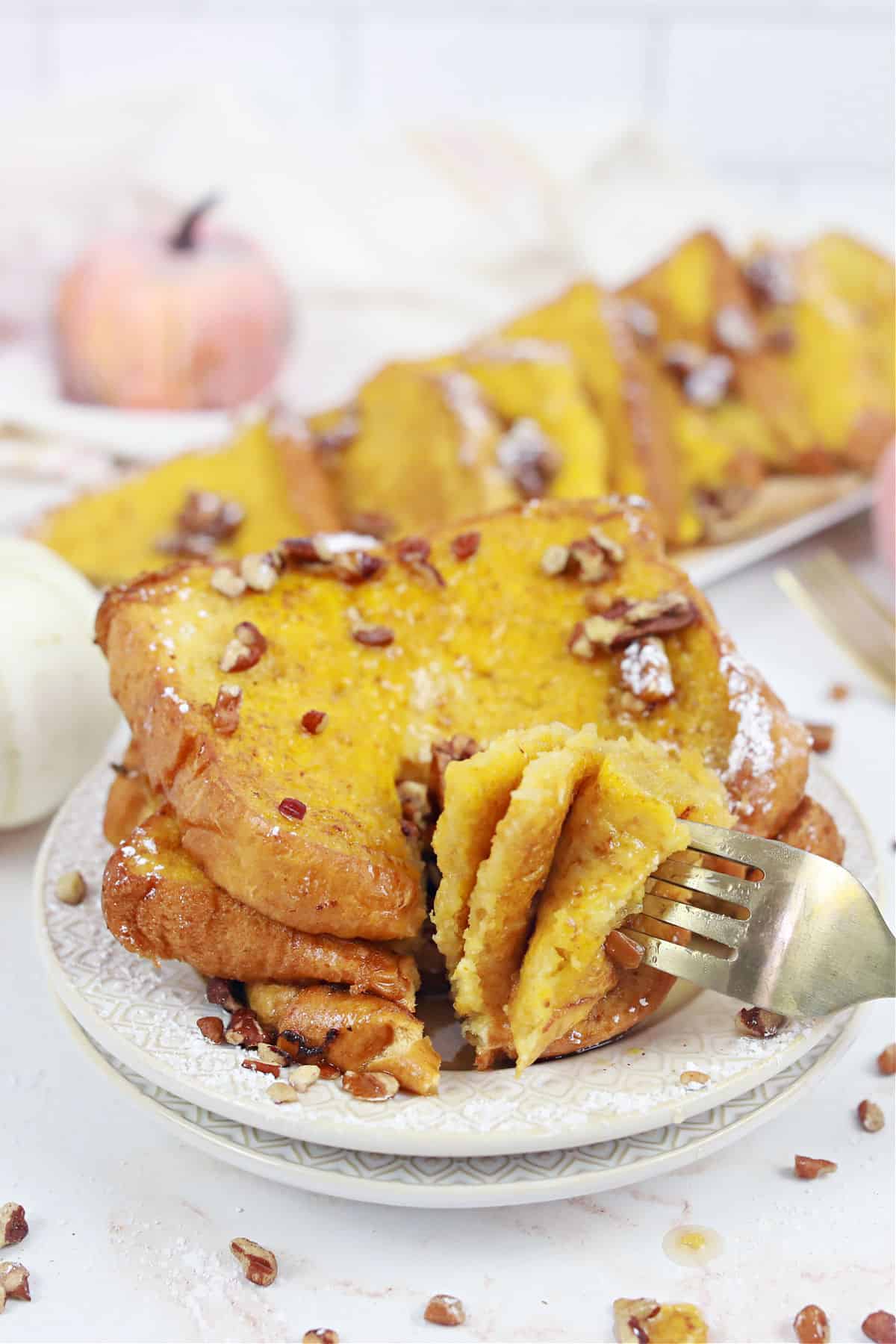 Tips and Tricks
It's important not to over-batter the brioche before frying so that it doesn't get soggy. Dip quickly, flip it, and move right to the fry pan.
If you have time, let the bread sit out and "stale" for a while before preparing this recipe. Lightly toasting the bread before battering will provide a similar result.
Bring your maple syrup to room temperature before adding it. That way it won't cool off your hot meal!
Pumpkin French Toast is best eaten as soon as it comes out of the skillet. Store any leftover batter for 2-3 days in the refrigerator.
It's best to set your stove at a low-to-medium temperature for this recipe, so you don't burn the butter. Burnt butter may add a bitter taste to the dish, which isn't the end of the world but also isn't exactly complimentary.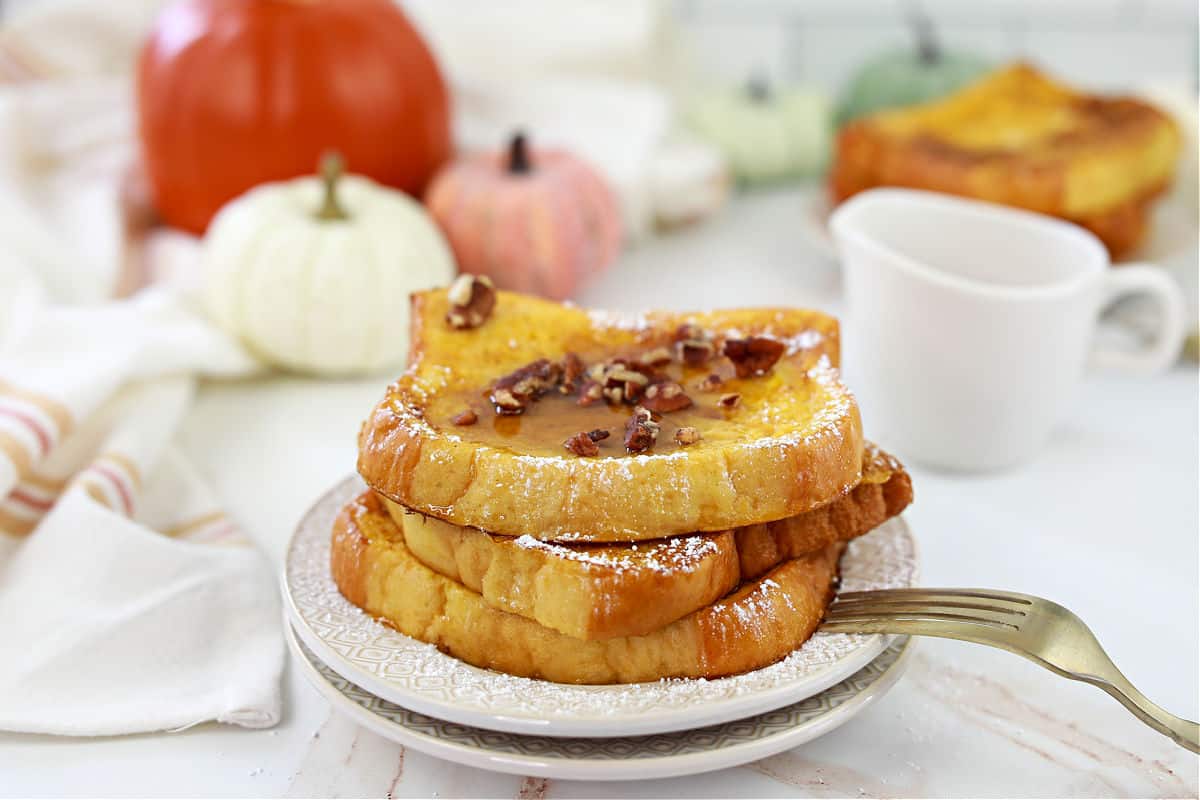 Recipe FAQs
How do you keep the French Toast from getting soggy?
French toast only needs to be lightly dipped in batter, so don't overdo it. Soaked bread tends to yield soggy toast. Use slightly stale bread or gently toast it before battering for best results.
What is the difference between pumpkin puree and pumpkin pie mix?
Pumpkin pie mix is made by combining pumpkin puree and a blend of spices. You can easily make your own by adding cinnamon, nutmeg, ginger, cloves, allspice, nutmeg, and extra sugar.
Which bread is best for making French Toast?
Brioche is the classic bread for French toast, and what I prefer to use in this recipe. A variety of other sweet bread will work in a pinch. Try cinnamon swirl bread, sweet challah, or Hawaiian sweet bread.
What kind of skillet is best for making French Toast?
A cast iron skillet is traditional for making French toast, but you can just as well use a nonstick pan. If you're cooking for a crowd, try an electric griddle, which can accommodate 4-6 pieces simultaneously. 
More Easy Breakfast Recipes