Chocolate Chip Coffee Cake with swirls of cinnamon and chocolate chips! Use some festive red and green chips for the holidays!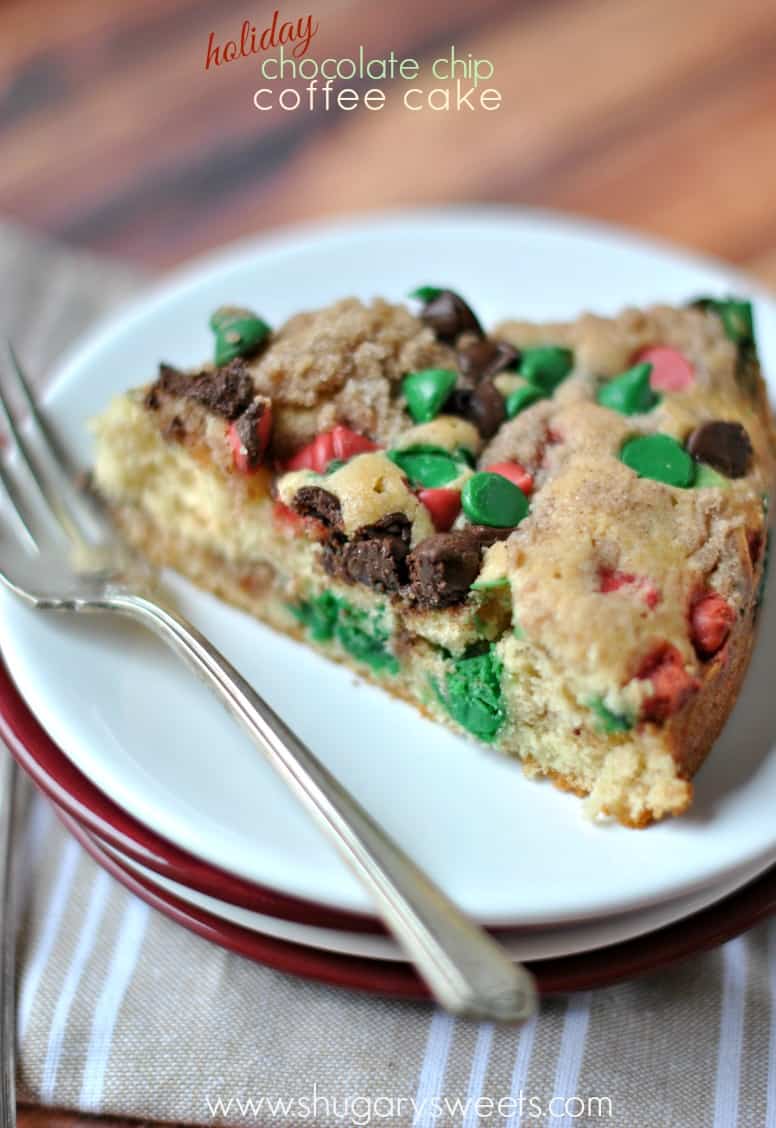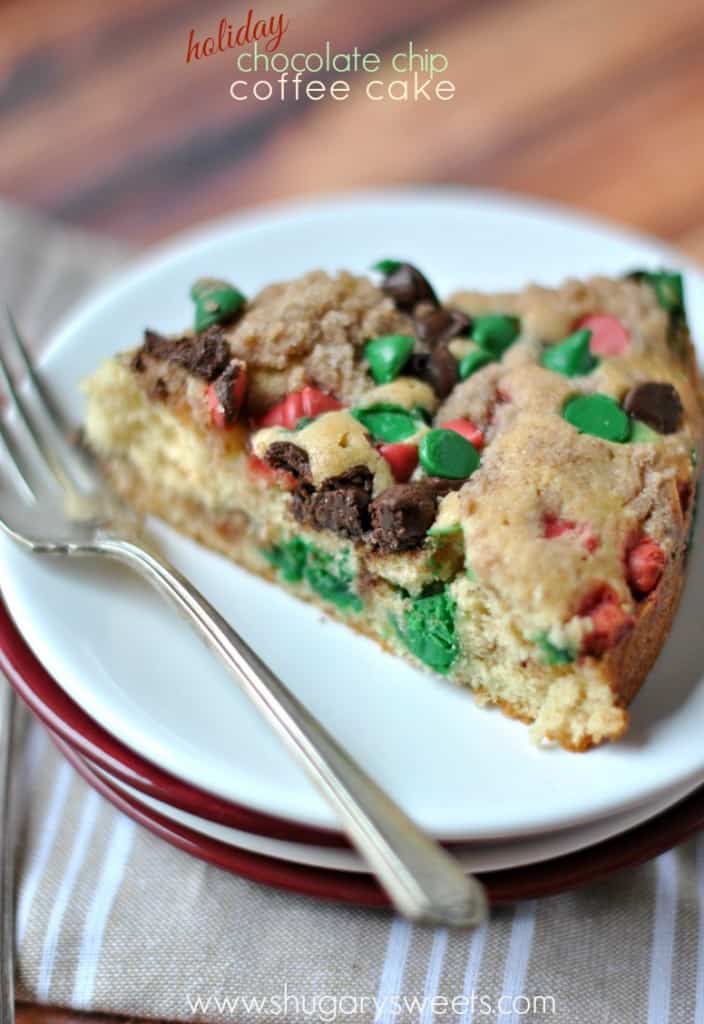 I am pretty obsessed with coffee cakes. AKA breakfast cakes. Otherwise known as cake for breakfast. (see where this is going??)
While many people are weak when it comes to cookies, fudge, brownies, chips, ice cream…you get the point. I am weak when it comes to an irresistible breakfast cake sitting on my counter. It's the perfect morning treat that goes so nicely with my morning coffee (hence the name "coffee cake").
Today's recipe was created using my Cream Cheese Cinnamon Streusel Coffee Cake recipe. Except of course, there is not cheesecake in today's recipe. And I made it in TWO cake pans (one for now and one to freeze for Christmas morning)! I also used a smaller amount of streusel, but added in a center layer of chocolate chip and cinnamon swirl to these cakes.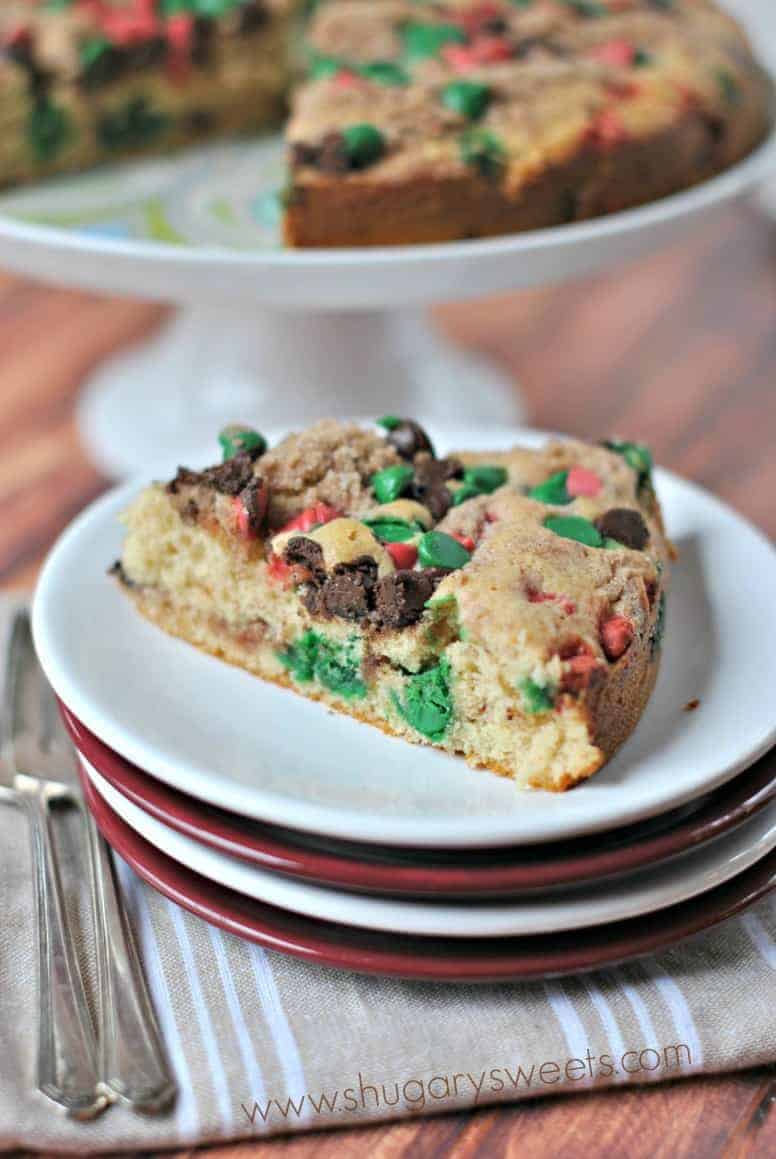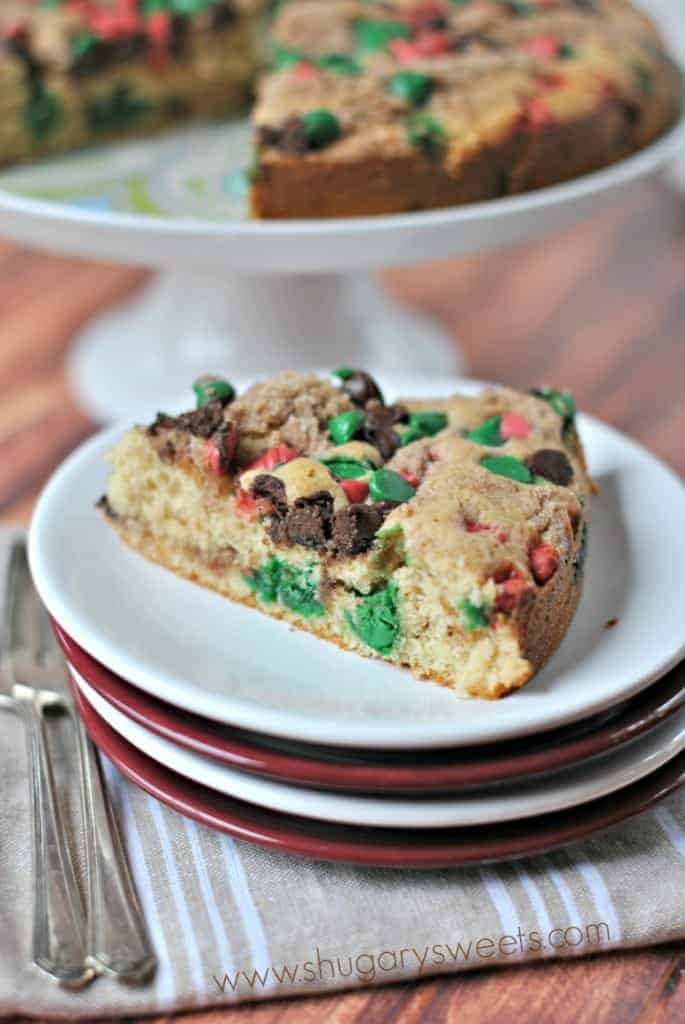 Can I just say, I love them. No, really, I love them and want to marry them. m'kay?
I found some red and green chocolate chip morsels at the grocery store this week and made one batch with those for a festive version of this cake.
I also made a batch with regular chocolate chips. You decide which way to go! If you're reading this post in the middle of June, you may want to use the regular chocolate chips. Just sayin.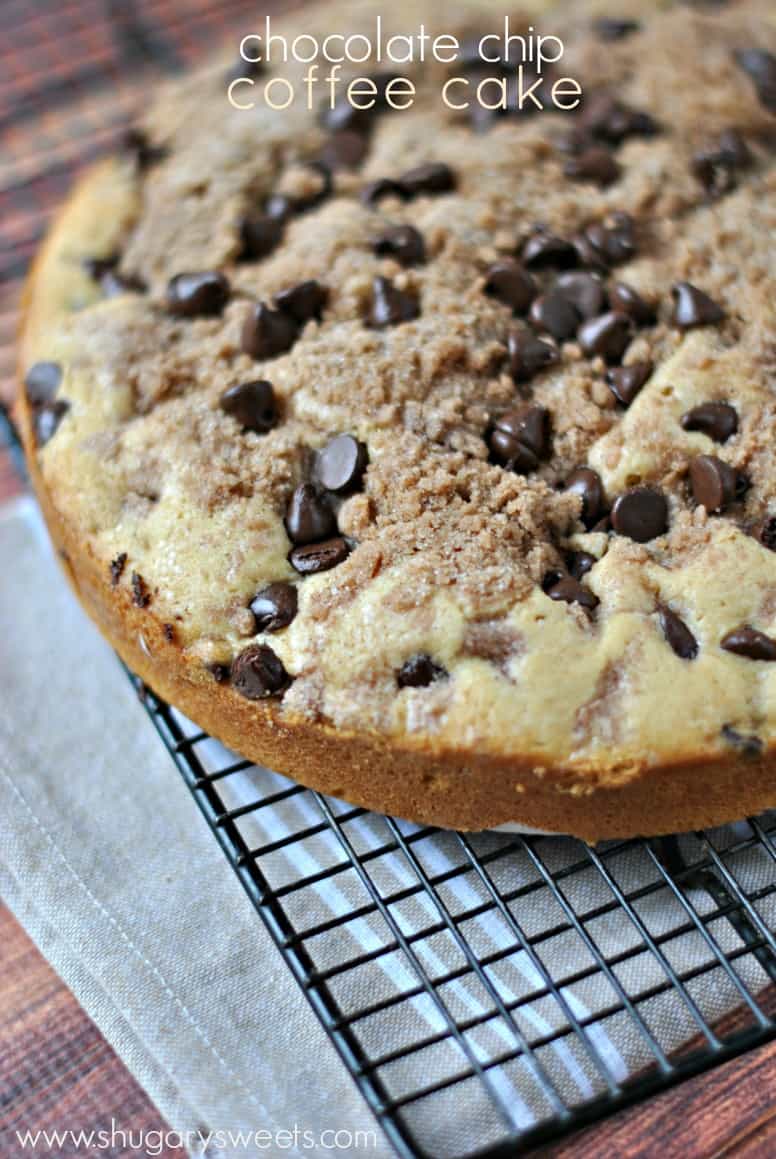 Connect with Shugary Sweets! Be sure to follow me on my social media, so you never miss a post!
Facebook | Twitter | Google+ | Pinterest | instagram | Bloglovin'
Save your favorite recipes to your personal recipe box with the   

  button on all my recipes! Create a Meal Plan with your "favorited" recipes and the ingredients will automatically be added to your own Grocery List!
Yield: 2 cakes
Chocolate Chip Coffee Cake
Prep Time 15 minutes

Cook Time 30 minutes

Chocolate Chip Coffee Cake with swirls of cinnamon and chocolate chips! Use some festive red and green chips for the holidays!
Ingredients
For the cake:
2 1/2 cup all-purpose flour
1 cup granulated sugar
1/2 tsp baking powder
1/2 tsp baking soda
1/4 tsp kosher salt
3/4 cup unsalted butter, softened
3 large eggs
2 tsp vanilla extract
2/3 cup buttermilk
For the Streusel:
1/2 cup all-purpose flour
1/2 cup granulated sugar
1/2 cup light brown sugar, packed
2 tsp ground cinnamon
1/4 cup unsalted butter, softened
2 cup semi-sweet chocolate morsels, divided
Instructions
For the cake, grease and flour two 8 1/2 inch round cake pans. Line the bottom with parchment paper. Set aside.
For the streusel, combine flour, sugars, cinnamon and butter in small bowl. Mix with hands until crumbly. Set aside.
In a large mixing bowl, beat flour, sugar, baking powder, baking soda and salt on low until combined. Beat in softened butter until mixture is crumbly. Add in eggs, vanilla and buttermilk and beat until fully combined and fluffy. Pour half of mixture in bottom of cake pans, dividing evenly. Spread using the back of a spoon or a small offset spatula (yes it will be very thin, it's okay!) Top with half of the streusel, sprinkling it over both cakes. Add half of the chocolate chips, about 1 cup, dividing evenly between both cakes.
Pour the remainder of the batter over the cakes, dividing evenly. Use your spatula or spoon to spread it out one more time. Top with the remaining streusel and chocolate chips.
Bake cakes in a 325 degree F oven for 30-35 minutes. Remove and cool 15 minutes, then remove cake from pan onto a wire rack. Cool completely.
Serve into slices or freeze in an airtight container for later use. ENJOY. Best used within 3 days of baking (if not freezing).
Obsessed with those Red and Green morsels?
I used them in these Candy Cane Oreo Cookie bars!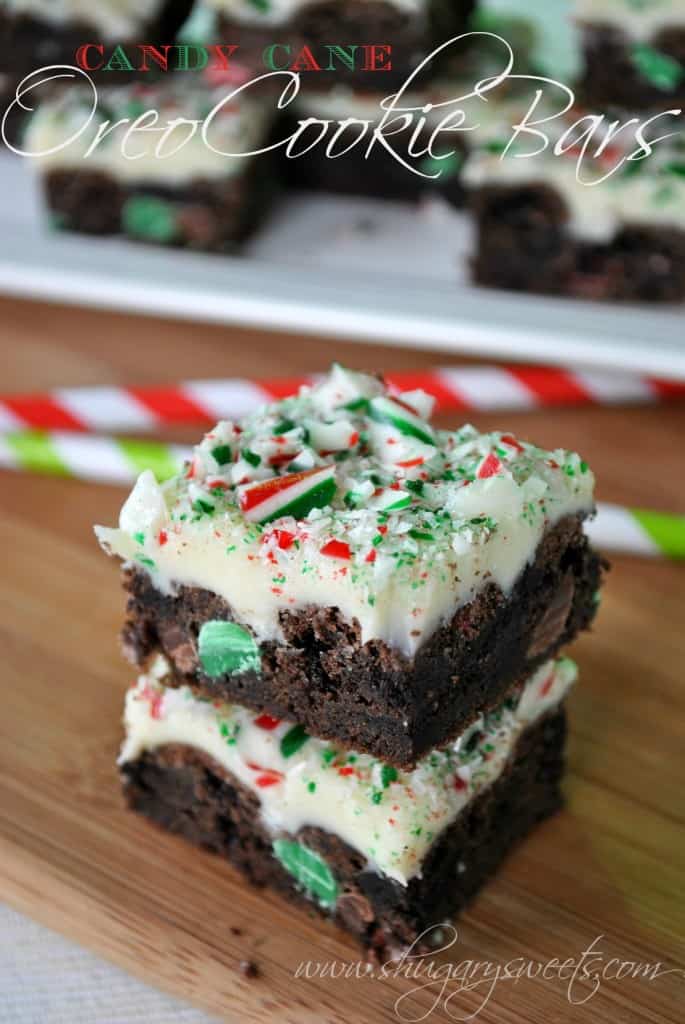 Cinnamon Cinnabon Cake is my most requested coffee cake in our house! I happily oblige.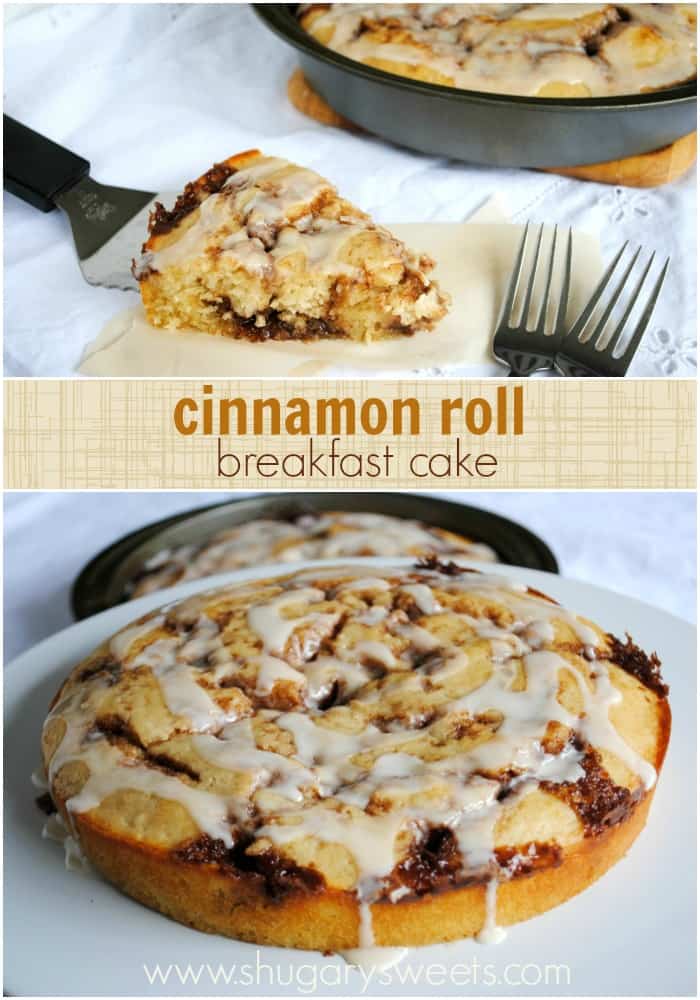 Check out some of my favorite pinterest boards: