These Chocolate Peanut Butter Brownies are rich and fudgy and filled with peanut butter morsels. I topped them with a fluffy peanut butter frosting and loads of Reese's peanut butter cups. It's the ultimate brownie!
If you love today's brownie recipe, try our peanut butter swirled brownies next! Or give our homemade reeses peanut butter cups a try soon.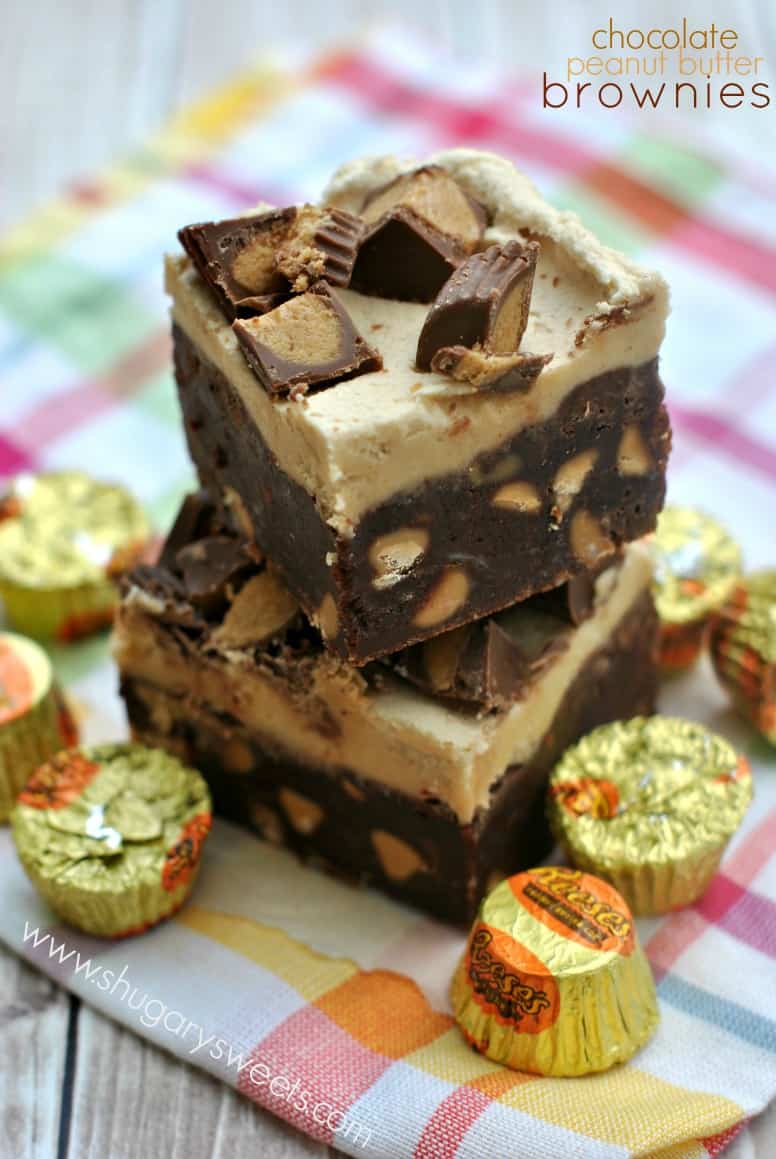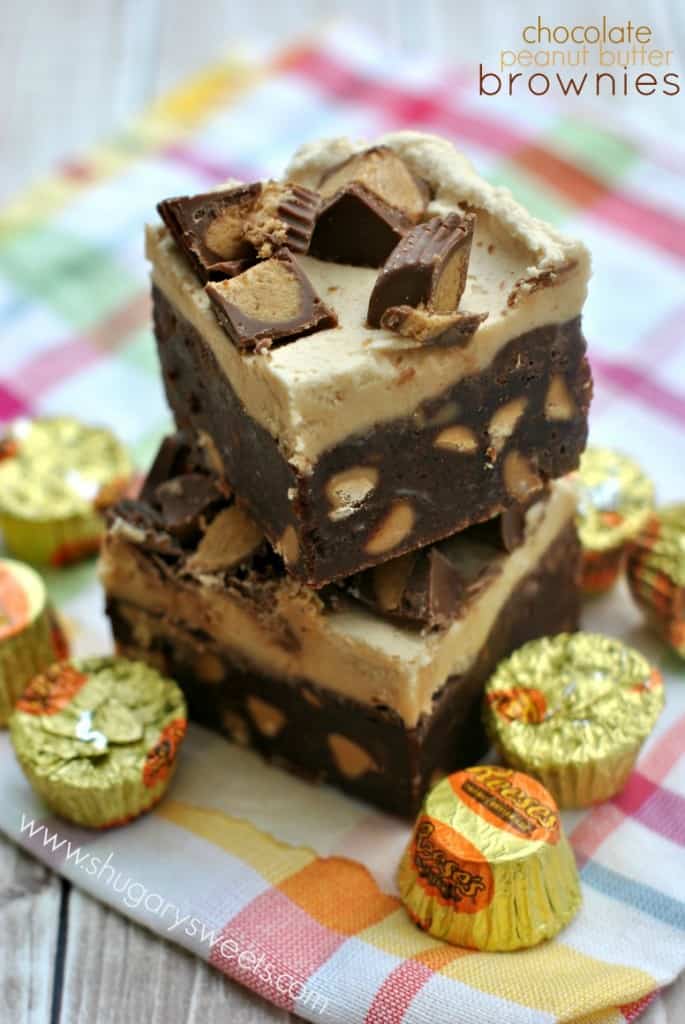 Chocolate and Peanut Butter
There's no debating it: people love chocolate and peanut butter together. Some of the most popular recipes on this site feature this winning combination, like Chocolate Peanut Butter Fudge and this Chocolate Peanut Butter Cheesecake Cake.
People also love brownies! Especially fudgy brownies.
Throw some Reese's peanut butter cups and a fluffy peanut butter frosting on top and you'll understand why I call this "the ultimate brownie"!
Your search for the perfect chocolate peanut butter brownie is over! This recipe is made from real chocolate squares, with peanut butter chips baked into every bite!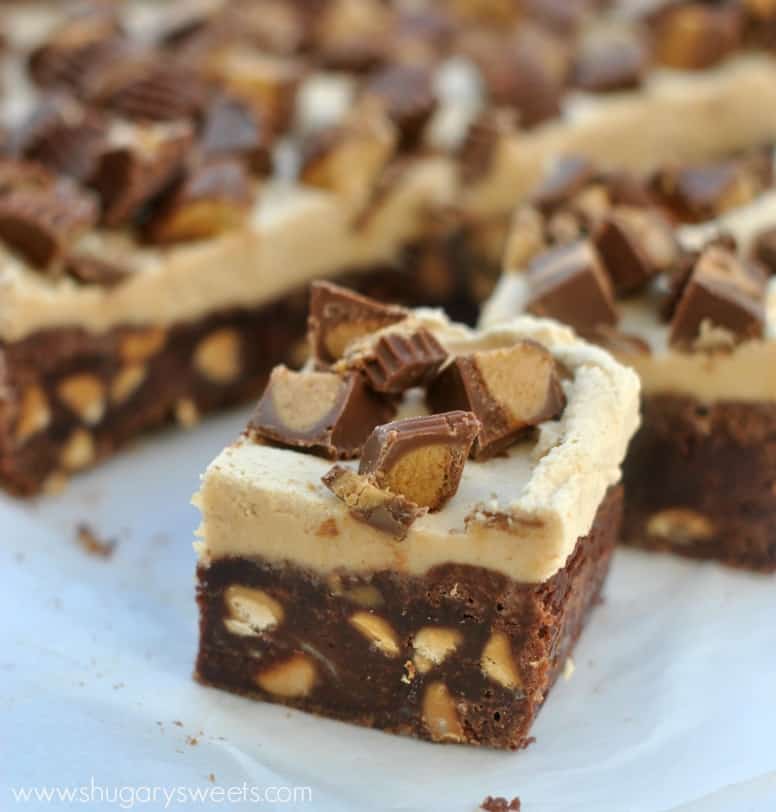 Ingredient Notes
Unsweetened Chocolate Squares – I use the wrapped 1 oz baking squares. Make sure to double check the label to make sure it's unsweetened baking chocolate!
Peanut Butter – Creamy peanut butter that's sweetened and shelf stable, like Jiff or Skippy, works best. The natural style peanut butter will have a different consistency and taste.
Reese's peanut butter cups – I used 24 Reese's miniatures, chopped into small pieces. If you prefer to use full size cups, you'll only need about 12.
Easy Overview
These brownies are so easy to make!
Melt the chocolate in the microwave with butter, then mix in the sugar, eggs and flour. Fold in the peanut butter morsels and bake in a brownie pan for about 45 minutes.
Let your brownies cool completely while you make the frosting. I like the chill them in the fridge before frosting so they firm up a little better!
To make the frosting, just beat your peanut butter with powdered sugar, milk and butter until smooth and fluffy. Spread the frosting over the cooled brownies in the pan, then sprinkle on chopped Reese's cups.
Cut into bars and serve or store!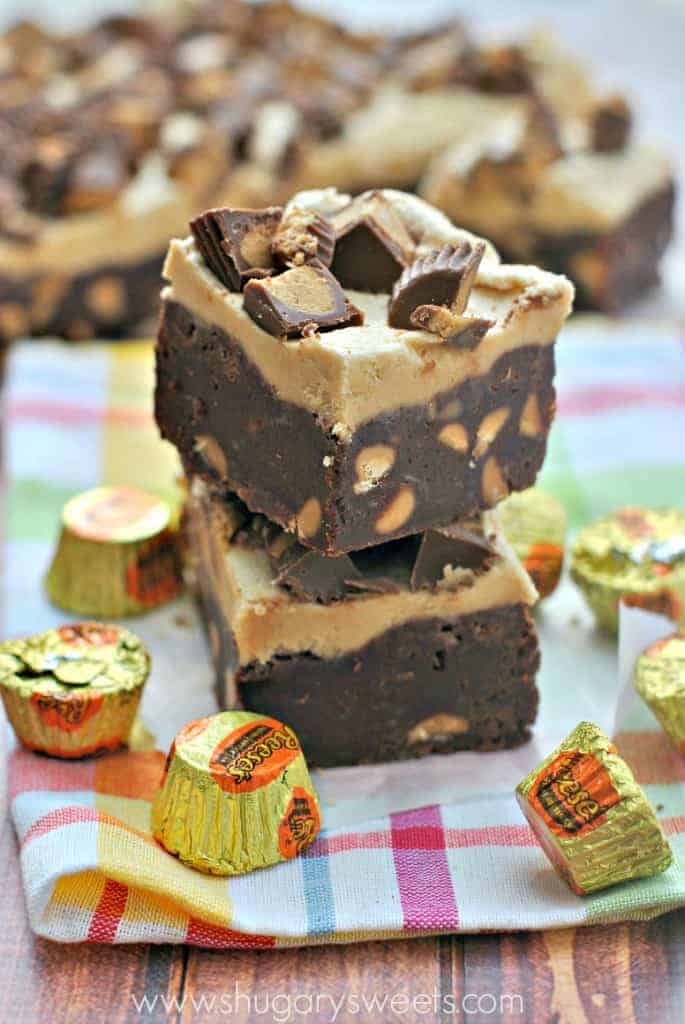 Tips & Tricks
The brownies will be very soft and fudgy. That's how I like them! I recommend chilling them in the fridge for about 20 – 30 minutes before adding the frosting to help them set more.
Store any brownies you're not eating right away in an airtight container at room temperature for up to 3 days.
Stir the butter and chocolate mixture after every 30 seconds in the microwave. The stirring helps speed up the melting process. It takes my chocolate about 90 seconds total to become melted enough to combine with the remaining ingredients.
Line your brownie pan with parchment paper to make it easier to remove the cooled brownies from the pan.
Recipe FAQs
Why are my brownies liquidy?
This recipe makes brownies that are very soft and fudgy, as opposed to cake like, however they should not look soupy when you take them out of the oven.
It's possible that your ingredient ratios were off if your brownies don't seem to firm up at all. Always be sure to check and double check the amount of each ingredient. You can also chill the brownies in the fridge to help them firm up even more after baking too!
Can you freeze these brownies?
I don't recommend freezing these, as I find it tends to affect the texture and taste of a fudgier brownie. Instead, store them in an airtight container at room temperature and try to eat them within a few days of baking–not that this is a difficult task for me!
What size brownie pan should I use?
I always use an 8 x 8 square inch glass baking dish for making this brownie recipe.
What kind of peanut butter is best in this recipe?
I prefer to use the "regular" peanut butter (you know, the kind with the sugar!) for peanut butter frosting. It whips into the frosting more smoothly than the natural and organic varieties.
More Easy Dessert Recipes
You can't go wrong with this brownie recipe! Packed with rich chocolate flavor, peanut butter morsels and frosting, these Chocolate Peanut Butter Brownies are a peanut butter lover's dream.