Chocolate Peanut Butter Brownies
These Chocolate Peanut Butter Brownies are rich and fudgy and filled with peanut butter morsels. I topped them with a fluffy peanut butter frosting and loads of Reese's peanut butter cups. The ultimate brownie!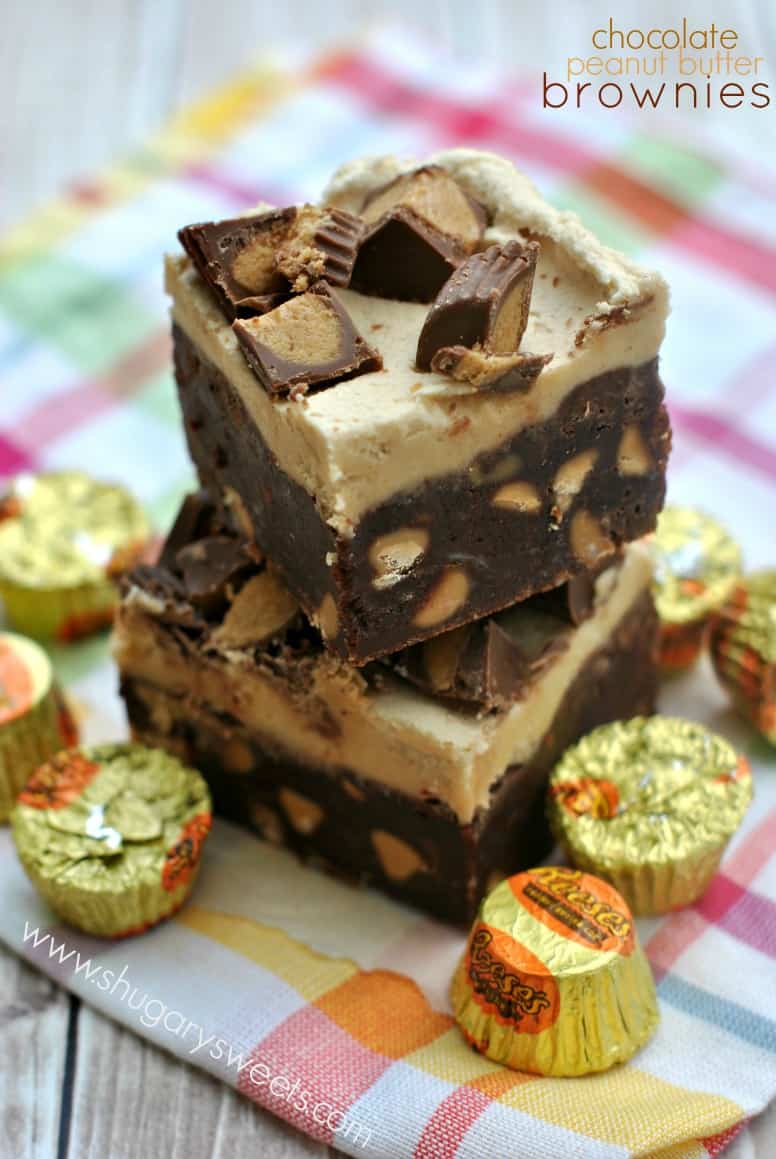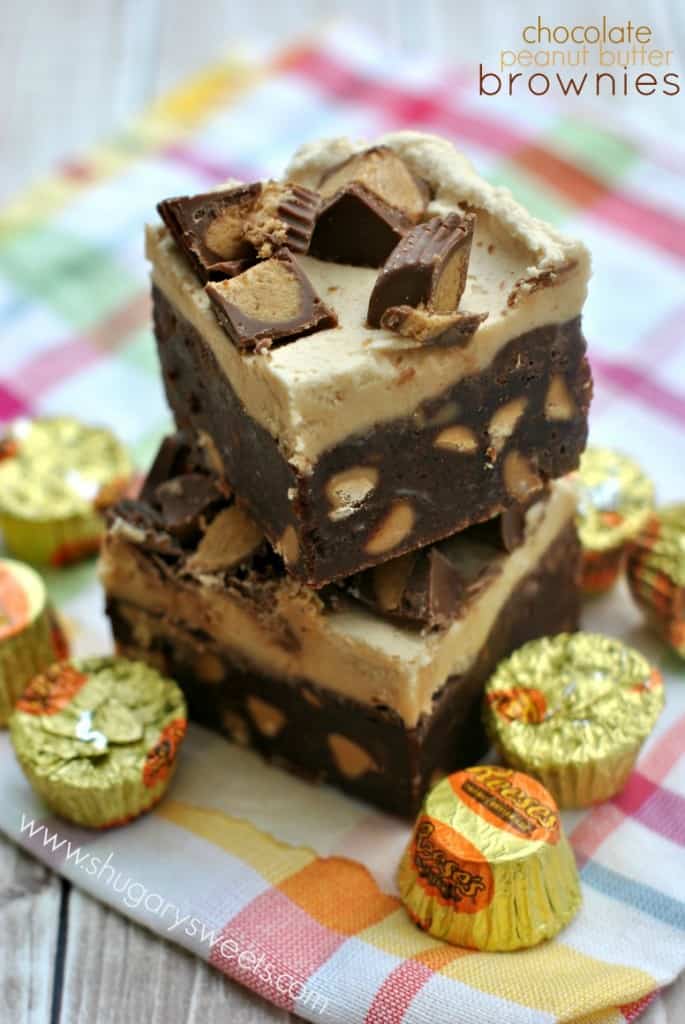 Today I've joined up with some of my friends to share some Reese's and Hershey's holiday treats. At the end of today's post, check out some of these delicious recipes for your holiday baking!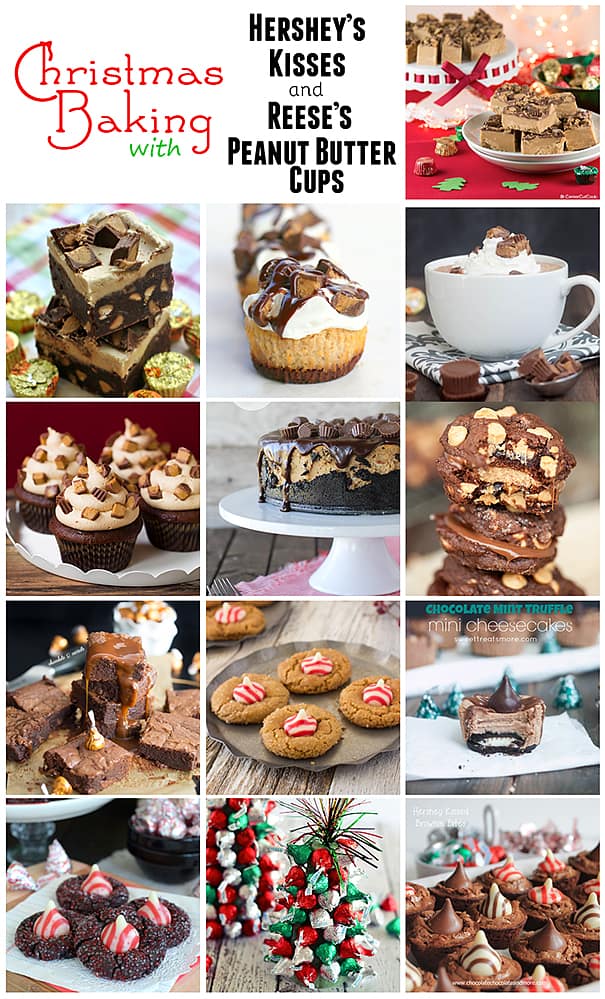 But first, let's talk chocolate and peanut butter. It's a classic pairing. I don't know about you, but when there is a cookie tray for the holiday set out on a table, it seems the chocolate peanut butter desserts ALWAYS go first.
ALWAYS.
Or is it my imagination? Am I the only one wishing people would snatch those fruitcake slices and leave more brownies for me?
Some other classics?
National Lampoon's Christmas Vacation.  Miracle on 34th Street (the original of course). White Christmas. A Christmas Story.
And of course, Yogi Bear's First Christmas.
Yes, it's by far my favorite Christmas cartoon! Have you seen it? I wish it would be shown every day during the holidays!
What are some of YOUR favorite holiday movies?
Love Actually, ELF, and Home Alone are always some of the most viewed in our house this time of year!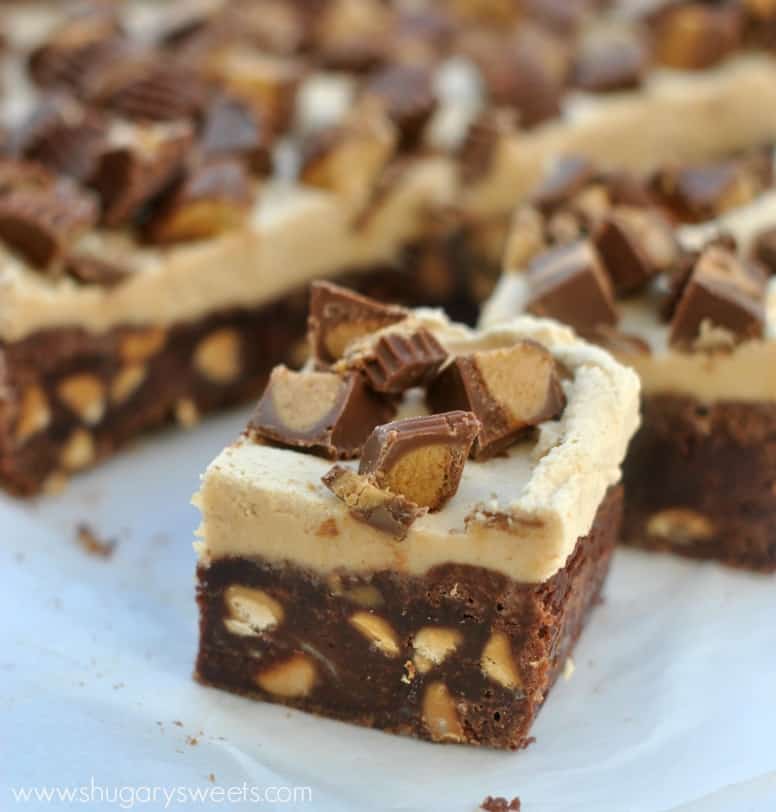 Let's talk about those cookie trays? If you're looking for a delicious dessert that will be the talk of the cookie exchange, trust me when I tell you to make these brownies!
The chocolate, fudgy brownies on their own are delicious. I added some Reese's peanut butter morsels for that extra crunch in the brownies (tell me YOU love chocolate chips or PB morsels in your brownies too???).
I then topped these brownies with a light fluffy peanut butter frosting. If that wasn't enough for you, the extra Reese's peanut butter cups on top are sure satisfy that holiday sweet tooth!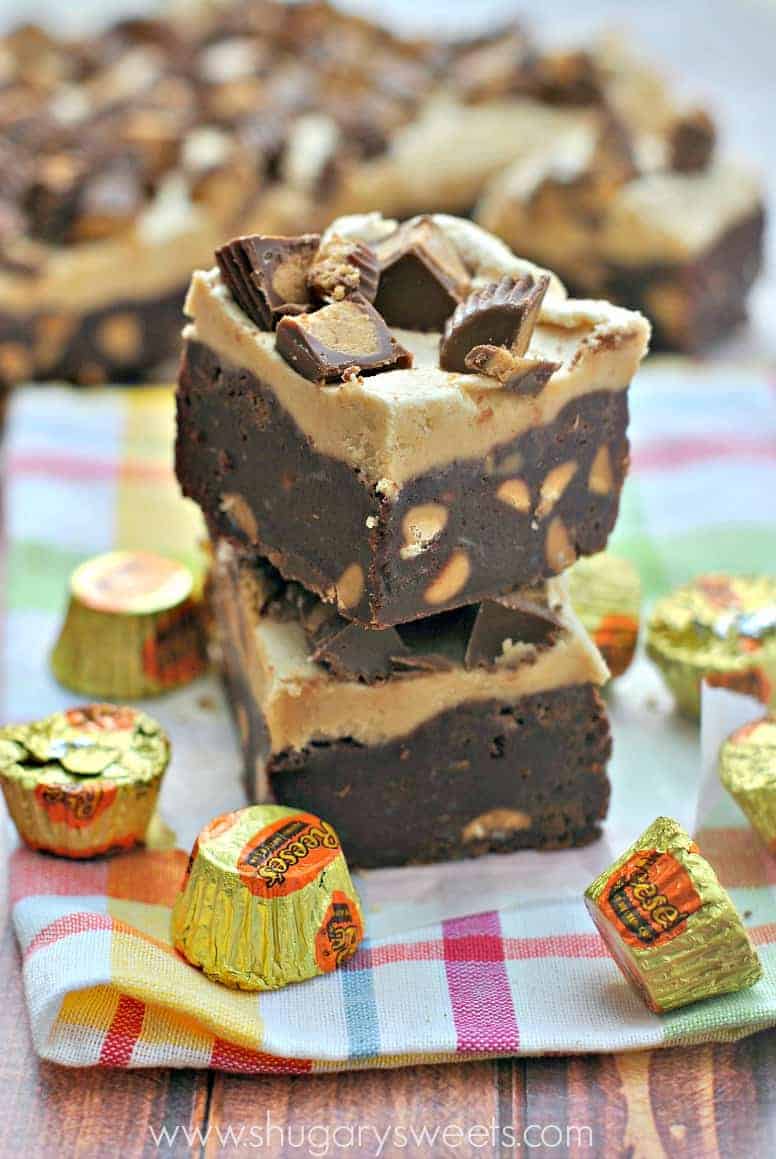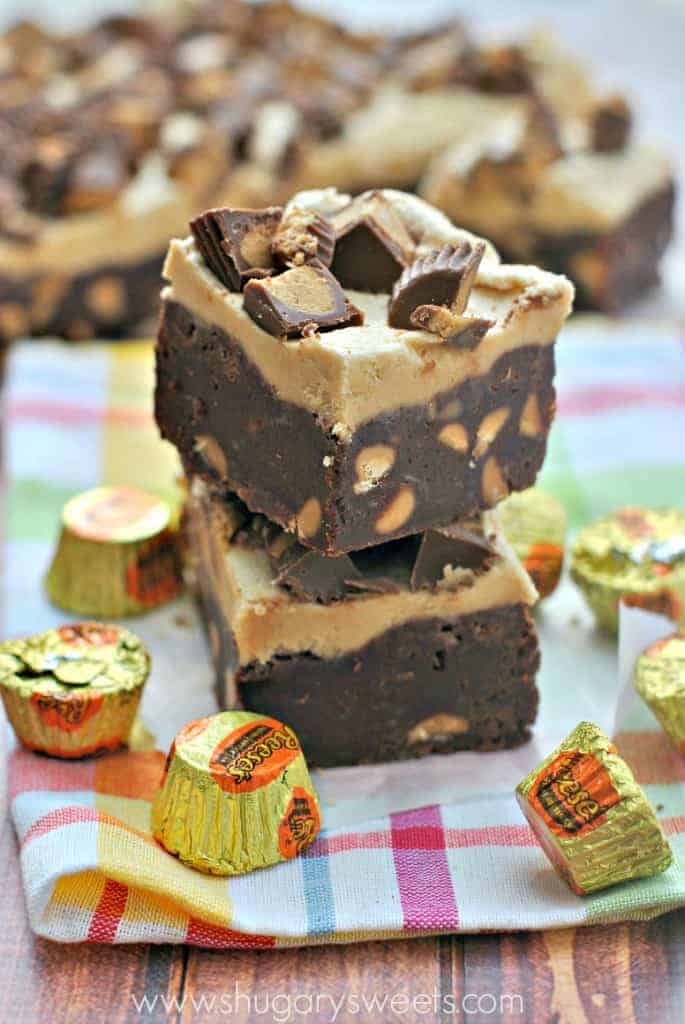 Connect with Shugary Sweets! Be sure to follow me on my social media, so you never miss a post!
Facebook | Twitter | Google+ | Pinterest | instagram 
Yield: 16 brownies
Chocolate Peanut Butter Brownies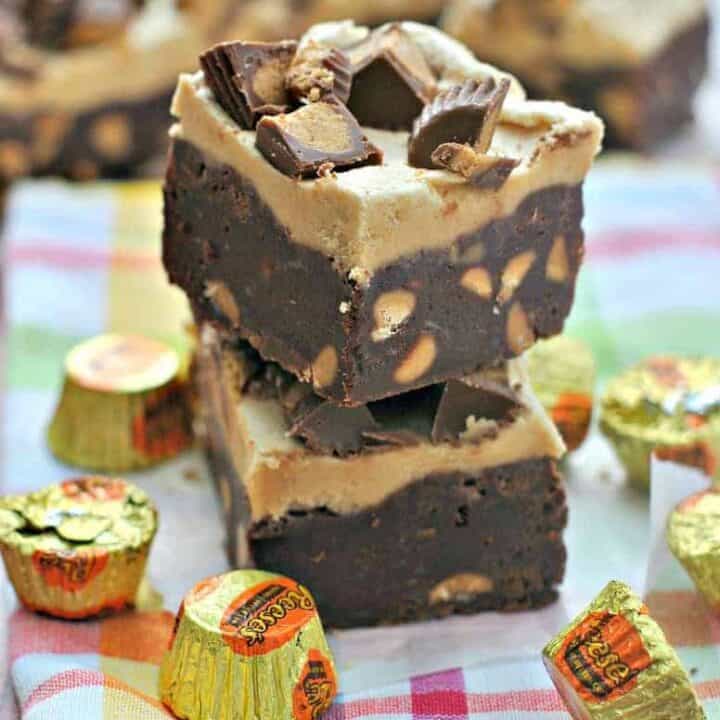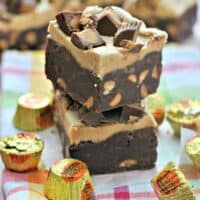 Prep Time 15 minutes

Cook Time 45 minutes

Rich, fudgy Brownies filled with peanut butter morsels and topped with a fluffy peanut butter frosting. Loads of chopped Reese's peanut butter cups make this the ultimate, classic holiday dessert!
Ingredients
For the Brownies:
6 (1-ounce) squares unsweetened chocolate
1 cup unsalted butter
2 cup granulated sugar
3 large eggs
1 1/3 cup all-purpose flour
10oz peanut butter morsels
For the Frosting:
1/2 cup unsalted butter
1/2 cup creamy peanut butter
2 cup powdered sugar
2 Tbsp skim milk
24 Reese's peanut butter cups miniatures, chopped
Instructions
For the brownies, preheat oven to 325 degrees F. Line an 8inch square baking dish with parchment paper. Set aside.
In a large microwave safe bowl, combine unsweetened chocolate with butter. Melt on high heat for 30 second intervals, stirring after each addition (about 90 seconds total).
Add sugar and stir until combined. Add eggs, one at a time until fully incorporated. Mix in flour completely. Fold in the peanut butter morsels.
Pour into prepared baking dish and bake for about 45 minutes. Remove from oven and cool completely before frosting. Brownies will be soft and fudgy! Refrigerate brownies before frosting to help them firm up!
For the frosting, beat butter, peanut butter, powdered sugar and milk for 5 minutes using an electic mixer with whisk attachment on medium high. Spread over cooled brownies. Top with chopped Reese's peanut butter cups. Cut into bars and enjoy! Store in an airtight container for up to 3 days.
Looking for more Reese's desserts?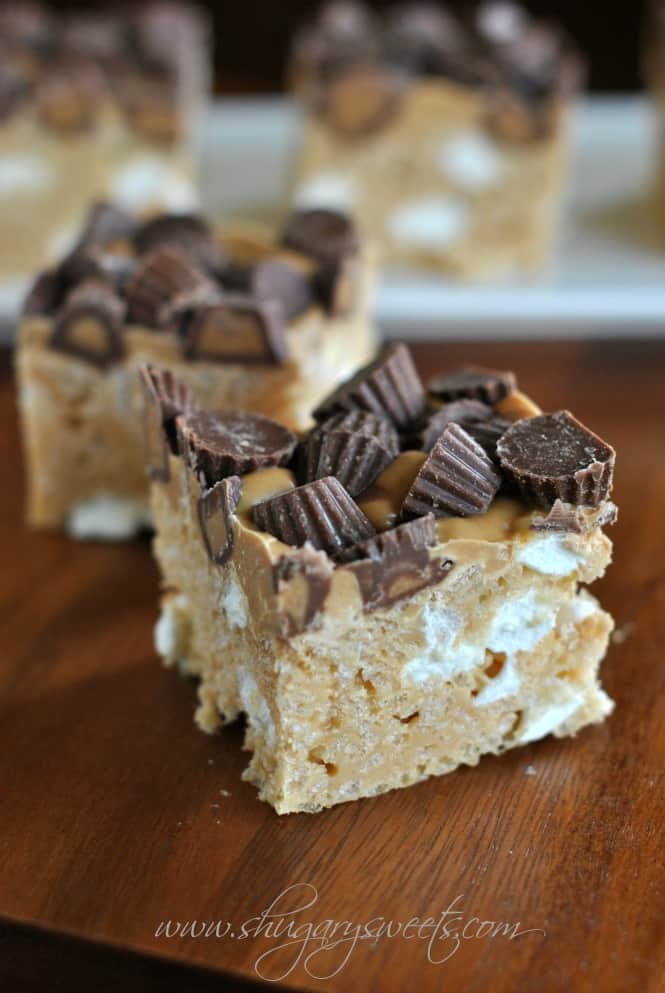 Fluffernutter Rice Krispie Treats: peanut butter and marshmallow for another classic treat!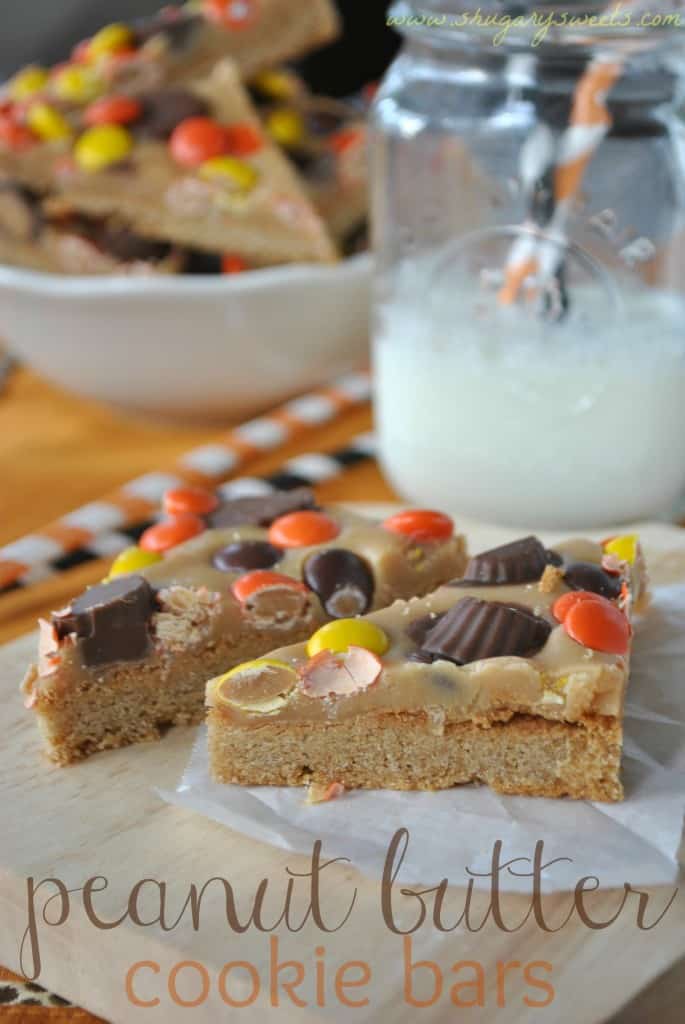 Peanut Butter Cookie Bars: topped with a peanut butter ganache and Reese's cups and pieces!!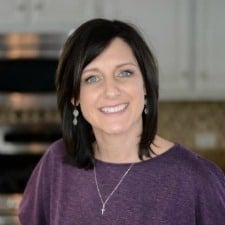 Aimee is a dessert lover (specifically rice krispie treats), workout enthusiast, self-taught foodie, and recipe creator. Her recipes have been featured in over 15 magazines, and her passion is to share her love of cooking with the everyday home cook! Learn more about Aimee.