Two classic treats come together in Marshmallow Brownies. Fudgy brownies are covered in a gooey marshmallow topping. This decadent dessert keeps everyone coming back for more!
If you love marshmallows and chocolate, you'll flip for my Rocky Road Fudge and S'mores Cookie Bars too. But today it's all about the brownies!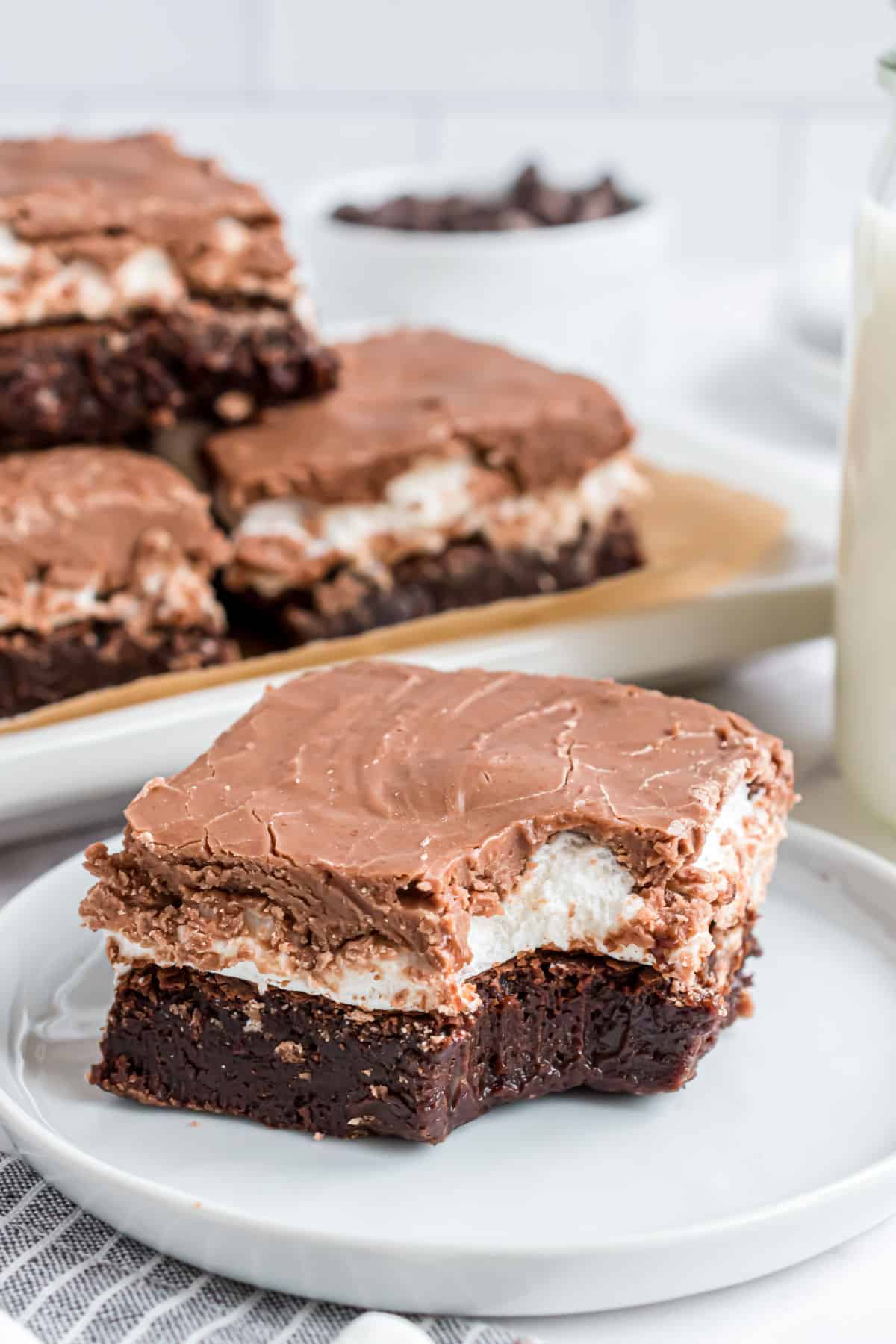 Mississippi Mud Brownies
My affinity for baking with marshmallows is well documented on this blog. So is my devotion to brownies.
This Marshmallow Brownies recipe brings these two great loves together at long last.
Similar to the decadence of Mississippi Mud cake, these brownies are covered in a rich chocolate frosting and lots of marshmallows.
Made with buttermilk, the icing soaks into the brownies making them extra moist.
If you want a marshmallow brownies recipe that'll blow everyone away, look no further. These are ooey-gooey, chocolate-y, fudgy, totally over-the-top brownies that no one can resist.
Don't forget the cream cheese swirls. Our cheesecake brownies need to be up next on your baking to-do list!
Ingredient Notes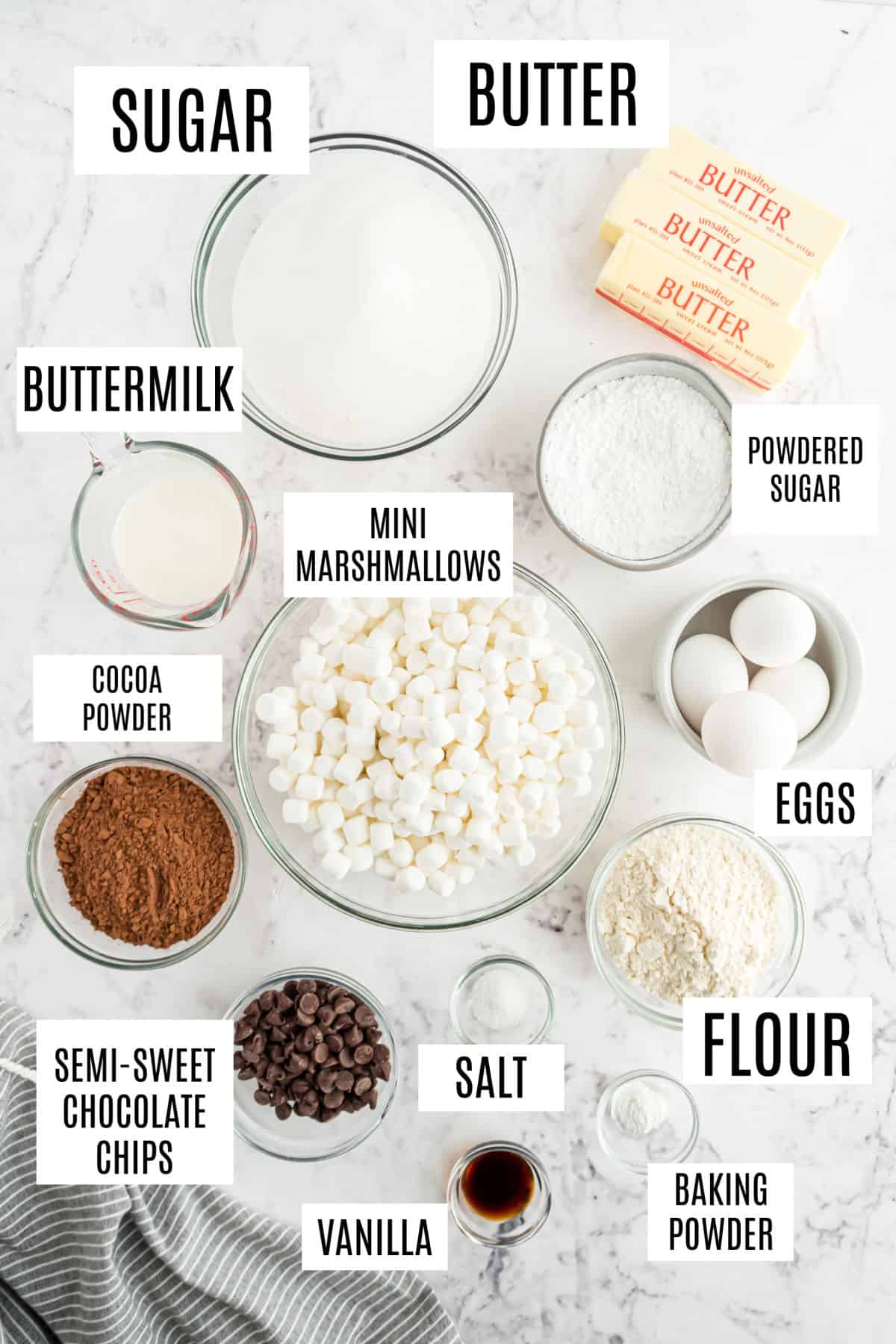 We started by making our favorite thick and fudgy brownie recipe. You'll see these featured on our website from frosted brownies to oreo brownies, and every flavor in between. We use them as a base because there truly is no better recipe!
Buttermilk. You can use store bought or my Buttermilk Substitute.
Cocoa powder. Use a good quality unsweetened cocoa for best results.
Mini marshmallows. Make sure your marshmallows are fresh! Or use our homemade marshmallows instead!
Vanilla extract. A high quality extract like this homemade Vanilla Extract yields the richest flavor.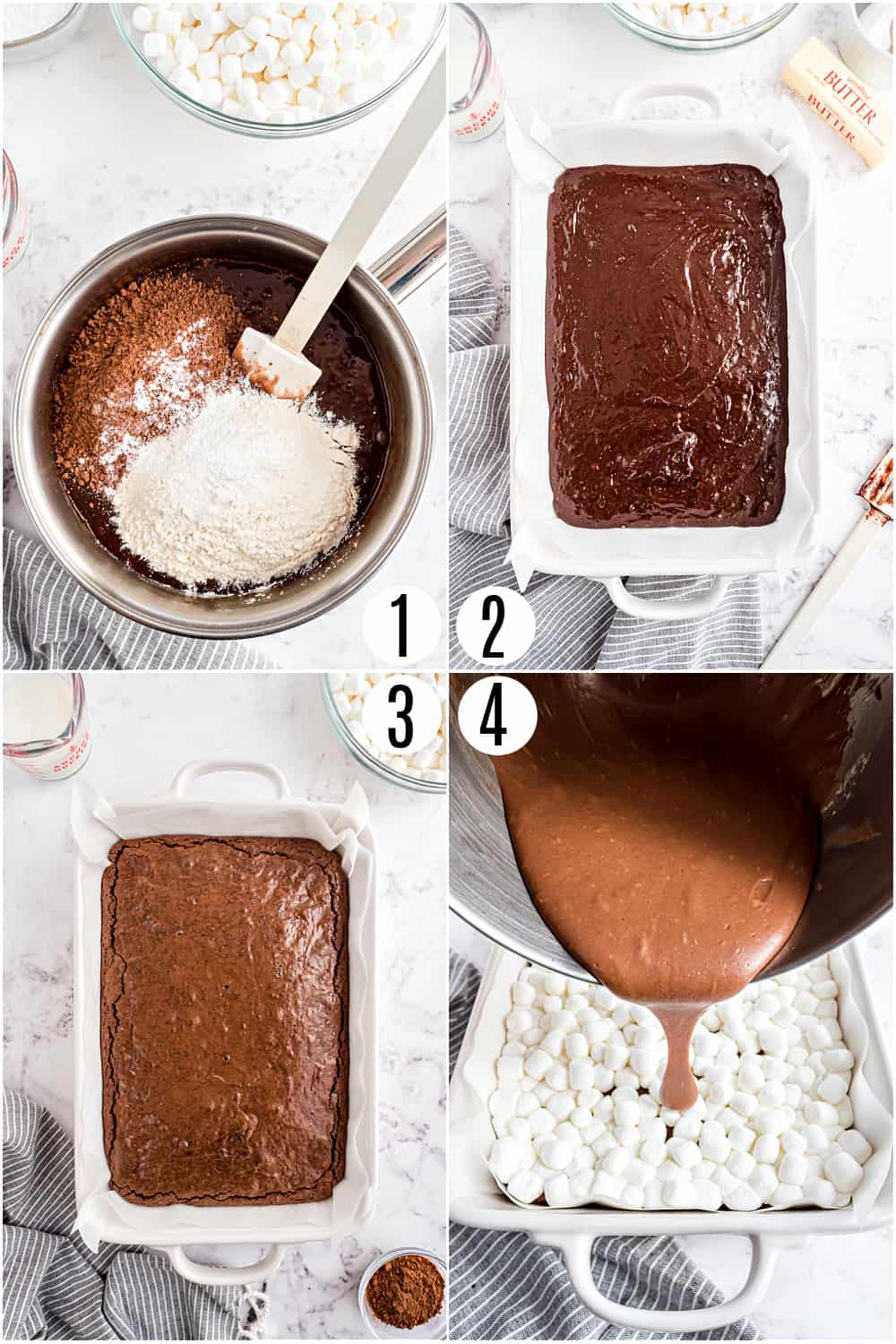 Easy Instructions
Make the brownies. Unlike our basic brownie, these will be made in a 13×9 dish. Because of the marshmallow and frosting, they'll still be super thick!
Add Marshmallows. Sprinkle marshmallows all over the top of the warm brownies. Put the pan of marshmallows bake in oven for a few seconds. Remove when the marshmallows begin to puff up.
PRO TIP: Be sure to use FRESH mallows. If you're using stale or old marshmallows, they'll still taste stale.
Add chocolate icing. Pour the warm frosting over the cooled brownies. Let the brownies set and cool before slicing.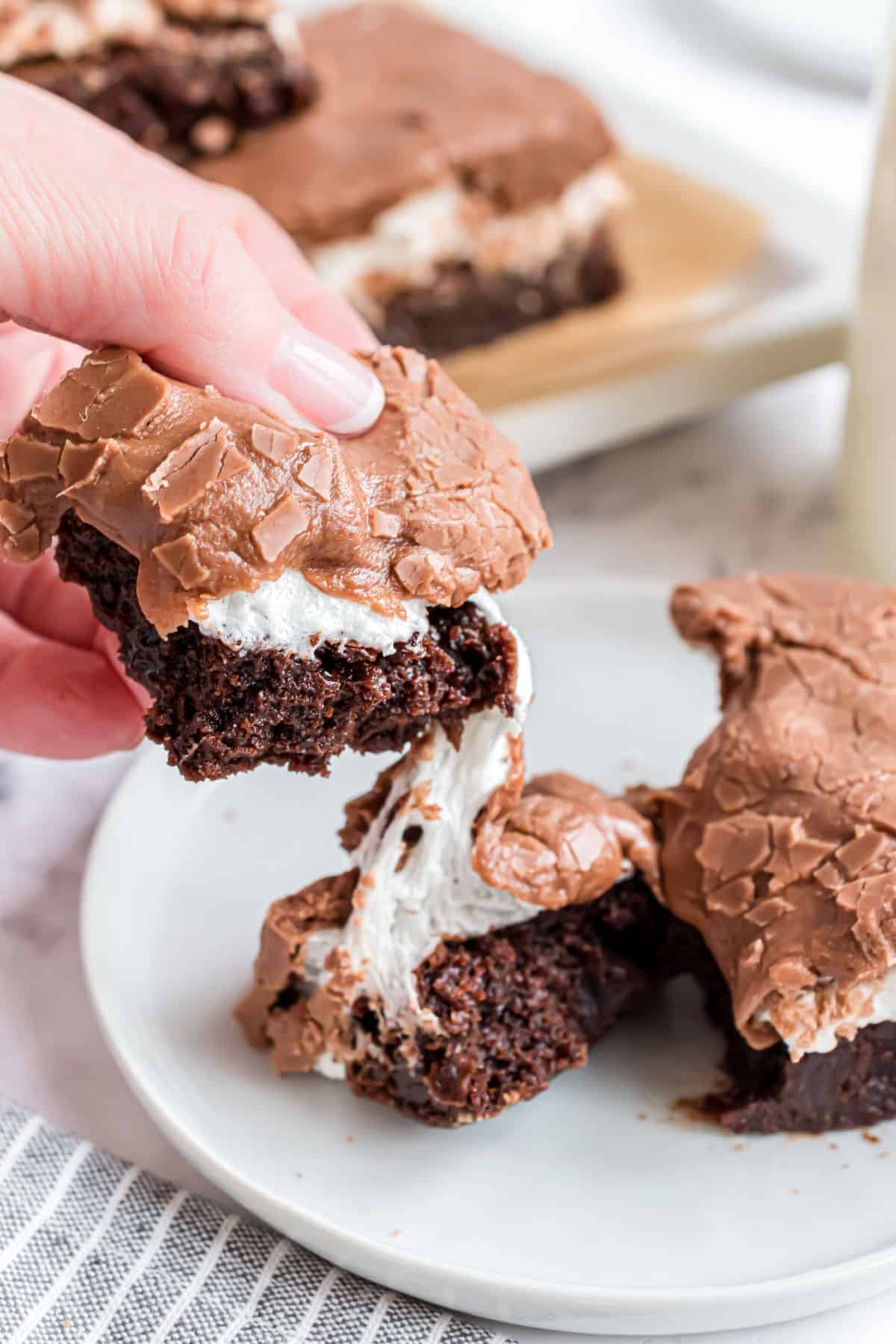 Tips and Tricks
DO NOT OVER MIX. When adding the dry ingredients, mix them in until just combined. You shouldn't see any flour visible but a few small lumps in the batter are okay. Over mixing will make your brownies cakey instead of fudgy.
Frosting sets quickly, so be sure to pour it over the brownies fast.
How to slice brownies. Use a plastic knife to easily cut marshmallow brownies into squares. It works better than a metal knife. Clean slices with no tearing!
Storing. Transfer cooled brownies to an airtight container. They keep well for up to 4 days.
Chill. I prefer these brownies served COLD. Keep in the fridge if you like the taste of chilled brownies too!
Reheat brownies for a gooey marshmallow filling by popping them in the microwave for about 10 seconds.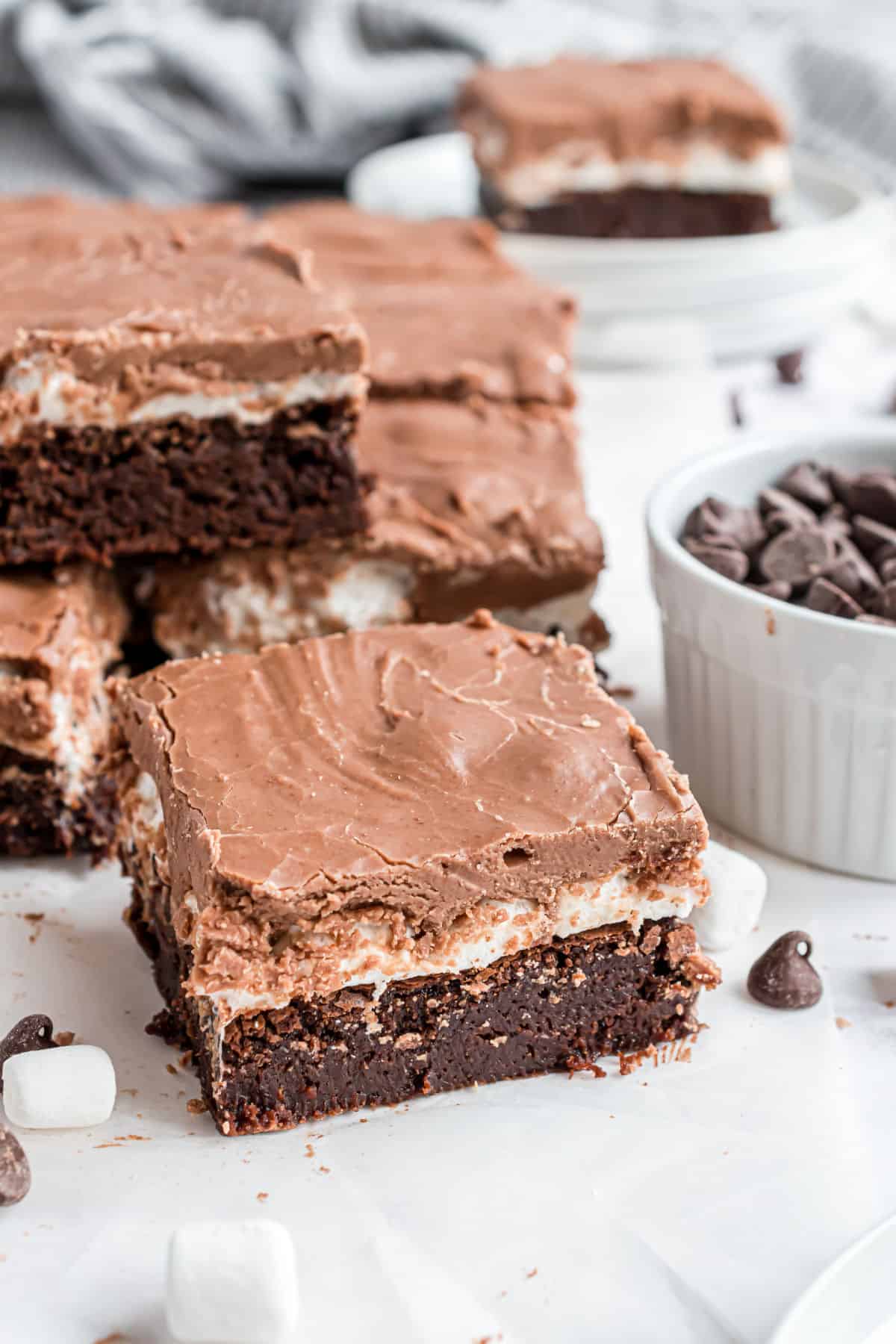 Recipe FAQs
Can you freeze Mississippi Mud Brownies?
Yes, marshmallow brownies can be frozen. Transfer cut brownies to freezer bags and store frozen for up to 3 months. Freeze before or after adding the frosting. Your choice!
I don't have buttermilk. Can I still make these brownies?
Yes, you can make the marshmallow brownies recipe with Homemade Buttermilk. I've made it with both homemade and store bought with equally good results.
What kind of dish do I need to bake these?
I used a 13 x 9 baking pan to make these brownies. You can make them in a square brownie pan instead but the brownies will be much thicker and need more baking time.
Love Mississippi Mud Pie? These Marshmallow Brownies might just become your new favorite!