S'mores Cookie Bars are soft and chewy treats packed with graham crackers, marshmallow, and chocolate! These S'mores Bars are easy and delicious!
If you love S'mores bars, give our stuffed S'mores Cookies a try soon! Or give our easy smores dip recipe a whirl next. Perfect for parties.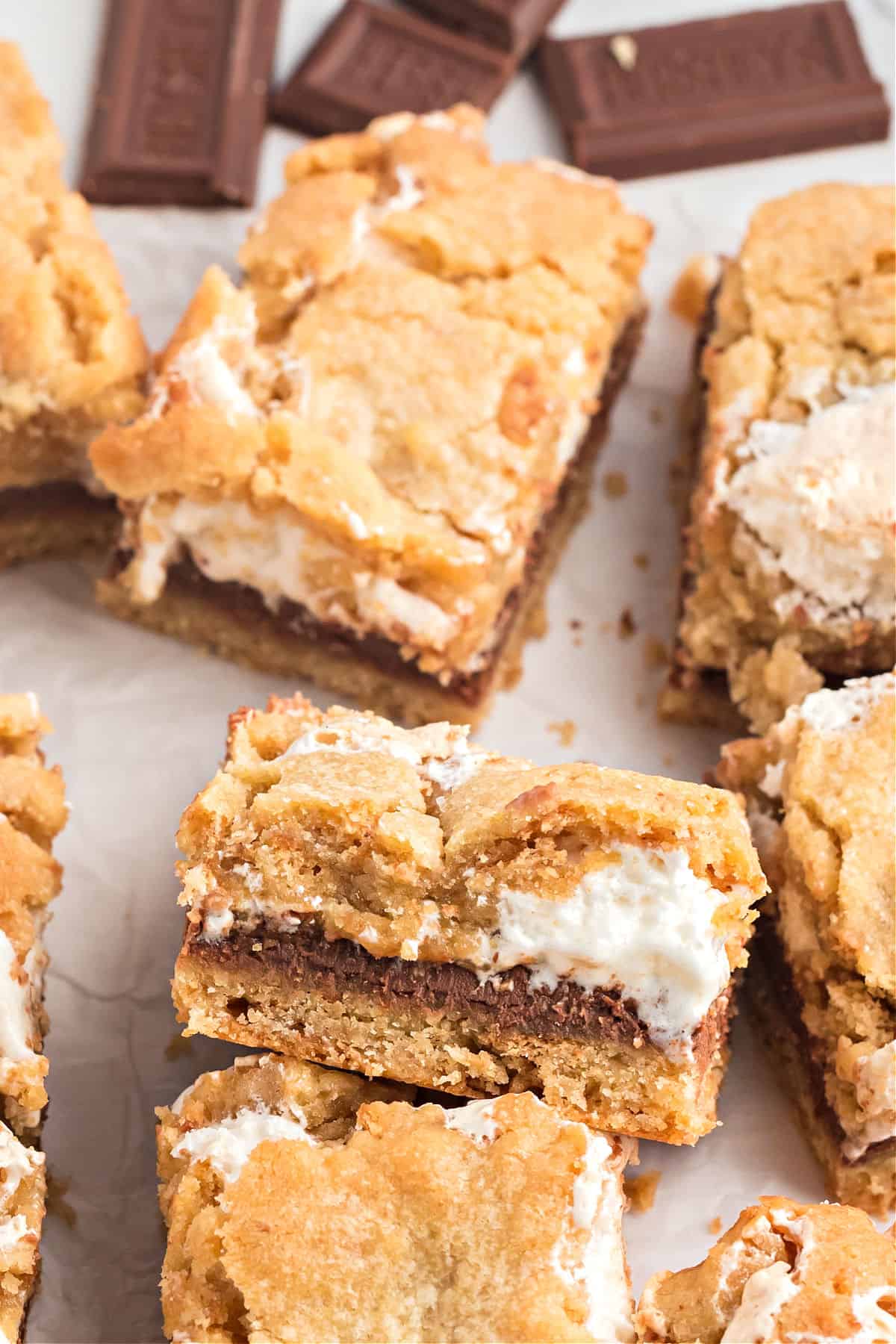 Why this Cookie Bar is Best
The flavors of this cookie bar comes from the s'mores trinity.
You know what that is right?
Graham Crackers. Chocolate. Marshmallows.
You incorporate graham cracker crumbs into the cookie dough, which is the base and the crackly top of these bars.
Then you layer on full size milk chocolate bars and marshmallow creme. Believe me you're still getting enough of the gooey-ness you love in a classic s'more, only these are way more portable.
Ready to dive in?
Ingredient Notes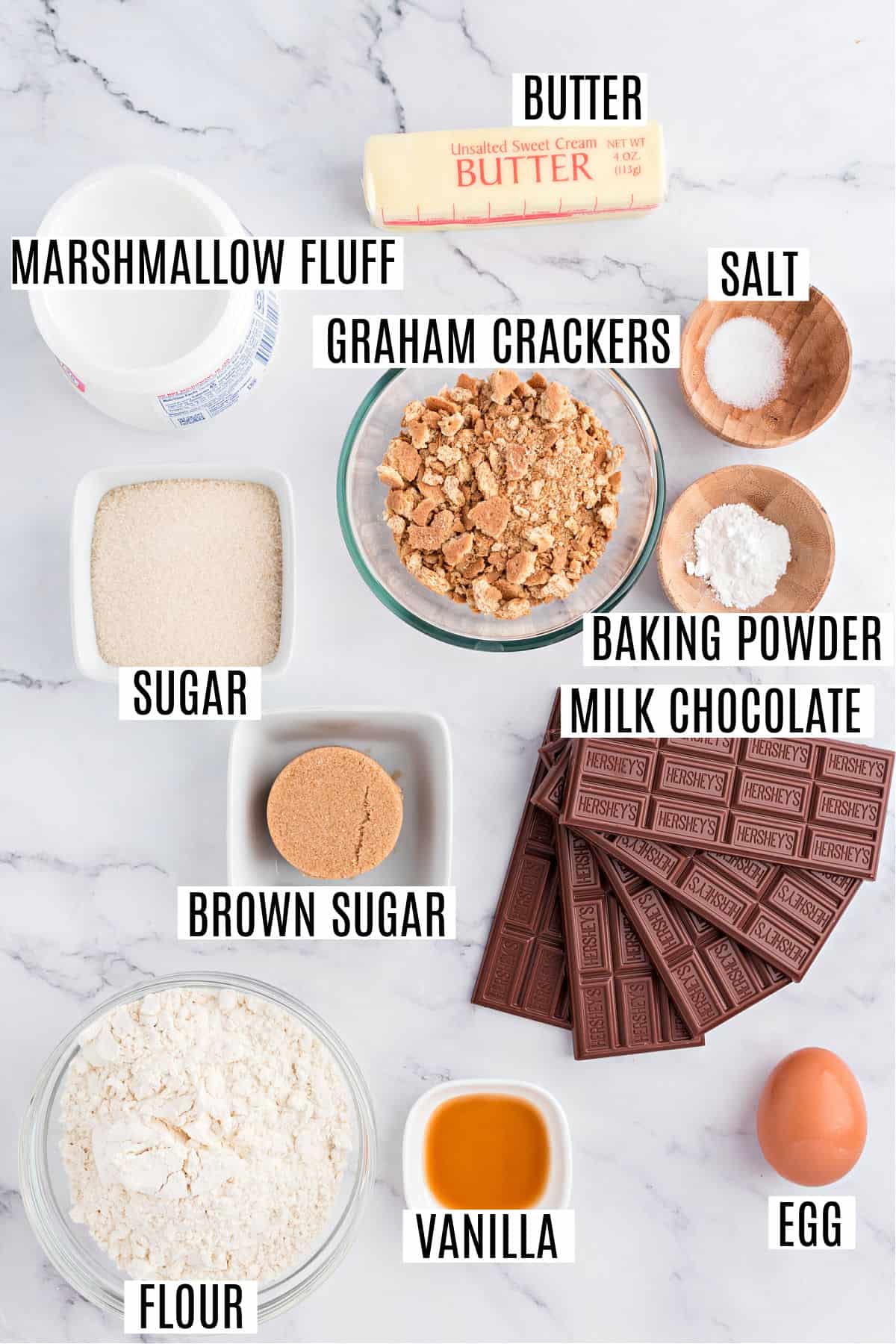 Making these bars are super easy. Start by making the cookie base.
Flour- be sure to follow our tips on how to measure flour properly. The biggest issue people have when baking is measuring the flour incorrectly.
Sugar- you'll need a combination of granulated sugar and light brown sugar to create the cookie dough base.
Graham Crackers- Make graham cracker crumbs to go into the cookie dough. It adds great flavor and texture!
PRO TIP- We love making our own homemade vanilla extract, but if using store bought, be sure it's pure extract, not imitation (for best flavor).
Hershey Bars- using whole candy bars in the middle layer is delicious. You can swap out for chocolate chips if you prefer, but we love the whole bar. Hershey with almonds is also wonderful.
Marshmallow Fluff- or marshmallow creme as it's sometimes called.
Easy Instructions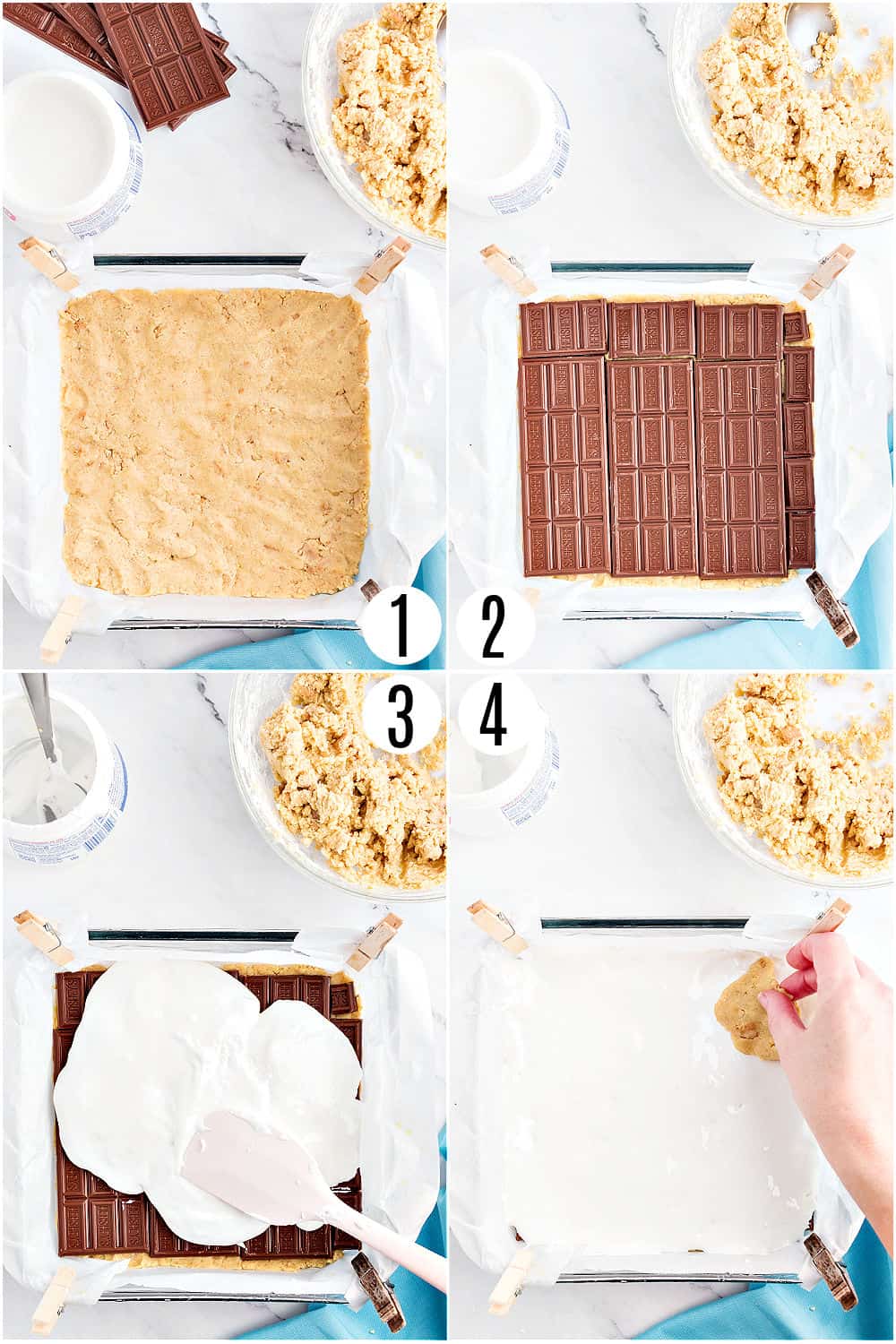 PREP: Preheat oven to 350 degrees F. Line an 8-inch (or 9-inch) baking pan with parchment paper. 
PRO TIP: Use binder clips or clothespins to secure parchment paper to baking dish while adding ingredients. Be sure to remove them before baking.
Make Dough: In a large bowl, combine butter, sugar, and brown sugar until creamy. Add in egg and vanilla extract. Add flour, graham cracker crumbs, baking powder, and salt. Mix until blended.
Assemble: Divide dough in half and press half of the cookie dough into the bottom of the prepared baking dish. Place full size chocolate bars over dough. You only need a single layer, so you may have extra chocolate. 
Spread chocolate with marshmallow cream and place remaining dough on top.
Bake: Bake for 30-35 minutes, until lightly browned. Cool completely before cutting into bars.
PRO TIP: We love these bars chilled, and it makes them easier to cut too. Cover and refrigerate to enjoy.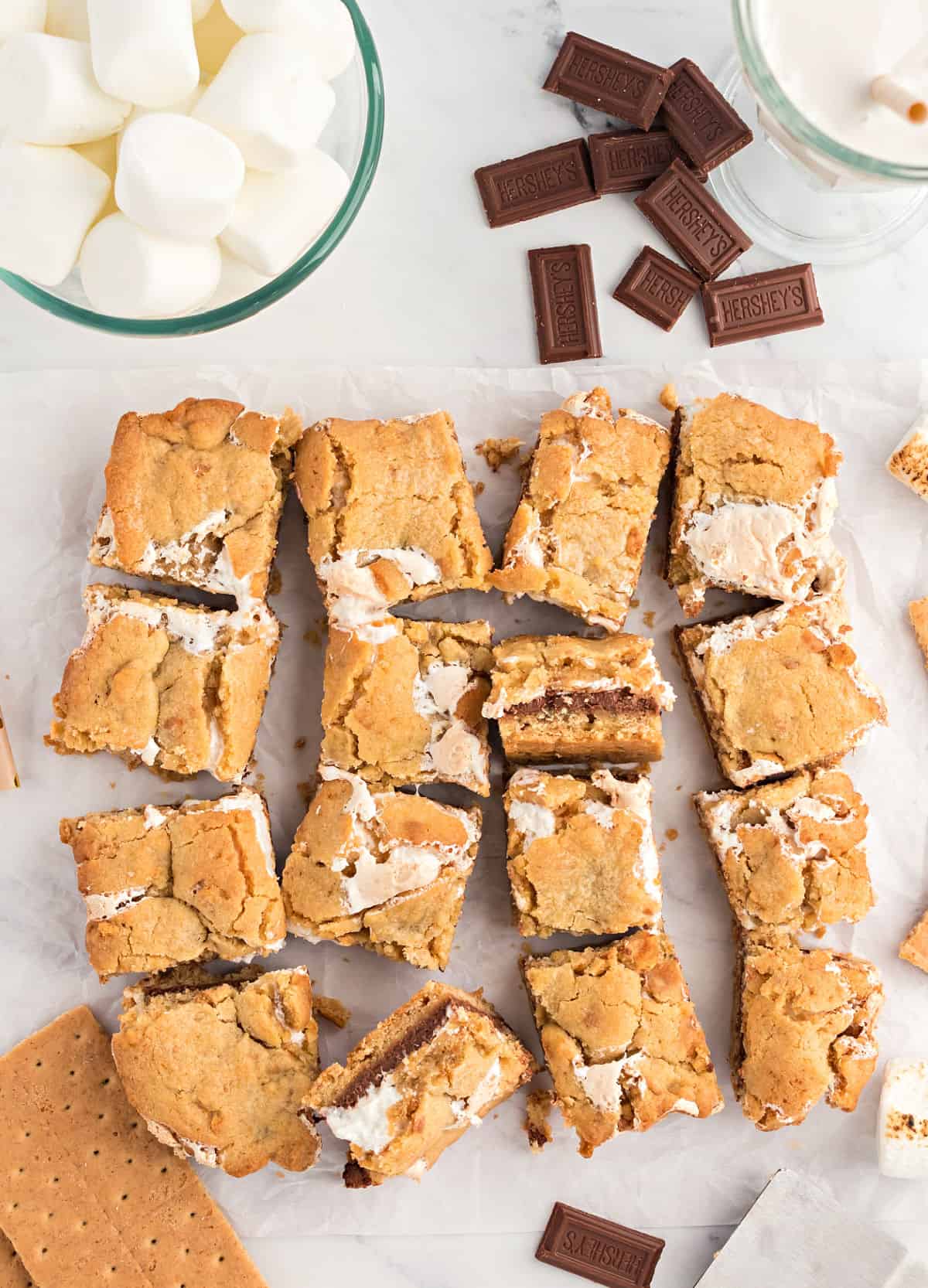 Chocolate for S'mores
I prefer to use Hershey's chocolate bars as they are easy to find, and taste great.
If you can't find them, use a good quality milk chocolate. You can even use chocolate chips, making a single layer between cookie dough!
How to Store S'mores Bars
This s'mores bars recipe can be kept in an airtight container at room temperature for up to one week.
You can also freeze these cookie bars by sliding into a ziploc freezer bag (or other freezer safe container). Thaw at room temperature overnight.
Personally though, I prefer to keep these gooey S'mores Bars in the refrigerator. I like enjoy them chilled.
PRO TIP: Want them warmed up? Place on a plate in microwave for 15-30 seconds for a gooey treat! Careful the chocolate can get hot fast!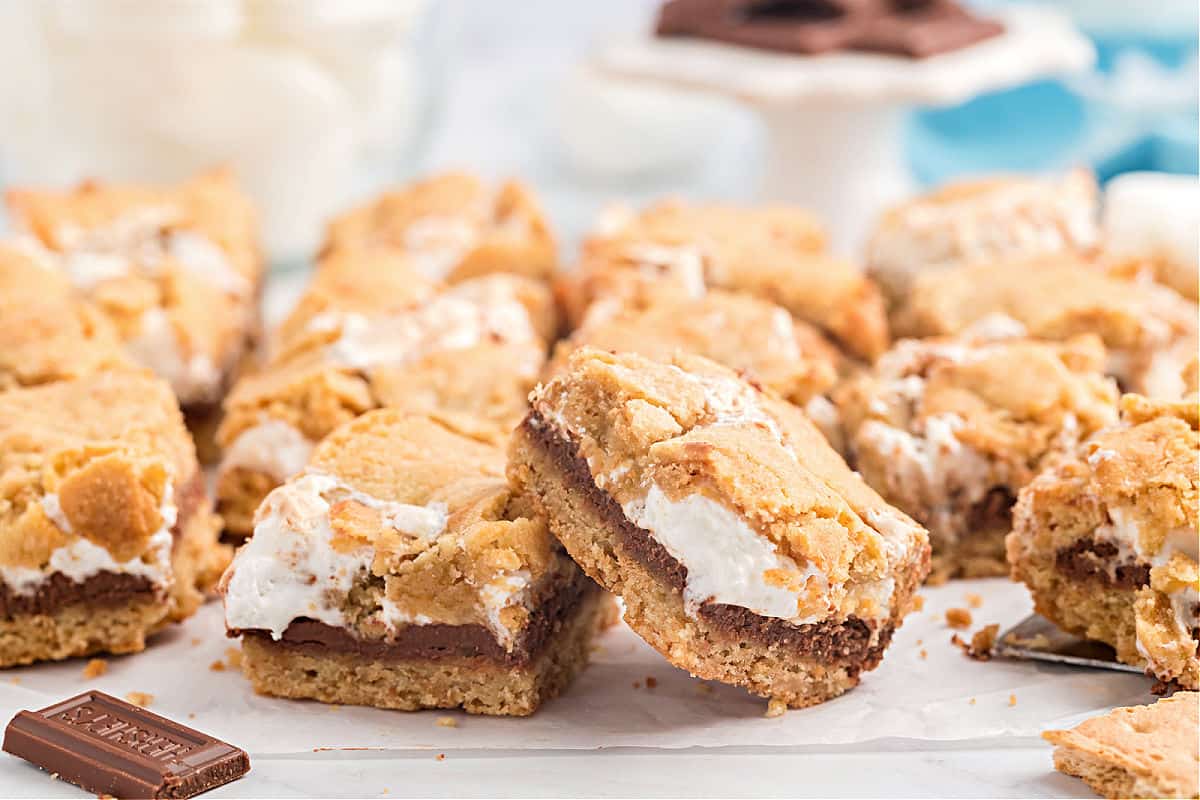 More S'mores