S'more Cookie Bars
Today I have my friend Becca from Crumbs and Chaos sharing a delicious dessert! I was fortunate enough to meet Becca last year at a fun Duncan Hines Blogger trip! She is so sweet and you may have seen her name around here as my round up creator! Be sure you stop by her blog and drool over some of her goodies!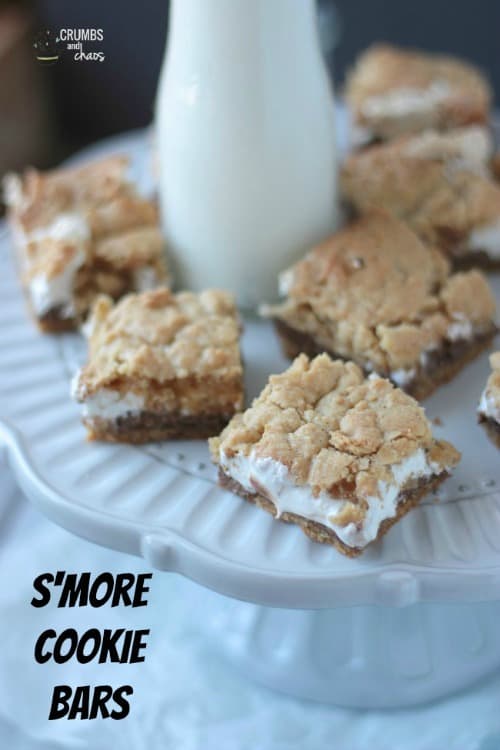 Hi Shugary Sweets readers, it's Becca from Crumbs and Chaos. I'm usually the curator of Aimee's recipe collections, but today she's invited me to share a recipe with you.
It's hard to believe that I've been trying my hand at this blogging thing for almost 4 years now. I've learned so much in that period of time, including taking better pictures. I was poking around in the C&C archives the other day, was reminded of this gem of a recipe and decided it was time for an update. These S'more Cookie Bars are totally worth your time.
The flavors of this bar come from the s'more trinity – you incorporate graham cracker crumbs into the cookie dough, which is the base and the crackly top of these bars. Then you layer on full size milk chocolate bars and marshmallow creme. Believe me you're still getting enough of the gooey-ness you love in a classic s'more, only these are way more portable.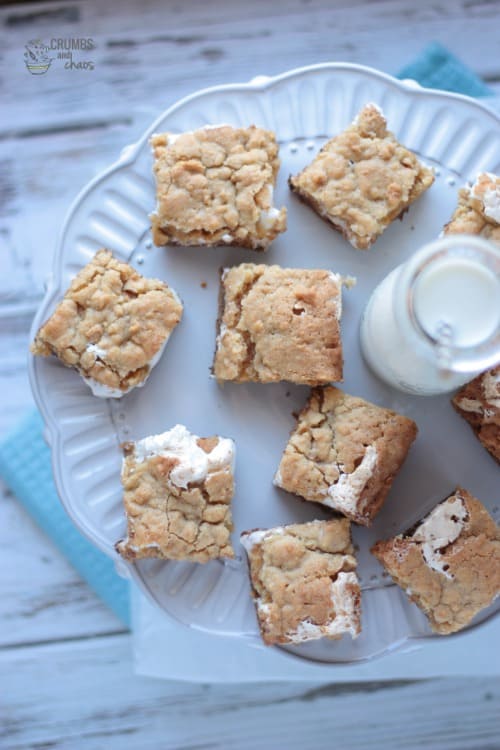 Join me!
Blog | Facebook | Twitter | Instagram | Pinterest | Google+ | Bloglovin'
S'more Cookie Bars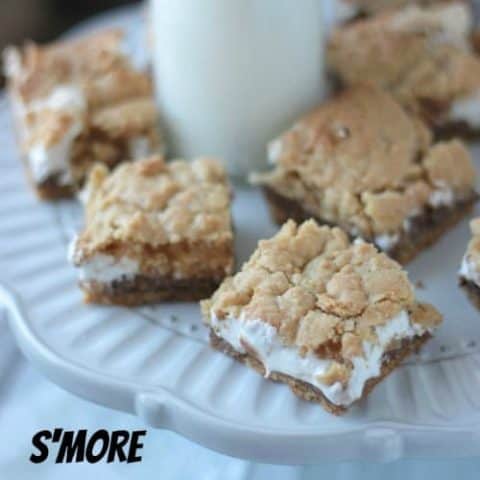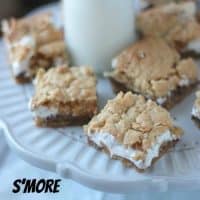 Ingredients
1/2 cup butter, room temperature
1/4 cup brown sugar
1/2 cup sugar
1 egg
1 teaspoon vanilla extract
1 1/3 cups flour
3/4 cups graham cracker crumbs
1 teaspoon baking powder
1/4 teaspoon salt
4-6 full size milk chocolate bars*
1 1/2 cups marshmallow creme (7 oz. container)
Instructions
Preheat oven to 350 degrees. Line a 8-inch square baking pan with foil and grease lightly.
In a large bowl, cream together butter and sugar until light. Beat in egg and vanilla.
In a small bowl, whisk together flour, graham cracker crumbs, baking powder and salt.
Add to butter mixture and mix at a low speed until combined. Divide dough in half and press half of dough into an even layer on the bottom of the prepared pan.
Place chocolate bars over dough. You may not need all of the chocolate, you only want a single layer, so break as needed to fit the pan.
Spread chocolate with marshmallow creme.
Place remaining dough in a single layer on top of the marshmallow layer (most easily achieved by flattening the dough into small pieces and laying them together).
Bake for 30-35 minutes, until lightly browned.
Cool completely before cutting into bars. Makes 16 bars.
Notes
The brand of chocolate bars you buy will determine how many you need, buy a 6 pack to make sure you have enough.
More easy desserts to serve your favorite crowd…