Rich and decadent, these truly are EASY Chocolate Truffles! Perfect for a delicious treat, Valentine's Day, or to give as a gift.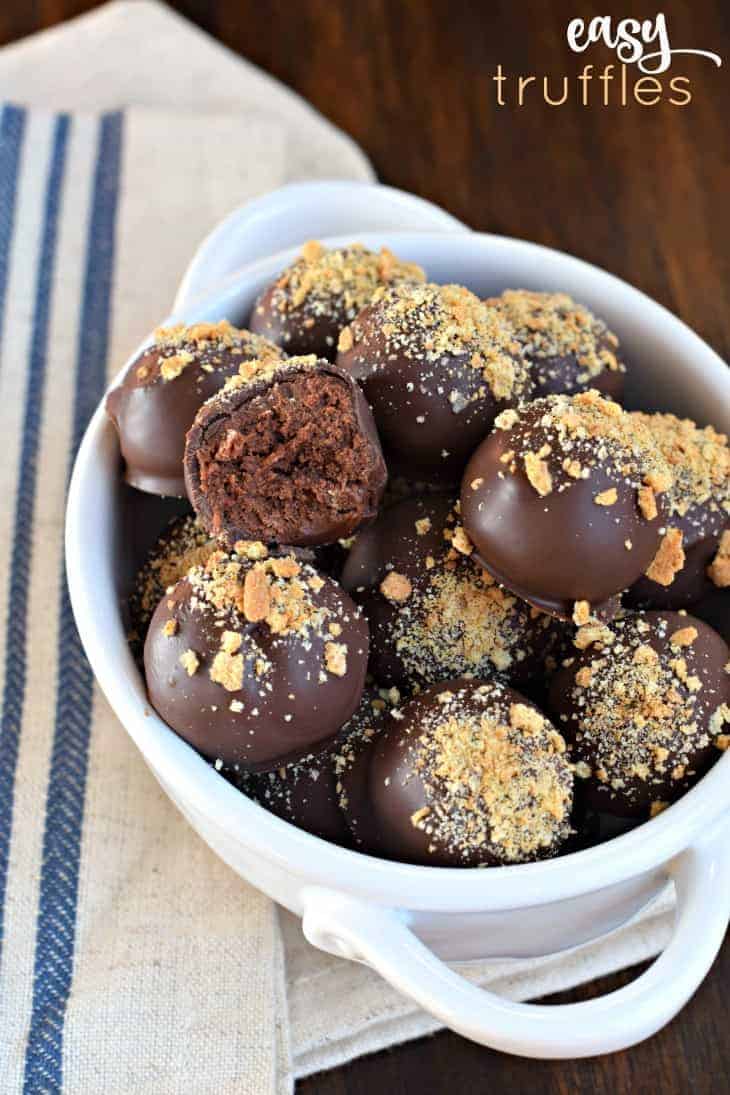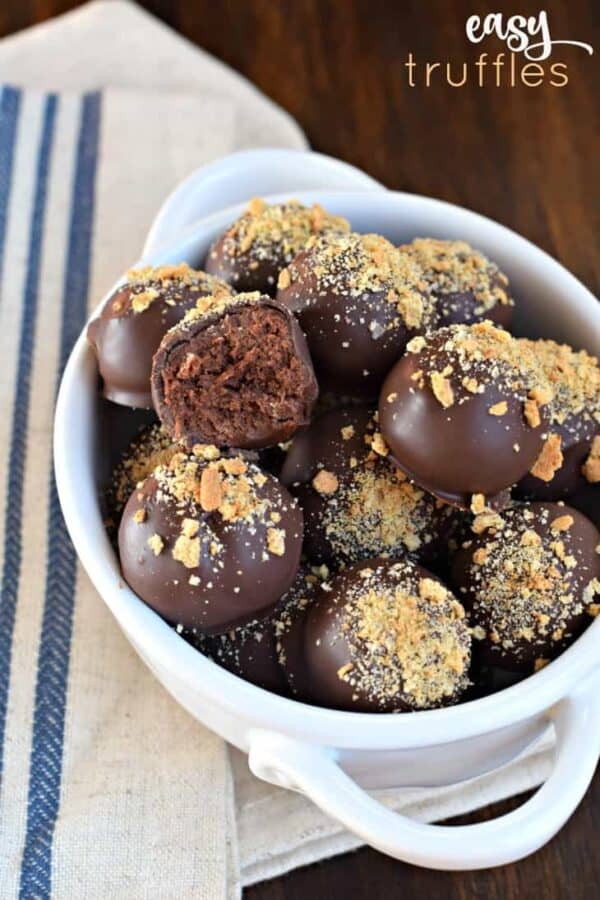 Why this Recipe is Best
Homemade truffles sound impressive, but they are really easy to make, promise!
The rich chocolate filling and the crunchy chocolate shell are perfect for all the chocolate lovers in your life!
Just 5 ingredients are needed for this recipe!
No candy thermometer needed; we really are keeping this super easy!
A sprinkling of graham cracker crumbs gives a fun finish to the truffles. (Or you can use sprinkles instead!)
You'll get about 48 truffles with this recipe; plenty to save and plenty to share!
Ingredient Notes
Sweetened condensed milk – This adds the sweetness to these truffles. Note, this is NOT the same as evaporated milk.
Chocolate morsels – The recipe calls for semi-sweet morsels to use in the filling, but you could also substitute dark chocolate if you prefer.
Marshmallows – We're using 12 regular size marshmallows to help with the flavor and texture of these truffles.
Melting wafers – I use Ghiradelli dark chocolate melting wafers for the outer chocolate coating, but any brand will work. Just make sure they are high quality. Or use chocolate bark.
Graham crackers – These add a fun flavor and texture when sprinkled on the truffles, but you could also use sprinkles or crushed nuts.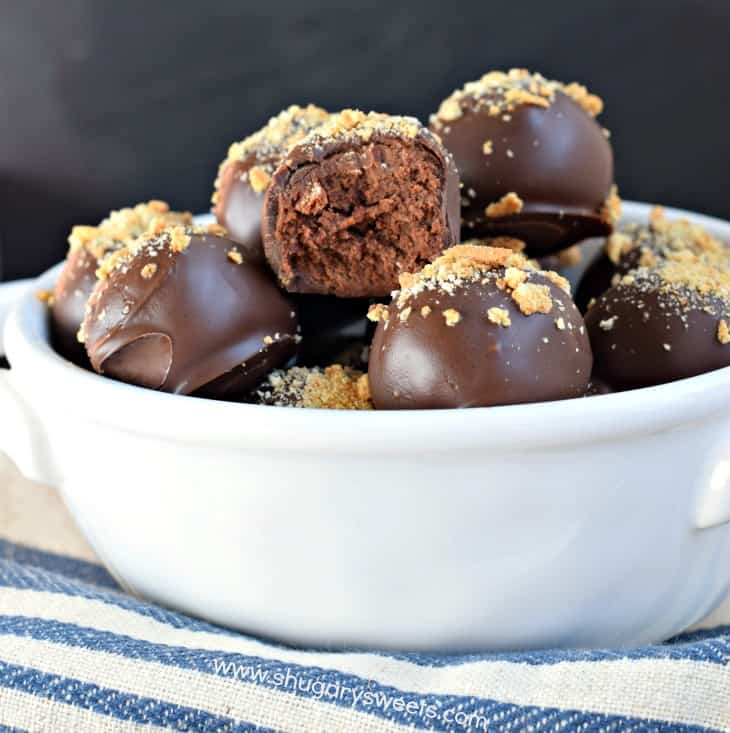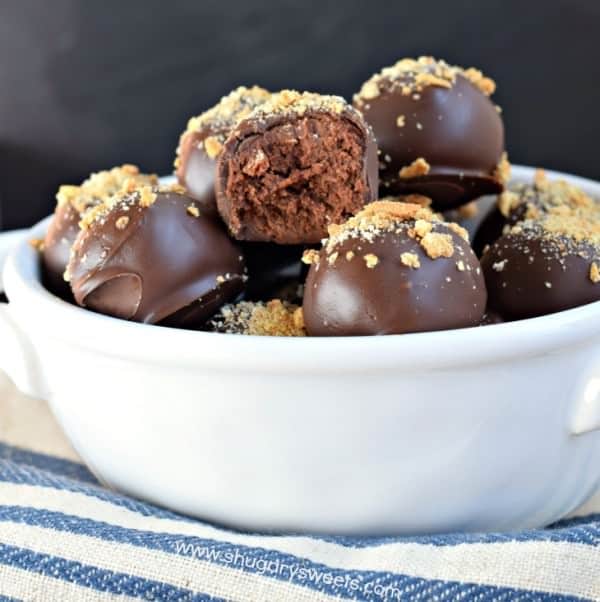 Easy Instructions
Make the creamy chocolate filling. Combine the sweetened condensed milk and chocolate chips and microwave and stir until melted. Add the marshmallows and microwave and stir until melted and smooth.
Refrigerate, scoop and freeze. Refrigerate the chocolate mixture for 2 hours. Scoop balls of the filling onto a parchment paper lined baking sheet then freeze for 1 hour.
Dip and decorate. Melt the chocolate wafers and then, using a toothpick, dip each truffle ball into the melted chocolate. Tap on the side of the bowl to remove the excess and drop the truffles onto parchment paper. Decorate the tops with crushed graham crackers. Repeat and enjoy!
Tips and Tricks
Don't leave the mixture for the truffle centers in the fridge for too long. You want it firm, but still soft enough to scoop into balls.
Use a metal cookie scoop (I love this 1 Tbsp sized scoop) to portion out your balls onto a parchment paper lined baking sheet.
Use a toothpick to dip the balls into the melted chocolate and then tap off any excess to create a smooth coating.
Sprinkle the graham crackers or drizzle melted chocolate to cover the toothpick hole.
You can also use white or milk chocolate for your outer coating if you prefer.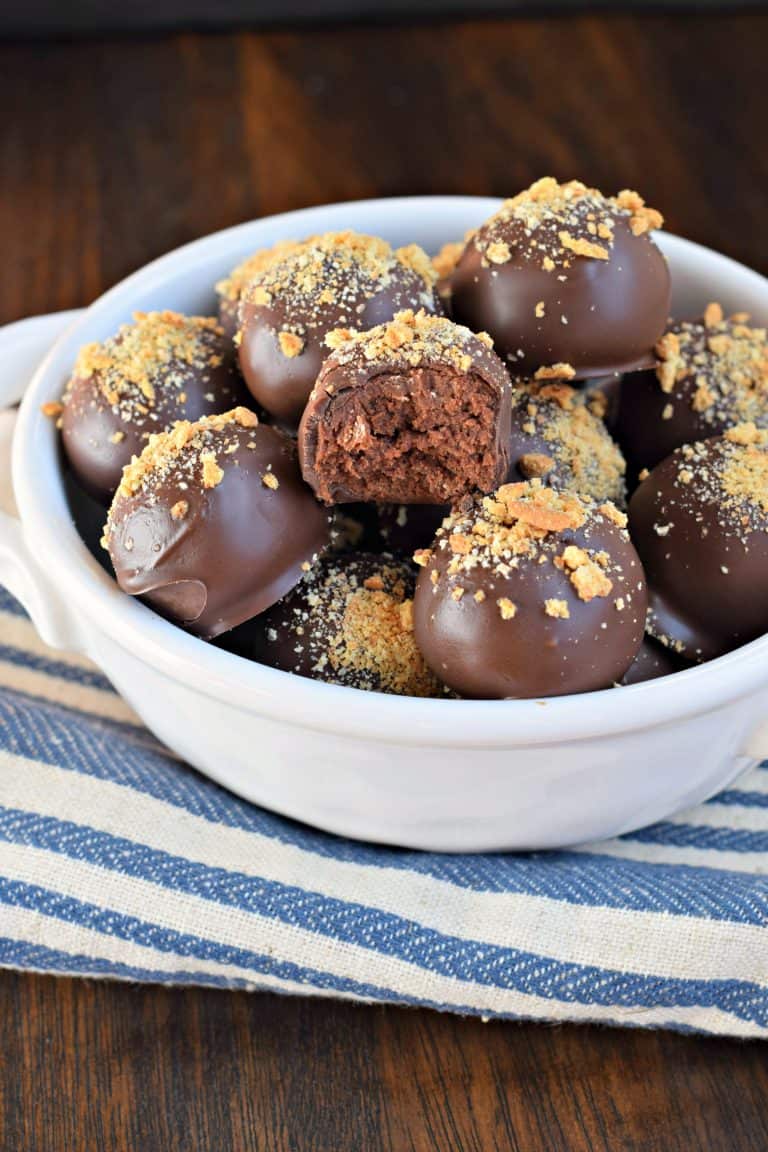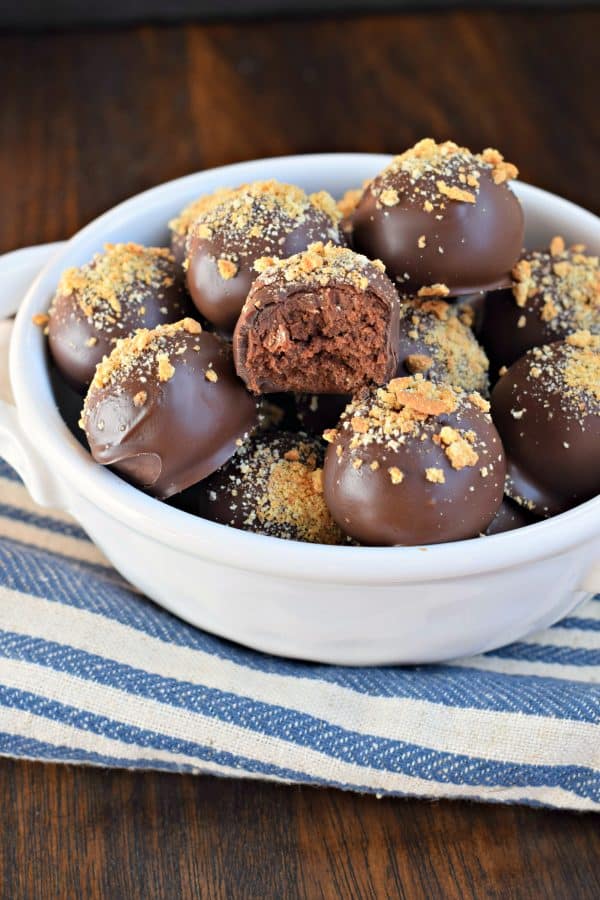 Recipe FAQs
How do I store truffles?
These chocolate truffles can be stored in the refrigerator, in an airtight container, for up to 2 weeks.
Can I freeze truffles?
Yes! You can freeze truffles in an airtight container for up to 3 months, either with or without the chocolate candy coating.
How can I decorate chocolate truffles?
We used crushed graham crackers here, but you can also use sprinkles or jimmies, cocoa powder or crushed nuts to decorate truffles. Or use crushed peppermint at the holidays.
More Candy Truffles
What is a chocolate truffle?
Chocolate Truffles are traditionally made with a chocolate ganache filling. They can be coated in melted chocolate, cocoa powder, or chopped nuts.
Usually you'll find them in candy stores in many varieties of flavors.
MORE TRUFFLES:
Easy Chocolate Truffles Recipe is perfect for holidays, desserts, and bake sales. No bake treat!