These Raspberry Truffles have a creamy, gorgeous center and a crunchy dark chocolate shell for a delicious – and no-bake – dessert that's sure to impress!
If you love truffles, you've come to the right place. From our easy chocolate truffles to these simple, yet delicious, buttercream truffles, we've got a candy for everyone.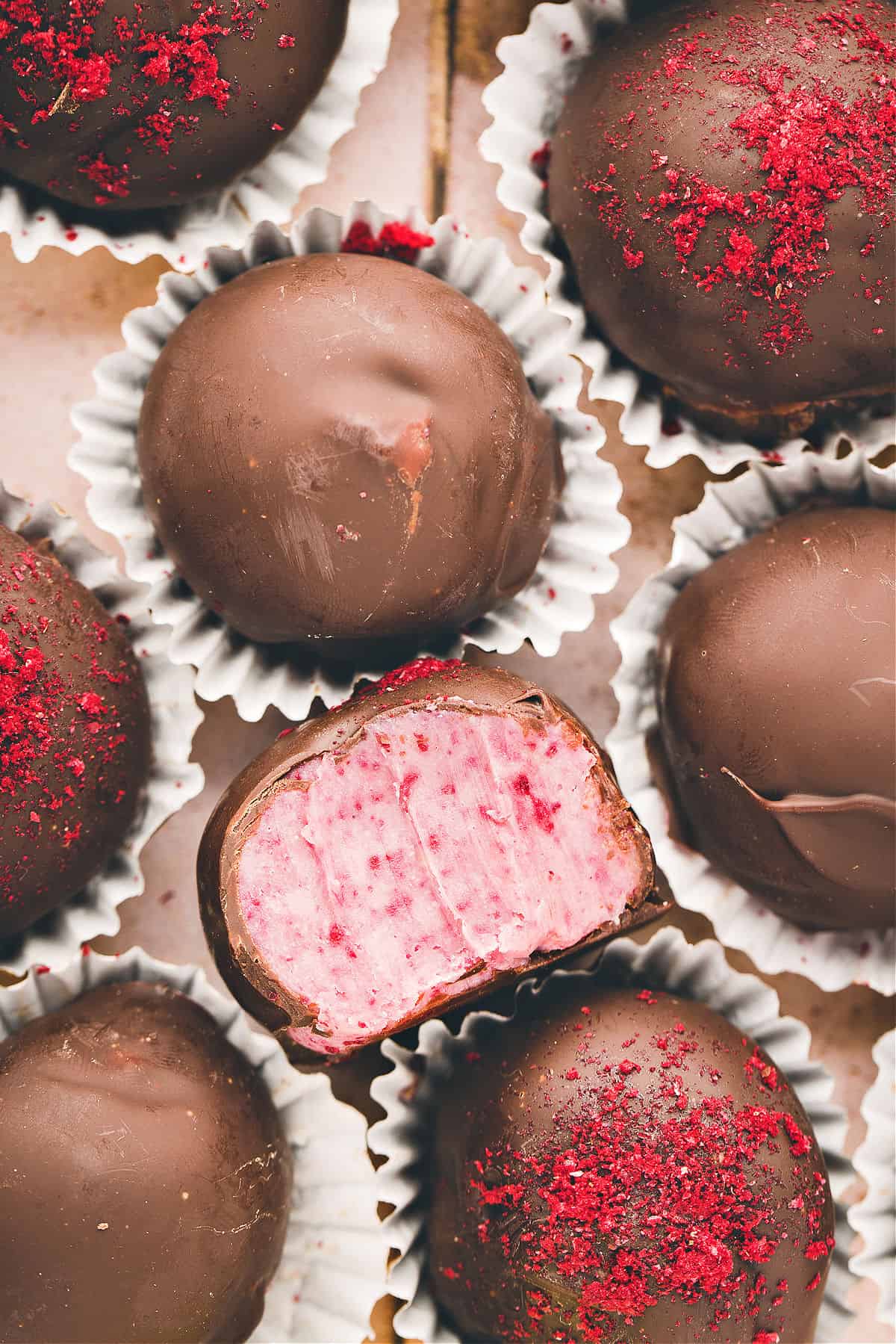 Why This Recipe is Best
These pretty truffles are easy to make, no baking needed, and are simply stunning!
They'd make a great Valentine's Day treat or a gift for friends, family, neighbors, teachers, anyone!
Using freeze dried raspberries gives delicious flavor without compromising the texture. We use freeze dried strawberries in our delicious strawberry frosting recipe. Feel free to use them in today's truffles instead!
Ingredient Notes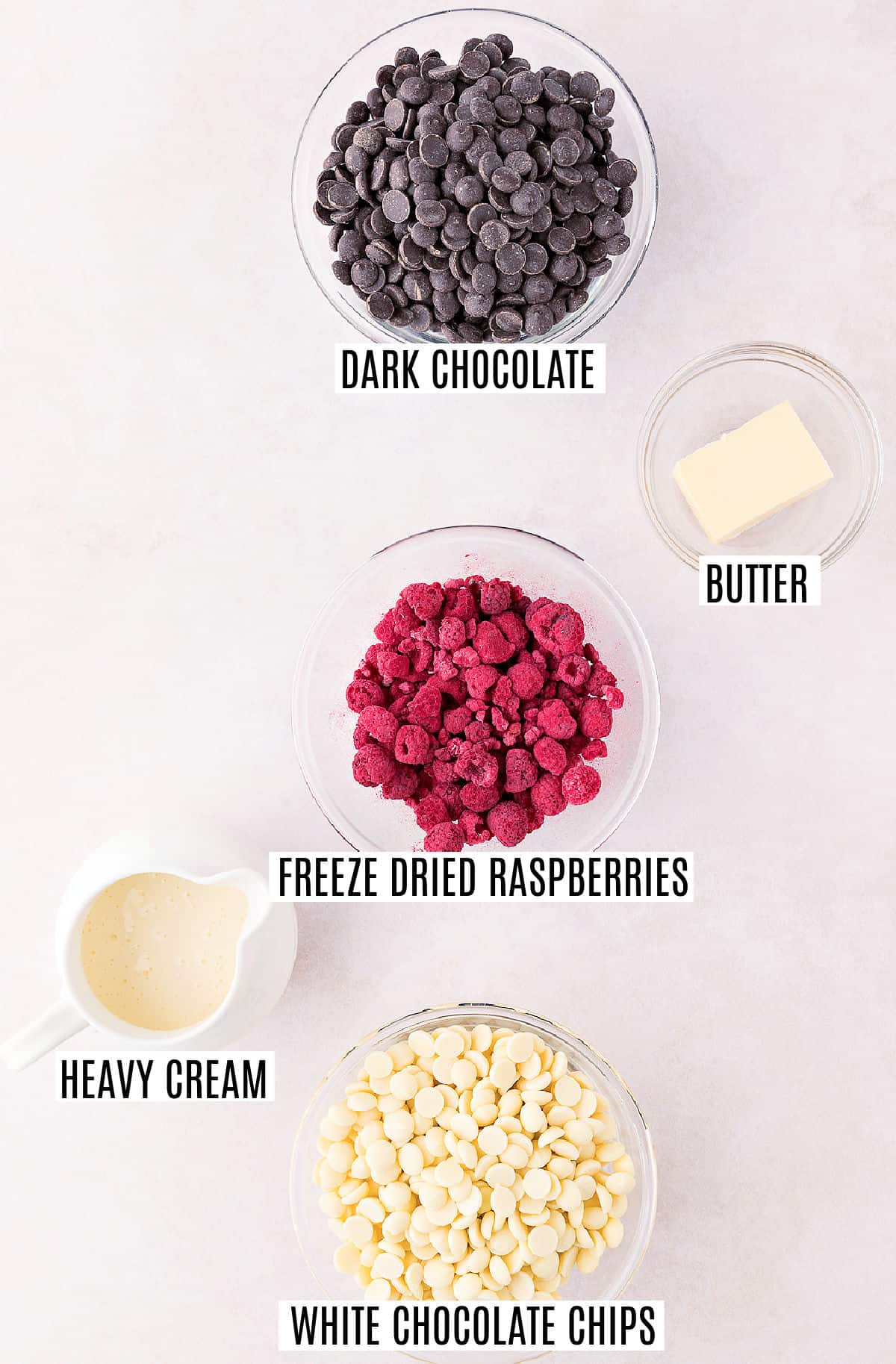 Easy Instructions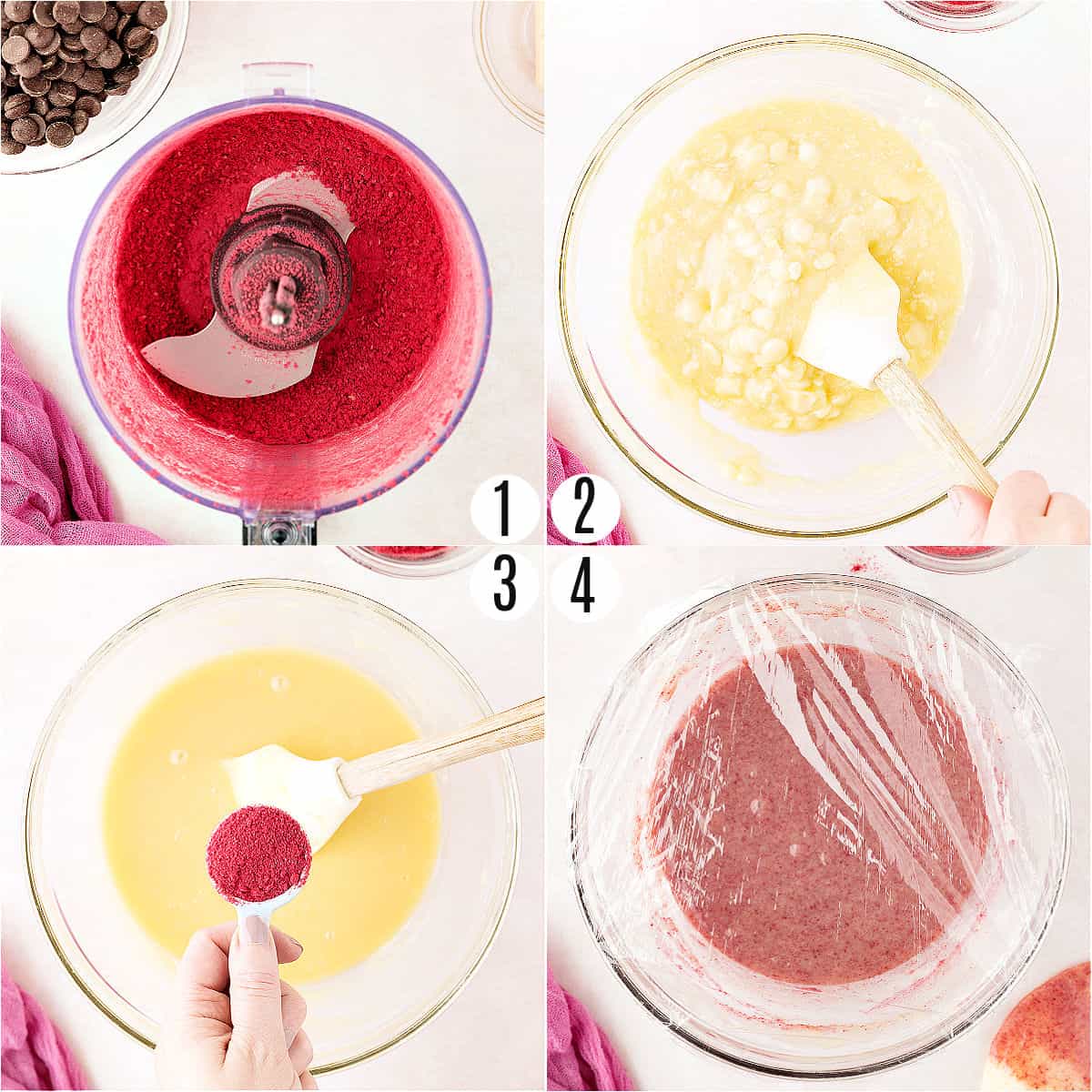 Make the creamy raspberry filling. Pulse the dried raspberries into a powder in a food processor. Warm the heavy cream in a sauce pan then pour over the white chocolate chips and butter in a bowl to melt. Stir in the raspberry powder and mix well.
Chill, scoop and chill. Chill the filling for 2 hours in the refrigerator. Then scoop into balls, place on a parchment paper lined baking sheet and chill again for 30 more minutes.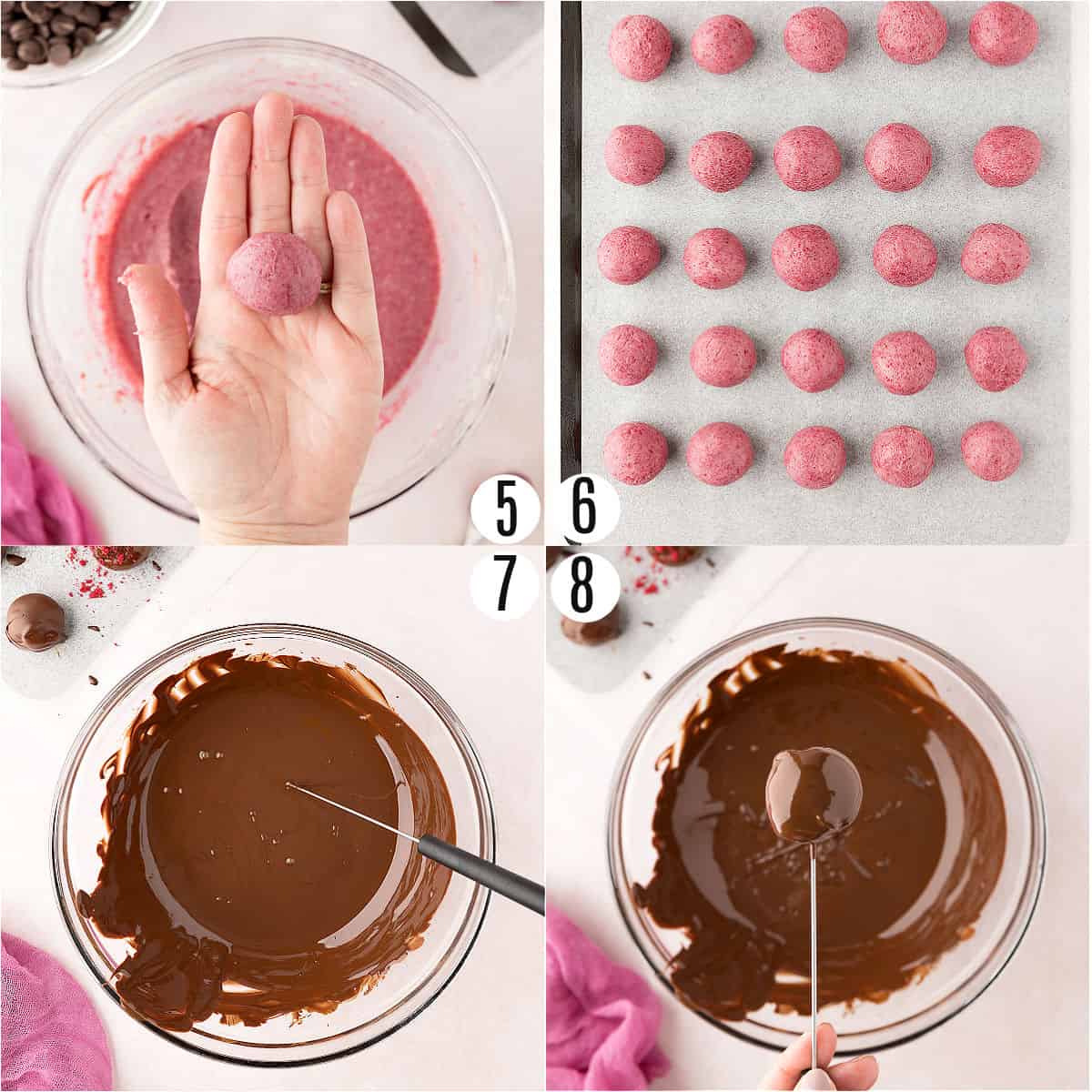 Dip and decorate. Melt the dark chocolate and then, using a toothpick, dip each truffle ball into the melted chocolate. Tap on the side of the bowl to remove the excess and drop onto parchment paper. Decorate the tops of the truffles with extra raspberry powder.
Tips and Tricks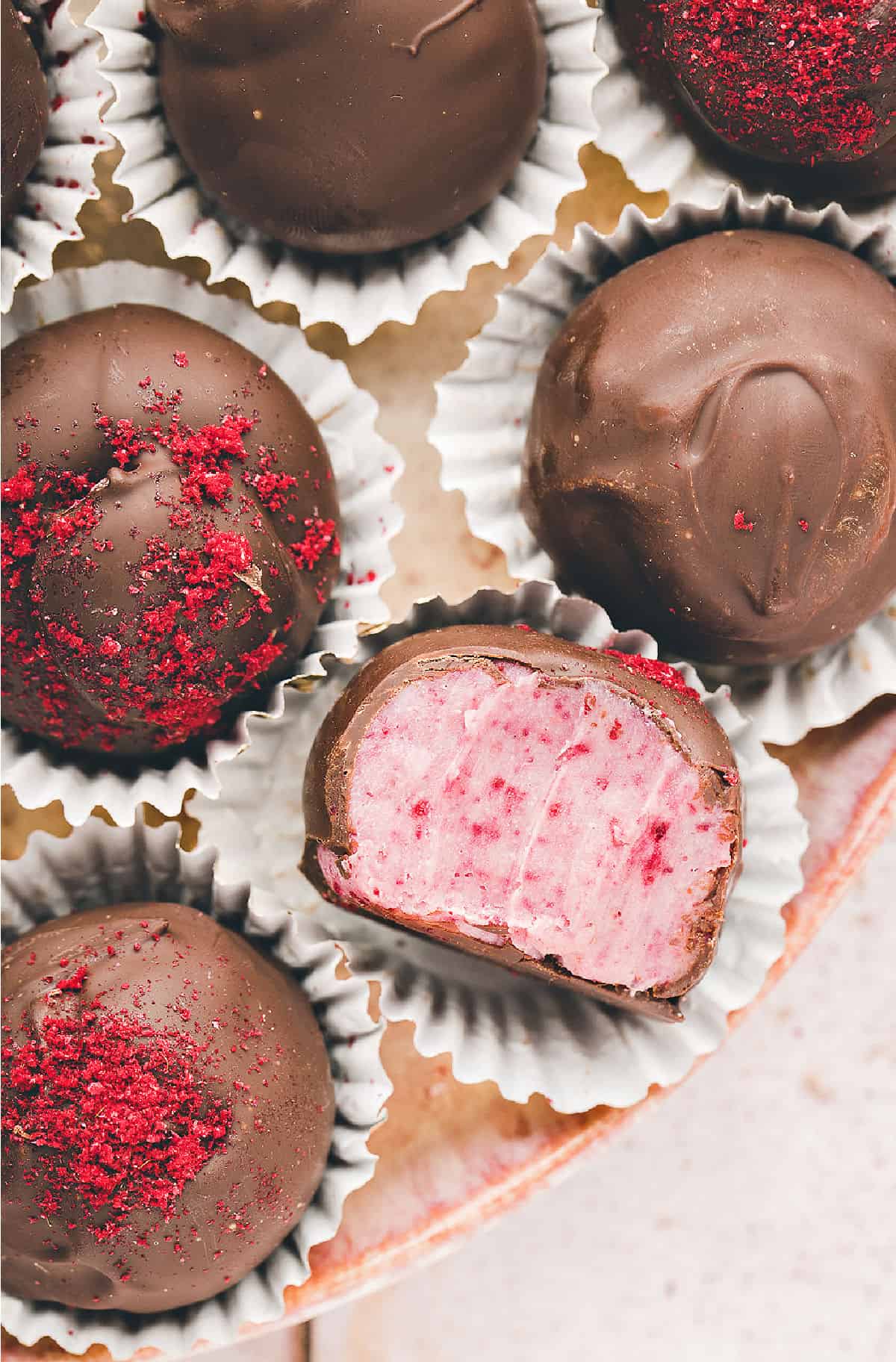 Recipe FAQs
What kind of chocolate is best for truffles?
Dark chocolate chips work well, be we love to use Ghiradelli dark chocolate melting wafers for these truffles because they melt beautifully and taste great, but any brand will do. They can be found at most grocery stores in the aisle with the chocolate chips.
How do I store raspberry truffles?
Once set up, store the truffles in an airtight container at room temperature for 2-3 days or in the refrigerator for up to 2 weeks.
Can I freeze truffles?
Yes, you can freeze truffles in an airtight container for up to 3 months. Don't forget to label and date the container!
More Easy Holiday Candy