Raspberry Cheesecake Cookies that taste just like Subway Cookies. These chewy cookies are full of white chocolate chips and buttery flavor. It's so easy to make these famous cookies at home!
Love making copycat versions of your favorite restaurant dishes? You'll flip for these Starbucks Flourless Chocolate Cookies and this Chick-fil-A Cole Slaw Recipe.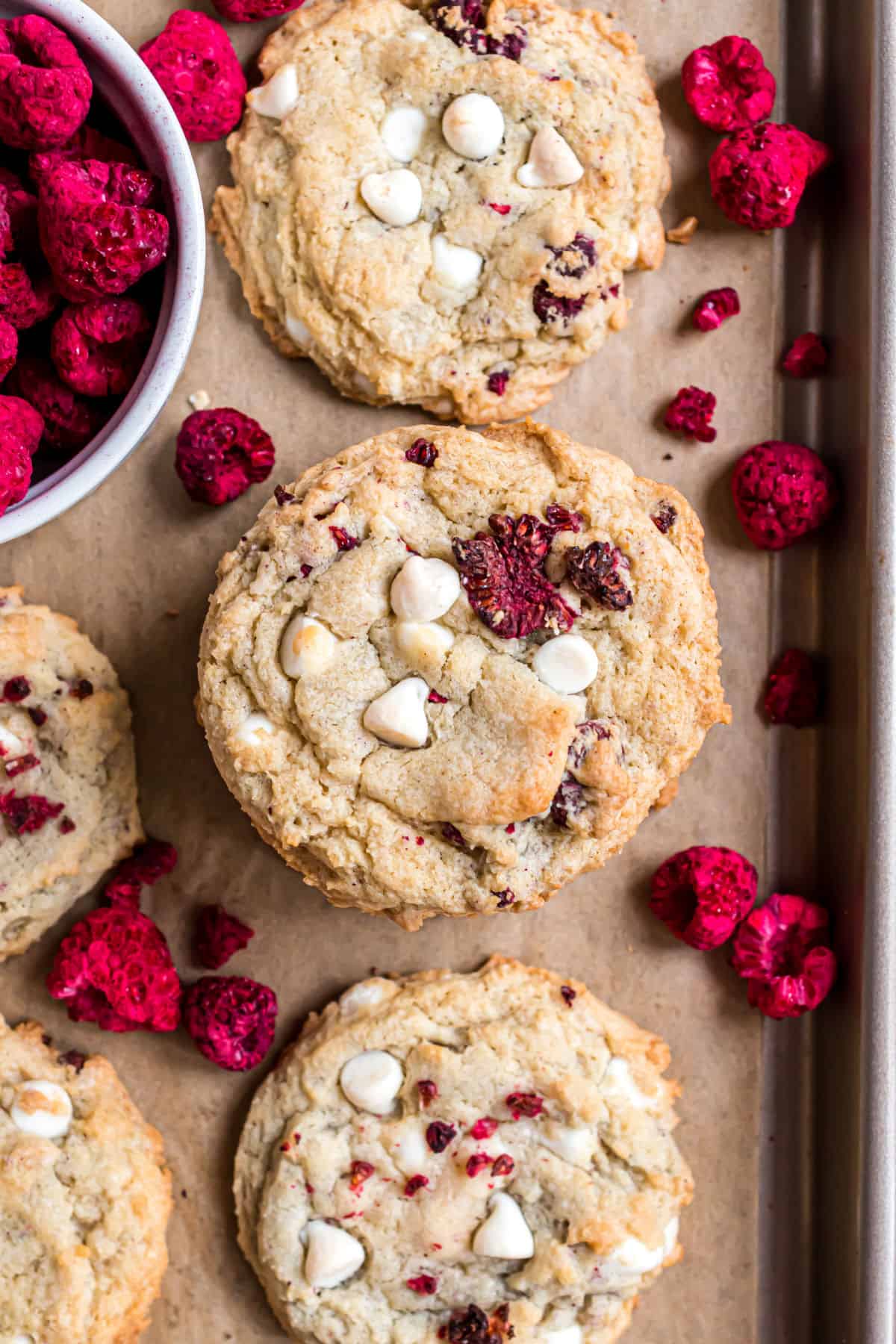 Why this Recipe Works
Today it's all about the Subway love. Specifically: Subway cookies.
We all know cookies are the best part of a visit to the popular sandwich chain. Baked fresh in store, the super soft cookies are irresistible at the checkout counter!
All the cookie varieties are delicious, but one stands out from the crowd. Raspberry Cheesecake Cookies have a rich cheesecake flavor flecked with raspberry goodness.
This copycat Subway cookies recipe is . . .
Easy to make.
Freezer friendly
Soft, chewy and decadent
Unlike my classic cheesecake cookie recipe, which is soft and fluffy, these cheesecake cookies have an unbelievable flavor with the chewiness you'd expect from a chocolate chip cookie!
The tart raspberries and sweet white chocolate chips are a perfect match!
Ingredient Notes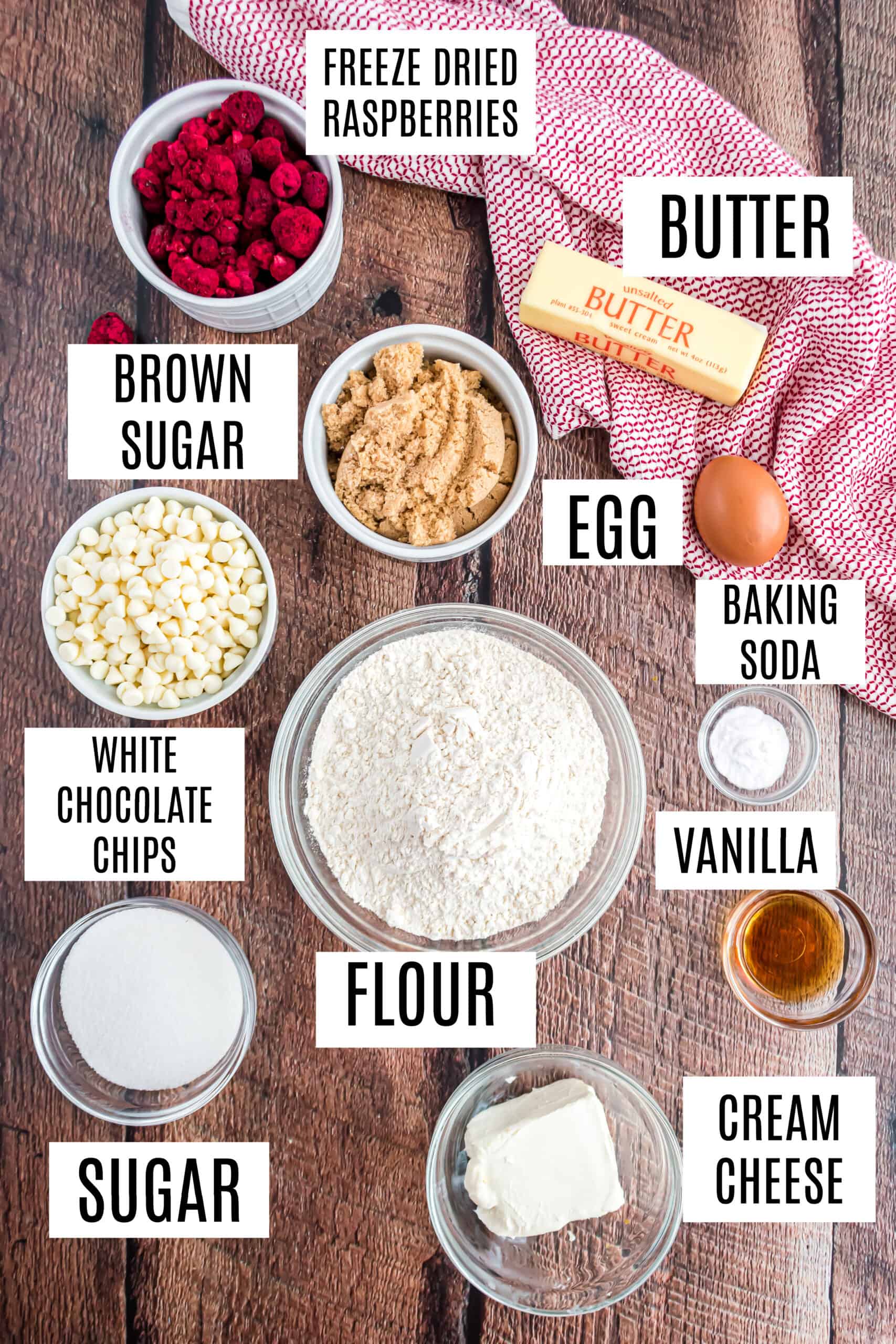 Freeze dried raspberries. These come in a sealed bag. You can usually find them near the dried fruits in the supermarket. Do not try to substitute fresh raspberries in this recipe. In order to achieve that raspberry flavor, without adding extra moisture to the cookies, freeze dried raspberries are the anwer!
Vanilla extract. Plan ahead and try my homemade vanilla extract for delicious results.
Cream cheese. Use full fat cream cheese for best flavor. Let it soften to room temperature before using.
Sugars. A combination of granulated and brown sugar create the ultimate chewy cookie texture!
Easy Instructions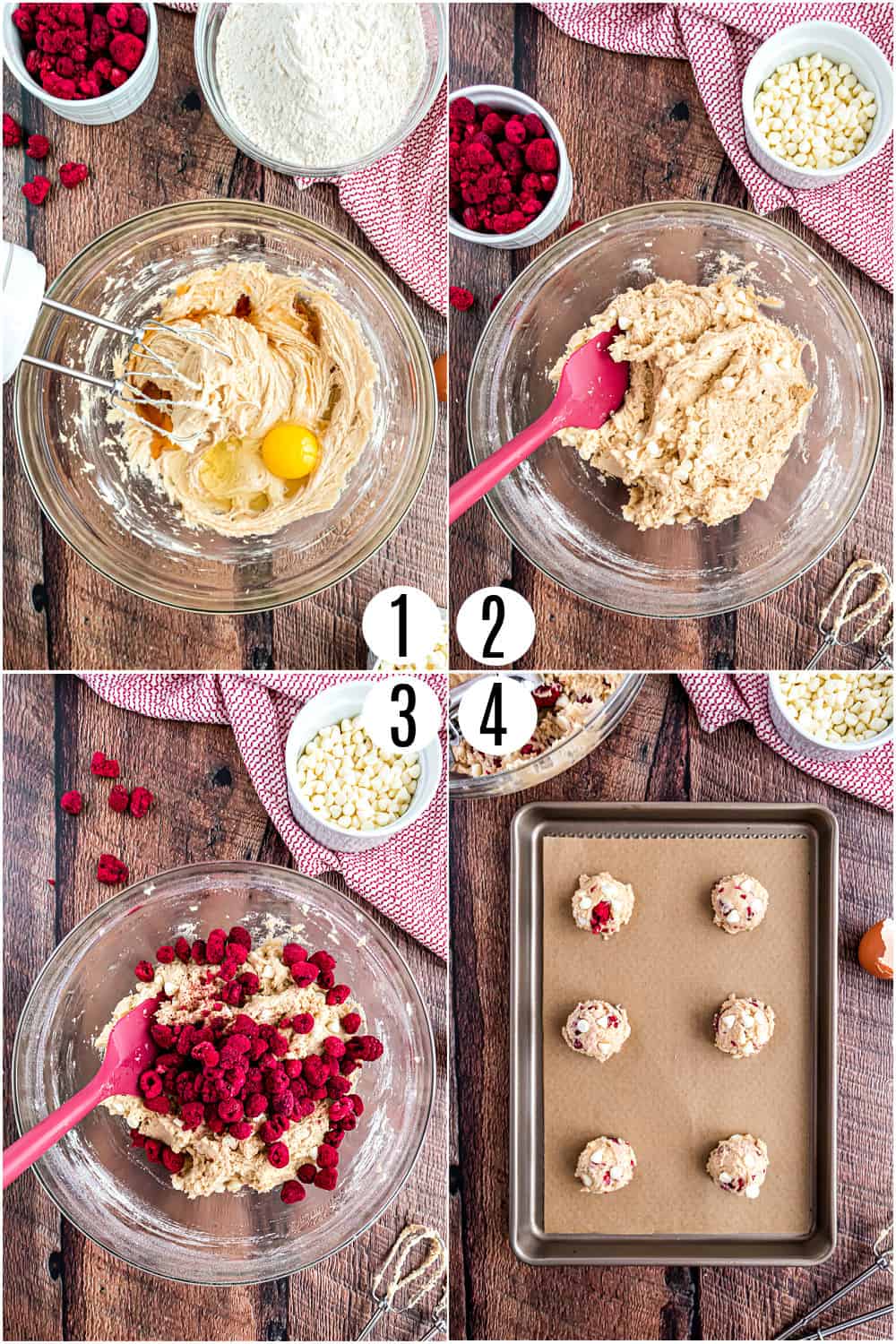 Raspberry Cheesecake Cookies are a breeze to make!
Start by lining a cookie sheet with parchment paper and the rest is just as easy.
Combine the wet ingredients. Cream butter and cream cheese together, then beat in the sugar. Add eggs and vanilla and mix well.
Add dry ingredients. Mix in flour and baking soda until just combined. Fold in white chocolate chips and a whole bag of freeze dried raspberries.
Bake. Drop the cookie dough onto the baking sheet using a cookie scoop. Press a few more white chocolate chips into the top of each cookie before baking. Bake the cookies for 12 to 14 minutes.
Cool. Let Raspberry Cheesecake Cookies cool on the baking sheet for a few minutes, then transfer to a wire cooling rack.
Tips and Tricks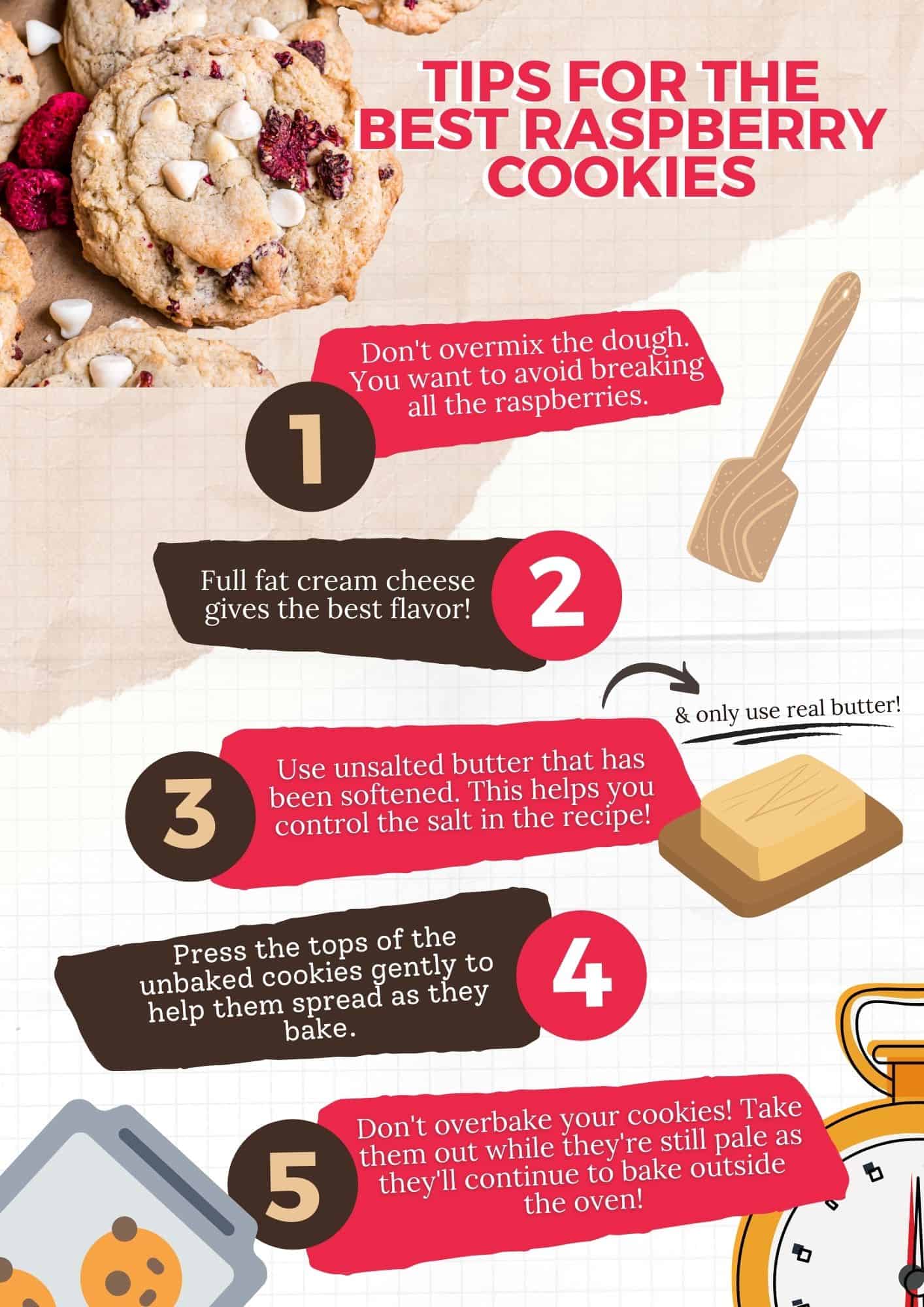 Do not over mix. Mixing too vigorously results in harder cookies. You also want to avoid breaking the raspberries too much as you mix.
It's okay if some raspberries break! Despite your best efforts, a few raspberries will inevitable break up as you fold them into the cookie dough. That's perfectly fine.
Press tops down before baking. Give the tops of the unbaked cookies a GENTLE press to help them spread as they bake.
Storing. Transfer cooled cookies to an airtight container and store at room temperature for up to 3 days.
Freeze Cookies. Use my tips on how to freeze cookie dough for later.
You've seen freeze dried berries on my website in other recipes. We love the results, so be sure to stock up on them to make more delicious recipes!
–Strawberry Shortcake Ice Cream Bars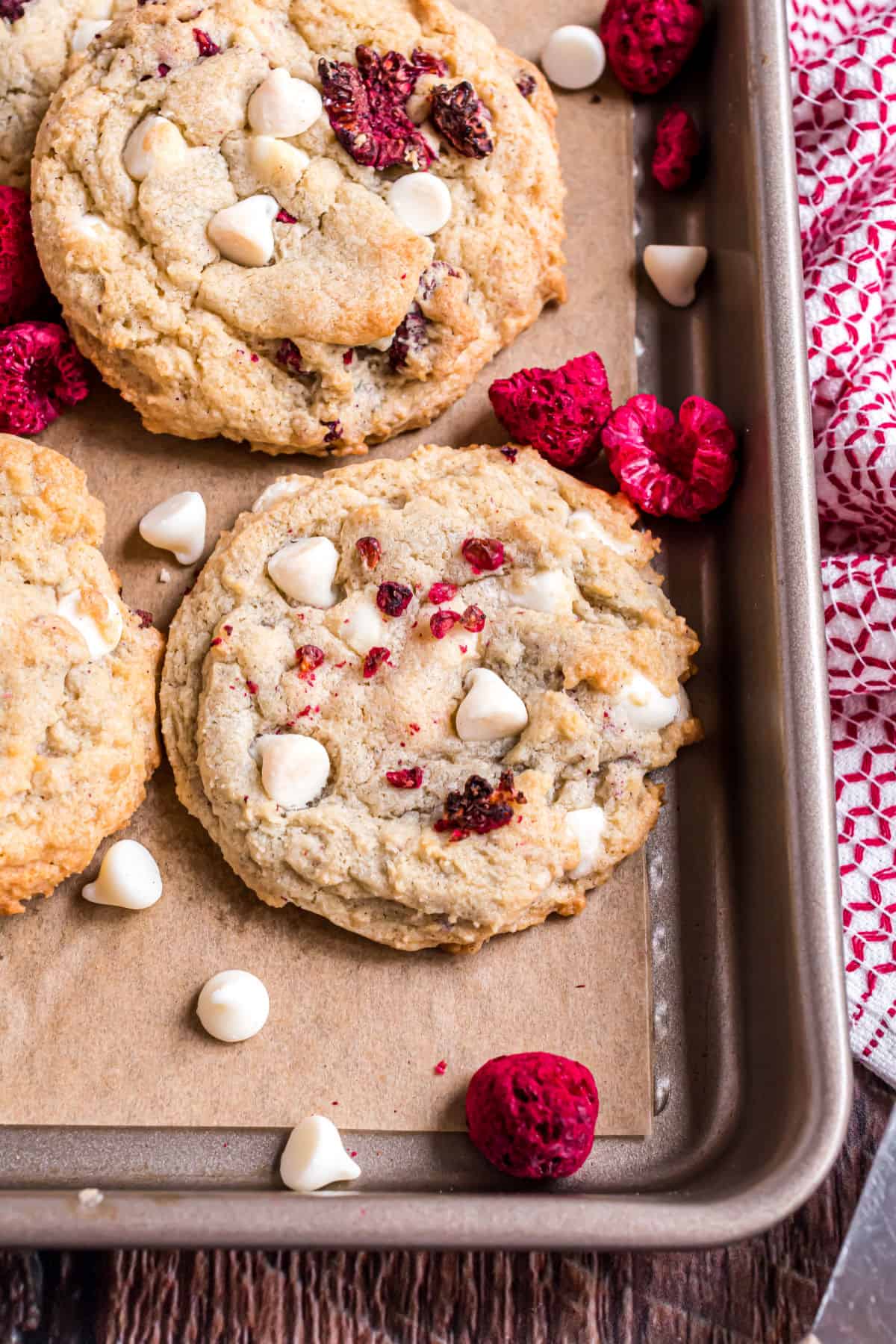 Recipe FAQs
Can you freeze Raspberry Cheesecake Cookies?
Yes, these Subway copycat cookies will keep well frozen for as long as 3 months. Let thaw overnight in the fridge before enjoying.
Can I make these cookies with fresh raspberries?
I would not recommend using fresh raspberries for these subway cookies. Fresh rasbperries contain much more moisture. They will change the texture and color of the baked cookies. Freeze dried raspberries are 100% fruit and add the perfect flavor to cookies.
Do you have to refrigerate cheesecake cookies?
No, baked cheesecake cookies do not need to be chilled or refrigerated. Copycat Subway cookies are at their best when stored at room temperature.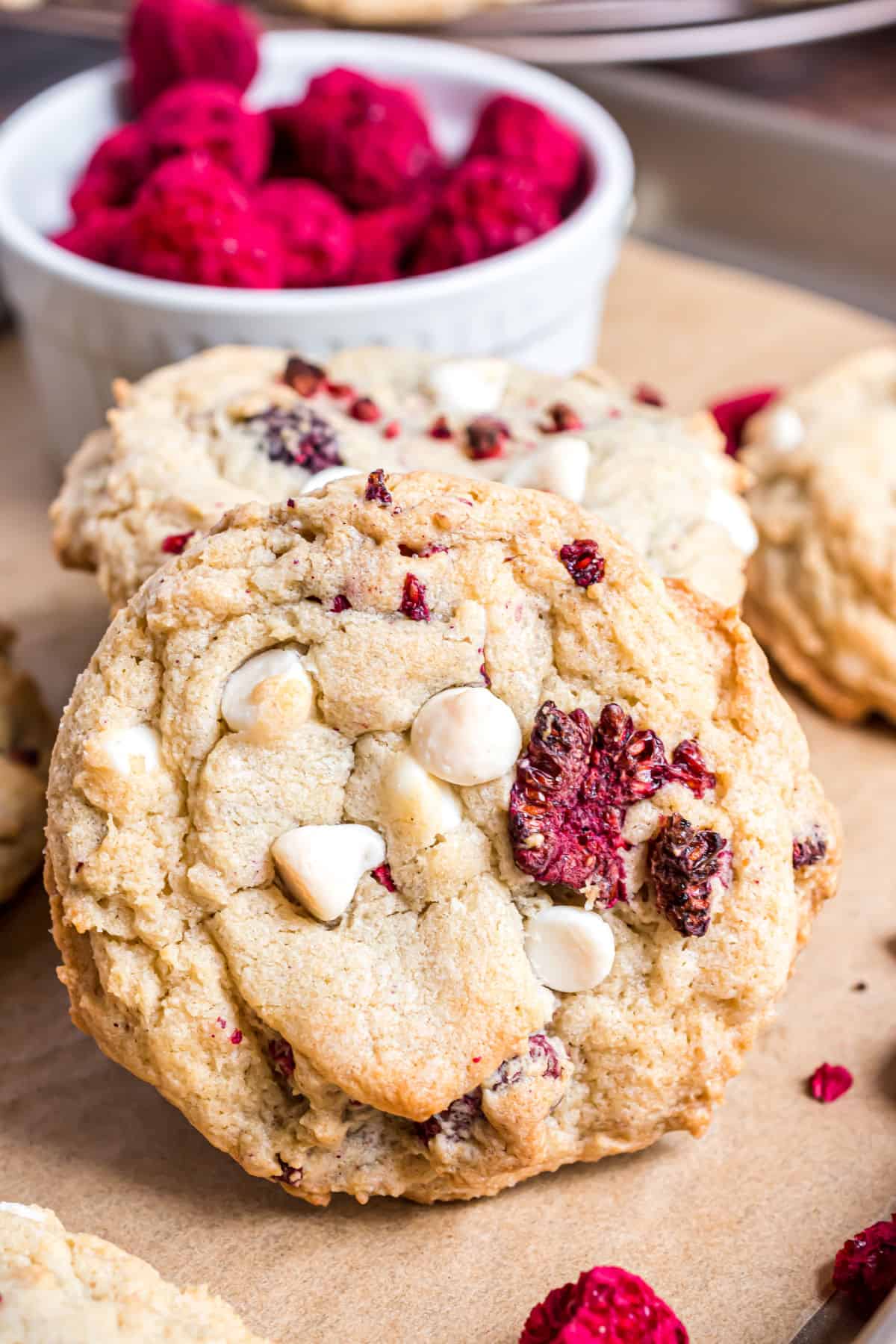 More Cookie Recipes
Skip the subway line and make your own copycat Raspberry Cheesecake Cookies instead! With simple ingredients and amazing results, this Subway cookie recipe is a must try.