These Strawberry Cupcakes are perfectly sweet, pink and bursting with strawberry flavor. Fluffy strawberry flavored cupcakes are topped with strawberry buttercream for a delicious single-serving dessert!
We've been on a strawberry kick lately. From Strawberry Cheesecake to Strawberry Eclair Cake, there are so many delicious ways to bake with strawberries!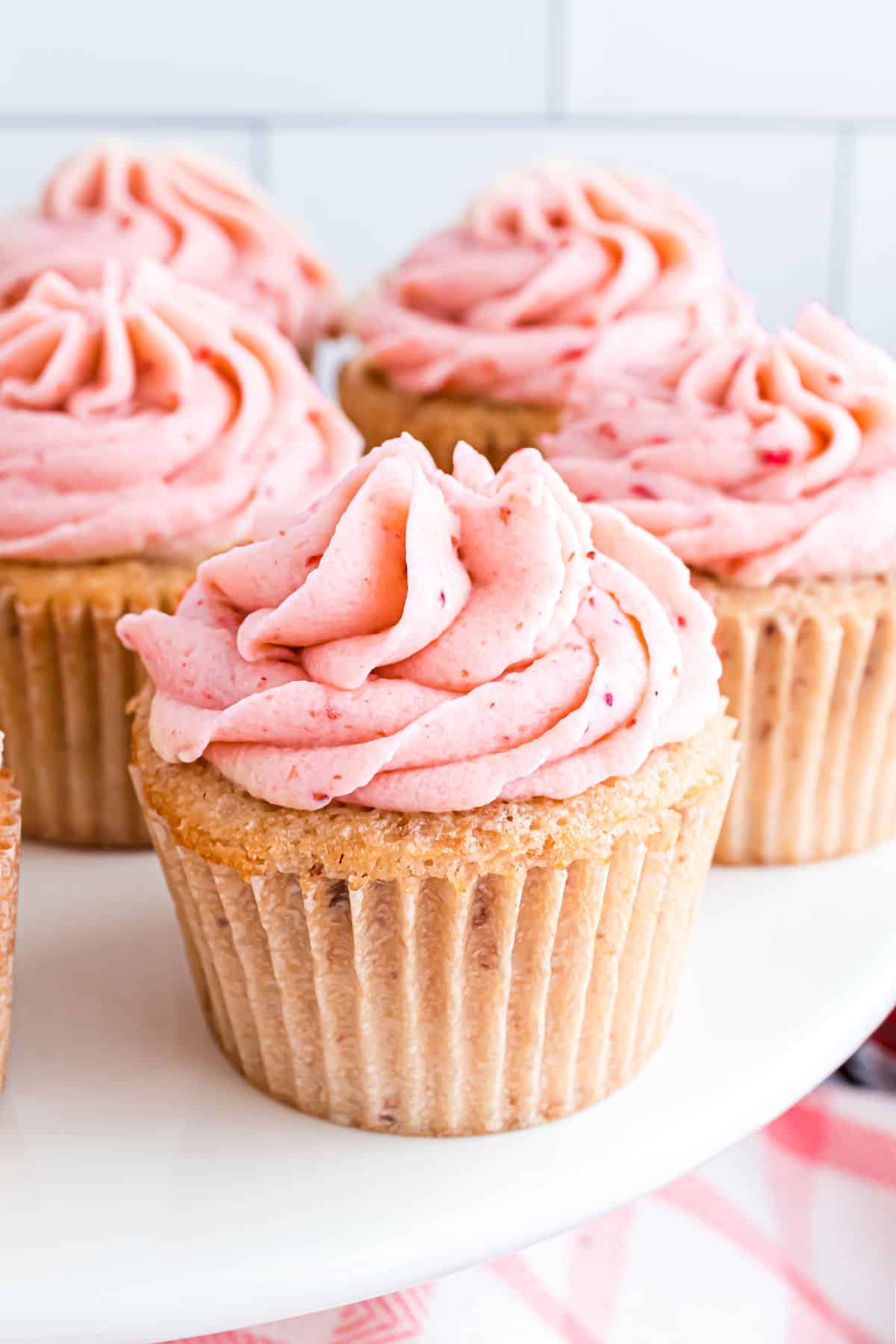 Why These Cupcakes Are Best
Making cupcakes with real strawberry flavor is a challenge for most bakers. If you use fresh berries, you end up with dense cupcakes and a runny frosting.
Then there are the store bought strawberry cupcake mixes that look pretty but lack the luster of real strawberry flavor. Not to mention the food dyes they rely on for the pink color!
Once I figured out how to make the BEST Strawberry Layer Cake, it was easy to turn it into the BEST strawberry cupcakes.
Freeze dried strawberries give these cupcakes the juicy flavor of fresh berries without messing with amount of liquid in the batter.
Both the cupcakes and the strawberry frosting have a gorgeous pink color without a single drop of artificial food dye.
Make them all year long! These strawberry cupcakes are the perfect summertime treat but you can make them year round, not just during strawberry season.
Try our favorite chocolate cupcakes too! Or top our strawberry cupcakes with sour cream frosting. A perfect combo.
Ingredient Notes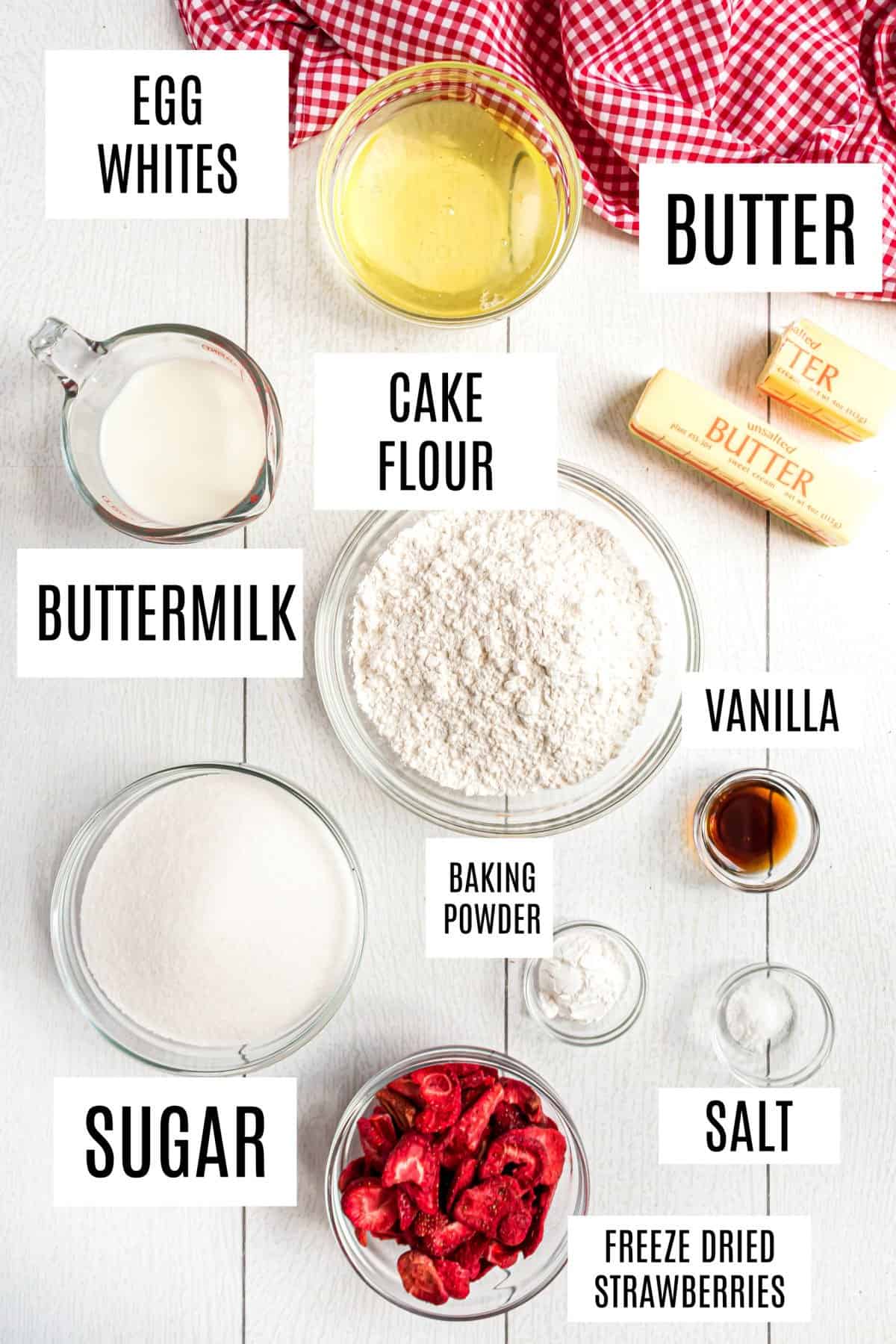 A few key ingredients make all the difference when it comes to baking cupcakes with the ideal texture, flavor and appearance.
Tips and Tricks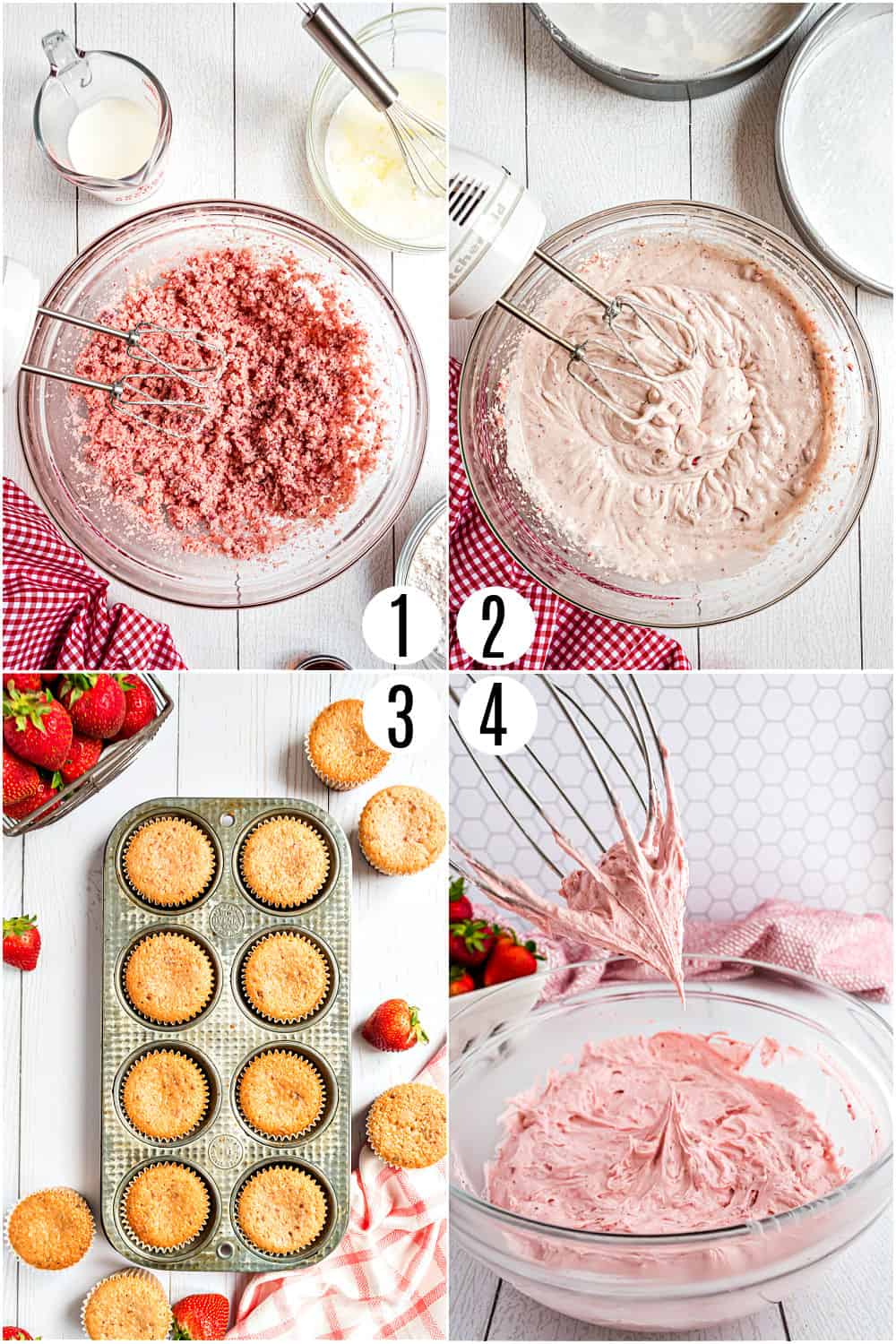 Making strawberry crumbs Place your dried strawberries in a food processor. Pulse several times until they turn into crumbs.
Do not overfill cupcake tins. I fill each well about half full. This creates cupcakes with flat tops, perfect for holding crosting!
Frosting variations. The strawberry buttercream on these cupcakes is a must try. They would taste amazing topped with chocolat frosting or vanilla frosting too.
Serving suggestions. Add a fresh strawberry slice to the top of your cupcake for a beautiful finishing touch.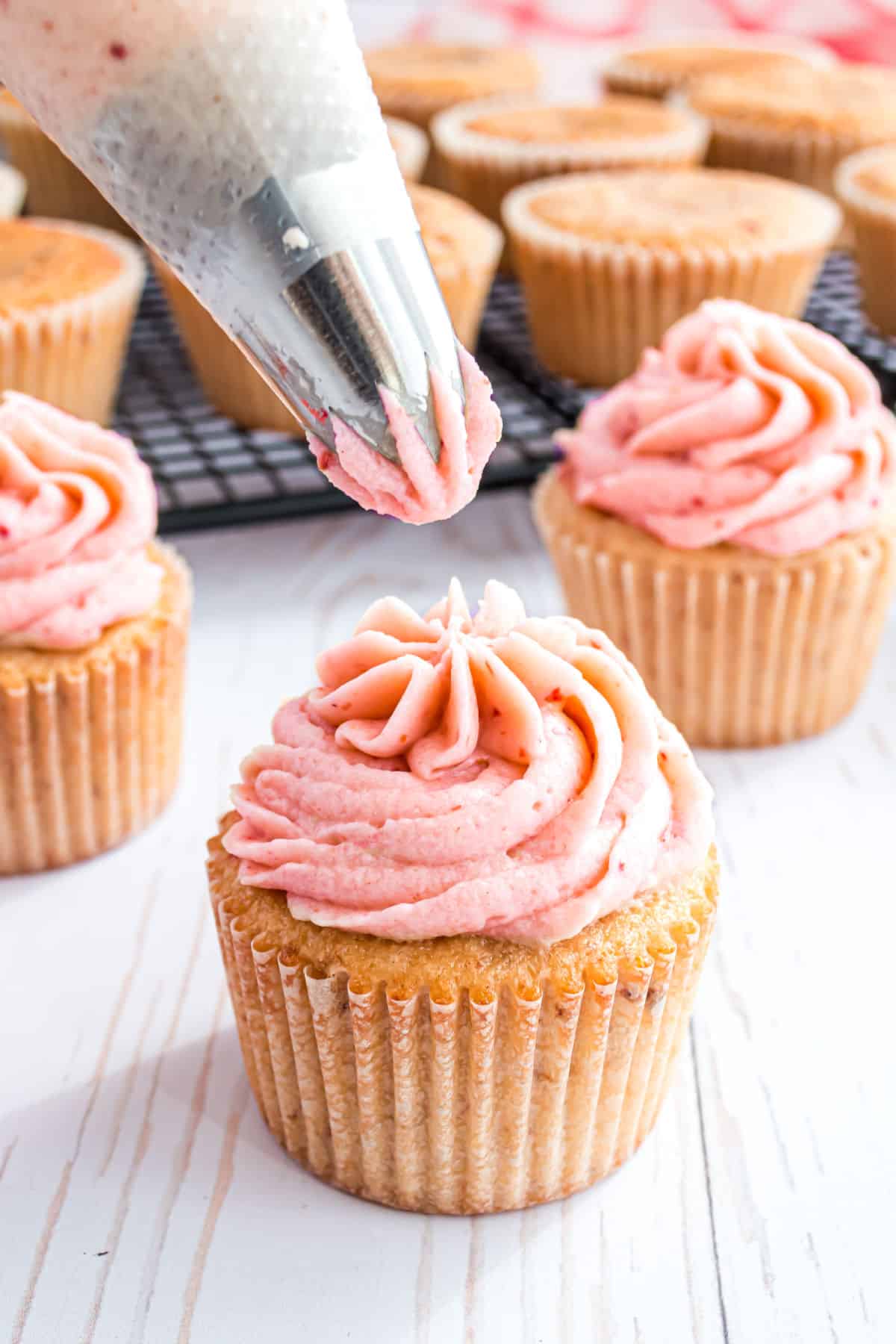 Recipe FAQs
Can I make these cupcakes with fresh strawberries instead?
No, you cannot use fresh or frozen berries with this recipe. Both contain a lot of water which would ruin the consistency and flavor of the cupcakes.
What can I substitute for cake flour?
You can make your own cake flour with all purpose flour and cornstarch. See my guide on how to make cake flour and my tips and tricks.
How do I store cupcakes with strawberry frosting?
Cupcakes can be stored in an airtight container at room temperature. Enjoy within 3 days for best taste.
Can I freeze cupcakes?
Yes, these cupcakes can be frozen before adding the frosting. Store them in freezer bags and keep frozen for up to 2 months.
Let the frozen cupcakes thaw then add frosting fresh before serving.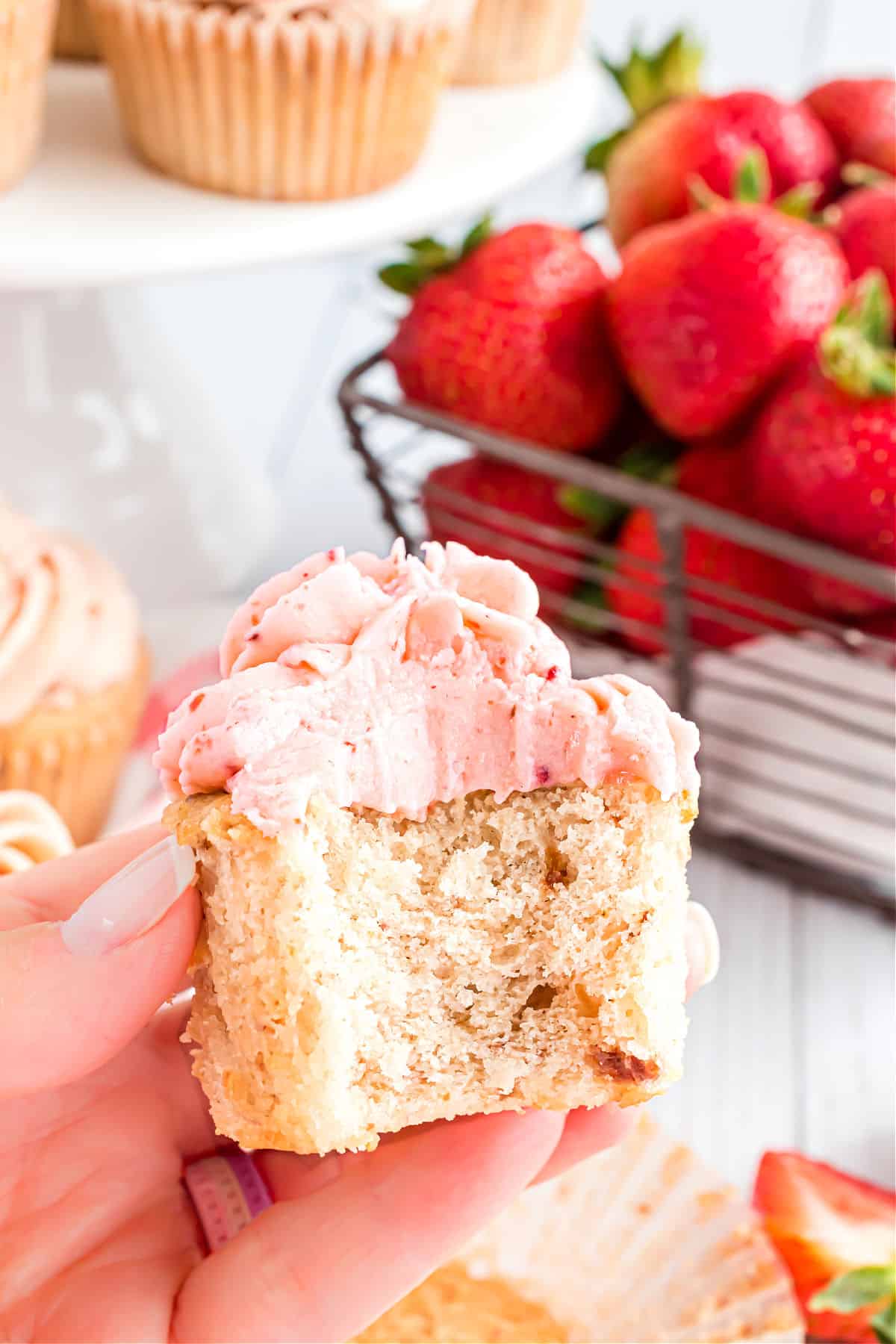 More Easy Dessert Recipes
Strawberry Cupcakes topped with strawberry buttercream are moist, light and bursting with fresh-from-the-vine summer flavor!