This Strawberry Chocolate Chip Cookies recipe offers the perfect marriage of textures. They're delicious and chewy with a soft center and crispy caramelized edges. Better still, they'll be in and out of the oven in less than 30 minutes.
We're big fans of strawberry desserts. From our classic strawberry cake to easy no bake strawberry lasagna, we have something for everyone to love.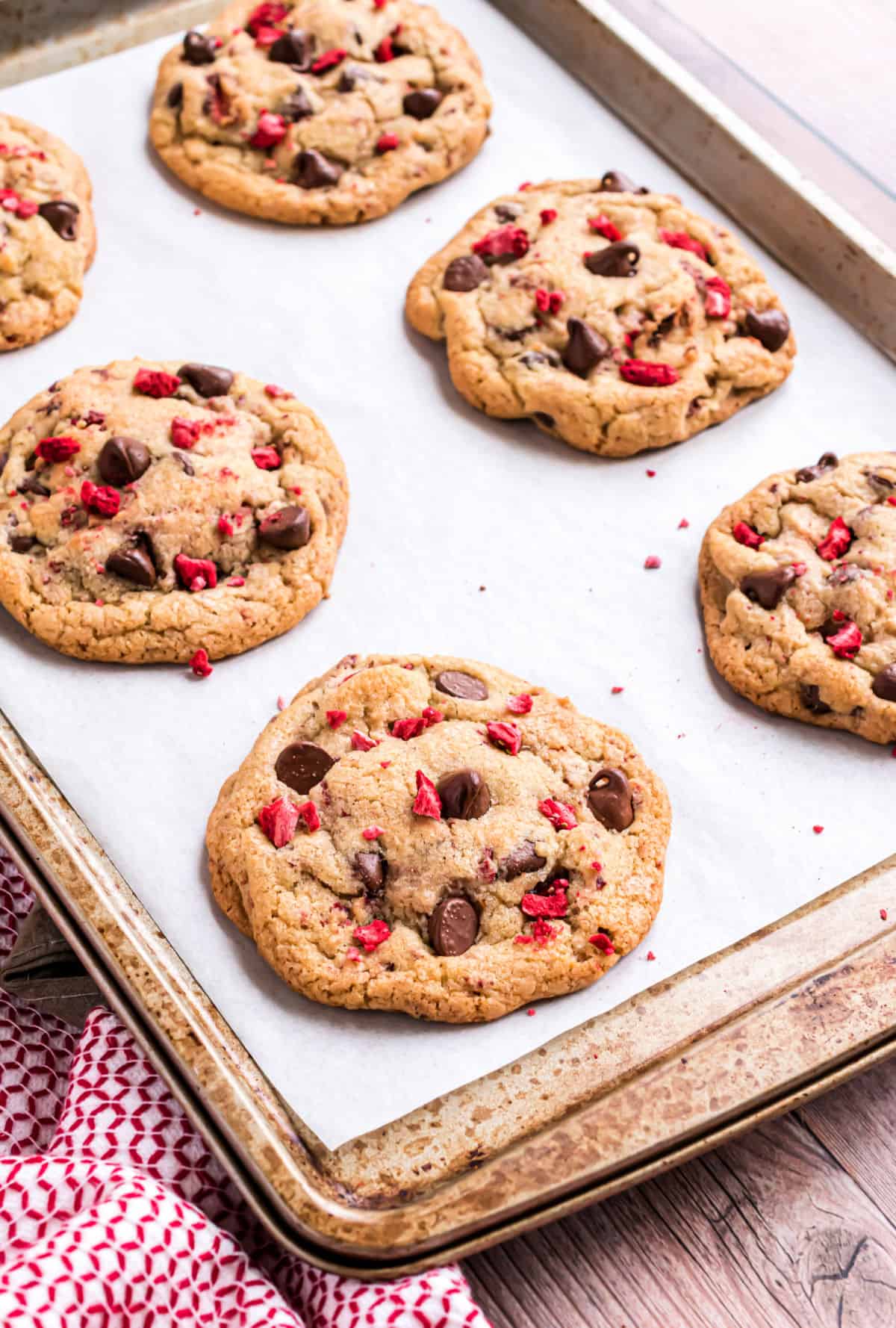 Why this Cookie Recipe is Best
Chocolate and strawberry is a classic combination for love and even Valentine's day.
When I created this recipe, my goal was to capture the sweetness of a traditional chocolate covered strawberry and wrap it in richer and more satisfying package.
What I didn't realize is that they would look (and taste) this good!
Here are a few reasons why this recipe works out so well:
Proven reviews. We used our tried and true chocolate chip cookie recipe as a base, which has been in our family for over 20 years!
They're fast, and without a mess. Anytime you're working with chocolate and berries, it can easily become a mess. But not with this recipe! The entire prep process happens in one-bowl. You'll have it in-and-out of the oven, and cleaned up in under 30 minutes.
Soft and chewy. When they're still warm after baking, they're luxuriously gooey with small puddles of melted chocolate chips with lightly caramelized edges. As they cool down, they become chewy and fudgy.
Perfectly balanced flavor. The sweetness of the chocolate chips is well-balanced by the slight tartness of the strawberries. It will hit the spot without overpowering your palate.
Chocolate chip cookies with strawberries are going to be your next bake sale success story! Some recipes use a strawberry cake mix, but we LOVE this version instead.
Want to use a cake mix? Try one of our cake mix cookies next!
Ingredient Notes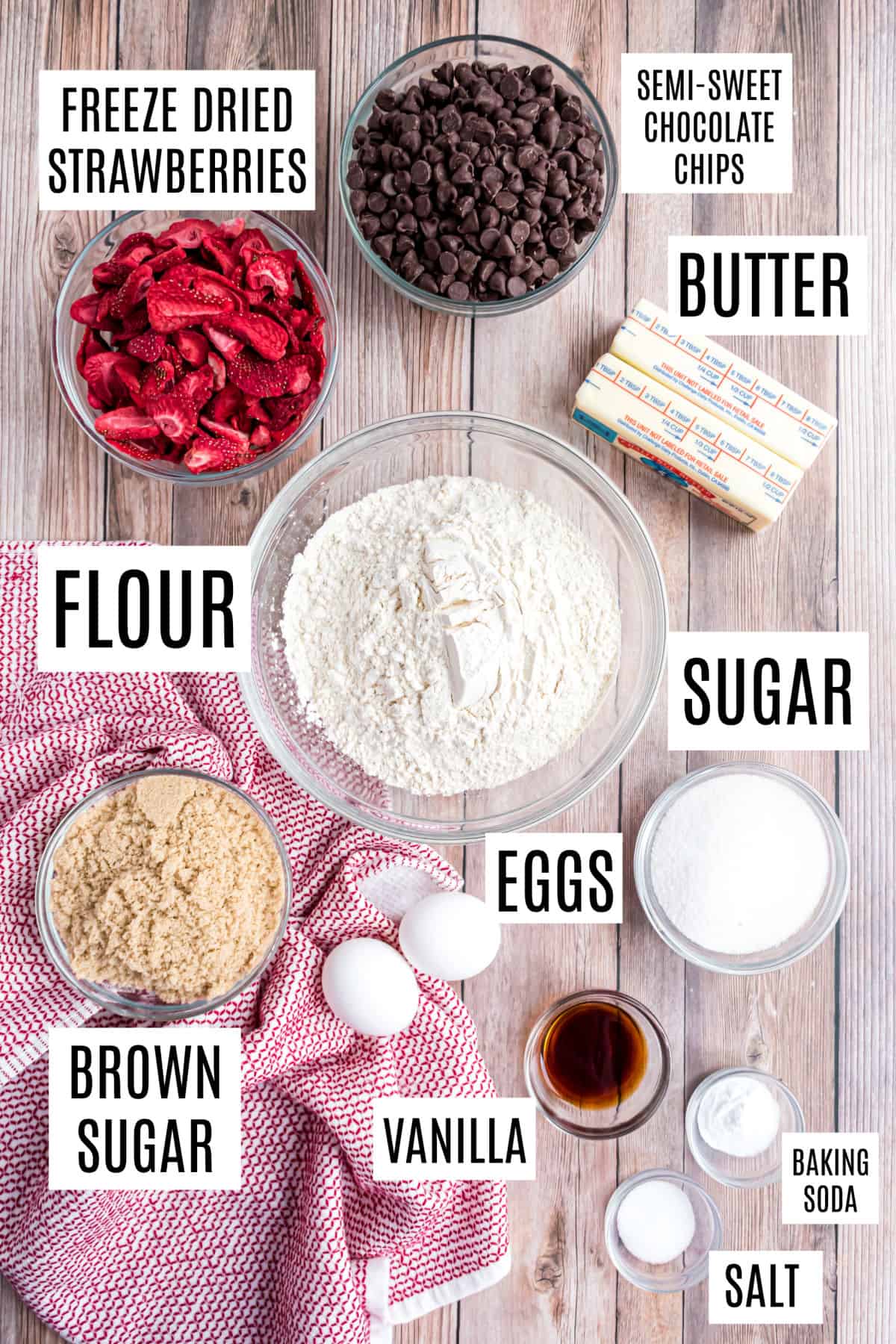 See the recipe card for full information on ingredients and quantities.
Unsalted Butter – This recipe calls for softened, room-temperature unsalted butter. If you're using salted butter, skip the kosher salt in the recipe. Forget to soften the butter? Use our tips on how to soften butter quickly.
Light Brown Sugar gives the cookies a nice caramel color and warm flavor.
Granulated Sugar – It gives the cookies crisp edges and helps them hold their shape.
Vanilla Extract – Use pure vanilla for the best flavor. Our homemade vanilla extract is perfect!
Flour – All-purpose flour works best for this recipe and provides cookie consistency.
Baking Soda – This helps the cookies get a little rise, so they're fluffy and soft.
Semi-sweet Chocolate Chips – Using good quality chocolate is crucial as it can make or break the flavor of the cookies.
Freeze-Dried Strawberries – Can be found at most large grocery stores, as well as Target. Or, you can order on Amazon HERE. Buy extra so you can make our strawberry brownies too!
Easy Instructions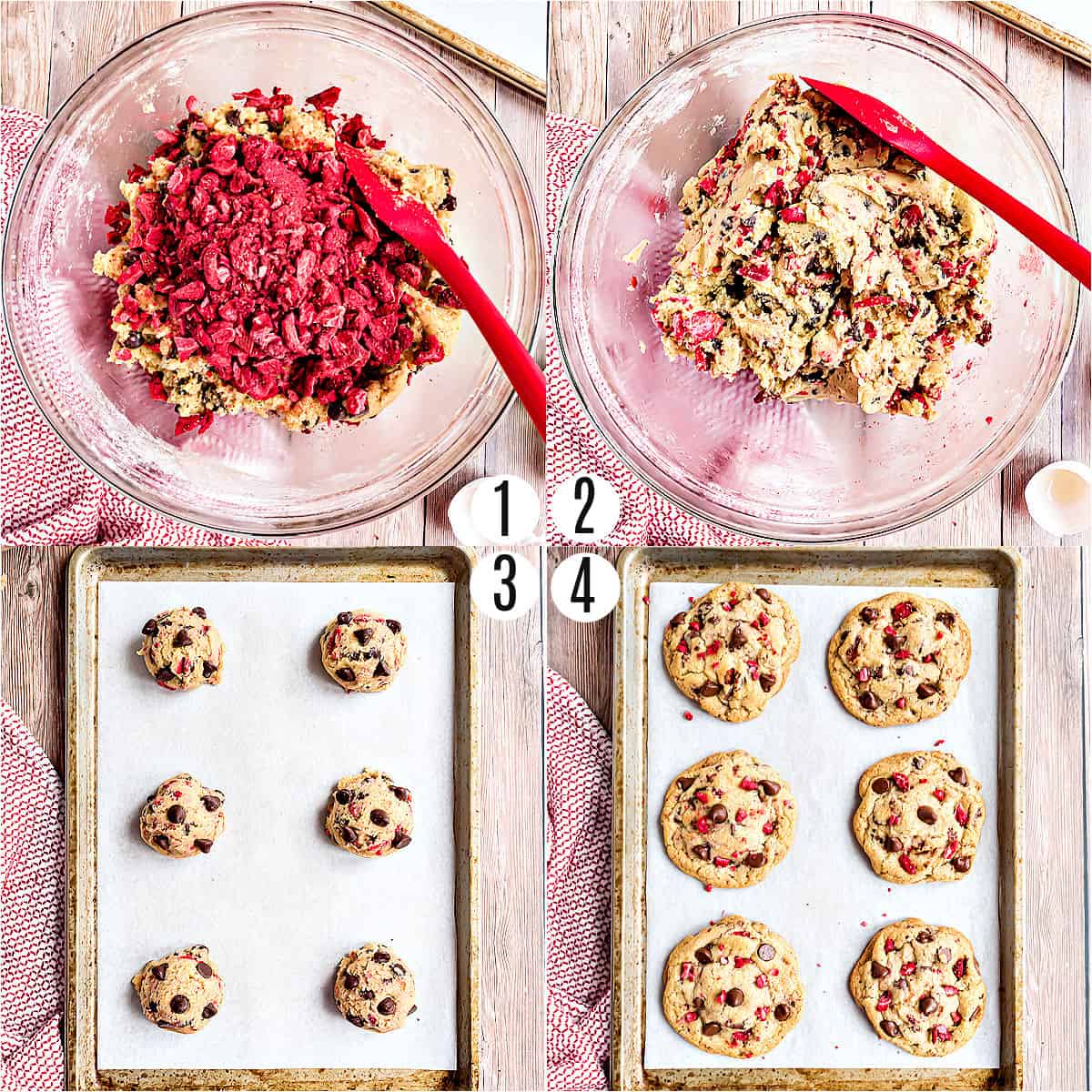 Prep the cookie dough. Cream the butter and sugar in a large mixing bowl. Then add the eggs and vanilla, followed by all the dry ingredients. Mix just until combined.
Fold in the chocolate chips and strawberries. Fold in the chocolate chips. Lightly press and break the strawberries in the packet. Then fold them into the batter.
Scoop the cookies. Scoop and portion the dough into balls and place on parchment-lined baking sheets.
Bake them. Bake at 350°F for 11-13 minutes or until the outside of the cookies is lightly brown.
PRO TIP: Save a few freeze dried strawberries to crumble on the top of the warm cookies. This can really boost the strawberry flavor!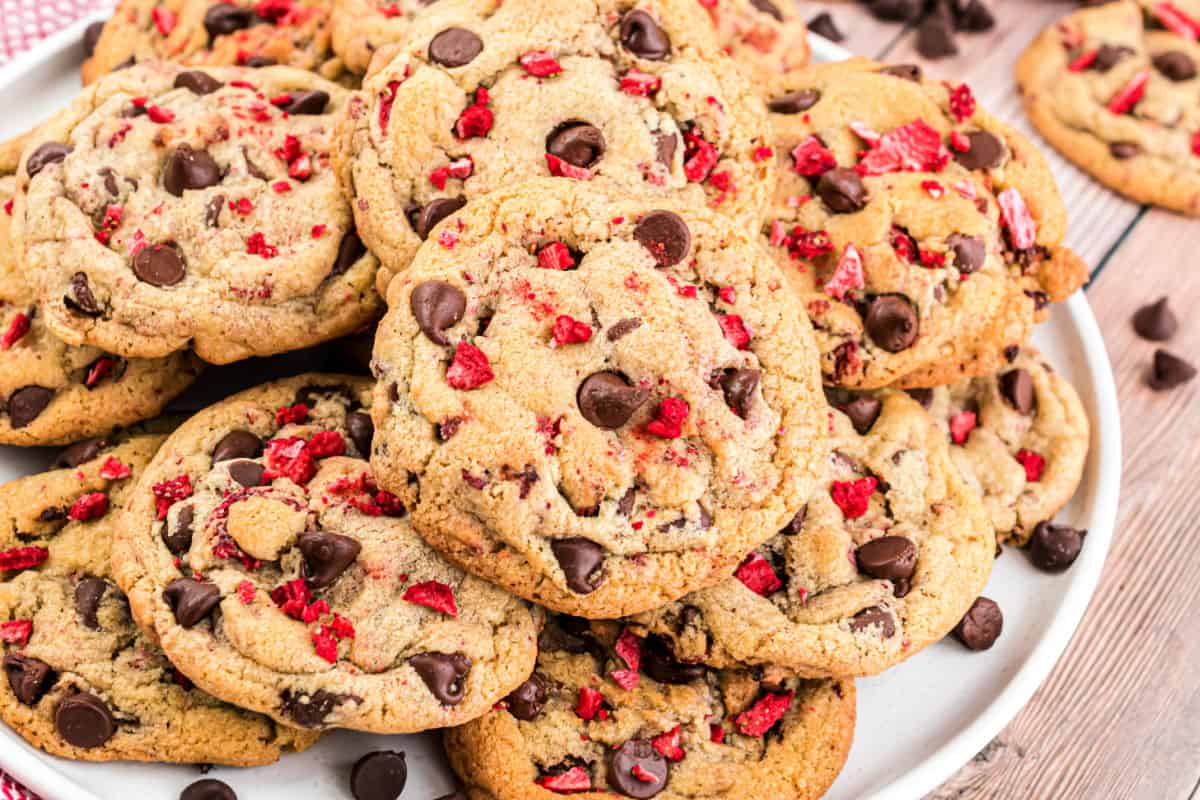 Tips and Tricks
Chill the cookie dough. Though it is optional, scooping the cookie dough and letting it chill in the refrigerator allows a lot of flavor development. The flour gets time to hydrate, and the butter tends to firm up. As a result, the cookies spread evenly while baking and turn out better in taste and texture.
Don't overmix the dough. Overmixing can lead to flat cookies that are extra dense because of gluten development. Mix the dough only till you stop seeing any spots of dry flour.
Place the cookie dough 2-3 inches apart. Leave a gap of approximately 3 inches between the scoops of cookie dough. This gives them room to spread while baking. Or else the dough will come out of the oven as one giant sloppy cookie.
Let them cool on the cookie sheet for a few minutes. The cookies will be flimsy and soft when they come out of the oven. Cooling them on the cookie sheet will let them hold their shape while transferring them to a wire rack.
Cookie sandwiches. Make a batch of our homemade vanilla ice cream to put between the two cookies for a delicious treat. Our no churn ice cream would be great too!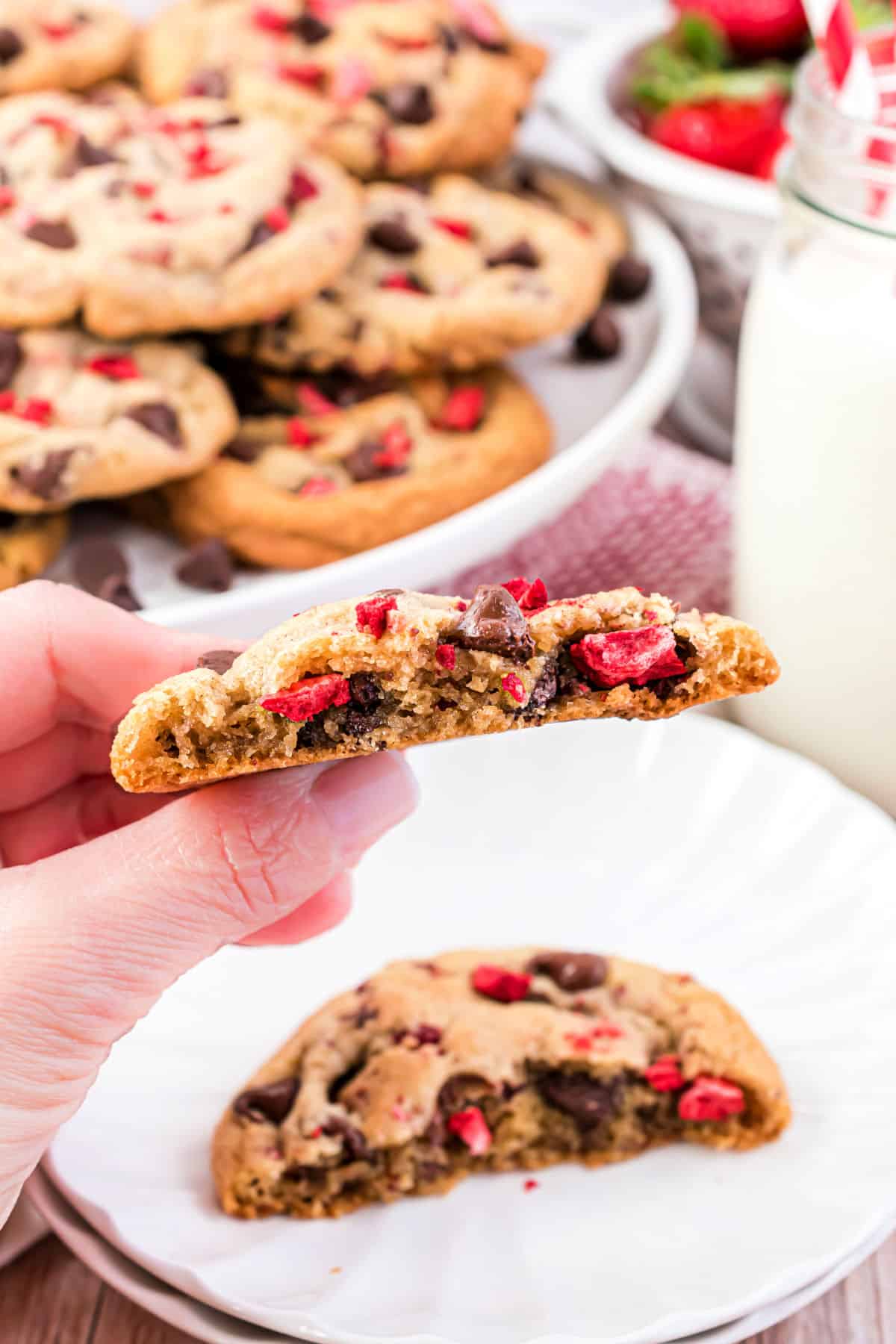 Recipe FAQs
How do I store these Strawberry Chocolate Chip Cookies?
Store these cookies in an air-tight container at room temperature for up to 5 days. Pro Tip: Add a slice of white bread to the container to keep your cookies soft and fresh for longer.
Can I make these cookies gluten-free?
Absolutely. Replace the all-purpose flour with plain gluten-free flour. Make sure that your gluten-free flour contains xanthan gum. If it doesn't, add 1 teaspoon of xanthan gum to it, as this xanthan gum makes the gluten-free dough stretchy and sticky.
Can I freeze the cookie dough for storage?
Yes. If you don't want to bake the cookie dough immediately, you can store them in the freezer for about 3 months. Use our guide on how to freeze cookie dough.
Do I have to use freeze-dried strawberries?
Freeze-dried strawberries are a great way to add lots of concentrated flavor to anything you bake without adding excess moisture. Whereas fresh strawberries tend to add lots of moisture which affects the flavor and texture of the recipe.
More Easy Desserts
Love this recipe? Please leave a 5-star 🌟🌟🌟🌟🌟rating in the recipe card below & a review in the comments section below!