Shortbread Cookies
Using the basic shortbread recipe (which is at the end of this post), bake the cookies, cool. Then make:
SHORTBREAD COOKIE RECIPE:
2 sticks butter, softened
½ cup powdered sugar
2 cup flour
¼ tsp salt
1½ tsp vanilla
Cream butter and sugar. Add flour, salt and vanilla. It becomes very crumbly. Use your hands to finish mixing it until it becomes a ball. Wrap in saran wrap, roll into a log shape and refrigerate for about 30 minutes (or longer). Slice very thin, about ¼ inch (or less). Bake in a 350 degree oven for 10-13 minutes until just turning brown on edges. Remove and cool. Decorate or eat just the way they are! Enjoy!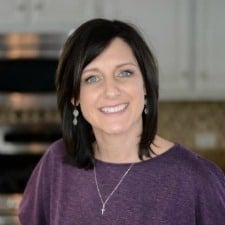 Aimee is a dessert lover (specifically rice krispie treats), workout enthusiast, self-taught foodie, and recipe creator. Her recipes have been featured in over 15 magazines, and her passion is to share her love of cooking with the everyday home cook! Learn more about Aimee.