The classic cookie that's guaranteed to put a smile on your face! These Shortbread Cookies show that the best cookies are sometimes the simplest, melt in your mouth and delicious!
Simple Twix Cookies also start with a shortbread cookie crust. So perfect and delicious. These Cake Mix Cookies are soft and chewy, and a reader favorite!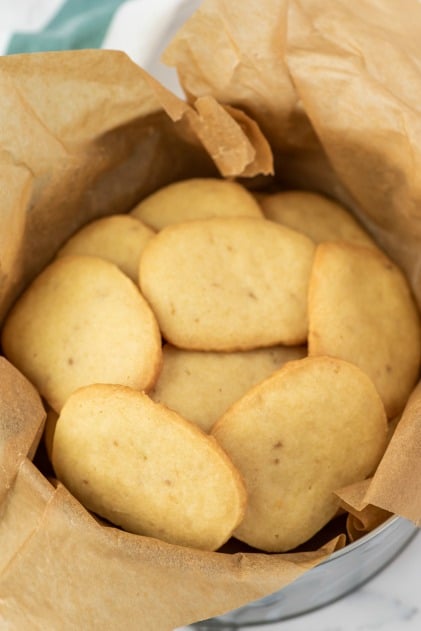 Shortbread Cookies
Enjoyed plain or treated as a canvas for dipping in all kinds of frostings, candies and chocolate, Shortbread Cookies need to be in your baking repertoire.
The best shortbread cookies are extremely buttery with a light crunch.
They're typically made with a much higher ratio of butter and sugar to flour than other types of butter cookies.
Best of all? They're very easy to make. It only takes FIVE ingredients and enough time to let the dough chill in the fridge.
I'm sure every family with generations of home bakers has their own idea of the BEST shortbread cookie recipe.
The recipe I'm sharing today is my very favorite version that I've been making for years!!
Instead of granulated white sugar like other butter cookie recipes, this one uses powdered sugar. That gives the crumb of these cookies the perfect texture–crisp bite that begins to melt in your mouth as you eat it.
It's crumbly, sweet, buttery perfection.
Since I first posted this recipe years ago, I've come back to these shortbread cookies over and over.
Dozens of variations on it have appeared on this site over the years and I adore them all!
From Dark Chocolate Peanut Butter Shortbread Cookies to White Chocolate Cranberry Shortbread Sticks, I've never met a shortbread I didn't like.
Holiday alert: Make a batch of these shortbread bites with festive sprinkles to add to all your cookie plates!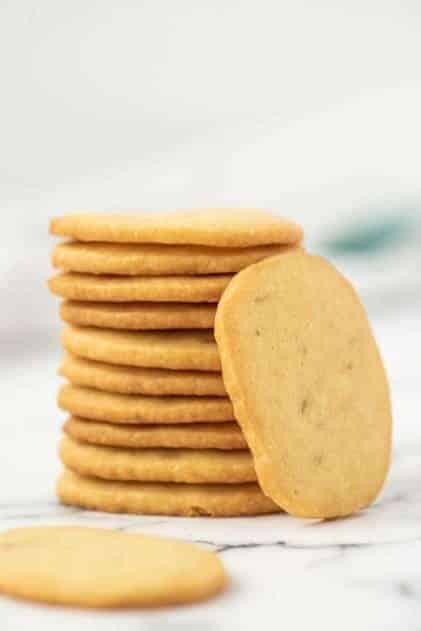 Ingredient Notes
Here's all you need to make the very best shortbread cookies recipe:
Butter
Powdered Sugar
Flour
Really. That's it. Shortbread isn't intended to rise or puff when baking so you don't need any baking soda or baking powder like other kinds of Christmas cookies.
You also don't need any eggs meaning it's a great naturally egg-free cookie choice for those with egg allergies.
How to Make Shortbread Cookies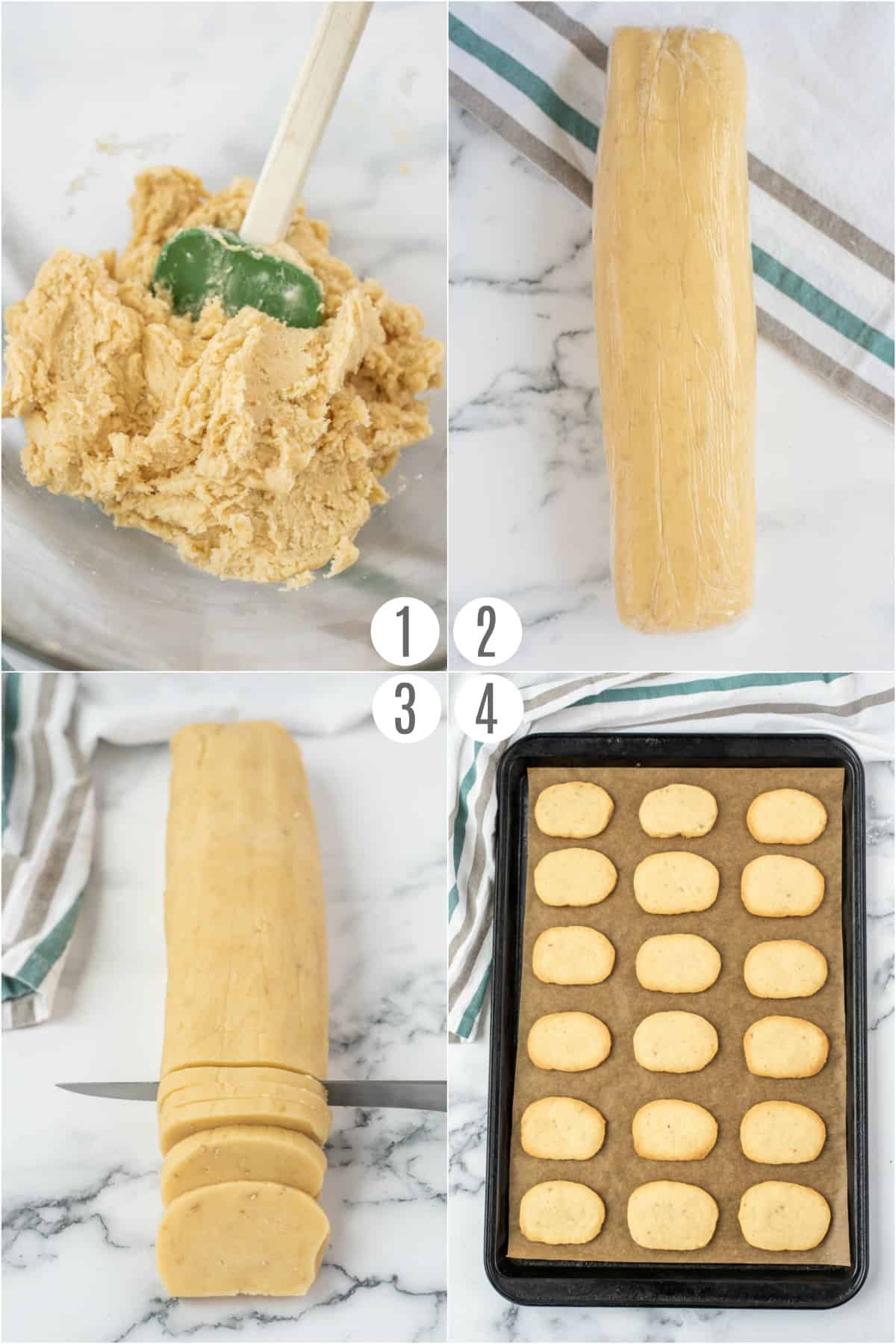 Make the cookie dough.
Shape the dough. Mix with your hands until you can form the dough into a ball. Wrap the dough in saran wrap and mold it into a log shape.
Chill. Refrigerate the dough for at least 30 minutes but preferably about 2 hours. I've even kept it in the fridge overnight.
Bake. Slice the dough very thin, about ¼ inch (or less). Bake in a 350 degree oven for 10-13 minutes until just turning brown on edges. Remove and cool.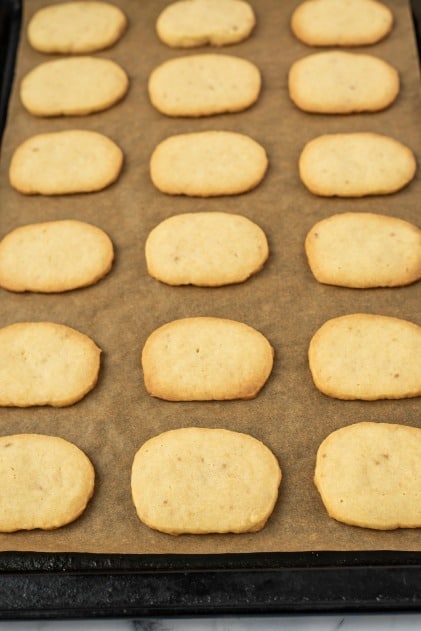 Tips and Tricks
Use soft butter. Cold butter will be hard to work into the dough and the cookie texture will be off. Did you forget to put your butter out at room temperature in advance? You can soften it with a few seconds in the microwave at 50% power!
This recipe makes cookies that are lightly crispy and crumbly. That means you're going to take them out of the oven before they're browned. If you want a crunchier cookie, feel free to leave the cookies in the oven for another minute or two. Just keep a close eye on them! They can burn quickly.
Don't forget to chill! This dough needs ample time in the refrigerator to set. This is a requirement for achieving the crumbly texture and to keep the dough together. Set aside at least 30 minutes for this step, preferably an hour or two.
Let them cool completely. Before you store the cookies in a container or ziploc bag, be sure they've cooled completely. Put them in while they're still warm and the steam will soften the cookies quite a bit.
Dulce de Leche. Sandwich two cookies with a dulce de leche filling like we did with these Alfajores. Delish!
Because shortbread dough is high in fat content it holds up wonderfully in the freezer! You can prep the dough in advance and pop the plastic-wrapped dough in the freezer for up to 2 months.
Then, when you're in the mood for shortbread cookies just thaw, slice and bake!
The baked cookies also freeze beautifully so don't be afraid to bake more than you think you can eat! It never hurts to have a freezer stocked full of cookies, right?
Nibble on these cookies with a cup of coffee, give a box of them to a friend in need of cheering or hand them out to the kids as an after school treat. You're going to love Shortbread Cookies!