Buttery shortbread in bite-sized pieces make a delicious treat for the holidays! This five ingredient recipe creates perfect Christmas Shortbread Bites–just add colorful sprinkles and start celebrating.
For more festive cookies, don't forget to bake some easy Cut Out Sugar Cookies. They hold their shape and taste amazing! Or whip up a batch of delicious Butter cookies. Melt in your mouth and festive too!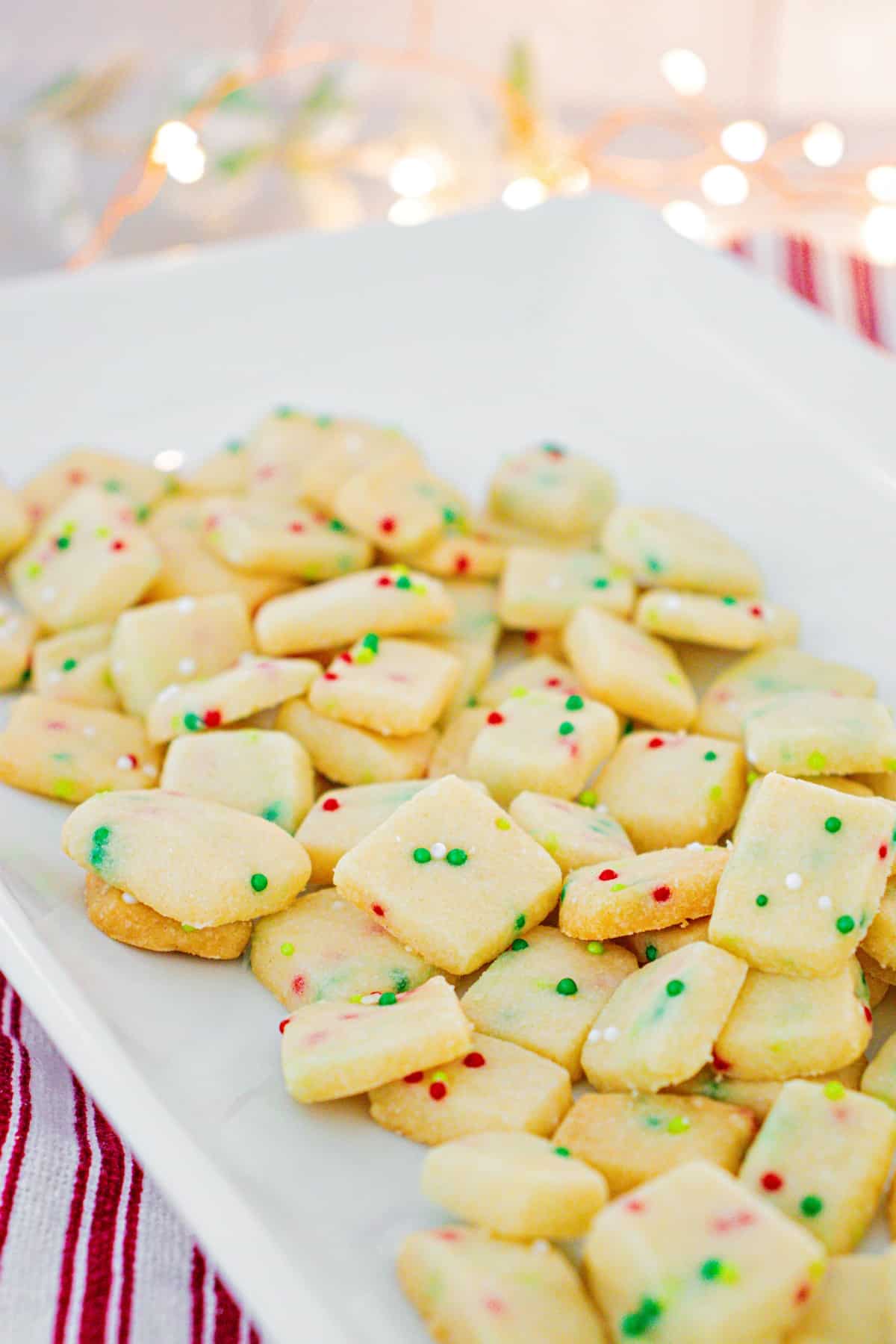 Holiday Shortbread Bites
I've written before about my affinity for shortbread cookies so it should come as no surprise that I always include at least one kind of shortbread on my cookie trays at Christmas.
There's something so satisfying about biting into a piece of shortbread–the way the crispy crumbs almost melt in your mouth, the light butter flavor and all the different additions you can mix in like.
I have even made easy whipped shortbread cookies too.
I made some Apple Shortbread Bars for fall and now have the perfect shortbread treat for Christmas: Shortbread Bites!
I folded some sprinkles into a simple shortbread dough, like I did when I made these Funfetti Shortbread Cookie Sandwiches. Then, I cut the dough into tiny squares and covered the cookies with even more nonpareil sprinkles in festive holiday colors.
They're just the right size for popping in your mouth!
When you make your cookies into bite sized pieces you can eat MORE of them, too. And who doesn't want more cookies?
One batch goes a long way with these little bites. So they are perfect for adding a handful for a pop of color onto all your cookie trays or tins!
Ingredient Notes
Butter – I use unsalted butter as I do with most of my baking. If you're using salted butter, skip the extra salt in the recipe.
Almond extract – Substitute with Vanilla Extract if preferred. Increase the amount of extract to 1 1/4 tsp if you are baking these in an 8 x 8 square pan.
All purpose flour – Make sure to carefully measure your flour for best results!
Easy Instructions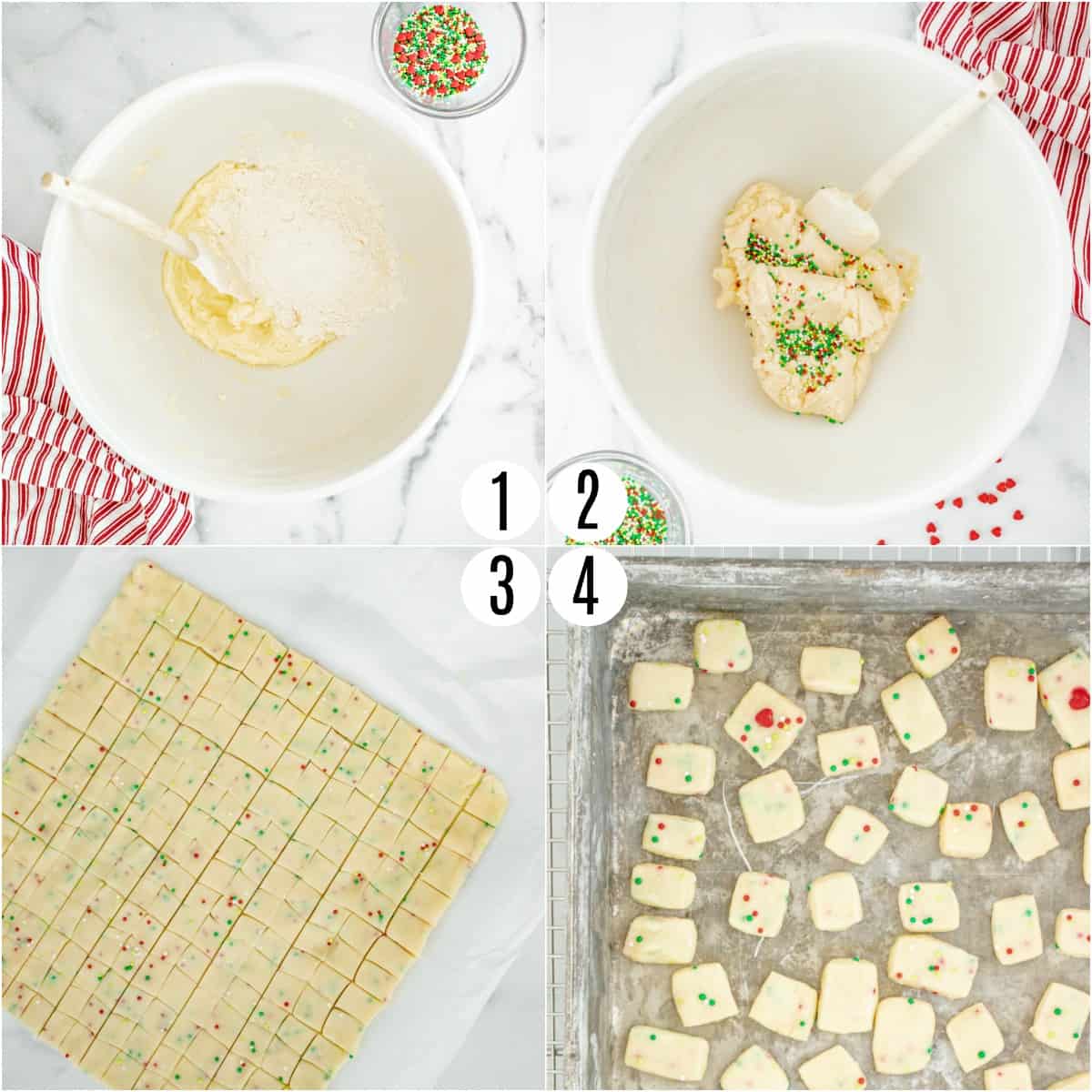 Start by beating the butter and powdered sugar together with the almond extract. You can use the paddle attachment on your stand mixer to make this quick and easy.
Next, add the flour and kosher salt a little at a time and gently mix it in using a wooden spoon (don't use the mixer for this step!). Continue mixing it in until it forms a dough. This can take a little while–be patient.
Stir in the sprinkles and knead the shortbread dough to form a ball. Press the dough into a pan and chill for 20 minutes. Cut the dough into half inch squares and transfer to a cookie sheet to bake, separating the pieces slightly.
Bake for about 10-12 minutes and take the cookies out of the oven when the edges start to look light brown. Let the short bread bites cool completely before enjoying.
Tips & Tricks
Short on time? You can skip the chilling step and cut the dough into squares right away. The chilled dough is much easier to cut so I recommend it if you have the few minutes to spare.
Add more sprinkles! Before baking the cookies, I sprinkled an extra couple of spoonfuls of nonpareils on top of the dough. It adds even more fun color!
Scoop and level your flour. Measuring your flour this way ensures accuracy which leads to more consistent results in your baking. Use a tablespoon to scoop flour into your measuring cup. Once full, use a butter knife to level off the top.
Change up the colors. This recipe is easy to adapt for any occasion based on what kind of sprinkles you used. Red and green are classic for Christmas. Make some with blue for Hanukkah, red and pink for Valentine's Day, Green for St. Patrick's Day . . . you get the idea!
Add Chocolate. Use my chocolate chip shortbread recipe to make these tasty little bite size cookies!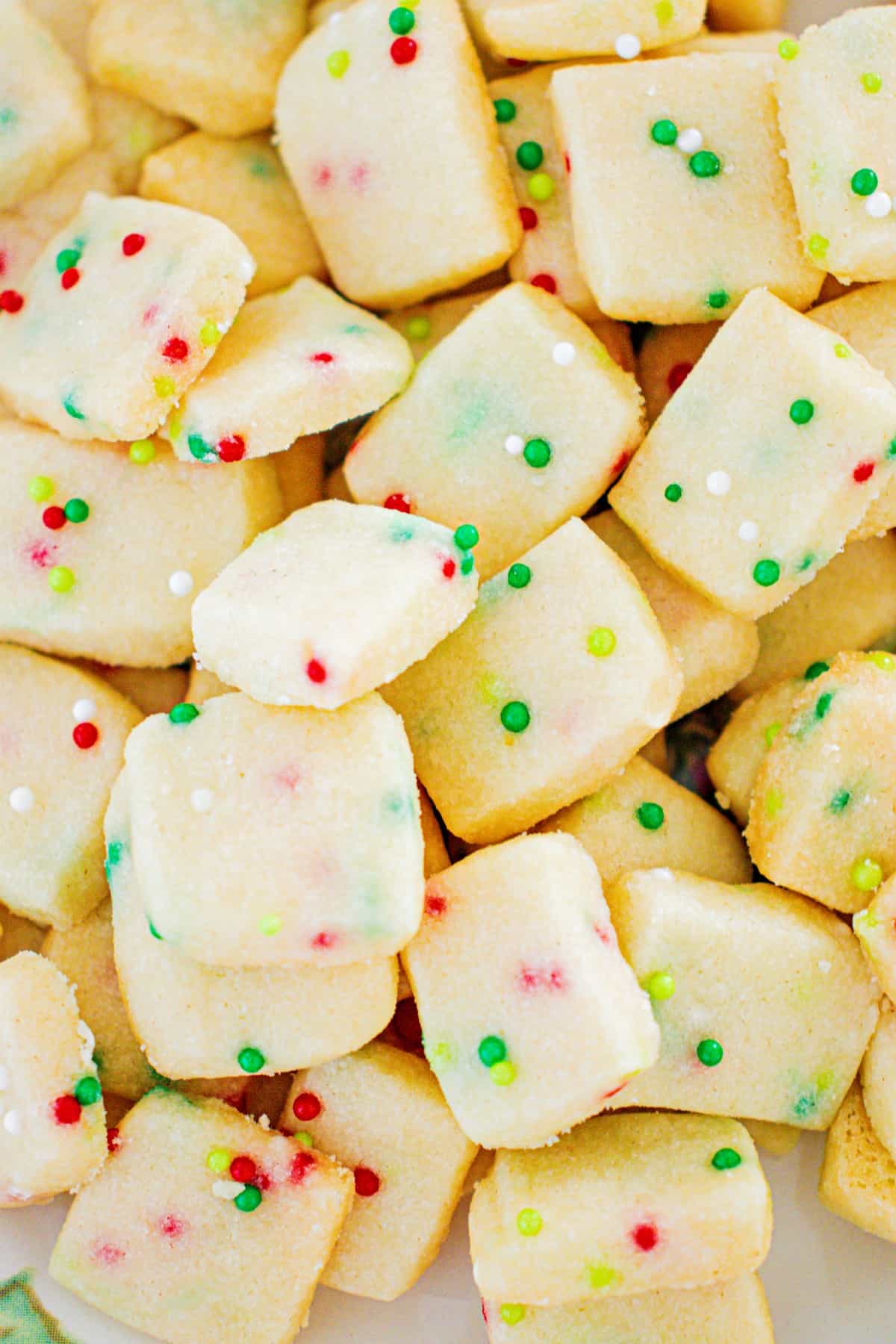 Recipe FAQs
What kind of pan do you need to make these?
To shape the shortbread dough while chilling, you can use either a 9 x 13 pan or an 8 x 8 pan. After slicing into squares, bake the cookie bites on any standard cookie sheet.
What kind of sprinkles do you need for this recipe?
Use nonpareil sprinkles (which are round). They hold their shape when they bake and won't "bleed" into the dough. Feel free to mix up the colors!
How do you store the shortbread bites?
I keep mine in an airtight container at room temperature for up to 5 days. You can also freeze these! If freezing, make sure to put a sheet of wax paper between layers of cookies to keep them from freezing together.
More Holiday Cookie Recipes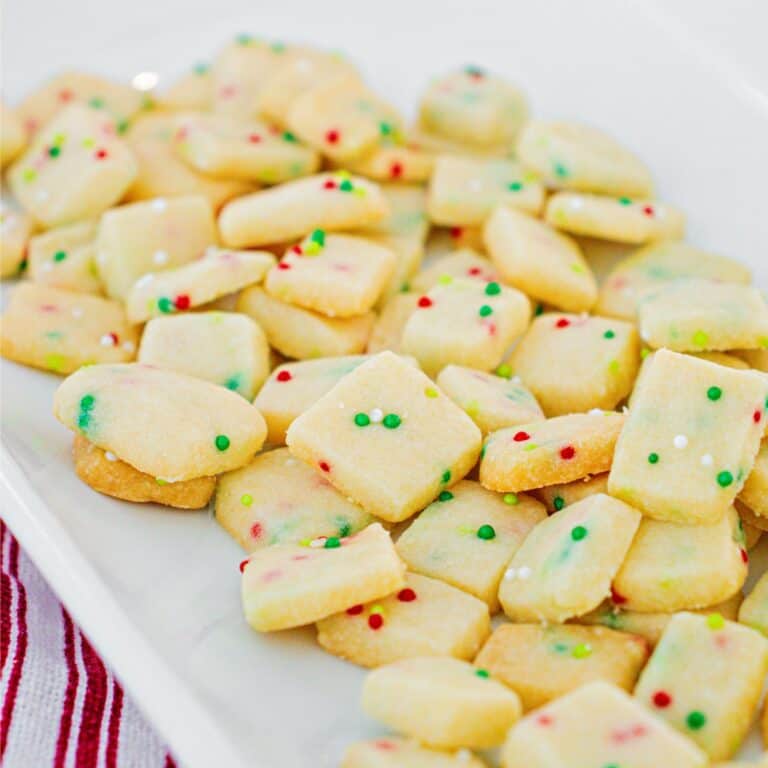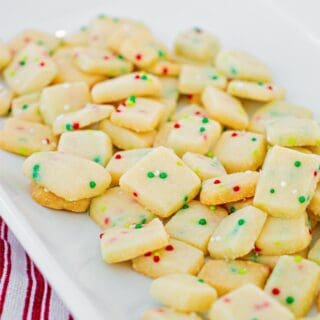 Christmas Shortbread Bites
Buttery shortbread in bite-sized pieces make a delicious treat for the holidays! This five ingredient recipe creates perfect Christmas Shortbread Bites–just add colorful sprinkles and start celebrating.
Ingredients
½

cup

unsalted butter

softened

¼

cup

powdered sugar

¼

teaspoon

almond extract

1

cup

all-purpose flour​

¼

teaspoon

kosher salt

3

teaspoons

Christmas colored nonpareils

see list below with some sprinkles links
Instructions
Heat oven to 325°F. Line an 8 or 9-inch baking dish with plastic wrap or parchment paper. Set aside.

In a bowl of an electric mixer, combine butter, sugar, and almond extract. Beat until creamy, scraping the bowl often. Turn off the mixer.

Very gently add the all-purpose flour and salt a little at a time. Beat until it begins to form a dough. Be patient with this process.

Stir in your choice of sprinkles.

Knead the dough a few times until it forms into a ball. Place the dough evenly into the prepared pan. Gently press the dough throughout the pan. Place the pan in the refrigerator for 20 minutes.

Take the pan out of the refrigerator. Use plastic wrap or parchment paper to lift the dough from the pan. Place on a cutting board.

Cut the dough into 1/2-inch squares. Carefully place the squares onto ungreased cookie sheets, separating them slightly.

Bake for 10-12 minutes until slightly browned. Keep an eye on them though during the baking process. They brown quickly.
Notes
You can swap the almond extract for vanilla extract. If baking in an 8x8in baking pan, use 1/2 tsp vanilla extract.
Short on time? You can skip the refrigerator part if you want but I found it to be easier to cut when the bites are cold.
Using salted butter? Skip the extra salt in the recipe.
Add a few sprinkles on top of the dough before you bake for added color and fun.
This can also be made in a 9×13 baking dish, just double the ingredient amounts.
Nutrition
Serving:
1
mini cookies
,
Calories:
9
kcal
,
Carbohydrates:
1
g
,
Fat:
1
g
,
Cholesterol:
2
mg
,
Sodium:
2
mg
Looking for something different to make for the holidays this year? You'll love this simple recipe for Christmas Shortbread Bites. Add them to your holiday treat trays or just enjoy them at home as you gather with the family around your tree. Happy holidays!