Whipped Shortbread Cookies have a tender crumb and amazing buttery flavor! These melt-in-your-mouth cookies are delicious, easy and perfect for any occasion.
If you love whipped shortbread, give these Christmas Shortbread Bites a try too! Or try our soft and fluffy cheesecake cookies! Readers LOVE our delicious Ricotta Cookies!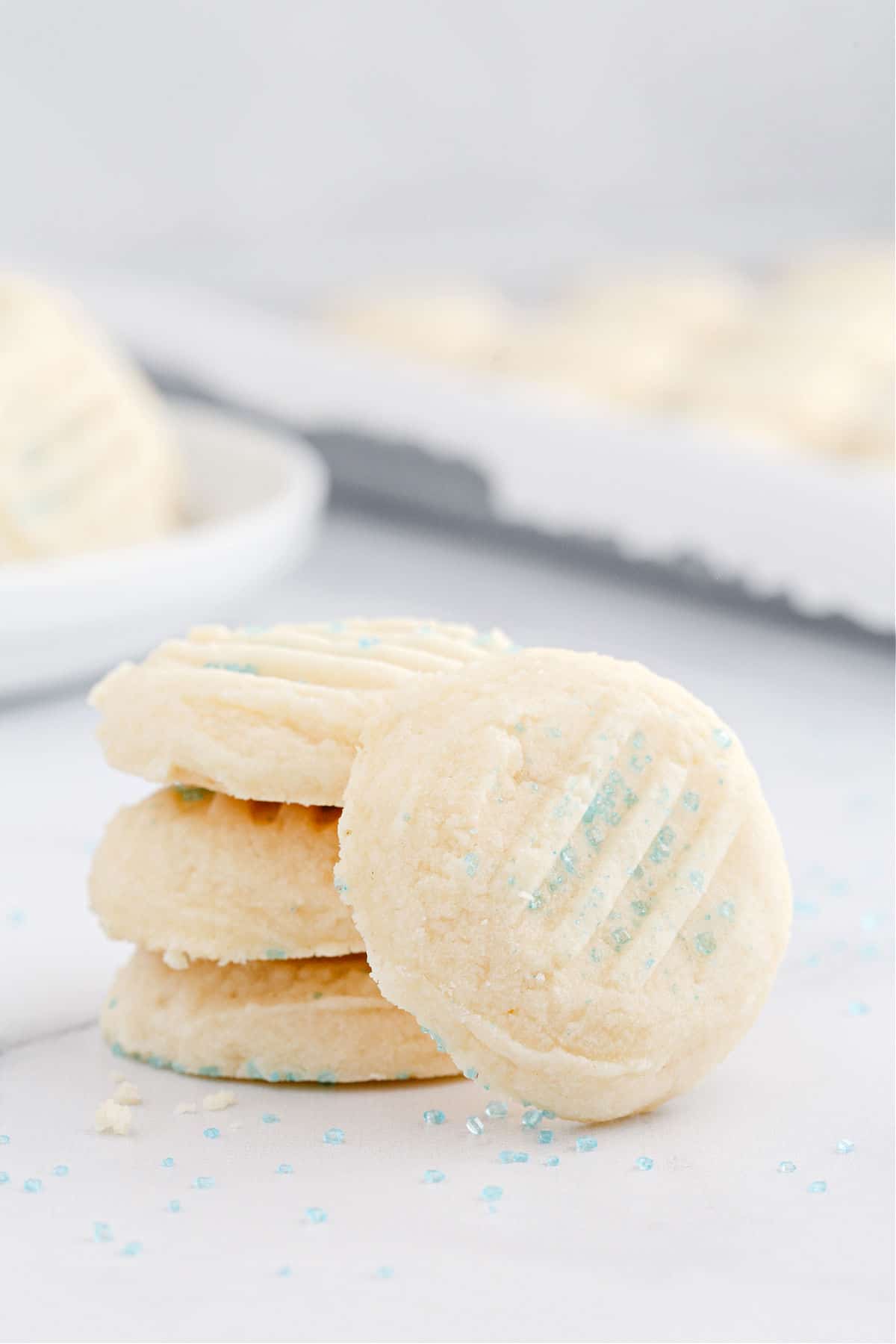 Why this Recipe is Best
If you're wondering, what is the difference between shortbread cookies and WHIPPED shortbread cookies…it's all about the blending of the sugar and butter.
The ingredients are basically the same, but for whipped shortbread cookies you'll beat the butter and sugar for longer, until more air is added into the batter, creating a light and fluffy texture.
Heads up: these are tough to resist once you try them. I could have eaten the whole batch by myself!
Soft and tender crumb. The cookies have a light and airy texture. Unlike many shortbread recipes, they don't become dense or hard.
Plenty of buttery flavor. Like any good shortbread, this cookie has plenty of butter balanced by a hint of vanilla.
Easy to make. Just mix, bake and go!
Switch up the sprinkles. Use the same cookie recipe for different holidays by changing up the colors of sprinkles.
Whipped Shortbread Cookies would be perfect enjoyed with an Egg Nog Latte or a cup of Homemade Hot Chocolate this holiday season.
Whether you're craving a batch of cake mix cookies or some easy whipped shortbread, just add some sprinkles for a festive touch.
Ingredient Notes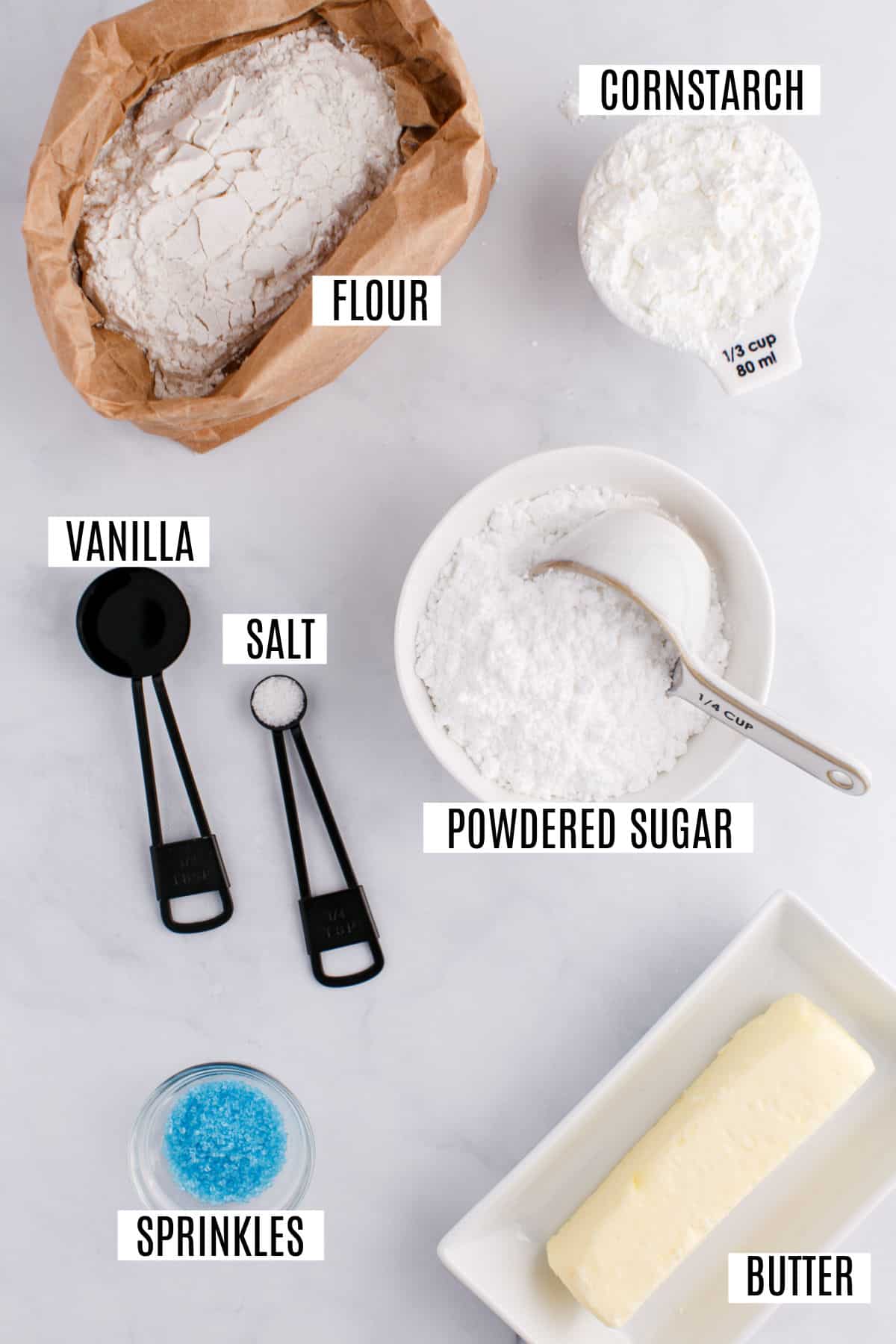 Butter. Using REAL butter (not margarine or shortening) is essential for good shortbread cookies. It gives the cookies their signature rich flavor.
Powdered sugar. Also called confectioner's sugar or icing sugar, it is whipped along with the butter to make the cookies sweet and light, with no gritty texture.
Cornstarch. Adding cornstarch to shortbread cookies gives them a soft, tender consistency. This ingredient is a must if you don't want your cookies to turn hard and crunchy. We use it in our lofthouse cookie recipe too!
Sprinkles. We used blue Christmas sugar sprinkles for decorating the tops of the whipped shortbread. Feel free to use whatever colors and styles of sprinkles you like.
Easy Instructions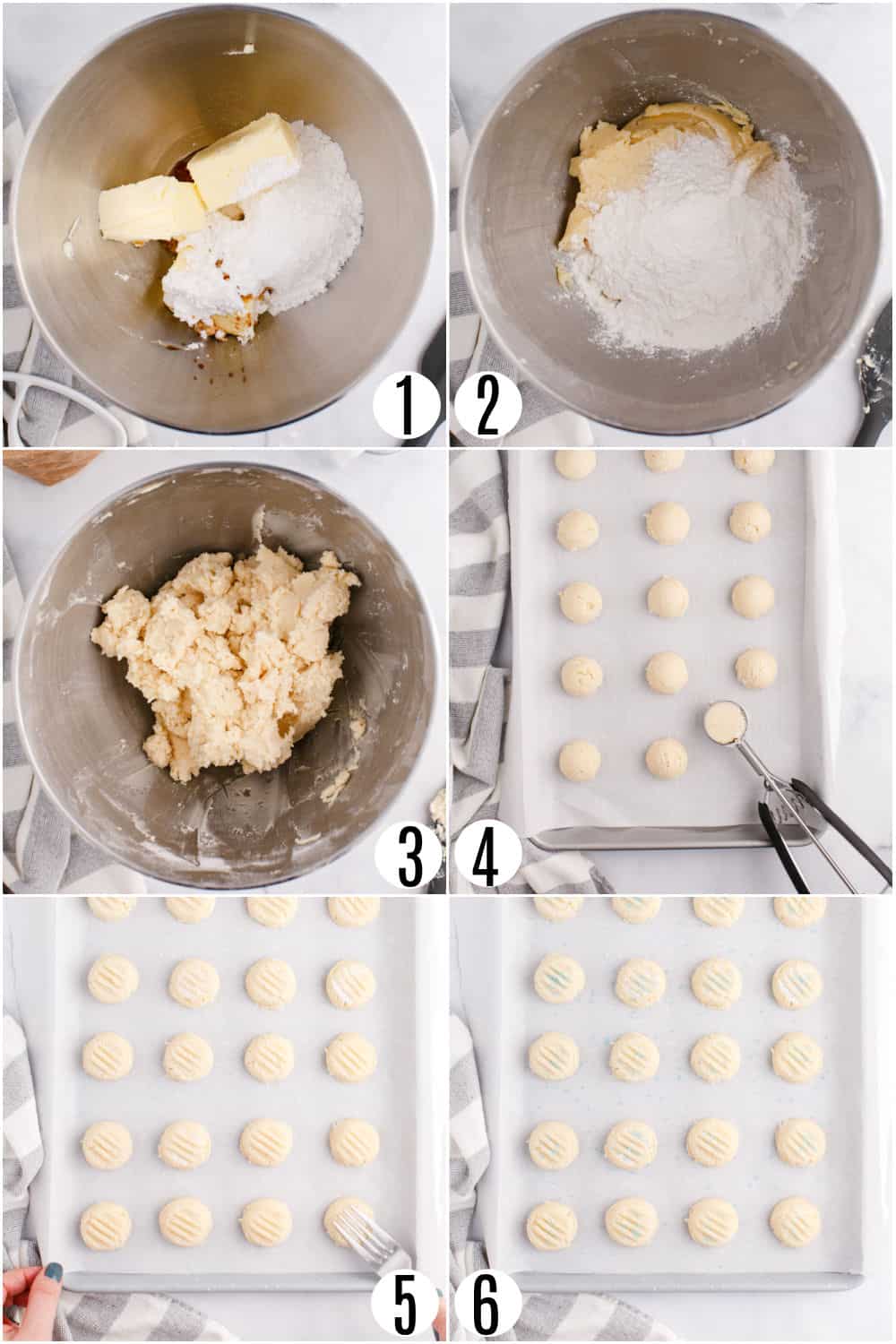 Before making the dough, line your baking sheet with parchment paper and preheat the oven to 300 F.
Whip the butter:
Beat softened butter with the powdered sugar and vanilla extract until light and fluffy. This takes several minutes. You may need to stop and scrape down the sides of the bowl occasionally. Do this for about 3-5 minutes!
Add dry ingredients:
Gradually mix flour, cornstarch and kosher salt to form a sticky dough.
Decorate and bake:
Scoop dough onto the baking sheet, one tablespoon at a time. Press down the tops of each cookie with the tines of a fork.
Dust the tops of cookies with sprinkles if desired. Bake until golden (about 12 minutes).
Tips and Tricks
Dip fork in flour first. This helps keep the tines from sticking to the soft whipped shortbread dough.
Let cool on the baking sheet. Whipped shortbread cookies need to cool for at least 15 minutes on the warm baking sheet to set. Then you can transfer the cookies to a wire rack to let them finish cooling.
Storing. Keep cooled cookies in an airtight container at room temperature. Enjoy within 1 week for best taste.
Freeze Cookies. Use my tips on how to freeze cookie dough for later.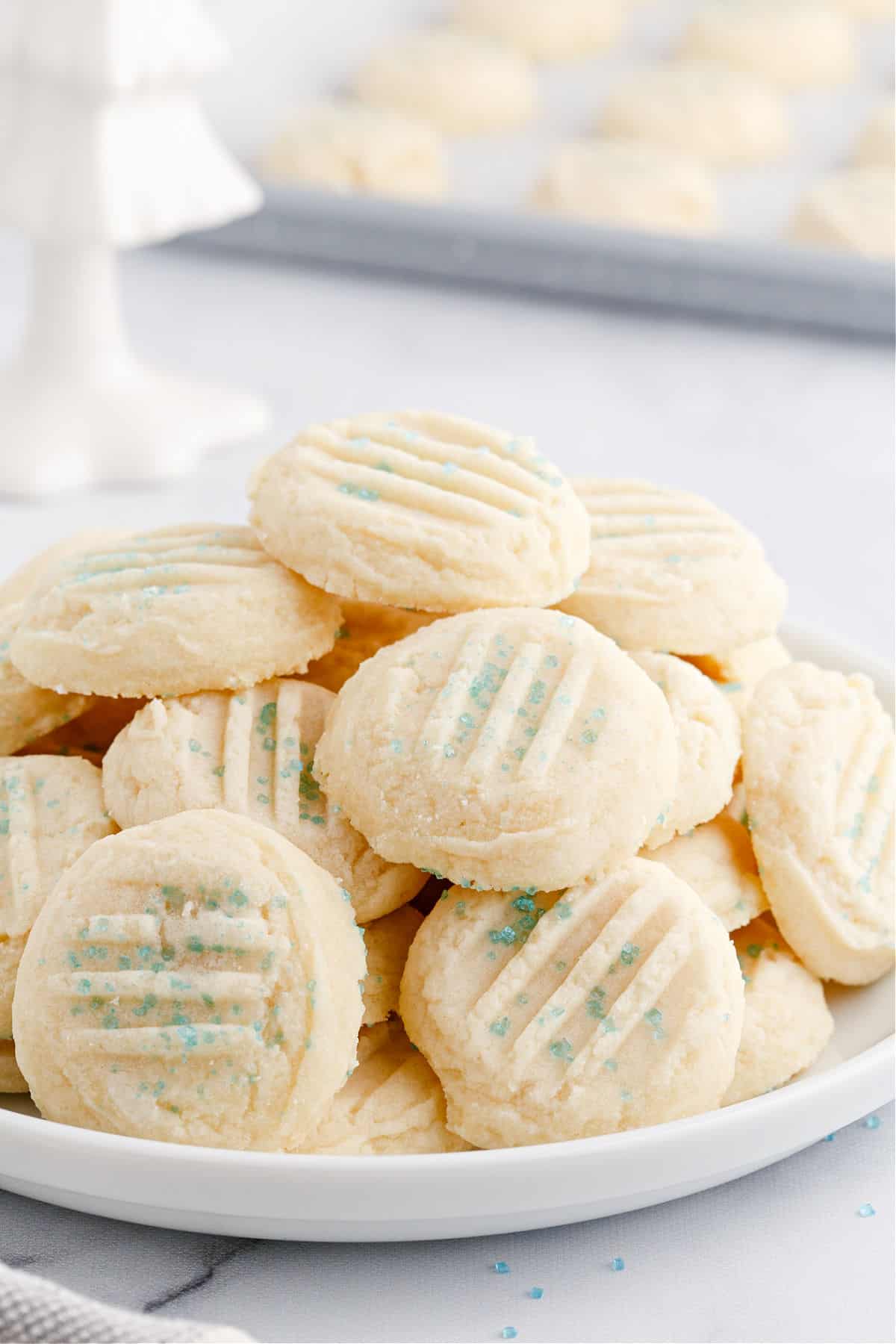 Recipe FAQs
Can I use salted butter in this whipped shortbread recipe?
Yes, salted butter can be used. If using salted butter you can omit the added kosher salt in the recipe.
Do you have to chill shortbread dough?
Chilling is not required for this Whipped Shortbread recipe. However, the dough can definitely be made ahead of time and kept chilled until ready to bake. Either way, the cookies should come out soft and delicious.
What does cornstarch do to shortbread cookies? Can I leave it out?
Cornstarch is the key to making shortbread cookies that are soft and tender (but not at all chewy). It's what sets these apart from other shortbread recipes so I don't recommend leaving it out.
Can I freeze whipped shortbread?
Yes, the high fat content makes shortbread cookies very freezer friendly. After baking and cooling, these cookies can be stored in freezer bags and kept frozen for about 3 months. Thaw at room temperature or in the fridge.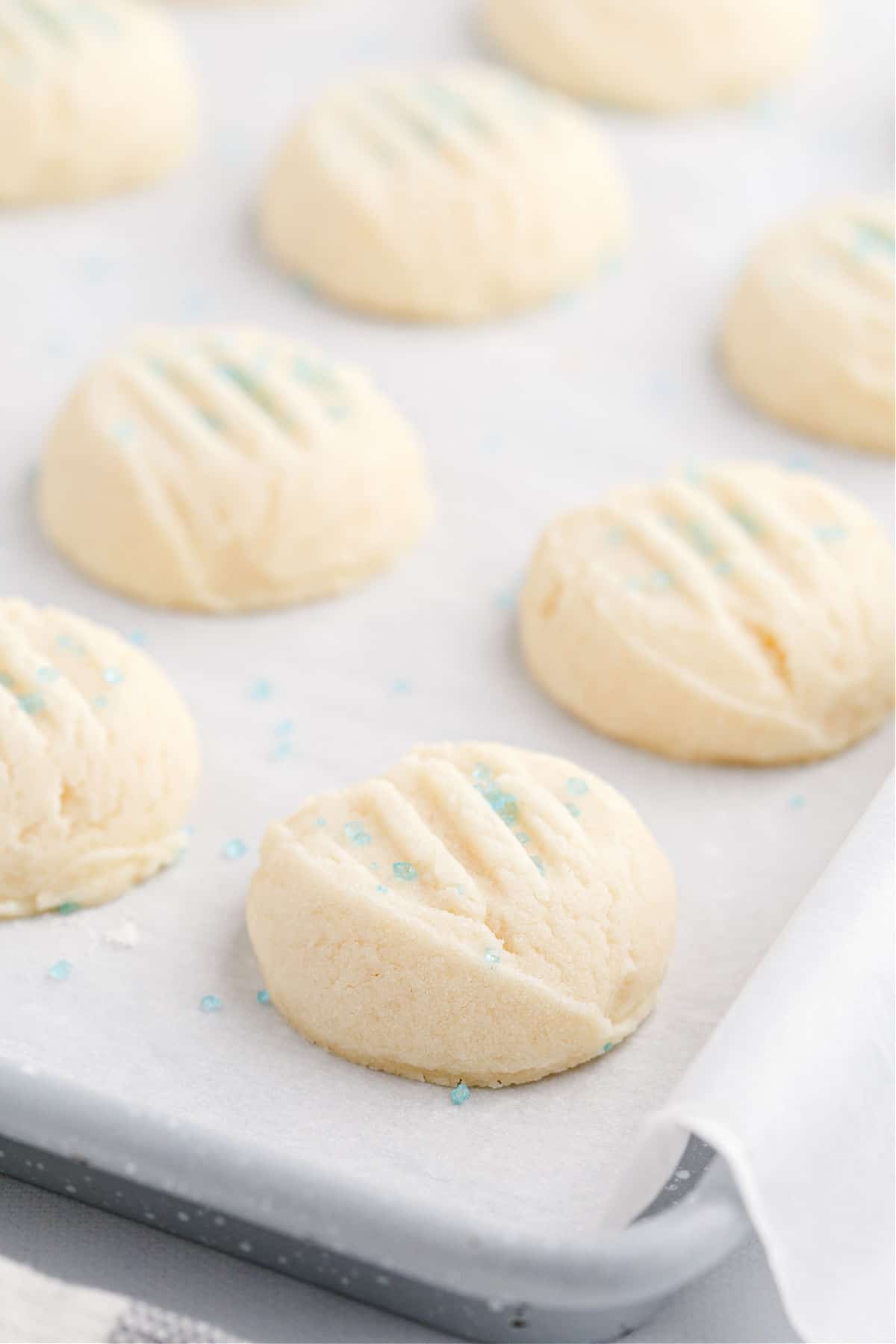 You've never tasted shortbread like this! Whipped Shortbread cookies have all the buttery rich flavor of a familiar shortbread cookie but with an ultra soft and delicate crumb.