Soft and chewy sugar cookies get a boost of color from rainbow sprinkles. These Funfetti Cookies can turn any day into a celebration!
For an easier sprinkle cookie, be sure to give my easy Cake Mix Cookie recipe a try. Add in your favorite sprinkles! Or try a twist and whip up a batch of Funfetti Cookie Dough Truffles.
Sprinkles Cookies
I can't believe I haven't shared Funfetti Cookies on the blog yet! Crazy right?
My kids love any treat with sprinkles! This Spring I made a homemade funfetti cupcake and a Vanilla Cake roll with funfetti filling. Both were such a hit!
If you grew up eating Funfetti cake on birthdays, these cookies deliver a side of nostalgia with all the delicious taste. Chewy sugar cookies meets the festivity of sprinkles in this recipe.
There's so much to love about these cookies.
With sprinkles baked right into each cookie and even MORE sprinkles on top, these are bursting with color!
Funfetti Cookies come out of the oven fully decorated, no frosting or icing required. When you want the taste of sugar cookies but don't have the time to mess with frosting them, these cookies are the perfect choice.
These are easy to store and you can even make the dough in advance and keep it in the fridge until you're ready to bake fresh homemade cookies.
It's impossible to not smile when you bite into a sprinkle covered cookie. Make these ASAP; you'll feel like a kid again!
FUNFETTI DESSERTS: Funfetti Dip | Funfetti Blondies
Ingredient Notes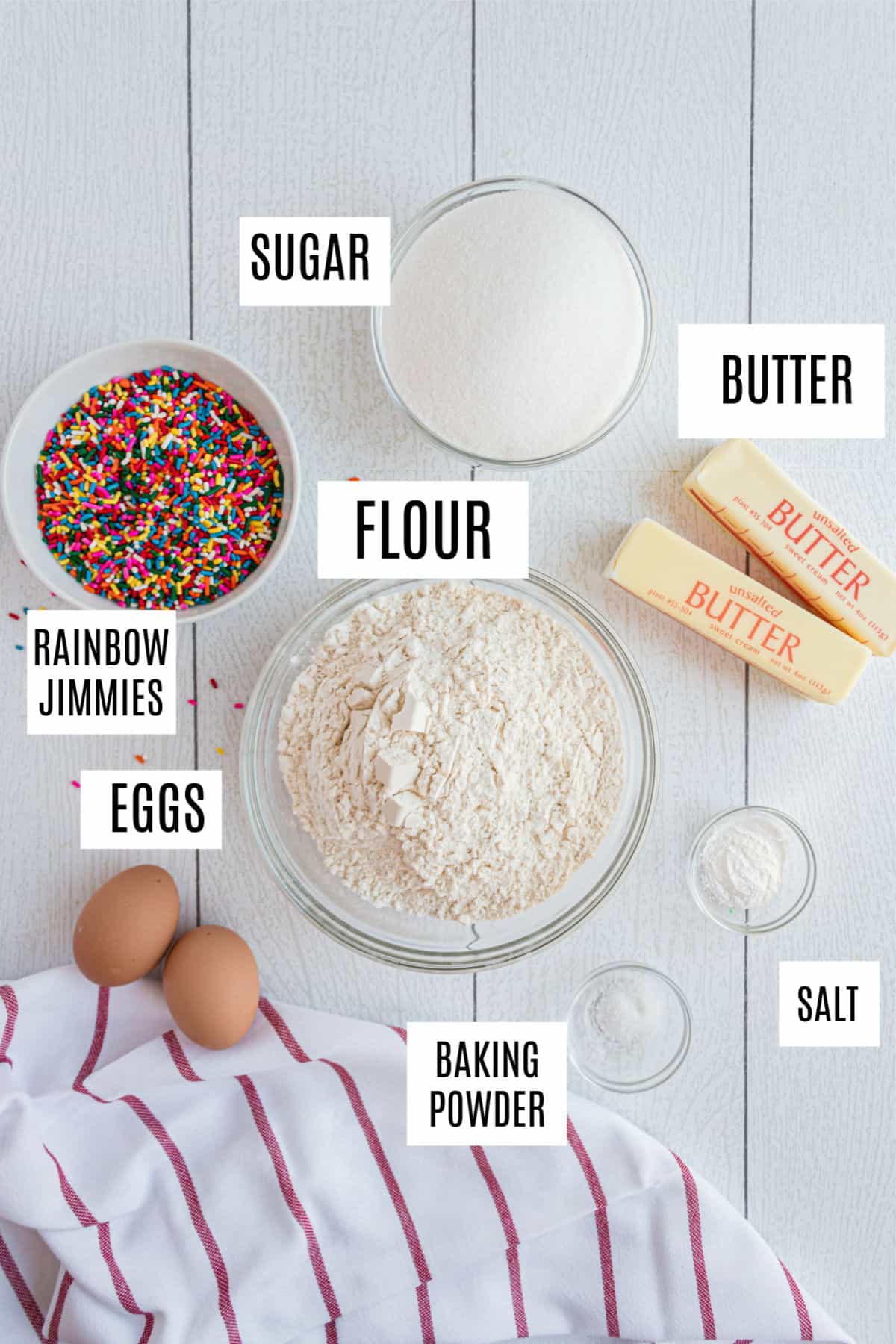 Use unsalted butter for best results. Let it sit on the counter for a few minutes to soften before adding to the recipe.
What sprinkles to use:
I like jimmies (log shaped sprinkles) for baking into the cookies. They get soft as they bake without bleeding colors into the cookie. Use a multicolored blend for that classic confetti look or mix and match colors for different occasions.
Quins sprinkles, which are round and smooth also hold up well here. Pick your favorite or use a combo!
For a flakier, buttery cookie, try our icebox cookies with sprinkles instead. Melt in your mouth!
Step by Step Instructions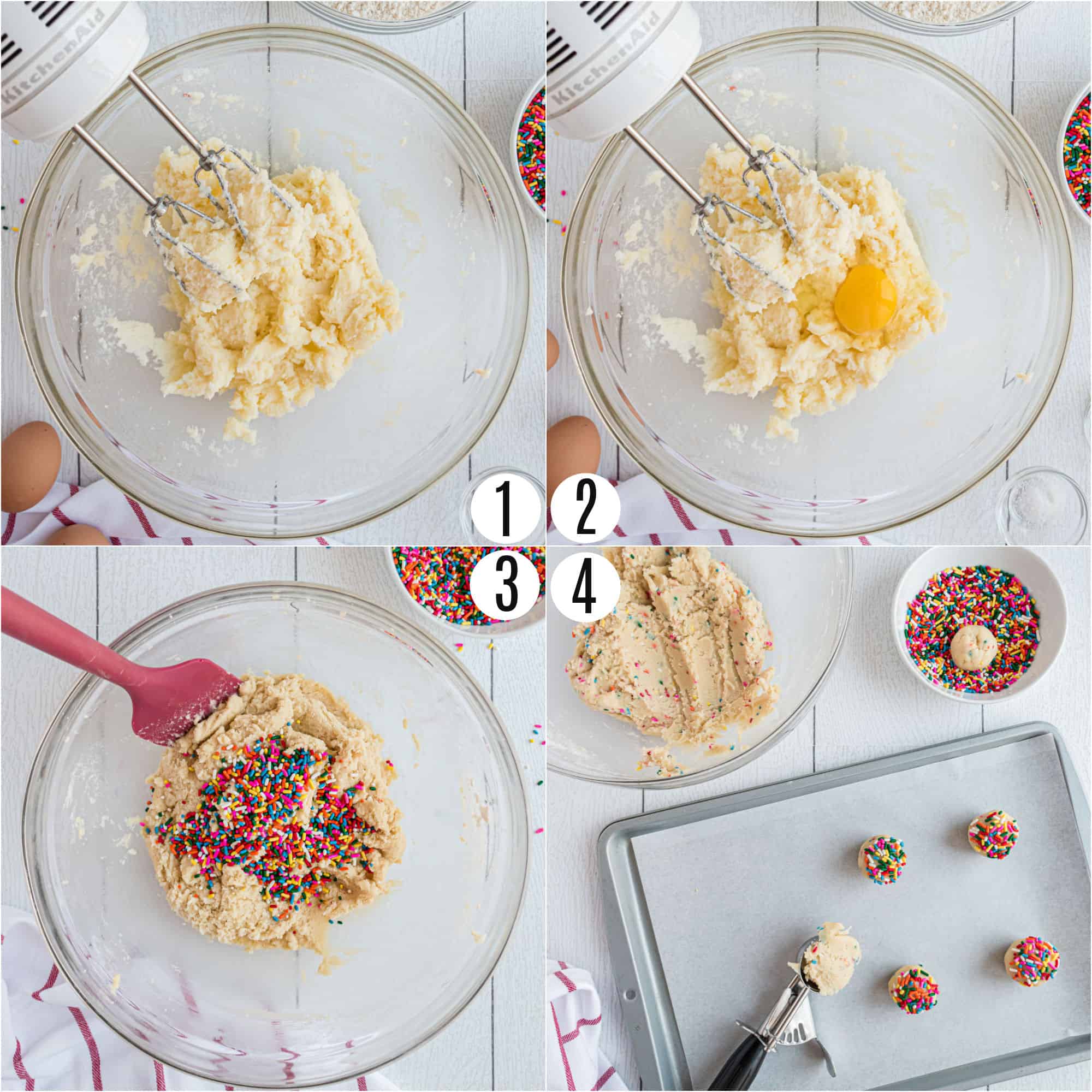 STEP 1. Make sugar cookie dough
Beat butter and sugar in mixing bowl with an electric mixer, until fully combined and smooth. Beat in eggs, one at a time. Add flour, baking powder and salt, beat until combined.
Fold in ¼ cup of the sprinkles.
STEP 2. Chill
Cover the dough with plastic wrap and place in the refrigerator. Chill for at least one hour.
STEP 3. Sprinkle topping
Pour remaining ½ cup sprinkles into a small bowl. Use a 1-2 tablespoon cookie scoop to make dough balls.
Dip the tops of each dough ball into sprinkles. Place dough on a parchment paper lined cookie sheet with the sprinkles side facing up.
Bake for 12-14 minutes. Allow to cool completely. Enjoy!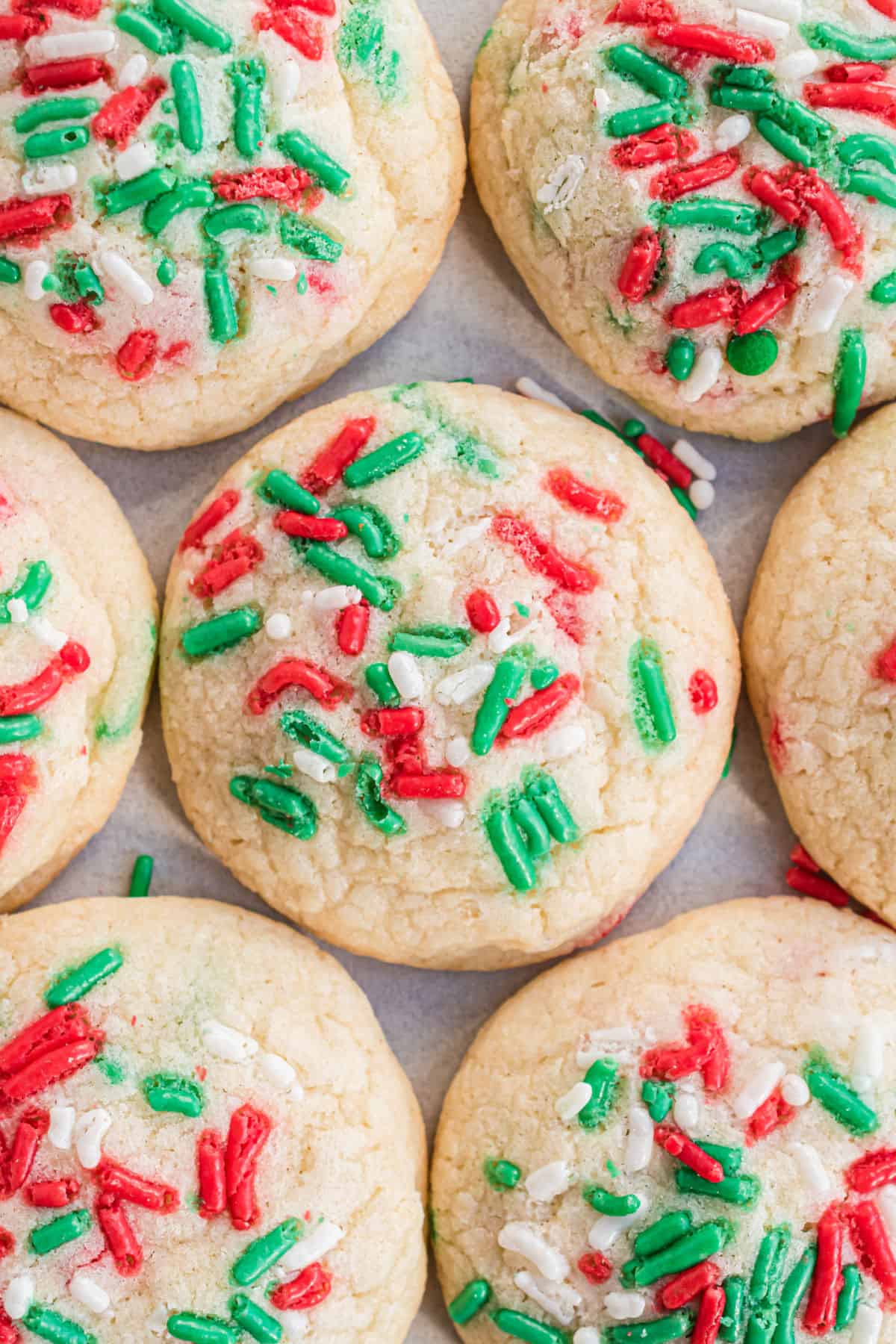 Tips & Tricks
Store in an airtight container for up to one week, or freeze for one month. The sprinkles may bleed a little into the cookies as they thaw but they will still taste great!
The cookie dough can be prepped in advance and stored tightly wrapped in the fridge until ready to bake.
Use silpat or parchment paper to easily remove the baked cookies from the cookie sheet. I let them cool for a minute or two on the baking sheet, then transfer the cookies to a wire baking rack or counter top to finish cooling.
Change up the sprinkles for different holidays! Make a batch of colorful Christmas confetti cookies to add to your holiday plates.
Freeze Cookies. Use my tips on how to freeze cookie dough for later.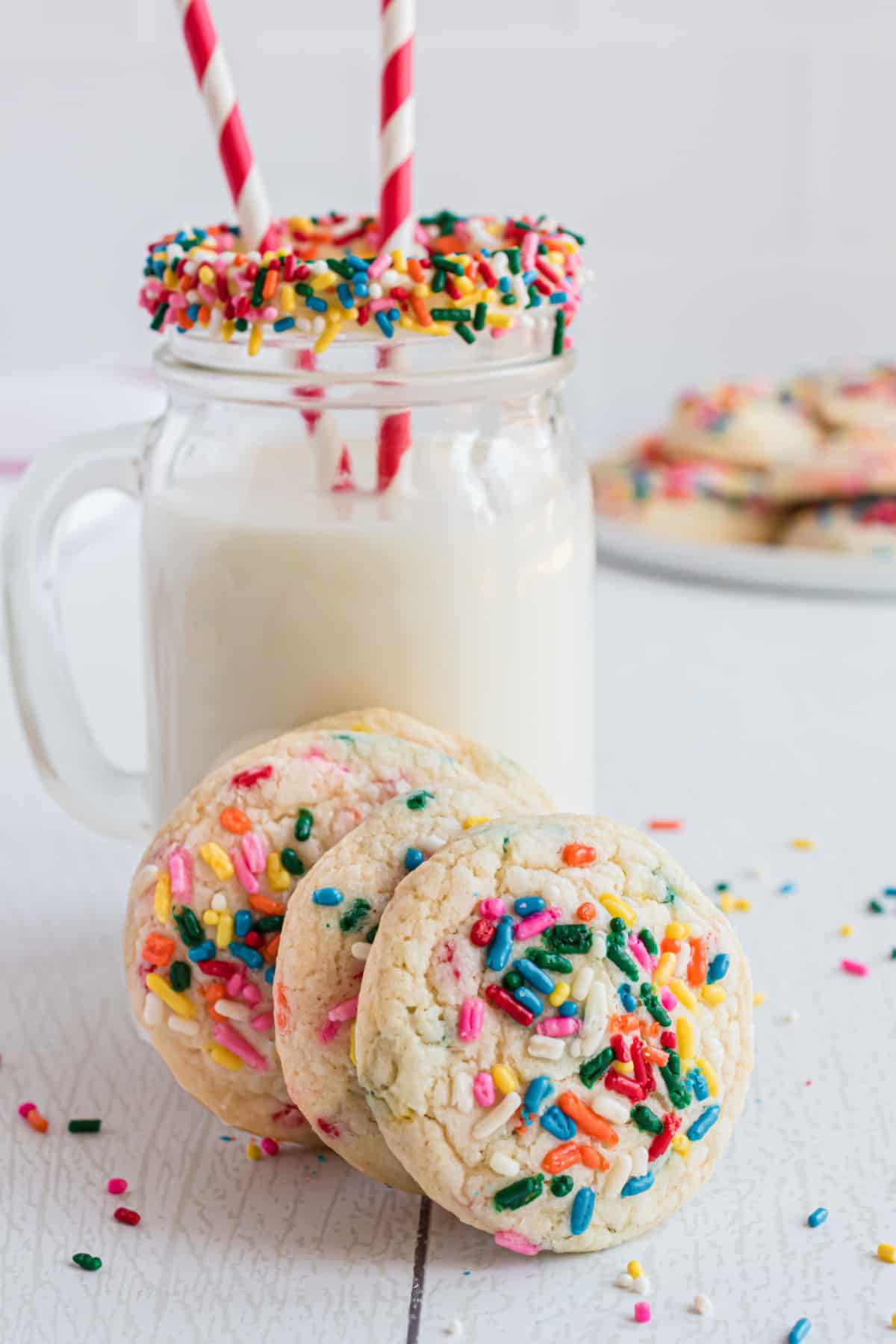 Kids go crazy for these cookies and adults love them too! Colorful Funfetti Cookies are perfect for birthdays and celebrations or to brighten up a regular hum-drum day. I hope you like them as much as we do!