Vanilla Funfetti Cake
A beautiful, two layer, from scratch Vanilla Funfetti Cake!
Love this recipe? Sign up for Shugary Sweets email subscription and never miss out again!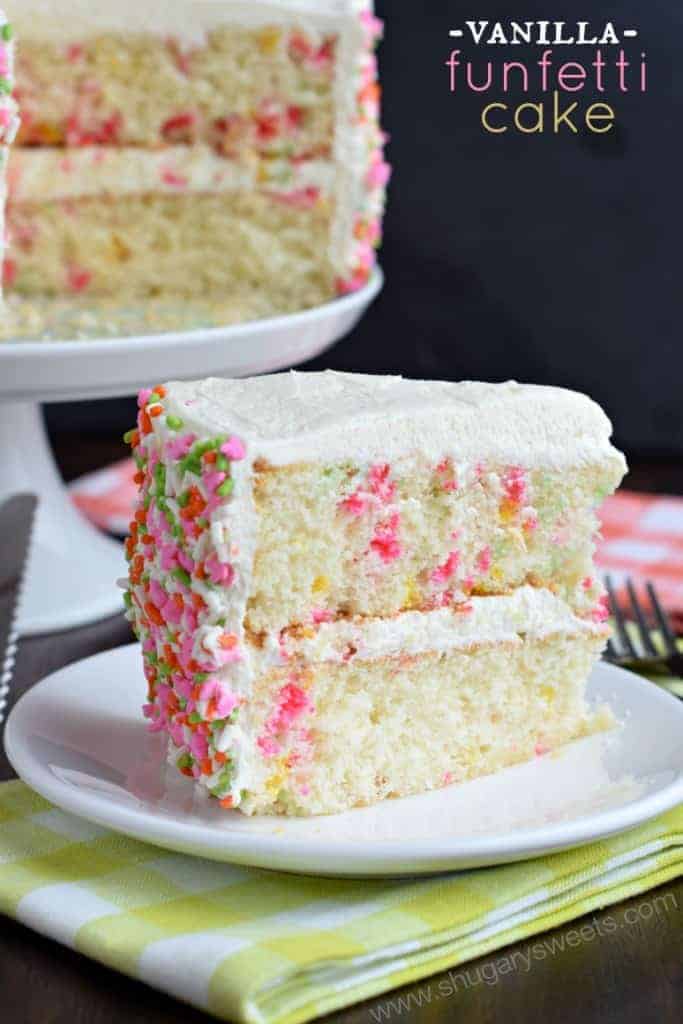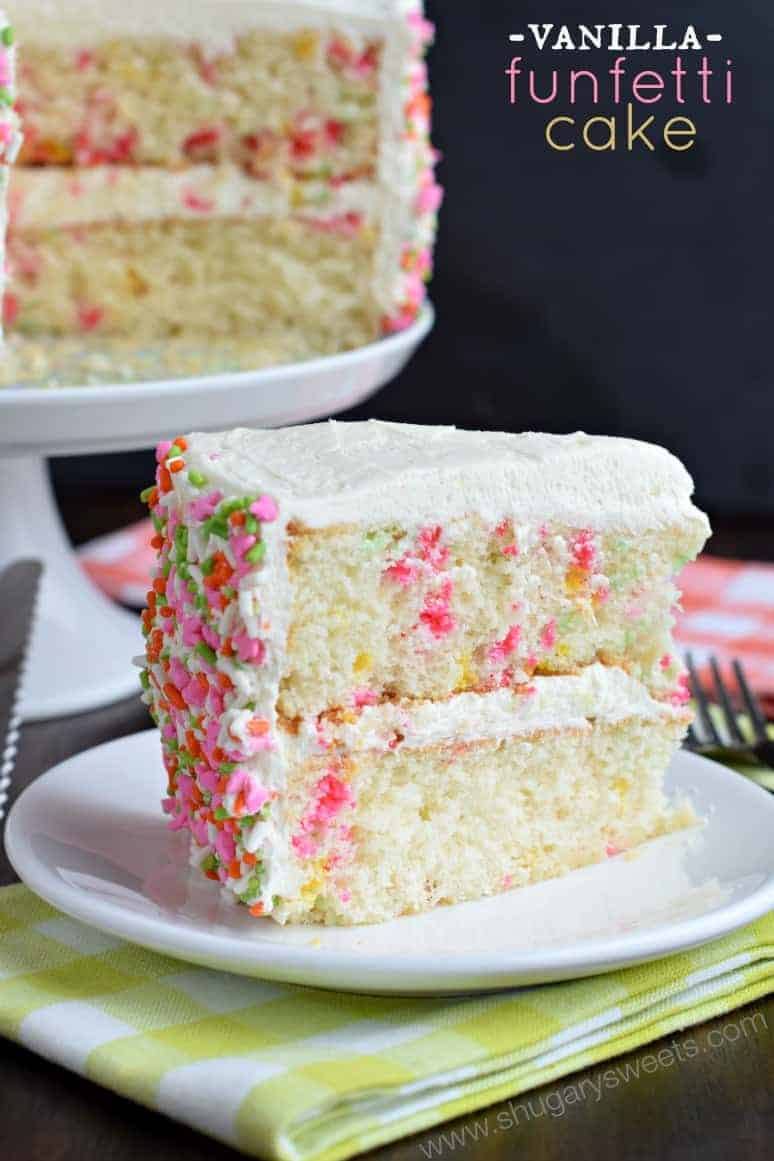 There are days in my life when all I can think about baking is cake. And by baking, I totally mean "eating."
After all, that is part of the reason why I love baking. I love food. And I love dessert. And I especially love CAKE!
Anyone else feel this way too?
Sometimes a simple cake is all it takes to satisfy my sweet tooth. I don't always need a Salted Caramel Cheesecake Cake or a Mint Chocolate frosted cake.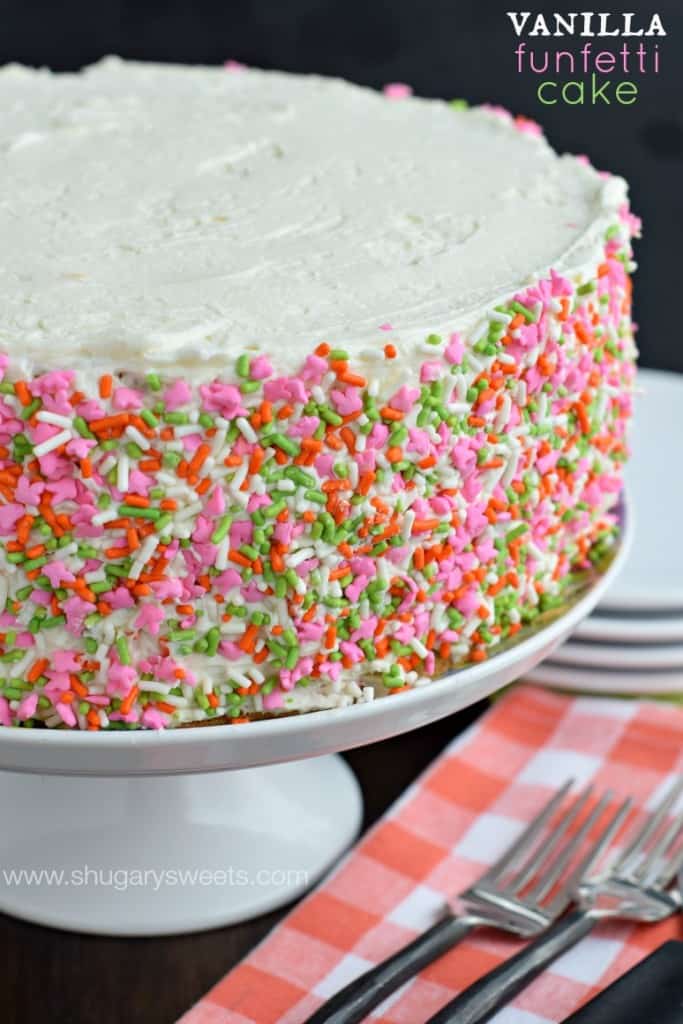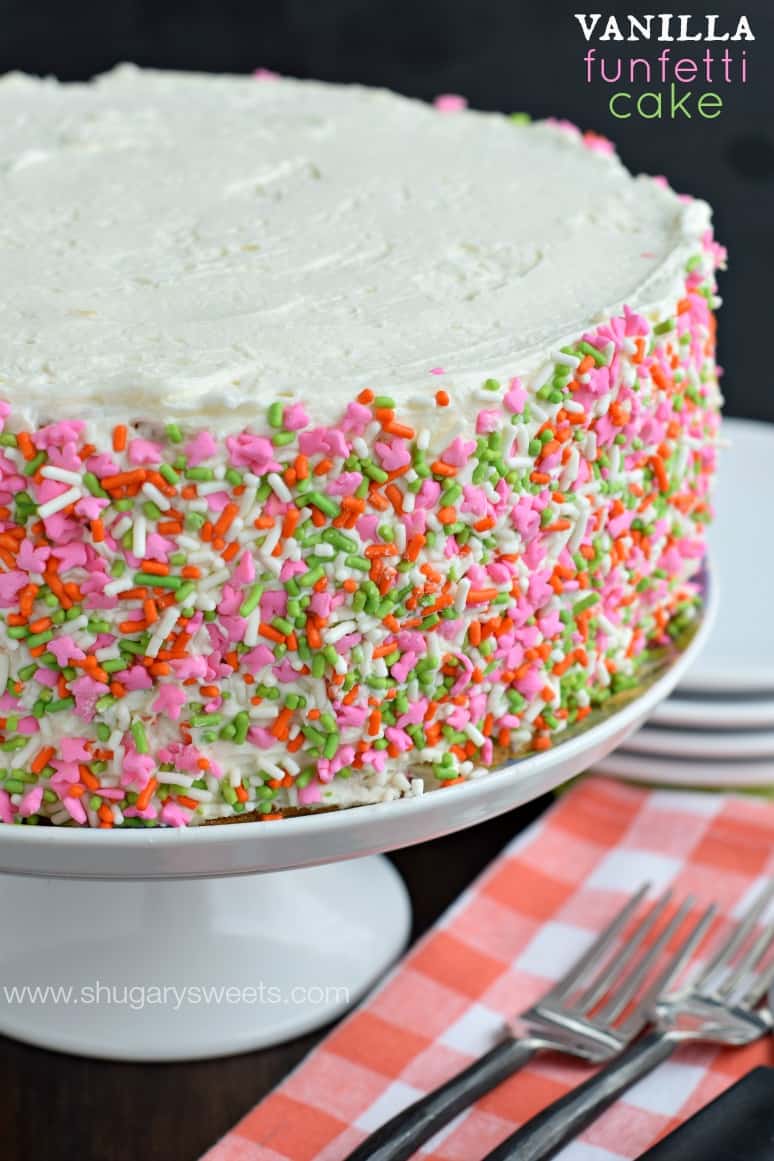 Part of the simplicity of this cake is the smooth frosting and outer layer of sprinkles.  No need for special frosting techniques.
I tell myself this is a great idea…until I find myself with a counter and floor full of sprinkles. I started by smoothing on the frosting, then filled my hand with sprinkles. I literally smashed them onto the side of the cake, and kept repeating until it was fully covered. I keep the cake on a baking sheet (with sides) in hopes to contain all the excess sprinkles. But I'll be honest. It doesn't always work out so well. So be prepared for a wee bit of a mess.
The other simplicity aspect of this cake is the flavor. I used my favorite homemade white cake recipe and just added sprinkles. I also used my favorite vanilla extract made by Rodelle. I joined on with Rodelle as a brand ambassador because I truly love their products. I'm often asked, "is there really a taste difference with vanilla extract brands." And the answer I give, is absolutely yes. Open a bottle for yourself and smell the deep, rich aroma of vanilla. That's what this cake tastes like! VANILLA!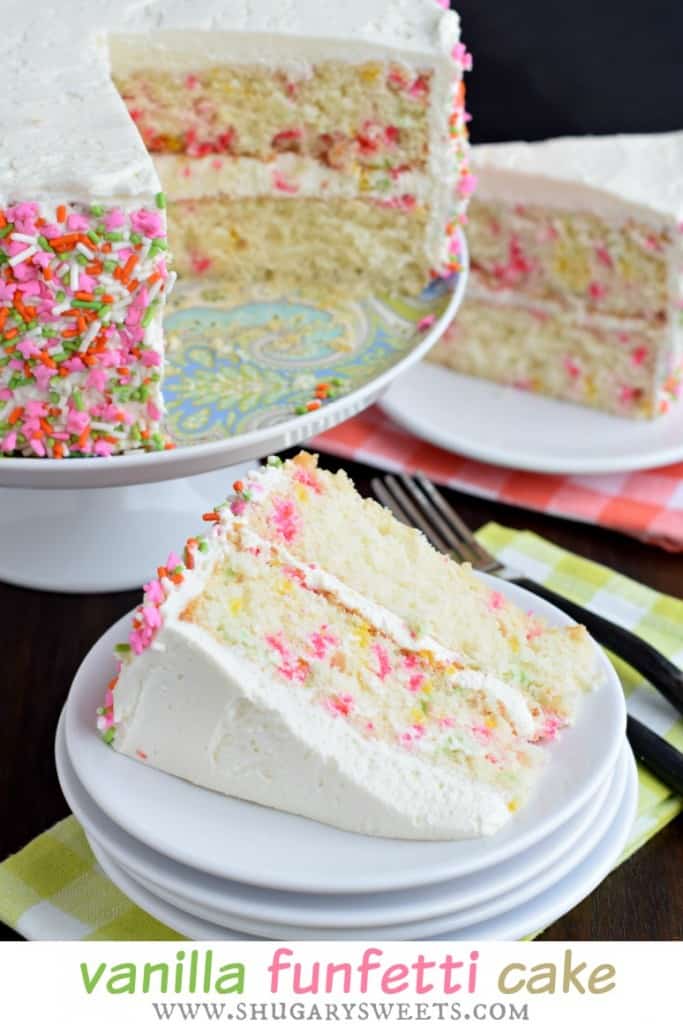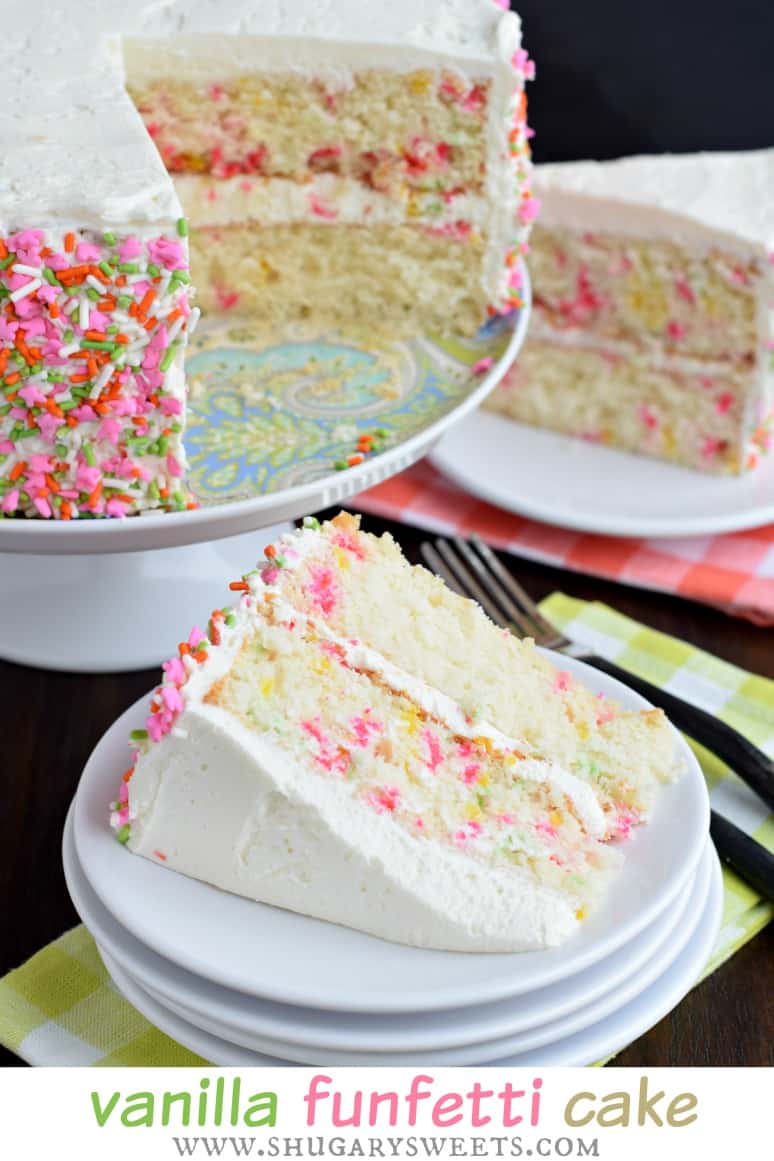 Connect with Rodelle:
website | facebook | pinterest
Yield: 16 servings
Vanilla Funfetti Cake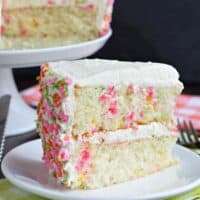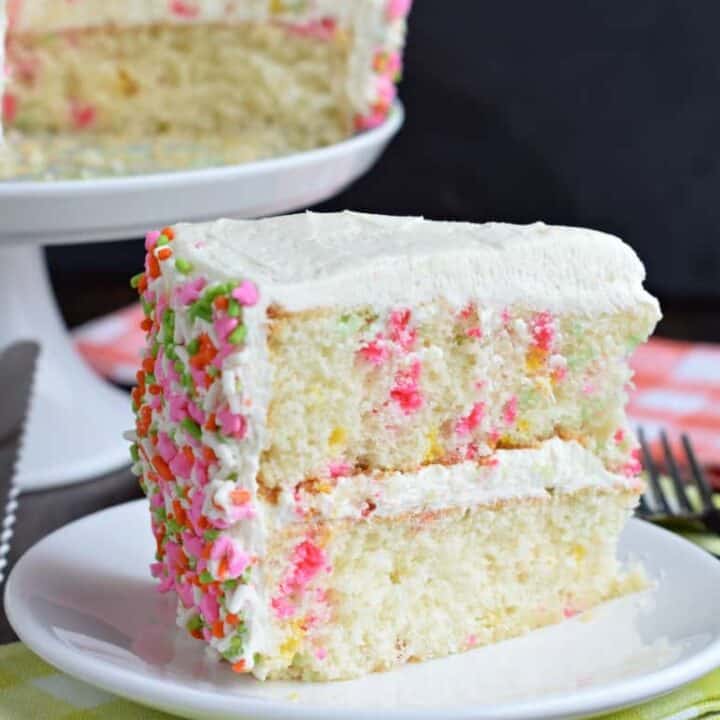 Prep Time 15 minutes

Cook Time 26 minutes

Total Time 41 minutes

From scratch, Vanilla Funfetti cake recipe
Ingredients
For the cake:
5 egg whites, room temperature
3/4 cup milk
3/4 cup unsalted butter, softened
1 3/4 cup granulated sugar
1 1/2 tsp Rodelle Vanilla Extract
2 1/2 cup cake flour
1 Tbsp baking powder
1/2 tsp kosher salt
1/2 cup sprinkles
For the frosting:
1 cup unsalted butter, softened
4 cup powdered sugar
1/4 cup heavy cream
2 tsp Rodelle Vanilla Extract
1/2 cup sprinkles
Instructions
For the cake:
Whisk together the egg whites and 1/4 cup of the milk in a small bowl until slightly combined. Set aside.
In a mixing bowl, beat butter, sugar, and vanilla for 2 minutes on medium speed, scraping down the sides of the bowl as needed. Add in dry ingredients and mix until combined. Beat in egg white mixture until fully blended. Add in remaining milk and beat for 3-4 minutes, scraping down the sides of the bowl. Fold in sprinkles.
Spray two 9inch cake pans with baking spray. Pour batter into pans and bake in a 350 degree oven for 26-28 minutes. Remove and cool completely on wire rack.
For the frosting:
Beat butter for 3 minutes using whisk attachment on an electric mixer. Add in powdered sugar, heavy cream and vanilla. Beat an additional 4-5 minutes, scraping down the sides of the bowl as needed.
To assemble, place one layer of cake on a cake stand. Add a large amount of frosting to top and smooth with an offset spatula. Top with second layer of cake. Apply frosting to entire cake. To add the sprinkles to sides of cake, place cake on a baking sheet (to help catch excess sprinkles). Fill hand with sprinkles and press gently into sides of cake. Repeat until desired amount of sprinkles are applied.
Nutrition Information:
Yield:
16
Serving Size:
1 piece of cake
Amount Per Serving: Calories: 532 Total Fat: 25g Saturated Fat: 14g Trans Fat: 0g Unsaturated Fat: 10g Cholesterol: 59mg Sodium: 192mg Carbohydrates: 75g Fiber: 0g Sugar: 55g Protein: 4g


 **I've partnered with Rodelle Kitchens as a brand ambassador to create delicious recipes for you, my readers! I personally love their products, and all opinions are 100% my own**