Vanilla Sheet Cake – The simple sweetness of a buttery vanilla cake with a soft and moist crumb. This easy classic sheet cake recipe makes an unforgettable birthday cake or dessert for any occasion!
There's nothing like the beautiful simplicity of a delicious vanilla cake. For a handheld option, you'll love my Vanilla Bean Cupcakes too.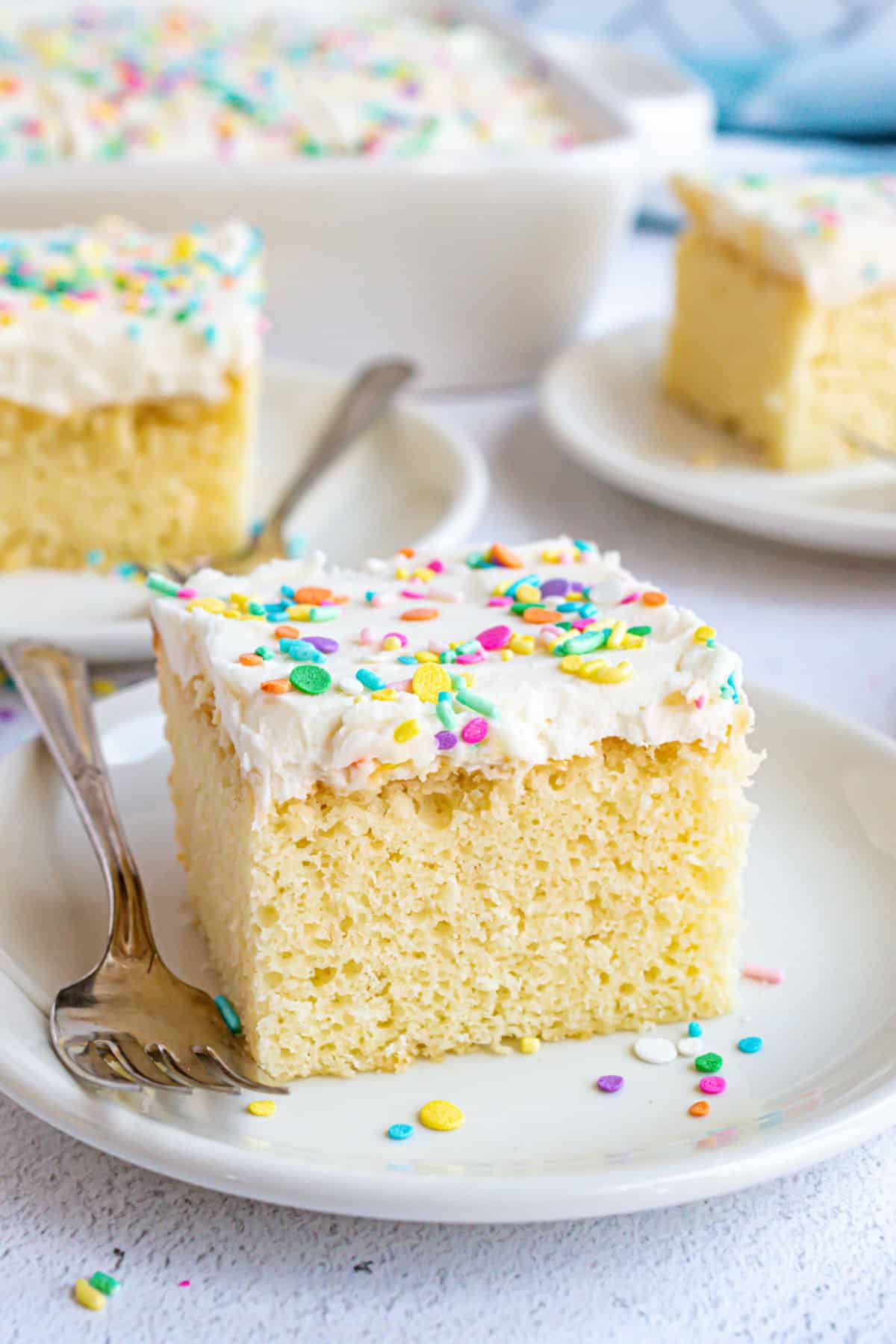 Why this Recipe Works
If you think vanilla desserts are bland or boring, it's because you haven't tried THIS Vanilla Sheet Cake!
The fragrant vanilla shines in a cake with a light and moist crumb. I use cake flour and buttermilk in my vanilla sheet cake recipe; this creates a cake that's sturdy enough to hold up to any frosting but still soft and delicate.
You may be wondering what is the difference between white cake, yellow cake, and vanilla cake.
White Cake– uses all cake flour and all egg whites.
Yellow Cake– uses a combination of cake flour and all-purpose flour, with eggs, and an extra egg yolk.
Vanilla Cake– it's a cross between the two. Uses all cake flour, but whole eggs with extra egg whites. It's my favorite of the three!
Vanilla Sheet Cake is so easy to make.
No layering or complicated methods to worry about.
Enjoy vanilla sheet cake with my vanilla buttercream frosting, or use it as a base for different frosting flavors.
This is a staple recipe no home baker should be without!
With only eight ingredients and one baking pan, you can make a scrumptious Vanilla Sheet Cake that'll have everyone asking for seconds.
Ingredient Notes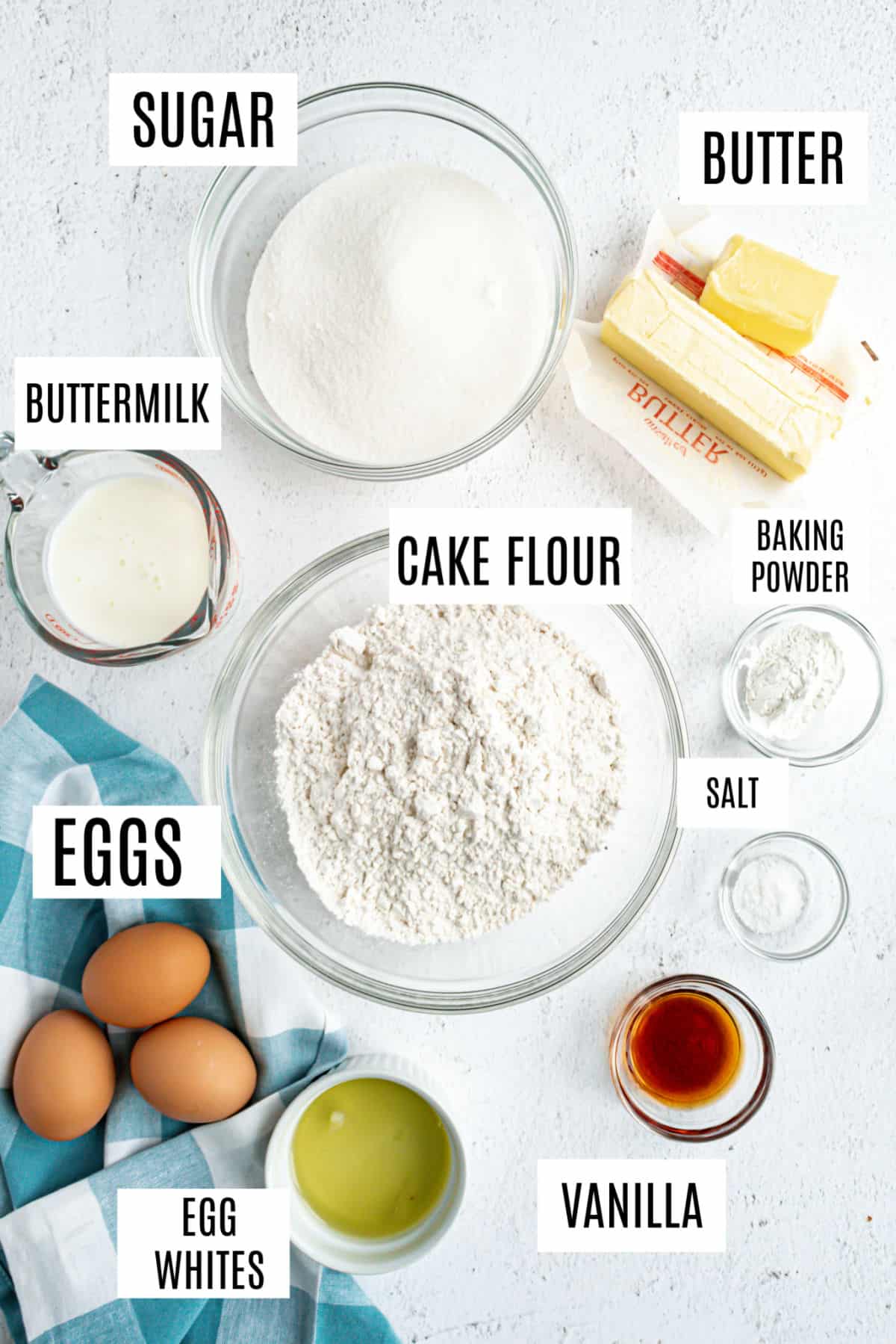 Cake flour. It contains less protein and has a finer texture than all purpose flour, making it ideal for light and airy cakes. (Learn more about how to measure flour and make homemade substitutes too).
Buttermilk. My buttermilk substitute works perfectly here.
Vanilla extract. Using a good quality vanilla makes all the different. I recommend this homemade vanilla extract for best flavor. And yes, it says one TABLESPOON. You want that pure vanilla flavor!
Egg yolks and whites. You'll need 3 large full eggs, plus the whites of two extra eggs.
Kosher salt. It's not the same as table salt. Read more about why we use kosher salt in baking!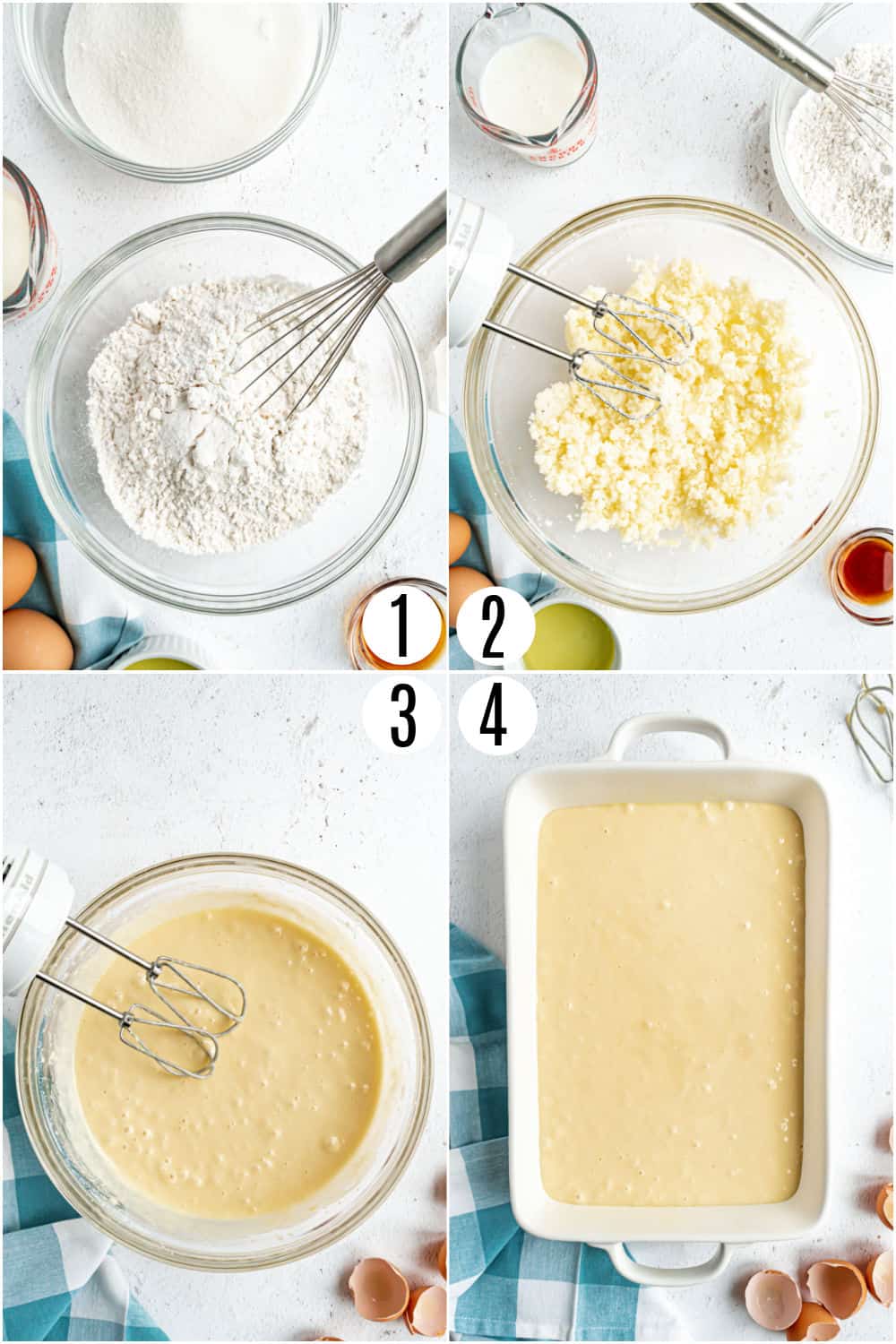 How to Frost
Once your vanilla sheet cake is baked, you can cover it with any frosting you like!
I love it with Chocolate Buttercream for a beautiful and rich chocolate vanilla cake.
This Creamy Chocolate Vanilla Swirl Buttercream Frosting is another perfect addition to this sheet cake!
If you love lemon desserts like me, you'll love Lemon Whipped Cream Frosting or my easy Lemon Buttercream Frosting on your vanilla cake, too.
Once you choose your frosting, the easiest way to frost sheet cake is with a large offset spatula.
Dollop the frosting on to the center of the cake and use the flat side of the spatula to spread it evenly across the top and sides of the cake.
From here, you can use a frosting bag to pipe frosting onto the cake in desired patterns or decorations, if you like! Sprinkles, fruit slices or other favorite cake garnishes are wonderful additions too.
Need more ideas for the best sheet cake frosting? Here are a few more favorites:
Really pressed for time? Go ahead and grab a can of your favorite store bought frosting. We won't tell!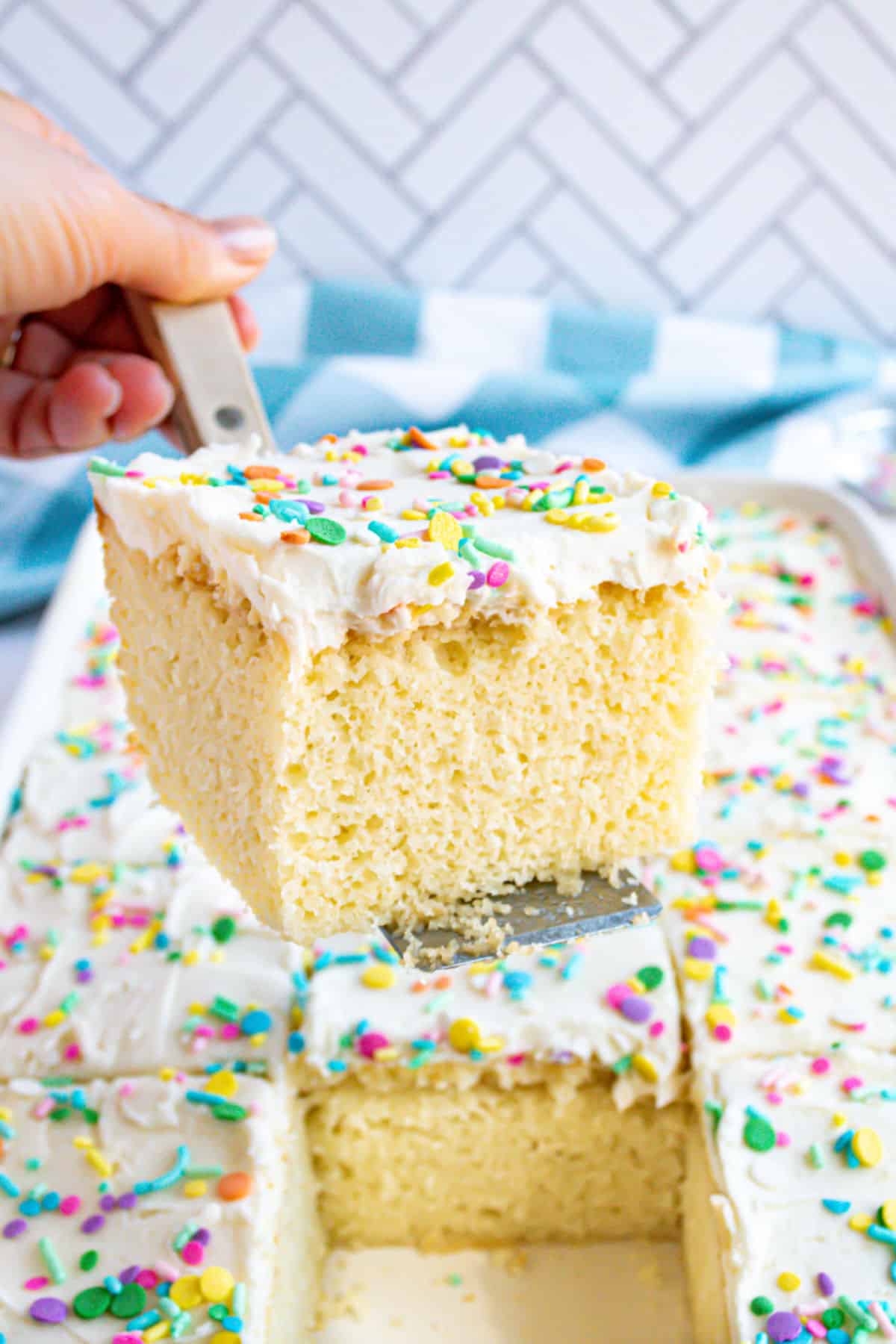 Tips and Tricks
How to use leftover egg yolks:
You'll have two leftover egg yolks after making Vanilla Sheet Cake. Don't let them go to waste! Put them to use with this Easy Homemade Lemon Curd Recipe.
Cake flour substitute:
If you don't have cake flour, you can make a substitute with all purpose flour and cornstarch.
Measure 2 1/2 cups of all purpose flour into a bowl. Remove 5 tablespoons of the flour. Replace with 5 tablespoons of cornstarch and combine. Use in the recipe as desired.
Bring ingredients to room temperature.
Any chilled ingredients should be allowed to come to room temperature for best results. Room temperature butter, eggs and milk blend together more easily and evenly.
Make a Flag Cake. Use this recipe base to make the iconic flag cake with fresh strawberries as the stripes, and fresh blueberries as the stars! Pipe extra frosting between the stripes if desired.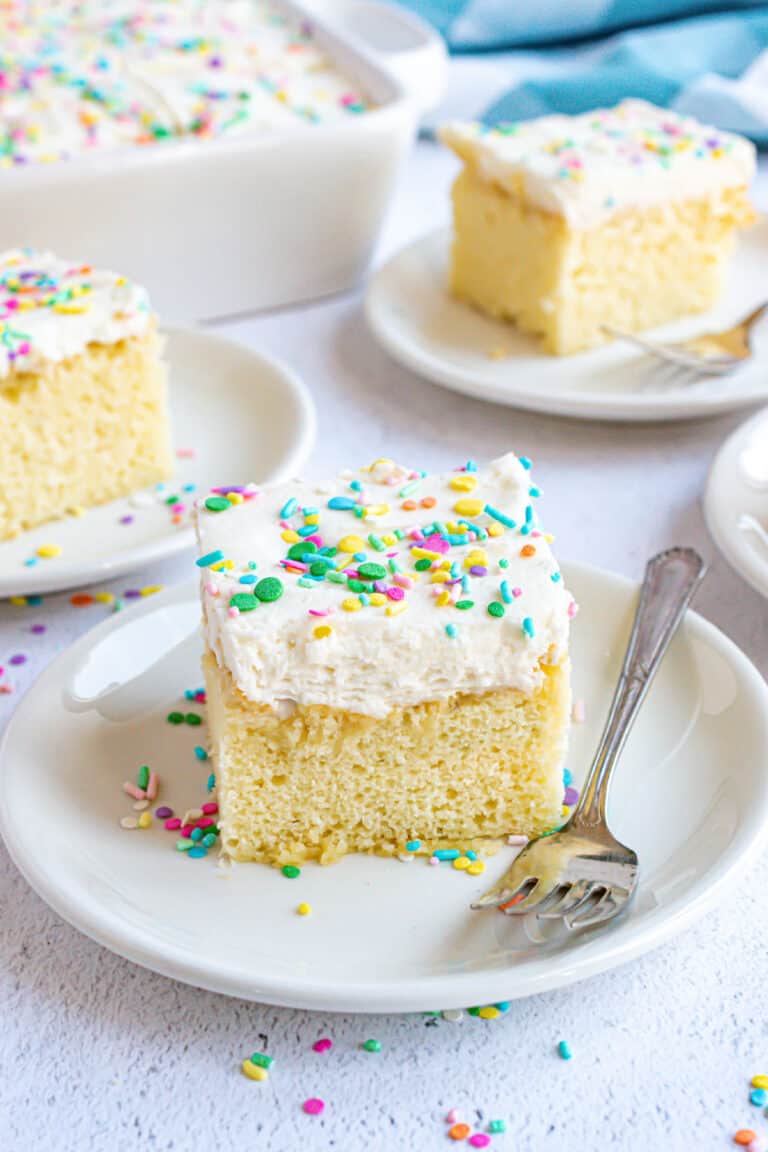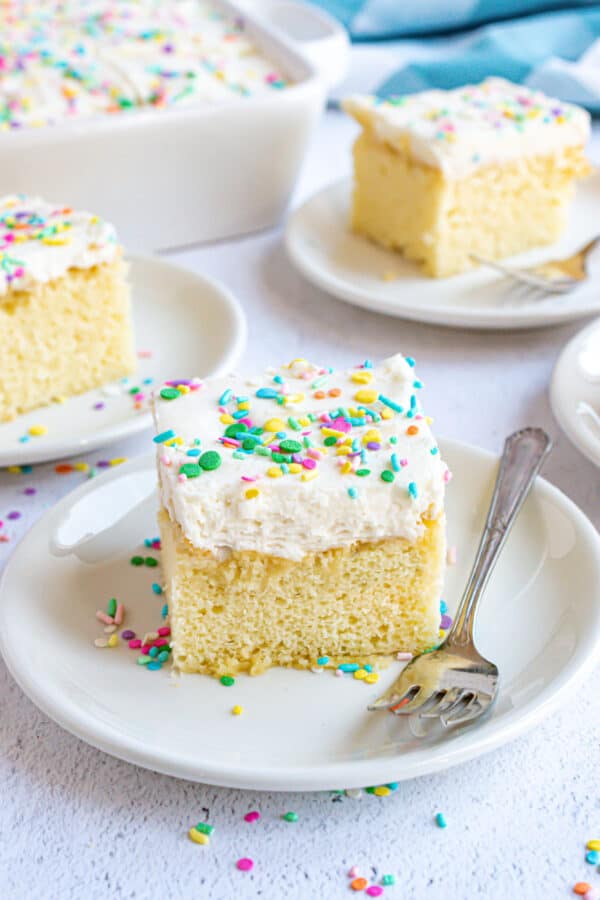 Recipe FAQs
What size baking pan do you need for sheet cake?
I used a 13 x 9 rimmed baking pan for this vanilla sheet cake recipe. If you use a glass baking dish the cake looks amazing served right from the pan!
Can you freeze sheet cake?
Yes, the vanilla sheet cake can be frozen for up to 3 months. Double wrap the cooled unfrosted cake in plastic wrap and foil before freezing. Let thaw and frost as desired before serving.
Can this recipe be used to make cupcakes?
Yes, you can use this recipe's batter to make about 2 dozen cupcakes. Line a cupcake pan with liners and fill each one about 2/3 full. Bake for 18-20 minutes or until a toothpick in the center comes out clean.
Will this recipe work for layer cakes?
Yes, if you prefer you can bake this batter in layer cake pans. Divide the batter between 9-inch pans. Layer cakes will bake for about 25 minutes.
A moist and tender crumb and rich vanilla flavor make this the BEST Vanilla Sheet Cake! Bake it up in one pan, add your favorite frosting and it's ready to feed a crowd!