This classic Coca Cola Cake is a rich, fudgy, thick chocolate cake with deep flavor and a delicious frosting that sets up on top. It's the perfect cake to share with friends and family and serves a crowd!
Love adding soda to recipes? Our 7-Up pound cake is truly one of a kind. Readers also love this delicious apple dumpling recipe, with it's mountain dew (or Sprite) glaze!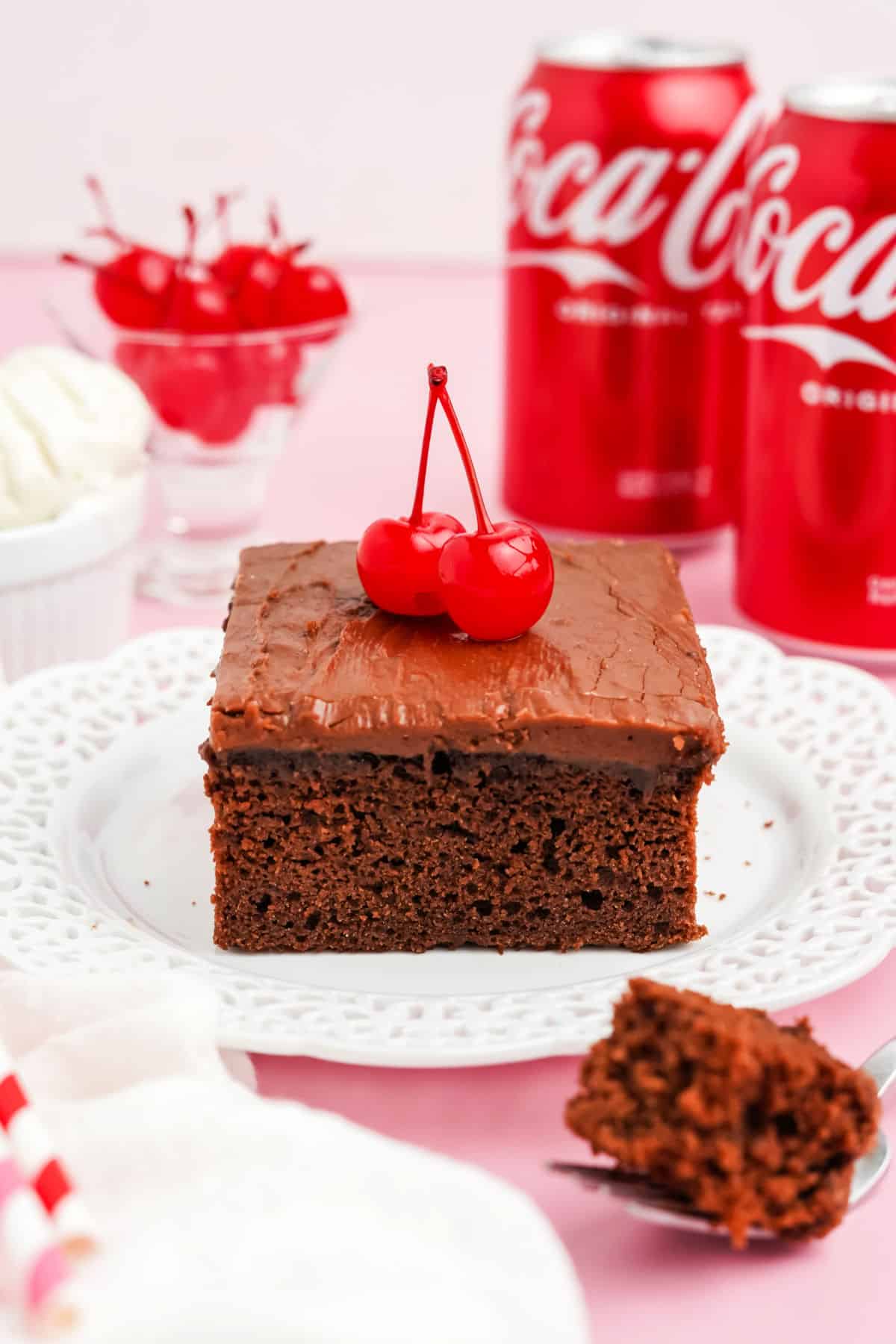 Why Coca Cola Cake is Best
Some of our best cakes came from our grandparents generation. Our chocolate wacky cake is a perfect example!
Coca Cola Cake is a traditional recipe that dates back to the 1950s. It uses soda in the cake batter AND in the frosting.
The cake is baked in a 9×13 baking dish and can serve up to 20 people, making it perfect for parties and gatherings!
This cake reminds me our delicious buttermilk texas sheet cake. Rich and moist. You may have even seen today's recipe featured on the menu at Cracker Barrel!
Ingredient Notes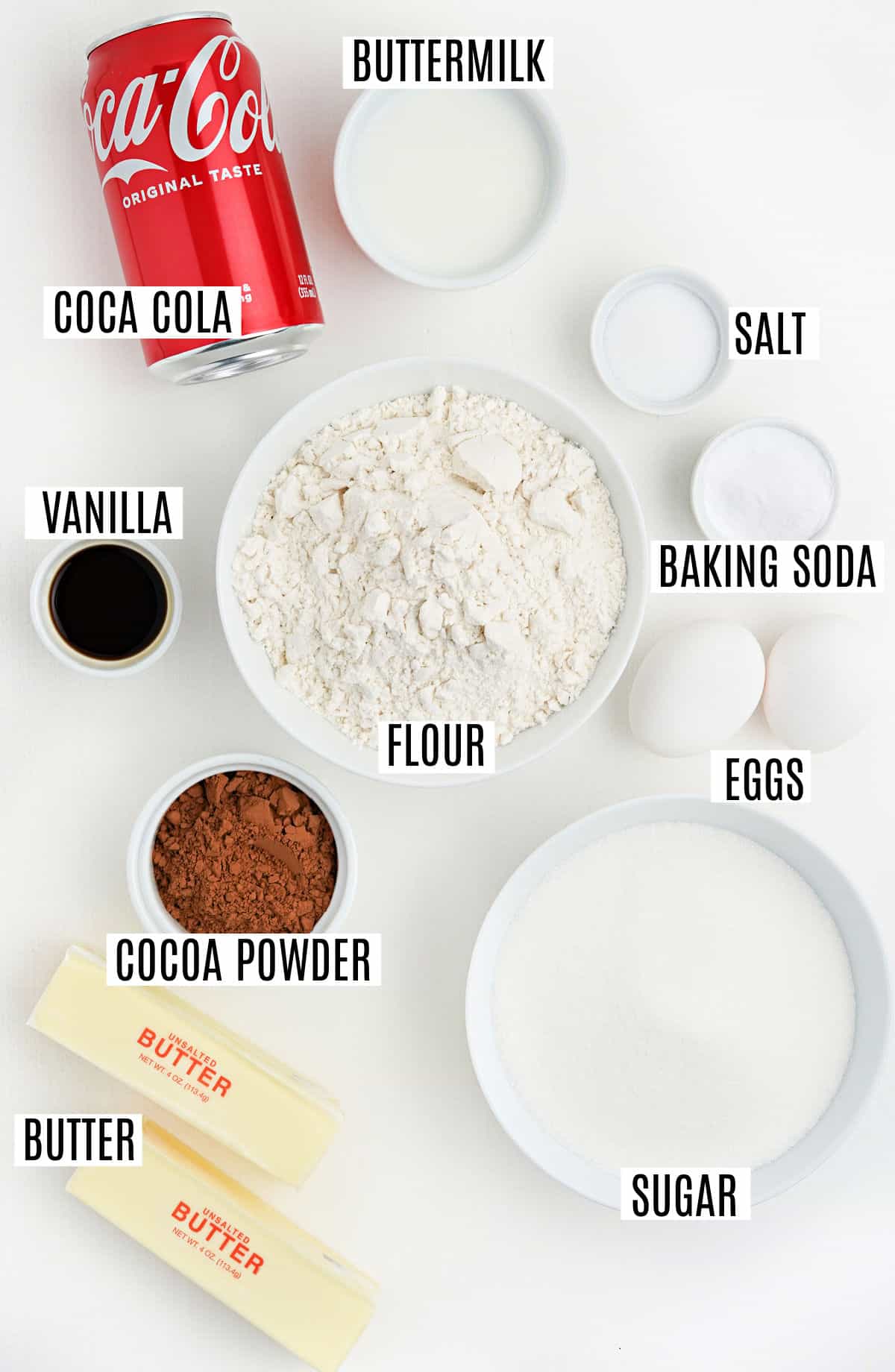 Easy Instructions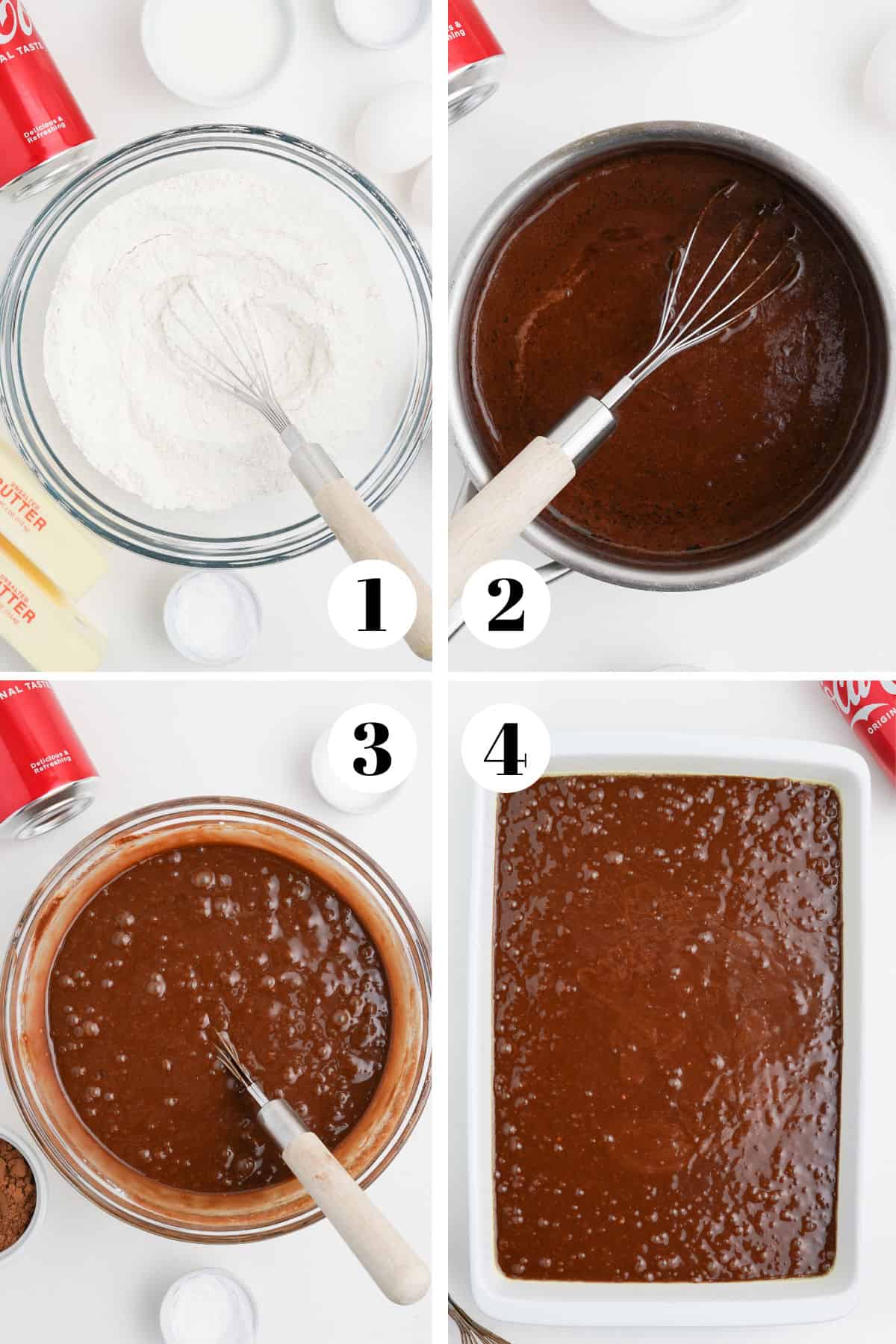 STEP 1. Combine dry ingredients. Mix together the flour, sugar, baking soda and salt.
STEP 2. Reduce cola and combine wet ingredients. Reduce the coca cola in a small saucepan then combine it with the butter and cocoa powder.
STEP 3. Finish the cake batter. Add the eggs, buttermilk and vanilla and beat with a mixer until well blended.
STEP 4. Bake the cake. Transfer the batter to a greased 9×13 baking dish and bake at 350 for 30 minutes.
STEP 5. Make the frosting. Reduce the second can of Coca cola in a small saucepan. Add the butter, vanilla and cocoa and whisk until smooth. Remove from heat and slowly whisk in the powdered sugar.
STEP 6. Frost the cake. Pour the frosting over the cake (even if it's still warm) to allow it to set up. Let the cake cool completely before slicing and serving.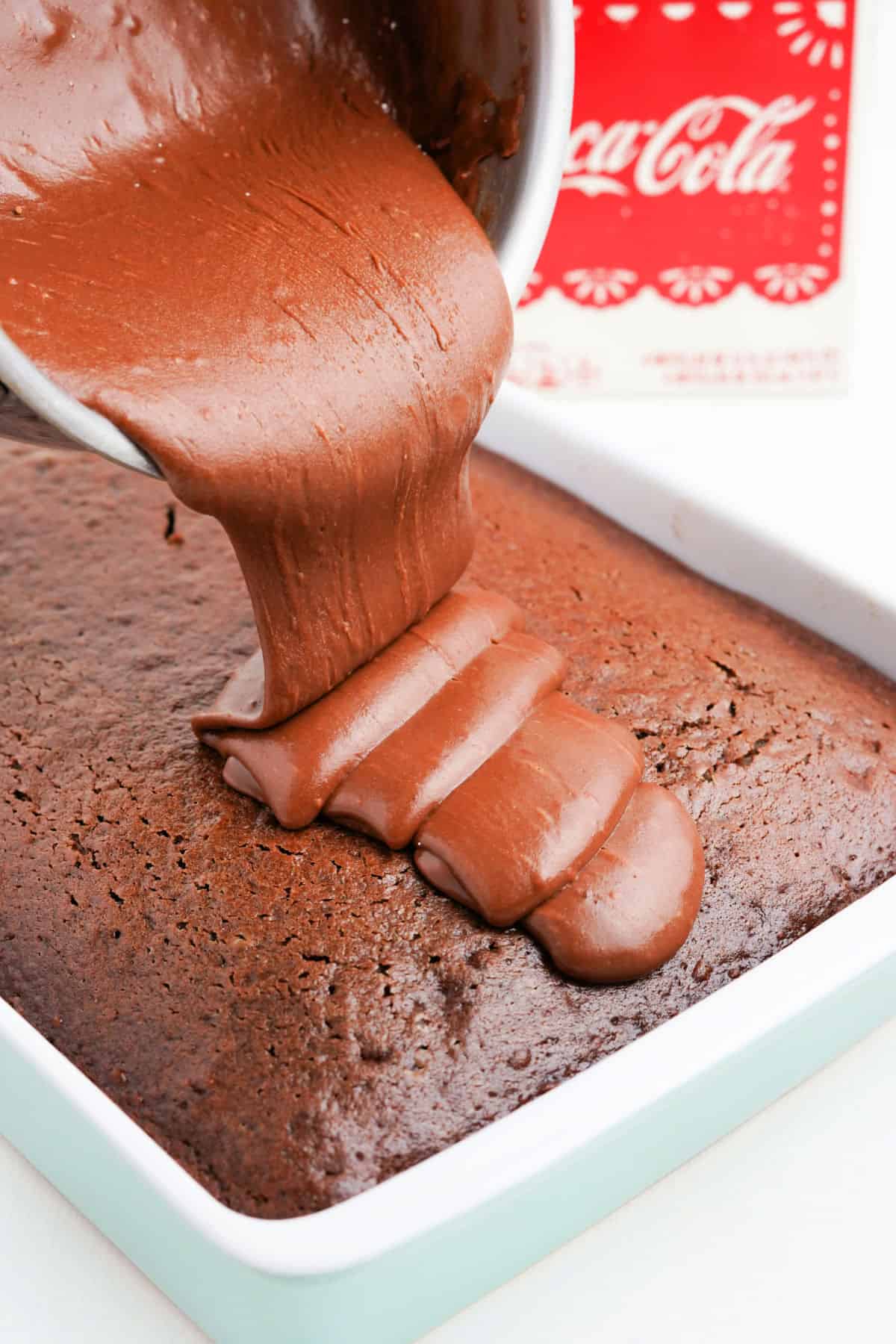 Tips & Tricks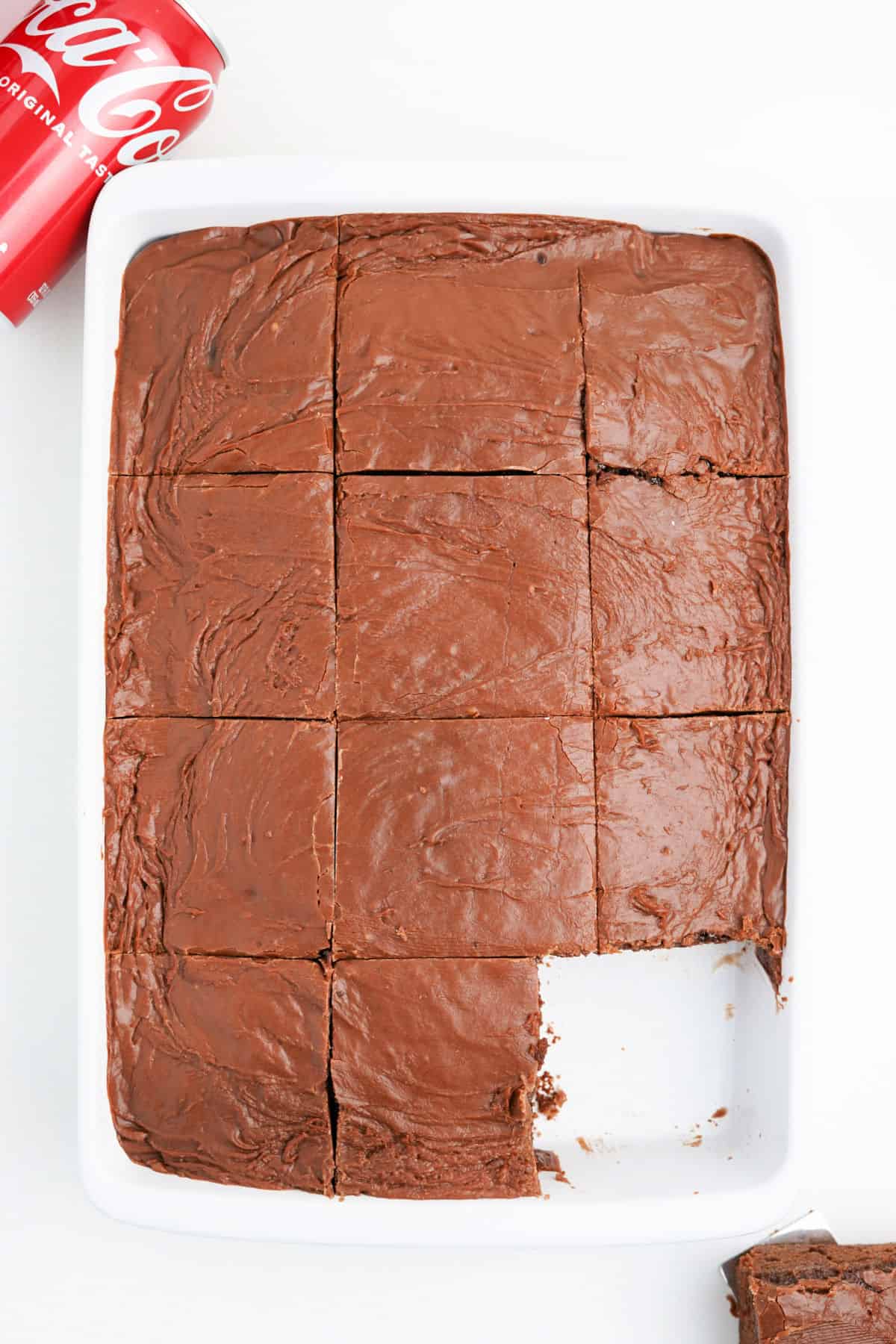 Recipe FAQs
Where did Coca Cola Cake come from?
Coca Cola Cake dates back to the 1950s and was a popular cake recipe. It was first published in the Charlestown Gazette.
Does Coca Cola Cake taste like Coke?
The carbonation from the soda gives the cake an extra light texture and a bit of a lift. It adds a deep flavor that you will recognize, but can't quite tell what it is!
How do I store the cake?
Store the cake in the original baking dish and cover with plastic wrap once completely cooled. It can be stored at room temperature or in the refrigerator for up to 5 days.
Can you freeze cake?
You can freeze slices of this cake, either frosted or unfrosted, for up to 3 months. Wrap in parchment paper then place in a freezer bag to preserve freshness. When a craving hits, thaw the cake at room temperature and enjoy.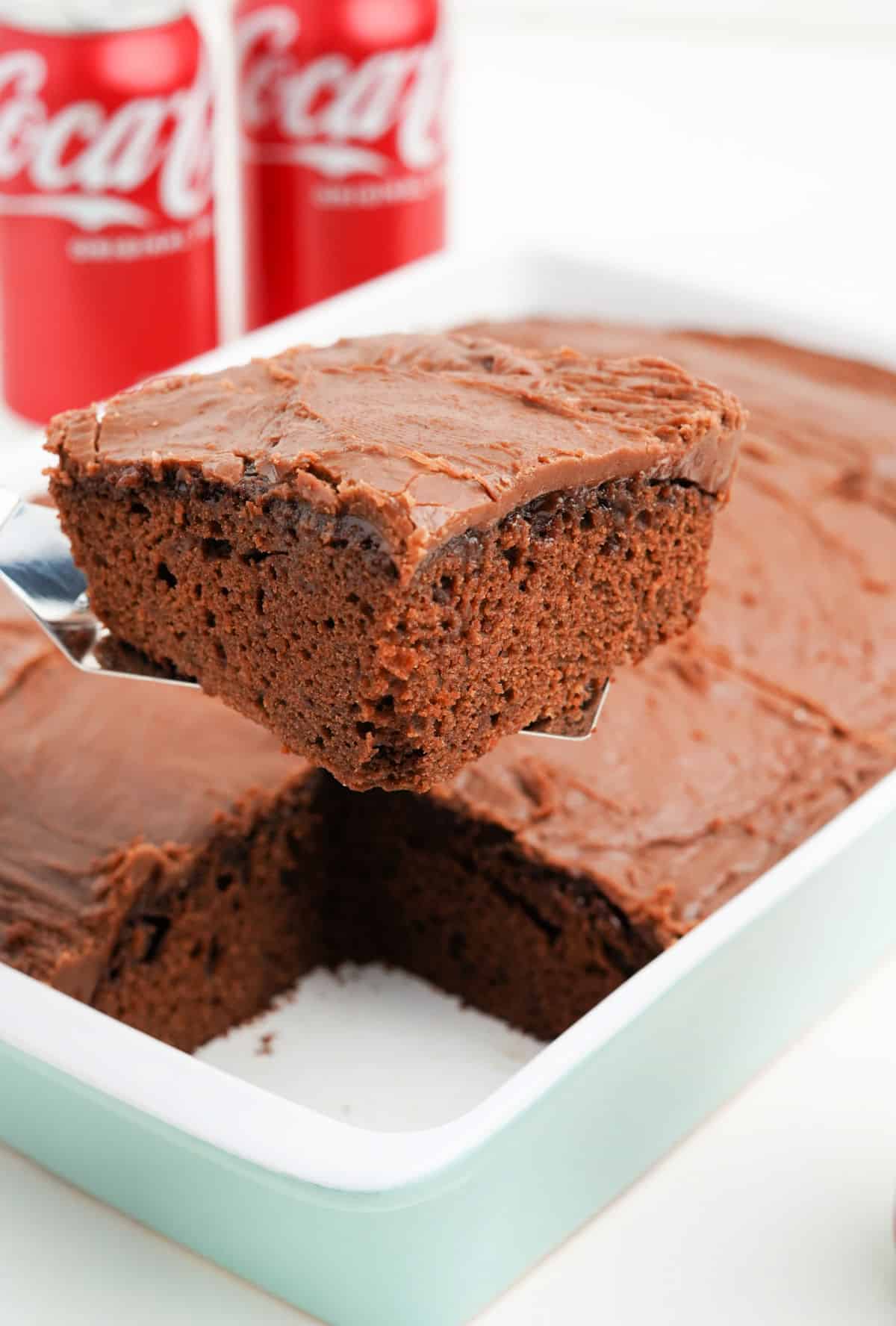 More Easy Dessert Recipes