Make your own chocolate ice cream at home with this easy recipe! Rich, creamy and full of bold chocolate flavor, this ice cream is delicious on its own or with your favorite sundae toppings.
For even more chocolate decadence, use your homemade ice cream to make a round of Chocolate Cake Shakes! Or whip up an ice cream cake using our homemade chocolate ice cream.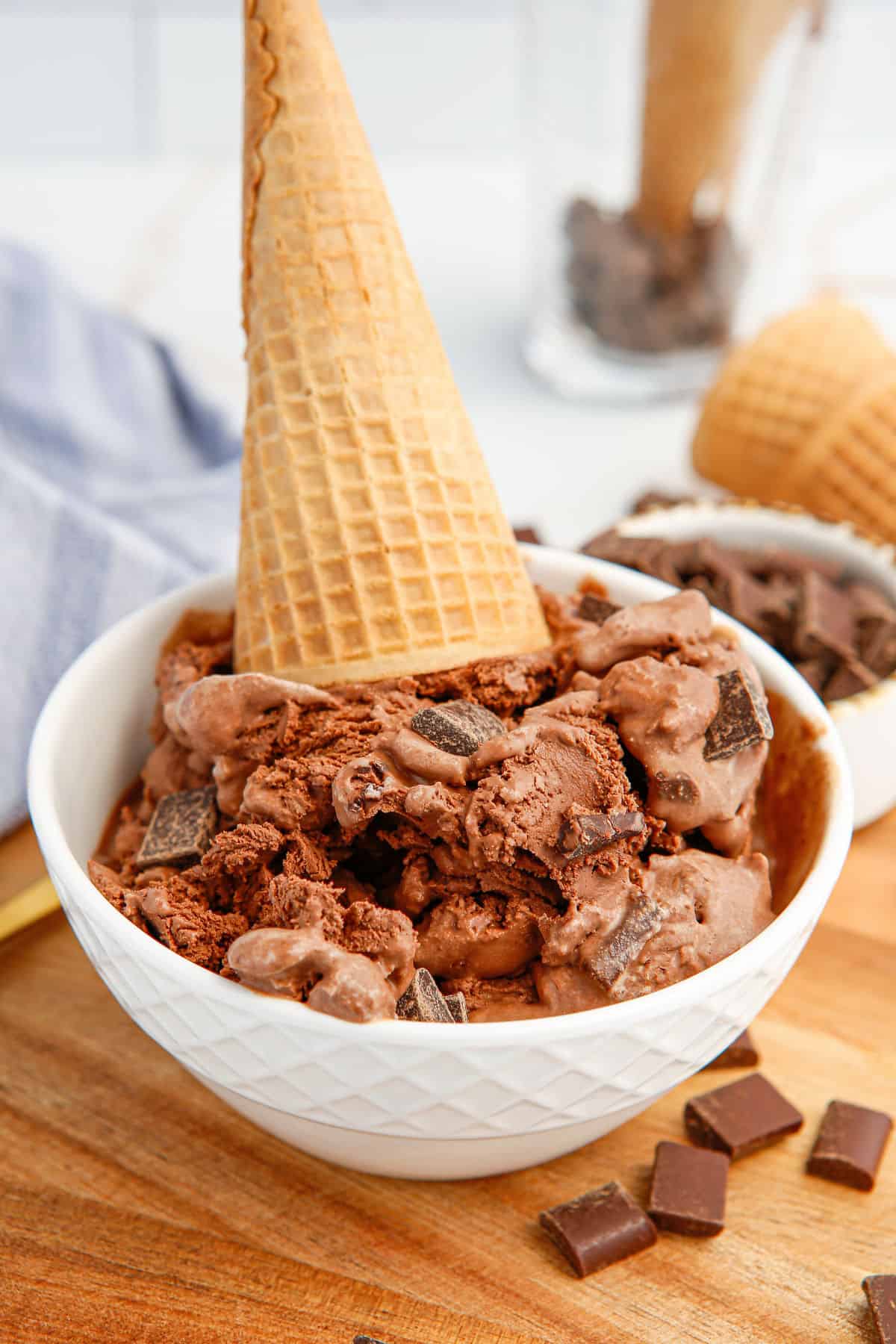 Why This Ice Cream is Best
My family loves the fresh creamy flavor of homemade ice cream.
This classic vanilla ice cream has been a staple at our house for years. It was high time to try my hand at a chocolate version!
This chocolate ice cream recipe contains no eggs. That means its safer to consume without the risk of food contamination.
Ingredients you recognize. When you make ice cream at home, you avoid the long list of preservatives and artificial flavors found in many store bought varieties.
Soft serve or hard. Enjoy it soft right out of the ice cream maker or let it harden in the freezer. It's delicious both ways!
Extra chocolatey! With real cocoa powder and chocolate chunks, this is a chocolate lover's dream come through.
Love today's flavor? You've got to try our cookies and cream ice cream recipe too!
Today's recipe is a no-go for dogs, however, if you want them to have a frozen treat, make a batch of our easy dog ice cream instead!
Ingredient Notes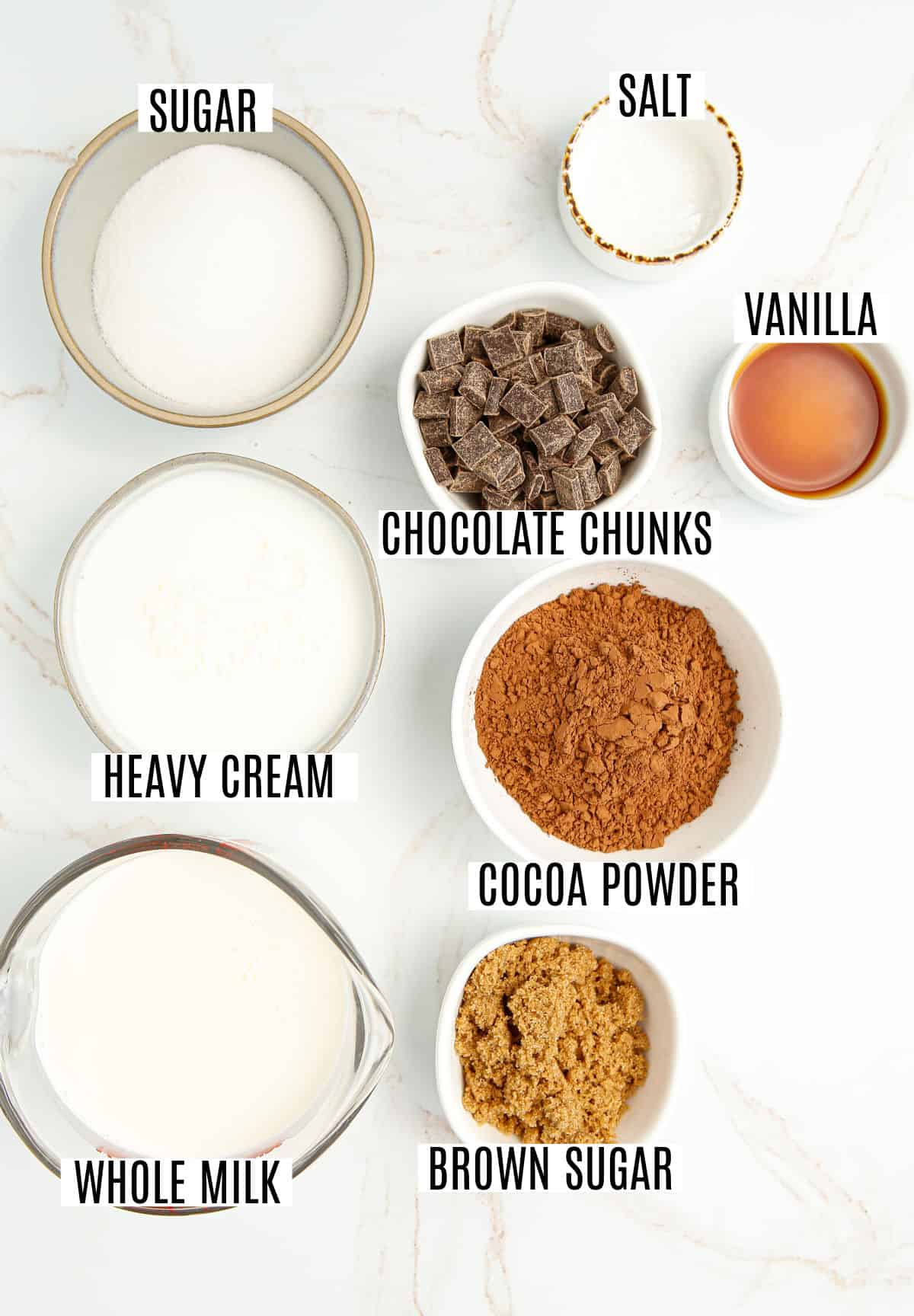 See the recipe card for full information on ingredients and quantities.
Heavy whipping cream – Essential for creamy, thick ice cream. Make sure it's COLD!
Cocoa powder – For best results, use a high quality cocoa such as Ghirardelli or Guittard to give your ice cream its chocolate flavor.
Brown sugar – Elevates the chocolate flavor while providing additional sweetness.
PRO TIP- We love making our own homemade vanilla extract, but if using store bought, be sure it's pure extract, not imitation (for best flavor).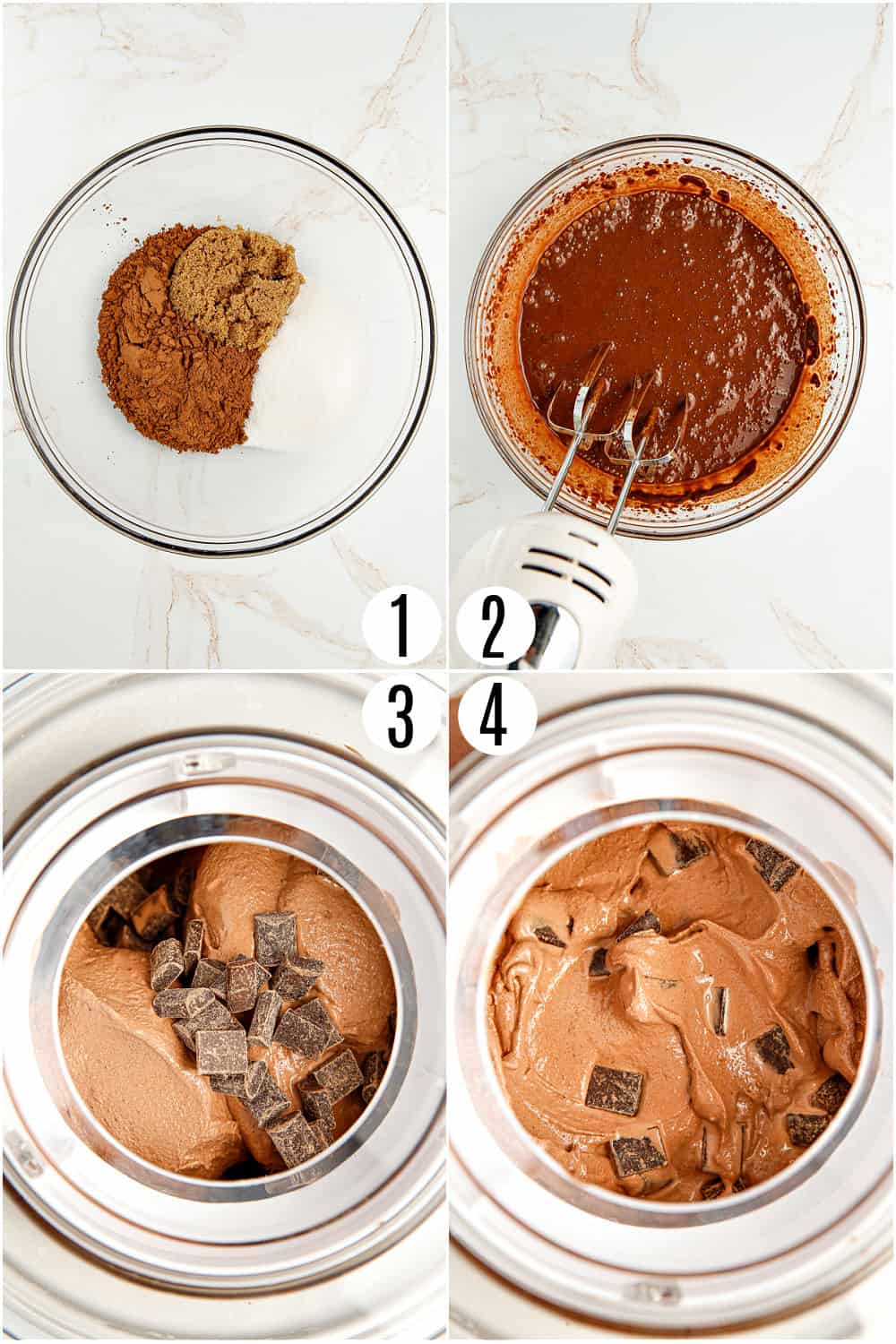 Tips and Tricks
Add a big handful of chocolate chunks to the chocolate ice cream in the last minute or two of churning. It adds a little variety of texture to the smooth ice cream and even MORE chocolate goodness!
Make sure your heavy whipping cream is nice and cold. I like to stick the carton in the freezer for about 5 minutes before making the ice cream mixture.
If you have a deep freezer (chest freezer) now is the time to use it! Since traditional home freezer gets opened and closed so frequently, it may take the chocolate ice cream much longer to get firm.
Storage- We love these 1 quart storage containers from Amazon. Perfect size and reusable.
No Ice Cream Maker? No problem. We've got an easy no churn vanilla ice cream or berry ice cream recipe instead!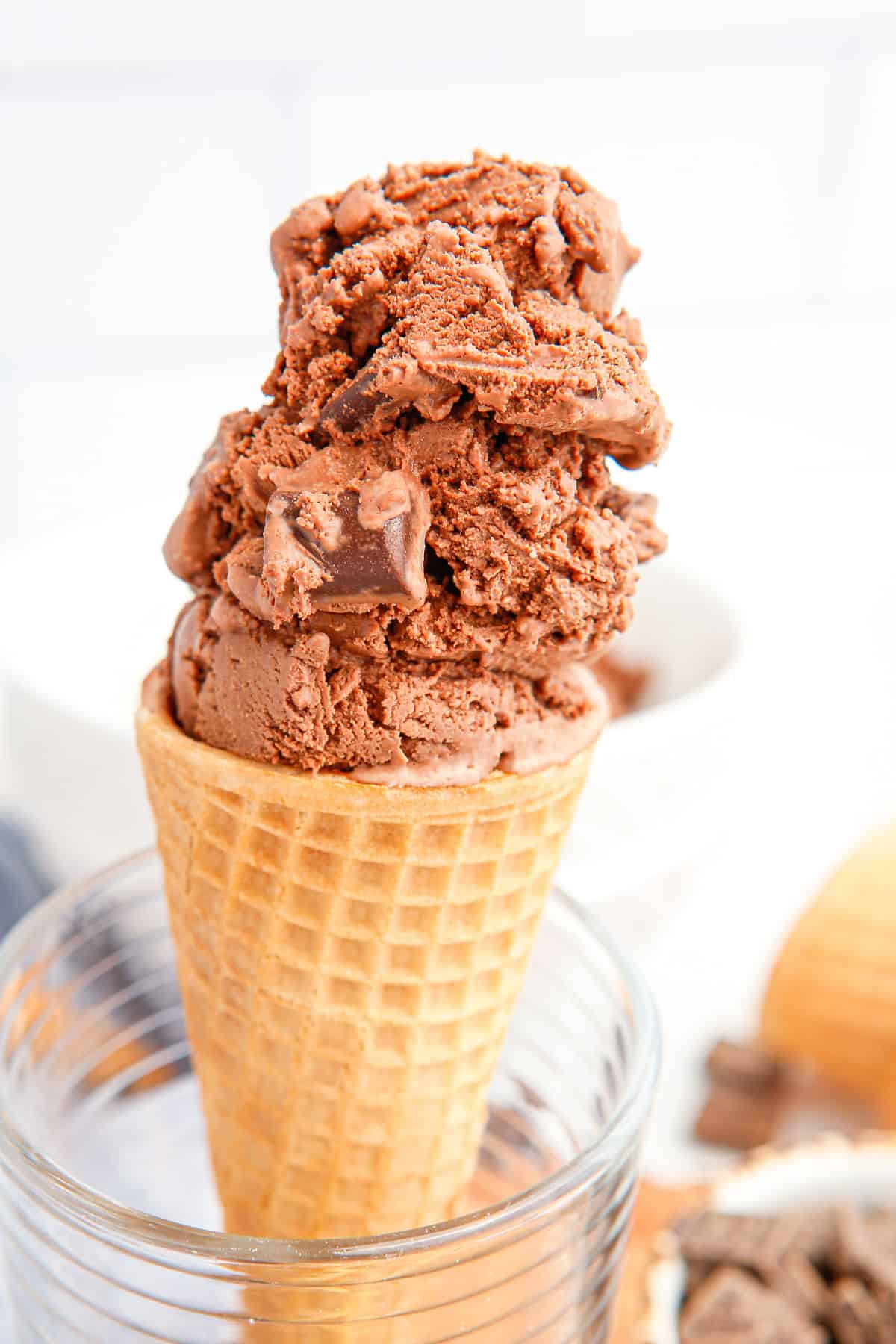 Recipe FAQs
How do I make this ice cream harder?
When your ice cream maker is done churning, the chocolate ice cream will resemble the consistency of soft serve. If you want a traditional hard ice cream, it needs additional time in the freezer.
To harden the ice cream, transfer it to a loaf pan. Cover the top with plastic wrap and foil and place it in your freezer for an hour or two.
My ice cream is too hard to scoop. What can I do?
After freezing, let the ice cream soften at room temperature for about 10 minutes. That should soften it just enough to make it easy to scoop!
How long does homemade chocolate ice cream stay good?
This ice cream keeps well stored in the freezer for 2-3 weeks. A deep freezer may keep it fresh for even longer!
What can I add to chocolate ice cream?
This ice cream recipe is a delicious canvas for all kinds of mix-ins! Along with chocolate chunks, it would be delicious with the addition of peanut butter morsels, nuts, crushed Oreo cookies and more.
What kind of ice cream maker do I need for this recipe?
I used a 1.5 quart Cusinart Ice Cream Maker. You should get good results from any similar style countertop ice cream machine.
How much ice cream does this recipe make?
The recipe yields a little over 1 quart of delicious chocolate ice cream!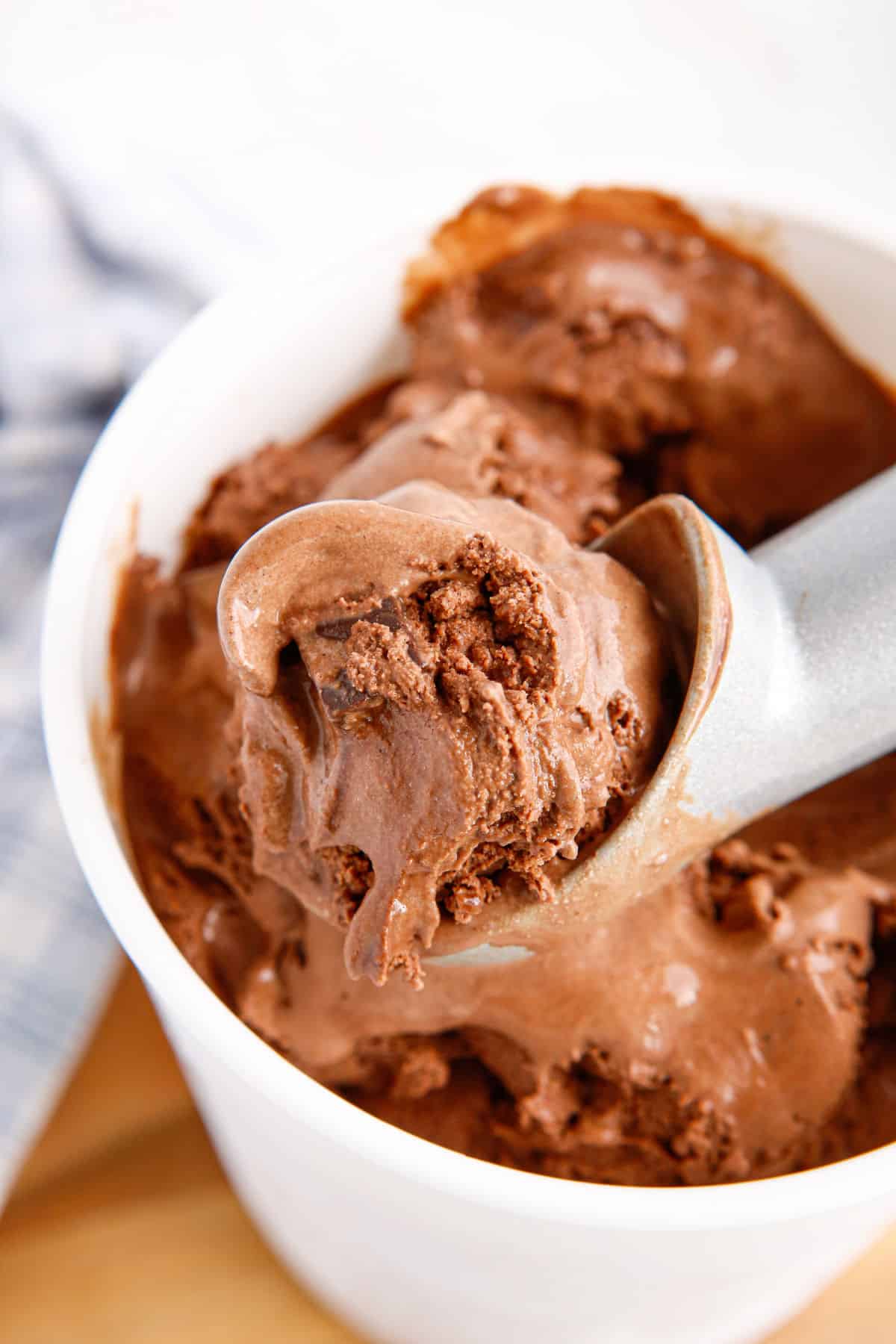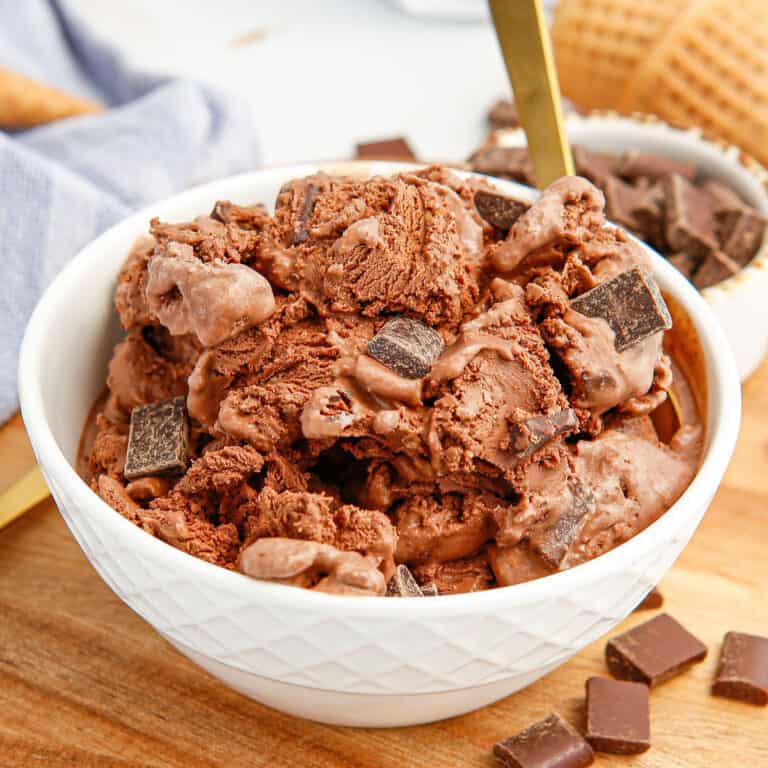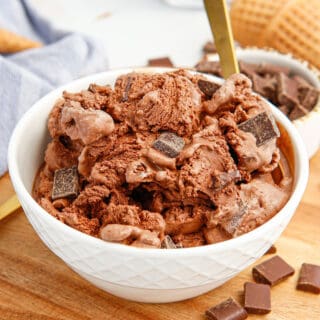 Chocolate Ice Cream Recipe
Make your own chocolate ice cream at home with this easy recipe! Rich, creamy and full of bold chocolate flavor, this ice cream is delicious on its own or with your favorite sundae toppings.
Ingredients
¾

cup

cocoa powder

½

cup

granulated sugar

⅓

cup

brown sugar

¼

teaspoon

kosher salt

2

cups

heavy whipping cream

cold

1

cup

whole milk

1

teaspoon

vanilla extract

¾

cup

chocolate chunks

optional
Instructions
In a medium mixing bowl, mix together the cocoa powder, brown sugar, granulated sugar and salt.

Pour the milk into the cocoa powder mixture and use an electric mixer or whisk to combine until sugars are dissolved.

Whisk in the cold heavy cream and vanilla extract.

Turn your ice cream maker on and pour your ice cream mixture into the frozen bowl of the ice cream maker. Churn for 20 minutes. If desired, add in the chocolate chunks and churn an additional 1-2 minutes until the chocolate chunks are combined.

The texture will be more of a soft serve style. If you'd like to firm up the ice cream, place it into the freezer for 1-2 hours, or overnight, before serving. Enjoy!
Notes
I used a Cuisinart Ice Cream Maker and it took about 20-25 minutes to churn. Ice cream was soft serve. Freeze immediately if you want a scoopable ice cream.
Due to the frequent opening and closing of a traditional refrigerator/freezer, it may take longer for the ice cream to be solid. Additionally, the ice cream may remain in a soft state. For best results, placing the ice cream in a deep freezer is recommended.
Recipe makes just over 1 quart.
Storage- Store leftovers in an airtight container in the freezer for 2-3 weeks. We love these 1 quart storage containers from Amazon. Perfect size and reusable. You can also use a metal bread loaf pan and cover with plastic wrap then foil to store the ice cream.
If you freeze the ice cream, remove and let it sit on the counter for 10 minutes before serving.
Nutrition
Serving:
0.5
cup
,
Calories:
332
kcal
,
Carbohydrates:
30
g
,
Protein:
4
g
,
Fat:
22
g
,
Saturated Fat:
14
g
,
Polyunsaturated Fat:
6
g
,
Trans Fat:
1
g
,
Cholesterol:
59
mg
,
Sodium:
67
mg
,
Fiber:
2
g
,
Sugar:
25
g