Learn how to make ice cream from scratch without an ice cream maker! Made with just four ingredients, this No Churn Vanilla Ice Cream recipe is quick, easy and totally delicious.
It doesn't get much better than Homemade Vanilla Ice Cream. Scooped onto brownies, served with apple pie or enjoyed all on its own, it's a creamy classic we never get tired of eating.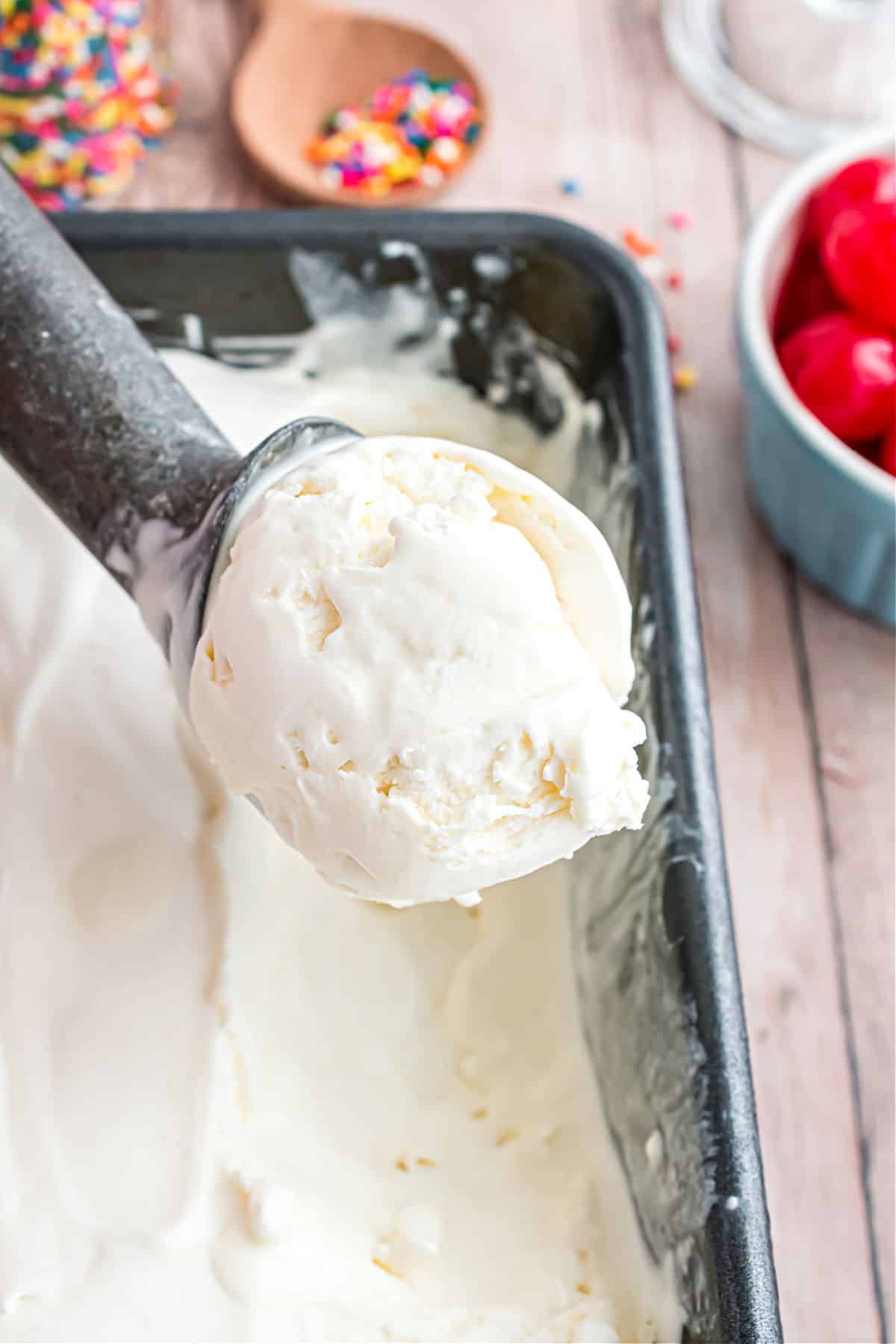 What is No Churn Ice Cream
Traditional ice cream recipes call for "churning" the frozen ice cream base. Churning is a process of vigorously stirring to prevent large ice crystals from forming, giving the ice cream that smooth creaminess that makes it so irresistible.
Ice cream makers and machines make the churning process simple and far less labor intensive than old fashioned hand cranking methods. I use my ice cream maker for most of my favorite classic ice cream recipes, including this delicious Chocolate Ice Cream!
Every time I share an ice cream recipe I get one question over and over again: Can I make ice cream at home without an ice cream maker?
The answer is YES. With one caveat.
You can make ice cream without an ice cream maker if you use a No-Churn recipe!
This no churn vanilla ice cream uses a specific formula and method to achieve that premium taste without the need for mechanical churning.
You're going to love this recipe!
Silky smooth ice cream with sweet vanilla flavor.
Only four ingredients needed.
Quick and easy. The longest part is waiting for the ice cream to freeze.
Better than a trip to the ice cream parlor!
Ingredient Notes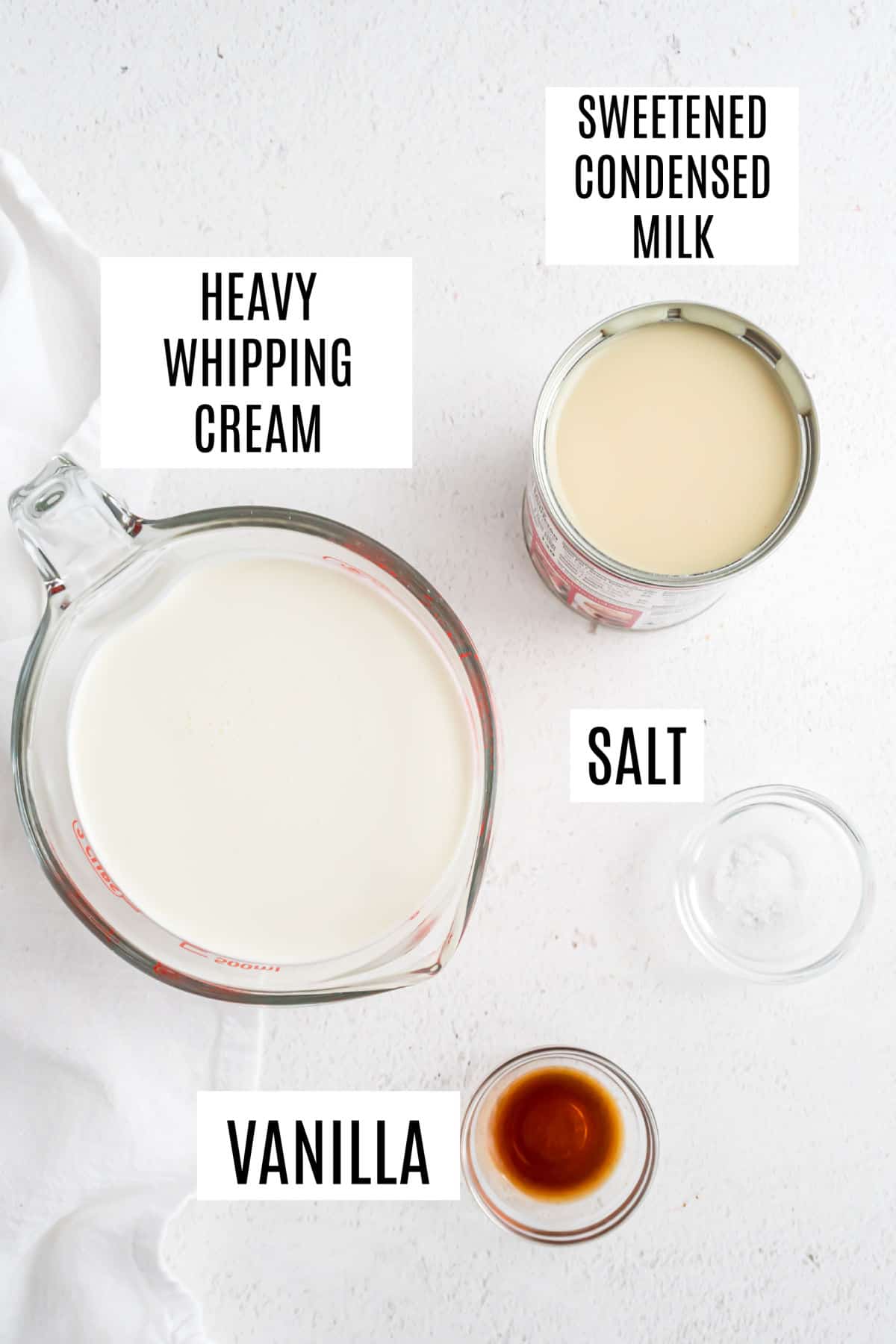 The secret to no-churn ice cream is the right combination of ingredients.
Heavy whipping cream – The higher fat to liquid ratio creates that decadent creamy texture and a richer flavor.
Sweetened condensed milk – Sweetens the ice cream and has a lower water content than other milks, resulting in softer, more scoopable ice cream.
Vanilla extract – Use a pure extract for best flavor. Our homemade vanilla extract is perfect. You can also add in the seeds from one vanilla bean too.
Kosher salt – A pinch is all you need to make the sweet vanilla flavor shine. We've got all the tips and tricks on why we use kosher salt.
Tips and Tricks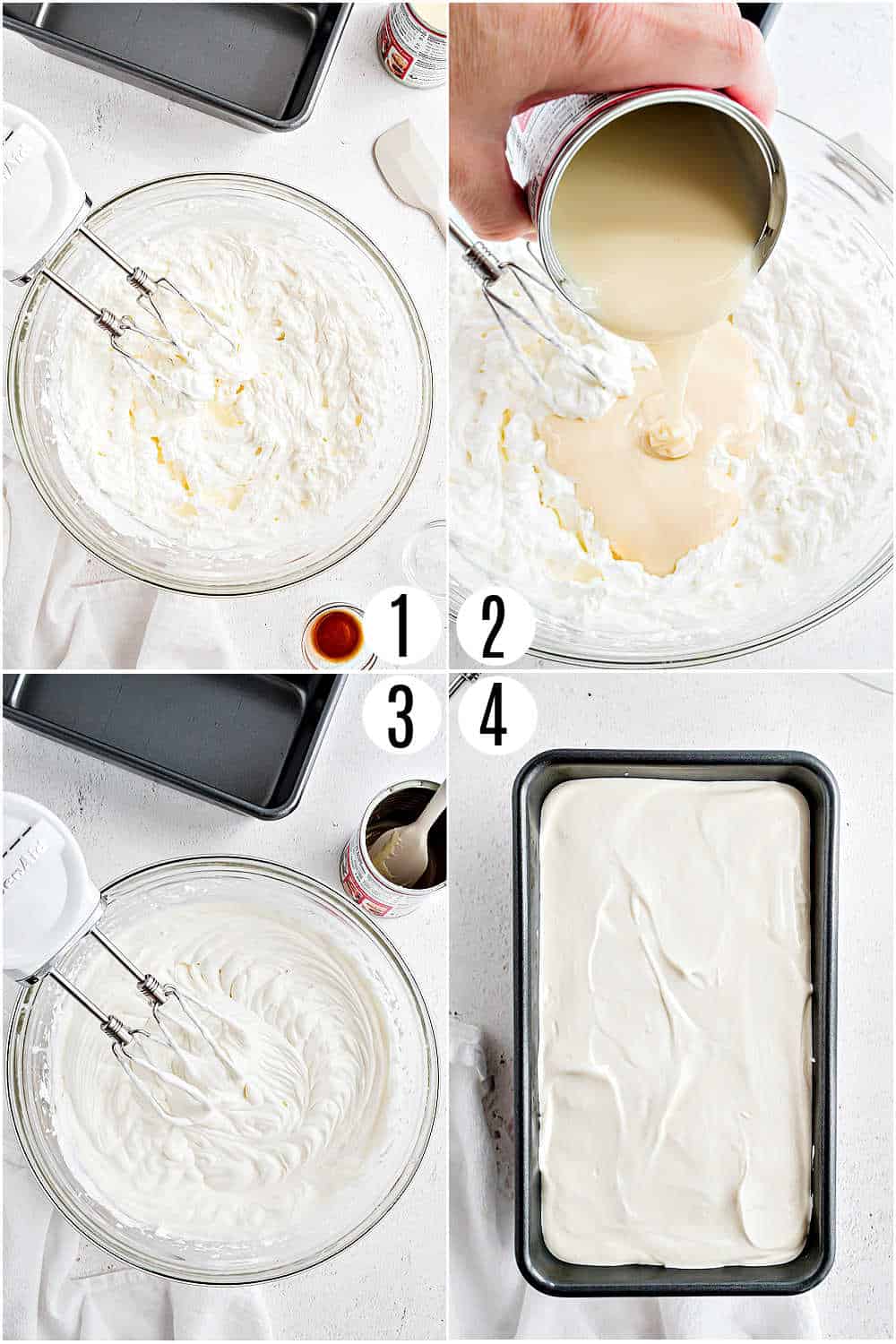 Start by beating the heavy cream until stiff peaks form.
We're essentially making a whipped cream to form the base of our ice cream. Since this is a no churn ice cream recipe, beating the cream incorporates the air we need to prevent the ice cream from getting hard and icy.
Use a cold bowl AND cold ingredients for best results.
The cold temps make it easier to beat the cream and get the consistency you're looking for.
I put the bowl and heavy cream in the freezer for 20 – 30 minutes before making ice cream. It ensures everything is ice cold when it's time to beat the ingredients together.
Invest in some good ice cream storage containers! These containers look great, fit nicely in the freezer, and have tight fitting lids to ensure our no churn ice cream stays tasting fresh.
Serving Suggestions
Your homemade no churn vanilla ice cream is delicious served all your favorite ways.
Scoop up a bowl and enjoy it with toppings like. . .
caramel sauce
sprinkles
chocolate chips, butterscotch morsels or peanut butter chips
toffee bits
crushed candy bars
cookie pieces
chopped nuts
sliced fresh fruit
I love to top my ice cream with a big dollop of whipped cream or homemade cool whip. Add a few slices of whatever fruit is in season and you have a perfect refreshingly sweet cold dessert.
If you're feeling extra decadent, add a scoop of this ice cream to a Turtle Brownie with all the sundae toppings you desire. I'll take extra pecans and caramel sauce, please!
Of course, I'll never turn down ice cream with a helping of warm Peach Cobbler or Apple Crumble. There's nothing quite as comforting as the contrast between cold ice cream and a warm dessert.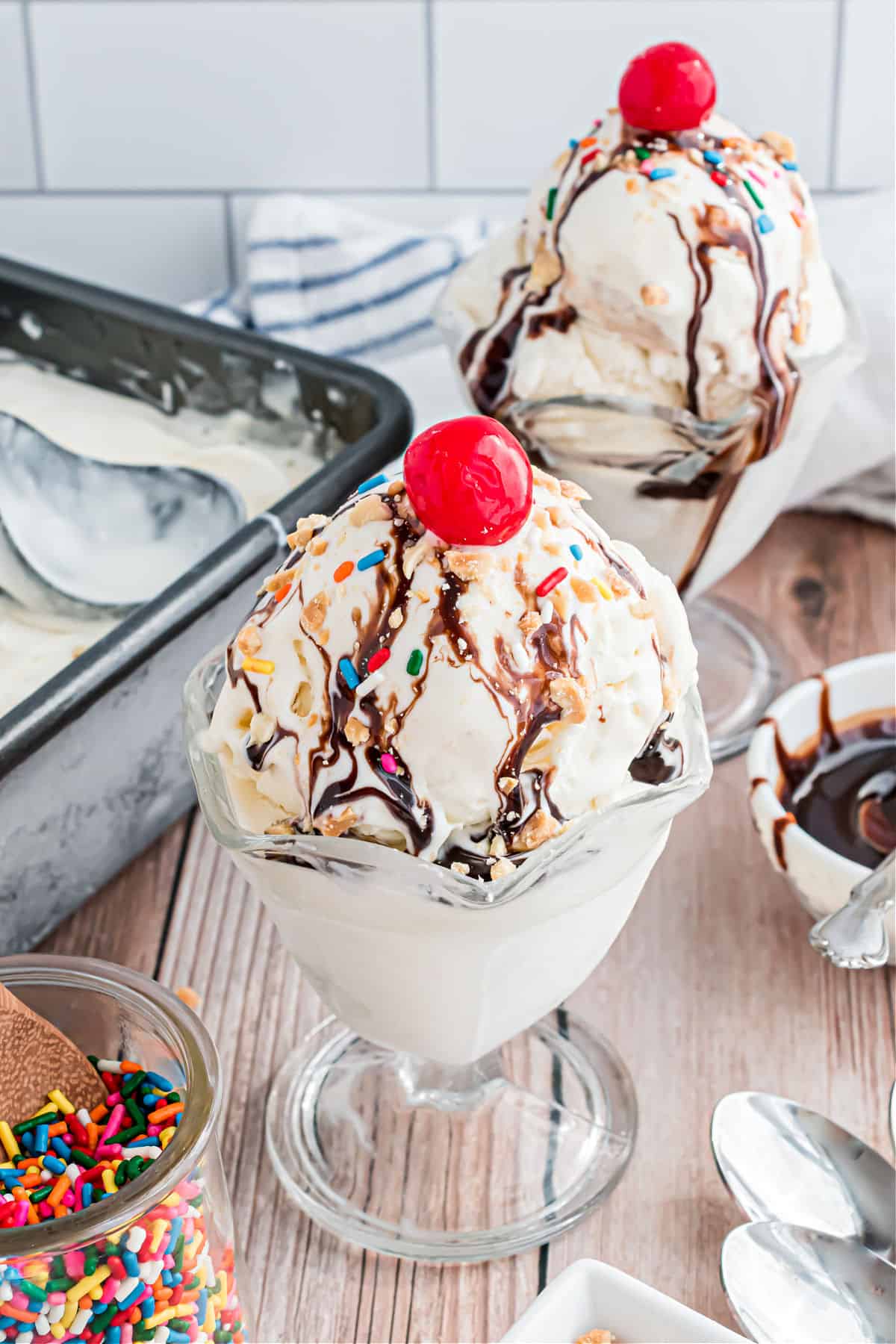 Recipe FAQs
What does it mean to form "stiff peaks"?
When you turn the cream into stiff peaks, the whipped cream should hold its form when you pull the beaters away. Turn the beaters up right to test the stiffness of the cream. If the whipping cream tips begin to turn downward, it's not at the "stiff peaks" stage yet.
Keep beating! It may take several minutes depending on the speed and strength of your beaters.
Can I use reduced fat milk or fat free sweetened condensed milk instead?
Low fat and reduced fat alternatives are NOT recommended for this no churn ice cream recipe. The fat in the milk is necessary for giving the ice cream a smooth, soft texture that's easy to scoop.
Can I add mix ins?
Yes, additions like chopped nuts, crushed cookies and chocolate chips are delicious mix-ins to the recipe. Add them to the mixture right before transferring the ice cream to the loaf pan.
Be careful not to overmix.
How do I store this ice cream?
Store your homemade ice cream in an airtight container with a lid. Keep it in the freezer until you're ready to serve.
Easy Dessert Recipes
No ice cream maker needed to make scrumptious homemade ice cream! This No Churn Vanilla Ice Cream recipe is sweet, soft, creamy and so easy to make in your own kitchen.