Caramel Apple Cupcakes have a fun apple pie filling in the middle, are topped with an easy, homemade buttercream frosting and served with some extra apple filling on top. These moist cupcakes are full of warm spices and such a fun and pretty fall dessert!
Love apples? Our easy caramel apple cheesecakes are fabulous. Perfectly balanced and delicious. Readers love our apple fritters and apple nachos for fun fall treats.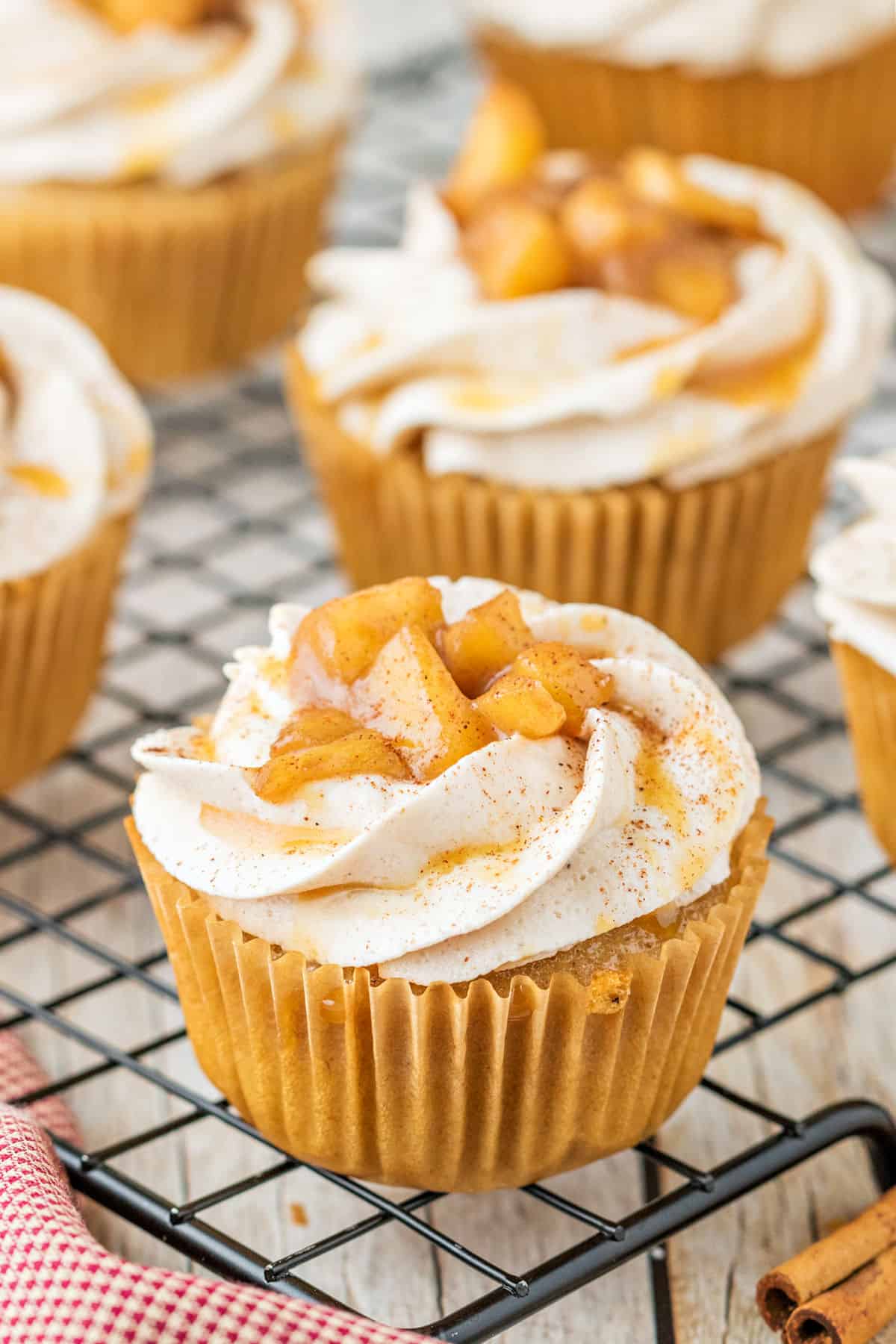 Why these Cupcakes are Best
These cupcakes are layered with flavor and perfect for a fall comfort food treat when apples are in season! Also, your kitchen will smell amazing as these bake!
If you love our fried apples or apple pie recipe, today's cupcakes are just for you! Don't forget to try our caramel apple dip next!
Ingredient Notes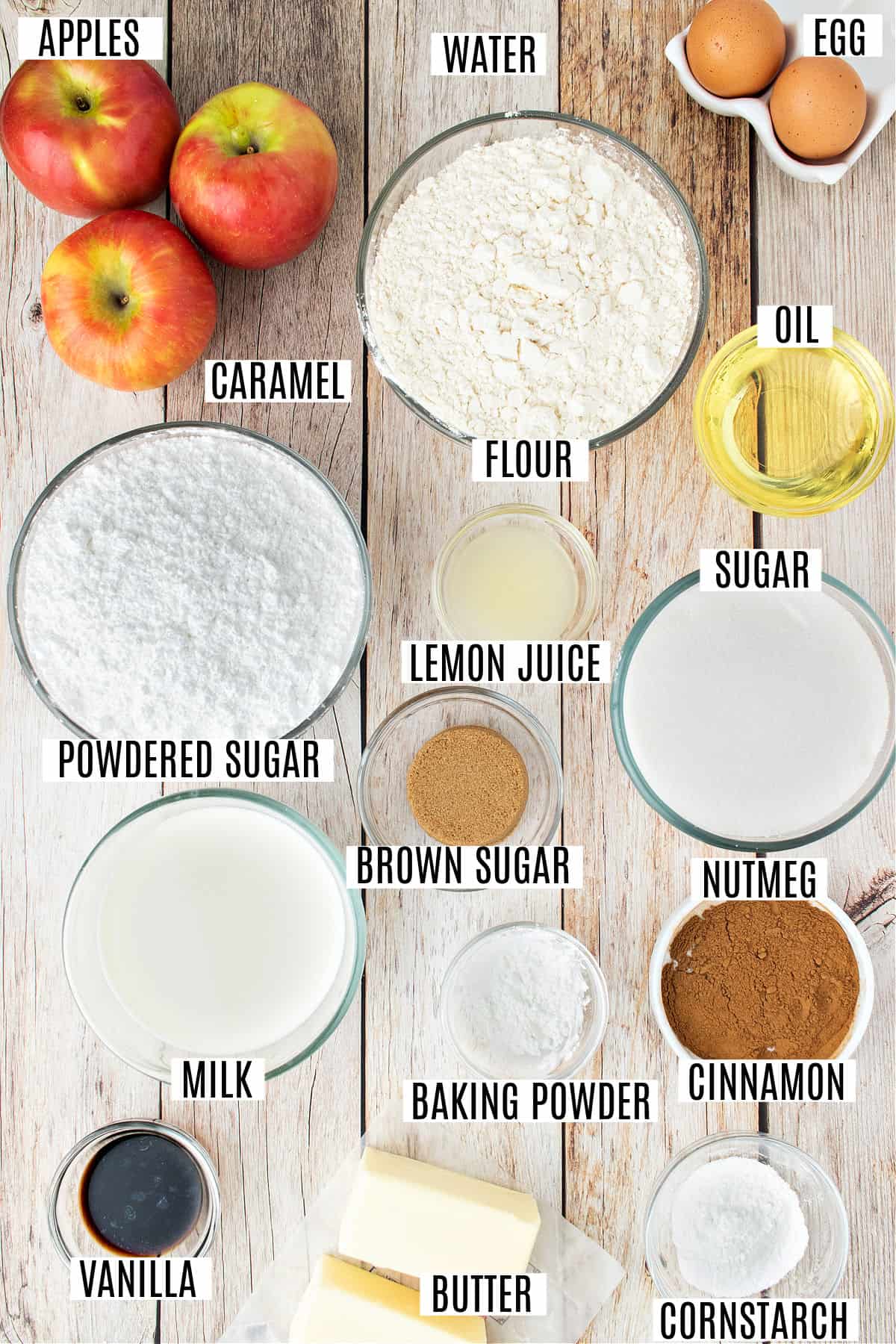 Easy Instructions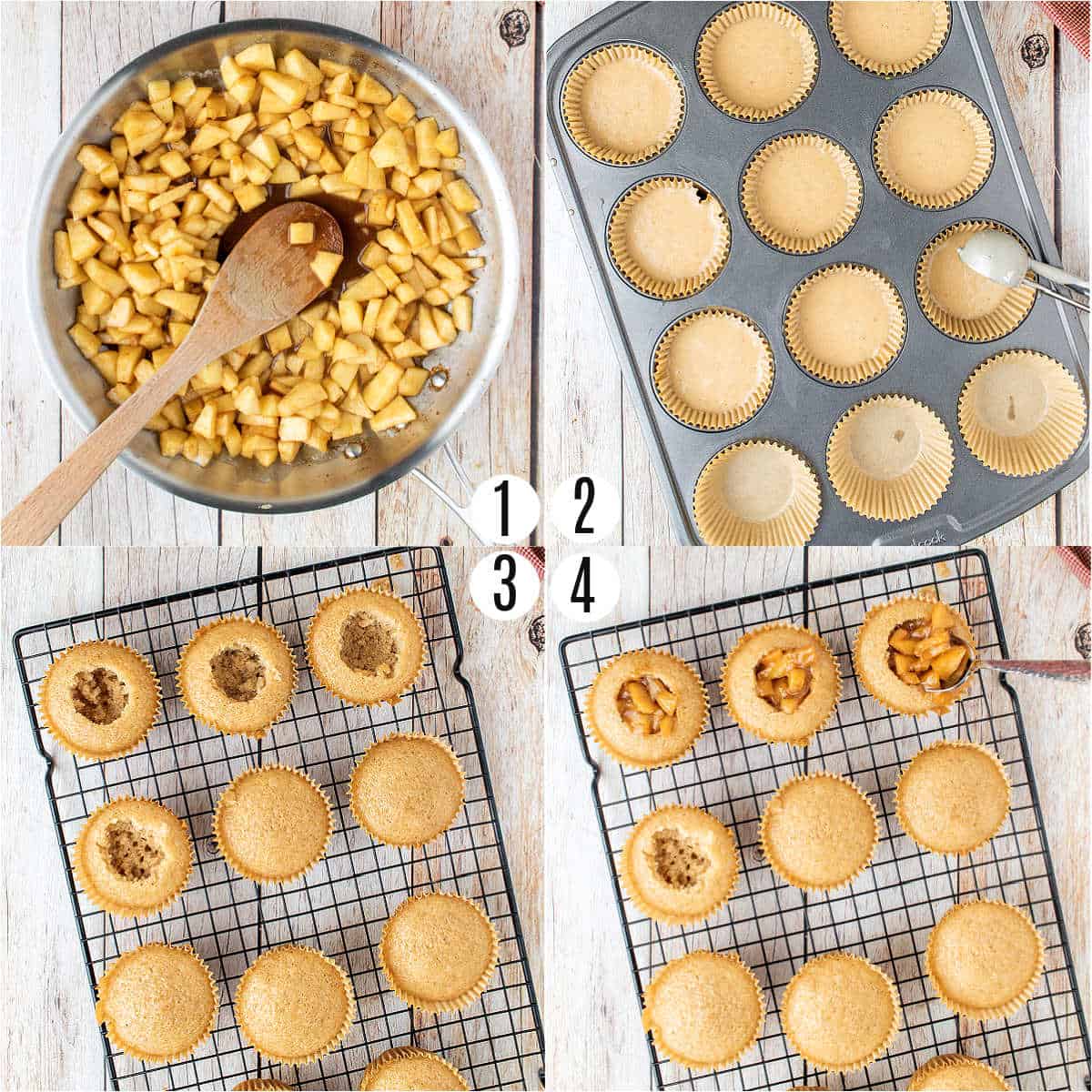 Making today's cupcakes has a few steps. From cooking the apple filling, to baking the cupcakes, and finally swirling on homemade frosting.
Broken down though, these steps are easy peasy.
Make the apple pie filling. Combine the apples, brown sugar, lemon juice and cinnamon in a large bowl. Melt butter in a skillet and cook the apples for about 10 minutes, until tender. Add the cornstarch to thicken then let the mixture cool. (Make a double batch and use as filling in our apple hand pies)
Make the cupcakes. Whisk together the dry ingredients in a large bowl. Then add the wet ingredients and mix until combined. The batter will be thin. Bake the cupcakes then let them cool completely.
Make the buttercream frosting. Start with softened butter and beat it with a mixer for about 3 minutes, until soft, smooth and pale in color. Mix in the cinnamon and vanilla then add the powdered sugar and mix until smooth.
Assemble the cupcakes. Make a small hole in the center of each cupcake. Fill with the apple pie filling. Pipe the buttercream frosting on top. Add some extra apple pie filling on top of the frosting then drizzle with caramel sauce. Add a sprinkle of cinnamon, if desired.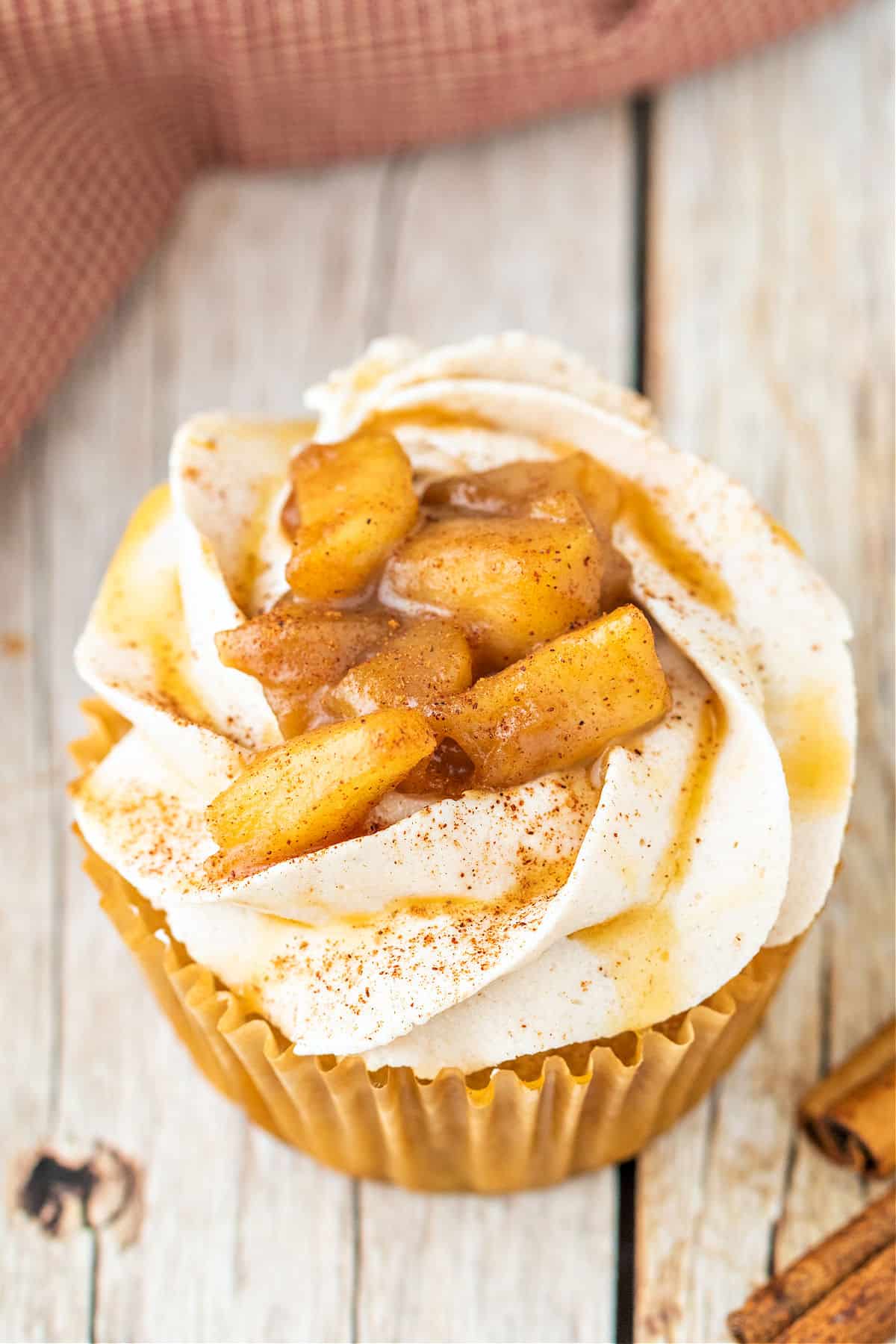 Tips and Tricks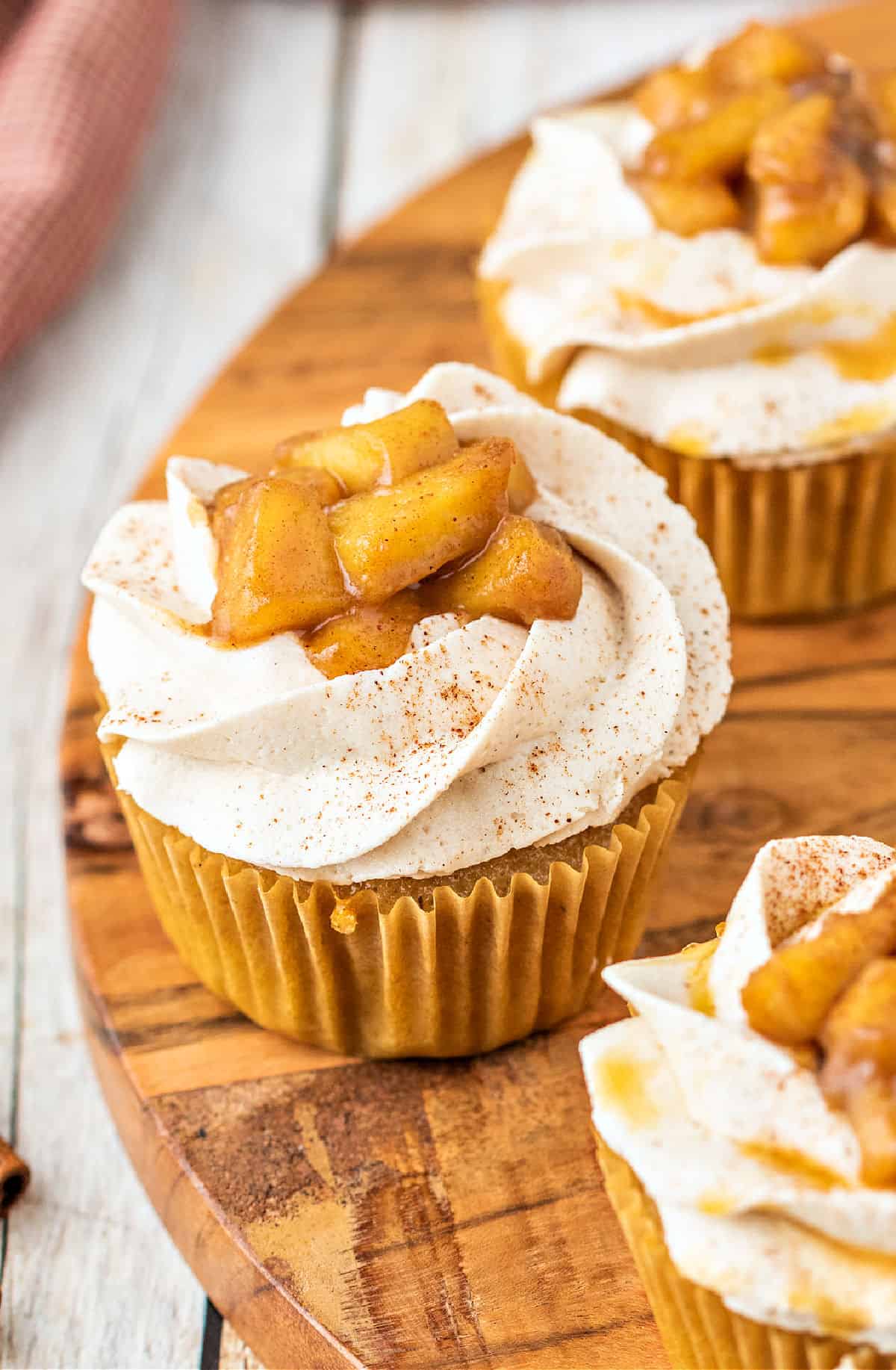 Recipe FAQs
Can I use a store-bought cake mix for this recipe?
Yes. Instead of making the cupcake batter, you can use a store-bought spice cake mix. Follow the instructions for baking as cupcakes. Let cool then assemble the cupcakes with the apple pie filling and the buttercream frosting.
Can I use a can of apple pie filling for this recipe?
The homemade apple pie filling in this recipe has the best, freshest flavor. However, you could use part of a can of apple pie filling to fill and top these cupcakes if desired.
Can I make Caramel Apple Cupcakes in advance?
Yes, caramel apple cupcakes can be made 1 day in advance, and stored in an airtight container at room temperature. The apple pie filling and buttercream frosting can also be made 1 day in advance, and stored in the refrigerator until ready to use.
How do I store Caramel Apple Cupcakes?
Store these cupcakes in the refrigerator, in an airtight container, for up to 3 days. You can also store unfrosted cupcakes in the freezer for up to 3 months.
More Easy Fall Recipes