Transform plain popcorn into delicious treats! These Popcorn Balls are made from scratch with a soft, sweet taste. Give them as gifts or keep them all to yourself!
Stock up on enough popcorn to make a batch of my famous homemade Caramel Corn next! Or give our Chocolate Covered Caramel Corn a try soon.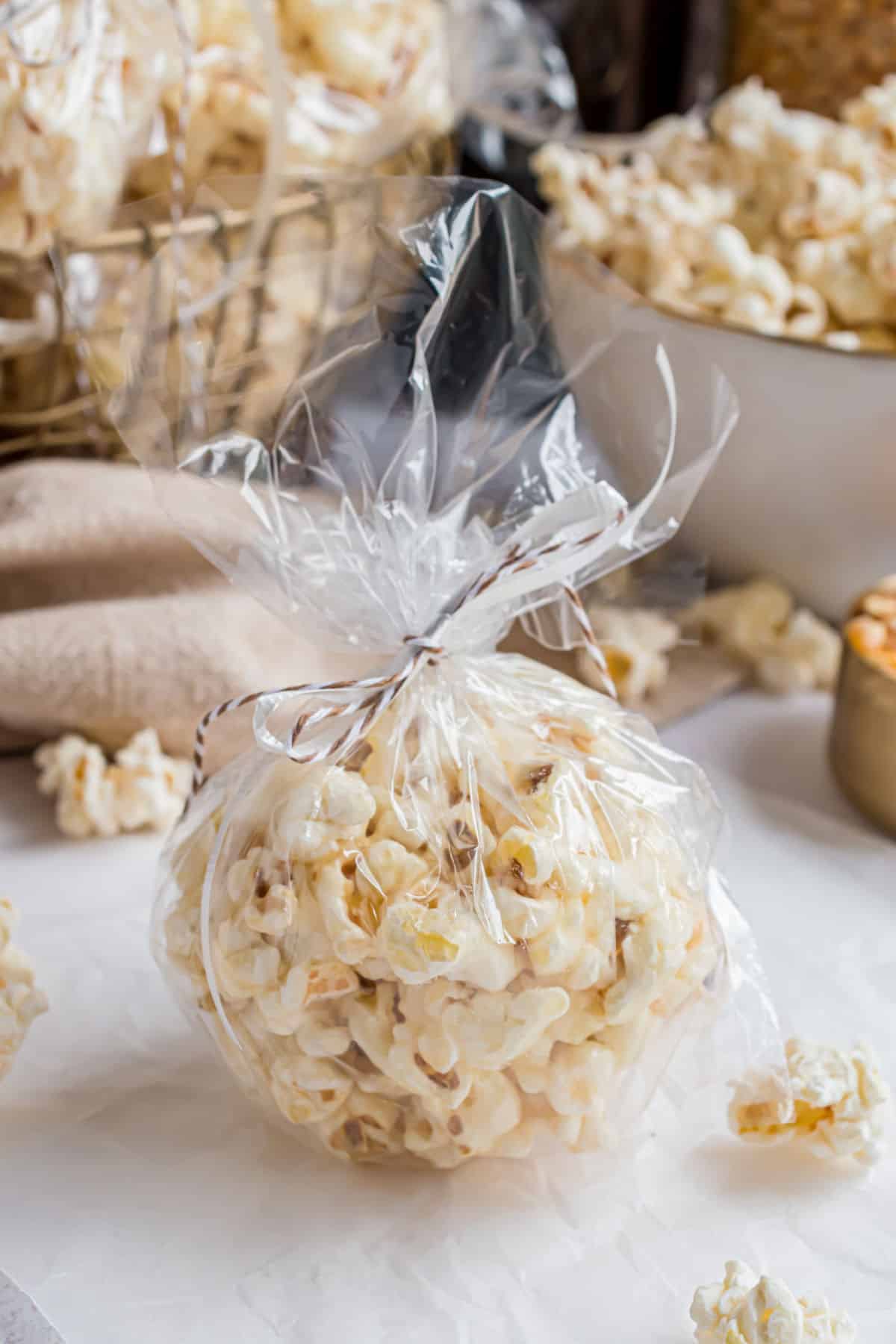 Why this Recipe is Best
Popcorn Balls are a favorite around the fall and winter holidays–but I love making them all year long. These classic treats were once a staple for families during the fall holidays.
Do you remember trick or treating on Halloween and getting some of these in your bag? While homemade treats are no longer the norm, who's saying you can't make these and share with family and friends!?
Let's bring that tradition back with this soft and delicious popcorn ball recipe!
They make great gifts or party favors, too.
Unlike many recipes, this one contains no marshmallows. Instead, the popcorn is held together by a sweet syrup that sets into a soft candy coating.
These Popcorn Balls hold their shape while staying perfectly soft! You can take a big bite without fear of breaking a tooth.
Ingredient Notes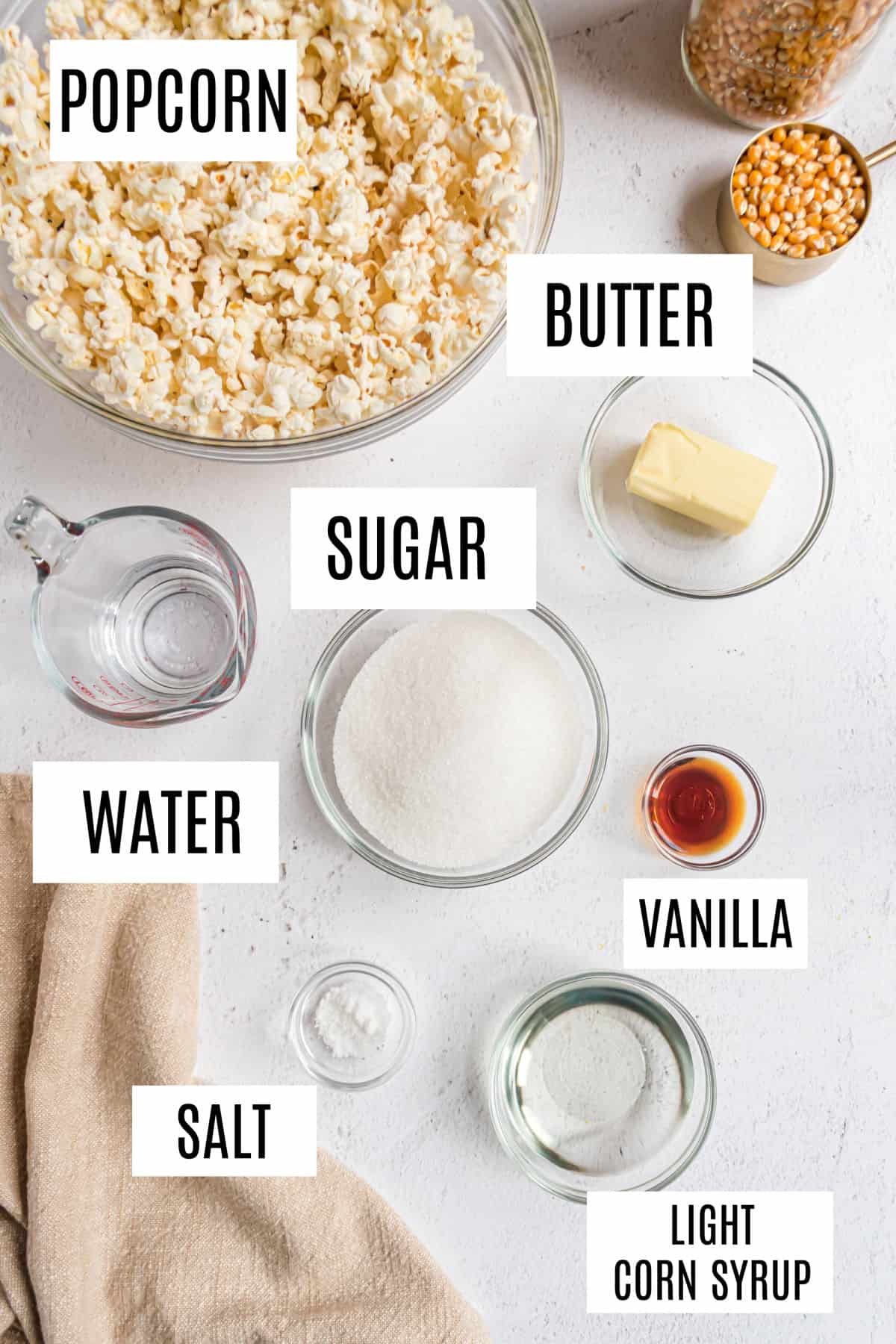 You all know I love gooey marshmallow desserts, like rice krispie treats and lucky charms treats. Today's recipe doesn't have marshmallow, but instead uses corn syrup to make that gooey texture.
They stay soft for over a week if wrapped in baggies!!
Easy Instructions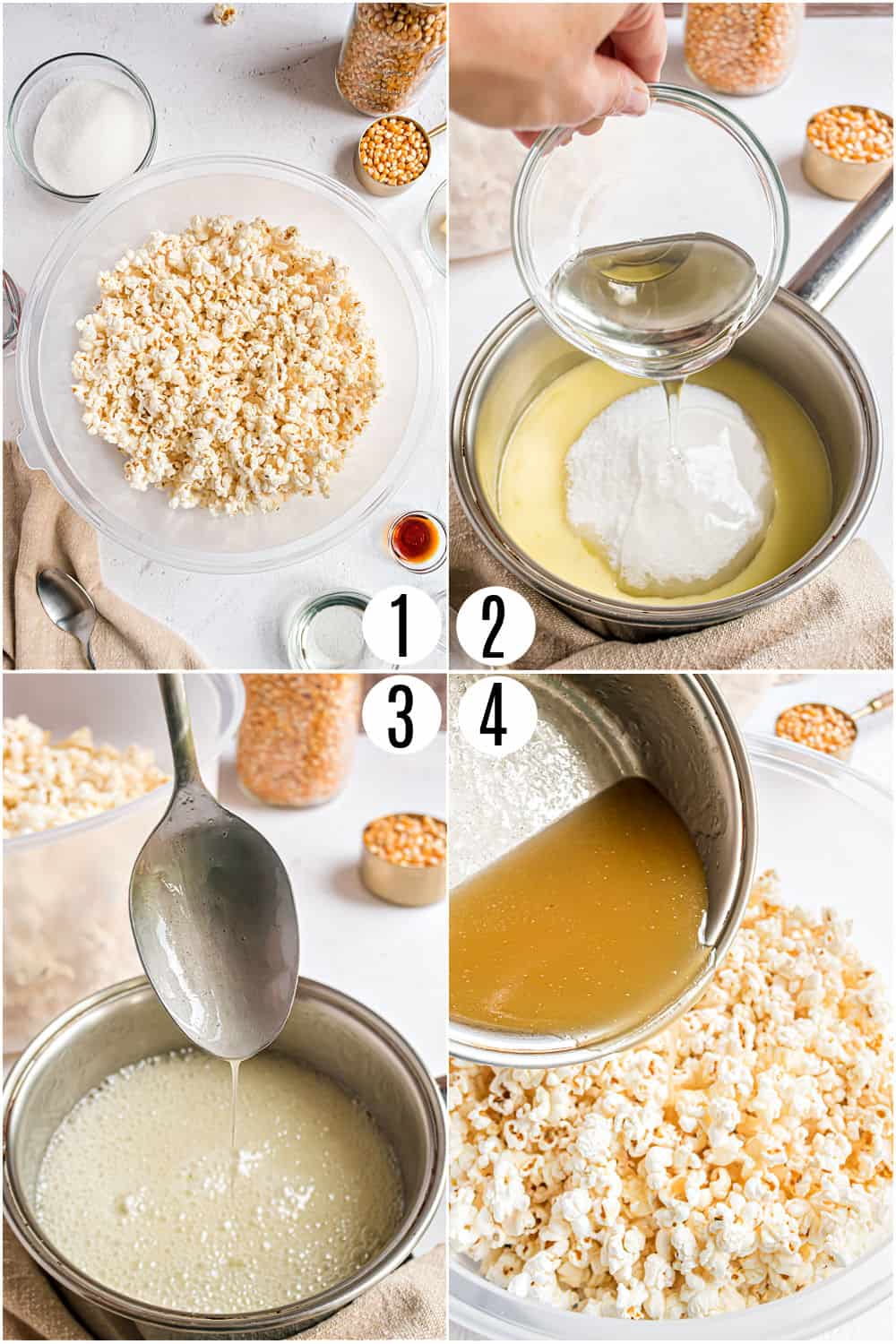 Place the popped popcorn in an extra large mixing bowl. Make sure there are NO kernels!
Making the sauce:
Heat water and butter in a sauce pan on the stove. When the butter is melted, stir in sugar, corn syrup and kosher salt and bring it to a simmer.
Here you'll start to see tiny bubbles appear in the mixture. Continue stirring as it simmers and use a candy thermometer to monitor the temperature.
Once the thermometer reaches 235 to 240 degrees F you can remove the pot from the stove. Stir in the vanilla extract.
Shaping the popcorn balls:
Pour the syrup over the bowl of popcorn. Use a buttered spatula to toss the popcorn, getting the sauce as evenly distributed as you can.
Use buttered hands to cup the syrup coated popcorn. Lightly press together to form a ball. Place your popcorn ball on a piece of wax paper or parchment and repeat until all the mixture has been shaped.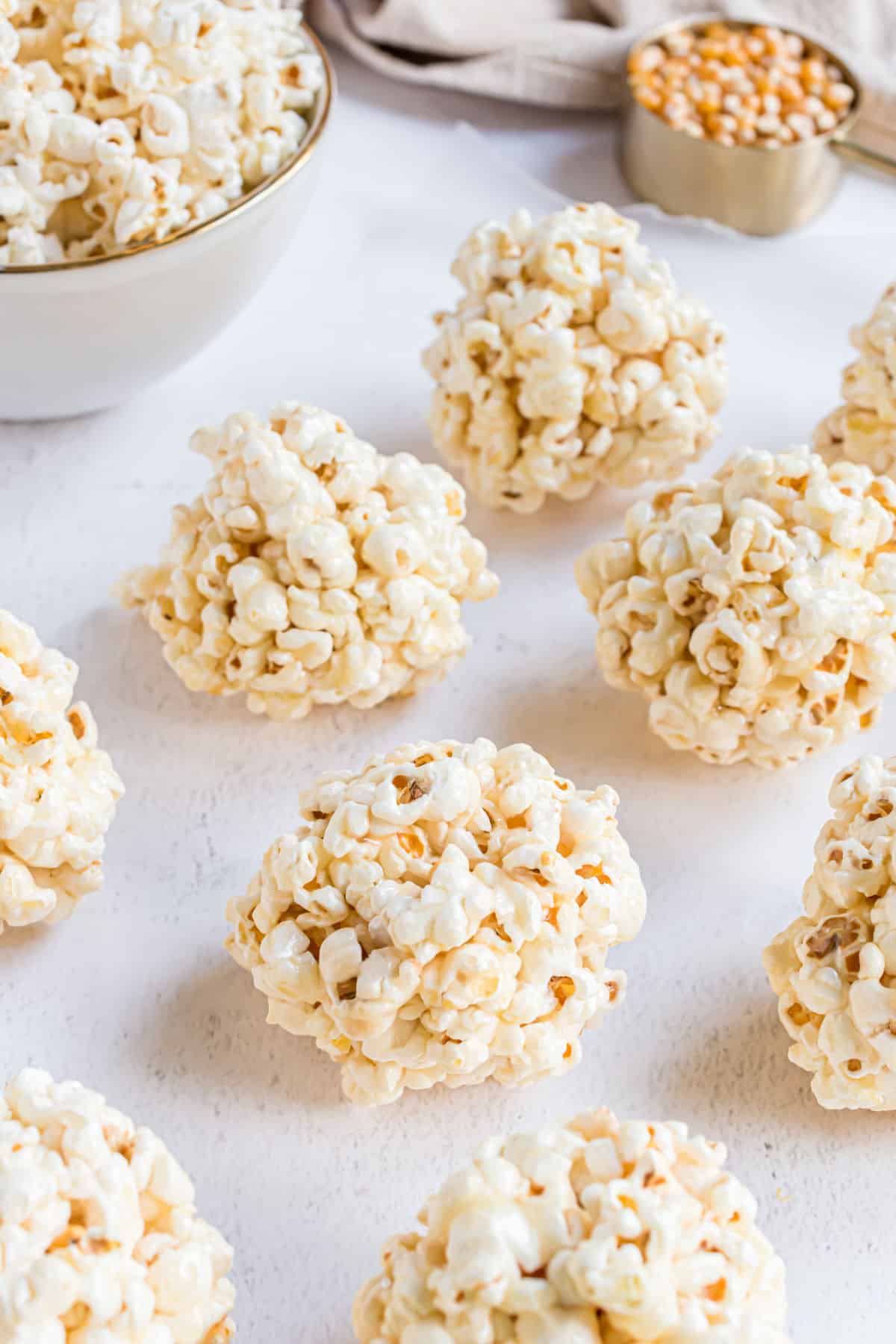 Tips and Tricks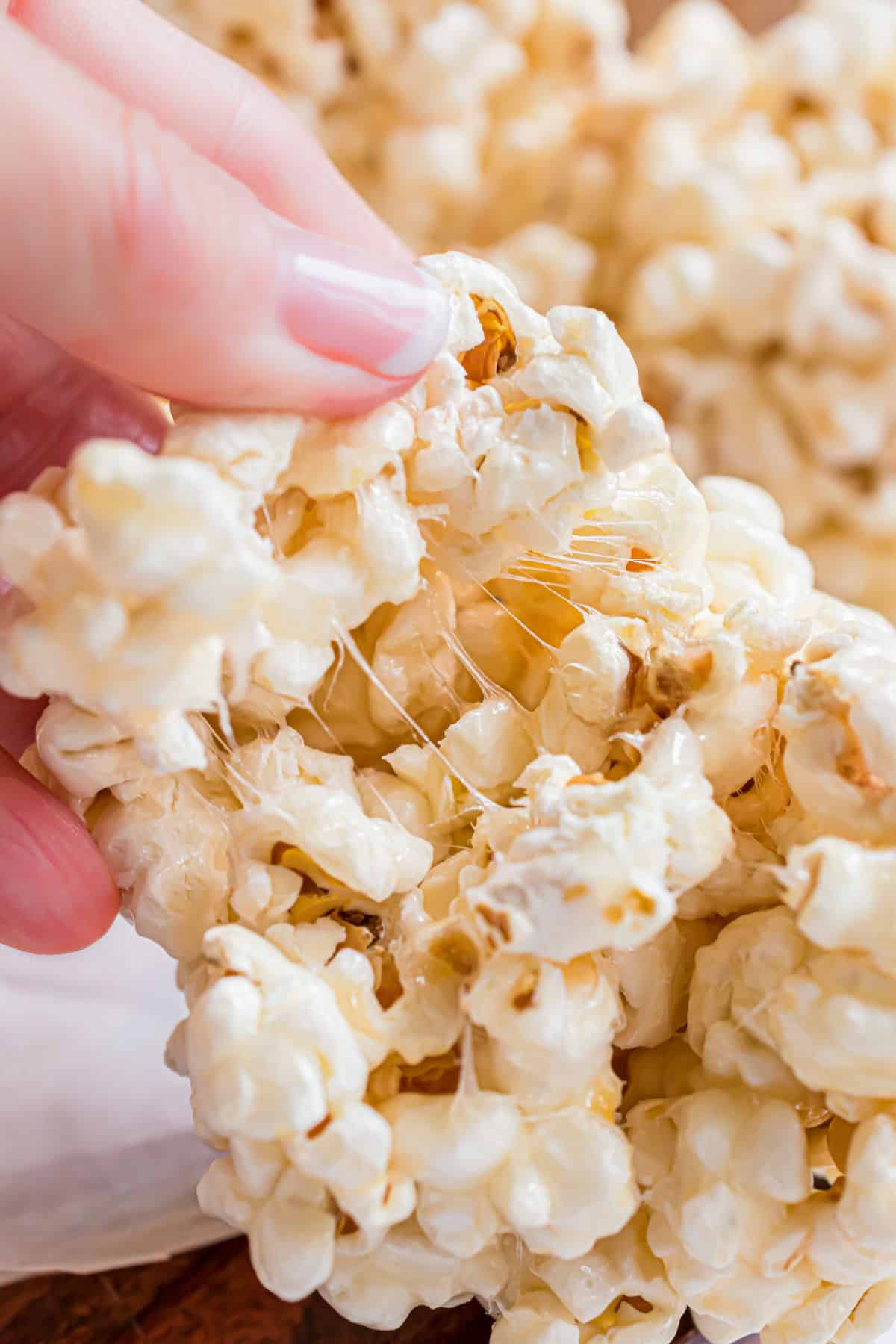 Recipe FAQs
Can I make this recipe without a candy thermometer?
If you are not familiar with candy making, I highly recommend investing in a candy thermometer. It takes the guess work out to get perfect results every time. If you absolutely need to make these Popcorn Balls now and don't have a thermometer handy, here's what you can do to test if the candy mixture is done.
Drop a tiny bit of the syrupy mixture into a glass of cold water. It will form a ball. When you remove it from the water it should instantly soften against your finger.
How long do homemade popcorn balls keep?
Popcorn Balls stay good for about 1 week. However, they are really BEST if enjoyed within 3 days.
Can I use bagged microwave popcorn in this recipe?
Yes, you can use plain, unsalted bagged microwave popcorn. You will need 2 bags of popped popcorn for this recipe.
How much popcorn should be in each popcorn ball?
When I make these, each ball contains about 1 cup worth of popcorn.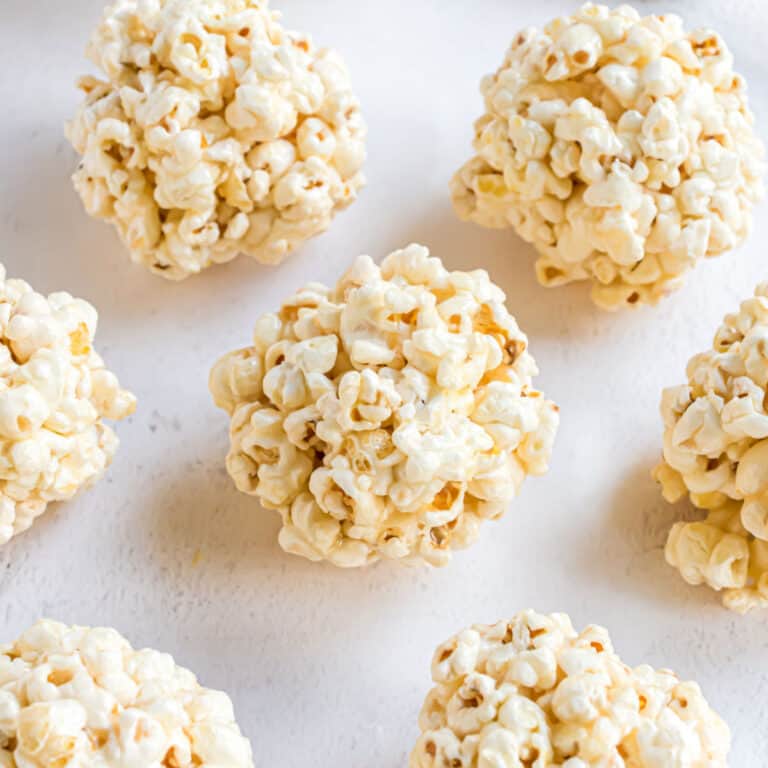 Popcorn Balls
Transform plain popcorn into delicious treats! These Popcorn Balls are made from scratch with a soft, sweet taste. Give them as gifts or keep them all to yourself!
Ingredients
12-13

cups

of popped popcorn*

1 cup of unpopped popcorn kernels
Topping
⅓

cup

water

¼

cup

unsalted butter

plus additional for buttering bowl, spatula and hands

⅓

cup

light corn syrup

1

cup

granulated sugar

1

teaspoon

kosher salt

1

teaspoon

vanilla extract
Instructions
Use my

microwave popcorn

method. Place ½ cup popcorn kernels in a glass microwave safe bowl. Cover bowl with microwave safe plate. Microwave for 2-5 minutes, or until there are 1-2 seconds between popping kernels. (*mine took exactly 5 minutes). Carefully remove the bowl from the microwave. It will be hot.

Pour popped popcorn into a very large buttered bowl and set aside. I like to use the top of a cake saver. It's deep enough to hold all the popcorn and makes it super easy to stir when adding the sauce. You'll need to make TWO batches of microwave popcorn, for a total of 1 cup kernels, and about 12 cups popped corn.

In a medium saucepan, add water and butter and heat over medium low heat until the butter is melted.

Add in the corn syrup, sugar and salt and continue heating over medium low heat, stirring constantly with a metal spoon, until the mixture starts to simmer. There will be tiny bubbles that begin to form around the edge of the pot. When the entire surface is covered with bubbles, the sauce is at a simmer. This will take about 5 minutes.

Continue to heat, over medium-low heat, stirring constantly. Continue to check the temperature of the sauce with a digital or candy thermometer until it reaches temperature of between 235- 240℉. This will take approximately 7-8 minutes. Remove the sauce from the heat and stir in the vanilla extract.

Drizzle the sauce over the popped popcorn and stir with a buttered rubber spatula, until all the popcorn is coated. Make sure the sauce that has collected on the bottom of the bowl is evenly distributed. Let the popcorn mixture cool slightly and lay out a large piece of parchment paper or waxed paper on the countertop.

With buttered hands, cup the popcorn mixture, pressing together lightly, until it holds together and forms a ball, about the size of a baseball. Place on the parchment or waxed paper to set. Repeat until all the popcorn mixture has been formed into balls.

Cool and transfer the popcorn balls into individual baggies that seal or use fold top baggies and tie with festive ribbon.
Notes
Each popcorn ball is about 1 cup.
If using bagged popcorn (or microwave bags of popcorn) be sure to choose unsalted and plain popcorn.
Right after the topping reaches the simmering point, the sauce will be very foamy and almost white in color. As it gets closer to the soft-ball stage, it will get thicker, become a golden color, and the bubbles will increase in size. The sauce will no longer flow like a liquid off the spoon but will make a syrupy thread that goes from the spoon to the sauce in the pot. (see photos) It will also coat the spoon and be more of a syrup consistency than a liquid.
I highly encourage using a candy thermometer if you are not familiar with candy making. If you don't own one, you could test the sauce by dropping a tiny bit of topping into a glass of cold water. The sauce will form a ball. When the ball of candy sauce is removed from the cold water, the candy instantly flattens and runs over your finger.
Storage: Wrapped in plastic baggies or cellophane at room temperature. Will keep for about a week, but are best eaten within 3 days of making. And so good the day they're made when slightly warm.
Uses: Makes great neighbor gifts, housewarming, treats for kids and parties. Can add festive sprinkles or candies and tie with coordinating ribbon.
Nutrition
Serving:
1
popcorn ball
,
Calories:
698
kcal
,
Carbohydrates:
81
g
,
Protein:
8
g
,
Fat:
39
g
,
Saturated Fat:
10
g
,
Polyunsaturated Fat:
25
g
,
Trans Fat:
10
g
,
Cholesterol:
10
mg
,
Sodium:
896
mg
,
Fiber:
10
g
,
Sugar:
24
g
Celebrate any special occasion with this easy recipe. You'll love these homemade Popcorn Balls just as they are or dressed up with all kinds of mix-ins!