These Homemade Marshmallows are soft, springy and taste so much better than store-bought. Best of all, they're surprisingly easy to make with our step by step recipe!
Our homemade marshmallows are perfect addition to Hot Cocoa Bombs or a mug of Instant Pot Hot Chocolate too.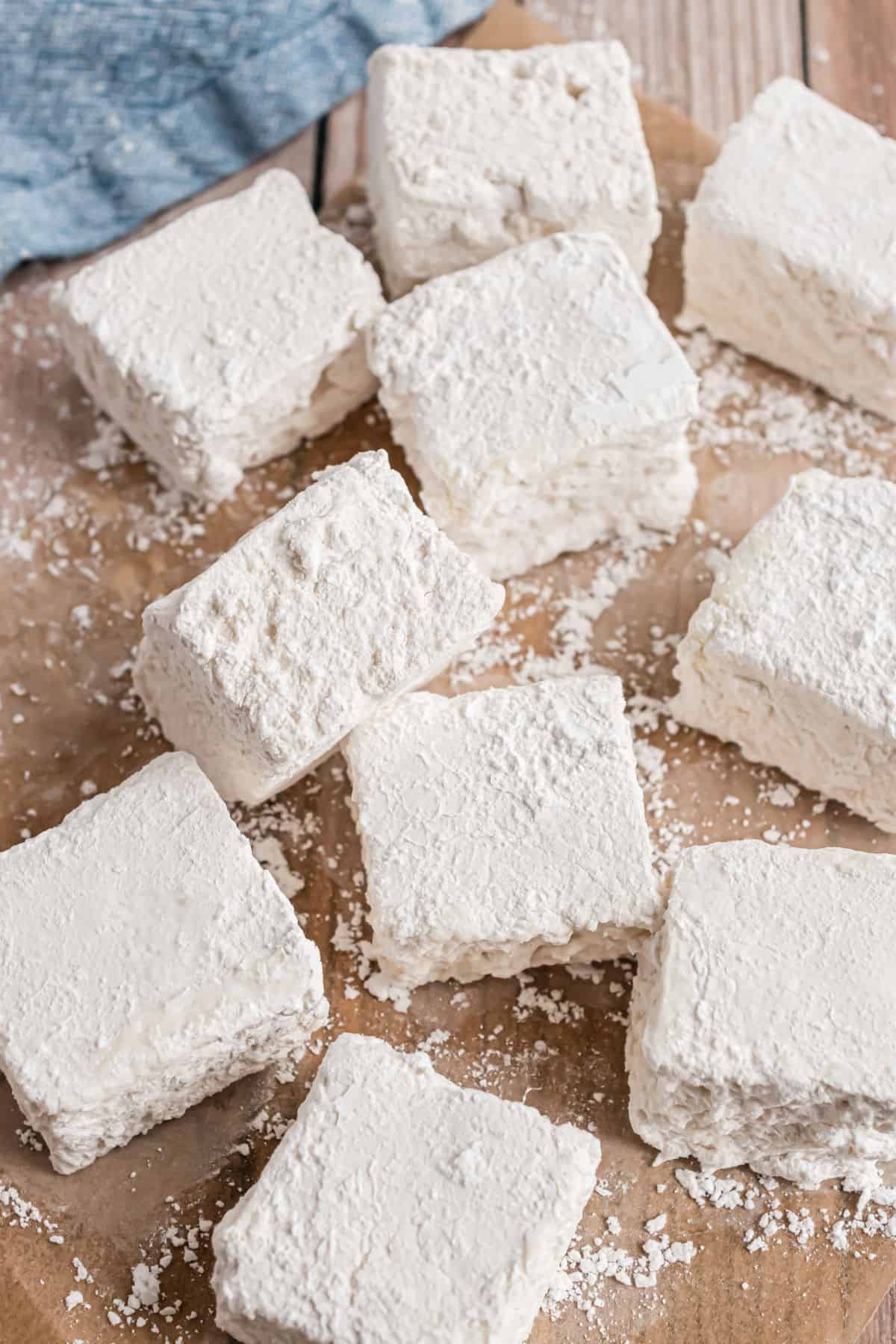 Why this Recipe is Best
Sure, making marshmallows from scratch takes a little more effort than ripping open a bag. But once you taste them, you'll understand why it's worth it!
Pillowy soft. These marshmallows hold their shape while staying light and fluffy.
Easy to follow instructions. This recipe demystifies the art of homemade marshmallows!
Delicious and versatile. Enjoy them on their own or use them as a topping for marshmallow brownies, cookies, and fluffernutter fudge.
Once you try making rice krispie treats with homemade marshmallows you may never go back!
Learning the basic kitchen recipes will help you become a better baker! Be sure to familiarize yourself with all our kitchen tips!
Ingredient Notes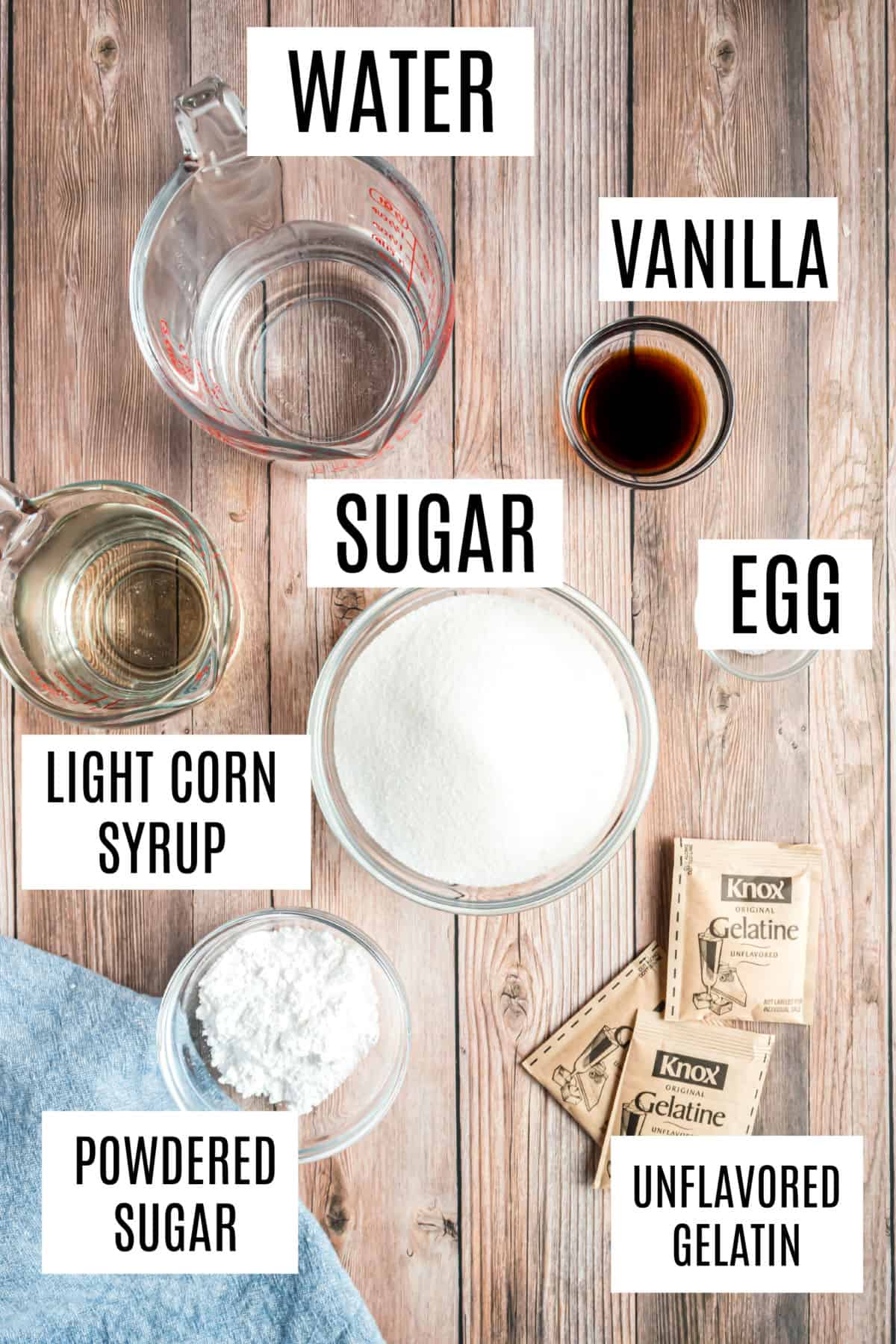 Unflavored gelatin – This holds the sugar and liquid together to give the marshmallow structure.
Corn syrup – Using a liquid sweetener helps keep the granulated sugar from crystalizing for a perfect gooey consistency.
Powdered Sugar – You'll need some for dusting the pan and more for sprinkling over the marshmallow mixture.
Vanilla extract – Be sure to use pure vanilla for best flavor. Or try making our homemade vanilla extract to use in all your baking.
For a holiday twist, make a batch of our peppermint marshmallows next!
Easy Instructions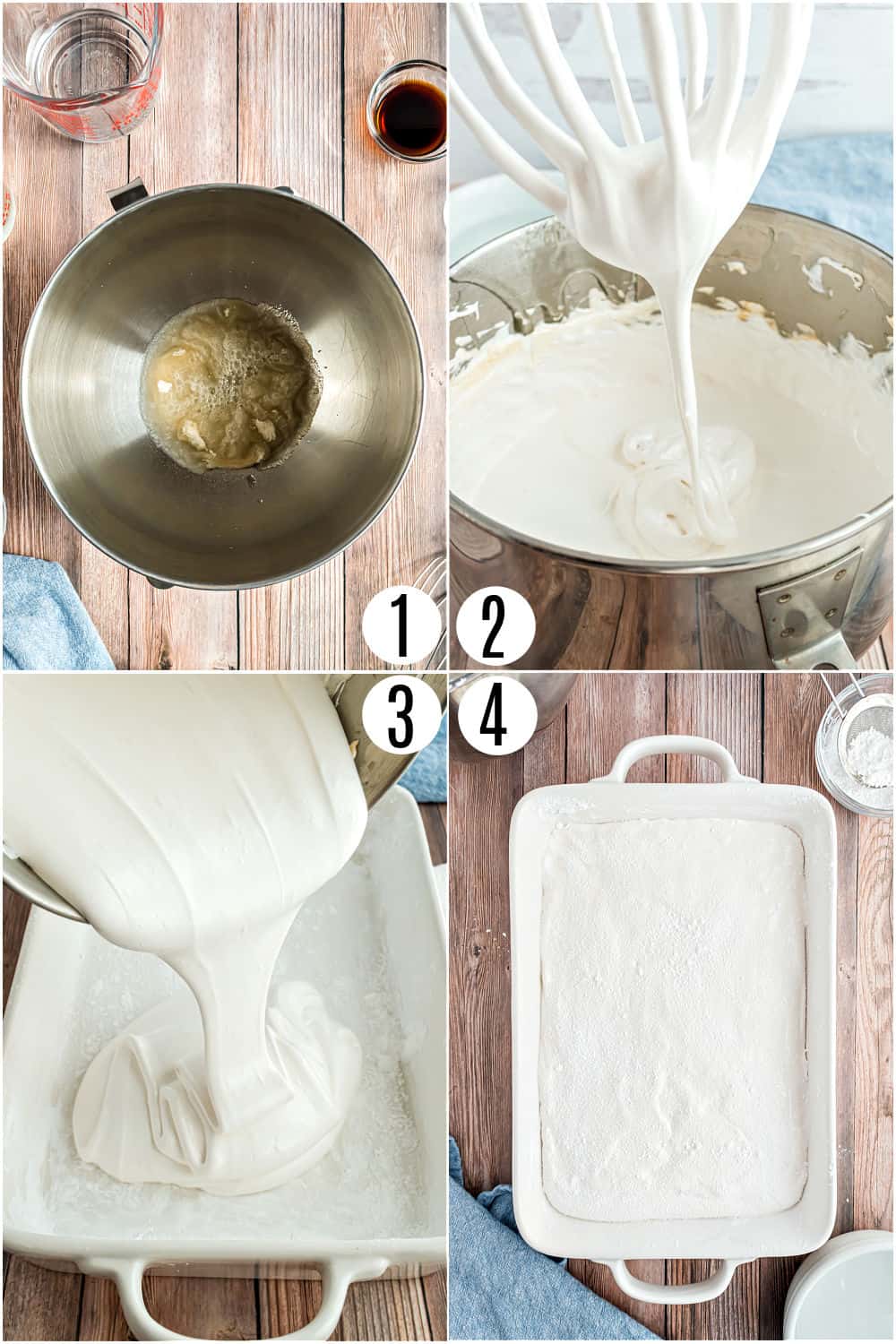 Prepare the pan:
Getting the pan ready is even more essential for homemade marshmallows than most recipes.
Start by greasing the dish with butter or baking spray. Then dust it generously with powdered sugar. Grease your spatula and handle as well before using.
Make a sugar syrup:
Bloom the gelatin. In a mixing bowl, sprinkle gelatin into half a cup of cold water, stirring to combine. This helps created the base of the sugar syrup.
You'll also need a candy thermometer once you heat the mixture.
Combine:
With the mixer on low speed, using the whisk attachment, slowly add the sugar syrup mixture to the gelatin mixture.
Once all the sugar syrup has been added, turn mixer up to high and let whisk until fluffly and light (about 10 minutes). Add the vanilla extract during this process.
Let set:
Pour the warm marshmallow mixture into the prepared pan. Using the greased spatula, scrape sides of mixing bowl and spread into pan.
Use wet fingertips to smooth out top of the marshmallow. Sprinkle with powdered sugar and let dry for about 4 hours uncovered.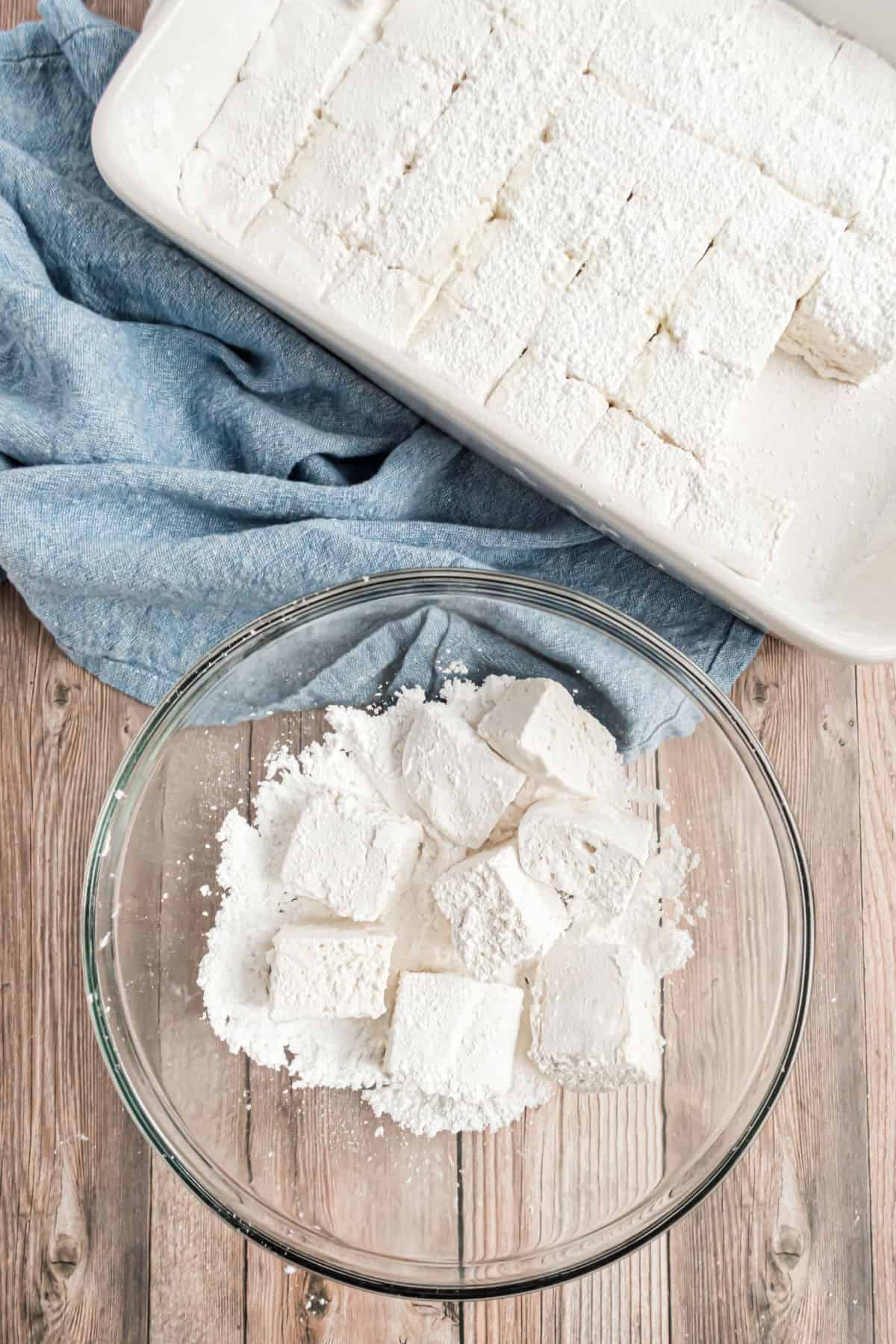 Tips and Tricks
Cutting marshmallows: Use a sharp knife to cut the marshmallows into your desired size and shape. You can use cookie cutters for fun shapes too! Dipping the knife in water helps it glide through the marshmallow.
Don't stir the syrup! If you stir the sugar mixture while it's coming to temperature. Stirring can cause the sugar crystals to adhere to each other making the syrup clumpy.
Store for up to 3 weeks at room temperature!
Use marshmallows in homemade s'mores or hot chocolate!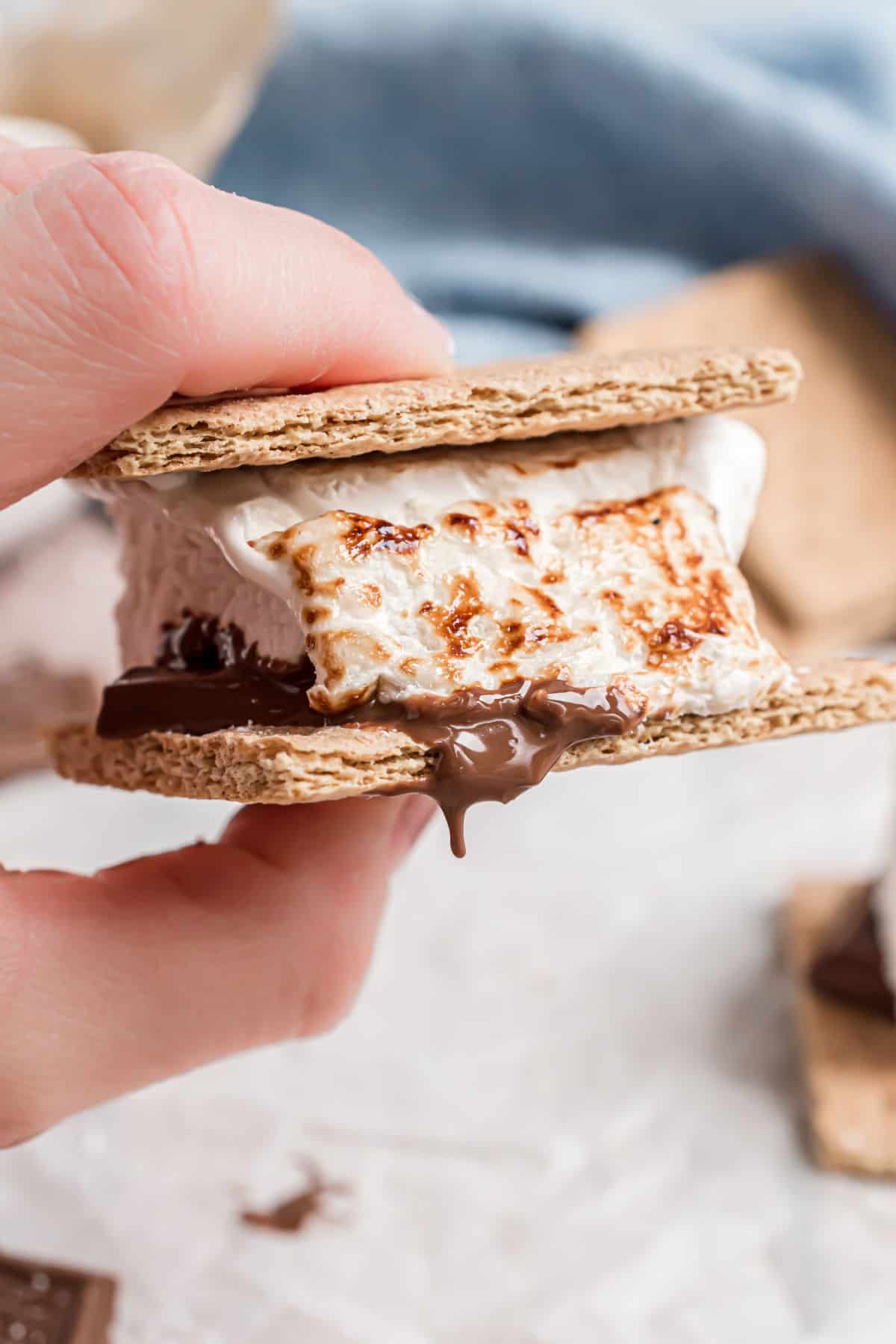 Recipe FAQs
How can I add flavor to homemade marshmallows?
The vanilla extract in this marshmallow recipe adds a delicious hint of flavor. You can change it up by swapping the vanilla for other extracts like peppermint, lemon or orange extract.
Another easy way to make flavored marshmallows is using flavored gelatin powder instead of plain! If you opt for flavored gelatin, be sure to omit the vanilla.
How long do homemade marshmallows stay good?
Stored in an airtight container, these marshmallows keep for about 3 weeks. You can also freeze them for up to 2 months.
How can I thaw frozen marshmallows?
Let frozen marshmallows thaw in the fridge overnight. Don't try to speed up the process by microwaving; they don't hold up well to quick heating.
What can I do with homemade marshmallows?
Aside from the obvious (eat them!) there are so many delicious ways to put your homemade marshmallows to good use!
Chop them into small pieces and press them on top of cookies, add them to a cup of cocoa, or dip them in chocolate coating for an easy gift idea. There's no wrong way to enjoy a good marshmallow!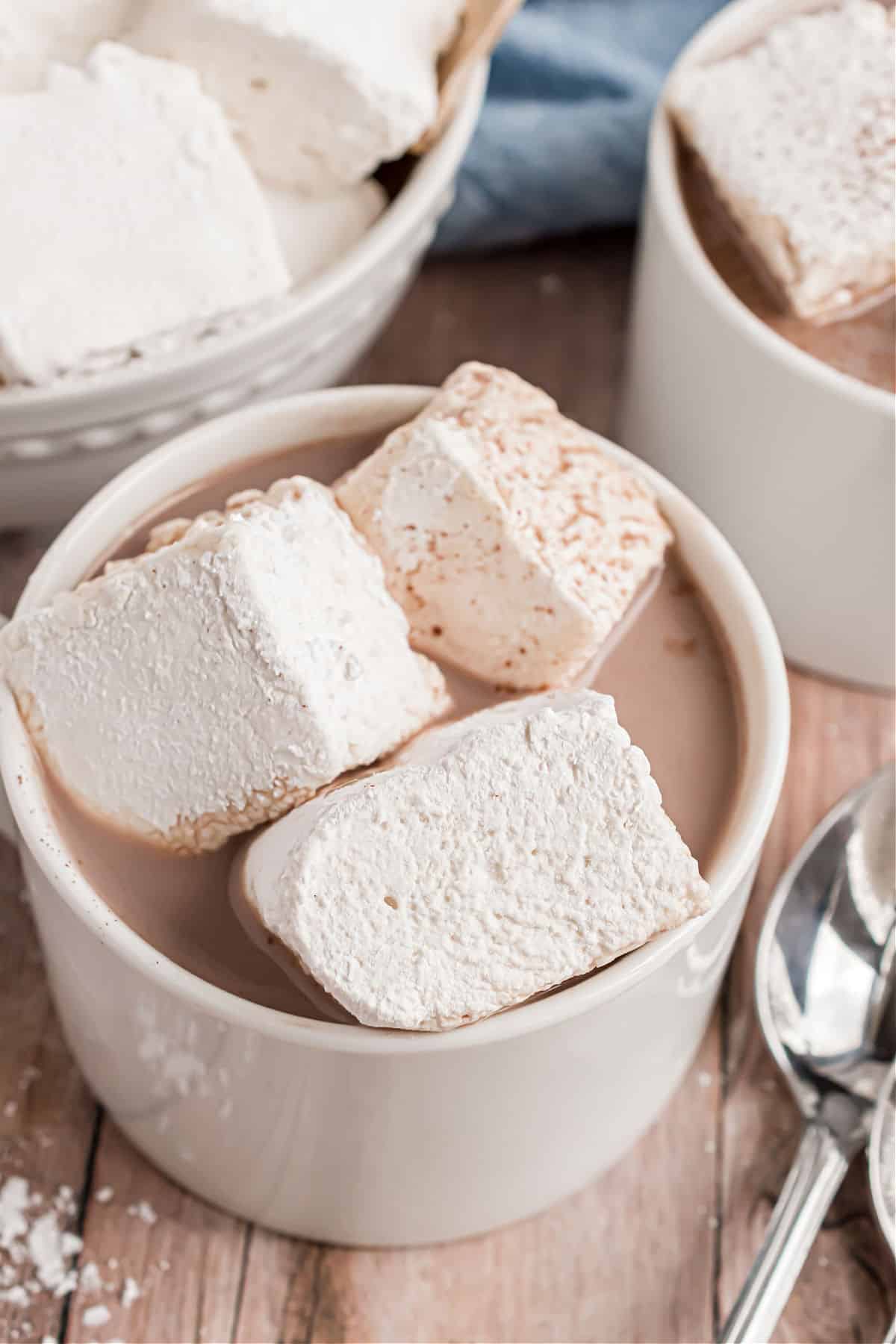 Get ready to have your marshmallow standards forever changed! Easy Homemade Marshmallows are the softest, gooiest and tastiest marshmallows you'll ever eat.