Flaky pie crust filled with a creamy, sweet custard filling. This classic Hoosier Sugar Cream Pie recipe is a must try! Tastes like Creme Brulee in a pie shell.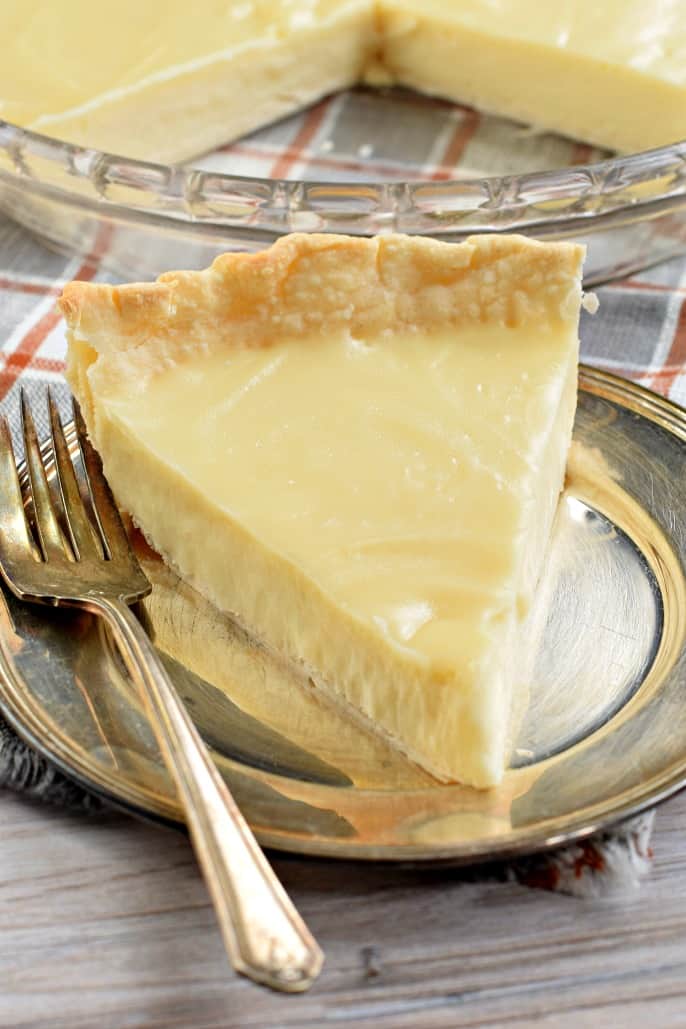 Happy Pi Day. 3-14
Okay, so I did NOT plan on posting a pie for pi day, but last week as I was writing and scheduling things out, it popped into my head that this could work.
Just seemed too good not to participate, right?
Anyway. Let's talk about this Sugar Cream Pie recipe.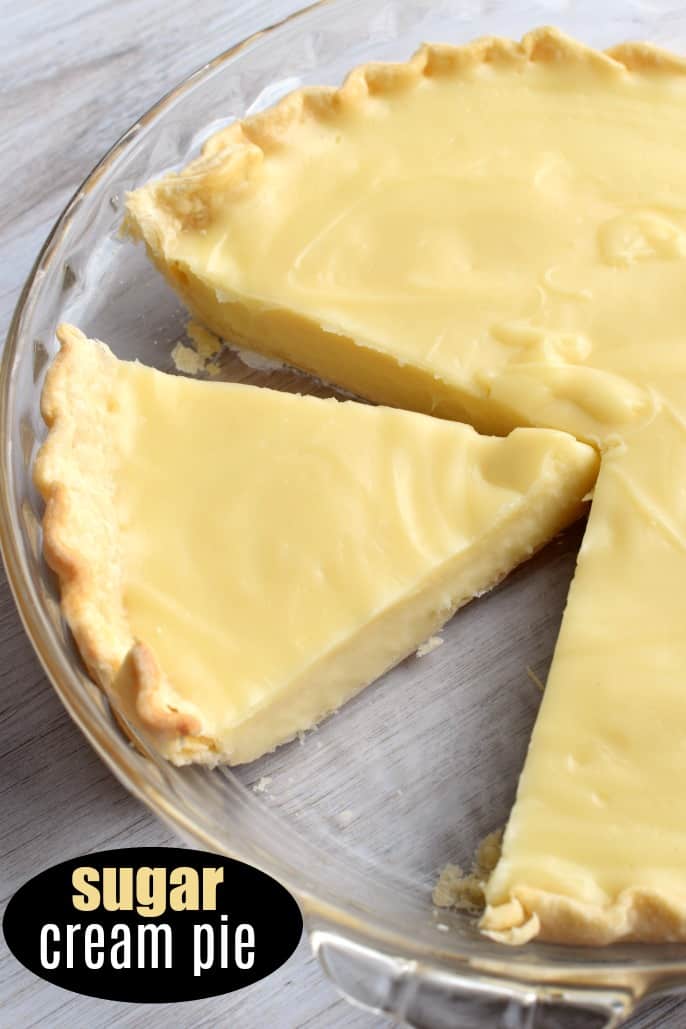 Have you heard of it or tried it? Some people have lovingly called it a Hoosier Pie (apparently it's an Indiana thing?).
We bought a cottage in Indiana last year (if you follow me on Instagram I'm sure you've seen my post about it). However, I've yet to find a place that serves this pie.
So I whipped one up for myself. You know, to try it. To fit in. To belong.
Oh my word. Talk about a delicious, SUGAR cream pie recipe. It's like a sweet custard pie. You could totally top it with sugar at the end and use a kitchen torch to make a crispy topping.
It would make an irresistible topping, much like creme brulee! Because that's basically what this pie tastes like (without the topping).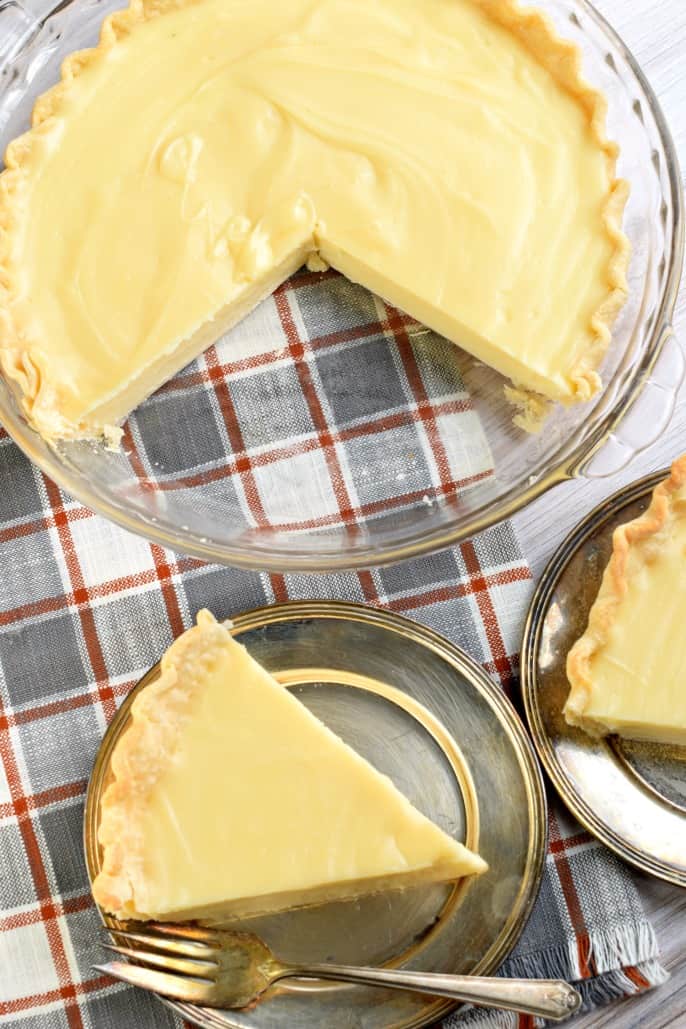 How to Make a Custard Pie
First start by making a pie crust. Either homemade or use a refrigerated pie crust. Bake accordingly to make a single pie crust.
Let this cool while you make the filling for the pie.
In a medium size saucepan, combine butter and heavy cream. over medium heat, whisk together until butter is melted. Add in cornstarch and granulated sugar.
Whisk constantly to prevent burning. Cook until mixture begins to thicken and boil. This takes a bit to thicken, so be patient. You want it to be the consistency of pudding (it will thicken as it chills too).
Once boiling, continue to boil for one full minute. Remove from heat.
Whisk in vanilla and pour filling into homemade pie crust. Refrigerate 4 hours (or overnight). Slice and enjoy!!
A dollop of homemade whipped cream would also be delish on this pie!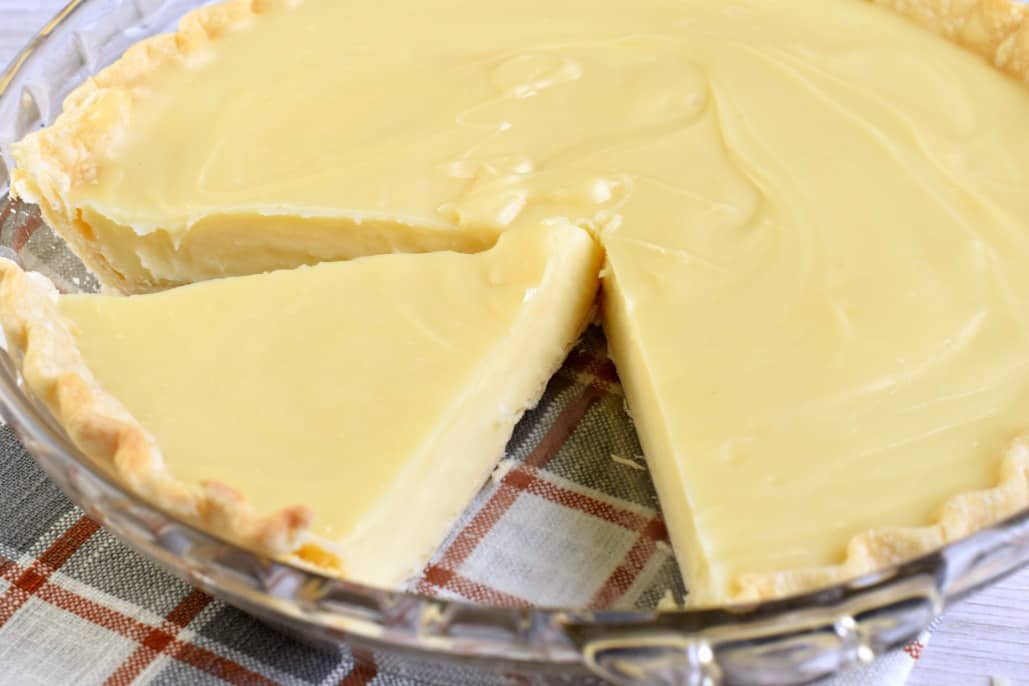 Whether you love making full size pies or individual hand pies, I've got you covered with some of my favorite recipes!
Sweet Caramel Cream Pie with a homemade crust and dulce de leche layer inside! You'll love this delicious pie.
Smooth and decadent, French Silk Pie is a chocolate lovers dream! You'll love the flaky pie crust, topped with smooth and silky chocolate!
Dessert is ready in 30 minutes with these Glazed Peach Hand Pies! The flaky crust and spicy cinnamon filling are the perfect combo in a hand pie, plus they're baked not fried!