Classic Hoosier Sugar Cream Pie tastes like Creme Brulee with a pie shell! With a sweet custard filling and flaky crust, this unique midwestern dessert is a must try.
Here in the Midwest, we love our pies. This French Silk Pie Recipe is another family favorite you'll love. Of course a classic cherry pie is always a great idea.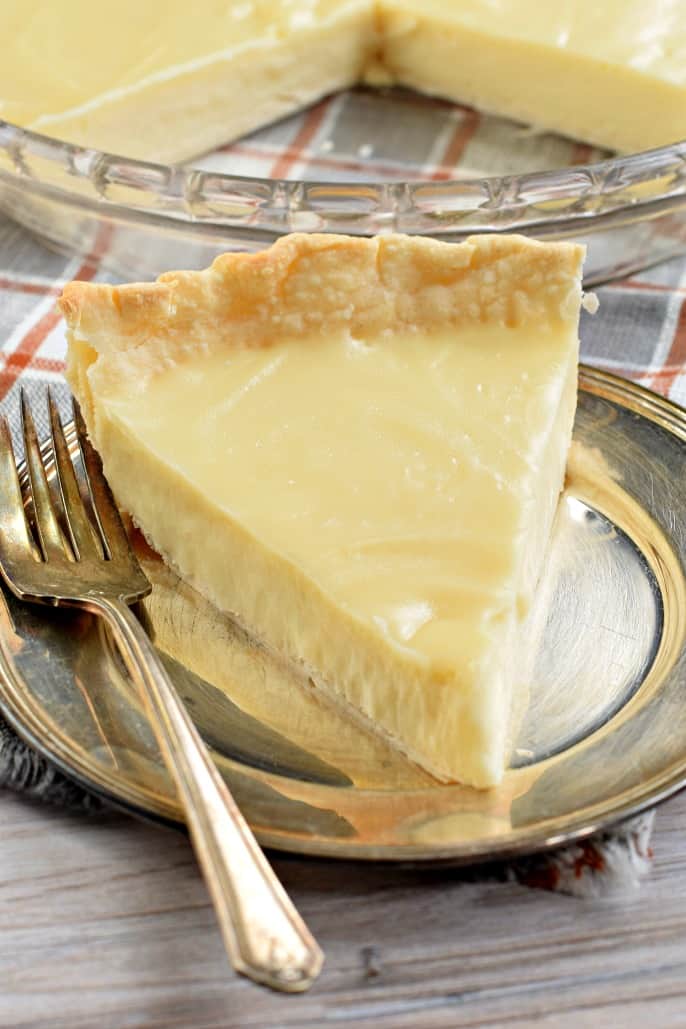 What is Sugar Cream Pie
Today's recipe hails from Indiana where it's been named the official state pie.
Indiana Sugar Cream Pie has a custard-like filling made from a simple combination of (you guessed it) heavy cream and sugar.
Unlike typical custard pies, Hoosier Sugar Cream Pie contains no eggs. Instead, the creamy filling is thickened by cornstarch.
The taste is reminiscent of a creme brulee sans caramelized topping. Delicious on its own or with a dollop of whipped cream, Sugar Cream Pie is sweet simplicity at its best.
Ingredient Notes
Heavy whipping cream – Make sure to use REAL heavy cream here. Milk or half and half are not rich enough to work well in this pie recipe.
Pie crust – Use a refrigerated pie crust or a
Pie Crust- Either make a homemade pie crust or use a refrigerated pie crust.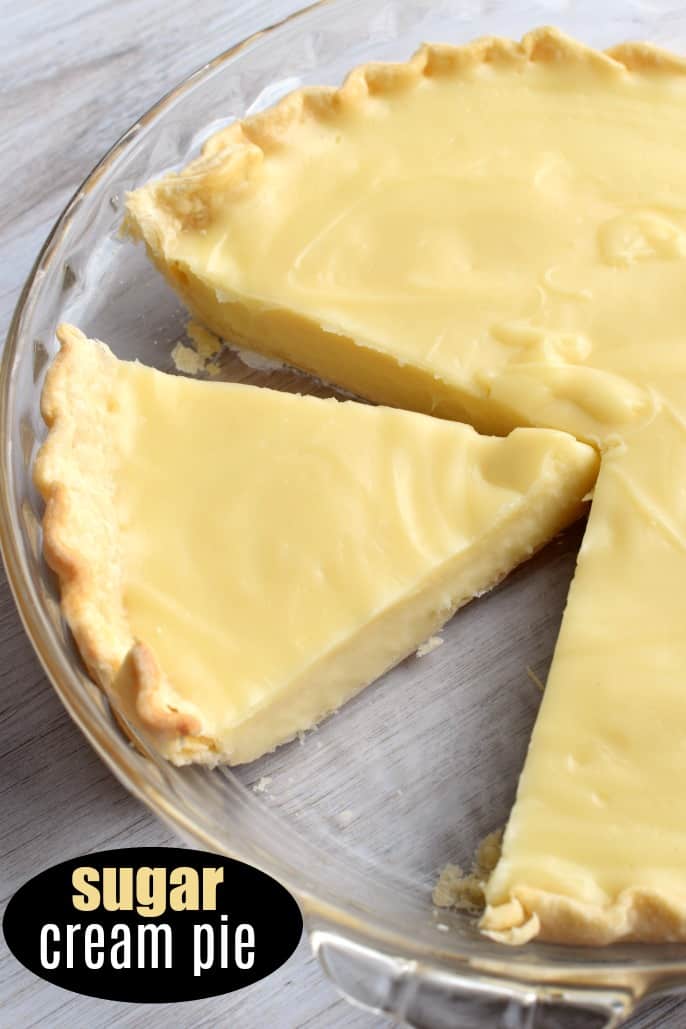 Easy Instructions
Bake the pie crust. Let this cool while you make the filling for the pie.
Filling. In a medium size saucepan, combine butter and heavy cream. over medium heat, whisk together until butter is melted. Add in cornstarch and granulated sugar.
Whisk constantly to prevent burning. Cook until mixture begins to thicken and boil. This takes a bit to thicken, so be patient. You want it to be the consistency of pudding (it will thicken as it chills too).
Once boiling, continue to boil for one full minute. Remove from heat.
Whisk in vanilla extract and pour filling into pie crust.
Chill. Refrigerate 4 hours (or overnight). Slice and enjoy!!
Tips and Tricks
Toppings and garnishes. Sprinkle chilled Sugar Cream Pie with a dusting of cinnamon or nutmeg if desired. A dollop of homemade whipped cream would also be delish on this pie!
Storing. Keep the pie covered tightly in the refrigerator until ready to enjoy. Enjoy within 2-3 days for best taste.
Recipe FAQ
What's the difference between custard pie and sugar cream pie?
Custard Pie has an egg and sugar based filling. Sugar Cream Pie contains no eggs, just cream, sugar and cornstarch!
Can I use imitation vanilla flavor instead of vanilla extract?
No, you need to use real pure Vanilla Extract in this recipe for best results. Vanilla is the foremost flavor in classic Hoosier Pie, so a quality vanilla makes a big difference.
I only have salted butter. Can I use that instead?
Yes, you can use salted butter if that's all you have. The pie filling will be, of course, a bit saltier, but it'll be delicious never the less.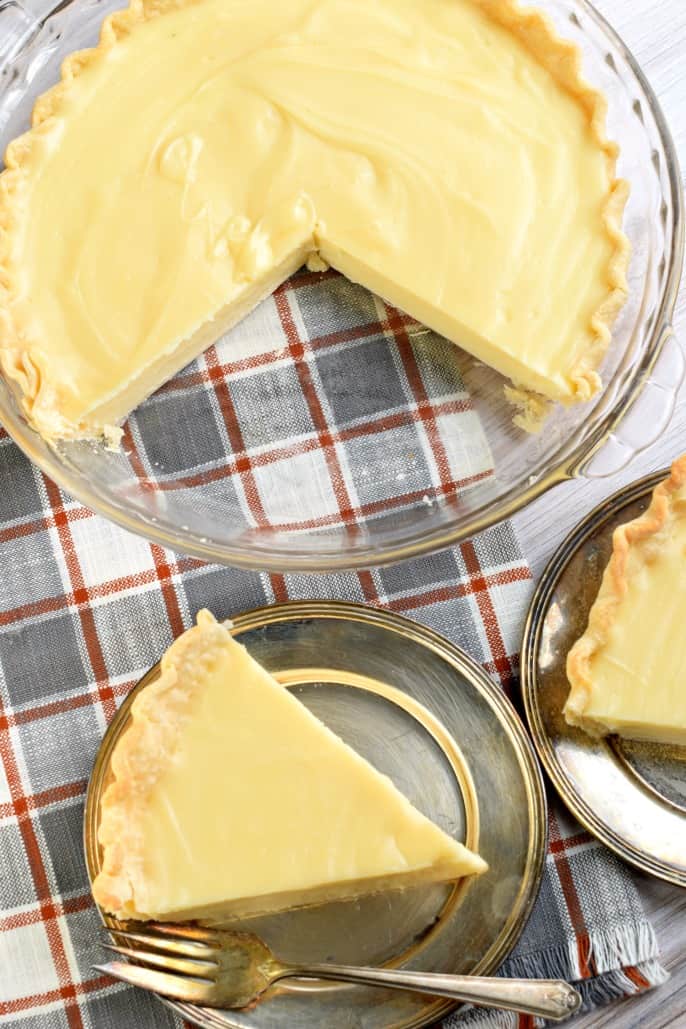 Whether you love making full size pies or individual hand pies, I've got you covered with some of my favorite recipes!
Sweet Caramel Cream Pie with a homemade crust and dulce de leche layer inside! You'll love this delicious pie.
Dessert is ready in 30 minutes with these Glazed Peach Hand Pies! The flaky crust and spicy cinnamon filling are the perfect combo in a hand pie, plus they're baked not fried!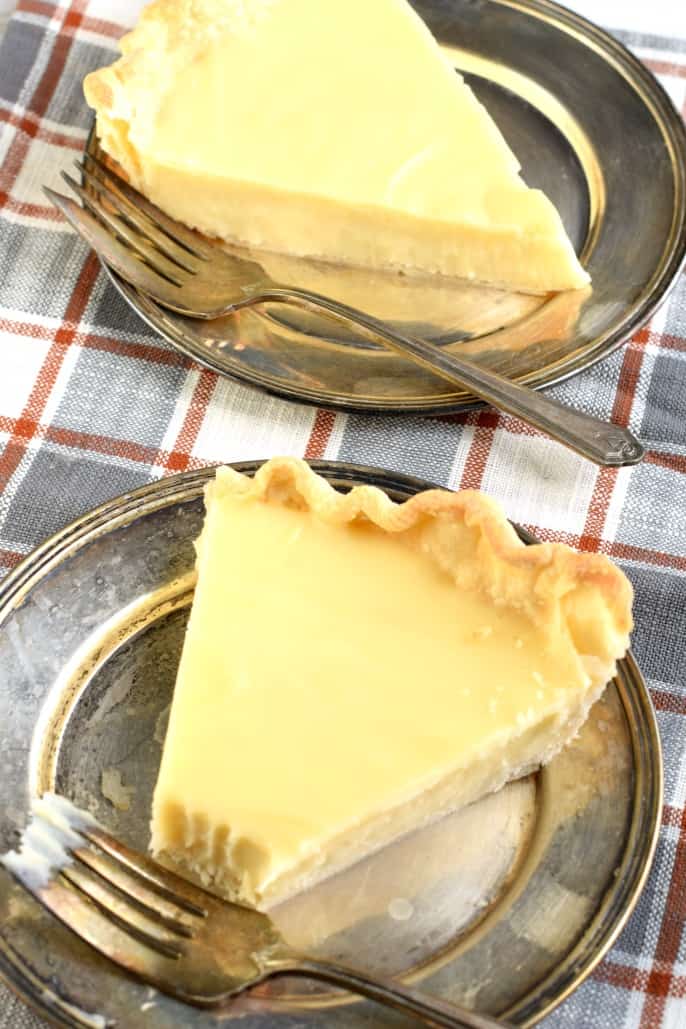 This Sugar Cream Pie is so tasty it might make you want to move to Indiana! Hoosier or not, everyone loves this creamy, sweet old-fashioned dessert.