Easy Caramel Apple Empanadas recipe with a sweet cheesecake filling. Baked, not fried, and ready in no time! These apple hand pies will be devoured quickly!
Love caramel and apples? Readers love our caramel apple cupcakes! Or you'll have to try our caramel apple cheesecake bars.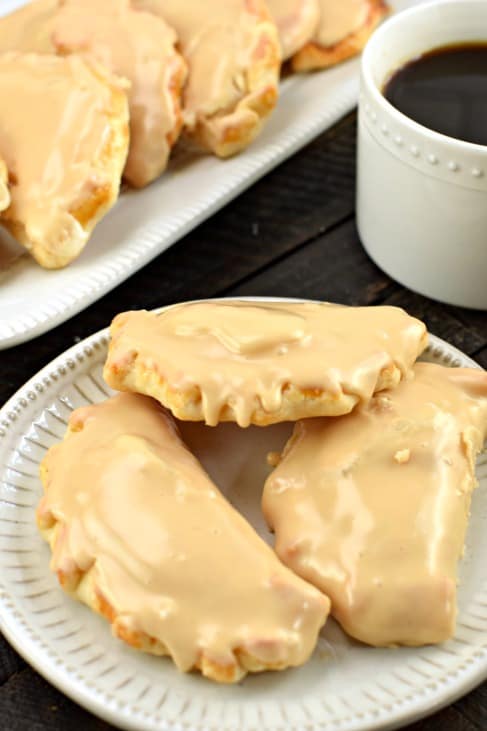 What is the difference between a Hand Pie and Empanada?
Nothing is more comforting than a classic apple pie. There's a reason it's America's favorite food!
Today's Caramel Apple Empanadas recipe is my EASY take on a classic pie recipe.
From start to finish, you can make these in under an hour with just a handful of ingredients. I've got some shortcuts that may make your grandma cringe, but busy moms rejoice!
First though, there are lots of questions regarding empanadas.
Traditionally, an empanada dough is less flaky than a hand pie. In terms of desserts, hand pies are usually made with a pie crust dough, which is flaky!
But, for sake of this dessert today, you can call them Hand pies, Empanadas, or even turnovers (which are usually made with puff pastry dough).
How to Make Empanadas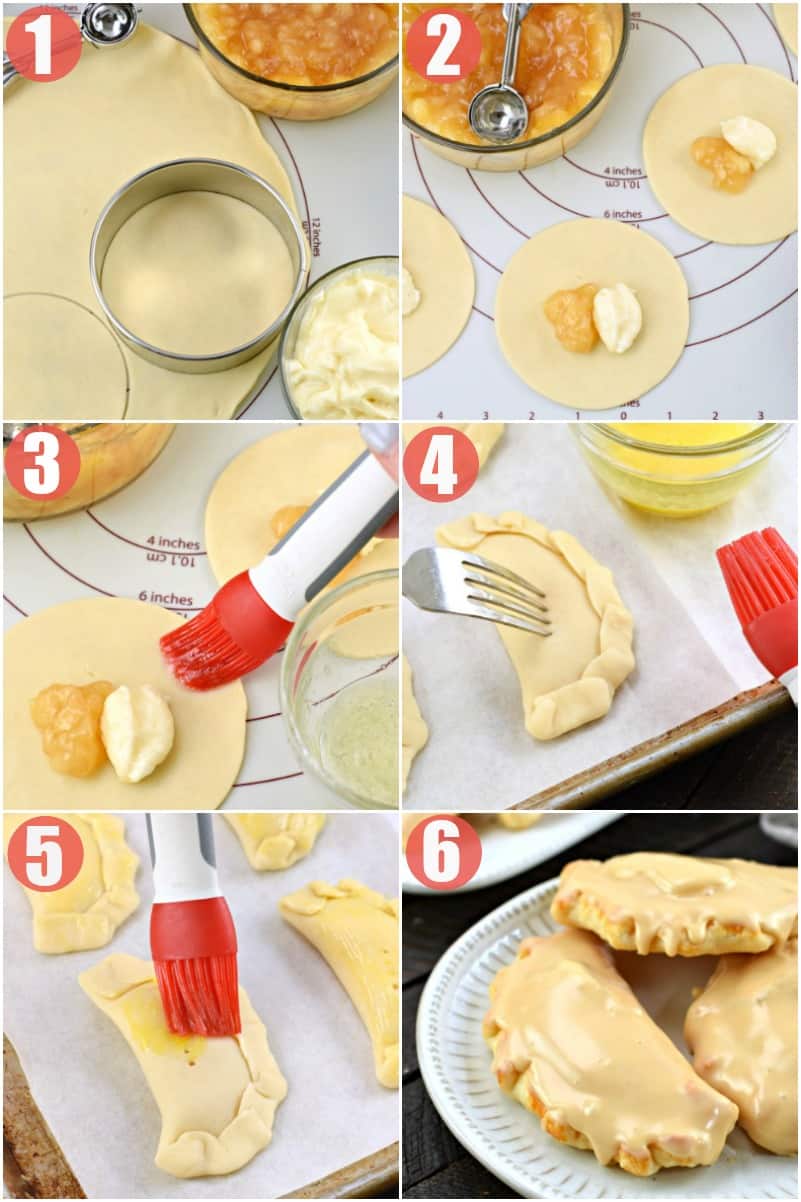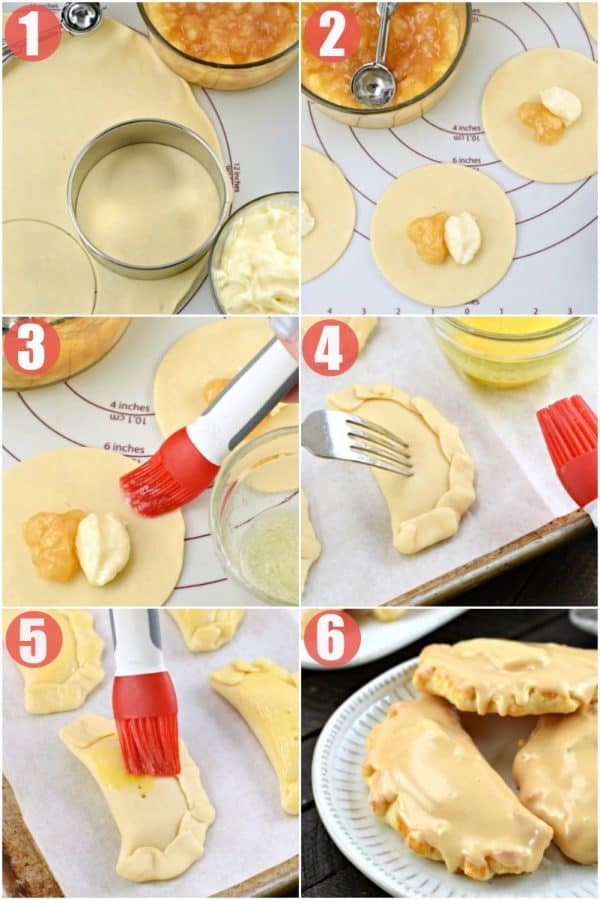 STEP 1: Preheat oven to 425 degrees F. Remove pie crusts from their packing and allow to come to room temperature while you gather your ingredients (about 15-20 minutes).
STEP 2: In two small bowls, separate egg white from egg yolk. KEEP BOTH. Whisk each one separately.
STEP 3: Dump apple pie filling into a small bowl. Chop up apple slices into small bits. Set aside.
STEP 4: In a mixing bowl, combine cream cheese, sugar, and vanilla extract. Beat until smooth and creamy.
STEP 5: Unroll pie crusts and cut circles using a 4-inch circle biscuit cutter. Re-roll the scraps once to get more circles.
STEP 6: Using a 1 Tbsp scoop, spoon half a scoop of apple pie filling and half a scoop of cheesecake filling into the center of each pie crust circle. Brush the edges of the circle with the egg white.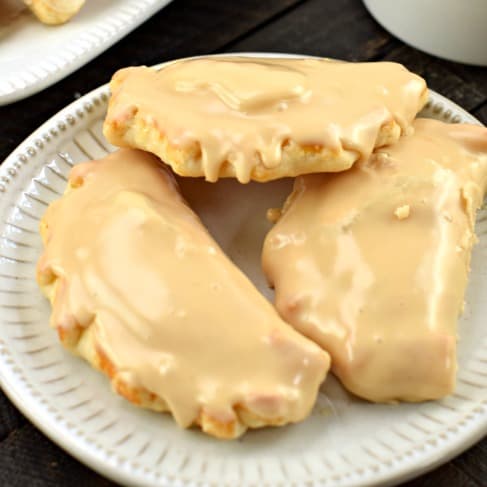 PRO TIP: Using egg white (or even a few drops of water) on the edge of the pie crust help it stick better when you pinch it closed.
STEP 7: Fold each empanada in half and pinch the edges close (either by folding or pressing with a fork). Place on a parchment paper lined baking sheet. Repeat for remaining apple hand pies.
STEP 8: Prick each empanada with a fork before baking. Brush tops of empanadas with egg yolk, in a thin, even coating.
STEP 9: Bake apple empanadas for about 15 minutes, until golden brown.
STEP 10: Make the glaze by whisking together powdered sugar with caramel ice cream topping and milk. Add more or less milk to desired consistency. For a thicker glaze (like I used), I did 2 Tbsp milk. Add up to 4 Tbsp for a thinner glaze.
STEP 11: Dip cooled empanadas into the caramel glaze and return to parchment paper lined baking sheet to set.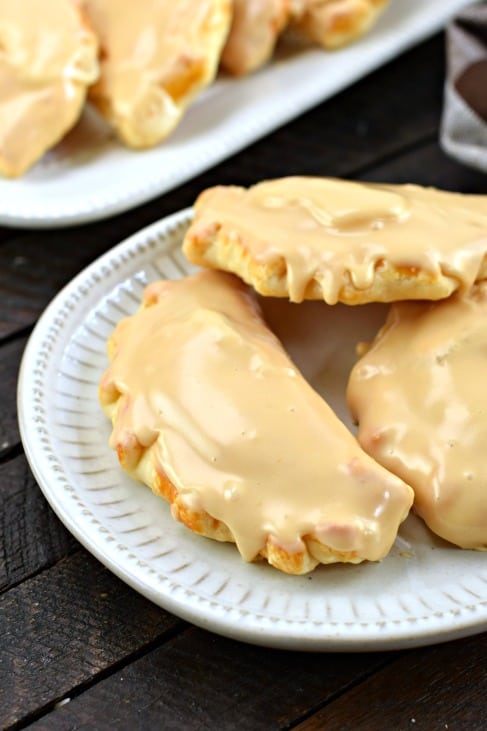 Tips for Baking Dessert Empanadas
Ingredients for Caramel Apple Empanadas
If you want a quick glance at what's needed for today's recipe, look no further. For the printable recipe with measurements, scroll all the way down!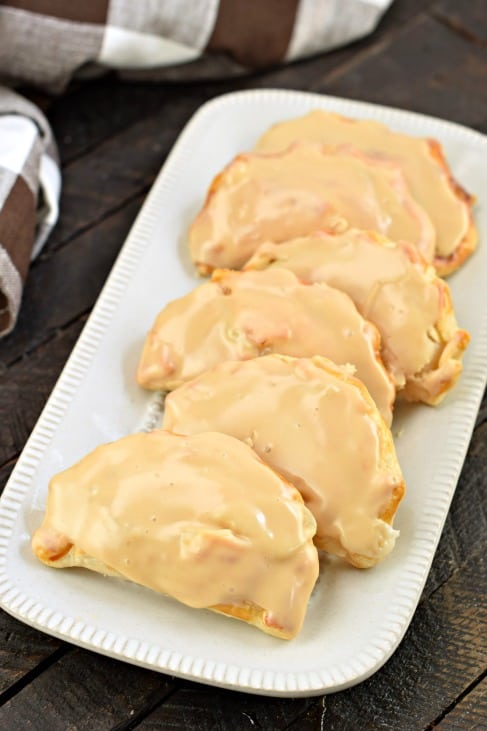 Ingredients:
Tools:

Can you Freeze Dessert Empanadas?
Yes! You can freeze these after baking with or without the glaze.
Just note, if you freeze WITH the glaze, it may get a little soft and runny when defrosting.
To freeze, slide empanadas into a freezer safe airtight container or ziploc freezer bag for up to 3 months.

Easy Caramel Apple Empanadas are baked hand pies with a sweet apple pie and cheesecake filling topped with caramel glaze!