Homemade Caramel Sauce is delicious and easy! Perfectly paired with Dark Chocolate Brownies and Salted Caramel Frosting!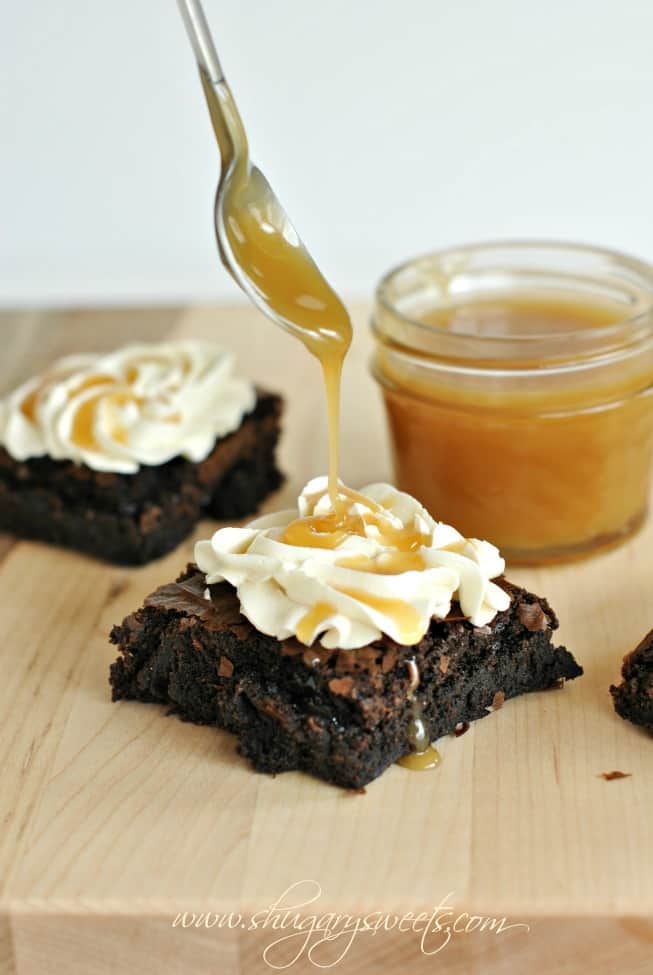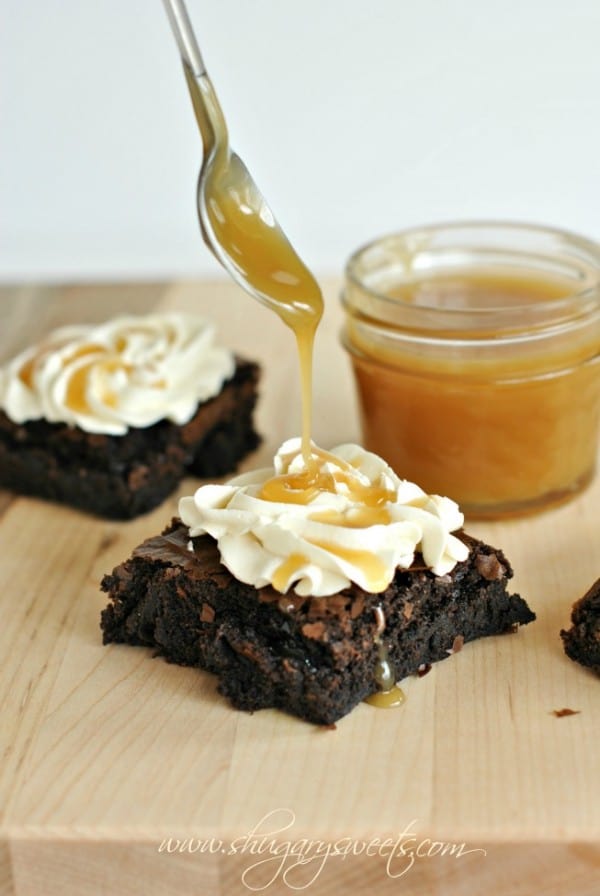 I've been doing some recipe testing this week, and homemade caramel sauce was part of that testing. I tried this recipe and this recipe. Honestly, they were both delicious, the first one was a bit more work.
The second one from Anna is the one I based my recipe from. Except I wanted it to be even easier. I tried it THREE times.
For you. I wanted to make sure that it came out right each and every time.
By the third time I didn't need a candy thermometer, but I'm including the recipe with the thermometer so that there are NO questions.
If you cook it too long, you will get sugar crystals and it will start to harden (into caramels). While it's delicious, it won't be smooth.
If you don't cook it long enough, it will be too thin. Still quite tasty, but a thin sauce.
Don't be afraid of candy thermometers. I know. Some of you are getting ready to click away because you just hate them. Trust me though, once you use it, you won't be scared.
Kind of like yeast. Some people are afraid of making recipes that call for yeast. Anyone?? But, as many of you know, once you use it, you get the hang of it all!
How to Make Homemade Caramel Sauce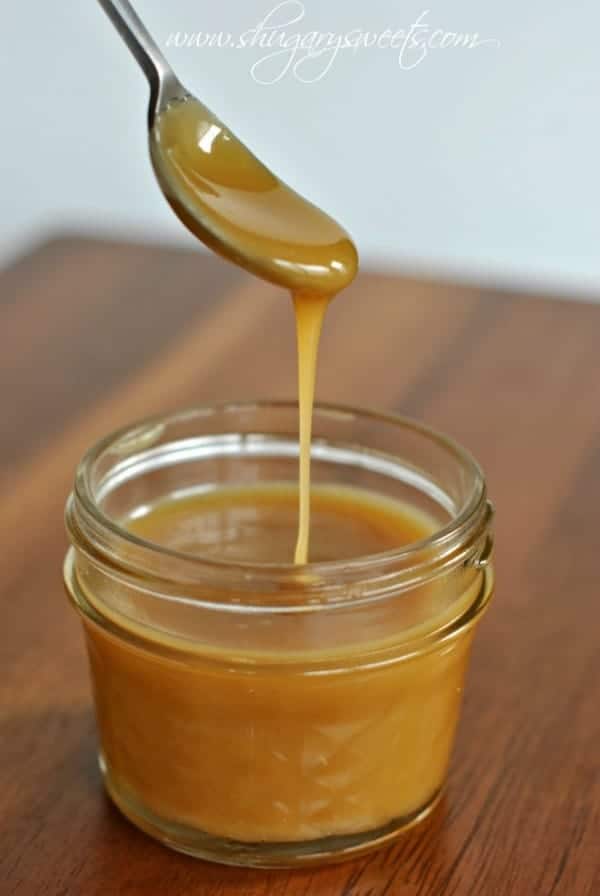 In a medium saucepan, melt butter on medium heat.
Add sugars and 1/2 cup heavy cream. Continue whisking on medium heat until mixture comes to a boil (this process takes about 6-8 minutes).
Reduce heat to medium low, whisking continuously, boil for about 3 more minutes, until temperature on a candy thermometer reaches 220 degrees.
Add remaining 1/4 cup of heavy cream and whisk until blended. Cook on medium low an additional two minutes. Remove from heat.
Pour mixture into a pint sized mason jar and allow to cool at room temperature. Sauce will thicken as it cools. Refrigerate for up to two weeks. The sugars may crystalize when cold. You can reheat it in the microwave or bring it to room temperature. ENJOY.
Now that you made some homemade caramel sauce, you can totally rock it out with these Chocolate Brownies. I used my favorite dark chocolate brownie recipe and paired it with my Salted Caramel Swiss Meringue Frosting recipe. A match made in heaven. No more jarred caramel sauce for this girl!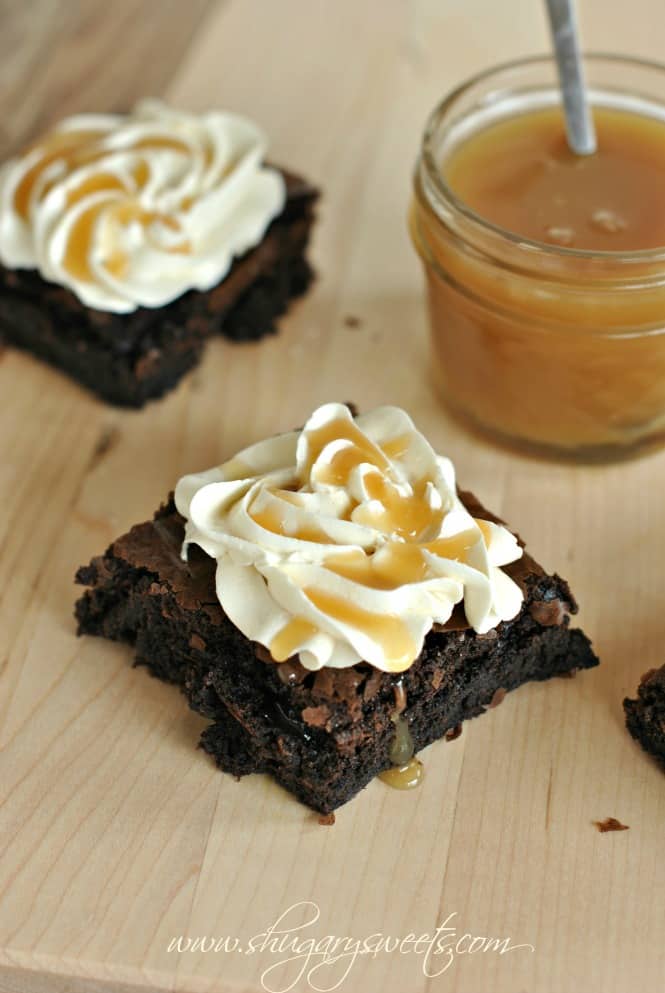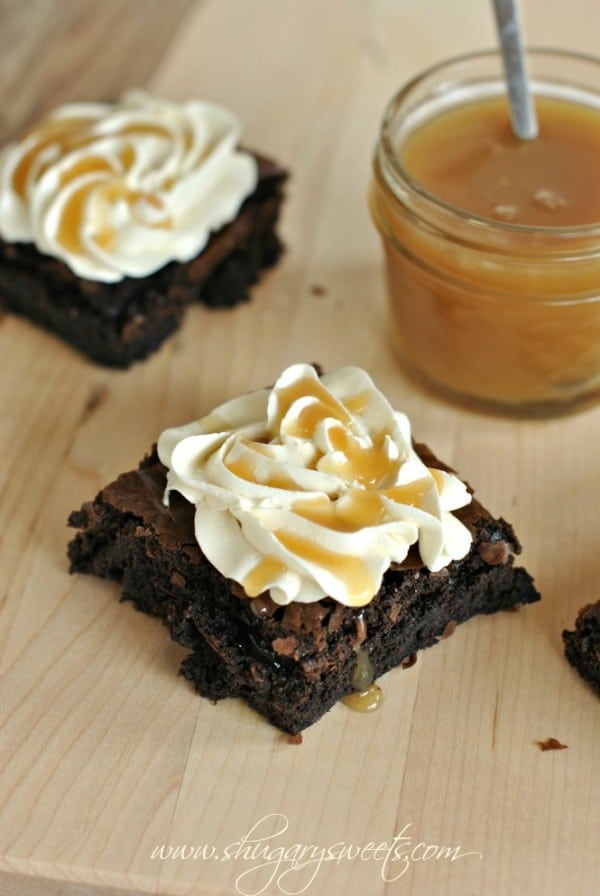 More Caramel Recipes
Caramel Bread Pudding has a perfect custard pudding center with a crisp outer crust! Packed with flavor and topped with caramel sauce, this is the dessert you've been craving!
What would YOU do for a piece of Salted Caramel Mocha Fudge? One piece of this fudge, and you're going to keep wanting more!
These Caramel Frosted Sugar Cookies are irresistible. Chewy sugar cookies with a no-chill dough topped with a sweet and salty caramel frosting!
Connect with Shugary Sweets!
Facebook | Twitter | Pinterest | instagram
If you LOVE this recipe, share it on Instagram and tag me #shugarysweets so I can see it!
I created a fun little group on facebook and I'd love for you to join in! It's a place where you can share YOUR favorite recipes, ask questions, and see what's new with Shugary Sweets (so that you never miss a new recipe)! If you'd like to check it out, you can request to join HERE.