Caramel Bread Pudding has a perfect custard pudding center with a crisp outer crust! Packed with flavor and topped with caramel sauce, this dessert is the stuff dreams are made of.
This Instant Pot Bread Pudding would be delicious with a drizzle of caramel sauce or buttermilk syrup as well! Or give this apple bread pudding recipe a try soon!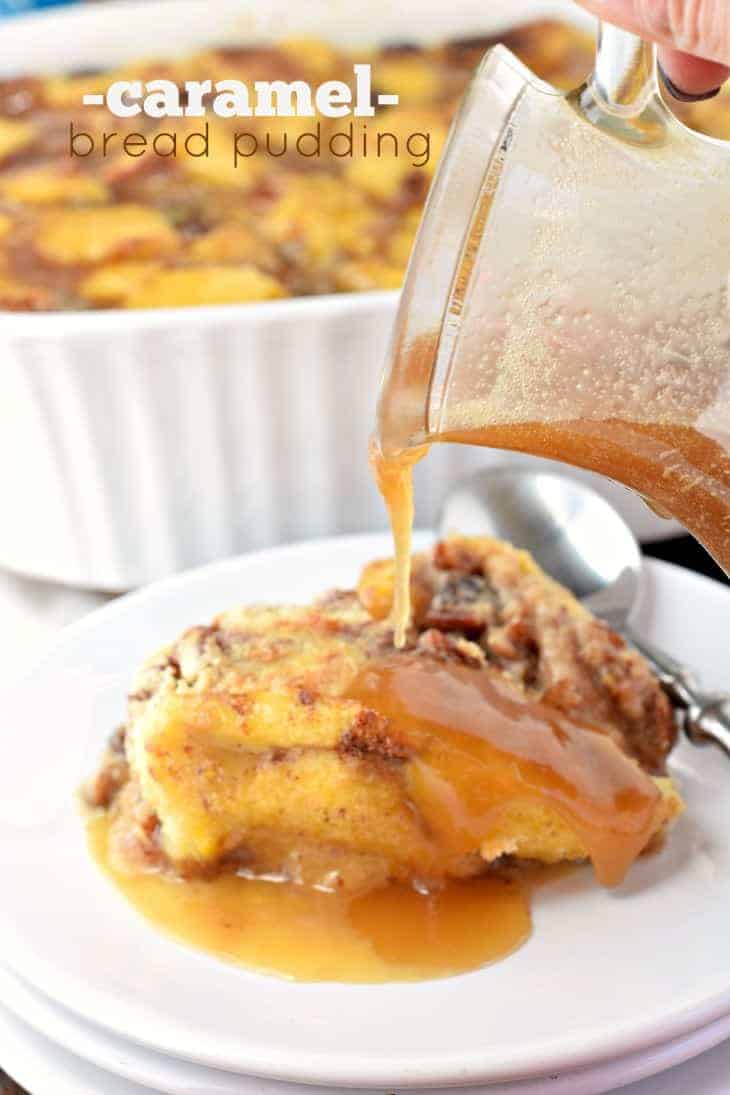 Why this Recipe is Best
Made from scratch. There's nothing like the cozy comfort of homemade bread pudding!
Cinnamon spice. The warming aroma of sugar and spice makes your kitchen smell AMAZING.
Everything is better with caramel sauce! Warm ribbons of buttery caramel seep into every crevice of this bread pudding.
Ingredient Notes
White bread – This can be any kind of white sandwich bread you have on hand, with the crusts removed. A little stale is okay!
Pecans – I love the crunchy nutty taste these add to a soft bread pudding.
Raisins pair perfectly with the cinnamon, nutmeg and brown sugar flavors here. If you're not a fan, feel free to leave them out.
Eggs hold all the ingredients in the bread pudding together and give it a soft, custard-like center.
Milk adds moisture to the bread pudding. Any milk works, but make sure it's warmed slightly before using it in this recipe.
Unsalted butter – You'll use this in both the bread pudding itself and the homemade caramel sauce.
Heavy cream thickens the caramel sauce with rich flavor. Now is not the time to go low-fat!
Step by Step Instructions
Preheat oven to 375°F. Lightly grease an 8-inch square baking dish or 2 qt casserole with baking spray. Set aside.
In a large bowl, combine bread cubes with melted butter, cinnamon, nutmeg, raisins and chopped pecans. Mix gently until well blended. Pour into bottom of prepared baking dish.
Using the same bowl, whisk together the eggs with the sugar, homemade vanilla extract and salt until frothy. Add warm milk and stir until blended. Pour over bread mixture.
Bake for 30-35 minutes until edges lightly brown (center will be jiggly). Remove from oven.
While bread pudding slightly cools and sets, prepare caramel sauce.
In a saucepan over medium high heat, combine sugars, butter and heavy cream. Bring to a boil and stir continuously. Boil (at a rolling boil) for about 2 minutes.
Serve warm. ENJOY!
Tips and Tricks
Bread pudding tastes best warm. Store leftovers in an airtight container in the refrigerator and reheat before serving.
This homemade caramel sauce isn't just for bread pudding! Try it over pancakes, on ice cream, or as a dipper for fresh apple slices.
The center will look soft and jiggly, like a custard or cheesecake, when this caramel bread pudding comes out of the oven. Do not overbake. It'll continue to set as it cools.
Recipe FAQs
Is stale bread or fresh bread better?
For this bread pudding, you can use either one. I've used white sandwich bread fresh from the package and homemade bread that is several days old.
It comes out delicious no matter what!
Can I use store bought caramel sauce instead?
You sure can! I love the warm homemade sauce on this bread, but if you're in a rush go ahead and add jarred caramel instead.
How long does homemade bread pudding keep?
Stored in the fridge, this caramel bread pudding will stay good for up to 5 days.
I only have salted butter. Can I still make this recipe?
Yes, salted butter may be used here. If you do use salted butter, I recommend reducing the added kosher salt in the recipe to 1/4 tsp to avoid an overly salty tasting bread pudding!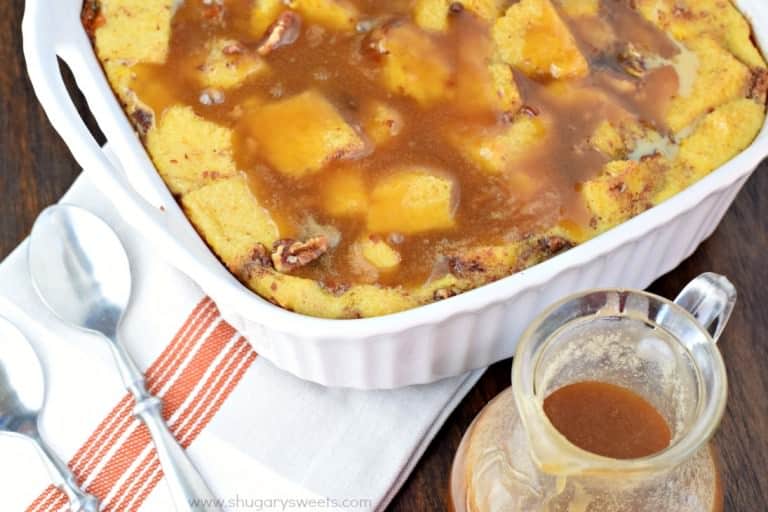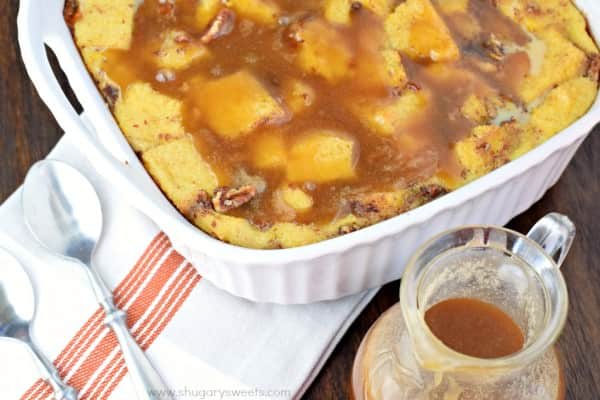 More Easy Desserts
Love caramel desserts? This Caramel Bread Pudding is just the dessert you've been craving.