Caramel Bread Pudding has a perfect custard pudding center with a crisp outer crust! Packed with flavor and topped with caramel sauce, this dessert is the stuff dreams are made of.
This Instant Pot Bread Pudding would be delicious with a drizzle of caramel sauce or buttermilk syrup as well! Or give this apple bread pudding recipe a try soon!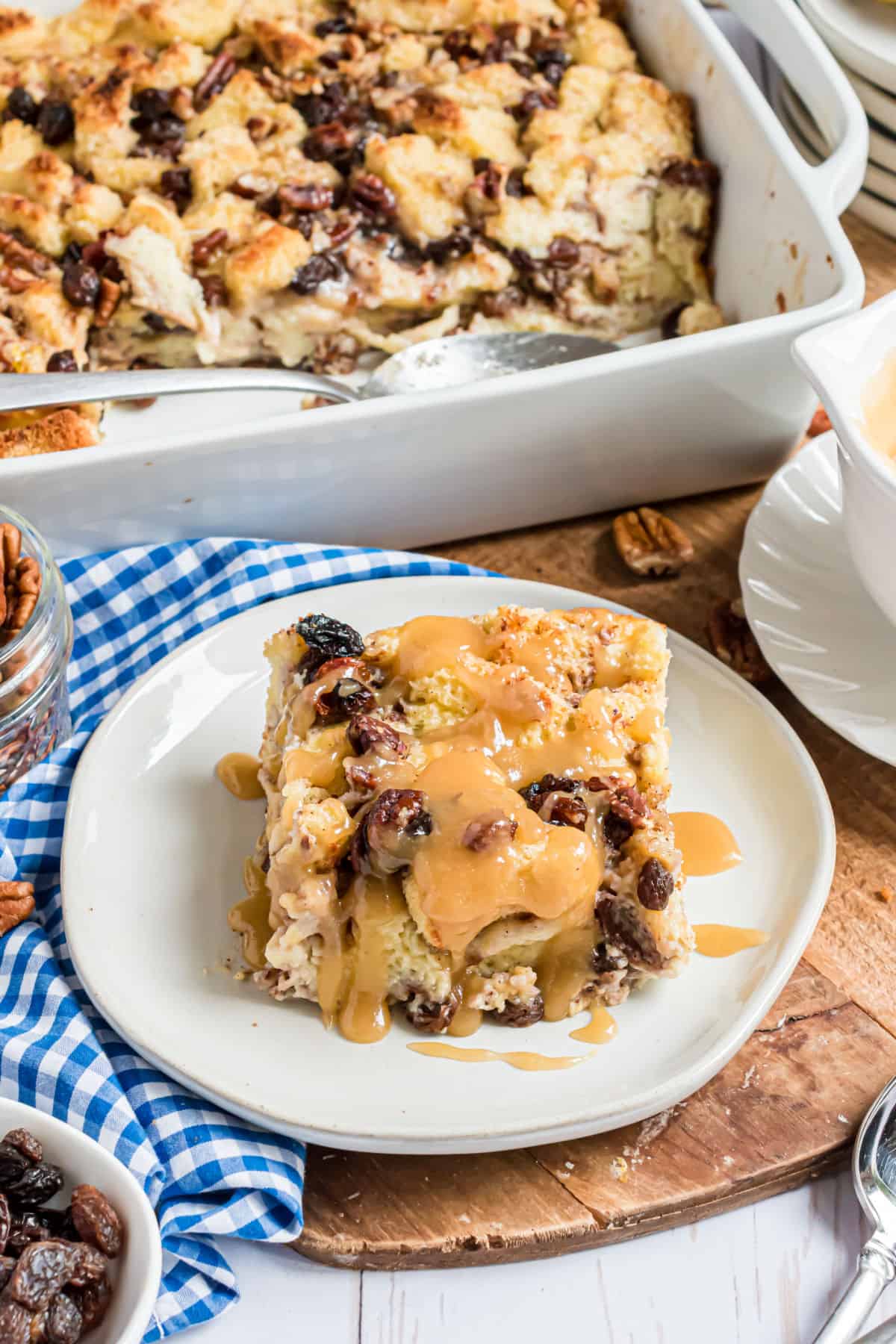 Why this Recipe is Best
Our classic bread pudding is top notch. And when you think bread pudding can't get any better, it totally does!
Bread pudding isn't necessarily a pudding, but the center does reveal a soft, custard like texture paired with bread, raisins, nuts, and a delicious caramel sauce on top.
Ingredient Notes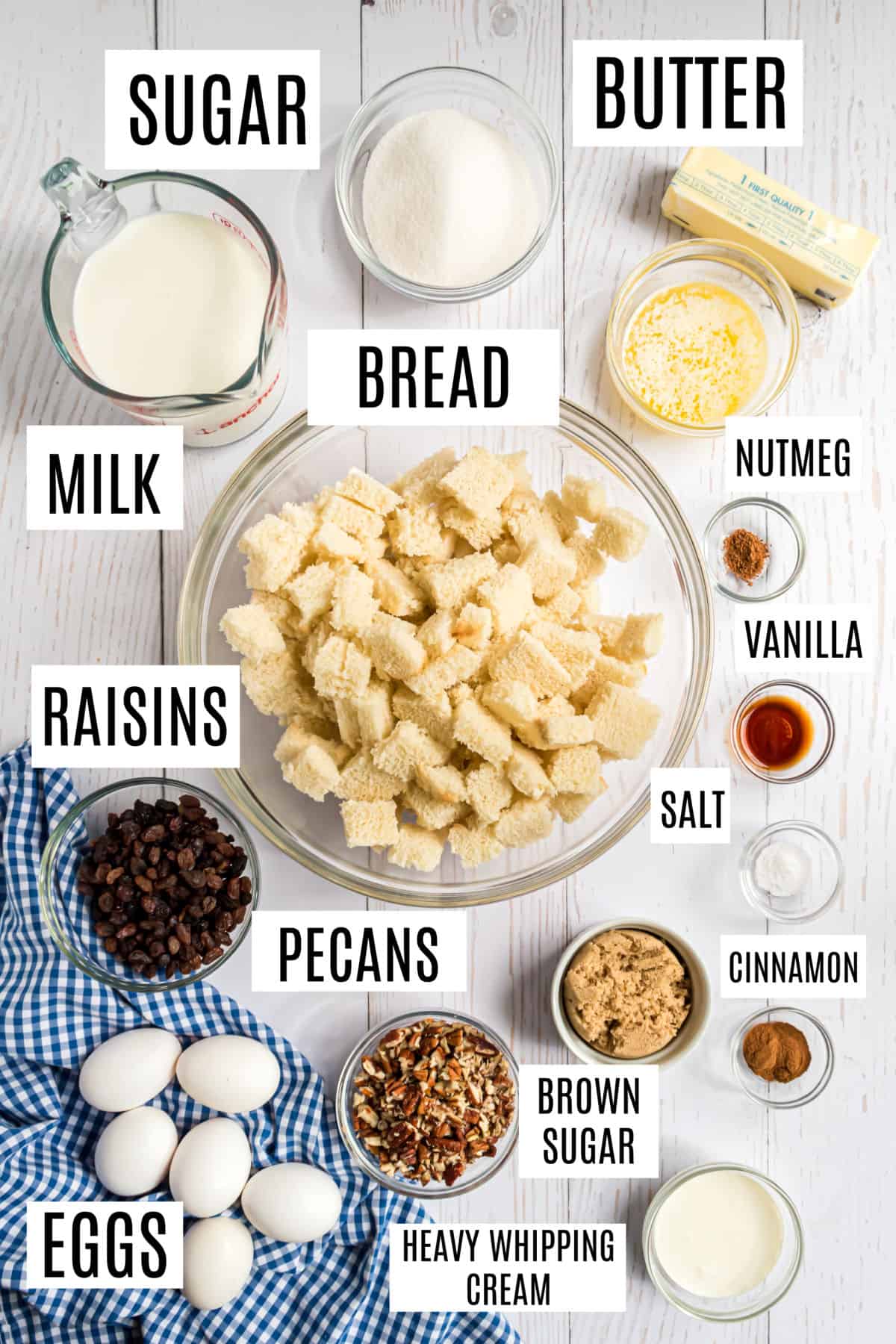 Step by Step Instructions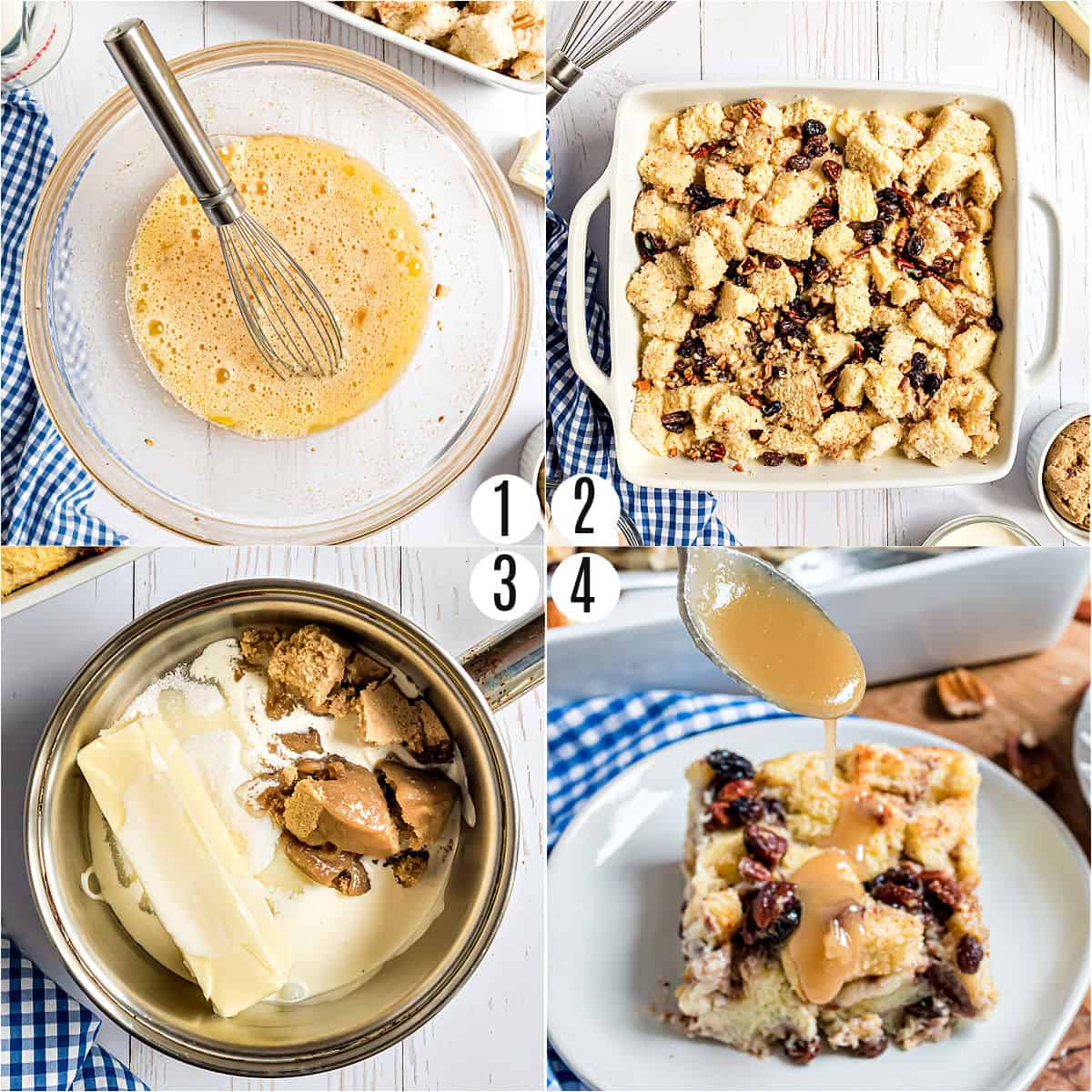 Make custard mixture. In a large bowl, combine bread cubes with melted butter, cinnamon, nutmeg, raisins and chopped pecans. Mix gently until well blended. Pour into bottom of prepared baking dish.
Using the same bowl, whisk together the eggs with the sugar, homemade vanilla extract and salt until frothy. Add warm milk and stir until blended. Pour over bread mixture.
Bake for 30-35 minutes until edges lightly brown (center will be jiggly). Remove from oven.
Make the caramel sauce. In a saucepan over medium high heat, combine sugars, butter and heavy cream. Bring to a boil and stir continuously. Boil (at a rolling boil) for about 2 minutes.
Serve warm with caramel sauce over the top. ENJOY!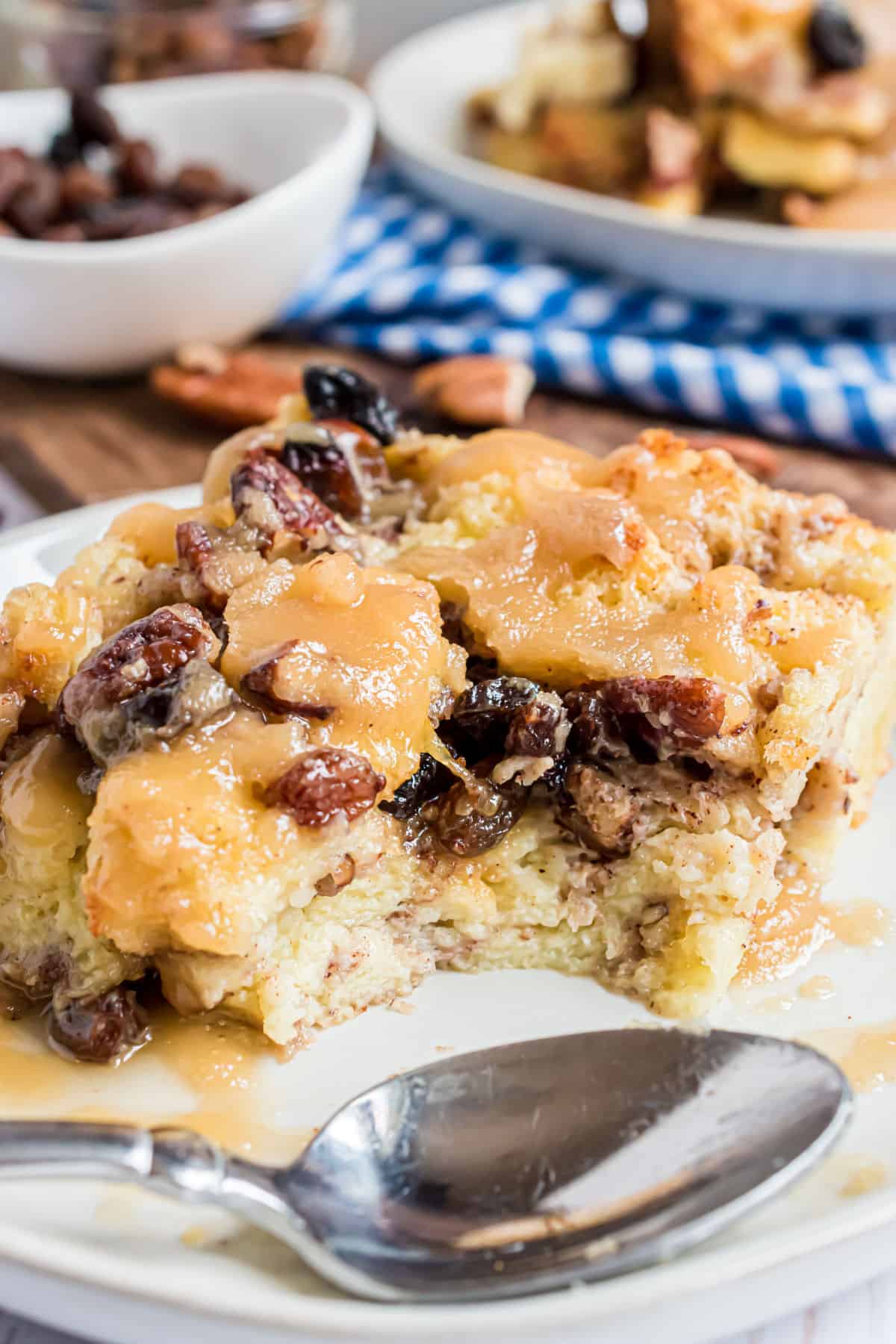 Tips and Tricks
Recipe FAQs
Is stale bread or fresh bread better for bread pudding?
For this bread pudding, you can use either one. I've used white sandwich bread fresh from the package and homemade bread that is several days old. It comes out delicious no matter what!
Can I use store bought caramel sauce instead?
You sure can! I love the warm homemade sauce on this bread, but if you're in a rush go ahead and add jarred caramel instead.
How long does homemade bread pudding keep?
Stored in the fridge, this caramel bread pudding will stay good for up to 5 days.
I only have salted butter. Can I still make this recipe?
Yes, salted butter may be used here. If you do use salted butter, I recommend reducing the added kosher salt in the recipe to 1/4 tsp to avoid an overly salty tasting bread pudding!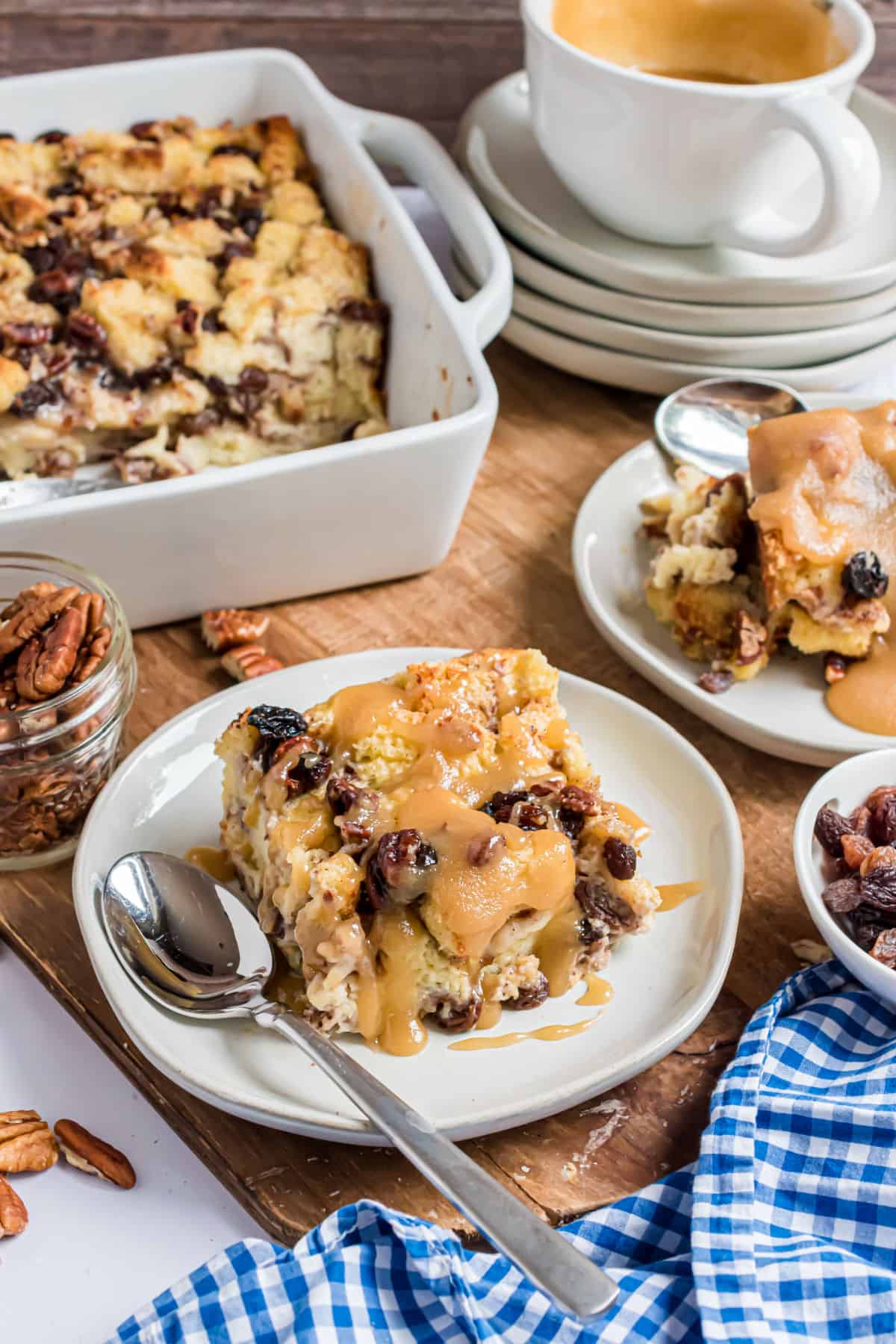 More Easy Desserts
Love caramel desserts? This Caramel Bread Pudding is just the dessert you've been craving.