This twist on the classic comfort food is full of spiced chai apple bread and buttery brown sugar layers. Warm Apple Bread Pudding gets even better when it's topped with homemade vanilla crème!
Bread Pudding is the old fashioned dessert I never get tired of making. Try this Caramel Bread Pudding for another sweet variation! Or make our Instant Pot Bread Pudding recipe instead.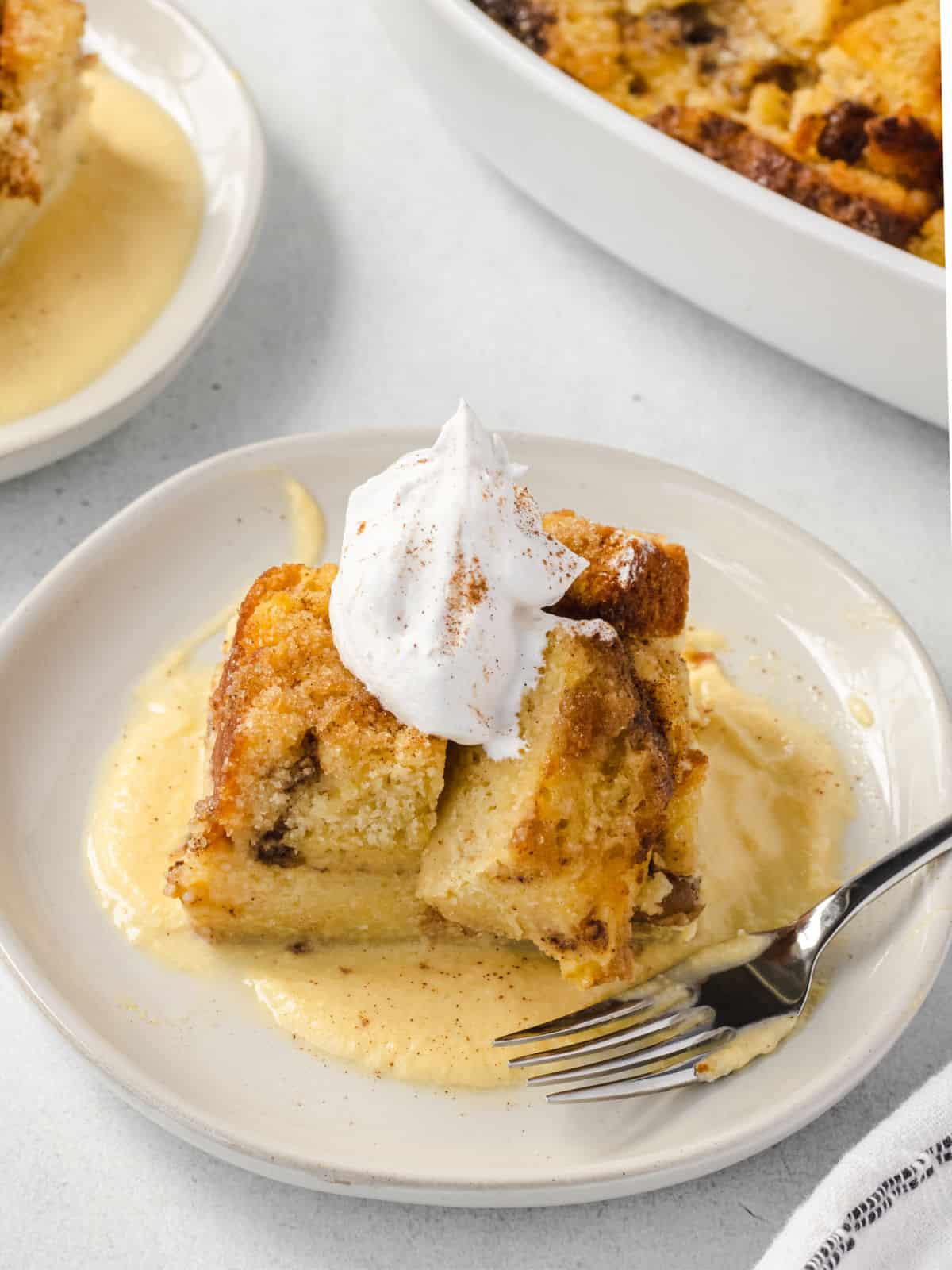 Why this Recipe is Best
This Apple Bread Pudding can be made with fresh apple bread OR bread that is several days old. Never waste a loaf!
Cubes of bread are baked with custard to create an ooey-gooey warm dessert.
A decadent Vanilla Crème Anglaise drizzled on top sets this bread pudding apart from the rest.
It's equally delicious served with a simple scoop of vanilla ice cream or whipped cream on top!
Remember this Chai Apple Bread recipe?
After making several loaves of it, I ended up with a few slices that somehow managed NOT to be gobbled up within a matter of days.
If you've tasted that bread, you know this requires some serious self-control.
I took those leftovers, cut them into cubes and added them to a bread pudding for an even more decadently sweet dessert.
Whether you're a bread pudding devotee or a skeptic, you NEED to try this recipe!
Ingredient Notes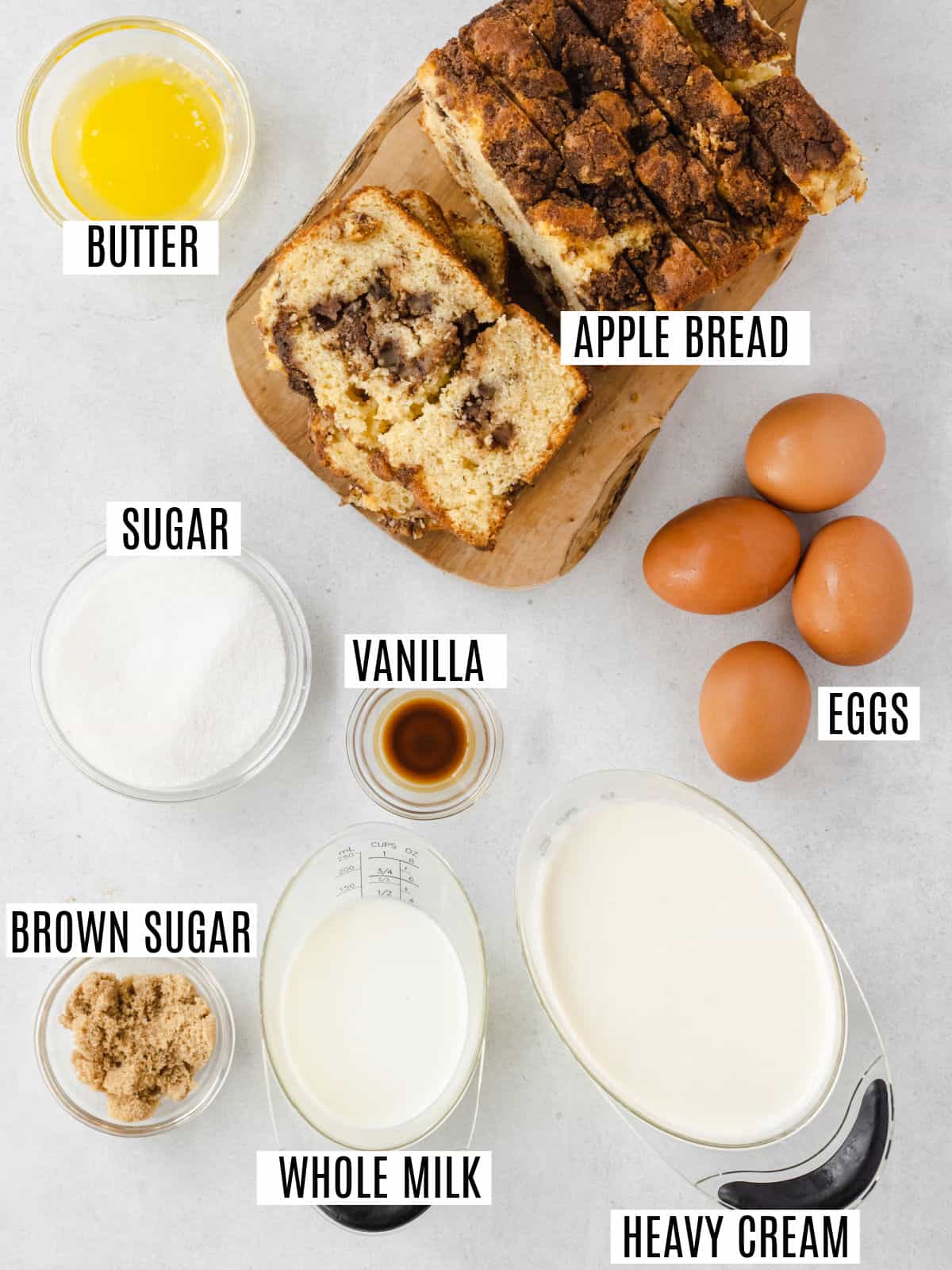 Apple Bread. We love our chai apple bread recipe. However, any loaf of bread will work. Apple cinnamon bread, zucchini bread, or even a brioche would be delicious. Just add extra chai spice if needed.
Eggs. This is the foundation of custard. Be sure to save those egg whites for meringues or my white cake recipe!
Heavy cream and Milk. Both are used to give the custard thickness and structure without being TOO thick. An equal substitution of half and half may be used.
Brown Sugar. The sugar caramelizes on top of the bread pudding as it bakes. This provides a nice texture that contrasts the soft custard pudding.
Easy Instructions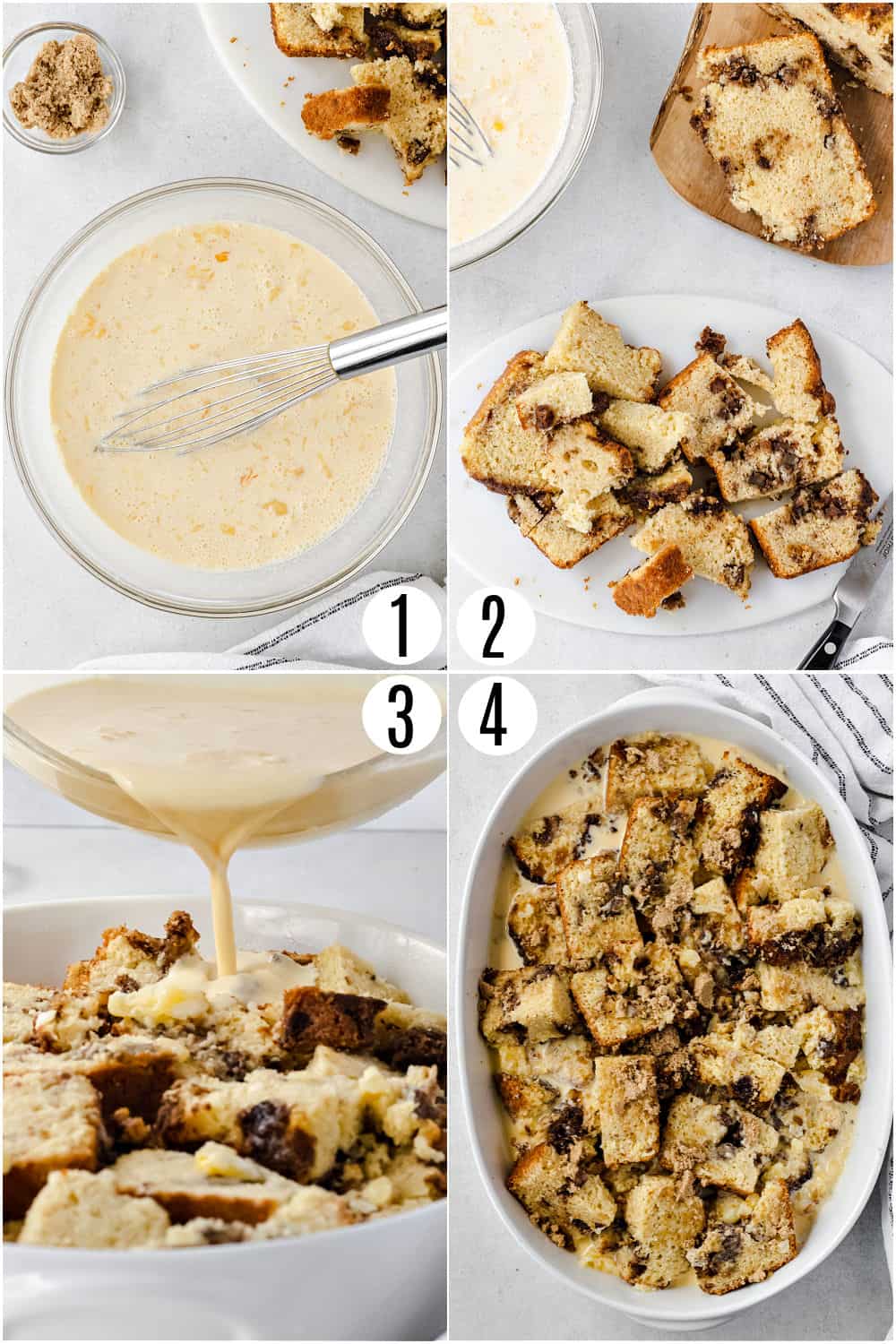 Start by placing cubed apple bread in a baking dish.
Make a custard by combining the eggs, milk, cream, homemade vanilla extract, and sugar in a large mixing bowl. Pour the custard mixture over the bread. Sprinkle with brown sugar and bake.
Remove the bread pudding from the oven when the bread springs back when you touch it.
Have a few extra minutes? Make a homemade creme angliese for topping your bread pudding.
How to Make Crème Angliese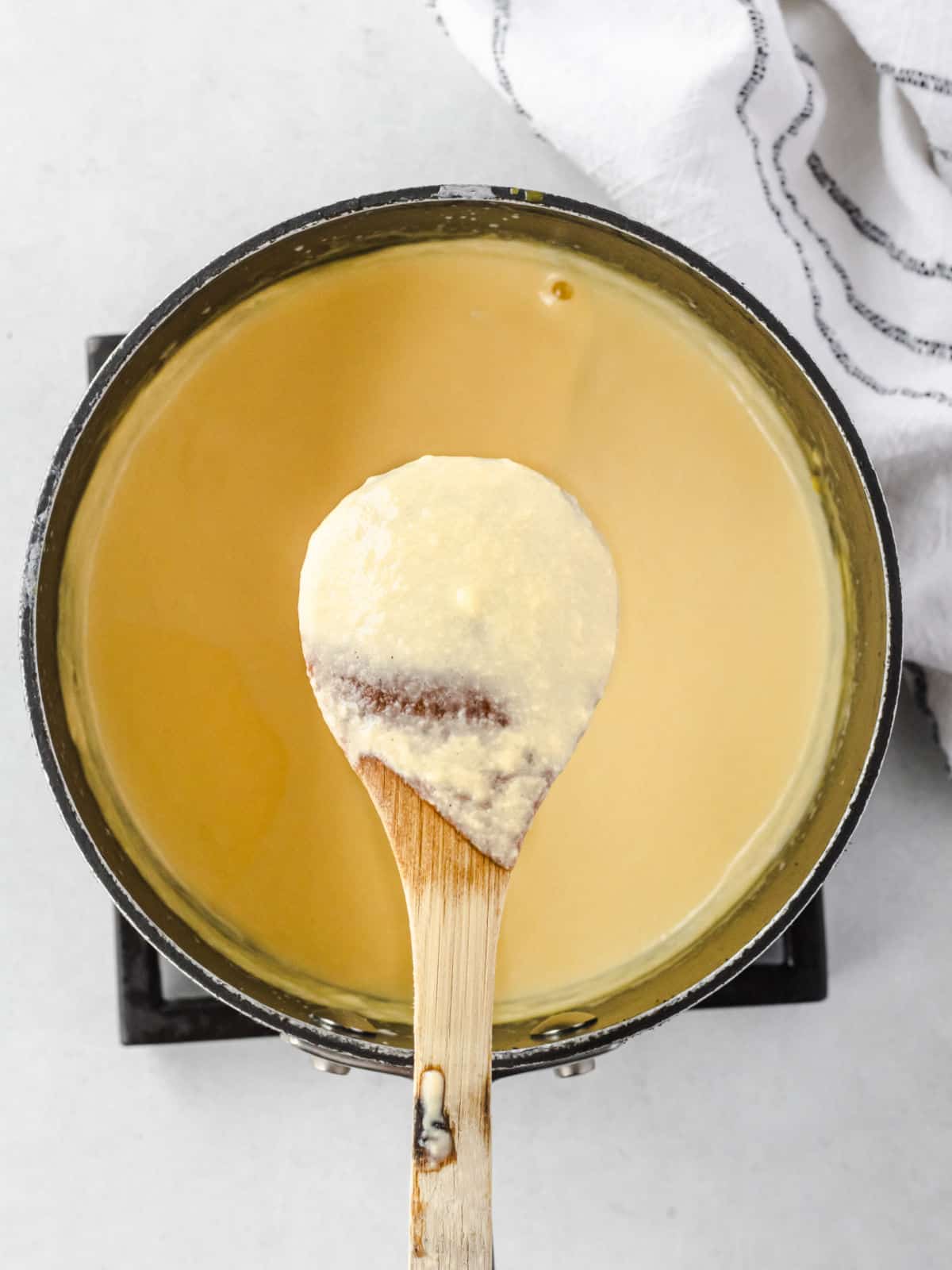 First, simmer half and half with vanilla over medium heat.
Whisk egg yolks and sugar in a separate bowl until well combined. Stir half a cup of the warm half and half into the egg yolks.
Now, gradually add the whole egg mixture back to the back to the saucepan, stirring constantly.
Continue cooking over medium heat until the creme is slightly thickened. Cover and chill for 1 hour or until ready to serve.
Tips and Tricks
Be careful not to over cook the creme angilese. As soon as it sticks to the back of the spoon, remove it from heat.
Use our chai donuts instead of bread!
Short on time? Skip the creme angilese and top your apple bread pudding with Whipped Cream instead. I also love it with Homemade Vanilla Ice Cream.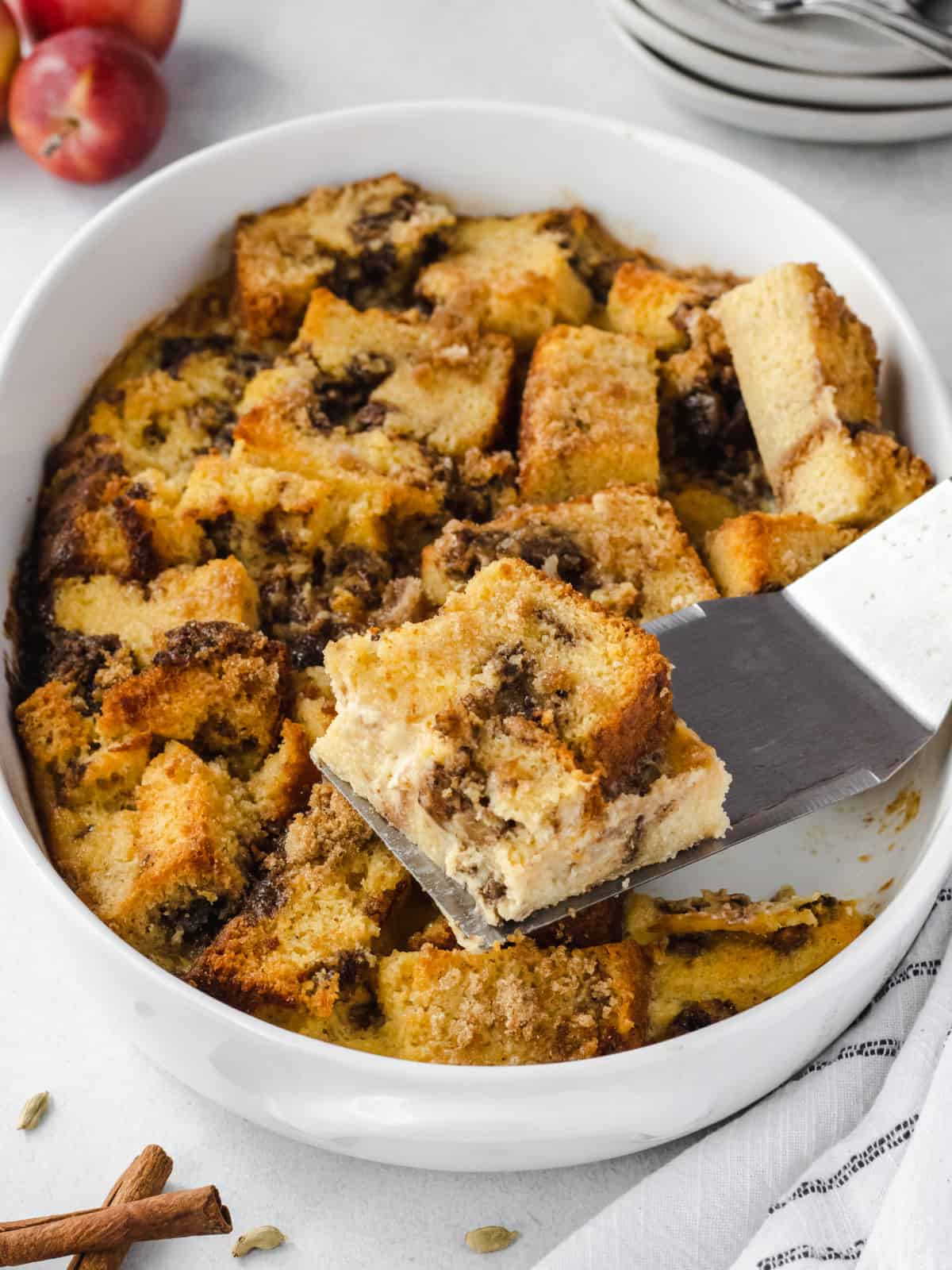 Recipe FAQs
What is crème anglaise? 
Crème anglaise is a custard-based sauce. With a flavor similar to vanilla pudding, and a consistency of a pouring sauce, it makes the perfect accompaniment to bread pudding.
Why is my crème anglaise lumpy?
It is normal for the custard to have some texture, but if there are large lumps then it has been overheated. Process with a handheld immersion blender for 15-45 seconds to smooth the custard.
How do I store leftovers?
If you have leftover bread pudding then place it in an airtight container and refrigerate for up  to 5 days. Reheat before serving.
Can I make this recipe with other breads?
The custard for this bread pudding will work well with other soft breads, like banana bread, pumpkin bread, and brioche.
Can I use freshly made bread?
Most bread pudding uses stale bread, but this recipe works well with fresh bread or bread that is several days old.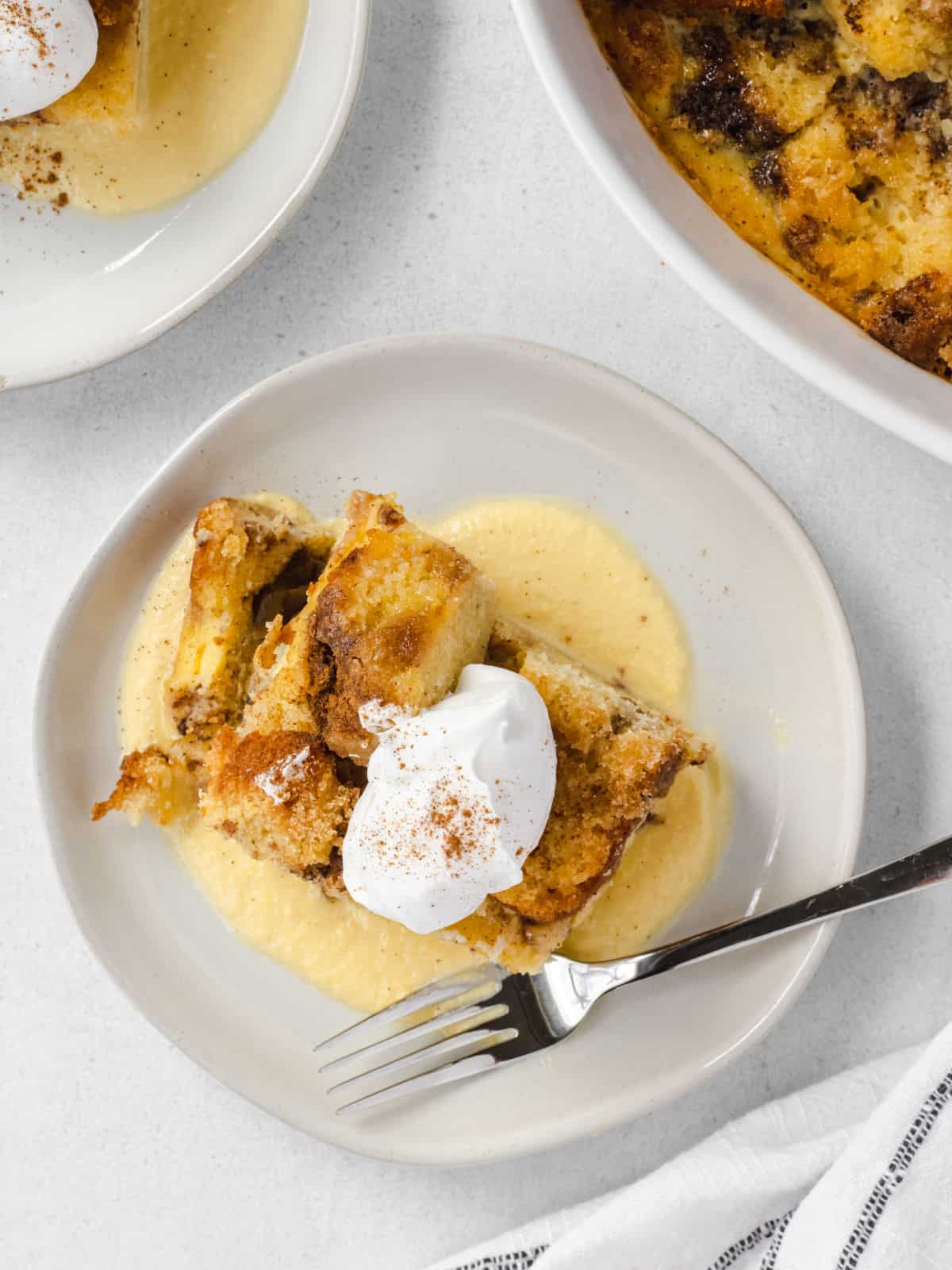 Custard and spiced apple bread are baked together for a mouthwatering dessert! This Apple Bread Pudding is perfect for fall—but it's so delicious, you'll crave it year round.