Getting out of bed is easy when Apple Cinnamon Rolls are waiting for you! These sweet rolls are filled with cinnamon spiced apples and topped with an apple cider glaze. The perfect fall breakfast treat!
Have you tried these Pumpkin Cinnamon Rolls yet? A delicious breakfast treat. Or give our Apple Cider Donuts a try soon!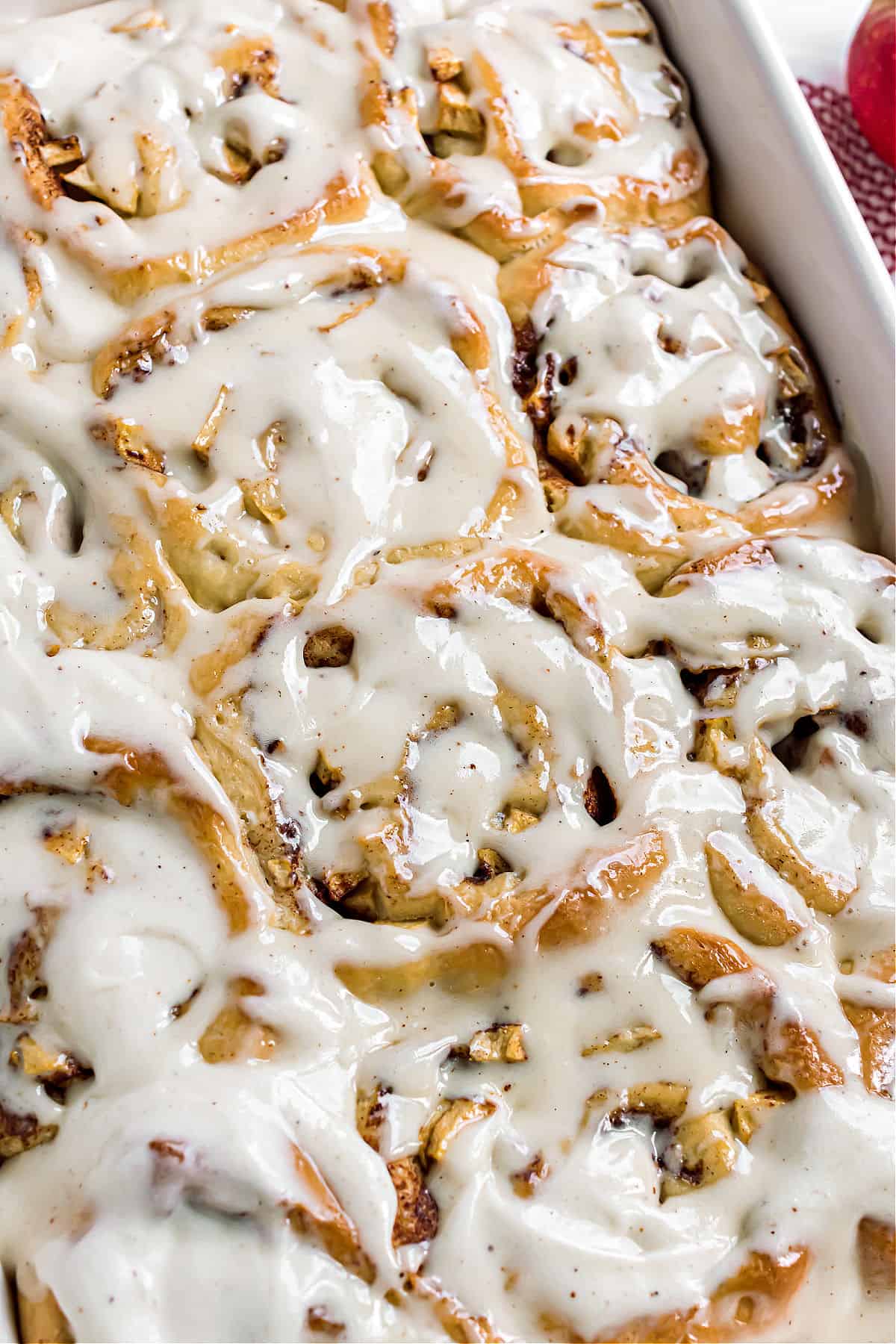 Why this Recipe Works
Today's breakfast recipe is based on my favorite homemade Cinnamon Rolls. This time, we added diced apples to the buttery brown sugar filling!
Gooey apple filling makes a homemade cinnamon roll even better.
Yeast dough bakes up soft and extra fluffy.
Brings together all the best flavors of fall!
Cream cheese frosting was the obvious choice for topping these apple cinnamon rolls. This one is made with apple cider and fall spices to incorporate even more apple flavor into the rolls.
I don't need to tell you how amazing these smell as they're baking!
Freshly baked rolls + cinnamon sugar + apples? Heavenly. Try our pecan sticky buns next this season!
Ingredient Notes
Active dry yeast – Yeast makes the dough rise, creating fluffy soft cinnamon rolls. You will need one packet for this recipe. Make sure it is not expired!
Apples – Peel, core and dice the apples into very small pieces first.
Egg – A beaten egg helps bind the dough together and gives the dough some color as it bakes. Use a room temperature egg for best results.
Unsalted butter – You'll use butter in the dough and glaze and melted butter for the filling. No cinnamon roll is complete without it!
Easy Instructions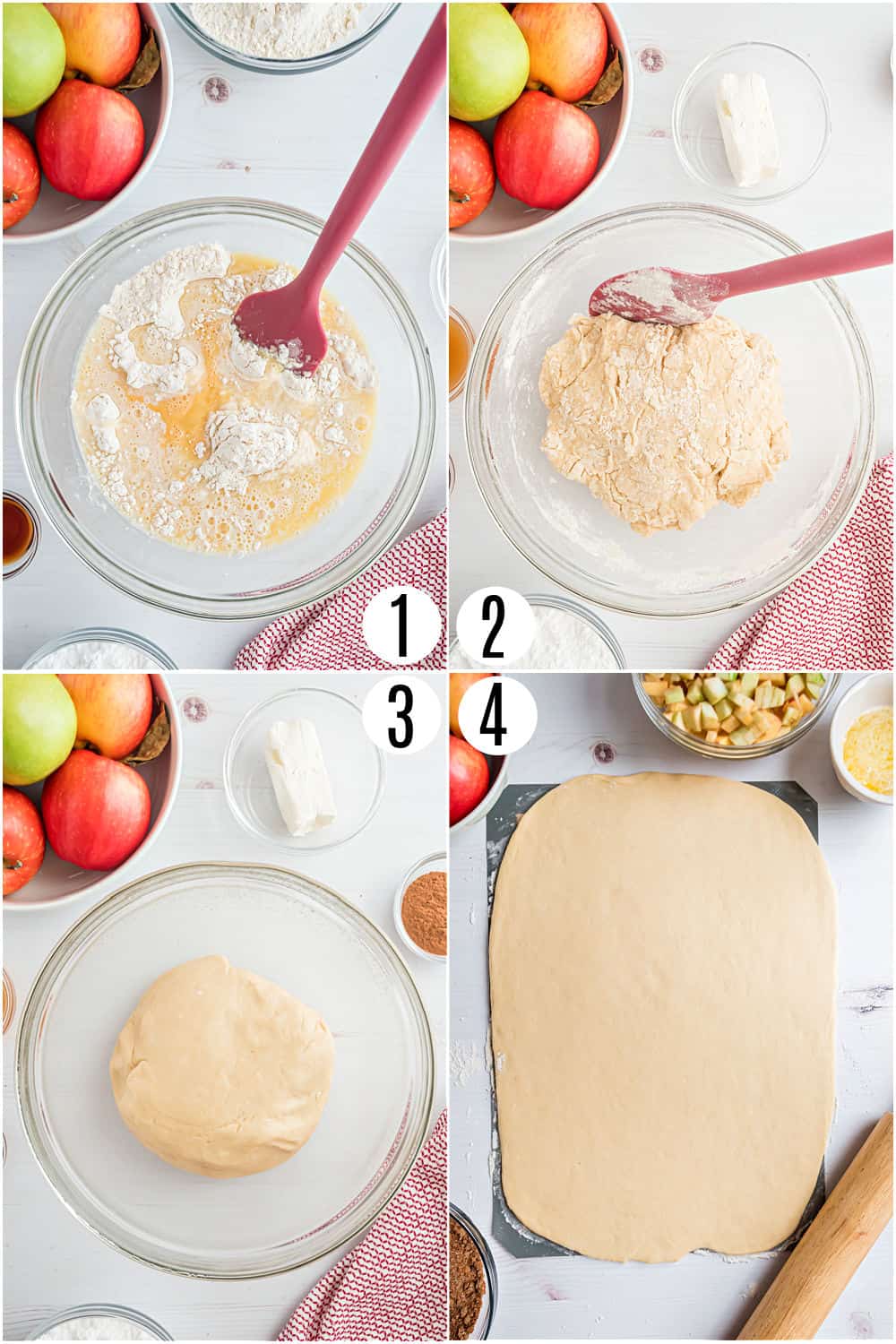 Prepare the dough:
Start by warming the milk and butter on the stove. Once the butter is melted, let the mixture cool slightly.
While it's cooling, dissolve the yeast in water with teaspoon of sugar.
Combine the dry ingredients (except 1 cup of flour) in a mixing bowl.. Add the liquid ingredients and a beaten egg and mix well.
Gradually incorporate the remaining flour until a workable dough forms.
Knead the dough for about 5 minutes. It should be soft, smooth and stretchy! Now, let it rest for 30 to 45 minutes.
While the dough is resting, you can get your apple cinnamon roll filling ingredients ready.
Assemble and bake the rolls: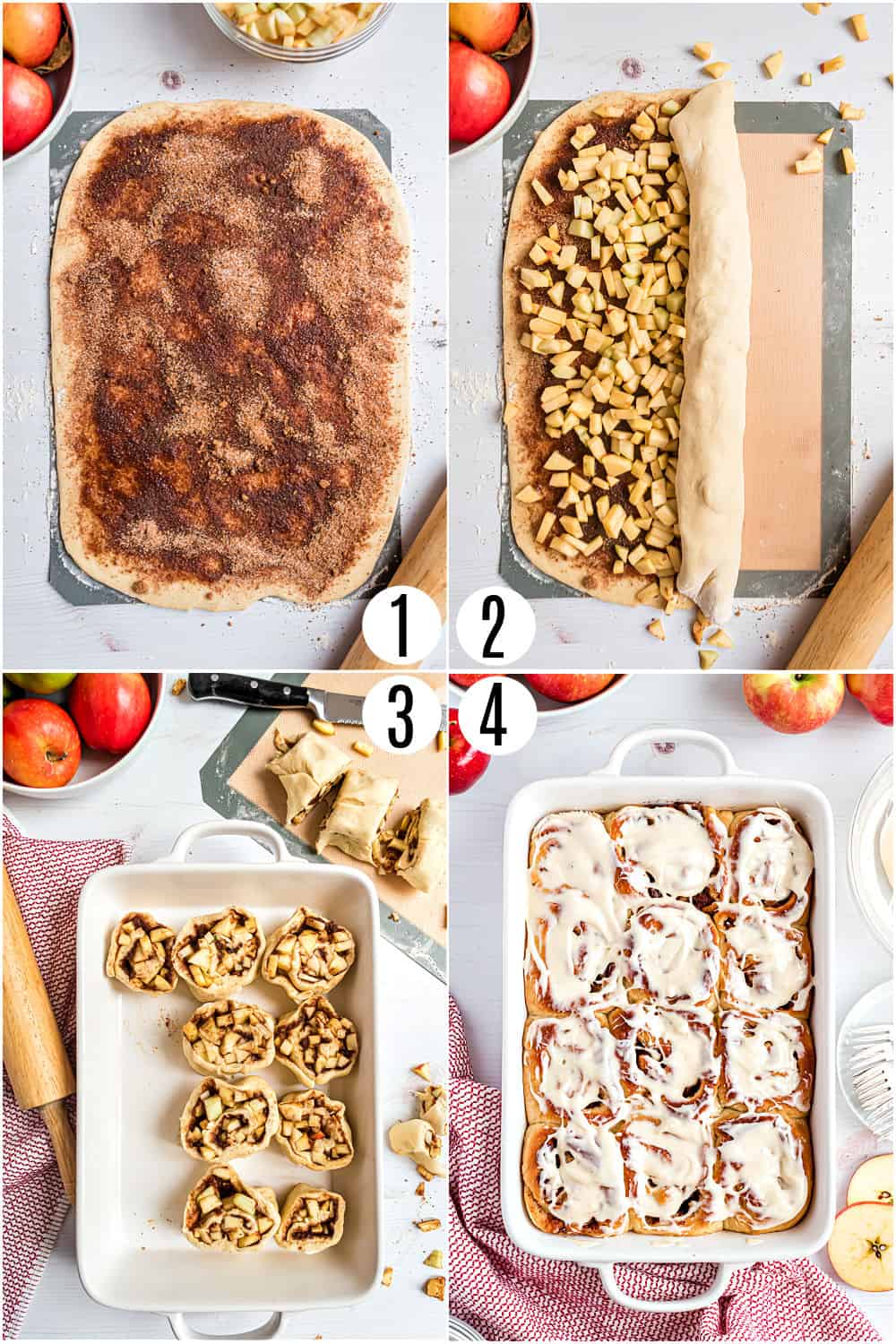 Roll the dough into a large rectangle. Spread melted butter all over the dough, then cover with cinnamon sugar and diced apples.
Roll the dough into a log and pinch together the ends. Cut the roll into 12 pieces and let them rise until doubled in size.
Bake the rolls until golden brown.
For the frosting:
Beat together cream cheese and butter. Add the powdered sugar followed by cider, vanilla extract, and nutmeg and mix until smooth.
Spread frosting over warm cinnamon rolls before serving.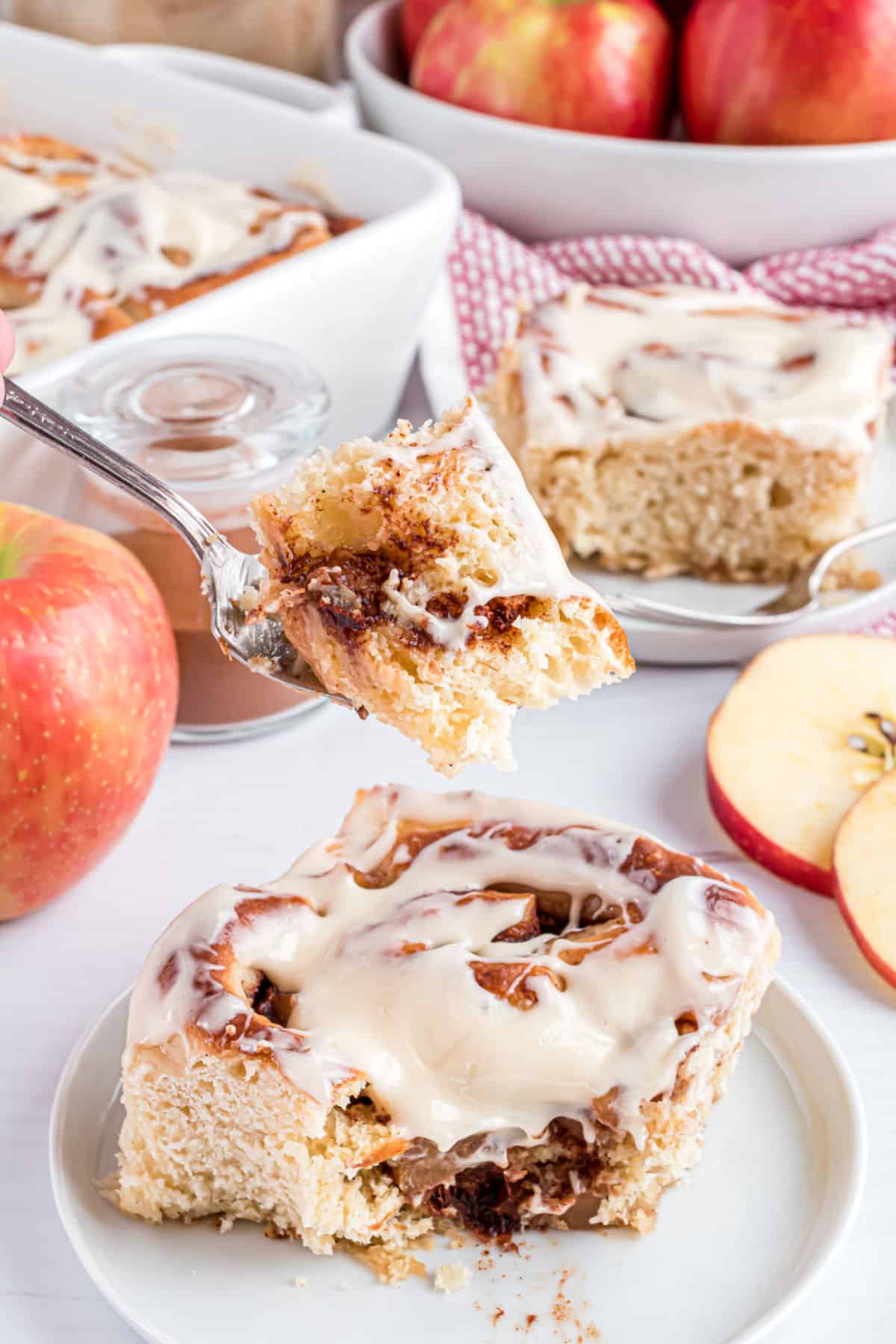 Tips and Tricks
Don't skip the kneading! This step activates the gluten to give the rolls shape and make them fluffy.
Resist the urge to add extra flour. More flour means tougher rolls. The dough may be sticky at first, but as you work the dough with lightly floured hands, it'll become smoother and a bit tacky.
Dice apples into 1/4 inch pieces or smaller. If the apple pieces are too big they won't fully cook during baking and your filling will be crunchy instead of buttery soft!
For an extra gooey cinnamon roll, brush the rolls with heavy cream before baking.
Store baked rolls at room temperature covered with plastic wrap. Enjoy within 3 days.
Love gooey breakfasts? Be sure to try our delicious Monkey Bread recipe!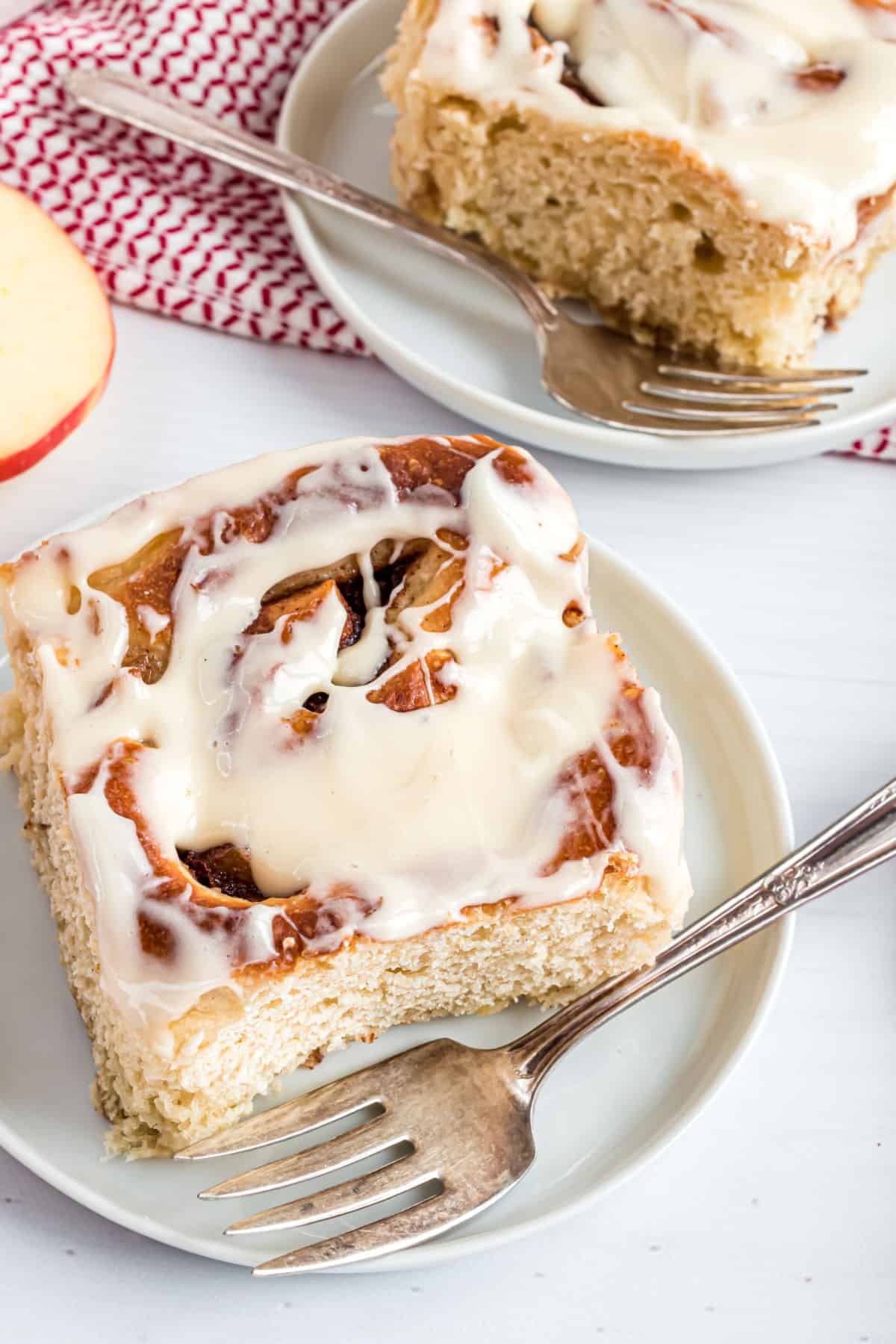 Recipe FAQs
What apples are best?
I used a mixture of 3 gala apples and 1 granny smith. The ratio of sweet to tart was perfect.
Can I use dental floss to cut these rolls?
While I love the dental floss method for my regular cinnamon rolls, that technique won't work as well here. Due to the apple filling, a sharp serrated knife is best for these rolls.
Can I prepare these in advance and bake them the next day?
Unlike my other cinnamon rolls, I don't recommend prepping apple cinnamon rolls way ahead of time. The apples start to release juices as they sit which would make the dough soggy after a few hours.
What can I use instead of apple cider?
If you don't have any cider handy, you can make the frosting with the same amount of milk instead. It won't taste quite the same but will still be delicious!
Why did my cinnamon rolls come out tough?
The most common reason cinnamon rolls end up tough and hard is adding too much flour. The rolls will also be harder if you don't knead the dough long enough (or at all). Finally, make sure to let the dough rise twice. It needs to rise once before rolling out the dough and then again once the rolls are assembled and sliced.
More Fall Recipes
Nothing beats the aroma–or taste– of a homemade cinnamon roll fresh from the oven. These Apple Cinnamon Rolls are a perfect start to any fall day!