Never settle for store bought cake again. This Easy Chocolate Cake made from scratch it topped with our favorite chocolate buttercream frosting and sprinkles. Made in a 13×9 you'll be eating your cake in no time!
This easy cake is adapted from our perfect Chocolate Cake recipe, which is a rich layer cake! You could also try our fudgy chocolate banana cake which is moist and delicious!
Why this Recipe Works
There's a wide world of chocolate cake recipes, but you're missing out if you don't give this one a try.
Baked in a 9 x 13 pan. No layers to assemble! Some people refer to this style of cake as a chocolate sheet cake.
Easy frosting. Made with our perfect chocolate buttercream frosting!
Super rich chocolate flavor. Adding brewed coffee brings greater dimension to the cocoa flavor in this easy chocolate cake.
Perfect for all occasions. Chocolate cake is always a good idea!
Ingredient Notes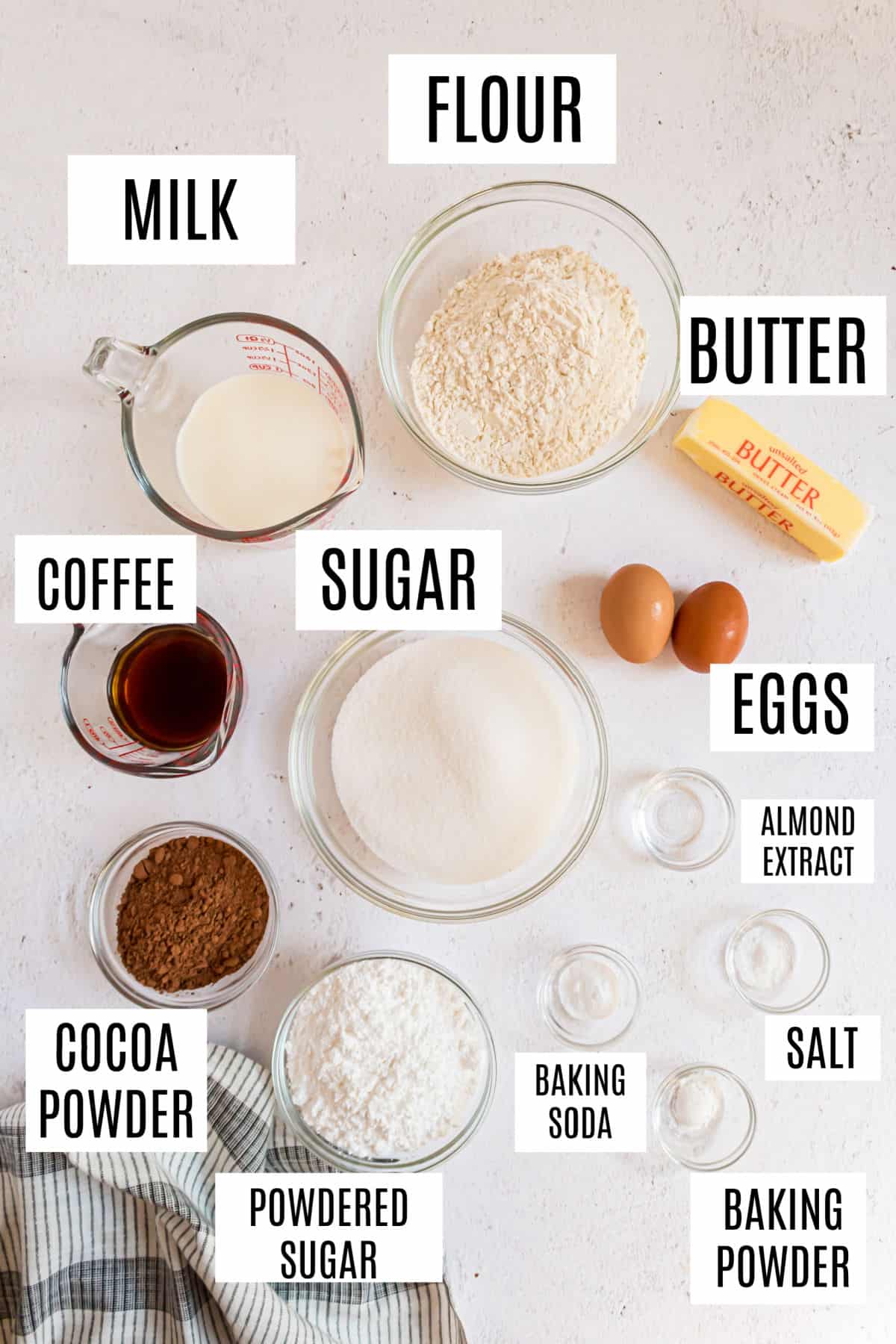 Hot brewed coffee. The coffee brings out the chocolate flavor but does not make the cake taste like coffee. If needed, substitute hot water.
Unsalted butter. I use unsalted butter in all of my baking to control the saltiness of my desserts. You can substitute salted butter if necessary. Just omit the added kosher salt.
Milk. Any milk works but whole milk and buttermilk are my favorite for rich flavor and soft crumb.
All-Purpose Flour- unlike my vanilla cake recipe, today's recipe needs the all-purpose flour which gives the cake more structure with the cocoa powder. Make sure to learn how to measure flour correctly!
Easy Instructions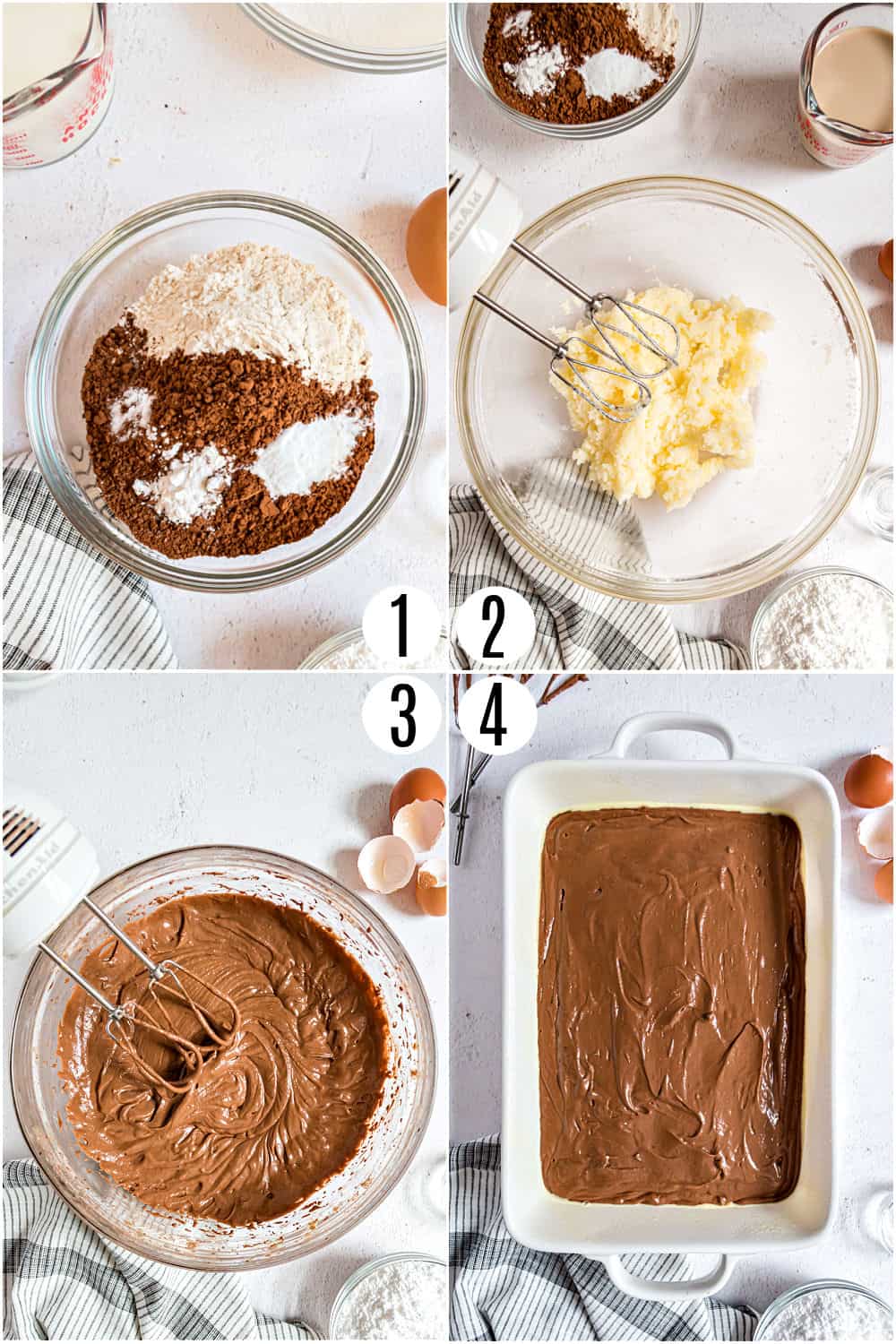 Mix dry ingredients. Whisk together the flour, cocoa, kosher salt, baking powder and baking soda.
Mix wet ingredients. In a measuring cup, mix together coffee and milk. In a separate mixing bowl, beat together butter and sugar. Beat in eggs.
Combine cake batter. Add the dry ingredients and coffee mixture to the wet ingredients, in batches. Mix until just combined.
Bake. Pour batter into a prepared cake pan. Bake 33 – 42 minutes. Let cool before frosting.
For the frosting: Beat butter in a large bowl until fluffy. Mix in powdered sugar, almond extract, cocoa and milk. Beat for a few more minutes until smooth and combined.
Change it up! Use our chocolate cream cheese frosting instead for a tangier flavor.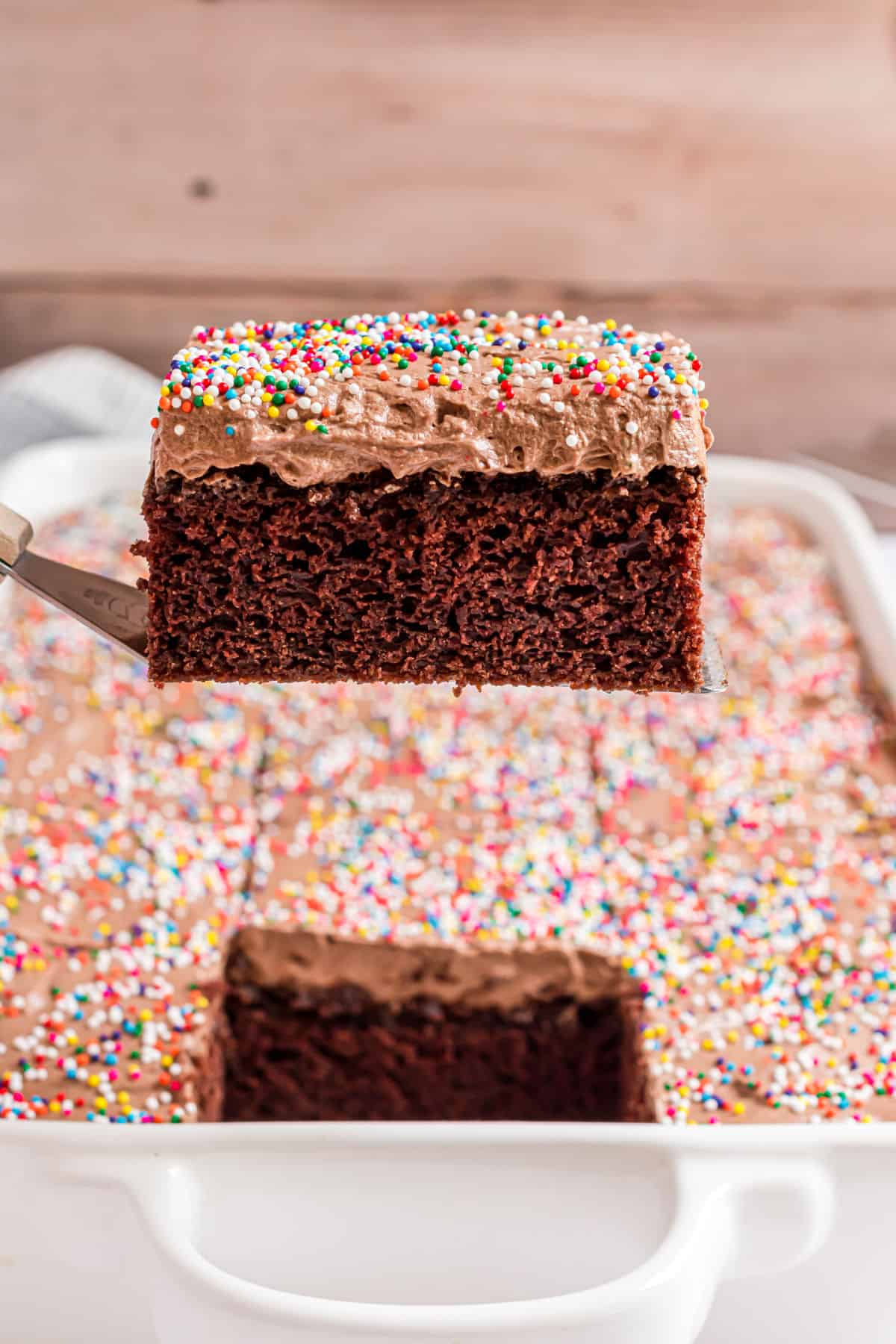 Helpful Tips
Use my Homemade Cake Release. If you don't want to make a cake release, spray the baking sheet well with baking spray before adding the batter.
Storing. Store easy chocolate cake at room temperature covered tightly for up to 5 days.
Freezing. Freeze slices individually wrapped in plastic wrap and freezer bags for up to 3 months.
Frosting substitute. In a hurry? Feel free to swap the homemade frosting for your favorite store bought variety. Or try our tangy chocolate sour cream frosting instead!
Craving Cupcakes? Try our fudgy chocolate cupcake recipe!
Got Leftovers? Toss a slice of leftover cake (with the frosting) in your milkshake to create the ultimate chocolate cake shake (yes it's a real thing)!
Strawberry. What's better than chocolate and strawberries? Top our easy chocolate cake with a half batch of our creamy strawberry frosting for a delicious duo!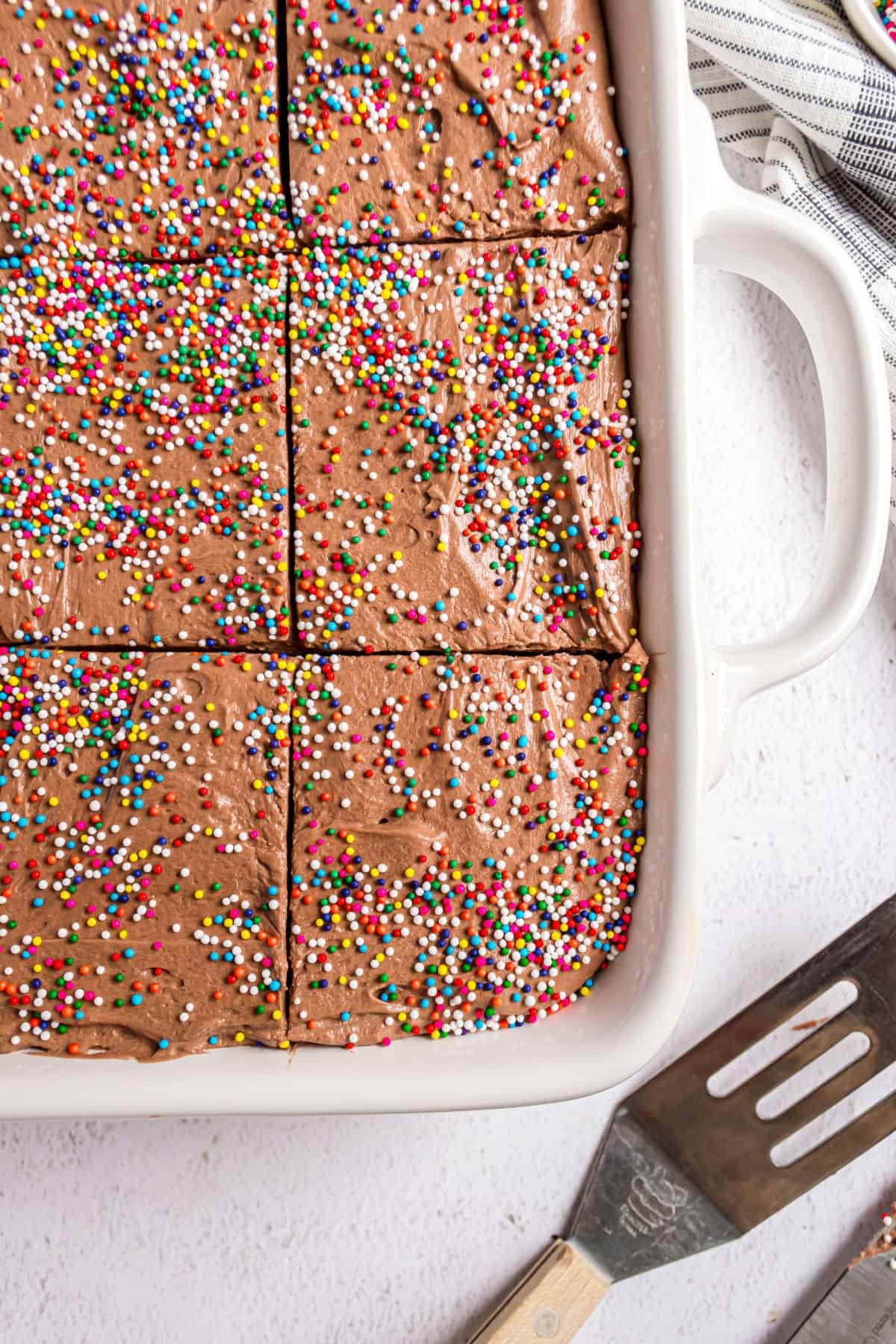 Recipe FAQs
Why did my cake sink in the middle?
Some sinking in the middle is normal for chocolate cake. The structure of cocoa powder is not strong enough to hold up to all the moisture in this easy chocolate cake. If your cake is sinking in the middle excessively, make sure you are checking for doneness before removing from the oven. This cake can take anywhere from 30 – 42 minutes to bake, depending on oven accuracy and climate.
Can I make this as a layer cake instead?
Yes, this easy chocolate cake recipe can also be baked into layers! Divide the batter between greased layer cake pans and bake cake for about 25 minutes. Find full instructions for easy chocolate layer cake here.
Can I freeze chocolate cake?
Chocolate cake stores nicely in the freezer. You can bake this chocolate sheet cake in a disposable foil pan, cool, cover with plastic wrap then foil and freeze for up to 3 months. Thaw in refrigerator overnight. Or freeze each slice.
More Cake Recipes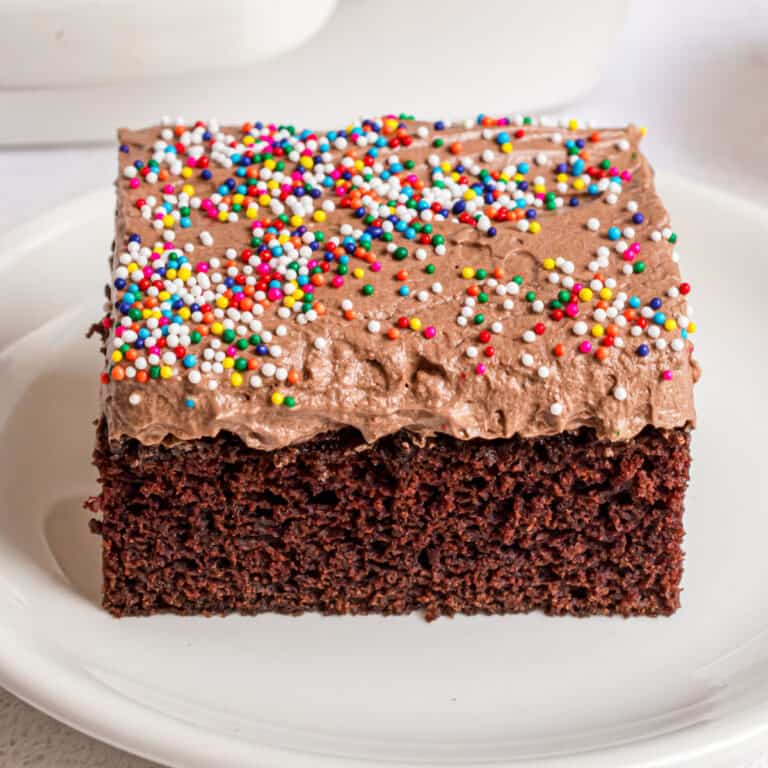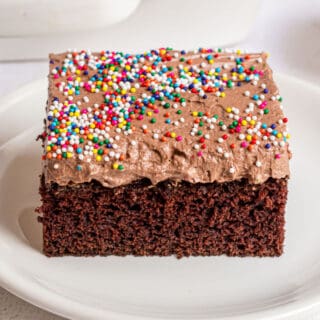 Easy Chocolate Cake Recipe
Never settle for store bought cake again. This Easy Chocolate Cake made from scratch it topped with our favorite chocolate buttercream frosting and sprinkles. Made in a 13×9 you'll be eating your cake in no time!
Ingredients
For the Cake
½

cup

unsalted butter

room temperature

1 ½

cup

granulated sugar

2

large eggs

1 ½

cup

all-purpose flour

½

cup

unsweetened cocoa powder

½

teaspoon

kosher salt

1

teaspoon

baking soda

½

teaspoon

baking powder

½

cup

brewed hot coffee

½

cup

whole milk
For the Frosting
¾

cup

butter

softened

2 ¼

cup

powdered sugar

¼

cup

plus 2 Tablsepoons unsweetened cocoa powder

½

teaspoon

almond extract

½

cup

whole milk
Instructions
Preheat oven to 350 degrees F. Spray 13×9 baking dish with baking spray (or use

homemade cake release

). Set aside.

In a bowl, mix flour, cocoa, salt, baking soda and baking powder. Set aside.

In a measuring cup, mix together hot coffee and milk. Set aside.

In mixer, beat butter and sugar for 5 minutes, until smooth. Beat in eggs one at a time. Slowly add in dry ingredients alternating with the coffee/milk mixture (about 3 additions of each).

Pour cake batter into prepared pan. Bake for about 33-42 minutes, until toothpick inserted in the center comes out clean. Remove from oven and allow to cool completely before frosting.

For the Frosting: In a mixing bowl, beat butter for 3-5 minutes, scraping down sides of bowl as needed.

Add in powdered sugar, cocoa, extract and milk and beat for 3-5 more minutes until desired consistency.

Frost cake and enjoy! Add sprinkles if desired.
Notes
Brewed coffee- the hot coffee enances the chocolate flavor while adding moisture to the cake, without giving it a coffee flavor. Use hot water if you need to substitute.
Milk- using whole milk or buttermilk gives this cake a rich flavor and soft crumb.
Butter- I always use unsalted butter in my baking, because brands vary with the amount of salt in their sticks of butter. If you must use salted butter, omit the extra kosher salt from the cake batter.
Why did my cake sink in the middle? Assuming your cake was checked for doneness, it's normal for chocolate cake to sink slightly in the middle. Cocoa powder is not structurally strong enough to hold up the amount of moisture in this cake. Adding more flour would create a dense cake. It's okay for some sinkage while it cools!
STORAGE: Store Chocolate Cake in a covered container at room temperature for up to 5 days. Or freeze the rest of the cake by wrapping each slice in parchment paper and sliding into a freezer bag. You can freeze chocolate frosted cake for up to three months. When you get another hankering for some chocolate cake, thaw it at room temperature and enjoy!
Need cupcakes? Try our delicious Chocolate Cupcakes recipe!
Layer Cake. This can also be made into a delicious chocolate layer cake!
Nutrition
Serving:
1
slice
,
Calories:
223
kcal
,
Carbohydrates:
31
g
,
Protein:
2
g
,
Fat:
11
g
,
Saturated Fat:
6
g
,
Polyunsaturated Fat:
3
g
,
Cholesterol:
42
mg
,
Sodium:
146
mg
,
Fiber:
1
g
,
Sugar:
23
g
The EASIEST chocolate cake recipe with delicious results! Chocolatey and moist, this one pan cake is ideal for every occasion. Cover it in rich cocoa frosting and cut yourself a little slice of chocolate paradise!