Chocolate Banana Cake is the perfect marriage of chocolate and bananas in a delicious 13×9 snack cake! Topped with delicious cream cheese frosting, you'll love this easy recipe!
Love easy cake recipes? Our chocolate pudding cake is dense and delicious! Fudgy and moist. Or give these easy Banana Cupcakes a try for an on the go treat.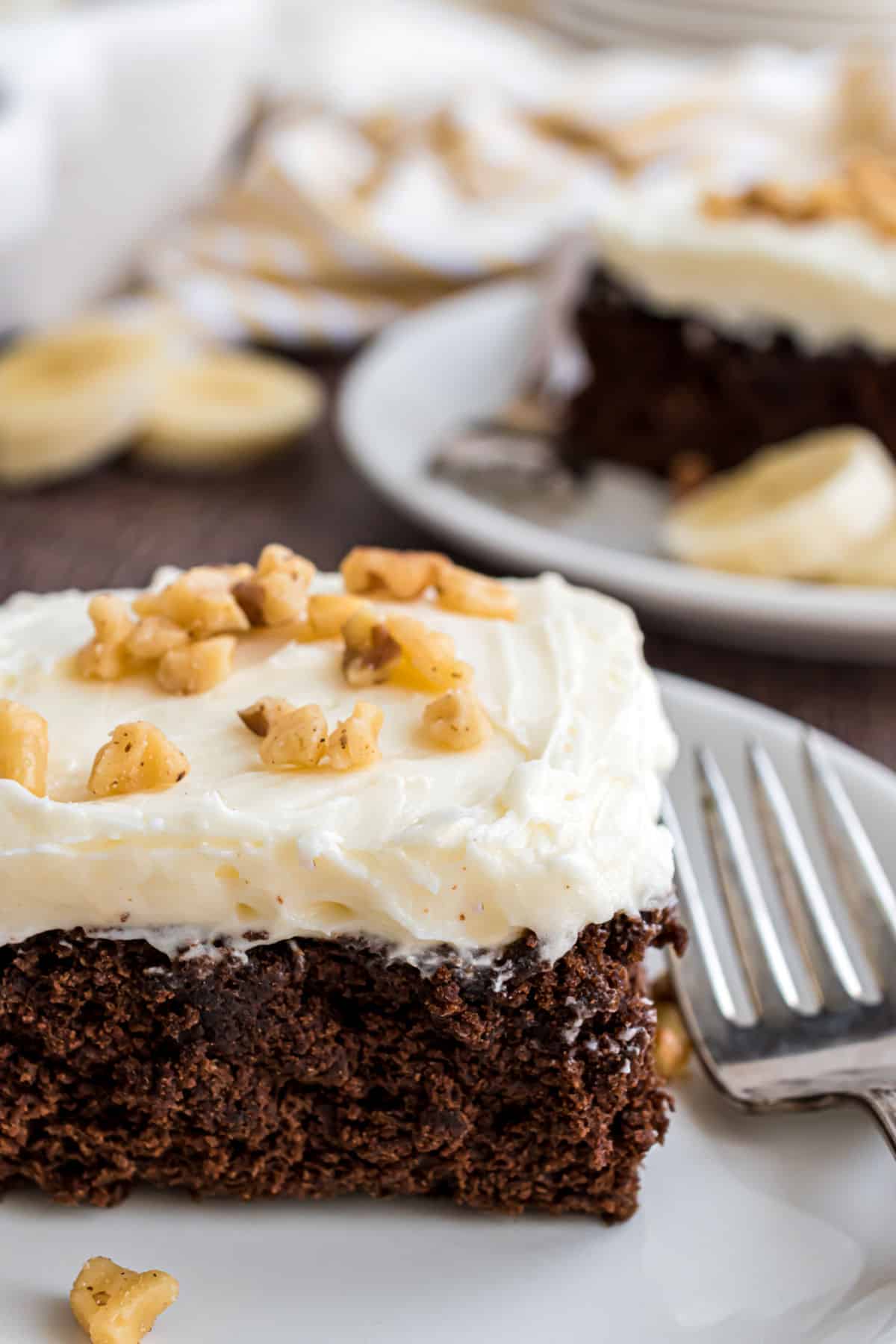 Why this Recipe Works
Instead of banana bread or banana muffins, I wanted to bake a banana dessert.
Specifically a dessert with CHOCOLATE. This Chocolate Banana Cake was the solution. The deliciously satisfying solution!
Adding bananas to your cake does more than just give it banana flavor.
Mashed bananas provide rich moisture to the cake without adding fat or liquid. This helps the cake stay moist for much longer than most other homemade cakes.
Another thing I love about this recipe is that you add cocoa powder to the batter. Chocolate can overpower banana flavor, but I've added just enough to complement the banana flavor!
It tastes like chocolate banana bread, in a lighter, cakier form.
If you're looking for a layered cake, my Banana Cake recipe would be your ideal treat. Add in some cocoa powder for a delicious chocolate treat.
Ingredient Notes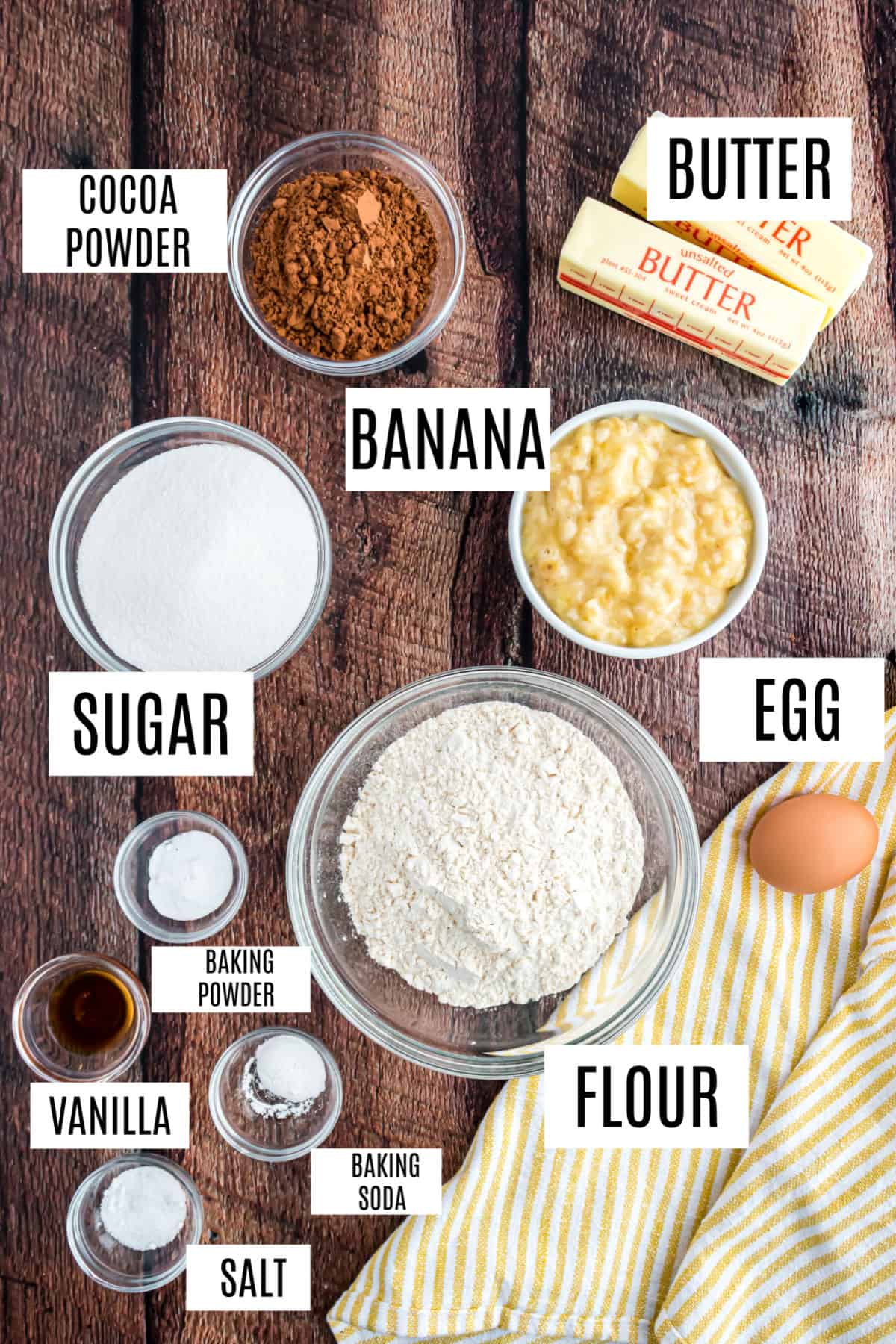 Bananas. Ripe bananas work best. If you're making this by hand with a mixing bowl, mash the bananas in a separate bowl before using them in the recipe. Use our guide on how to ripen bananas in 20 minutes!
Cocoa powder. Use a good quality unsweetened cocoa powder for best results.
Vanilla. My homemade vanilla extract is perfect in this recipe.
Easy Instructions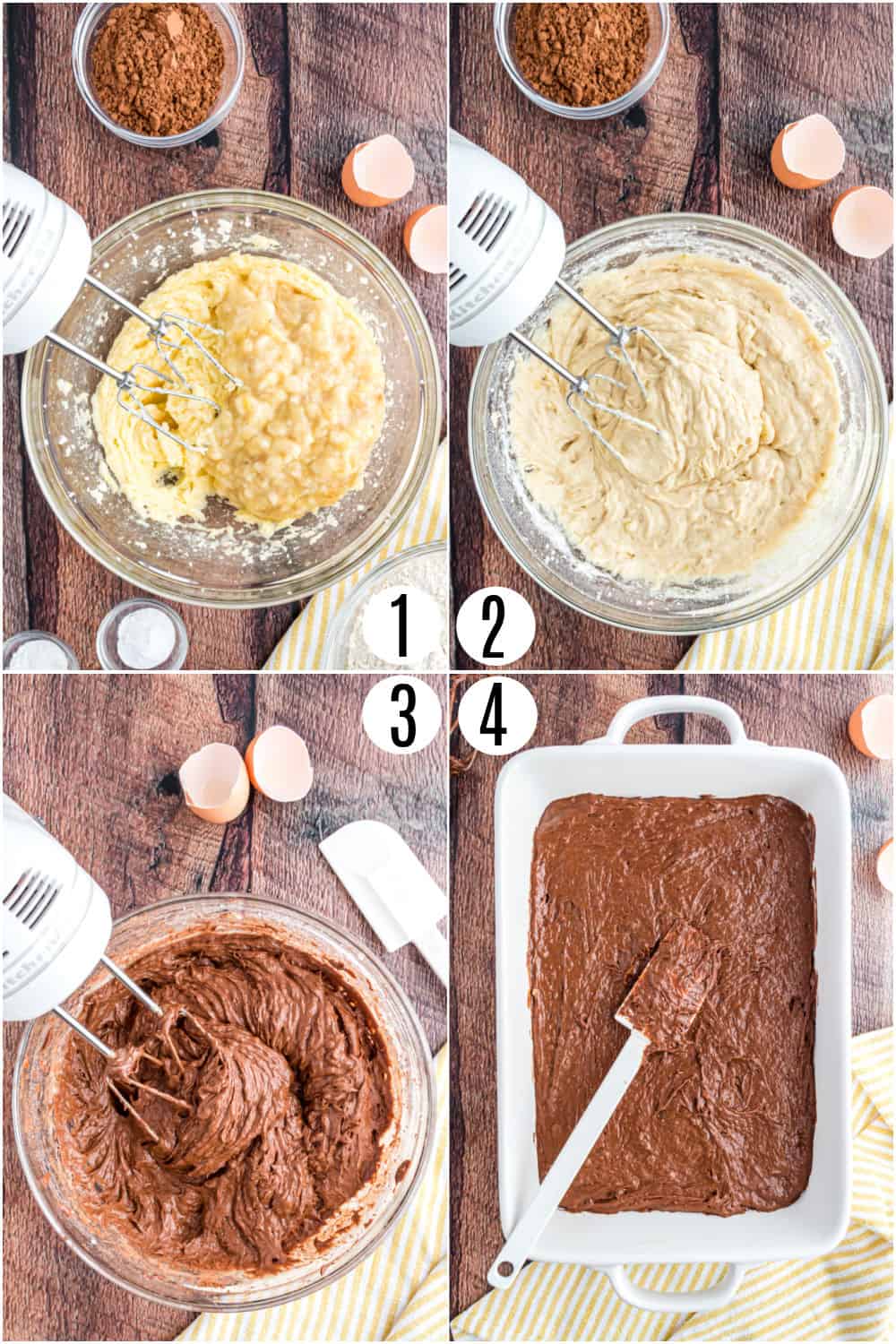 Make the Batter. Cream together butter and sugar. Beat in an egg and vanilla extract, then mix in the mashed bananas.
Add flour, kosher salt, baking powder and baking soda and blend to form a batter. Add cocoa powder just until blended. Don't overmix.
Spread in a 13×9 baking dish. It won't seem like a lot of batter, but it will bake up nice and fluffy.
Bake for 25 minutes. Cool. Top with homemade cream cheese frosting!
Tips and Tricks
Serving suggestion: Go full chocolate! Add homemade chocolate buttercream frosting instead of the cream cheese for a rich, decadent dessert. Or use my easy vanilla frosting recipe instead!
Storing: I love this cake best when kept chilled in the fridge. Store it covered in the pan or in an airtight container.
Freeze: Transfer individual slices of baked chocolate banana cake to freezer safe bags. To serve, pull out as many slices as you desire and let thaw in the fridge overnight.
Greasing the pan: I use my empty butter wrapper to grease the pan before adding the cake batter. You can also use baking spray if preferred. Or use my homemade cake release!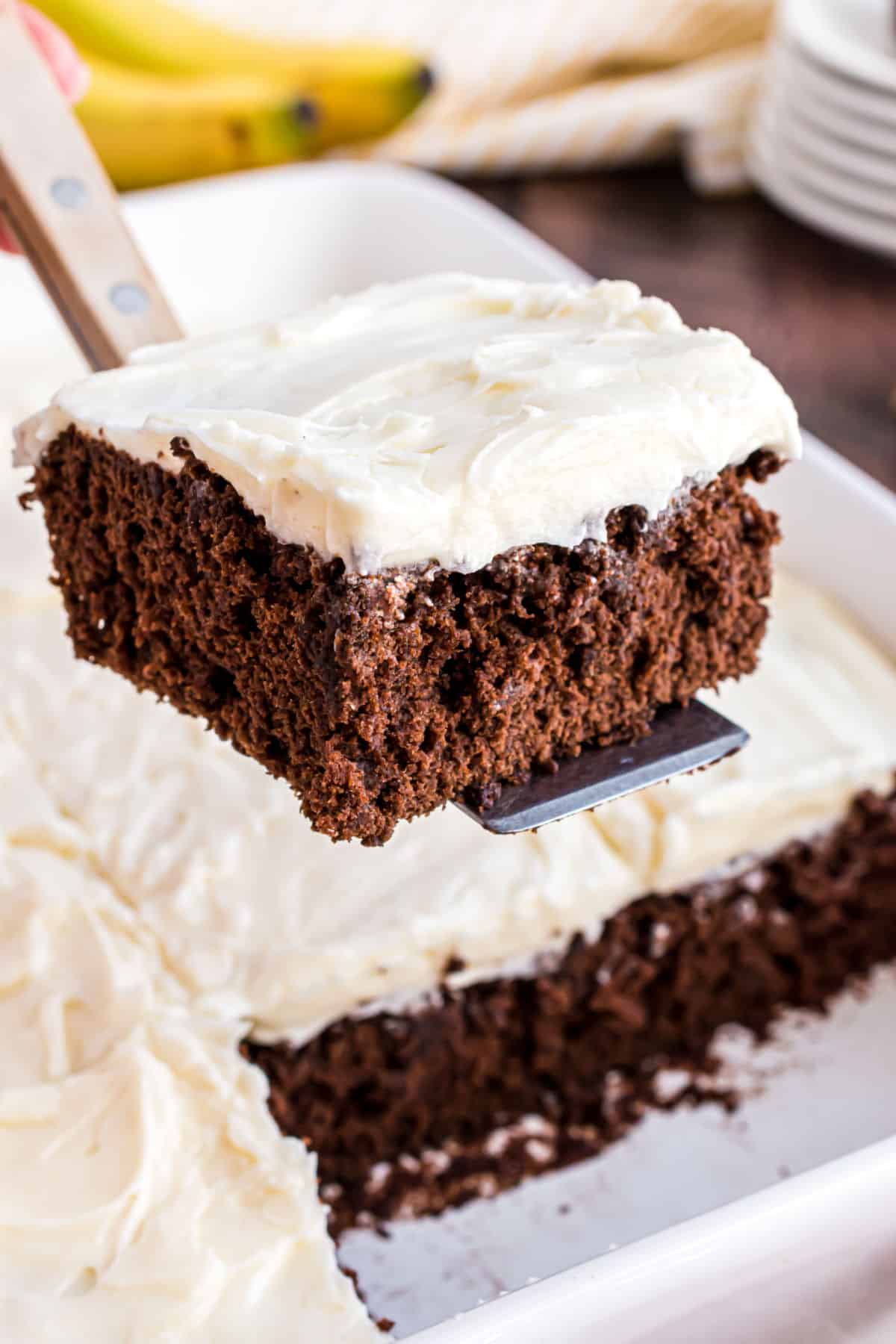 Recipe FAQs
What pan do I need to make this cake recipe?
I bake Chocolate Banana Cake in a 9 x 13 rimmed baking dish (rectangular cake pan).
How do you mash bananas?
Bananas can be mashed so many ways! Soft and overripe bananas are usually easy to mash by hand with a potato masher or even a strong fork. If you're using a stand mixer to make this recipe, you don't even need to mash the bananas first! Just add them right to the bowl and let the mixing attachment do its thing.
How can I make a banana cake in a layer cake pan?
If you want to make a layer cake, I would divide the batter evenly between two layer pans. The cakes will need less baking time. Add your favorite frosting and enjoy. I find I enjoy the "rustic" swirl of the layers baked together, however it would make a delicious traditional layer cake too.
What is the difference between banana bread and banana cake?
Banana bread is baked in a loaf pan and has a firmer, dense texture. Banana cake has a soft crumb and is great for adding sweet frosting!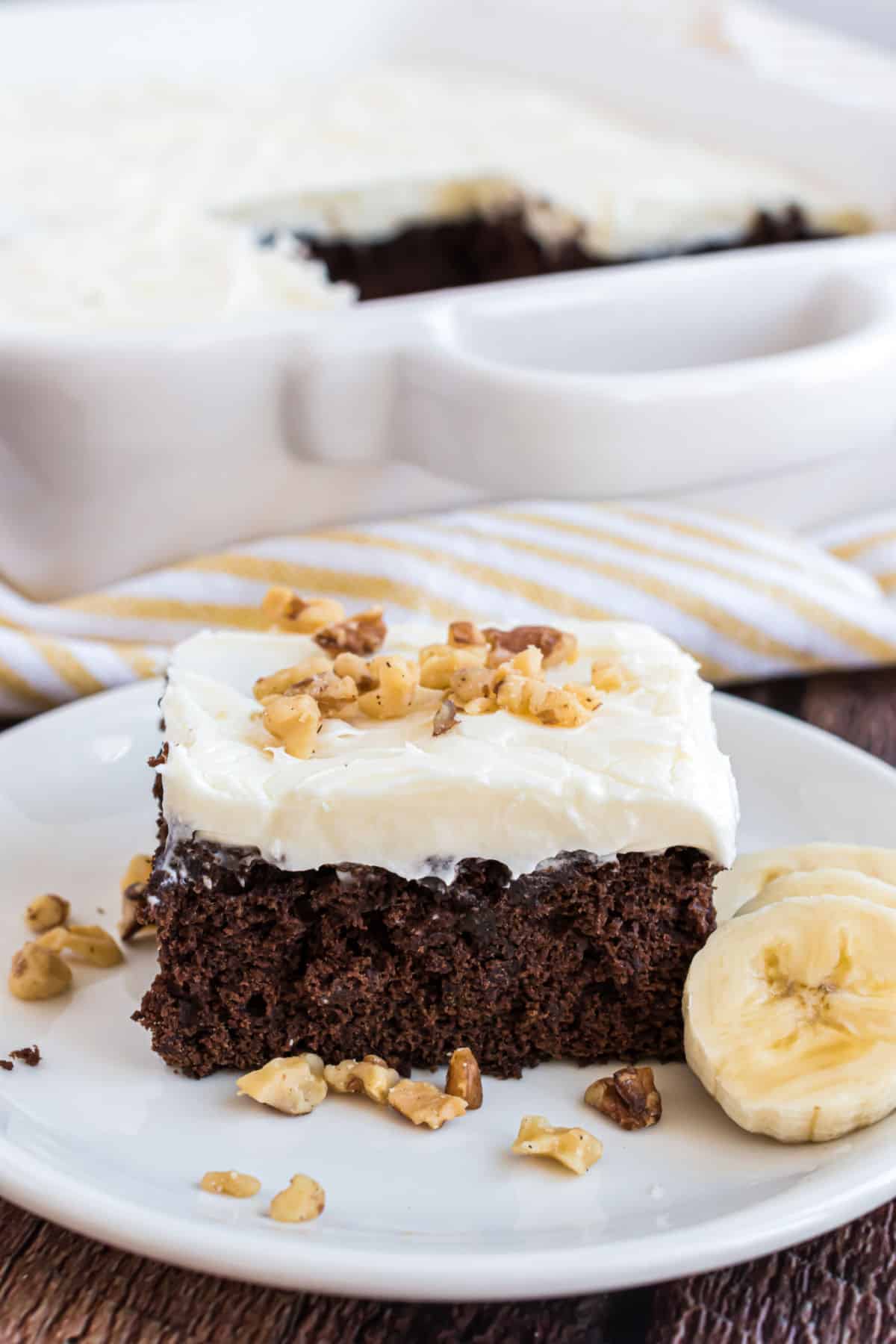 More Cake Recipes
Never let over ripe bananas go to waste again! You may even want to start buying extra bananas just for an excuse to make this Easy Chocolate Banana Cake recipe.