These Banana Pudding Cupcakes are unbelievably fluffy and moist! You'll love every last bite, from the sweet banana cake to the light whipped frosting.
You've come to the right place if you love banana desserts! Readers love our perfect Banana Cake recipe, topped with cream cheese frosting! Or bake a couple loaves of our favorite banana bread recipe instead!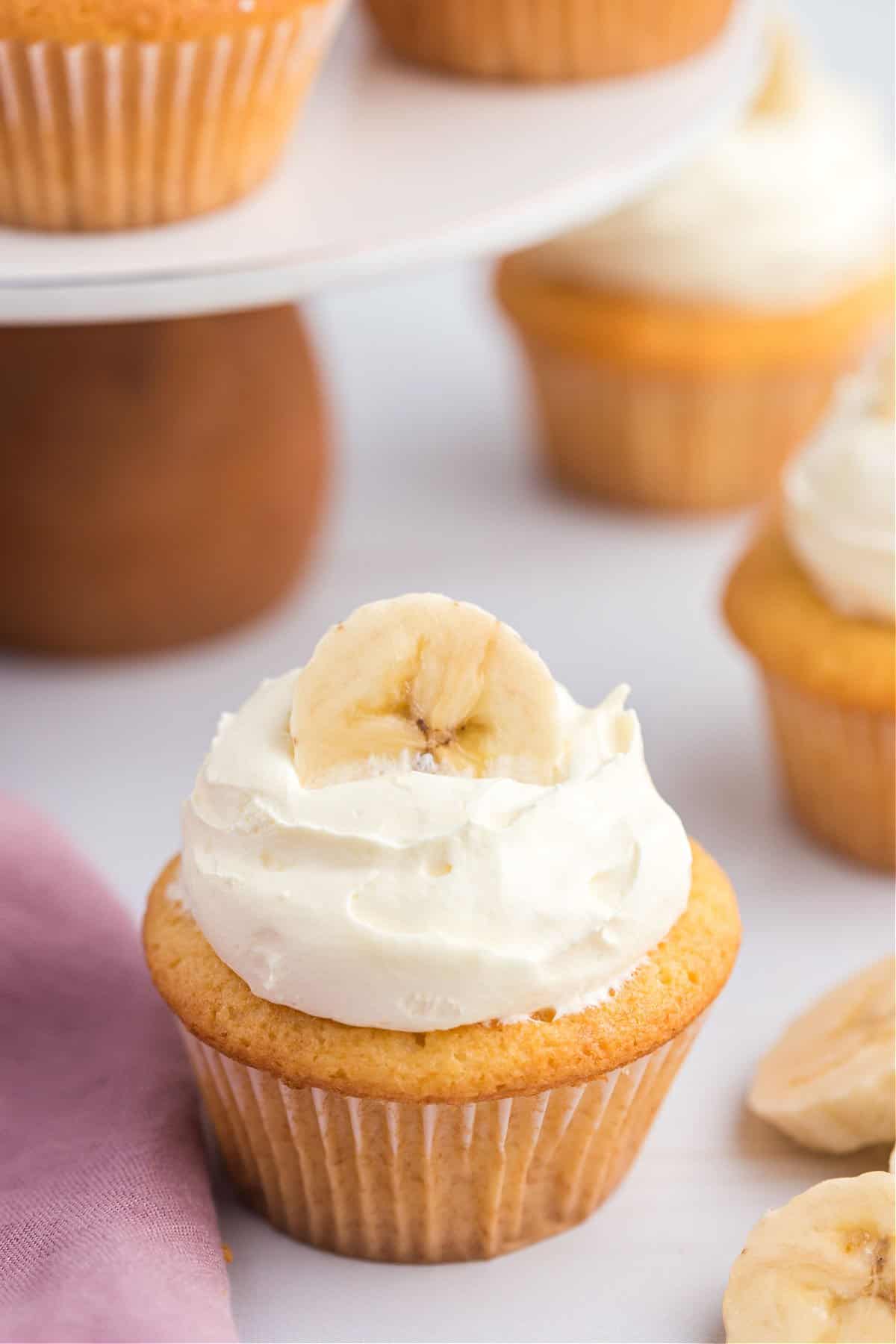 Why These Cupcakes are Best
While we love making our banana pudding poke cake, these cupcakes are delicious with every bite. Both have the same delicious banana flavor and irresistible light and creamy topping!
Seriously, this cupcake recipe is just about fool proof. If you're a new baker or just looking for the perfect easy banana cupcake, this recipe delivers delicious results every time.
If you love banana pudding, you've GOT to try this!
Ingredient Notes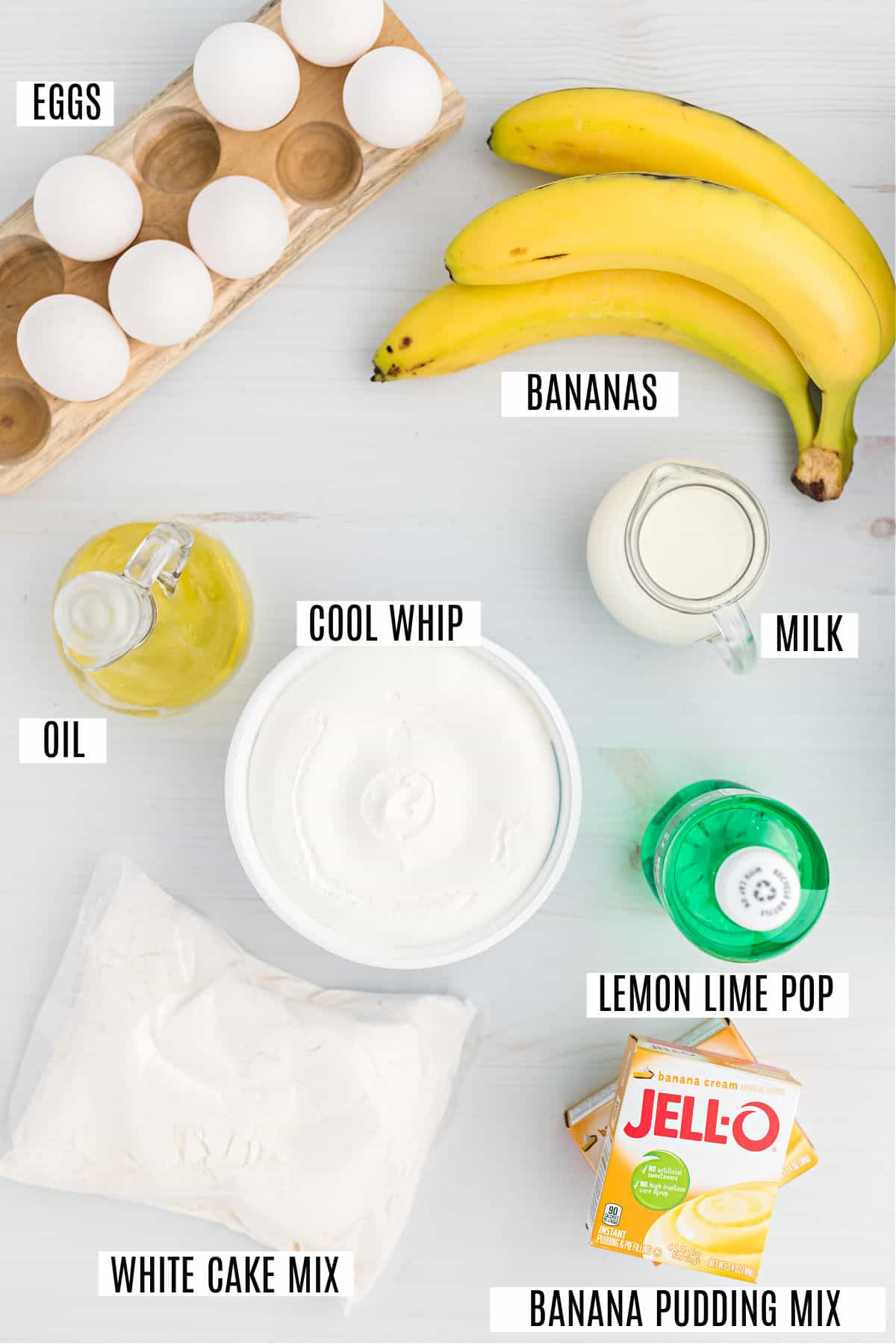 You only need a few simple ingredients to make Banana Pudding Cupcakes! Be sure to scroll down to the recipe card for measurements!
Make it in Minutes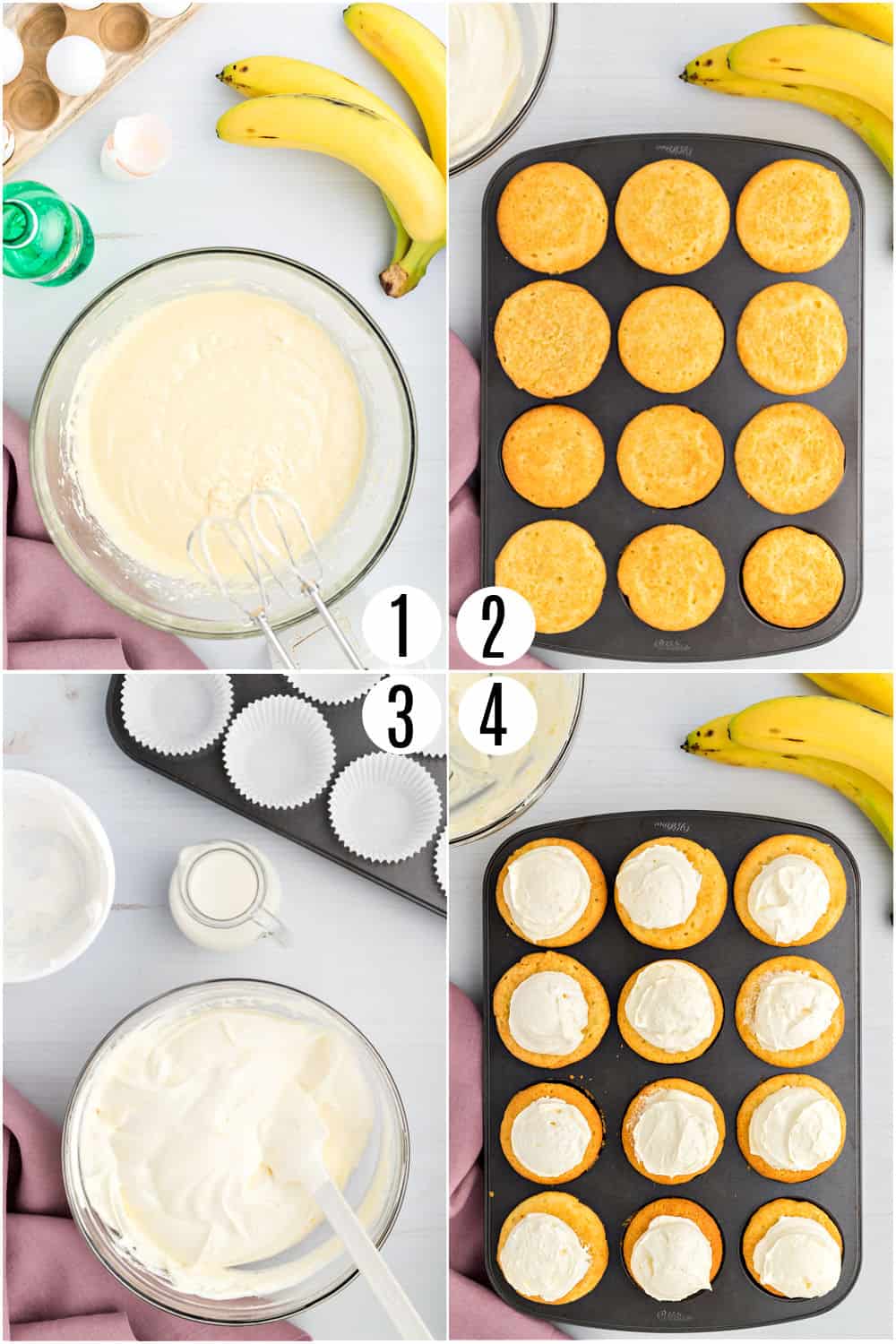 I am not kidding when I say this is the easiest way to make banana cupcakes with pudding!
Make the batter– Add all the cupcake ingredients to a large mixing bowl. Beat until fluffy and combined.
Bake– Divide the batter into a lined cupcake tin. Each liner should be about 2/3 of the way full. Bake the banana pudding cupcakes for 20 minutes.
Make the frosting– While the cupcakes are baking, whisk together pudding mix and skim milk. Fold thawed cool whip into the pudding until combined. Refrigerate the frosting for at least 15 minutes.
Frost and garnish– Use a cookie scoop to dollop the frosting into each cooled cupcake. Top the frosting with a slice of fresh banana for a perfect presentation!
Tips and Tricks
Recipe FAQs
What kind of soda (pop) should I use for these cupcakes?
You can use any lemon-lime flavored brand. I recommend a clear variety like Sprite, 7-UP, or Sierra Mist rather than something like Mountain Dew.
Can I use real whipped cream instead of cool whip?
Yes, real whipped cream makes a fantastic swap for the cool whip in this frosting recipe. You could use a homemade stabilized whipped cream (cool whip substitute) too.
Do these cupcakes have real banana?
No, these cupcakes get their banana flavor from the banana cream pudding mix! You do not need to add any mashed banana like with other banana cupcake recipes.
How long do they keep?
Stored chilled, these banana pudding cupcakes keep for about 3 days.
Banana pudding fans and cupcake lovers agree: these easy Banana Pudding Cupcakes are the absolute best!