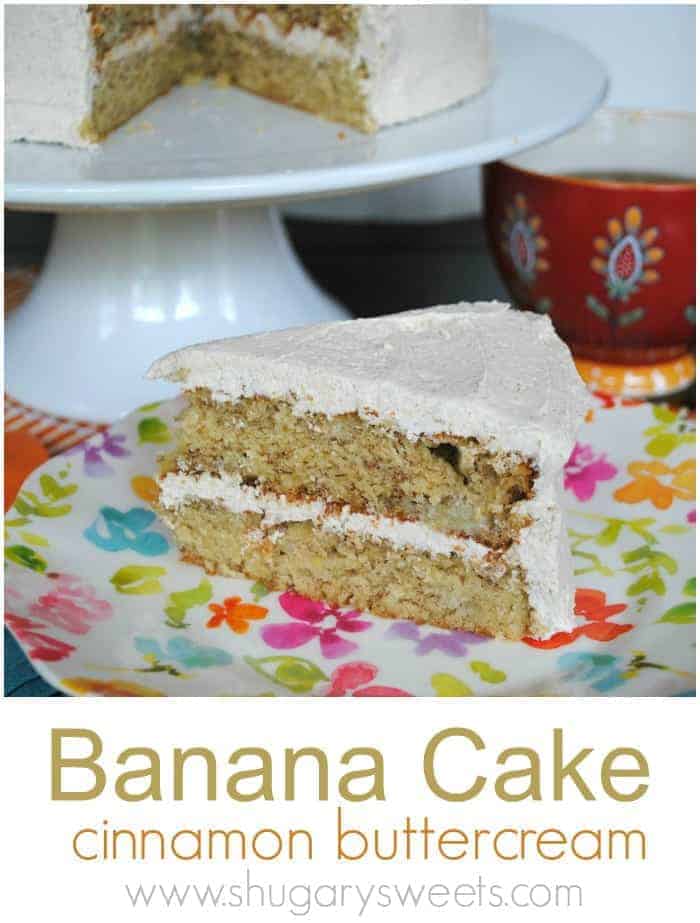 I love bananas. Plain, in yogurt, dipped in chocolate, smothered in peanut butter, in a cake. You get the point. This cake is so moist, you will be pleasantly surprised. Frost it with my cinnamon buttercream and you won't want to share!
But you will share, because this is the perfect cake to make mom for Mother's Day! Don't forget to make her a batch of Meringue Rose Cookies too!
Yield: 12 servings
Banana Cake with Cinnamon Buttercream Frosting
Ingredients
For the Cake:
1/2 cup butter, softened
1 cup granulated sugar
1 egg
1 tsp vanilla extract
3 medium bananas
1 3/4 cup flour
1 tsp baking powder
1 tsp baking soda
1/2 tsp salt
For the Frosting:
1 cup butter
3 1/2 cup powdered sugar
2 tsp cinnamon
2-3 Tbsp milk
Instructions
Grease and flour two 9inch cake pans. I line the bottom with parchment paper as well. Set aside.
For the cake, blend butter and sugar until creamy. Add egg and vanilla, beat until combined. Blend in bananas (you can mash them first, but I just toss them in my kitchenaid and it does the work for me). Add in flour, baking powder, baking soda and salt.
Divide batter in half and pour into cake pans. Bake in a 350 degree oven for 25 minutes.
Remove and cool. Let cake cool in pans 10 minutes, then flip onto a cooling rack to cool completely.
For the frosting, beat butter until fluffy. Add in powdered sugar and cinnamon. Add milk.
Beat for 5 minutes until desired consistency.
To frost cake. Lay one layer of cake on cake plate. Spoon frosting over layer and smooth.
Top with second layer of cake. Again spoon frosting on top and smooth. Using a spatula, spread frosting around the sides of the cake. Slice and serve!
If you want to have your cakes flat, you could slice off the tops. However, I used Wilton Bake even Cake Strips. You wrap them around your pans and your cakes bake even! Go figure!